AFC South:

Double coverage
December, 5, 2013
12/05/13
10:00
AM ET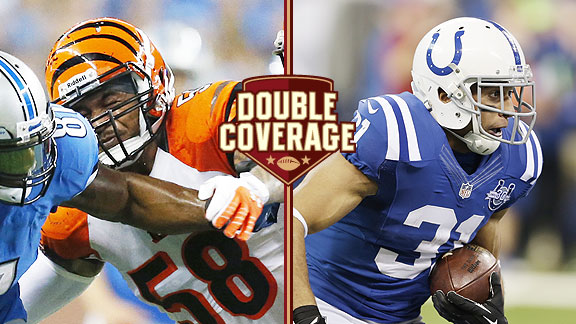 AP PhotoRey Maualuga and the Cincinnati Bengals know the Indianapolis Colts will try to establish the running game with Donald Brown.
After holding off the
Tennessee Titans
and
San Diego Chargers
last weekend, respectively, the
Indianapolis Colts
and
Cincinnati Bengals
come into this Sunday's showdown with one another knowing the stakes have been raised.
Whichever division leader emerges victorious from Paul Brown Stadium will have the No. 3 playoff seeding, and most likely will retain it, barring a complete collapse across the final three weeks of the season. The only other reason they wouldn't retain the No. 3 seed? Because they would have the No. 2 seed. Currently, the
New England Patriots
have that.
Cincinnati could claim that this weekend with a win and a Patriots loss. The Bengals have a tiebreaker over New England after beating the Patriots in October.
Like Sunday's game, that one was in Cincinnati. The Bengals are 5-0 at home, providing an added layer of difficulty for the Colts. Why have the Bengals been so good there? How can the Colts prevent losing their No. 3 seed? ESPN NFL Nation Bengals reporter Coley Harvey and Colts reporter Mike Wells have the answers to those questions and more.
Coley Harvey:
Mike, there are so many different places I could go with this first question, but I really want to ask about the Colts' rushing game. Bengals fans certainly were intrigued when the
Trent Richardson
trade deal went down earlier this season because they knew their team still had to face him this year, even if he was no longer playing for the division-rival Browns. He's had a rough go of it in Indy, prompting
Donald Brown
's start this past Sunday. Does Indianapolis believe Brown really is the back who will lead it through the postseason?
Mike Wells:
The Colts hope the demotion will turn out to be a good thing for Richardson. I know that sounds crazy considering the Colts gave up a first-round pick to acquire Richardson. Not starting should ease some of the pressure on Richardson because he's had a problem of overthinking since he joined the team. Brown may be the starter now, but coach Chuck Pagano will go with the hot hand during the game. So all it takes is a few big runs by Richardson and he'll be back in the mix. The trade so far is completely in Cleveland's favor, but this setback doesn't mean the Colts are throwing in the towel on Richardson. They really can't afford to when you think about all they gave up to acquire him. The Bengals have excelled at playing at home. What makes them a dangerous team there?
Harvey:
That's a good question. I'd say the weather has made them dangerous. The crowd has made them pretty dangerous, too. The reason I say the weather has made them dangerous is because twice this season, coach Marvin Lewis has been accurate in his prediction of what the weather would do. Back in early October, he smartly told his players to expect a sudden rain shower late in a game against the Patriots. A fourth-quarter monsoon came right when New England got the football for the last time and attempted a comeback drive.
Tom Brady
couldn't complete a pass. The rains were too hard. Eventually,
Adam Jones
intercepted Brady with 16 seconds remaining, clinching a big early-season Cincinnati win. Against the Browns three weeks ago, Lewis also told his players not to worry about the possibility of a delay that some weathermen had predicted. He was right. The game went along mostly smoothly, and about an hour after play, a line of strong storms moved through the area.
In addition to the advantage "meteorologist" Marvin gives them, the Bengals have had a great lift from their fans. Every game has been a sellout, and has had some moment in it that sent the crowd into a frenzy that's barely been seen since the team moved from the old Riverfront Stadium. The Bengals are confident they'll keep getting that energy the rest of the season.
Andrew Luck
has played in some meaningful games already in his young career. Most notably this season, he gutted out a win during
Peyton Manning
's return to Indianapolis. Because of what's at stake in Sunday's game, how much confidence do you think Luck's big-game play gives the Colts, Mike?
Wells:
Luck will have to carry the Colts if they expect to go into Cincy and get the victory. The former No. 1 overall pick doesn't have much to work with on offense now that veteran receiver
Reggie Wayne
is out for the season with the torn ACL. Opponents have found a way to slow
T.Y. Hilton
down lately by sending help over the top. Tight end
Coby Fleener
is doing what he can to help Luck out. I'm not even going to talk about receiver
Darrius Heyward-Bey
. The running game can't gain any traction and the offensive line has struggled this season. That leaves Luck having to improvise and do what he can to make things work. That won't be an easy task since the Bengals have the sixth-best defense in the league. The Bengals probably like their chances at being able to sack Luck. He's been sacked 29 times this season.
Speaking of quarterbacks, there seemed to be different stories floating around earlier this season that questioned whether
Andy Dalton
could win big games. Do you think he has the ability to take the Bengals to the next level?
Harvey:
In all honesty, it's tough to say, Mike. Dalton has been so inconsistent this season that it's tough to actually believe he'll be able to put this team on his back and be as successful as Luck has proven to be. That said, it looks like the Bengals learned something about Dalton and the rest of their offense in San Diego this past weekend. They discovered that with a little help from a solid running game, their passing game can actually produce big, explosive plays.
For a four-game stretch in October, Dalton looked like he would be able to make the Bengals an unbeatable force come the postseason. But since then, he hasn't been as efficient and he hasn't had the same type of prolific passing numbers. After throwing for more than 300 yards in four straight games in October, Dalton has hit the 200-yard mark just once since. Two games ago, against Cleveland, he didn't even reach 100. If the Bengals are going to make noise in the playoffs, it's probably not going to be because of Dalton. It most likely will be because of their defense.
Speaking of defenses, tell us about the Colts' defense. What has contributed to its struggles this year, particularly against the run?
Wells:
The Colts have struggled to stop the run all season -- 28
th
in the league -- and things may get worse for them. Defensive tackle
Ricky Jean Francois
is out two to four weeks with a partial tear of his plantar fascia.
Fili Moala
will start in his place. Stopping the run is just one problem for Indianapolis. The secondary has also had a difficult time stopping teams from passing on them. It all started when cornerback
Greg Toler
went down five games ago with a groin injury. But the defense stepped up by forcing four turnovers, including three interceptions, against Tennessee on Sunday. And there's a chance Toler will be back in the lineup this weekend. The rest of the secondary feeds off of Toler's energy. It's a perfect time for Toler to return because the Colts can use his help to try to slow down receiver
A.J. Green
, who is averaging 91.9 yards a game receiving.
Like Pagano, Marvin Lewis is a defensive coach. What makes the Bengals' defense so successful?
Harvey:
It starts with the combination of Lewis' background and defensive coordinator Mike Zimmer. The pair of defensive gurus have established quite the formidable two-headed monster for the Bengals, coming up with a slew of adjustments and lineup tweaks that has made the unit one of the best in the league, even when it maybe shouldn't be. Injuries have ravaged the Bengals' defense, most notably at defensive tackle (
Geno Atkins
) and cornerback (
Leon Hall
). The fact Will linebacker
Vontaze Burfict
has come on and had an unbelievably strong sophomore season has helped, too. The former undrafted free agent leads the NFL in tackles and played last week on a bad ankle. Because of his near-reckless style of play and the fact Zimmer's scheme has produced results, the Bengals believe in their system and that has made them successful.
January, 10, 2013
1/10/13
11:15
AM ET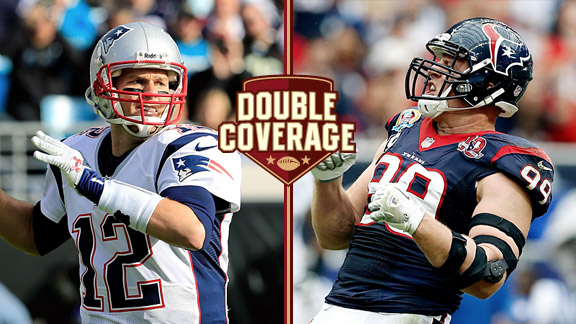 Getty ImagesThe Texans sacked Tom Brady, left, just once in their first meeting with the Patriots. Can J.J. Watt and the front seven do a better job in the rematch?
The Patriots seemingly snickered after they blew out Houston on "Monday Night Football" back on Dec. 10.
The Texans arrived in New England wearing letterman jackets that they thought showed team unity, but instead came off as high schoolish, particularly after they were easily dispatched in what
Andre Johnson
called the biggest game in franchise history.
For the Patriots it was the next game on the schedule.
Before the Texans got on the bus, middle linebacker
Bradie James
said the Patriots had delivered
a lesson
in championship football. The Texans headed back to Houston, humbled and officially in a slump. They lost two of their next three, fumbling away the AFC's No. 1 seed and a first-round bye.
A win over Cincinnati in the wild-card round earned the Texans a trip back to Gillette Stadium.
Can the Texans put up a better fight as major underdogs Sunday? James Walker of the AFC East blog joins me to discuss the game.
Paul Kuharsky:
Tom Brady
shredded the Texans in that regular-season game, James. He threw four touchdown passes in no time, recognizing Houston couldn't keep up with his targets, particularly
Aaron Hernandez
. Now, Brady has
Rob Gronkowski
back.
Do you see any way the Texans can get Brady off his game at home in the playoffs?
James Walker:
The key to stopping Brady is not a secret: You must beat him up. Brady doesn't like getting hit in the face, especially at age 35. The problem is that is much easier said than done. New England is extremely good at self-scouting and schemes very well to keep Brady upright. Houston got only one sack against Brady in the first meeting, so it was no surprise that he threw four touchdowns. I expect New England to once again keep some running backs and tight ends in protection to keep Houston's pass rush off Brady. The Texans will need to throw caution to the wind and blitz more defenders than New England has blockers, and that's where the chess match begins. Brady is tremendous at reading the blitz and rarely gets fooled with coverages. That's why he's so difficult to beat. Speaking of quarterbacks, what do you expect from Houston counterpart
Matt Schaub
in his first divisional-round playoff game?
[+] Enlarge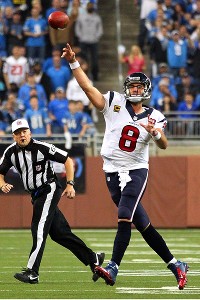 Mike Carter/US PresswireMatt Schaub's ability to connect on big plays downfield could be key for the Texans.
PK:
Schaub finally had his first playoff experience last week and he's now 1-0 in the postseason. But facing Cincinnati at home and New England on the road are two different things. He did fine against the Bengals, but I felt like coach Gary Kubiak was especially careful not to require many throws that were even moderately risky -- especially after Schaub threw that bad pick-six. Schaub has a bit of an unfair reputation for not being good in big games, mostly because he hasn't been in many big games. To spring an upset here, he'll have to supplement the run game with some big plays and, obviously, avoid killer mistakes. To have a chance, the Texans need to really ride
Arian Foster
. He has gone over 100 yards in all three of his playoff games. He had 19 touches in that regular-season blowout. To maximize their chances, I'd say he's got to have close to 30 this time.
JW:
Paul, I agree: Foster is the biggest key for the Texans in this game. He enters with some momentum after rushing for 140 yards and a touchdown last week against the Bengals. Getting Foster 30 or more productive carries would not only wear on New England's defense, it would keep the Patriots' high-scoring, up-tempo offense off the field. New England has thrived this year by getting off more plays and offensive possessions than its opponents. Houston's best chance is to slow down the game and make it ugly. Teams that beat the Patriots this year, such as San Francisco and Baltimore, ran the football well and limited New England's possessions.
PK:
What's the status of the Patriots' run game?
Stevan Ridley
ran fine in the regular-season game, gaining 72 yards on 19 carries. He earned a little doghouse time late in the season because of some fumbling issues. Has he regained the trust of Bill Belichick and the staff? And how much does it matter? It's not as though New England needs to run or is afraid to play a game without handing it off a lot and we know that they will keep throwing it even in a blowout situation. So does it even matter if they can run it?
JW:
Trust is big in New England, and Ridley has yet to earn it in the playoffs. Last year Ridley fumbled in the divisional round and didn't play for the remainder of the postseason. The Patriots do not have the luxury to bench him again this year, which makes Ridley a key player to watch. New England's offense usually passes to set up the run, but the ground game is more important than most people think. The Patriots rarely blow leads because they can run successfully when they need to. That time usually comes in the second half once they're ahead.
[+] Enlarge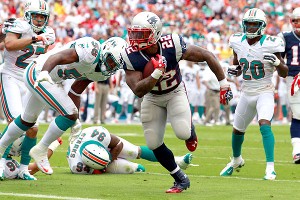 AP Photo/John BazemoreStevan Ridley may not figure heavily in the game plan, but he needs to make the most of his opportunities and limit mistakes.
I don't expect Ridley to be a huge part of the game plan. His carries probably will be in the teens. But he needs to make the most of each carry and take care of the football. If Ridley doesn't step up, look for the Patriots to go to a more dependable and sure-handed option such as
Danny Woodhead
. The Texans' defense allowed 42 points and 419 yards in the first meeting. What adjustments will Houston's defense need to make to be more successful in the rematch?
PK:
The coverage has to be way tighter.
Johnathan Joseph
played in the first meeting but had not been practicing and had missed time with groin and hamstring injuries.
Brandon Harris
was starting for the first time as the nickel after
Brice McCain
's foot injury. The Texans set out to slow
Wes Welker
and they did, then got killed by everyone else. They know they aren't going to get more than a sack or two on Brady because of how he gets rid of the ball and how skilled he is at changing protections. I expect they'll mix it up on Hernandez and Gronkowski but they won't be afraid to treat them as receivers.
The secondary had a bad night in Foxborough and a bad final quarter of the season. Joseph and
Kareem Jackson
and safeties
Glover Quin
and
Danieal Manning
are all better cover guys than they showed that night, when they were even getting beaten by Donte' Stallworth, who had been back in the league for barely five minutes. They simply have to be better if the Texans are going to be in this game.
JW:
I was with you in Houston last weekend, and I noticed the secondary played much better than the last time I saw the Texans in Foxborough. Joseph looked more like himself and did a good job, for the most part, on Bengals Pro Bowl receiver
A.J. Green
. On the other hand, I think an intriguing matchup will be Patriots corner
Aqib Talib
against Houston's Johnson, who had another monster season. Big games and matchups like this are why the Patriots acquired Talib in a midseason trade. He instantly became New England's best cover corner. The Patriots usually play a lot of zone, but they've been able to mix zone and man coverages a lot better in the second half of the season with Talib in the lineup. Houston will have a few opportunities to take shots down the field with Johnson against Talib one-on-one, and I think whoever wins those battles will have an impact on this game.
PK:
It'll be hard for the Texans to pull a surprise if there aren't a couple of big Schaub-to-Johnson connections.
Houston will arrive in New England with an "us-against-the-world" mentality, because the Texans are heavy underdogs. The Patriots aren't invincible. But if they start fast, they may look that way to the Texans yet again.
October, 18, 2012
10/18/12
12:00
PM ET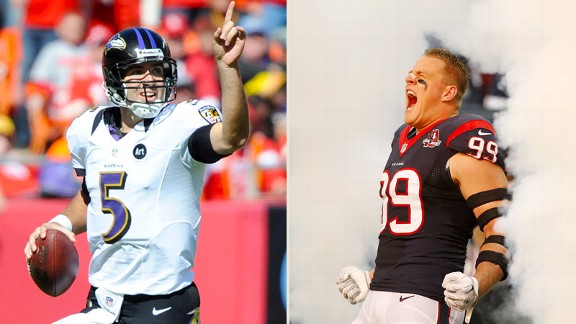 US Presswire, AP ImagesHow Baltimore's Joe Flacco, left, fares against Houston's explosive J.J. Watt could be key Sunday.
The last time we saw the Texans and Ravens square off, we were watching a divisional-round playoff game at M&T Bank Stadium in Baltimore.
Terrell Suggs
had six tackles and a pass defended as the Ravens' rush linebacker. Houston featured third-string rookie
T.J. Yates
at quarterback, and his three interceptions -- paired with multiple special-teams gaffes by Texans returner
Jacoby Jones
-- were big factors in a 20-13 Baltimore victory.
The Texans returned home to rave reviews for their first playoff season but also couldn't help wonder what might have been if they'd had injured starting quarterback
Matt Schaub
and played a cleaner game. Baltimore advanced to the AFC Championship Game in New England, where it lost to the Patriots, but a near-catch for a touchdown by
Lee Evans
could have won it with 27 seconds left and a missed 32-yard field goal by
Billy Cundiff
could have forced overtime.
This rematch doesn't carry the same stakes but could have big implications. The winner will have the AFC's best record at 6-1.
AFC North blogger Jamison Hensley and AFC South blogger Paul Kuharsky will be watching closely.
HENSLEY
: I think it's easy to say this is a battle of the two best teams in the AFC. Not really going out on a limb here because the Ravens and Texans are the only teams with winning records in this mediocre conference. I know there are going to be nine games after this one, but this is shaping up to be the Ravens' most important game of the regular season.
The result of this game could become a tiebreaker for home-field advantage or a first-round bye at the end of the season. The Ravens, who have won a league-best 14 consecutive games at home, don't want to go on the road in the playoffs. The Ravens' mindset is that they won't have to come back to Houston this year if they win there Sunday. What's the mindset of the Texans after what happened in Houston last Sunday night?
KUHARSKY
: Because the Texans are so young, they've played a lot of "biggest games in franchise history." This is certainly the newest one to top the list. Their critics look at the 5-1 record and see wins over mostly softies and a pasting by the Packers on Sunday night. A victory over the Ravens validates everything they've done and regains a firm hold on Best in the AFC. A loss would create some serious concerns. They do have the cushion of playing in a terrible division they simply can't lose. But Baltimore has been an obstacle and ended the Texans' last season in the playoffs. If they meet again with such high stakes, they don't want to be traveling.
It might be a good time to draw the Ravens, too, right? I know
Ray Lewis
wasn't what he has been, but their first game without a leader like that and without an underrated, great corner like
Lardarius Webb
may make them a bit more susceptible, no?
HENSLEY
: This is the most vulnerable I've seen the Ravens' defense in 13 seasons. Lewis wasn't playing like the Lewis from 10 years ago, but he was still an above-average linebacker in this league. The Ravens have given up more than 200 yards rushing in each of the past two games, and losing Lewis only makes that run defense shakier.
Dannell Ellerbe
, who has made seven starts since entering the league as an undrafted free agent in 2009, will take Lewis' spot.
Though the Ravens will miss Lewis' leadership, the bigger loss is Webb. He was emerging as one of the top cornerbacks in the league. His nine interceptions since the start of the 2011 season was tied for the league lead. So, the Ravens have taken shots to both their run and pass defenses this week. How do you see the Texans attacking the Ravens' defense Sunday?
KUHARSKY
: Although they might not run first chronologically Sunday, the Texans are a run-first team. Everything they do offensively is keyed on the one-cut-and-go running of
Arian Foster
, who did great work running for 132 yards in that playoff game on Jan. 15. They send him left most often now, because
Duane Brown
and
Wade Smith
are steadier blockers than the guys on the right side, where they have two new starters who aren't even full time.
Spinning off that run game, we'll see play-action heavy with bootlegs and rollouts. It's always remarkable to see
Owen Daniels
out in space awaiting a Matt Schaub pass.
Andre Johnson
is certainly dangerous too, though they've not been able to feed him the ball as much as usual. He hates the talk that he's getting older and slowing down, but he hasn't looked like the same player so far this season. Two weeks ago, Jets cornerback
Antonio Cromartie
really smothered Johnson. I figured Webb would be a guy who could do similar work. If AJ sees someone like
Cary Williams
instead, it could be a different story.
Speaking of Schaub, let's turn to quarterbacks. He has been quite efficient this year, doing what Houston needs and not getting caught up at all in his numbers. I came into the season not sold on
Joe Flacco
and thinking the Ravens didn't have the right guy under center to become an offensive team. But he has done some very good work in the games I've seen and started to change my opinion. Even minus
Brian Cushing
, the Texans' front throws a lot at a quarterback. Green Bay might have exposed some coverage deficiencies. How's Flacco at assessing such things on the fly and taking advantage?
HENSLEY
: Flacco's biggest improvement this season has been his ability to audible at the line. The Ravens are using the no-huddle more than any other time in Flacco's five seasons. It's not to the point of being
Peyton Manning
, but Flacco is constantly changing the play at the line. Flacco, who ran the no-huddle during his college days, is comfortable with this. He has wanted to have more control of the offense and he's now getting it.
A lot of credit goes to quarterbacks coach Jim Caldwell, who is familiar with this style from his days with the Colts. Flacco makes his mistakes when he gets pressured. His pocket awareness has improved and he can scramble for yards. But Flacco will rush and make poor throws when a defender is in his face. Left tackle
Michael Oher
(four sacks) and rookie right tackle
Kelechi Osemele
(three sacks) have struggled at times keeping rushers away from Flacco. Is there any chance the Ravens slow down
J.J. Watt
and Houston's pass rush?
KUHARSKY
: It sure seems like the key to the game for me. Watt is going to get his at some point, and it's not just sacks. Watch how he'll stop rushing when he knows he's not getting there and time his jump to bat down, or even pick off, a pass.
And although the numbers of the other guys aren't in his stratosphere,
Brooks Reed
,
Antonio Smith
and
Connor Barwin
are very effective rushers who will have a bearing on Flacco's pocket comfort. Force some mistakes with that rush, and I like Houston's chances. Get stonewalled and fall victim to the ball coming out super-fast, and I feel differently.
One note about the quicker Ravens offense: With Cushing out,
Brice McCain
, the nickelback, will have a bigger role in covering players such as
Ray Rice
and
Dennis Pitta
on routes. If the Ravens run hurry-up or no-huddle, they can potentially trap the Texans in base if they want McCain off the field. I am eager to see whether they try that. The Texans are obviously are familiar with Jim Caldwell's no-huddling.
How about special teams? Tell me how Jacoby Jones is now reliably explosive? The Texans have some serious special-teams issues.
HENSLEY
: Jacoby Jones has been one of the bigger surprises this season for Baltimore. The Ravens were looking to upgrade the return game this offseason and failed to sign
Eddie Royal
or
Ted Ginn
in free agency. That's why they jumped on Jones when he was cut by the Texans. He has been average as a punt returner (9 yards per return), but he really keyed the win over the Cowboys on Sunday. His 108-yard kickoff return for a touchdown, which tied an NFL record, was the big play in that game.
The only reason the Ravens turned to Jones on kickoffs was because rookie
Deonte Thompson
fumbled a kickoff the week before. If you think about it, it's kind of funny that Jones got his chance to be explosive because another player couldn't hold onto the ball, especially after Jones' problems fielding kicks in the past. But that really hasn't surfaced so far with the Ravens.
Baltimore's coverage teams are both ranked in the top half of the league, which is a big improvement from last year. In 2012, the Ravens allowed three touchdowns on returns. Another improvement is at kicker. Rookie
Justin Tucker
has made 12 of 13 field goals this season and has hit both attempts beyond 50 yards. If this game is close, the Ravens have a lot of confidence in Tucker to make a pressure kick. So, what are the issues with the Texans' special teams?
KUHARSKY
: Well,
Trindon Holliday
was absolutely electric as their returner in the preseason. But it didn't carry over and they gave up on him. You saw Holliday playing for the Broncos on Monday night.
Keshawn Martin
is the man now. The team averages only 9.8 yards a punt return and 18.5 yards a kick return.
Their average start after a kickoff is the league's worst -- the 17.7-yard line. Their coverage isn't that bad -- it's 31st in the league instead of 32nd. Opponents start at the 26.9-yard line.
Donnie Jones
is a middle-of-the-pack punter in net average.
Shayne Graham
has been good on field goals, hitting 11 of 12, but is tied for 24th in touchbacks playing at home in what amounts to a domed stadium.
It's gambler's logic that the Texans are due to break through against the Ravens. Maybe they will, maybe they won't. If they don't and Jacoby Jones has something to do with it, it'll hurt a little bit extra.
It's certainly no stretch to predict we'll see these teams facing off again in the playoffs. In what round and where is the question, and Sunday's winner will lead the race to be in position to host.
September, 6, 2012
9/06/12
11:56
AM ET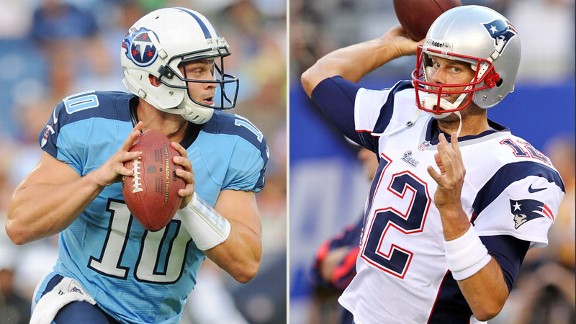 US PresswireIn his first start, Jake Locker, left, faces Tom Brady and the defending AFC champion Patriots.
They've got a lot of young talent, headlined by a young and unproven quarterback.
And on opening day at LP Field, the
Tennessee Titans
have the ultimate measuring stick: The
New England Patriots
are the defending AFC champions and the franchise that's been the model for consistently contending in the conference.
Titans general manager Ruston Webster and coach Mike Munchak are in their first and second years, respectively, in their posts. They seek to establish a pathway to finding and fielding talent and a team culture the way Bill Belichick has in New England.
A Titans upset Sunday would do a lot for the early stages of the process. It won't come easily, as the Patriots will bring an eight-game opening-day winning streak to Music City.
In advance of the game, I invited Mike Reiss of ESPNBoston.com to banter about it.
Paul Kuharsky:
The popular thinking during the Titans' quarterback battle was that veteran
Matt Hasselbeck
would be better able to handle a team like New England than
Jake Locker
would. But it's Locker who will be under center Sunday, making his first start against the defending AFC champs.
New England might not be a defensive football team, Mike, but I feel pretty confident that the Patriots will have a laundry list of things intended to overwhelm a young quarterback making his first NFL start.
Mike Reiss:
Part of me wonders if Belichick would have preferred seeing Hasselbeck in there, just because there is more NFL background on him to study. Belichick often talks about how the opening game of a season is so unpredictable, and this adds another layer to the preparation. The main thing Belichick has been stressing with Locker is how athletic he is, so keeping him in the pocket with good rush-lane integrity figures to be a focus for the revamped Patriots defensive front. Belichick figures to make limiting running back
Chris Johnson
a No. 1 priority, with the idea of putting the game in Locker's hands to see how he responds. It seems that's the place to start with the Titans' offense -- Johnson and Locker.
PK:
The interior run blocking and Johnson's effort were huge questions in Munchak's first season as head coach. Johnson has admitted his holdout affected his game more than he expected it would. Tennessee looked at a bunch of free-agent centers, including
Dan Koppen
, before sticking with the status quo. Then center
Eugene Amano
suffered a season-ending torn triceps early in camp. So
Fernando Velasco
is the guy now. While new left guard
Steve Hutchinson
will do all he can to help, I figure the Patriots will be hoping to get Velasco and the Titans' lesser guard,
Leroy Harris
, in bad spots against
Vince Wilfork
. As for Johnson, no less an authority than Eddie George said the speedster got into a bad habit last season when he stopped moving his feet upon initial contact. We'll be watching for that Sunday at LP Field. Does he make a quick lateral move and give himself a chance to keep going when the first guy gets to him? Or does he stall? If it's the second option, he'll be doomed.
How about running back the other way?
BenJarvus Green-Ellis
is gone now, so what's the Patriots' pecking order at the position? The Titans seem pretty solid up the middle if they are at full strength with
Sen'Derrick Marks
and
Jurrell Casey
. Isn't New England's group of backs mostly littler than you?
MR:
I see what you did there, Paul. Very clever. But as
Wes Welker
,
Danny Woodhead
,
Kevin Faulk
and others have shown us over the years, sometimes the smallest dog in the fight has the biggest bite. The Patriots have really turned over their running back position from just two years ago. What was once the oldest position on the roster is now defined by youth -- second-year backs
Stevan Ridley
(third round, LSU) and
Shane Vereen
(second round, Cal) top the depth chart, with the 5-foot-8, 200-pound Woodhead (fifth year) the change-of-pace back who plays a lot because of how much the offense is in the shotgun. Rookie
Brandon Bolden
, who took the same path as Green-Ellis to make the roster as an undrafted free agent out of Mississippi, is the fourth option. Ridley and Bolden are both 5-11 and 220 pounds. They run with power. Vereen (5-9, 205) brings more of a speed element, although it is unlikely we will see him after he hobbled off in the team's third preseason game and hasn't practiced since. There is more big-play potential with this group that they had last year with Green-Ellis leading all running backs by playing 34 percent of the snaps. Don't sleep on this group, although it's safe to say the Patriots are an attack that will lean more heavily toward the pass. So protection for
Tom Brady
figures to be key, and they had a shaky preseason in that area.
PK:
In my view, for the Titans to have a chance to pull an upset here, they'll need to really harass Brady. I think making New England use
Rob Gronkowski
and
Aaron Hernandez
as help in pass protection will wind up their best chance to defend those tight ends. Rookie linebacker
Zach Brown
was drafted because he can keep up with guys like that, but in his first game – while I expect him to have some sort of nickel role -- I think it'd be awfully hard to be a successful part of slowing them. Tennessee's pass rush looks to be operating inside out -- Casey may be their best defensive lineman -- so it will be interesting to see how effectively Brady can slide or step up, and if a second guy will arrive to get to him.
One matchup I think can be better than most think is
Alterraun Verner
against Welker. Certainly there are some plays where you cannot stop what Brady and Welker are doing. But Verner had a real knack for disrupting the quick stuff that gets fed to slot receivers. I look for him to make a couple plays.
MR:
Watching the Patriots this preseason, it's fair to say pass protection is a concern. Brady took some big hits, fumbling against the Saints and Buccaneers. This has been a successful formula for teams that can pull it off -- disrupt the passing game by getting to Brady early. The problem is that not all teams can do that. Here are a few things to keep in mind: 2011 first-round draft choice
Nate Solder
is now the team's permanent left tackle, stepping in for the retired Matt Light. There have been some growing pains, so if we're talking matchups to watch, how about Solder against
Kamerion Wimbley
? Also, there is some uncertainty as to who will start at center, as the team's longtime option there, Koppen, was released at the final cutdown. Add in that left guard
Logan Mankins
(coming back from a torn ACL) played just 11 snaps this preseason and right tackle
Sebastian Vollmer
(returning from a back injury) played just nine snaps in the preseason, and this is a unit that bears watching on Sunday. The Titans have a chance to control the line of scrimmage.
PK:
That's good work in terms of talking me out of feeling like we're going to watch a blowout unfold. (Yes, 2009 is ancient history, but it's hard to forget 59-0 at Gillette Stadium.) I remained convinced the Patriots will find their points. Heck, they scored 30 or more 12 times last season, topping 40 twice. Add
Brandon Lloyd
to the mix on offense, and I expect Brady to help them post a crooked number. To pull an upset, I think Locker will have to manage the same.
That's as close as I'll come to picking it -- I hate putting myself in position to root for a result to make myself look smart. You know what a challenge that is for me even without making a pick.
MR:
I think this is a game the Patriots should win. The Titans are a team that if you sleep on them, they will beat you, but that usually isn't a problem for the Patriots, because Belichick doesn't allow for complacency. The Titans probably hoped for higher temperatures than the predicted mid-70s. Still, look for Belichick to rotate a lot of his personnel as a way of keeping them fresh. The one position that won't be in play is quarterback, and I think it's fair to say that's the big difference in this game -- Brady. Big advantage there for the Patriots.
PK:
Impossible to argue that point, so this looks like our ending.
November, 11, 2011
11/11/11
11:00
AM ET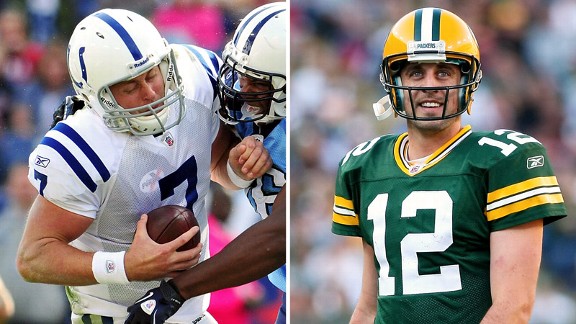 US PresswireCurtis Painter's Colts, left, and Aaron Rodgers' Packers are on pace for historic seasons.
We're past the halfway point and there's a team with a zero in the loss column and a team with a zero in the win column.
We smelled a Double Coverage.
Is one of those zeros going to last? We got our AFC South and NFC North wizards together to talk it out.
Paul Kuharsky:
For starters, Kevin, on behalf of those who follow the AFC South, we'd like to thank the NFC North representative for deeming us worthy to be a conversational partner. I mean, your teams are a combined 21-11 and mine are a measly 12-22. You are indeed very gracious.
Kevin Seifert:
No problem, Paul. As the blogger for the NFL's most dominant division, I thought it would be interesting to see how the other half lives. Maybe those of us in the Black and Blue could learn something. Perhaps the untold value of mediocrity?
PK:
More graciousness. The Colts and Jaguars thank you for the compliment. They haven't been viewed as even mediocre in some time.
OK, we're here to discuss what's more likely, the Colts going winless or the Packers going undefeated. I think finishing a 16-game season with a zero in either the W or L column is equally hard. Over in the AFC South, we've actually seen the flip side of this. The 2009 Colts had a shot at an undefeated regular season, and they took their foot off the gas, pretty much sacrificing the final two games of the season in the name of resting and preserving people.
It was their prerogative of course. They said it wasn't about going undefeated, it was about winning it all. I thought they were stubborn, acting as if they couldn't conceivably do both and suggesting there would be no extra meaning to it. When they lost the Super Bowl to the Saints, it was all moot. It's remarkable that just two seasons later, we're talking about an 0-9 Colts team with a shot to go winless. Maybe karma is in play.
KS:
There is no doubt that winning all 16 regular season games is a difficult task and requires some luck.
But I think it's harder to go 0-16, and I speak from experience.
You forget, Paul, that three years ago I covered a team that didn't win a game all year. The 2008
Detroit Lions
were a terrible team, hitting rock bottom with poor drafts and mismanagement, but they proved how hard you have to work to lose 16 games.
Just one example: The margin of victory in the Lions' 12-10 loss at the
Minnesota Vikings
that year was a safety. It occurred when quarterback
Dan Orlovsky
forgot where he was on the field and ran out of the end zone -- by a solid three yards -- while attempting to elude a pass rush. It was the easiest sack of defensive end
Jared Allen
's life.
Even someone like you, who isn't averse to embarrassing yourself on camera for your blog readers, could probably have avoided a safety on that play.
The point is that even a historically bad team is liable to get its chances to win a game. A really good team has a better chance of limiting its chances of losing. Hopefully that makes sense to your AFC South people.
PK:
I didn't forget, Chief, I was setting you up. And I know Mr. Orlovsky personally, as he's been with the Texans and is now on the very Colts team we are talking about. Imagine, he and linebacker
Ernie Sims
could be part of two winless teams in a four-season span. That's not a very good line on the old resume.
Though they've given me little reason to believe it, I still think the Colts win a game "by accident" in their final seven. Many people seem to think the big chance comes with Jacksonville coming to town this weekend. But apparently those people have not seen the Jaguars' defense, which is capable of squashing the Colts.
Dwight Freeney
might need to score for Indy to win.
I look through what the Colts have left after the Jags and I can't pick one to win -- Carolina, at New England, at Baltimore, Tennessee, Houston and at Jacksonville. Those games at New England and Baltimore were expected to be monster AFC contests when the schedule came out. Now they might be breathers for the Patriots and Ravens.
I love the Packers, but they have a far more difficult road to a singular season -- they could lose on Thanksgiving at Detroit, they could lose a week later on the road against the Giants. They could lose on Christmas to Chicago or on New Year's to the Lions, though it's awfully nice that those last two are at home.
KS:
They also could have lost last week to the
San Diego Chargers
, or in Week 1 if
Mark Ingram
had gotten the
New Orleans Saints
one more yard or in Week 3 if
Cam Newton
had converted one more fourth down for the
Carolina Panthers
. The point is the Packers have demonstrated to everyone watching that they have the tools and guile to pull out victories of all shapes and sizes and regardless of the circumstances.
There has been a fair amount of consternation about their pass defense, and even
Charles Woodson
has spoken out about it. They've been giving up gobs of yards all season, but to this point, they've minimized the impact by grabbing an NFL-high 16 interceptions.
The concern is that the Packers could be done in by a more efficient and careful quarterback than the ones they've played so far. The list of remaining quarterbacks on their schedule includes these names:
Christian Ponder
,
Josh Freeman
,
Matthew Stafford
(twice),
Eli Manning
,
Carson Palmer
,
Matt Cassel
and
Jay Cutler
.
So if the Packers don't do anything to improve their pass defense, that leaves the Lions and Giants as probably the best candidates to beat them. That assumes, of course, that Stafford and/or Manning not only play mistake-free but also match
Aaron Rodgers
in a score-fest. The Packers are averaging 34.4 points per game.
PK:
I think the Colts' best stretch of play might actually be behind them. They nearly found a way to beat Pittsburgh in Week 3 but lost by 3, they were in it late in Tampa Bay on a Monday night but lost by a touchdown, they were in range of Kansas City but lost by four.
Every week is a new deal. We just saw the Dolphins emerge from a similar quagmire and win in Kansas City. The Colts could stumble into a game where things align for them. My gut still says they will, because 0-16 is so hard.
So my verdict: The Colts are more likely to go 0-16 than the Packers are to go 16-0. But I don't think we're seeing either.
You?
KS:
We can agree on that: Neither is happening. But on the relative scale, I like the chances of Rodgers throwing a touchdown pass to
Greg Jennings
in Week 17 and sealing a perfect season more than the chances of Dan Orlovsky running out of the back of the end zone again.
Just a guess.
January, 31, 2010
1/31/10
1:00
PM ET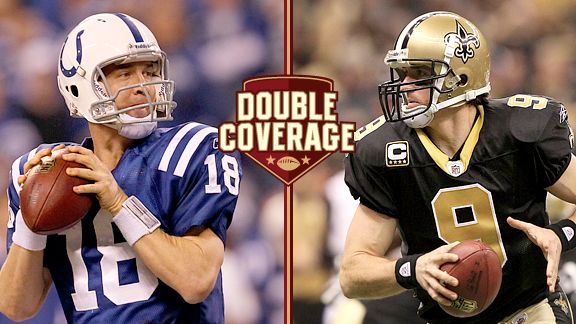 Getty ImagesPeyton Manning and Drew Brees lead two of the most powerful passing attacks into Super Bowl XLIV.
The Colts and Saints arrive in Miami on Monday, when the hype for Super Bowl XLIV will kick into high gear.
Eager to do our part, we locked NFC South blogger Pat Yasinskas, who analyzes the Saints for ESPN.com, and AFC South blogger Paul Kuharsky, who tracks the Colts, in a room and asked them to talk through several of the top issues.
We're sure to revisit many of them in the week to come, so consider this a tasty platter or appetizers. Tuck a napkin in your collar and dive in.
How much of a factor is it that the Colts have a recent Super Bowl championship on their resume, while this is the first Super Bowl appearance in a not-so-glorious franchise history for the Saints?
Pat Yasinskas:
I'm not going to even try to bluff my way through this one or downplay this aspect. This is a huge factor and the Saints are clearly at a disadvantage here. By my count, they've only got four players who have even appeared in a Super Bowl (with other teams, of course). That's safety
Darren Sharper
, cornerback
Randall Gay
, fullback
Kyle Eckel
and long-snapper
Jason Kyle
. Gay is the only one of those guys with a Super Bowl ring.
If you really want to pad the list, I suppose we could throw in tight ends
Jeremy Shockey
and
David Thomas
, who were on the injured-reserve list when their teams went to Super Bowls, and fullback
Heath Evans
, who went to a Super Bowl with New England. But Evans won't play in this one because he's on injured reserve. That's it. Not a long list of guys who have been there and done that.
The Saints haven't been here before, but they have to act as if they have. They've got strong veteran leadership in players such as Sharper,
Drew Brees
and
Jonathan Vilma
. They'll have to follow their lead. Just as important, the coaching staff has to set the tone that the Saints shouldn't stroll into Miami with their eyes wide open. They need all eyes focused only on winning the game.
Paul Kuharsky:
I'm not expecting the Saints to be overwhelmed or unfocused by the hype or events of Super Bowl week. They were smart to get their game plan drawn up and installed during the week after winning their conference, same as the Colts did.
It's Super Bowl Sunday itself that can prove to be the big difference. It's great to have people tell you about the unnatural start time, the long delay between warm-ups and pregame festivities and the extended halftime to make room for The Who. It's another thing to go through it yourself. Edge: Colts. Not only have they done it, they've done it in this very venue.
I also think the adrenaline that shoots through guys when kickoff finally arrives can make it hard for them to settle down. Indianapolis will be better prepared for that, and if the Colts settle down more quickly than the Saints, New Orleans has to hope by the time its feet hit the ground it's not facing a two-score deficit.
Understandably, the first thing people talk about with these two teams is the passing game. But both the Colts and the Saints can run the ball a little bit. Which team has the better running game?
[+] Enlarge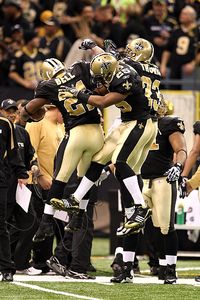 Scott Cunningham/Getty Images Mike Bell, left, Reggie Bush and Pierre Thomas are part of a running game that balanced New Orleans' offense.
PY:
I'm going with the Saints. People tend to overlook their running game, but it's a big reason why they're in the Super Bowl. One of the best things Sean Payton did in the offseason was realize his running game was inconsistent and just plain bad last year. He made a conscious commitment to make the running game better this year and the most impressive thing might be that he and general manager Mickey Loomis were able to avoid the temptation to go out and sign
Edgerrin James
or draft
Beanie Wells
.
They realized they already had some good backs in the building with
Pierre Thomas
,
Reggie Bush
and
Mike Bell
and they added
Lynell Hamilton
for a bit of depth. They had a good offensive line already in place, and Payton altered his play calling to have a more balanced offense that allowed the Saints to protect leads and run out the clock.
New Orleans doesn't have one dominant back. Thomas can do a bit of everything, Bush provides speed and a receiver out of the backfield and Bell and Hamilton give the Saints some power. This makes for a very solid combination.
PK:
I like the Saints' running game better as well, but as we've discussed thoroughly in the AFC South blog this season, the Colts aren't looking for conventional production in this department. They need their runners to pick up blitzes, put together some efficient runs, work well in play-action, and not put the team in bad spots with runs for losses. The home run plays are far more likely to come out of the passing game.
It's important to note that the Colts, the NFL's lowest-rated running team in the regular season, just out-rushed the Jets, the league's top ground game, in the AFC title game. Indy has survived a lot of quality running backs too, including the Titans' explosive 2,000-yard runner
Chris Johnson
. While he torched the rest of the league, averaging 5.8 yards a carry, he managed 4.1 and 147 total rushing yards against the Colts in two Tennessee losses.
The Colts may give up some yards, but overall they are more than capable of containing Thomas, Bush, Bell and Hamilton well enough to win.
The quarterbacks are obviously the marquee names in this game and they will be dissected all week.
PK:
I have a great deal of appreciation for Drew Brees, but even if he wins this game, we're not going to be calling him
Peyton Manning
's equal. Both quarterbacks are excellent leaders. Both are supremely accurate. Both have a quality stable of weapons.
But things begin to stray from there. Manning has four MVPs, including this season's, and he won it over Brees, who finished second. Manning has a lot more big-game experience and a title on his resume. And while he wasn't always at his best on the playoff stage, he's playing at a level right now where a lot of people feel, reasonably it seems, that he may just be unstoppable.
In the AFC Championship Game, against the Jets and the NFL's top-rated defense, he needed some time to figure out what New York was trying to do. Once he did, he shredded the Jets with 377 yards and three touchdowns. His in-game adjustments, with help from coordinator Tom Moore, are unparalleled. And like a lot of defensive coaches before him, Gregg Williams
is talking about
sending people at Manning and hitting him. These days, it very rarely works out the way against Manning and the Colts, as it did against
Brett Favre
and the Vikings.
PY:
Paul, let me start by saying I respect the heck out of Manning and all he has achieved. He is a first-ballot Hall of Famer and, quite possibly, the best quarterback ever. And I'll gladly agree that he probably is playing at his highest level ever right now.
That said, why can't we call Brees his equal if the Saints win this game? Seriously, I believe the only thing really separating Brees and Manning right now is a Super Bowl ring. Look at Brees' numbers the past few years. He's right there with Manning. I honestly remember watching him in training camp last year and thinking, "This guy is the closest thing to Peyton Manning I've ever seen'' and Brees has only continued to improve since then. He has carried a franchise on his shoulders and that franchise is the
New Orleans Saints
-- enough said about that.
As for the MVPs, that's a wonderful thing. But I think some of that is overrated and the Manning name carries a lot of weight in elections. I'm not trying to tear down Manning at all. But I think you have to at least let Brees in the same sentence if he can win this game. I'll offer a compromise here. If the Saints win this game, can we at least say the two best quarterbacks in the league are from teams in the South?
PK:
Well, beyond four MVPs to none, if the Colts win Manning will be up two Super Bowls to none, and while he's only three NFL seasons ahead of Brees he has led his team to the postseason 10 times to Brees' three. Lots of cushion there in my eyes. But I'll go with you on the South divisions ranking one and two if Brees gets his hands on that Lombardi Trophy.
We talked quarterbacks, of course we have to talk pass rushes. How much will the guys chasing Manning and Brees influence this game?
PK:
For a long time the Colts' defense was at its best when the offense got a lead and made the opponent one-dimensional. That did a lot to get the run game out of the mix against a defense keyed around speed, not size, and put
Dwight Freeney
and
Robert Mathis
in those maximal pass-rushing situations.
It doesn't have to be that way now. This version of the Colts is still fast, but the defense is a bit bigger with
Antonio Johnson
and
Daniel Muir
manning the middle of the line. It has a second big-hitting linebacker in
Clint Session
to go with
Gary Brackett
and boasts defensive backs who can come up and hit as well as run and cover.
Jon Stinchcomb
(against Mathis) and
Jermon Bushrod
(against Freeney) will be dealing with some serious speed. If
Freeney's ankle injury
holds him out or limits him, that will hurt. Raheem Brock is a quality third end, but he won't necessarily prompt the Saints to help Bushrod with a tight end or back, so the vaunted Saints passing attack may not have to sacrifice a weapon in protection. If the Colts bring a fifth rusher to help, as they have much more often in Larry Coyer's
first season
as their defensive coordinator, the timing up front can get all out of whack no matter who's at end.
If either defense can prompt some happy feet, it could be an edge.
PY:
Absolutely. The pass rush is going to be a deciding factor in this game for both teams. No doubt Indianapolis has a great pass rush and that's a challenge for the entire New Orleans offense, particularly Bushrod. He is a backup who has been forced to play all season because of an injury to
Jammal Brown
.
Bushrod has his limitations. But he has held up all right against players such as
Julius Peppers
and
John Abraham
.
DeMarcus Ware
has been the only guy to really tear him apart. Admittedly, a lot of that has to do with the rest of this offense more than it does with Bushrod's skills. The Saints account for him on every play and they've been able to cover him because the rest of their offensive line is so good. They've given him help from tight ends, fullbacks and running backs and the offense is designed so that Brees rarely takes deep drops and he gets rid of the ball very quickly. Plus, it's tough to fluster Brees.
Sure, it's tough to fluster Manning too, but that's not going to stop the Saints from trying, and their pass rush is better than a lot of people think. Defensive end
Will Smith
is one of the most underrated players in this game and Bobby McCray's a pretty good pass-rusher too. With
Sedrick Ellis
and
Anthony Hargrove
, the Saints are capable of getting a push in the middle and Gregg Williams is not afraid to bring the blitz -- although I don't see him doing it a lot in this game. The Saints beat up Favre and
Kurt Warner
in their two playoff games. I know Manning is seen as sacred by a lot of people, but I don't think Williams and the New Orleans defense view him that way.
PK:
However it unfolds, I root for a classic. We should have good seats, I want the good storylines too.
PY:
I'm with you my friend. Nothing better than the Super Bowl -- good football, good weather and good entertainment. Remember how great Bruce Springsteen's show was at halftime last year? Oh, that's right, you didn't make it. Hope The Who helps make up for that.
PK:
Could be another tricky day for you and the team you're following. But it'll be fun to join together to see how it unfolds.
July, 1, 2009
7/01/09
12:00
PM ET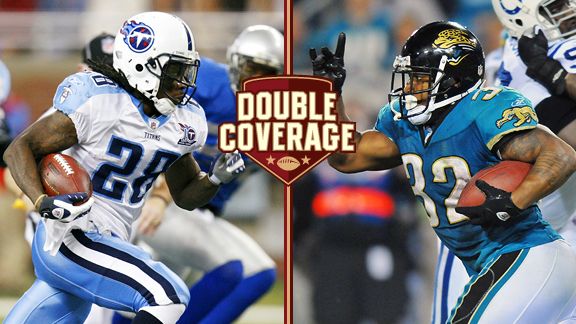 Getty ImagesWho is the better back: Chris Johnson or Maurice Jones-Drew? We debate the topic.
It came up so often in the weekly AFC South chats that Kuharsky told his editor it should be a Double Coverage topic.
So Williamson of Scouts Inc. and Kuharsky recently got on the phone and argued it out: Who's the better back, Jacksonville's
Maurice Jones-Drew
or Tennessee's
Chris Johnson
?
We already can picture Houston fans running to send e-mails protesting that
Steve Slaton
was not included. (Sorry folks. He's a wonderful player, but both of us have him third in this conversation right now. We touch on that in here.)
We cover everything we could think of: durability, reliability, speed, versatility, leadership, blocking, complimentary pieces and the context of their teams.
Here's a summary from each of us on why we took the position we did:
Kuharsky: I'm repetitive in this debate because I keep circling back to the one thing that I think sets Johnson apart -- his blazing speed. When defensive coordinators are planning for the Titans, they're up late, worried about all sorts of scenarios that might put Johnson in position to outrun their entire defense. That world-class speed might make Johnson as feared an offensive weapon as anyone in the league. And as much as I like MJD and as well-rounded as his game is, the danger factor Johnson brings with every touch makes him my choice.

Williamson: While I am a big believer in Chris Johnson and do concede that he is a nightmare to prepare for, I like Maurice Jones Drew better because I simply think that he brings more to the table. Not only can Jones-Drew catch the ball and create big plays in space, but he is far more powerful than Johnson and is a fantastic short yardage runner. Jones-Drew scores touchdowns in bunches and is the more well rounded --and proven -- player of the two.
While body blows are landed on both sides, don't expect a knockout.
Jason Soderberg mediates the debate. He might even declare a winner.
May, 6, 2009
5/06/09
12:00
PM ET
| | |
| --- | --- |
| | |
| | ESPN.com Illustration |
| | London has reportedly launched a bid to host the Super Bowl some time in the next decade. Should the NFL export its marquee event? |
Posted by ESPN.com's Pat Yasinskas and Paul Kuharsky
The Super Bowl, America's greatest sporting event, could be played outside the United States as early as 2014.
At least that's what some reports are suggesting. London, which already has hosted two regular-season games and is scheduled to hold a third this year, seems to be at the top of the list for the first overseas Super Bowl.
Is it possible and is it practical to put American football's spectacle in the land of soccer? Pat Yasinskas and Paul Kuharsky debate the merits, logistics and chances of a London Super Bowl.
Would a Super Bowl outside of the States be un-American?
Paul Kuharsky: Pat, I know you were in London for a game last year and have a better sense of how this would play over there than I do. And I'm no xenophobe; I don't want to call it un-American. But I do think proselytizing our football to this degree runs counter to present-day American interests. A Super Bowl funnels a lot of money into the host city, and any qualified city in America could use it -- no matter the state of the American and world economies in 2014.

Sure, a load of NFL fans are priced out of their team's biggest moment when the game is played in the lower 48. How many more won't be able to even consider it when they'd need an overseas flight and a London hotel room? A lot of hardcore football fans would not take this well at all. Is it worth alienating people who buy jerseys and tickets and paint their faces in an attempt to soften up foreign populations you may have no chance of winning over?
Pat Yasinskas: I'm going to say something I thought I'd never say before I traveled to London for last year's regular-season game between the Saints and Chargers. I'm all for a London Super Bowl.
| | |
| --- | --- |
| | |
| | Matthew Lewis/Getty Images |
| | Wembley Stadium in London has been host to two NFL regular-season games and could be a venue for an overseas Super Bowl. |
The atmosphere in London for that game was simply amazing and I think it would be 100 times bigger for a Super Bowl. Sure, I'm a little hesitant about taking the economic impact out of the United States. But you've got to think big picture here. The economics are going to grow throughout Europe and throughout the NFL by placing the game in London. Really, can the Super Bowl get any bigger than it already is in the United States?
London, all of Europe and the rest of the world still are largely untapped and it's time to tap them. I still think there will be huge economic benefits to the U.S. in terms of sponsorship, television and the sale of merchandise. People are still going to watch the game on television, and isn't that really what the Super Bowl is all about? Think about it, how many people do you know who actually have been to a Super Bowl? The common person watches it at home. The people who actually go to the game are the corporate types, and they're going to go no matter where it is (a lot of Saints and Chargers fans came to London last year and made it a vacation). In fact, I think you'll have a much easier time selling outrageously priced tickets in London than you would in recent venues like Detroit and Jacksonville. It's time to truly open the Super Bowl to the world.
Wouldn't the logistics create some nightmares?
Pat Yasinskas: Yes, there's no doubt that a Super Bowl in London would present some major challenges. Start with the time difference. London is five hours ahead of the East Coast and eight ahead of the West Coast. That's the biggest issue of all because it impacts television, which is the driving force behind the Super Bowl. Do you play the game in the same evening time slot it's been in and start the Super Bowl late at night in London? Or do you cater to the audience in the stadium and start the game in the middle of the afternoon back in the States? That's a huge issue for the NFL to work out, but I'm thinking a compromise like starting at 3:30 p.m. ET time could work. People still are going to watch the Super Bowl on television, no matter when it's played.
The time factor also is something coaches and players aren't going to like. But they'll deal with it if they have to. The Saints and Chargers spent the whole week there last season and that gave everyone plenty of time to adjust their body clocks.
Paul Kuharsky: I'm picturing Bill Belichick muttering to himself while mapping out an itinerary with an overseas flight and an odd kickoff time. The owners may back it, but players and coaches aren't going to be fired up. (What player was it last year who asked what language they speak over there?)

I'm also wondering about the weather. According to weather.com, average February weather in London is a high of 47, a low of 36 and the month has an average rainfall of 1.34 inches. If I'm Nashville or Charlotte -- or even New York, Washington, Philadelphia or Baltimore -- I'm asking why the league's willing to play in that weather outdoors across the pond, but not at home. And I am beginning to clamor for a Super Bowl in my stadium, which was paid for, built and is regularly filled by Americans who buy the tickets and merchandise and provide the TV ratings.
Professional soccer hasn't exactly been a big hit in the United States. Can American football fly in London?
Paul Kuharsky: I don't get the sense that Europe is especially interested in American football on any sort of grand scale. While I understand the league's desire to globalize, I also know one of the reasons the NFL is our most popular league and so immensely successful is its ability to maintain an accurate and sensible sense of itself. The idea of a Super Bowl in London makes me think of soccer's failures in the U.S. Most Americans who are not soccer fans concede it's big everywhere else, but have a long list of reasons why it just doesn't work here.
Flip that list inside-out and Europe's got a handy cheat sheet for a conversation of why American football doesn't work over there. (Bring Manchester United to Giants Stadium and you'll have a sellout, sure, but it doesn't say anything big about American interest in soccer -- the same way a Super Bowl in London wouldn't speak broadly to European interest in football.) The NFL should consider that example when it tries to market an inherently American game to Europe and the rest of the world. If American football would work in Eur
ope, wouldn't NFL Europe have done at least well enough to survive?
Pat Yasinskas: Paul, I understand your argument. Heck, I shared the same view until my trip to London, but that experience made me see things much differently. Londoners are ready to embrace something like this. NFL Europe didn't work because it was a minor league. One thing I learned last year is that people in London are fascinated with America and want desperately to be a part of it. I was there a few weeks before the presidential election and the British were paying far more attention to that than I was. They're different from us.
I wouldn't go to a soccer game if you paid me and, to date, have successfully avoided watching my niece and nephew play a sport that bores me -- although I've been to dozens of their baseball and softball games. But the people in London have this raging curiosity about all things American. True, they may not understand the intricacies of a 3-4 defense, but they're going to come out for a show. And when it comes right down to it, isn't the Super Bowl just one big show?
Will we really see a Super Bowl in London?
Pat Yasinskas: Yes. I know some of the reports have said it's possible as early as 2014. I don't see it happening that quickly because there are too many logistical issues to be worked out. But I do think the game will be played in London sometime around 2020. Commissioner Roger Goodell has been trying to figure out the European market since he took the job. The regular-season games have gone over well and shown there's room for growth. The NFL's not going to ignore that opportunity. At some point, there will be a Super Bowl on foreign soil and London is the logical choice.

Paul Kuharsky: It's probably inevitable, Pat, but I agree that 2014 is a little ambitious. Let's see the league master the regular-season overseas games and let's give the game more time to percolate over there. And most important -- and this is what the league is already doing by sparking conversations just like this one -- let's get American football fans used to, and more accepting of, the idea that the Super Bowl's going to be an export.

In the meantime, with the Rolling Stones and Paul McCartney already having done it, let's ponder who's in line for a halftime show.
April, 1, 2009
4/01/09
12:00
PM ET
Posted by ESPN.com's Paul Kuharsky and Mike Sando
Is more better?
NFL commissioner Roger Goodell is confident the answer is yes. At the recent owners' meeting, he talked about expanding the regular season from 16 to 17 or 18 game, while cutting back the preseason, which he acknowledged doesn't meet the league's standards for its product with its fans.
Owners could vote on the issue this year, but such a change would then have to be bargained for as part of a new agreement between the league and the NFL Players Association (NFLPA).
| | |
| --- | --- |
| | |
| | Matthew Emmons/US Presswire |
| | Commissioner Roger Goodell is in favor of expanding the NFL's regular season. |
Would it be the right move? AFC South blogger Paul Kuharsky backs the bigger regular season, while NFC West blogger Mike Sando is against it.
They do their best to hash it out in this week's edition of Double Coverage.
Kuharsky: The NFL will never trim the preseason without converting some of it to real games, and the preseason is unquestionably the biggest rip off for ticket buyers in sports. Goodell clearly realizes that fans are fed up with meaningless exhibition games decided by fourth stringers that cost full price and are a mandatory purchase for season-ticket holders. Yes, a lot of things will have to be adjusted to accommodate an 18-game NFL regular season -- pay, the size of rosters, TV deals, etc. But more professional football that counts is a good thing, and taking the schedule further into February, the worst month on the sports calendar, is fine with me. I think it needs to be 18 -- not 17 -- games in order to keep balanced home and road schedules. If it's 17 and you talk about neutral sites, we're talking about leaving all these palaces built for football unused for actual games.
Sando: We can all agree there's a problem. Look, I know what it's like to fork over full price for preseason tickets, all while watching a horrible product on the field. That was my fate as a Raiders season-ticket holder years ago. I could barely afford my upper-level seats for the regular-season games and it was maddening to pay for games that didn't count. But I also think the NFL needs to think hard before further diluting its product. We already have too many teams. The league clearly doesn't have enough quarterbacks to make it through the current 256-game schedule. Adding two games per team would add 64 starts for quarterbacks.
Kuharsky: Funny, I never pictured you wearing a silver-and-black dog collar, Mike. As for 64 more quarterback starts, I'm fine with that too. The team that picks Peyton Manning over Ryan Leaf and the team smart enough to have Byron Leftwich as its backup instead of Ryan Fitzpatrick should reap the benefits of choosing correctly as often as it can. A team like the Bears that constantly fails to address the position effectively should suffer the consequences. If it's a side effect to a longer season that the teams that scout and groom quarterbacks the best have an advantage in a longer season, so be it. It's the most important position in the game. If the resources you have for finding and developing a player or players are insufficient or ineffective, here are a few more games where the people who are good at it get a chance to show you why you should be better at it.
Sando: Quarterback injuries are the real problem here. We can talk about the league putting skirts on quarterbacks and legislating contact out of the game, but quarterbacks will keep getting hurt. It's the nature of the position. Fifty-three quarterbacks started games in 2008. The number was 64 in 2007 and 50 in 2006. The Browns had four starters last season. The Chiefs, Lions and Seahawks each had three.
| | |
| --- | --- |
| | |
| | AP Photo/Michael Conroy |
| | An expanded regular season schedule would force teams to groom a backup QB, like the Colts' Jim Sorgi, in case injuries occur. |
The more games the NFL adds, the harder time quarterbacks will have staying healthy. Don't know about you, Paul, but I'd rather watch the third-stringer play in August than January. Think about it. If you're a Colts fan, would you rather endure a couple of meaningless games in August or would you rather endure Jim Sorgi starting a playoff game after Manning's body finally gives out in Week 19?
I don't think people understand what a 16-game schedule does to these players' bodies. The NFLPA understands, and that's why I think the 18-game schedule could be a tough sell.
Now that we've settled that issue, what about the record books? The jump from 14 to 16 games three decades ago already diminished the 1,000-yard season. If the league goes to 18 games, players would have to average only 55.6 yards per game to reach 1,000 yards. I realize the AFC South had only two 1,000-yard receivers last season -- the Cardinals had three, by the way -- but that seems ridiculous.
Kuharsky: A tough sell until players negotiate themselves two or three more in-season paychecks. And you want more quarterback development? There it is -- teams better get or groom themselves a quality backup because he will play. Wear and tear is definitely the biggest issue, and to make this schedule boost happen the league will have to give in on pay as well as on issues of jobs, service time connected to pensions and benefits. I would be in favor of a second bye week as well, which would help with recovery times and work just fine if the regular season started earlier because of a shortened preseason and ended later with a Valentine's Day Super Bowl.
I completely disagree with the record-book argument as a factor. A 1,000-yard rushing season hasn't meant much for a running back since the league went from 14- to 16-game regular seasons in 1978. A recalibration there is long overdue already. Fans and media can handle it if the benchmarks don't come in nice round numbers. That's hardly a reason not to play more.
This isn't baseball, where we know the numbers automatically, where 56 and 2,632 evoke images of Joe DiMaggio and Cal Ripken. What's the all-time rushing mark? I admit I've got to run to pro-football-reference.com to get Emmitt Smith's 18,355 yards. In 2008, Drew Brees was in range of Dan Marino's season record for pass
ing yardage (5,084), but it's not like a high percentage of fans or media know Marino's mark by heart. When Brees or someone else breaks it with two extra games, we'll understand the framework of it.
| | |
| --- | --- |
| | |
| | Luc Leclerc/US Presswire |
| | Brady Quinn (10) was one of four Browns quarterbacks to start a game in 2008. |
There is nothing that can happen in an 18-game season that I can't count on you to put in context, and a spreadsheet, to help me comprehend. You and I and all our colleagues can evaluate production in an 18-game season in the context of league history and the old 16-game paradigm.
Sando: Any discussion of extending the season should indeed pull baseball and basketball into the fold. Both sports play more games than most busy people are willing to follow. The NFL enjoys a tremendous advantage by playing fewer games than those other sports.
If not for the physical demands of football, short-sighted owners would trade the long-term good of the game for profits associated with seasons running 82 or 162 games. Jumping to 18 games isn't going to kill the NFL, but it's certainly going to dilute the regular season while putting more players at risk for injuries. Is that progress?
Kuharsky: It is to me if the primary argument against it is that it dilutes the regular season.
Eighteen games is still a reasonably small season, every game is still going to have a big bearing on the final standings and, again, we're talking about trimming half the pitiful preseason sham. I don't feel like it will put the NFL in the neighborhood of baseball, basketball or hockey in terms of over-saturating the sports landscape. A lot of taxpayer money went into building these stadiums. Let's put them to meaningful use more often.
ESPN Radio's Colin Cowherd always talks about the NFL's willingness to evolve. I think an expanded regular season qualifies as just that.
March, 12, 2009
3/12/09
11:10
AM ET
| | |
| --- | --- |
| | |
| | US Presswire |
| | Can Drew Brees or Matt Schaub take the next step and lead his team to the playoffs? |
Posted by ESPN.com's Pat Yasinskas and Paul Kuharsky
The New Orleans Saints and Houston Texans each finished 8-8 in 2008. Looking back, breaking even was a remarkable accomplishment given the extreme circumstances each team endured.

After Oct. 12, 2008, the Saints did not play another game in the Superdome until Nov. 24, thanks in part to their international game in London and a bye week. They somehow managed to split the four games during that span.

The Texans began last season 0-4, including a devastating Week 5 home loss to the Indianapolis Colts that featured Houston squandering a 17-point fourth-quarter lead.

Each team produced a great salvage job. Which is primed to take the next step to being a contender?

In this edition of Double Coverage, NFC South blogger Pat Yasinskas and AFC South blogger Paul Kuharsky discuss what each team needs to do to break the .500 barrier and make a run to the playoffs.
| | |
| --- | --- |
| | |
| | NFL.com Video |
| | Check out highlights of the best moments from Drew Brees in 2008. |
THE QUARTERBACK FACTOR
Kuharsky: Well, Pat, topflight quarterback play is always a good first ingredient in a big jump for a team. I'm not going to suggest Matt Schaub is going to be better than Drew Brees in 2009. But if he cuts down on turnovers, Schaub can make a major leap and the Texans can be a playoff-caliber team. He's got one of the NFL's best receivers in Andre Johnson and they've established one of those special relationships. His offense ran the ball far better last season thanks to the new scheme of offensive line coach Alex Gibbs and the emergence of running back Steve Slaton. The offseason focus is on improving the defense -- which already has added free-agent end Antonio Smith. If Houston plays more aggressively and better defense under new coordinator Richard Bush, Schaub and the Texans' offense could feel less pressure. All those circumstances suggest to me, if he can stay healthy, Schaub is in prime position to help the Texans score more points per game. And if they tack some onto the 22.9 points per game they averaged in 2008, they've got an excellent shot at improving on 8-8 and making the playoffs.
Yasinskas: Paul, I like Matt Schaub, too, and I think the Texans can win with him. But Brees was the best quarterback in the league last season. He threw for more than 5,000 yards even though top receiver Marques Colston missed a big chunk of time with an injury and tight end Jeremy Shockey was banged up most of the season. Brees was spectacular with a very ordinary supporting cast around him and not much of a running game. He made receiver Lance Moore into a star and made former disappointment Devery Henderson into a respectable receiver. Brees is an absolutely perfect fit in Sean Payton's offense and I expect him to be even better in 2009. With a healthy Colston and Shockey, Brees could put up astronomical numbers. There's also a sense of urgency within the organization because the coaches and front office realize Brees is in the prime of his career and the Saints don't want to waste that with another mediocre season. Brees single-handedly carried the Saints to eight wins last year. With just a little more help around him, he should be able to lead the Saints to double-digit wins.
THE SCHEDULE
Kuharsky: Two seasons ago, the AFC South sent three teams into the AFC playoff field. For the Texans to make their first postseason appearance, the division might have to send three again, because the Titans and Colts are going to have a lot of the same ingredients they had last season. What suggests the Texans can join those teams or pass one? Well, the AFC South plays the NFC West in 2009. While Arizona was a great story last season and one can never accurately predict teams' success from one year to the next anymore, I think if every team in the league could pick one division to play this fall, it would love to have the Cards, 49ers, Seahawks and Rams on its schedule. Say the Texans go 3-1 against those teams, manage 2-2 against the AFC East and sweep the two games assigned based on their third-place division finish in 2009, Oakland and Cincinnati. That's seven wins. If they could pull off just 3-3 in their division, where they have historically done great against Jacksonville but horribly against Indianapolis and Tennessee, they're 10-6 and in range of a playoff berth, I think. Last season's late win over the Titans could serve as a catapult for them in divisional play.
Yasinskas: The most certain thing I can say about the Saints right now is that their 2009 schedule won't be anywhere near as difficult as it was in 2008. That's when the Saints drew the most brutal schedule any NFL team has had in recent memory. The Saints had to spend much of the year on the road, practicing for a week in Indianapolis to avoid an approaching hurricane. But that was the easy part. The Saints had a stretch where they went 42 days without playing in the Superdome as a "home" game in London and a bye week were surrounded by road games. To their credit, the Saints never pointed to the schedule as an excuse. But the fact is they were at a competitive disadvantage that no other team had to deal with. We haven't seen the exact schedule yet, but the Saints don't have an international game this year and it's safe to assume they won't have any stretch that compares to last year. But the Saints have to play better against the rest of the NFC South. They were 2-4 in division play last year and were the only NFC South team with a losing record against division foes.
| | |
| --- | --- |
| | |
| | Paul Spinelli/Getty Images |
| | Mario Williams is just one of many young, up-and-coming defenders on the Texans. |
YOUTH MOVEMENT
Kuharsky: The nicest NFL breakout stories are about teams that pieced themselves together relying largely on the draft. It's great to see a young group mature together, gaining confidence and feeding off it. The Texans have the right sort of characters to fit that script. They traded for Schaub, of course, but he'll be just 28 when camp opens. He's throwing to Johnson (also 28) and tight end Owen Daniels (26), handing off to Slaton (23), and enjoying protection on the edges from Duane Brown (23) and Eric Winston (25). The defense is built around Mario Williams, DeMeco Ryans, Smith, Dunta Robinson and Amobi Okoye. Robinson and Smith are currently the old men of that group at 27. It's possible all 11 guys of that core have not yet played their best football -- a great reason to be encouraged. And they've got draft help coming on defense.
Yasinskas: The Saints aren't a team you usually think of as being young. But, in a unique way, they've got a youth movement going on. They have only four picks in the 2009 draft at the moment, but it's almost like they've got another rookie class. Several rookies missed all or most of last season because of injuries. In particular, the Saints believe cornerback Tracy Porter and receiver Adrian Arrington can be very valuable players. Throw in the fact that Reggie Bush, Colston, Pierre Thomas and Sedrick Ellis are still young and the Saints have some youthful players who should continue to get better. But they've also got a nice mix of veterans. They've got guys like Brees, Jonathan Vilma and Dan Morgan as leaders who have won some big games in their careers. The Saints aren't relying heavily on many old guys -- defensive tackle Hollis Thomas and cornerback Mike McKenzie might be just role players. This is a team made up mostly of guys who are young or are in their prime and that's a nice combination to have.
THE CHANGES IN DEFENSIVE COORDINATORS
Yasinskas: I sincerely believe the best and most important move the Saints made this offseason was the hiring of defensive coordinator Gregg Williams. Gary Gibbs took the fall for last season and was fired. You can't put all the blame on Gibbs because the defense was decimated by injuries. But the defense was nothing short of horrible and it was the main reason the Saints didn't make the playoffs. Payton recognized that and went out and got the best defensive coordinator available. Williams likes to play very aggressive defense and that's something the Saints haven't done in a long time. Williams is intense and he might be able to light a fire under defensive ends Charles Grant and Will Smith. The return of a lot of injured players also should help and the Saints got linebacker Morgan back from retirement and signed cornerback Jabari Greer. This defense doesn't have to be great because the offense is. Williams just needs to get this defense to be average and the Saints will have a shot to go deep into the playoffs.
Kuharsky: Compared to Williams, we know nothing about Frank Bush, the Texans' new defensive coordinator. He's been part of Gary Kubiak's staff since 2007 and a lot of Texans faithful, fairly or not, really like one thing about him already: He's not Richard Smith. Though Houston made some progress in the latter part of the season when it turned more aggressive, the defense didn't come close to matching the offense in 2008. That needs to change in 2009 and it can if Bush can stamp the group with a defensive identity. Indications are the Texans will move toward making that late-season aggression more permanent. The big addition in free agency came on defense, and Antonio Smith can be a load to handle playing end opposite Mario Williams. Bush is going to get a personnel boost from the draft to help him try -- likely in the form of a linebacker, a tackle and a safety. Can Bush get the group believing and producing? Much like you say, Pat, with the Saints -- the Texans don't have to be one of the league's top defenses. If they move from 22nd to the mid or early teens and if they can knock some points off the average of 25 they allowed last year, that should be a sufficient boost for a team that should be offense-driven.
STAR POWER
| | |
| --- | --- |
| | |
| | Matt Stamey/US Presswire |
| | The Saints haven't been able to figure out exactly how to use Reggie Bush's unique talents. |
Yasinskas: For a small-market team, the Saints have an awful lot of star power. But it would help if all those stars played up to their ability level on a consistent basis. Brees was outstanding all last season and Vilma was very solid. But Shockey, Reggie Bush and Colston weren't able to match their hype for various reasons. The Saints have to get their stars playing like stars again. For Colston, that's just a matter of being healthy. Shockey was banged up almost all of last year, but still has the talent to be one of the league's best tight ends. Then, there's the curious case of Reggie Bush. If he hadn't been such a great college player and such a high draft pick, he'd be considered a decent player. But decent doesn't cut it for him. He's supposed to be spectacular all the time and the Saints haven't done him a lot of favors. They've never been able to figure out exactly how to use his unique talents. Payton
is widely credited with being a brilliant offensive mind. But he needs to focus all his thoughts on getting more out of Reggie Bush. If he ever comes close to being what he was in college, he'll be the biggest star New Orleans ever has seen.
Kuharsky: The Texans are a young team, but several of their guys have been around long enough to establish themselves as premier talents. Andre Johnson doesn't do popcorn stunts and doesn't make brash demands about how often the ball needs to come his direction. But he sets a standard for the franchise and everyone knows they can look to him to see how things should be done. Mario Williams is quiet, too, and he's won over all the Houstonians who wanted Reggie Bush or Vince Young at the top of the 2006 draft. With those two cornerstones, the Texans have the kind of star power a team needs -- not for a fancy marketing campaign or happy stories on "SportsCenter," but as tone-setters who show the other 52 guys that the work ethic, tone and philosophy of the organization can produce names that rank with the best in the league at their positions.
MOMENTUM
Yasinskas: The Saints didn't come close to ending last season on a high note, mainly because they finished with almost 20 guys on the injured reserve list. They never were able to build any momentum. They'd play well one game and horribly the next. That's a problem that has to be fixed next season. What the Saints need more than anything is a fresh start. They need to forget last season's brutal travel schedule and welcome back all the injured guys who are healthy now. Just getting the bulk of those guys back should be a nice shot in the arm.
Kuharsky: The Texans excel at winning at the end of the season. In 2007 they finished 3-1 to get to 8-8 and last year it was a big 5-1 push that got them to .500. That's nice momentum to carry into an offseason. But the team knows the question that now comes attached: Those good finishes are nice, but they came once it was apparent the team wasn't going to the postseason. Now Houston has to fare well enough in the first couple months of a season to earn a chance to show it can win late games that are more meaningful.
CONCLUSION
Kuharsky: Are the Texans better suited to build on 8-8 and be a playoff team in 2009 than the Saints, who are only two years removed from the conference championship game? It's too early to say. I picked the Saints to be in Super Bowl XXLIII, so I am wary of them. But I'd have to give them the edge right now based on two more proven commodities in Brees and Gregg Williams. I'd sure like to sit next to you at Reliant Stadium or in the Superdome to watch them play each other, though. It could well be a 38-37 game.
Yasinskas: Paul, I think the Texans have the potential for a breakthrough year. But I think the Saints will have a breakthrough year. They had an incredible run of bad luck last season, but they've got a ton of talent in place and they've made the moves they had to make to get their defense better. I'll go out on a limb and say the Saints make the playoffs in 2009.