September, 26, 2014
Sep 26
10:30
AM ET
HOUSTON -- Friends are the people you can tease without consequence. That's always been my motto as least, and it seems to be one shared by
Houston Texans
head coach Bill O'Brien and
Buffalo Bills
head coach Doug Marrone.
"He's a liar, I never liked that guy," Marrone said.

O'Brien
"You want me to respond to that?" O'Brien said. "Now you know why he doesn't have many friends. You're starting to figure that out."
They've known each other since 1995, when O'Brien joined Georgia Tech's staff as a graduate assistant. Marrone was the team's director of football operations. O'Brien's wife introduced Marrone to his wife before either of them knew O'Brien. Marrone later returned the favor, introducing O'Brien and his wife Colleen.
Marrone doesn't remember that introduction, though.
"I probably didn't think Colleen would ever like him," Marrone said. "I couldn't believe she liked him."
Said O'Brien: "His wife is a lot cooler than him."
The two young coaches spent hours together, seeing each other more than they saw their wives.
"Hours were not, you didn't even question the hours," O'Brien said. "You were in at five in the morning and stayed there until the work got done. Doug was the line coach and I was the running backs coach, so we did a lot of work together. ... That taught us a lot about coaching."

Marrone
"I don't think either of us could have gone through that alone," Marrone said.
They grew together, becoming position coaches at Georgia Tech before heading in separate directions to pursue their dreams. When Marrone became the
New York Jets
' offensive line coach in 2002, O'Brien was Georgia Tech's offensive coordinator. When O'Brien made a surprising move to become an offensive assistant with the Patriots in 2007, Marrone was the New Orleans' Saints offensive coordinator, the job that led the way to his first head coaching job.
They overlapped as college head coaches for one season. Marrone was Syracuse's head coach from 2009 to 2012, while O'Brien led Penn State in 2012 and 2013.
O'Brien called Marrone "blunt" this week. It's a word many use to describe O'Brien, too, part of why they clicked.
"In all seriousness, that's why he's a good friend," O'Brien said. "He is a good friend, but you have to know him. You have to know him really well to be his friend because he's very direct and he tells you the truth. I think that's why the both of us are friends."
Still, the jabs are fun.
"I was a scholarship player at Syracuse," Marrone said. "Bill went to Brown. He's from Massachusetts and went to some hoity toity prep school. I went to high school in the Bronx."
Countered O'Brien: "He's a Yankees fan and I'm a Red Sox fan. I'll put it to you that way."
Suddenly, he remembered where he was.
"Although I do like the Astros," O'Brien said. "I don't want to get in trouble."
February, 20, 2014
Feb 20
12:16
PM ET
INDIANAPOLIS -- Doug Marrone tripped on the word "probably."
I began a question during his podium session today at the combine by noting that he was probably
Houston Texans
coach Bill O'Brien's best friend in the league.
"Did he say probably or you said probably?" the Bills head coach said with a smile. That was my word, not O'Brien's. "I just wanted to make sure. When I see him I'm going to ask him."

Marrone
The pair coached together at Georgia Tech in the mid-1990s. O'Brien met his wife, Colleen, through Marrone and his wife right around then.
"It's a funny profession," Marrone said. "You start off, and I started off in Division III after I'd gotten done playing. You grow up with a lot of people. usually it's regional. we were all obviously in the northeast together. ... You see everyone grow and see everyone grow in the profession. It's a gratifying experience to know people in your profession have integrity, have character, that work extremely hard and are able to be successful."
Marrone didn't say much about what O'Brien was like when they were young coaches together, but I asked him off the podium if the intensity everybody talks about with O'Brien has always been part of his character.
"Bill wears his heart on his sleeve," Marrone said. "I'd say it's intense, but it's intense in a positive way, not a negative way. ... If he couldn't turn it off, that would be a negative way. ... He's done it throughout his whole career, not only as a head coach, but even when I saw him as a position coach."
Marrone recently went through the same transition O'Brien is about to. I felt similarities in their feelings about making the move. Marrone actually felt the transition from college to the NFL was easier than the transition from working in the pros to working in college.
"I was much more comfortable with the schedule, calendar, the way it was in the NFL than it was in college," Marrone said. "The schedule is different. It's very difficult to spend as much time as you'd like to coaching."
That move to the NFL makes actual coaching much more of a focal point than it is in college. Marrone made that move last season. His team went 6-10 after his move from Syracuse to Buffalo, but Bills writer Mike Rodak
indicates the team has pieces in place to get better next season
.
An upward trend for the Bills would fit Marrone with the new trend of college coaches who become NFL head coaches. If you asked a few years ago, conventional wisdom indicated former college head coaches struggled with a move to the NFL. That is not really the case anymore as coaches like Pete Carroll, Jim Harbaugh and Chip Kelly have shown.
December, 13, 2013
12/13/13
10:00
AM ET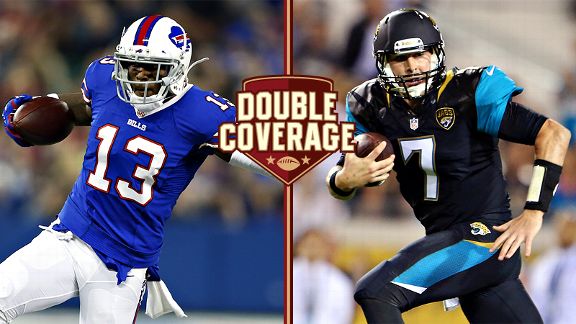 USA TODAY SportsStevie Johnson's Bills and Chad Henne's Jaguars are both 4-9, but the teams appear headed in opposite directions.
It has been a different second half for the
Jacksonville Jaguars
and
Buffalo Bills
.
Both teams are 4-9 but they're on opposite wavelengths. The Jaguars have won four of their past five games and are currently riding a three-game winning streak for the first time since 2010. The Bills have lost four of their past five and are coming off an abysmal performance in Tampa Bay.
Jaguars coach Gus Bradley is talking about making sure his players treat prosperity the same way they treated the adversity they faced in the first half of the season. Bills coach Doug Marrone is talking about scaling back the offense to help rookie quarterback
EJ Manuel
.
The teams meet Sunday at EverBank Field. ESPN.com Bills reporter Mike Rodak and Jaguars reporter Michael DiRocco break down the matchup:
DiRocco:
Manuel is pretty familiar to fans in Jacksonville from his time at Florida State. He has had an up-and-down season, but what have you seen from him that leads you to believe the Bills made the correct choice in deciding to build the franchise around him?
Rodak:
I think the jury is still out on whether the Bills made the correct choice in Manuel. In Sunday's loss to the Buccaneers, Manuel posted a 3.8 QBR, which ranks 415 out of 426 single-game performances in the NFL this season. It's dangerous to give too much weight to what's most recent, but in this case, Sunday had to be alarming for the Bills. Manuel has the leadership and character traits that any NFL team wants in its quarterback, but his on-field performance has left a lot to be desired. These last three games will be critically important to determining which direction Manuel is heading.
The Jaguars have gone on a surprising run lately, winning four of their past five games. Have they been doing anything different than early in the season? Or are things just simply starting to come together for Gus Bradley and his players?
DiRocco:
Schematically, no, other than just paring down the defensive game plan a bit and focusing more on the coverages and blitzes they do well. But three things stand out: better run defense, a better turnover ratio and better success in the red zone. In the first eight games -- all losses by double digits -- the Jaguars were allowing 161.8 yards per game rushing, were minus-7 in turnover ratio, and scored TDs on only 25 percent of red-zone possessions. The numbers in the past five games: 70.8 yards per game allowed, plus-5, and 66.7 percent. The offensive line has been much more consistent, quarterback
Chad Henne
is making few mistakes, and the defensive line has held up at the point of attack much better.
Kiko Alonso
is one of the candidates for defensive rookie of the year and is second in the NFL in tackles. Obviously a second-round pick is expected to produce, but has the kind of impact he has made on the defense been a surprise?
Rodak:
I think so. When I spoke to defensive coordinator Mike Pettine last month about Alonso, he indicated that the Bills inserted him into the starting lineup in the spring, but it was a wait-and-see deal. If it didn't work out, they were going to turn somewhere else, but Alonso has certainly fit well within this defense. He has drawn a lot of praise from coaches and veterans on this team for his work ethic and ability to pick up the scheme quickly. However, I do think that Alonso's play has tailed off slightly over the past several weeks after he had a hot start this season. He had four interceptions, one sack, and one forced fumble in the first month of the season. Since then, he has had one sack, no interceptions and no forced fumbles. Is that overly concerning for the Bills, though? Most likely not. I think Alonso will be a fixture in this defense for the foreseeable future.
What's the latest on
Maurice Jones-Drew
? I remember hearing some trade talk around him a few months ago, but once the deadline passed, he hasn't been on the radar as much. Does he have a future in Jacksonville?
DiRocco:
He does if he's willing to be realistic about a contract. No team is going to pay big money for a 29-year-old running back that has battled injuries the past two seasons, which is what he'll find out if he decides to test the free-agent market when his contract expires after this season. The Jaguars are interested in re-signing him and likely will offer him an incentive-filled two-year contract worth $6-10 million. Jones-Drew, who would like to finish his career in Jacksonville, is making $4.95 million this season so that would be a pay cut. If he's OK with that, then I'd be surprised if he's not around.
What do you think of the job Doug Marrone has done in his first season? And what do you think of his long-term future in Buffalo?
Rodak:
I think it has been a trying season for Marrone. It's not that there were high hopes for the team in his first season -- nobody realistically expected them to make the playoffs -- but I don't think everything fell into place as well as he would have liked. His hire of Mike Pettine as defensive coordinator has generally paid off well, but ultimately what's going to define Marrone's tenure in Buffalo will be the quarterback position. Coaches don't often get more than one chance to get it right at quarterback, so if Manuel doesn't work out in Buffalo, it may not work out for Marrone, either. That's just today's NFL. It's a brutal league.
What about for the Jaguars? Their roster was about as bare bones as it gets this past offseason -- in much worse shape than the Bills' entering this season -- and they've managed to put on a nice little run here. What's the next step that general manager David Caldwell needs to take?
DiRocco:
His No. 1 priority is to find a franchise quarterback. At the beginning of the season I would have told you the Jaguars would draft Teddy Bridgewater with the No. 1 overall selection, but since it now appears the Jaguars will be picking in the Nos. 5-7 range it seems unlikely Bridgewater will be around. Caldwell is going to have to figure out whether there's somebody else he likes just as much or if he's going to be willing to gamble that he can get a good QB a little later in the draft, whether it's A.J. McCarron, Aaron Murray or somebody else.