October, 25, 2010
10/25/10
10:47
AM ET
With 225 receiving yards and three touchdowns in the Titans' win over Philadelphia on Sunday,
Kenny Britt
became the third wideout to hit those numbers since 2000.
The list of three is all AFC South: Britt, Drew Bennett against Kansas City in 2004 and Jimmy Smith in 2000 at Baltimore.

Britt also set himself apart in Oilers/Titans franchise annals with his seventh touchdown in his first seven games. Only Ernest Givens in 1992 matched that, in a season when Haywood Jeffires had six in his first seven games.
According to the Elias Sports Bureau, Britt's 32.1-yard average against the Eagles was the highest average by a player with at least seven receptions in one game in 23 years.
Anthony Allen of the Redskins gained 255 yards on seven catches on the first weekend of play with replacement players during the players' strike of 1987 -- good for 36.4 yards per catch.
October, 24, 2010
10/24/10
8:15
PM ET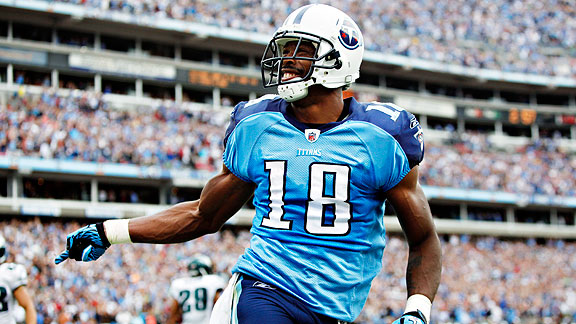 AP Photo/Frederick BreedonKenny Britt now gives the Tennessee Titans a bona fide deep threat.
NASHVILLE, Tenn. -- The
Tennessee Titans
have long searched for a dynamic downfield receiver. Sunday at LP Field, the Titans got the kind of game that says they finally have one.
Kenny Britt
is big, physical and fast, but he's also still growing up.
Early Friday morning, he was accused of throwing punches in a bar brawl at Karma Lounge on Broadway in downtown Nashville.
Late Sunday afternoon, his quarterback and coordinator were answering questions about how highly he ranks among the receivers they throw to and call plays for, respectively.
A seven-catch, 225-yard, three-touchdown game has a way of altering the focus of the conversation. Britt's performance keyed the Titans' 37-19 win over the Philadelphia Eagles.
"There is not much better that I've played with," said
Kerry Collins
, the 16th year quarterback who played for the injured
Vince Young
. "…[Britt is] going to do everything he can to get the ball, he's aggressive going after it. The guy loves to play, love to make big plays. As a quarterback, it's nice to know a guy like that is on your team because like you saw today, there were some throws that weren't exactly perfect, but the guy did whatever he had to do to get the ball.
"You can have all the physical tools in the world but if you don't have that, it doesn't make you a special player. And I think Kenny has the ability to be a special player."
I asked Mike Heimerdinger, who's overseen the Titans' offense for eight seasons in two separate stints, where Britt ranks among the guys he's coached in Nashville.
"Ability wise, he has the most of anybody," Heimerdinger said. "Derrick Mason did more with less ability than Kenny has. I wouldn't put him ahead of Mase yet."
Britt had the Titans biggest receiving day since
Drew Bennett
had 233 yards and three touchdowns against Kansas City on Dec. 13, 2004. The Eagles had never given up so many receiving yards to one player.
For the Titans, now 5-2, it should amount to more than a big day.
It should delineate two shifts: One where the teams that choose to stack things up to stop running back
Chris Johnson
pay the price in deep passing production; another in how the Titans deploy their receivers.
Britt was used primarily as the team's third receiver through the team's first four games this season. He started the two games before this one with
Justin Gage
out with a hamstring injury.
With Gage still out, Britt would have started against the Eagles, but coach Jeff Fisher disciplined him for the Karma Lounge incident. Britt sat until the middle of the second quarter; Fisher is relying on the crutch of "gathering facts."
Britt has now caught a touchdown pass in five consecutive games.
So now, when Gage is ready, he should remain in the background.
Nothing personal against a nice guy who's been productive in spurts and is signed through 2011. But it's time to move on, and to do so the Titans need to play Britt and
Nate Washington
as the starters, with rookie
Damian Williams
as the No. 3.
Gage can dress, but he shouldn't be on the field unless something is wrong with one of those three guys. He could be used as the fourth receiver rotating in once in a while to offer a breather.
A year ago, after four starts, the Titans scratched a healthy defensive end
Jevon Kearse
. He got hurt in practice after that, but clearly the team decided amid a poor start to move forward without the veteran. The Titans turned things over to guys with more upside like
William Hayes
,
Jacob Ford
and
Dave Ball
. Kearse appeared in only two more games before his contract ran out and he disappeared.
It's time now for them to "Jevon Kearse" Gage in order to create sufficient room for Britt and Williams, who's played well in increased chances the last few weeks.
I asked general manager Mike Reinfeldt about Britt earning a starting role.
"I think as you go along, people do things that demand more play time and I'm not sure what more you can do than he's done," Reinfeldt said. "That's how it should work. You earn play time."
Defensive coordinators are going to have to spent additional time formulating better plans against Britt. They have to be able to make better, quicker adjustments to him than Eagles defensive coordinator
Sean McDermott
did.
Britt worked mostly against cornerback
Ellis Hobbs
, though several of his big plays turned out to be against safety
Nate Allen
.
He got to the corner for his first touchdown. Britt circled a ball that was under thrown as Collins got his arm hit to take the second one 80 yards for a touchdown. Britt caught the third score among three defenders in the center of the end zone.
Did Collins expect the Eagles to make an adjustment away from that safety-centric coverage?
"I did," he said. "And they didn't."
"A lot of that was just me," Allen said.
Only near the very end was cornerback
Asante Samuel
on Britt's side of the field.
"About six, seven minutes left I was going to go over and cover him," Samuel said. "But we didn't have enough time."
Fullback
Ahmard Hall
said he still expects Britt to address the team this week, perhaps apologizing for causing a distraction. Many of the Titans won't consider it necessary after he did so much to lift them in such a big win. Two of his touchdowns were part of the team's 27-point fourth-quarter, the franchise's most productive final quarter ever.
I suspect Britt will be in before too late Sunday night. He said his fiancée gave him grief over being out late when trouble is more likely.
"Don't go to places after 12," he said when asked what he'd learned. "Stay in the house. My fiancée actually yelled at me and I was like, 'OK, I'll stay home for the rest of the season.'"
Britt's friend
Jason McCourty
, a Titans cornerback who was part of the same draft class out of Rutgers, joked he might go the other way.
"I told Kenny now if he's trying to back to Karma this Thursday night, I'm with him, if that's the type of game you're going to have," McCourty said, laughing.
April, 30, 2010
4/30/10
7:14
PM ET
NASHVILLE, Tenn. -- It's out of training and combine mode, back into football mode for Titans rookies, who hit the field Friday for two orientation practices and have another Saturday before heading home.
Safety
Myron Rolle
said he's picked up on two big things so far: Punctuality and volume.
"It's just a massive amount of information that you're expected to know, quickly," Rolle said. "And be on time, be five or 10 minutes early. Coaches just don't like that and it doesn't make a good impression either."
Quick thoughts on my first impression of draftees from the second practice, which ran less than 90 minutes and included 24 players:
Defensive end Derrick Morgan -- I didn't see the defensive linemen except when they did a bit of special teams work. Their area of the field's been re-sodded, so they worked inside the practice bubble and never lined up across from offensive linemen.

I asked Morgan about the biggest change he feels coming.

"I'm kind of understanding more and more what Coach [Jim] Washburn wants from us and what he wants from me coming off the edge," Morgan said. "My aiming points coming off the edge and what my aiming points were. Really it's a lot different. It's more so just cutting it loose and making something happen. Back at school it was more so reading the guy in front of you. Now you're coming off, you're going 100 miles an hour and you're making the guy in front of you react to you."

Wide receiver Damian Williams -- Not quite as tall as I was imagining, he had a nice advantage in one-on-ones since the defensive group is three-fourth safeties. I heard one other sideline observe call him slithery, but thought it was premature based on the small sampling. He did some good things against mostly guys he should beat in given the drill and personnel. He looked pretty tired near the end, walking back to the line of scrimmage as if he was hurting.

Linebacker Rennie Curran -- "There were some times where I missed on a play in a one-on-one situation and a back got by me," he said. "I've just got to finish a play, got to show them that I can hustle and I don't get down on myself in adversity."

Cornerback Alterraun Verner --I saw good ball sense. While he didn't always maintain great position on receivers in one-on-ones, he always seemed to know where the ball was. He stayed with Mico McSwain to assure a breakup was all the way broken up and on another play, he nearly turned a bobbled and dropped ball by Bobby Sewall into a behind the back interception but at least made sure it was incomplete.

Safety Robert Johnson -- He's lanky and doesn't look like he's 203 pounds, but that's what they say he is and I am no doubter. He looks a little like Bobby Myers body-wise. He ran well with Marc Mariani on a ball that was thrown well beyond them both and had a quick close on McSwain for a breakup. Clearly the better coverage safety of the two drafted safeties, as we presumed he would be.

Quarterback Rusty Smith -- The guy Jeff Fisher and Mike Heimerdinger described after the Titans drafted Smith in the sixth round was just the guy we saw. Tall, poised, threw the ball on target and with great zip. He's got a nice quick delivery without a lot of wasted motion and throws a tight, fast spiral. He looks the part. One ball slipped out and was a duck and he seemed to do well laughing it off as Dinger called it "just a bit outside."

Rolle -- Ran up the back of a receiver more than once and didn't look particularly in coverage. I'm sure he'll be better and tracking and closing on running backs when we get to watch that.

Mariani -- He's wearing 83, so the first thing I thought was "smaller Drew Bennett." Then someone saw him run a few routes and catch a few balls and said poor man's Wes Welker, which made me think poor man's Julian Edelman. He caught the ball very well, always with his hands and seemed to be running to the right spots. I was impressed.

Defensive tackle David Howard -- Missed him on the field, like I did Morgan, and didn't get a chance to talk with him in the locker room either.
December, 24, 2009
12/24/09
3:55
PM ET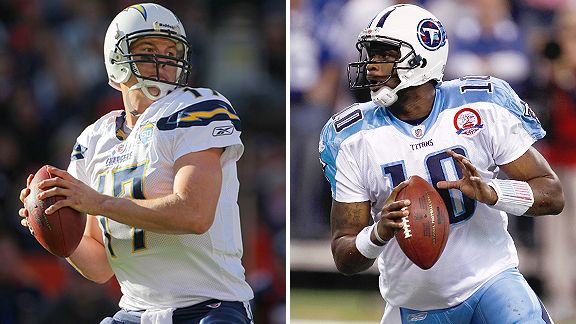 Getty ImagesThere's no love lost between Philip Rivers' San Diego Chargers and Vince Young's Tennessee Titans.
NASHVILLE, Tenn. -- Most teams have a historical trouble spot, and for the Titans' entire life in Tennessee it's been receiver.
They've struck out with high draft picks. They've failed to develop mid- and low- round guys they've selected in droves. They've missed on free agents. They've been unlucky with injuries.
In 2005 they liked
Vincent Jackson
, but watched him go late in the second round to San Diego, where he's developed into a consistent threat. Eight picks later they took
Courtney Roby
in their third round. He's now returning kicks in New Orleans while the Titans will have to defend Jackson Christmas night in a crucial game at LP Field.
ESPN Stats & Information says Jackson has been the targeted on more throws that have been in the air for at least 15 yards than any other receiver in the NFL. On those 52 chances, he had 27 catches for 715 yards, a 26.5 average and four scores.
The Titans try to spread it out and veteran
Justin Gage
has missed time with a back injury. Still, they don't have a pass-catcher close to Jackson in terms of long-pass situational production, let alone overall output (63 catches, 1,097 yards, 9 touchdowns). Rookie receiver
Kenny Britt
leads the Titans wideouts in both receptions (40) and receiving yards (674).
The hit rate's been low, but Tennessee has produced some receivers,
Derrick Mason
most notable among them. And Mike Heimerdinger thinks a trio of Mason,
Kevin Dyson
and
Drew Bennett
at their peak together might have been his best group in his two terms as the Titans coordinator.
His trio now is productive with upside and seems to have a bright future with quarterback
Vince Young
, who replaced
Kerry Collins
as starter eight games ago.
Britt appears to be worth every bit of the first-round pick they spent on him; the inconsistent Gage has made more plays since the quarterback switch but has only caught 45 percent of the passes thrown his way according to ESPN Stats & Information; and though drops are a significant issue as well for free-agent addition
Nate Washington
, he has produced a team-best six touchdown catches. (Gage and Britt are tied for second on the team with three touchdown receptions each.)
In the eight games with Young as the starter, the Titans have the second-most prolific offense in the NFL. Their 398 yards-per-game average trails only the Saints (413.9). Tennessee's 29.5 points-per-game average is tied with Philadelphia for second behind New Orleans (30.6).
When those receivers have made plays for Young, it's opened things up for the team's featured player,
Chris Johnson
. That's the goal No. 1 for the Titans, who are 7-7 and need to win out and get help to keep their AFC wild-card playoff hopes alive.
San Diego's starting corners
Antonio Cromartie
and
Quentin Jammer
have three picks apiece for the league's 13th-rated pass defense. They're both 6-feet tall, but the Titans' three primary wideouts are bigger. Britt and Gage are certainly capable of going up over them to get passes.
A nationally televised game is a good place for Britt, Gage and Washington to perform if they want a broad audience to believe the Titans are figuring things out at the position.
Four other things I'll be watching or wondering about Christmas night as Chargers-Titans unfolds:
Bad blood
:
Shawne Merriman
is still, um, annoyed about a play in a 2007 game where he felt
Kevin Mawae
and
David Stewart
teamed up
to try to hurt him
. Two physical fronts here hardly have a love affair from their two games that season, Chargers wins in the regular season and the first round of the playoffs.
Mawae doesn't mind when opponents are worrying about him, and he will use it to try to use psychology as an aid on at least a couple plays.
Controlling Gates:
Chargers tight end
Antonio Gates
causes a matchup problem for everyone. He can run over DBs and past linebackers. The Titans best coverage linebacker,
Keith Bulluck
, is out for the season. The Titans would be nuts to ask
Gerald McRath
or
Colin Allred
to handle him much. Nickel back Vincent Fuller's physical, tough and responsible, but he gives up 70 pounds and three inches to Gates. I expect he will spend a lot of time on Gates, doing what he can to hold him up. Help better arrive quickly for gang tackling.
Making it hard for Rivers:
Philip Rivers
is gaining traction as the quarterback who should be talked about right after
Peyton Manning
and
Drew Brees
. How might the Titans have their best chance to limit the league's third-rated passer who carries a league-high 8.76 average gain into the game?
Get him out of situations where he's excelled.
Rivers is gettable -- the Chargers have given up 24 sacks, which puts them in the bottom half of the league. The Titans need to rush well with their front four, because with the two kid backers on the field they can't afford to bring any help.
Other pieces of the recipe for potential success against a good quarterback are hardly unpredictable: Get Rivers in third and long, because he's got a 91.9 rating on third down. And don't allow him to work with a lead in the fourth quarter. His passer rating in the fourth period is 98.8.
Punting contest:
Brett Kern's been a wonderful find for Tennessee, and his punts have helped out a great deal with field position. His 37.8 yard net isn't among the league's best numbers, but he's been timely. His counterpart,
Mike Scifres
, is capable of controlling a game, as he did in the Chargers' win over the Colts in the playoffs last season. The Titans' return game has been an abomination this year, so don't expect it to handle Scifres' boomers very well. Remember, every fair catch amounts to a play that wasn't a turnover. Chargers punt returner
Darren Sproles
, meanwhile, can be a major threat.
December, 14, 2009
12/14/09
10:40
AM ET
Andre Johnson
's big Sunday -- 11 catches for 193 yards and two touchdowns -- in the Texans' 34-7 win over Seattle was notable for a few reasons.
According to ESPN Stats & Information, Johnson moved into a third-place tie on the all-time list of 10-reception, 100-yard games since the 1970 merger: Jerry Rice did it 15 times, Marvin Harrison 14 and Johnson and Tim Brown 13 times.
The NFL pointed out that his 10 receptions for 184 yards and two touchdowns in the first half of the Texans' 34-7 win over Seattle made him the first player to record at least 10 catches, 180 yards and two touchdowns in the first half of a game since Jacksonville's Jimmy Smith on Sept. 10, 2000, against Baltimore.
The Texans said Johnson's 184 first-half receiving yards were the seventh-most in a first half since 1991. He trailed Philadelphia's Kevin Curtis (205 vs. Detroit, 9/23/07), Buffalo's Lee Evans (205 vs. Houston, 11/19/06), Smith (194 vs. Baltimore, 9/10/00), St. Louis's Isaac Bruce (193 vs. Atlanta, 11/2/07), Tennessee's Drew Bennett (192 vs. Kansas City, 12/13/04) and Atlanta's Roddy White (185 vs. San Francisco, 10/11/09).
To think,
Brandon Marshall
had 10 catches more Sunday against the Colts than Johnson had against the Seahawks.
July, 21, 2009
7/21/09
10:14
AM ET
Posted by ESPN.com's Paul Kuharsky
Houston Texans
A Sporting News Q&A with Steve Slaton.
Five intriguing fantasy prospects and five intriguing Texans, from Lance Zierlein.
Chiefs fans who want a ticket to the Cowboys game, have to buy one to the Texans game two, says Alan Burge. Call it a Texas two pack.
Indianapolis Colts
Peyton Manning is third on Steve Wyche's list of all-time quarterbacks. (Thanks to John Oehser for the link.)
Will the offensive line improve? The next installment in Oehser's 20 questions.
Bruce Smith sees Dwight Freeney as a Hall of Famer. Stampede Blue found the piece of a recent chat.
Jacksonville Jaguars
Vic Ketchman discusses his expectations for Jacksonville in his most recent mailbag at jaguars.com.
Tennessee Titans
The state could determine what happens to Steve McNair's estate, says Chris Echegaray.
State law may be why two of McNair's sons aren't listed as heirs, says Terry McCormick.
The Titans will have competition at running back behind Chris Johnson and LenDale White, says Gary Estwick.
Drew Bennett will work out for the Ravens, reports McCormick.
July, 13, 2009
7/13/09
6:41
PM ET
Posted by ESPN.com's Paul Kuharsky
Derrick Mason was largely a self-made player. The Tennessee Oilers had high hopes for him when they drafted him out of Michigan State with a fourth-round pick.
But they had high hopes for the other eight receivers they drafted during the span of his eight-season career with the franchise, too. None of them panned out to be anything close to what Mason was.
I don't know if there were signs that Mason was contemplating retirement. While he said in his announcement that he felt he didn't have the drive to work out like he used to, I wonder too if the recent death of his longtime teammate and friend Steve McNair may have been one of the final factors.

Mason has always seemed to be a devoted family man, and he pledged to McNair's sons he would try to fill the void in their lives.
Not blessed with great speed, Mason was well-suited for the Oilers/Titans and Ravens, playing with a grit and a toughness and was not afraid to jaw at defenders.
He could go over the top sometimes and had a little clubhouse lawyer in him.
But I found him to be a class act, a stand-up guy and an impressively productive player. His 73 receptions in 2001 ended a five-season streak in which tight end Frank Wycheck led the franchise in catches. Mason grabbed 95 passes in 2003 and 96 in 2004, the most for the franchise since Haywood Jeffries pulled in 100 as part of 1991's run-and-shoot Houston Oilers, quarterbacked by Hall of Famer Warren Moon.
Mason played for a second franchise not because the Titans didn't want him, but because his contract was drawn up like many others that collectively prompted Tennessee's 2005 salary-cap purge.
Perhaps the most impressive thing that can be said about him is that during his time in Tennessee, when the team failed over and over trying to find top options at the position, he developed into a Pro Bowl receiver. (He was a receiver for the AFC in 2003, a return man in 2000.)
The only other Titans receiver in the 12 years since the franchise drafted Mason that produced a big season by league standards was Drew Bennett, undrafted in 2001, who caught 80 passes for 1,247 yards and 11 touchdowns in 2004.
July, 9, 2009
7/09/09
10:52
PM ET
Posted by ESPN.com's Paul Kuharsky
| | |
| --- | --- |
| | |
| | AP Photo/George Walker IV, Pool |
| | Former Titans players, including Brad Hopkins, top left, and Benji Olson, top right, served as pallbearers at the memorial service. |
WHITES CREEK, Tenn. -- For all who watched Steve McNair assisted off the field during his 13 seasons as an NFL quarterback, the conclusion of his memorial service was especially tough to digest.
Pallbearers who played with him surrounded his casket, lifted it and carried it out of Mount Zion Baptist Church, surely hoping they were also transporting at least a degree of the pain shared by the family, the franchise, the city and the league.
"That was tough, to carry his casket out," Eddie George said. "Right after they said those kind words, they said the eulogy, reality set back in again, that he has to go to his final resting place. Knowing that's Steve's remains, that's his shell in that casket, that's not Steve, and I'm not going to remember him in that capacity. This is a part of the process, this is closure for us, for me. Now the healing can begin, and I don't know how long it will take."
| | |
| --- | --- |
| | |
| | AP Photo/George Walker IV, Pool |
| | Ravens wide receiver Derrick Mason takes part in a memorial service for Steve McNair. |
In his eulogy at the conclusion of a service that included impressive versions of "Press On" and "God is Able," Bishop Joseph W. Walker III called McNair "a humanitarian, a philanthropist, a supreme athlete, a motivator, an entrepreneur." In citing the biblical instruction that one without sin cast the first stone, Walker said it was "time to have a stone-dropping service."
During the memorial, Jeff Fisher told a story of McNair considering giving up the game in 2000 after suffering a sternum injury and conveyed the condolences of a high-ranking military official he met just last week while visiting troops in the Persian Gulf.
Later, the Titans coach said he was sure even more of McNair's old teammates wanted to attend but could not. Fisher said that he might soon take McNair's sons fishing.
Asked about watching George, Samari Rolle, Zach Piller, Kevin Long, Frank Wycheck, Brad Hopkins, Benji Olson, Kevin Carter and Vince Young lift McNair's coffin and walk it out the door, Fisher said he couldn't put words to his thoughts.
"I can't describe that, no," he said.
Plenty of others leaving the church felt the same way.
Count me among them.
***
An add to the previous entry, which included a list of many of the most notable players in attendance. I later spotted several others, including Keith Bulluck, Bo Scaife, Young, Fred Miller, Drew Bennett and Kenny Holmes.
May, 27, 2009
5/27/09
3:01
PM ET
Posted by ESPN.com's Paul Kuharsky
Chris Mortensen's report that Matt Jones has been fined but won't be suspended over a violation of a court-mandated drug program has set off quite a debate -- just check the comments.
| | |
| --- | --- |
| | |
| | Scott Cunningham/Getty Images |
| | If given a chance with a new team, wide receiver Matt Jones could be a valuable role player. |
Much of the conversation about the free-agent receiver is about race and whether the league treats a guy like Jones, who's white, the same as it treats African-Americans in similar situations.
I think the league, like drug test results, does well to be colorblind on such matters. It's not an unreasonable conversation to engage in, but let's be careful to compare apples to apples. That means Jones and Michael Vick, no matter their race, don't belong in the same conversation about league discipline, because the degree of their offenses is quite different in the eyes of American law enforcement and jurisprudence.
On to Jones' future.
He is an obvious risk for any team that would sign him. He's in the league's substance abuse program and served a three-game suspension at the end of last season. A new violation likely would mean a year suspension.
But I think he's a risk some team is going to take. It may not be until someone is hurt or a team decides its receivers are insufficient in training camp.
I recently asked a person with a large voice in personnel decisions in his organization about Jones. He said he thinks Jones might blossom in a second-chance destination, provided the right atmosphere.
The expectations certainly would be different and that can be a huge benefit for a guy. In Jacksonville, Jones always was going to be viewed as a first-round pick. His emergence last season an effective possession receiver was nice, but that description doesn't scream "first-round value" to many.
A receiver drafted 18th overall brings expectations of big plays, and Jones produced few of those in 55 games -- with only 166 catches and just a 13-yard average.
With a new team that likely will pay him a small bonus and the veteran minimum with incentives, he'll be looked to as a role player. Outside of North Florida, a free agent who can make the clutch 7-yard catch on third-and-7 could be viewed as a successful signing.
Sign him and he stays clean and he might just be an important contributor. Sign him and he gets suspended, you'll get hit hard for bringing him in at all.
Even with that risk, given a choice between tall, veteran, possession-type receivers, would you rather have Jones, who's 26, or Drew Bennett, who's 31?
If I have Jones in for a meeting and he convinces me he's on track, I might lean toward the first choice.
May, 16, 2009
5/16/09
1:05
PM ET
Posted by ESPN.com's Paul Kuharsky
Thomas from parts unknown writes: Kuharsky how do you know that other teams had Derek Cox rated lower on their draft boards. Did you see any teams actual draft boards? Or did you think teams had him rated lower because ESPN Faux-Scouts Kiper and Mcshay figured he was a late round selection because he wasn't invited to the combine. And that they might have overlooked him all together because he was from a small school. You should maybe get off the whole Derek Cox could have been had in a later round shtick, because in reality you aren't a scout and you don't know.
Paul Kuharsky: Here's how I know: I know people with other teams whom I trust and who help set their teams' draft boards.

So I said to them, "Hey, where did you have Cox that Jacksonville spent the 2010 second to take in the third?" And two different people with two different teams said, "Oh, sixth or seventh."

The days when teams don't pay attention to small-school guys and non-combine guys are largely over. People knew who this guy was. And he could turn out to be great. We'll have to wait and see -- the Jaguars will certainly have the last word. But we do have some context for where Cox was valued by other teams and it's hardly unreasonable to say so.
---
Larry in Washington, D.C., writes: I know the Colts are going to miss Howard Mudd tremendously, but with the rumors that Tom Moore may follow him into retirement scares me more. What are your thoughts on the transition should he actually retire? We know Peyton had more input in playcalling than most, if not all, QB's in the league. Do you see him actually taking over the full play-calling as opposed to choosing between the 2 or 3 plays Moore would "suggest"? Thanks, and I hope the offseason is treating you well.
Paul Kuharsky: Well, the retirements are official now, though the possibility of some sort of return as consultants hasn't been erased.
I would expect Clyde Christensen (or maybe Jim Caldwell himself) to work with Peyton Manning the same way Moore has. Manning will still need some additional, outside perspective.
---
Ross in Brentwood writes: I'm surprised you haven't addressed the Titans bringing in Drew Bennett for a physical yet Paul, I'd be curious to know your thoughts on them potentially bringing him back, especially in the wake of this "weakness" article on their passing game. I do agree with parts of that article, but I do think there's actually going to be improvement this year, and as I've said in my "mythbuster" response, they don't need an air-it-out offense to succeed. I do, however, think Bennett is not the missing piece here. They already tried bringing back a veteran wideout who began with the Titans, and that didn't work out too well for Justin McCareins. At this point they don't need to break the bank and/or trade away multiple draft picks (high ones at least) for a Boldin or Edwards, but Drew Bennett will just be another veteran presence who won't be a game-changer...although with the youngsters now at the position, maybe that is what they need.
Paul Kuharsky: I was away for two days when Bennett passed through Nashville.
If he's the fourth/fifth guy in case Hawkins still can't do anything or someone gets hurt, I could live with that. If he takes any opportunity away from Britt or Hawkins, then no thanks.
He's certainly not the playmaker or speedster they want, but at this stage Washington and Britt are those guys and it's unlikely they will be able to add any more. The question really is, do you want Bennett now as the fifth, or will you take your chances with what will come free at the end of training camps around the league?
---
Josh in Memphis writes:
Wouldn't the Titans be better off signing
Malcolm Floyd
RFA S. Diego than Drew Bennett? The two are the same size, Malcolm's younger 27 vs. 30-31, Malcolm's healthier, caught as many balls in SD last year than Bennett in STL in 2 years. Malcolm brother player WR for the Oilers back in the 94-97 years.
Paul Kuharsky: The period for signing restricted free agents to offer sheets ended April 17. Floyd had a second-round pick attached as compensation. Between that and the contract it would have taken to assure the Chargers didn't match the offer, he would have been a lot more expensive. Friday, Floyd signed his one-year deal with the Chargers.

As for where his brother was over 10 years ago, do you really think something like that would factor in to a team's personnel decision? Why?
---
Mauricio in Houston writes: If I may, three questions in one. Is the need for help at running back of my Texans real? If it is, would it be worth pursuing Jones from the jets and if so, what would be a reasanoble trade value in draft picks.
Paul Kuharsky: Absolutely it's real. They need someone to complement Slaton and to turn to if he's hurt.
Maybe Jeremiah Johnson or Arian Foster surprise -- I'm in Tennessee so have seen and heard a lot of Foster and don't have high expectations for him. Maybe Chris Brown can stay healthy for a stretch. Maybe they eventually add Ryan Torain or another outsider to the mix.
Thomas Jones from the Jets, I would expect, would be too expensive. If the Texans didn't spend a second-, third- or fourth-rounder on a running back in the draft, would they part with one for a back who will be 31 in August? I suspect not. Running backs over 30 are viewed as huge question marks by most teams.
---
Evan in Chattanooga, Tenn., writes: Paul, I enjoy the blog, keep it up. My question is about the Titans defensive line this upcoming season. With the loss of Haynesworth, will the line still have the same potency it had last year, or do you see the Titans having to start blitzing linebackers to keep the pressure on the qb? Kearse and KVB are getting older, do you see any of the Titans young DE's having the potential to be of the same caliber as these guys? I think Tony Brown is a great DT and will be starting this year, will Jovan Haye or Jason Jones be starting as the other DT? Thanks, Evan
Paul Kuharsky: Thanks, pal.
I wouldn't say the same potency. They'll miss automatic double teams and Haynesworth's size.

But a year ago they lost Antwan Odom and Travis LaBoy in free agency -- a tandem that combined fo
r 14 sacks the year before. And I can't remember once in 2007 watching the Titans and saying, "They are really missing Odom and LaBoy." I still expect them to rush the passer effectively with the front four.

I expect Brown and Jones will be the starters, but there is room and time for that to change.

They may blitz more, but I don't think it will be a lot more.
---
Weller Ross in Knoxville, Tenn., writes: I was wondering what your thoughts were on Tom Moore and Howard Mudd retiring. How big of a hit do you think this will be to the Colts offense if at all? Thanks, Weller PS: I also blogged about it and thought you might find it interesting.
Paul Kuharsky: I've done several posts on it. I think no matter how ready they were with guys to promote, that this could be a big hit, particularly from an offensive line perspective. Does Tony Ugoh, for example, get better without Mudd? I suspect not.
---
Dash in Nashville writes: Paul...love the blog. Who do you think will take the #3 RB roster spot for the Titans? A. Javon Ringer B. Chris Henry C. Rafael Little
Paul Kuharsky: A. I think it would take an upset for Ringer not to be on the roster. Little is an intriguing guy. Henry, in my eyes, has no chance to stick.
---
Farris in Nashville, Tenn., writes: Great blog Paul! I wanted to get your opinion on something. With the Titans finally giving Dinger a decent set of WR's that could possibly be a solid 4 deep, that he will open up the passing game and give Collins more opportunities to throw more vertical routes? I've got a gut feeling that Collins could possibly be in store for a 3,000 plus yard season and 20 plus TD's. It could possibly resemble the Co-MVP season of McNair. Dinger loves the deep routes and he finally has the speed to get it done. Thanks and I LOVE the blog and your segment on 104.5 The Zone!
Paul Kuharsky: Thanks very much, Farris.
Better and more open? Yes. Dramatically? I'd say no. The one big difference here is that in 2003 the Titans' 3.3 yards per carry was the worst for the franchise since 1974. Barring major injuries, this year's run game will be far better than that, reducing the need for Tennessee to open things up too, too much.
---
Pokerfitz in Jacksonville writes: Im not sure why you dont understand the reason they Jags love Greg Jones so much. When he gets the ball the guy has been productive. Including rushing for over a 100 yards in Pittsburgh when he was subbing for an injured Fred Taylor. He gets tough yards, Breaks tackles and can catch the ball. His only knock has been his health, not his ability.
Paul Kuharsky: Huge scouting bromide -- the best ability a player has is availability.
You know a guy who's even more proven? (And by proven I mean has more than 64 carries a year.) Taylor.
Jones has a 3.4-yard average. For comparison's sake, let's look around the division at secondary running backs: Houston's Chris Brown has a 4.3 average (but has bigger health issues than Jones); Tennessee's LenDale White has a 3.9 average (and gets the ball in extremely favorable situations); Former Colts running back Dominic Rhodes has a 4.0 average (and is now with the Bills).
That's not the be-all end-all, of course. But I'm not, or wasn't, really excited about them either. It's hardly unreasonable to say Jones is unproven as an every game, No. 2 commodity like they plan to make him. I will be interested to see him work.
---
Taylor in Murfreesboro writes: Hey Paul, I love the blog! But all I hear about Vince Young is the money the titans will have to be paying him for a back up QB is going to be way too much! So, why not try putting him on the field as a wide receiver, he has the skills, (6'5", athletic, fast) to be a great No. 1 wr if he were trained properly and was willing to "contribute" to the teams success instead of riding the bench, or he could run some Ohio State kinda of sets (Pryor and Boeckman in the fiesta bowl). What do you think about all of this?
Paul Kuharsky: I think it's crazy talk, really.
They spent good money on a free agent in Nate Washington and their top draft pick on Kenny Britt. Why not try to develop actual receivers? I am against anything that would take even a snap away from those two guys.

I can't understand the line of thinking that because Young is a good athlete he'd have to be a good wide receiver. You say he "has the skills" to be a great wide receiver -- then the first thing you list isn't a skill, it's his height, and the second and third things are "athletic" and "fast," qualities a ton of bad receivers possess, too.

Young's a good athlete and he's not a very good quarterback at this point -- and he's been focused on that position for his entire adult football life. But he's going to be a successful receiver?
---
cameron from parts unknown writes: Firstly, I want to say i am a huge fan of your blog and i am a constant reader. My question to you is that the texans are ready to make a run to the playoffs, i feel, but do you think trying to add a Plaxico Burress would to far of a reach to compliment andre johnson. Also do you think they should go after a chris mcallister because of his playoff experience and his career numbers.
Paul Kuharsky: Thanks and please keep clicking.
Burress still has legal issues to resolve and from what I've read and seen, he is unlikely to be immediately available. Complementing Andre Johnson isn't a huge issue for Houston. Kevin Walter had 60 catches and eight touchdowns last year.
You fall into a familiar trap with McAlister. He's recognizable so you think he'd help. The Texans, and every team, evaluate a guy like that based more on what he can do going forward than than "playoff experience and career numbers." I don't love their secondary, but I don't feel like McAlister would qualify as an addition that could fix their issues. He only played in six games last year and he's about to turn 32.
---
Paul in Iowa City writes: As far as Titans myths go, one I'd like to discuss is something of a non-myth. Its the whitewashing of the 99 draft, where we picked Kevin Dyson over Randy Moss. Dyson of course has a mythical position within the organization because of the MSM, but without that play the refusal to draft Moss stands out as a colossal mistake (which it still should). By and large though, the Titans draft well.
Paul Kuharsky: The posts with responses to AFC South myths are coming soon. This one wouldn't fit there, but seemed good for the mailbag.
By and large they draft well. Unless, of course, botching No. 6 and No. 3 overall picks in consecutive years counts against them.

Did they choose the wrong guy talent-wise for the receiver position at No. 16 in 1998? Absolutely.

But taking your logic and extending it, then I expect you'd absolutely defend their choice of Pacman Jones in 2006. He was, after all, a superior football talent to Antrel Rolle. (As then-Titans GM Floyd Reese predicted at the time, Rolle didn't even stay a corner.)

Now Jones turned out to be far more of a headache and troublemaker than Moss and couldn't keep himself eligible to play.

But if you rip the Titans for not taking Moss, by the same logic you would have had to applaud them for taking Jones.

So how's that stance working out for you?
---
Sam in Nashville writes: 2 comments. First, does anyone else but me think that Haynesworth isn't really that important to our defense? While he is a very good player, he is injured often and has a tendency to be unmotivated. Also, Washburn seems to turn everyone into a star DT. Second, Vince has shown that he is not the quarterback of the future through his skills. His skill set does not include good footwork or accuracy. Because of this, do you see the Titans drafting another quarterback soon? And since we'll probably be in the 20-30 pick range, who would you see as a possible fit next year?
Paul Kuharsky: I'm sure there are others who think as you do. I think you are overreaching on Haynesworth not being that important. He was very important, often the best player they had on the field and made life easier for the other 10 guys.

If he took plays off, as a Titans beat guy named Terry McCormick has pointed out, the defenses assigning double teams to him didn't know which ones they would be. Haynesworth looked plenty motivated to me over the last two years. That doesn't make him worth the contract he got, and it doesn't mean he's irreplaceable.

The Titans are now a smallish interior D, at least among their best guys.
Washburn turns a lot of guys into good players, absolutely. You might be overstating just a little to say he turns "everyone into a star DT." Randy Starks ring a bell? Antonio Johnson? Jesse Mahelona? Jared Clauss?

I would expect the Titans will be looking to draft a QB next year. He doesn't have to be a first-rounder, and I can't pretend to know who would fit.
---
Nathan in N.Y. writes:
How are the Texans going to break .500 if glass-jawed
Matt Schaub
can't manage to start 16 games and they replaced maligned but halfway decent
Sage Rosenfels
with a guy last seen running out the back of his own endzone?
Paul Kuharsky: Schaub staying healthy is a must for the Texans. I wasn't big on the Dan Orlovsky signing either -- even if you love him, you overpaid and messed up the backup quarterback market. But ...
The "halfway decent" Rosenfels you mentioned wasn't regarded as much when he arrived in Houston, either. Gary Kubiak is pretty good with signal-callers, and gets the benefit of the doubt here that he will be able to turn Orlovsky into something better and the Texans will still have a chance to win a game if Schaub can't go.
May, 13, 2009
5/13/09
9:55
AM ET
Posted by ESPN.com's Paul Kuharsky
Houston Texans
Indianapolis Colts
Jacksonville Jaguars
Tennessee Titans
August, 7, 2008
8/07/08
8:07
AM ET
Posted by ESPN.com's Paul Kuharsky
Greetings from Houston, where I'll check out the Texans this morning. But first, a quick spin around the division...
Houston Texans
Andre Davis is looking to build on last year's strong finish, writes Megan Manfull.
Will Demps has made himself a nice career by refusing to take no for an answer, Steve Campbell says.
Back after missing time with a hamstring injury, cornerback Demarcus Faggins is back at practice. He took a lot of heat last year from fans and media. The Chronicle's notebook also says Andre Johnson (groin) probably won't play Saturday night against Denver.
Dale Robertson says Sage Rosenfels is doing just fine accepting his status as Houston's No. 1A quarterback.
Indianapolis Colts
Three of the four starters in the Colts secondary were pretty much inseparable during the offseason, Mike Chappell tells us. Bob Sanders was busy rehabbing his shoulder. For the first time since 2000, Indianapolis is heading into a season with the same secondary as the year before.
Owner Jim Irsay is excited about the new stadium and says a fast start is imperative for the Colts. The Indianapolis Star's notebook also tells us because the team is so thin at linebacker right now, it's playing a lot of nickel defense.
Gijon Robinson in largely unknown but the tight end could be a significant piece of the Colts, writes Colts.com.
Jacksonville Jaguars
Here's an incredibly detailed account of the back and forth between the Jaguars and Derrick Harvey's agent. Great reporting by Vito Stellino.
Stellino shares his pluses and minuses so far for the Jaguars. He sees the offensive line as a concern.
Michael C. Wright chats with former defensive coordinator Mike Smith, who's now head coach I Atlanta.
Defensive coordinator Gregg Williams worried that TV cameras at yesterday's practice were filming defensive signals, according the Times-Union's "Observation Deck."
When he decided where to sign, rookie Lamar Myles decided experience with the Jaguars' linebackers was more important that the opportunity for a roster spot, Wright reports.
Tennessee Titans
I watched the Titan defense work against the Ram offense at yesterday morning's practice, then was en route to Houston. The Tennessean's Jim Wyatt focused on the other side of the ball and says Vince Young had a very good day.
Fan favorite Drew Bennett felt the love as he returned to Nashville as a Ram, according to Jessica Hopp. Click on the screen to the right for a video on Bennett.
Game-day shuttles in Nashville will continue, as a private company will take over for the city, The Tennessean reports. It'll now cost $10 instead of $7.
Eddie George watched a practice and said Chris Johnson reminds him of a Marshall Faulk, says The Tennessean's notebook.
AFC SOUTH SCOREBOARD
Thursday, 12/18
Sunday, 12/21