June, 4, 2010
6/04/10
5:53
PM ET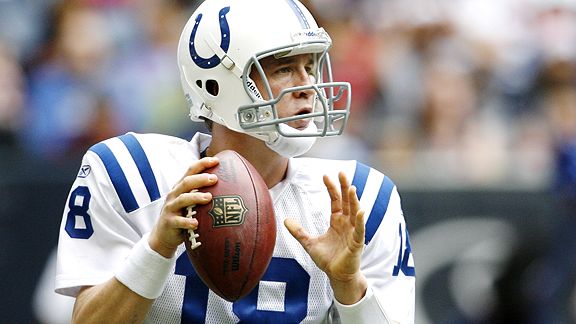 Aaron M. Sprecher/Icon SMIBad news for opposing defenses: Peyton Manning's relentless drive to improve his game means the four-time MVP could be even better in 2010.
INDIANAPOLIS -- His neck is
repaired
and he's been working with receivers since April. Now he's leading the
Indianapolis Colts
through minicamp paces, intent on a return to the Super Bowl and a better big-game result.
How does
Peyton Manning
, the league's first four-time MVP, get better for 2010?
Head coach Jim Caldwell has seen the process up close as a participant. He knows just the sort of meticulous deconstruction of the 2009 season Manning has done with quarterback coach
Frank Reich
in search of bullet points to concentrate on for 2010.
"He's a very unusual guy," Caldwell said. "Every year he kind of goes through this process where he and Frank will sit down and they'll take a look at what he was able to accomplish last year, he'll look at all his strengths and weaknesses. He'll review every single snap of every game he played. And not just glancing over it, but I'm talking about detail. They'll take notes of ever single throw, every single play call, every single check.
"And then from that he'll go through it and then make a determination on where he thought he could improve on that setting. He'll dissect his entire season that way and then he'll set new goals for himself in terms of what he thinks he can accomplish. And he seems to certainly keep moving forward, each and every year you see he gets better… I don't think there is any limitation on him, on what he can improve upon."
How long does it take? A week? A couple?
"Months," Caldwell said. "Plural."
That's not talk from Caldwell the rest of the NFL will be excited to hear, but it's hardly surprising. Saying Manning is meticulous is akin to saying Santa Claus is overweight. Still, we don't frequently get details of just how Manning goes about things, just like we don't get readings from a scale at the North Pole.
I asked Caldwell about avenues for Manning to improve upon after Manning spoke at the media center podium at team headquarters Friday. I certainly wish I were getting the scoop from Manning. But odds are Manning, who's super savvy with the media but not a big sharer with stuff that could ever qualify as state secrets, wouldn't have offered much up on it anyway.
[+] Enlarge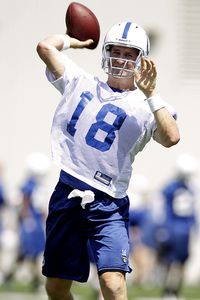 AP Photo/Michael ConroyPeyton Manning practiced Friday after surgery to alleviate a pinched nerve in his neck that's bothered him for four years.
A lot of offseason morning meetings start at 7 a.m., he said, while suggesting his timing with pass-catchers always will be a big point of emphasis in this offense.
"The main thing I try to work on is the timing with these new receivers, Brody [Eldridge] who's a new tight end here, Sam Giguere who's healthy and obviously try to get even more sound with Pierre [Garcon], [Austin] Collie," Manning said. "And everybody acts like this is the start. We've been here since April, we've been throwing. We've been working a lot on the field.
"I've had another good offseason with [Anthony] Gonzalez now that he's back. Getting the timing down with all these young receivers, the more I can get on the same page with them the more we have a better chance at success."
Clyde Christensen is the offensive coordinator now, with Tom Moore in a lesser role.
Manning has worked closely with Christensen in recent years. He's been the coach who has been in charge of third-down situations and red zone plays, two excellent areas for the Colts. While some players will need to adjust to the change in coordinators, the switch won't slow Manning down at all.
At minicamp practice, Manning looked like Manning.
In a breeze that was occasionally strong, the throws were crisp and precise whether the target was
Dallas Clark
or
Dudley Guice
. The quarterback's conversations with a coach or player to the side during breaks were accented with points and hand gestures about patterns and positioning.
I'd never expect that Manning would decide he's got it all under control.
But I do suspect it can get increasingly hard for very good players in any sport to find macro-issues to target this time of year. That's why it's so great when we learn that Kobe Bryant spent offseason time with Hakeem Olajuwon to become a better player in the post, and why details from Caldwell on Manning's determination to be more accurate can be pretty interesting.
Before 2008, Manning's tear-down of 2007 led him to a more intense focus on pass placement, according to Caldwell, who was the assistant working most closely with him then.
So what did that lead to?
"He works each and every drill in terms of placing the ball where he wants to place it and if he doesn't hit it right on the spot, he'll say, 'Hey, let's do that one again,'" Caldwell said. "He'll repeat it. And for most people, the initial pass would have been one that would have been highly acceptable.
"But for him, it maybe wasn't right on the pinpoint of the left shoulder. Or maybe it wasn't at the right ear. He's very, very precise in that regard, and I think that's what makes him unusual."
Anything Manning has discovered since then has also been layered into his private individual work with targets and sessions like today's.
Reggie Wayne
is absent in a contract protest. Upon his return, the group of Wayne, Garcon, Collie and Gonzalez gives the team a "chance to be as deep as ever" at the position, Manning said.
The draft class is supplemented by the return of Gonzalez and safety
Bob Sanders
from injury -- players Manning feels almost qualify as free-agent additions. Given those factors, the Colts seem like they'll be in position to improve as they try to defend their AFC title.
But Manning emphasizes they've got to do the things to make it so, not rely on how it all looks on paper.
Notes from his season breakdown are on paper, too. It's hard to imagine they won't come to life on fall Sundays.
"He's got such great presence of mind, such great will and determination that I think you will see him improve in almost every area," Caldwell said.
September, 1, 2009
9/01/09
11:40
AM ET

Posted by ESPN.com's Paul Kuharsky
The Titans first round of cuts are in, and none of them rank as a surprise based on what's unfolded in training camp and the preseason.
To get their roster to 75, the team cut these four:
Receiver
Dudley Guice
Running back
Rafael Little
Linebacker
Tyson Smith
Center
Matt Lehr
There had been some early hype about Little -- some of it given volume by me. He was signed as an undrafted free agent last year as he rehabilitated a serious knee injury but has not stood out in any way since he started to practice. We knew someone would bump
Chris Henry
, we just didn't know it was going to wind up being a draft pick names
Javon Ringer
.
July, 31, 2009
7/31/09
7:37
PM ET
Posted by ESPN.com's Paul Kuharsky
NASHVILLE, Tenn. -- Some quick thoughts out of the first practice of Titans training camp, which was not especially eventful.
First, the two things I tweeted (@espn_afcsouth):
No contract for Kenny Britt meant the first round pick, a wide receiver, wasn't on the field. Chris Davis and Lavelle Hawkins got the additional work. No real indication of where negotiations stand except the standard optimism.
Vince Young had a nice day, you'll find one detail about it below, and outperformed Patrick Ramsey by a good bit on the first day. If it's the start of a trend it'll be a good development, but let's not read a whole lot into a one day sampling of anything.
Additionally:
Yes, LenDale White has kept the weight off. I would have thought he would have been in the locker room advertising the number, which could be under 230. White looks impressive.
Speaking of running back size: I said during OTAs that I thought rookie Javon Ringer was not well-served by being assigned No. 3, which made him look too thin for the part of a physical back. He looks a lot better, honest, in his new No. 21.
Kicker Rob Bironas was not in uniform, Jeff Fisher said he was going to be held out for a few days with a slight pull, then called it soreness that "is nothing to be concerned about." He declined to reveal a body part. Undrafted rookie A.J. Trapasso kicked during a field goal period and was unimpressive, but Fisher emphasized Trapasso is a punter first, a kickoff guy second and a place kicker third. If we don't have to be concerned about it, why does it have to be top secret?
Bironas got bigger in the offseason and I know I risk some wrath here, but I have to be candid and say it's not all muscle.
Hard not to find symbolism when Paul Williams, very likely on his last legs, drops the first pass thrown to him, in a period with quarterbacks and no defenders. Same result for undrafted rookie Dudley Guice. Later, Williams got scolded by offensive coordinator Mike Heimerdinger. If the coach is making hand gestures about the course you should have taken as opposed to the one you took before you even get back to the line of scrimmage, that's not a good sign.
Bud Adams watched some practice from the balcony off the second-floor executive office, which has a new awning to provide some shade. He pulled out binoculars to check out the action on the field furthest from him, where the main action happened to take place. Earlier in the day he reminisced about the AFL on a national media conference call.
During receiver work, Nate Washington, Dominique Edison, Hawkins and Phillip Morris lined up on the left and Justin Gage, Davis, Williams, Mark Jones and Guice were on the right.
Washington breaks down smoothly and makes sharp cuts. He did some coaching of Edison during the receivers' period alone with the quarterbacks. I want to see him run all out, which I haven't seen for myself yet.
In seven-on-seven work, Chris Hope broke up a quick pass for Chris Johnson from Kerry Collins. Then Hope and Cortland Finnegan broke up a bullet of about 10 yards from Collins intended for Alge Crumpler, who was moving downfield. Hope topped things off by picking off a mid-range pass intended for Davis, also from Collins.
No lineup surprises at all that I saw. Leroy Harris is at center for Kevin Mawae (elbow), who said he's start getting into the swing of things in two weeks and ideally needs a little preseason time but is concerned only with being ready for Sept. 10 in Pittsburgh. Tony Brown started off at right defensive tackle -- Albert Haynesworth's old spot -- next to Jason Jones.
Young hit rookie tight end Jared Cook with a nice midrange pass up the left sideline over linebacker Colin Allred and was generally on target from the pocket and on the move.
DeMarcus Faggins moved quickly to come from behind Gage, dive and break up a pass delivered from Young on the run
It seemed like the offense didn't complete anything deep, which is always what a crowd wants to see. The first team defense flew around and clearly had the better day, picking up where it left off at the end of OTAs. But it was just one day.
Check out Keith Bulluck on Twitter -- @kbull53. He's doing live chats with video, though Friday's was postponed: "No show this evening folks,got things 2 do @ work. Hopefully I get the kinks worked out b4 the next episode. Good day @ prac tho. I'll holla." He was being coy about it, and is clearly looking to grow his own thing without any advertising from an outlet like this one. Sorry Charlie.

July, 21, 2009
7/21/09
7:11
PM ET
Posted by ESPN.com's Paul Kuharsky
The Titans had only publicly released the first week of their training camp schedule before Tuesday, when they passed out the whole slate.
As usual, practices are subject to change due to weather and when the team is forced inside to work, there is no room for fans.
Here's a list of the practices open to the public. The remote parking and shuttle from previous years is kaput, which is good news. Fans will be able to park CVS/Caremark corporate offices at 445 Great Circle Road across the street from team headquarters.
Division Camp Previews
• Tuesday: NFC North | AFC North
• Wednesday: NFC East | AFC East
• Thursday: NFC South | AFC South
• Friday: NFC West | AFC West

MORE
• Camp battles: AFC | NFC


• Schedule: Training camp dates
Friday, July 31 -- 3:30 p.m.
Saturday, Aug. 1 -- 3:30 p.m.
Sunday, Aug. 2 -- 3:30 p.m.
Monday, Aug. 3 -- 3:30 p.m.
Tuesday, Aug. 4 -- 8:30 a.m.
Thursday, Aug. 6 -- 3:30 p.m.
Friday, Aug. 7 -- 4 p.m.
Tuesday, Aug. 11 -- 3:30 p.m.
Wednesday, Aug. 12 -- 3:30 p.m.
Thursday, Aug. 13 -- 3:30 p.m.
Monday, Aug. 17 -- 3:30 p.m.
Tuesday, Aug. 18 -- 8:30 a.m. and 7 p.m.
Wednesday, Aug. 19 -- 3:30 p.m.
Sunday, Aug. 23 -- 3:30 p.m.
Monday, Aug. 24 -- 3:30 p.m.
Tuesday, Aug. 25 -- Noon
Wednesday, Aug. 26 -- 3:30 p.m.
The following training camp autograph schedule is subject to change without notice, Designated players are schduled to sign after the practice indicated:
Friday, July 31 - 3:30 PM Practice
Justin Gage, Stephen Tulloch, Josh Stamer, LaJuan Ramsey, Jared Cook
Saturday, Aug. 1 - 3:30 PM Practice
Keith Bulluck, Chris Johnson, DeMarcus Faggins, Tanard Davis, Gerald McRath
Sunday, Aug. 2 - 3:30 PM Practice
Vince Young, Kyle Vanden Bosch, Craig Stevens, Derrick Jones, Ryan Mouton
Monday, Aug. 3 - 3:30 PM Practice
Alge Crumpler, Jacob Ford, Cary Williams, Jason Murphy, A.J. Trapasso
Tuesday, Aug. 4 - 8:30 AM Practice
Michael Roos, Ryan Fowler, Kevin Vickerson, Matthew Mulligan, Phillip Morris
Thursday, Aug. 6 - 3:30 PM Practice
Nick Harper, David Stewart, Rafael Little, Cory Lekkerkerker, Jeremy Haynes
Friday, Aug. 7 - 3:30 PM Practice
Chris Hope, Lavelle Hawkins, Jovan Haye, Doug Datish, Dudley Guice
Players scheduled to sign autographs after Aug. 7 will be announced at a later date.
April, 27, 2009
4/27/09
12:23
PM ET
Posted by ESPN.com's Paul Kuharsky
Rick Gosselin's draft analysis: Houston A-plus, Indianapolis C, Jacksonville C, Tennessee C.
Peter King likens Connor Barwin to Mike Vrabel, likes Fili Moala, is fine with tackle-tackle with the Jaguars' first two picks and isn't big on Kenny Britt but likes Sen'Derrick Marks.
Houston Texans
Brian Cushing formulated a plan to play in the NFL when he was in third grade, says Dale Robertson.
Gary Kubiak said there isn't anything mentally that James Casey won't be able to handle, writes Megan Manfull.
The Texans never got around to drafting a big back to go with Steve Slaton, writes John McClain. He's got a list of 12 undrafted rookies, and it includes two backs.
McClain explains the rationale for each of the Texans' picks.
Lance Zierlein's thoughts on Cushing and Barwin.
Alan Burge's review of what the Texans did.
Indianapolis Colts
The Colts addressed manpower issues, says Mike Chappell.
Bill Polian said Curtis Painter won't beat out Jim Sorgi for the backup job as a rookie, writes Chappell. That means the Colts are prepared to carry three quarterbacks.
Jim Irsay says the Colts won't redo their stadium deal, writes Robert Annis.
John Oehser breaks down Donald Brown.
Final thoughts on Dominic Rhodes from Oehser. Polian said the Colts never heard from Rhodes' agent. This confuses me. If Polian was interested in Rhodes, he would have dialed out, no?
A pick-by-pick review from Oehser.
Jacksonville Jaguars
The Jaguars look to a short and fast playmaker from the Pac-10 again, writes Vito Stellino.
Gene Frenette gives the Jags a B-minus.
Auspicious morphed into suspicious for the Jaguars from Day 1 to Day 2 of their first draft under new general manager Gene Smith, writes Michael C. Wright.
Cole Pepper looks at it pick-by-pick.
Pepper finds video highlights of Jags' picks.
Derek Cox was hardly alone as a non-combine player getting drafted relatively high, writes Gosselin.
Tennessee Titans
Kenny Britt and Sen'Derrick Marks visit Titans' HQ, writes Gary Estwick.
Jim Wyatt's look at Day 2 of the Titans' draft.
The folks at The Tennessean grade the draft.
Tennessee's first undrafted rookies included Michigan defensive tackle Mitch King and Northwestern (La.) State receiver Dudley Guice.
David Climer says the Titans are comfortable outside BCS conferences.
Joe Biddle considers how the draft will impact the AFC South.
Wyatt doesn't expect the Titans to pull the franchise tag from Bo Scaife, but even before Tennessee drafted Jared Cook a long-term deal for Scaife didn't look like it was happening.
Terry McCormick's review of the Titans' work.