December, 16, 2013
12/16/13
8:00
AM ET
JACKSONVILLE, Fla. -- A review of four hot issues from the
Jacksonville Jaguars
'
27-20 loss
to the
Buffalo Bills
:
Grounded:
One of the reasons the Jaguars had been 4-1 since the bye week was their improved rush defense. After giving up 162 yards per game in the first eight games, they had allowed opponents an average of just 71 yards in the next five games. The Bills ran for 198 yards, including 80 by
Fred Jackson
, 67 by
C.J. Spiller
and 37 by quarterback
EJ Manuel
. The Jaguars struggled with all the things they did well in the last five games: staying in their gaps, tackling, communication. "The biggest thing for us was the fundamentals," defensive end
Jason Babin
said. "We did it to ourselves; whether it was 10 guys on the field, whether it was missed tackles, whether it was missed alignment, missed assignment, looking back I'm pretty sure when we watch the tape that's what we're going to see. That's I think what makes it most frustrating, is we did it to ourselves."

Lewis
Lewis more involved:
Tight end
Marcedes Lewis
was more of a factor in the passing game against the Bills than he has been all season. That was partly due to the absence of receiver
Cecil Shorts
(groin). Getting Lewis more involved is something offensive coordinator Jedd Fisch should make a priority. Lewis caught a season-high four passes for 54 yards and one touchdown, the first time in his career he's had touchdown catches in three consecutive games. Lewis made several catches on back-shoulder throws and scored on a screen. He can be much more of a factor in the middle of the field and certainly is a big target in the red zone. He's a good blocker and a huge help in the running game, but if Shorts is unable to play the next two weeks, Lewis needs to get more work.
Line shuffle:
With the news that backup guard
Mike Brewster
is out for the rest of the season with a fractured left ankle, the Jaguars' situation on the offensive line is somewhat shaky. Brewster was in the game because starter
Will Rackley
did not play due to a concussion (it's unclear how long he will be out).
Jacques McClendon
replaced Brewster and had an up-and-down day, committing two false starts but doing a solid job in the run game. The Jaguars likely will sign
Drew Nowak
from the practice squad to replace Brewster, and Nowak could be forced to start Sunday's game against Tennessee if Rackley can't play. Nowak has not appeared in a game in his two seasons.
Guy trouble:
Winston Guy
had an up-and-down day as well, but it was almost expected since he has been playing free safety all season and was forced into duty as the starting strong safety because
Johnathan Cyprien
(thigh) was inactive. Guy had six tackles, a sack and a forced fumble, but he also missed several tackles and was penalized for unsportsmanlike conduct for hitting Bills receiver
Marquise Goodwin
in the head, a play that's likely to draw a fine. "He has the ability to make some big plays but in four days of practice [at strong safety] like that we knew that there could be some opportunities that we missed," coach Gus Bradley said.
December, 15, 2013
12/15/13
4:11
PM ET
JACKSONVILLE, Fla. -- A few thoughts on the
Jacksonville Jaguars
' 27-20
loss
to the
Buffalo Bills
:

What it means:
What could have been a gut-it-out victory because of the loss of four starters turned into another loss at EverBank Field in front of 60,085 fans. The Jaguars turned it over four times, including once when
Denard Robinson
fumbled the ball at the Buffalo 1-yard line, and it bounced out of the back of the end zone for a touchback. The Jaguars had won three games in a row and were coming off their first victory at EverBank Field in more than a year.
Stock watch:
It's harder to be much higher than
Jordan Todman
, who ran for 109 yards and had 44 yards receiving. The first-year player was making his first start because
Maurice Jones-Drew
was inactive with a hamstring injury. Todman also had a pair of big plays, a 33-yard run on a drive that ended with a field goal, and a 30-yard catch-and-run to convert a third down and continue a drive that ended with a touchdown. Quarterback
Chad Henne
did not have one of his better games. He threw two interceptions, including one in the end zone late in the fourth quarter, and threw several other passes that were nearly intercepted. He made some plays with his feet and had to deal with heavy pressure, but he wasn't able to overcome his mistakes.
Banged-up offensive line:
The offensive line was hit hard by injuries. Starting left guard
Will Rackley
was added to the injury report on Saturday with a concussion and did not play. His replacement, Mike Brewster, suffered a left ankle injury in the first half and did not return.
Jacques McClendon
finished the game at left guard, which left the Jaguars with just one other healthy offensive lineman (
Sam Young
).
In a rush:
One of the things that had keyed the Jaguars' turnaround in the second half of the season was better rush defense. They went from allowing 162 yards per game in the first eight games to holding the next five opponents under 100 yards. That changed on Sunday, when the Bills battered the Jaguars for 198 yards on the ground.
Fred Jackson
rushed for 80 yards,
C.J. Spiller
67, and quarterback
EJ Manuel
37.
What's next:
The Jaguars play their final home game of the season against Tennessee at 1 p.m. on Sunday.
December, 13, 2013
12/13/13
10:00
AM ET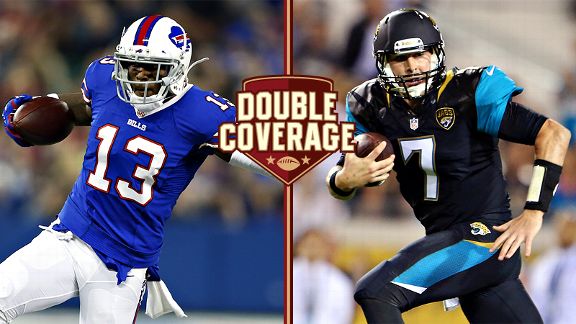 USA TODAY SportsStevie Johnson's Bills and Chad Henne's Jaguars are both 4-9, but the teams appear headed in opposite directions.
It has been a different second half for the
Jacksonville Jaguars
and
Buffalo Bills
.
Both teams are 4-9 but they're on opposite wavelengths. The Jaguars have won four of their past five games and are currently riding a three-game winning streak for the first time since 2010. The Bills have lost four of their past five and are coming off an abysmal performance in Tampa Bay.
Jaguars coach Gus Bradley is talking about making sure his players treat prosperity the same way they treated the adversity they faced in the first half of the season. Bills coach Doug Marrone is talking about scaling back the offense to help rookie quarterback
EJ Manuel
.
The teams meet Sunday at EverBank Field. ESPN.com Bills reporter Mike Rodak and Jaguars reporter Michael DiRocco break down the matchup:
DiRocco:
Manuel is pretty familiar to fans in Jacksonville from his time at Florida State. He has had an up-and-down season, but what have you seen from him that leads you to believe the Bills made the correct choice in deciding to build the franchise around him?
Rodak:
I think the jury is still out on whether the Bills made the correct choice in Manuel. In Sunday's loss to the Buccaneers, Manuel posted a 3.8 QBR, which ranks 415 out of 426 single-game performances in the NFL this season. It's dangerous to give too much weight to what's most recent, but in this case, Sunday had to be alarming for the Bills. Manuel has the leadership and character traits that any NFL team wants in its quarterback, but his on-field performance has left a lot to be desired. These last three games will be critically important to determining which direction Manuel is heading.
The Jaguars have gone on a surprising run lately, winning four of their past five games. Have they been doing anything different than early in the season? Or are things just simply starting to come together for Gus Bradley and his players?
DiRocco:
Schematically, no, other than just paring down the defensive game plan a bit and focusing more on the coverages and blitzes they do well. But three things stand out: better run defense, a better turnover ratio and better success in the red zone. In the first eight games -- all losses by double digits -- the Jaguars were allowing 161.8 yards per game rushing, were minus-7 in turnover ratio, and scored TDs on only 25 percent of red-zone possessions. The numbers in the past five games: 70.8 yards per game allowed, plus-5, and 66.7 percent. The offensive line has been much more consistent, quarterback
Chad Henne
is making few mistakes, and the defensive line has held up at the point of attack much better.
Kiko Alonso
is one of the candidates for defensive rookie of the year and is second in the NFL in tackles. Obviously a second-round pick is expected to produce, but has the kind of impact he has made on the defense been a surprise?
Rodak:
I think so. When I spoke to defensive coordinator Mike Pettine last month about Alonso, he indicated that the Bills inserted him into the starting lineup in the spring, but it was a wait-and-see deal. If it didn't work out, they were going to turn somewhere else, but Alonso has certainly fit well within this defense. He has drawn a lot of praise from coaches and veterans on this team for his work ethic and ability to pick up the scheme quickly. However, I do think that Alonso's play has tailed off slightly over the past several weeks after he had a hot start this season. He had four interceptions, one sack, and one forced fumble in the first month of the season. Since then, he has had one sack, no interceptions and no forced fumbles. Is that overly concerning for the Bills, though? Most likely not. I think Alonso will be a fixture in this defense for the foreseeable future.
What's the latest on
Maurice Jones-Drew
? I remember hearing some trade talk around him a few months ago, but once the deadline passed, he hasn't been on the radar as much. Does he have a future in Jacksonville?
DiRocco:
He does if he's willing to be realistic about a contract. No team is going to pay big money for a 29-year-old running back that has battled injuries the past two seasons, which is what he'll find out if he decides to test the free-agent market when his contract expires after this season. The Jaguars are interested in re-signing him and likely will offer him an incentive-filled two-year contract worth $6-10 million. Jones-Drew, who would like to finish his career in Jacksonville, is making $4.95 million this season so that would be a pay cut. If he's OK with that, then I'd be surprised if he's not around.
What do you think of the job Doug Marrone has done in his first season? And what do you think of his long-term future in Buffalo?
Rodak:
I think it has been a trying season for Marrone. It's not that there were high hopes for the team in his first season -- nobody realistically expected them to make the playoffs -- but I don't think everything fell into place as well as he would have liked. His hire of Mike Pettine as defensive coordinator has generally paid off well, but ultimately what's going to define Marrone's tenure in Buffalo will be the quarterback position. Coaches don't often get more than one chance to get it right at quarterback, so if Manuel doesn't work out in Buffalo, it may not work out for Marrone, either. That's just today's NFL. It's a brutal league.
What about for the Jaguars? Their roster was about as bare bones as it gets this past offseason -- in much worse shape than the Bills' entering this season -- and they've managed to put on a nice little run here. What's the next step that general manager David Caldwell needs to take?
DiRocco:
His No. 1 priority is to find a franchise quarterback. At the beginning of the season I would have told you the Jaguars would draft Teddy Bridgewater with the No. 1 overall selection, but since it now appears the Jaguars will be picking in the Nos. 5-7 range it seems unlikely Bridgewater will be around. Caldwell is going to have to figure out whether there's somebody else he likes just as much or if he's going to be willing to gamble that he can get a good QB a little later in the draft, whether it's A.J. McCarron, Aaron Murray or somebody else.
September, 6, 2013
9/06/13
1:49
PM ET
Have a Titan or two on your fantasy team?

We're going to try to have a weekly check in with a fantasy expert to advise us on such matchups.
Eric Karabell of ESPN.com was kind enough to share his thoughts on Tennessee plays for Week 1:
"The Titans scored 26 points in beating the Steelers last season, but it's tough to really like any of their players individually for fantasy purposes in this matchup. Chris Johnson should get his yards, but then again, in five career meetings with the Steelers he's averaged only 60 rushing yards per contest. He scored two touchdowns, but Jets castoff Shonn Greene was brought in for the goal line work. Johnson remains a reasonable top-20 running back this week, but he'll have many better matchups.

"After that, you're advised to avoid Titans in fantasy. Quarterback Jake Locker is seldom seen on a sleeper list and this week he's facing a tough pass defense that should force several turnovers, at the least. None of the ESPN fantasy analysts gave Locker a top-25 quarterback vote, which says something since the likes of EJ Manuel, Terrelle Pryor and Ryan Tannehill did. As a result, relying on a Titans wide receiver is similarly risky. We've all waited a while for Kenny Britt to show the skills from that magical three-touchdown game against the Philadelphia Eagles (it was Week 7 in 2010!), but health always gets in the way. He did score one of his four touchdowns in this matchup last season, but it came with Matt Hasselbeck throwing."
I don't expect great things from Jake Locker against this defense. But I think you could do worse than
Delanie Walker
at tight end and I won't be surprised if
Kendall Wright
has a game worthy of a flex play.
April, 25, 2013
4/25/13
5:11
PM ET
If the
Jacksonville Jaguars
don't draft a quarterback at all in the next three days, I'll be just fine with that.
I certainly hope they won't be using the second overall pick on one tonight.
I've not done intensive research on the top guys, but I have developed a strategy I'd employ if I were the Jaguars and I was determined to come out of the draft with a signal-caller.
I'd draw a line after the first four guys --
Geno Smith
,
Ryan Nassib
,
Matt Barkley
and
EJ Manuel
. I want to draft one of those guys and add him to my team.
I'd let the first three get drafted, and then I'd make a move to trade up to get the one who's left. He would be the cheapest in terms of draft cost, he would be the cheapest in terms of contract and I think he'd have roughly the same odds of panning out.
That's a safe route. A miss wouldn't do a great deal of damage. A hit could produce a solid reward. In a year where there are no guarantees, it's a way to admit as much and still be a player.
April, 18, 2013
4/18/13
1:09
PM ET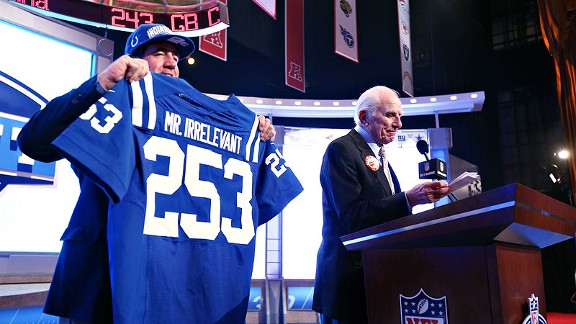 AP Photo/Ben LiebenbergWhat are some of the common myths that take place behind the scenes at the annual NFL draft?
NFL general managers operate from their teams' headquarters during the draft, not from Radio City Music Hall, where the draft will take place starting Thursday of next week.
But Kevin Costner is expected in New York, preparing for his role as the general manager of the
Cleveland Browns
in the upcoming film "Draft Day."
Director Ivan Reitman will begin
shooting the film
as the first round of the real draft unfolds.
Will the movie dispel some widely held misconceptions about the NFL draft, or will it reinforce some of these narratives?
Here are what I believe to be a half-dozen mistaken beliefs about how things work at the NFL draft.
Chaos:
The draft room is a sacred space with no outsiders allowed. So we've fictionalized what it must be like in there. Ringing phones. A scout streaming film on the wall screaming, "Look at this." An assistant coach standing on the table, exhorting the GM to draft a particular guy. Ringing phones. Spilled coffee. General chaos comparable to the floor of the New York Stock Exchange.
But talk to people who are in the rooms and the guys who run them, and it turns out the space is not like that at all. The difficult discussions and arguments have already taken place and have been resolved in the meetings that get a franchise ready. It's pretty organized, pretty quiet, pretty uneventful.
Maybe there is a cheer when a guy falls to the team or a collective groan when a coveted player disappears. Beyond that, things are not nearly as crazy as we might like to believe.
Boards are fluid:
Many teams have their boards set before the scouting combine in late February because they want them to be based predominantly on tape and scouting.
There are meetings going on in most draft rooms now that force adjustments based on research, pro-day and combine developments, etc. But the tape and the scouting of prospects during their season typically trump all. Get too caught up in the other stuff and you wind up making a mistake like the
Tennessee Titans
did in 2007 drafting Arizona Wildcats running back
Chris Henry
.
Once this final round of meetings is complete, boards largely will be set. There may be some light shuffling and some minor movement. The image of a GM or an underling pulling a guy's name plate off the wall and walking it to a completely new spot qualifies as overdramatic -- unless said prospect just got arrested.
Money is at play:
The new collective bargaining agreement means rookie contracts are not giant, even at the very top. Teams have to be under the cap at all times, but they don't have to have a specific amount of money available in order to draft. I don't think teams at the top steer clear of a player now because of his agent or expected demands, because the contract numbers are pretty much pre-prescribed.
When it comes time to sign picks, the new contracts have to fit under the cap. The cap counts only the most expensive 51 players until after final cuts in September, when it bumps up to all 53. So as a draft pick signs, he typically bumps a minimum-salary player out of the top 51. That isn't quite the level of hit most people imagine.
Guys know where they'll go:
I heard
EJ Manuel
on the "Dan Patrick Show" this week list the Eagles, Bills and Jets as three teams he believes are very interested in him. And maybe the Florida State quarterback winds up with one of those teams.
Generally, though, a guy is as likely to be surprised by who drafts him as he is to say, "I knew it!" Frequently a player will say he had no idea that the team that selected him was even interested. A lot of pre-draft "interest" can qualify merely as due diligence. Sometimes a team will research a guy like crazy but do nothing beyond a combine meeting so as to not tip its interest.
Initial reaction to a draft class will match up with what happens:
We'll bombard you with grades of drafts as soon as they are over. But what's really being graded? Teams aren't concerned, nor should they be, with how their draft measures up against the expectations and ratings set by draft analysts and media.
Over and over we'll hear about how you need two or three years to really see what a team got in a draft. And it's absolutely true.
A draft class will make a team completely revamp its starting lineup:
The Jaguars have the NFL's worst roster. And coach Gus Bradley says he expects he could have four rookie starters. Four. So a good draft can change 18 percent of Jacksonville's first-team depth chart.
The idea, then, that a team with one pick per round is going to wind up with six or seven new starters is ridiculous. Draft batting averages simply aren't that high. Late-round picks can be tabbed for narrow, niche roles. Or they can qualify as projects who have a best-case scenario of contributing in Year 2.