July, 12, 2010
7/12/10
8:44
AM ET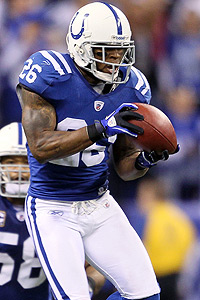 Andy Lyons/Getty ImagesIf it wasn't for his cousin, Kelvin Hayden would have pursued baseball or basketball.
Before training camps kick off, a number of players and some coaches will pay tribute to people who helped them make it to the NFL as part of the AFC South Blog's summer series: "Early Influence."
Kelvin Hayden, Colts cornerback
"I kind of want to thank my cousin, Dan Henderson. He's two or three years older than me and he's the reason why I started playing football. I wasn't a football guy, I wanted to play basketball, baseball, those things but then just going out there watching him play made me want to play because I looked up to him.
"You can say it changed my life, and he changed my life as well. He hasn't made it to this level. He's living his dream through me and he tells me that all the time. Even when I am out there, where there are days that you don't feel like doing it. But you think about those guys who wish they were in your shoes. My cousin, I always think about him and that usually gives me that extra boost…
"The other person is my high school coach, Elton Harris [from Hubbard High School in Chicago], he just showed me the game and made me understand that it's not just a physical game, it's a mental game as well. He helped me understanding concepts -- I played a lot of positions, quarterback, running back, wide receiver, defensive back. It was important to hear that there is a mental part of it and once you understand the mental part of it it makes the game much easier physically."