May, 15, 2013
5/15/13
2:04
PM ET
To review:
J.J. Watt
's defensive player of the year season in 2012 included 107 tackles, 20.5 sacks, 39 tackles for loss, 42 quarterback hits, 16 batted passes, four forced fumbles and two fumble recoveries.

"It was the best I've ever seen, the best I've ever been around,"
Houston Texans
defensive coordinator Wade Phillips recently reiterated.
Watt is the biggest sports star Houston has seen in some time and I don't think he'll let up for a second in preparing for his third year, even as he allows himself to enjoy his celebrity.
Still, one has to wonder: Can he match that enormous season or is a statistical drop-off almost inevitable?
The Titans drafted right guard
Chance Warmack
in part because they think he will be able to slow Watt down. The Colts also emphasized their interior offensive line in the draft. Those moves will hardly make Watt scared. They simply serve to help illustrate how big of a concern he is.
[+] Enlarge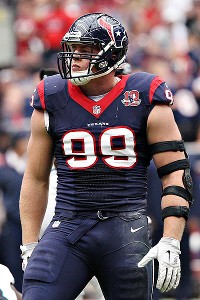 Troy Taormina/USA TODAY SportsJ.J. Watt had 20.5 sacks and 16 batted passes in 2012.
"We started seeing it toward the last of the year, they started hollering in the field, 'Don't let him get to the quarterback,' that sort of thing," Phillips said. "Teams were even drafting for him, it sounded like.
"He's going to draw a lot of attention, but as long as you have other guys who can rush, it's hard. We put him in some situations where he's one-on-one and we also move him around quite a bit. We think those things will help.
"There will be more attention on him, there will be more trying to see where he is and trying to help. But I think they tried to do that last year quite a bit. He's a great player. He's going to do well no matter what."
But can he match those stats?
"I don't know if you can have a better year than last year. He had a tremendous year," Phillips said. "I've never been around a defensive linemen that made that many plays. And I had
Reggie White
, I had
Bruce Smith
, I had Elvin Bethea who's in the Hall of Fame, Curly Culp who's fixing to go in the Hall of Fame. Nobody's had a year like that kid had last year.
"You just don't make that many plays. It was a phenomenal year. I don't know if he can have a better year than that. He's working towards it, I know that. He's first in every drill we do, he wins every wind sprint that they run out there, he's a leader. The sky's the limit for that guy."
August, 4, 2012
8/04/12
1:09
PM ET
Dustin from Houston writes:
With
Connor Barwin
,
Duane Brown
and
Matt Schaub
going into contract years, how big of a chance is it that the Texans cant resign all three? I don't know the Texans cap numbers or a ballpark estimate of the market value for those players, but if they weren't able to resign all three, which one do you believe is most likely to be left out? Personally, I feel that Barwin would be the most expendable if Mercilus turns out to be a good pass rusher, BUT you know how the saying goes, "you can never have too many pass rushers."
Paul Kuharsky:
You can always find a way to keep top guys like those. What I'd like to see happen is that they strike a long-term deal with Brown or Barwin before the season starts. That would ease the pressure for after the season. I think it'd be best if that could be Barwin. Brown is very good, but that he's in a system that helps make offensive linemen good might make him less appealing for other teams who don't run a similar zone-blocking scheme. So if he got to free agency there could be less competition for him.
I think they'll keep Schaub, and that this season's performance will go a long way toward setting his price.
---
Steve in New Orleans writes:
If you think
Blaine Gabbert
gives the Jaguars a better chance of winning than
Chad Henne
, then I have a bridge in Brooklyn and San Francisco that I would like to sell you.
Paul Kuharsky:
How many practices have you watched, if I may ask?
---
Rick in Jacksonville writes:
What is your deal with your crush on Gabbert and your hatred for Henne. The idea that Henne has been worse at training camp than Gabbert is laughable. How much are the Jaguars paying you to talk crap about Henne? I am supposed to believe that a guy who has a career 60 percent career accuracy rating and who has thrown over 3,000 yards in a season and someone who has carried a team to seven wins on his back is worse than Gabbert? You sir are a moron. How about stop bashing Henne for no reason and tell the truth for once.
Paul Kuharsky:
I said: "Chad Henne has been
average at best
. Gabbert bashers can find ammunition, but at this point they can't argue that the backup quarterback would give the Jaguars a better chance to win." I also said: "Quarterback Blaine Gabbert
didn't look
like a guy who's made the big jump out of an offseason many of us expected."
Look, you can decide Gabbert has no chance after 14 games. And I can tell you a young QB that a team makes a big investment in gets more time than that. A lot more time. His ceiling is higher than Henne's. Henne didn't make any real "Wow" plays that I saw. I don't see any Henne bashing there. And what there, in my interpretations of what I saw, amounts to a lie?
---
Chad via Twitter asks:
Do you think
Andrew Luck
is currently more pro-ready than Gabbert and
Jake Locker
?
Paul Kuharsky:
From what I am hearing, I'd say yes. Certainly more ready than Gabbert. But I'd like to see Luck a bit for myself before making that assessment on Luck as a rookie as opposed to Locker in his second year. Feel confident I'll say yes on Luck there, too.
---
Yellek from parts unknown writes:
It's only preseason and I am sick on how you come across anti Titan... which I guess you need to do living in Nashville, and covering the team since Oiler days. I am sure I am wrong... but I am sure you and I can have a good banter for the up coming year..... I have followed the team since 1978, so do not dismiss me as a homer. Especially since I grew up and CT and live in CA.
Paul Kuharsky:
Finally someone that is able to sort through it all, see my true feelings and understand that living in Nashville means I have to be anti-Titans.
Sarcasm#.
In an email like that, it's nice to actually cite examples. Here's what I do: I watch things, I ask questions and I make assessments. It's pretty simple.
---
Jamie Zaleski asks via Twitter:
Was
Keith Bulluck
best Titans defensive player ever? Can Titans D replicate the 2002 defense in young players coming up big?
Paul Kuharsky:
Titans/Oilers, no. Elvin Bethea is in the Hall of Fame. Titans, as in since 1999? He could be. Jevon Kearse at his peak was a better/more impactful player. But for productivity over a long period of time, no one fared better than Bulluck once the franchise was settled in Nashville.
The defense now is expecting a lot of young guys to all get good/ stay good together at once. I wish there was a little more veteran leadership/ star power
---
Nicholas Ortiz from New York, NY writes:
There's a lot of talk in Jacksonville right now about whether
Mike Thomas
will make the roster, and how much his contract will factor into that determination. It appears he still has $6M left in guaranteed money and $15M total on his contract remaining to be paid. Do you have any opinion on the matter? It seems to me that his contract doesn't weigh in his favor, because while paying $6M to someone not on your roster is a bad thing, paying $15M to someone who doesn't belong on your roster would be far worse.
Paul Kuharsky;
I think if they just put him in the slot and tell him that's his narrow role -- which I think they are basically doing now -- he has a chance to break out of this funk and still be a productive player. He can also return punts, which has value. Given what they've spent on him and the remaining guarantee, I can't imagine they cut him.
Laurent Robinson
,
Justin Blackmon
and
Cecil Shorts
are roster locks. Thomas would be on the next tier, with a couple guys out of
Brian Robiskie
,
Lee Evans
,
Taylor Price
,
Kevin Elliott
and the rest of the undrafteds.
That said, if receivers coach Jerry Sullivan and the rest of the staff decide Thomas is not one of the best five or six, they won't be forced to keep him because of the contract.
---
Chris from Upper Carolina writes:
With the Tennessean now prompting us to pay to view, can you not post anymore links to them?
Paul Kuharsky:
I'm not sure how that better serves my readers. At least you get the gist of a story from the headlines I offer. A certain amount of clicks per month are free, so access may be different for different people. You are free to go subscribe. Or you can simply ignore it.
My approach is to link to the primary stuff on four teams. And with two dedicated beat guys and a columnist, The Tennessean remains the primary news outlet on the team. If I ignored the outlet, there would be days where there is nothing to point you to at all.
April, 16, 2010
4/16/10
9:22
AM ET