December, 6, 2013
Dec 6
6:00
PM ET
INDIANAPOLIS -- The
Indianapolis Colts
put on extra layers, shook off the frigid air and spent the week practicing outside to prepare for Sunday's game against the
Cincinnati Bengals
.
There's a chance Mother Nature won't be too kind to either team at Paul Brown Stadium. The forecast calls for temperatures to be in the 30's with a chance of snow on Sunday. The Colts haven't played a game in the snow since the 2009 season.
[+] Enlarge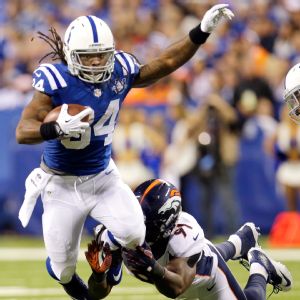 AP Photo/AJ MastTrent Richardson and the Colts' running backs might get a lot of work on Sunday in Cincinnati.
"You know what, the elements, it is what it is," Colts coach Chuck Pagano. "From a ball-security standpoint, that's what we stressed all week long. That's why we got outside all week long. If it's sleeting sideways and 30 degrees, 20 degrees, it really comes down to ball security, taking care of it. Makes throwing the ball a little bit difficult, too, so better pack a good run game."
Limiting quarterback
Andrew Luck
's throwing ability and relying on the run game could cause some uneasiness since Luck is the Colts' best offensive weapon, and the running game has been inconsistent this season.
But that's what it might take for the Colts to have a chance to beat the Bengals, who are 5-0 at home, and get a game lead on them for the No. 3 seed in the AFC playoff standings.
"I probably haven't played in snow since I was throwing a football around as a kid, so very excited about it," Luck said. "I love playing outside. I think there's something about it that's fun, so we're looking forward to it."
The Colts rushed for 104 yards -- only the second time in the past five games that they rushed for at least 100 yards -- against the
Tennessee Titans
last weekend.
"I can play in snow, as a kid," running back
Trent Richardson
said laughing. "But it's just something, you just got to go out there and fight it. You got to man up. This is what the big playmakers have done their whole life. You look at the Jim Browns, the Emmitt Smiths, the Fred Taylors, the Ricky Williams' and the Edgerrin James'. Look at those type of guys. Those guys fought through it, and they stuck it through the whole time in the snow. It didn't matter to them."
Indianapolis has to hope it can get something out of its running game, and with some Luck-being-Luck sprinkled in there, too, because the Bengals have the offensive weapons to put points on the board.
Cincinnati averages more than 363 yards a game and has won six of its past eight. Bengals receiver
A.J. Green
has 72 catches for 1,103 yards, which is only 71 yards less than what
T.Y. Hilton
,
Darrius Heyward-Bey
,
LaVon Brazill
and Da'Rick Rogers gave combined for this season.
Indianapolis' defense forced four turnovers against Tennessee last weekend, and the unit might get cornerback
Greg Toler
(groin) back in the lineup for the first time in five games.
"It's a talented team," Colts defensive coordinator Greg Manusky said. "They got good receivers, a good quarterback ... they got some players in the backfield with (Benjarvus Green-Ellis) and (
Giovani Bernard
). Talented guys that can see the hole and break long runs. We got to make sure we bottle them up as best we can."
June, 26, 2012
6/26/12
3:24
PM ET
Maurice Jones-Drew
must be spending too much time in the sun while he's been staying away from the Jaguars.
Jones-Drew
I don't understand how this question came up in
a recent interview
on The Ticket in Denver. Also, I understand players are programmed to say "I can do it" to virtually any question about ability and/or achievement.
Still, it's hard to take this in:
On if he can break Emmitt Smith's career rushing yards record:

"Yeah, I think it's doable. I definitely think it's doable. Once again, Emmitt Smith was in a different situation than a lot of us, though. I mean, he had a Hall of Fame receiver, Hall of Fame quarterback, Hall of Fame offensive line, Hall of Fame fullback. Whoever put that team together did a heck of a job, and it just showed. … Don't get me wrong -- he was the reason they won, but he had a lot of guys around him as well."
Smith has 18,355 career rushing yards. Jones-Drew
ranks 55th
with 6,854.
That gap of 11,501 yards is 149 more than John Riggins had in his entire career, and Riggins ranks 16th all time.
Jones-Drew is 26 years old. If he played 10 more years, an improbably long career for a running back, he'd have to average 1,135 yards in each of those 10. It would be 1,419 a season if he played eight more years and 1,892 if he played six more years.
He led the league with 1,606 rushing yards last season, before which his career best was 1,391.
He didn't absorb full wear and tear early on when he worked with
Fred Taylor
. Still, a bruising back like Jones-Drew typically doesn't have great longevity.
It's good to hear he's feeling well.
On how long he'll last in this league:

"As long as I feel good, I'm gonna play," he said. "That's it. When I start to hurt and the hurting doesn't stop in February, March, it starts going into July and August, then we're gonna have problem. But right now I'm feeling great, and all I can do is keep playing and taking it a year at a time."
I hope it's a lot of years. And that he's staying out of the sun.
April, 1, 2009
4/01/09
12:00
PM ET
Posted by ESPN.com's Paul Kuharsky and Mike Sando
Is more better?
NFL commissioner Roger Goodell is confident the answer is yes. At the recent owners' meeting, he talked about expanding the regular season from 16 to 17 or 18 game, while cutting back the preseason, which he acknowledged doesn't meet the league's standards for its product with its fans.
Owners could vote on the issue this year, but such a change would then have to be bargained for as part of a new agreement between the league and the NFL Players Association (NFLPA).
| | |
| --- | --- |
| | |
| | Matthew Emmons/US Presswire |
| | Commissioner Roger Goodell is in favor of expanding the NFL's regular season. |
Would it be the right move? AFC South blogger Paul Kuharsky backs the bigger regular season, while NFC West blogger Mike Sando is against it.
They do their best to hash it out in this week's edition of Double Coverage.
Kuharsky: The NFL will never trim the preseason without converting some of it to real games, and the preseason is unquestionably the biggest rip off for ticket buyers in sports. Goodell clearly realizes that fans are fed up with meaningless exhibition games decided by fourth stringers that cost full price and are a mandatory purchase for season-ticket holders. Yes, a lot of things will have to be adjusted to accommodate an 18-game NFL regular season -- pay, the size of rosters, TV deals, etc. But more professional football that counts is a good thing, and taking the schedule further into February, the worst month on the sports calendar, is fine with me. I think it needs to be 18 -- not 17 -- games in order to keep balanced home and road schedules. If it's 17 and you talk about neutral sites, we're talking about leaving all these palaces built for football unused for actual games.
Sando: We can all agree there's a problem. Look, I know what it's like to fork over full price for preseason tickets, all while watching a horrible product on the field. That was my fate as a Raiders season-ticket holder years ago. I could barely afford my upper-level seats for the regular-season games and it was maddening to pay for games that didn't count. But I also think the NFL needs to think hard before further diluting its product. We already have too many teams. The league clearly doesn't have enough quarterbacks to make it through the current 256-game schedule. Adding two games per team would add 64 starts for quarterbacks.
Kuharsky: Funny, I never pictured you wearing a silver-and-black dog collar, Mike. As for 64 more quarterback starts, I'm fine with that too. The team that picks Peyton Manning over Ryan Leaf and the team smart enough to have Byron Leftwich as its backup instead of Ryan Fitzpatrick should reap the benefits of choosing correctly as often as it can. A team like the Bears that constantly fails to address the position effectively should suffer the consequences. If it's a side effect to a longer season that the teams that scout and groom quarterbacks the best have an advantage in a longer season, so be it. It's the most important position in the game. If the resources you have for finding and developing a player or players are insufficient or ineffective, here are a few more games where the people who are good at it get a chance to show you why you should be better at it.
Sando: Quarterback injuries are the real problem here. We can talk about the league putting skirts on quarterbacks and legislating contact out of the game, but quarterbacks will keep getting hurt. It's the nature of the position. Fifty-three quarterbacks started games in 2008. The number was 64 in 2007 and 50 in 2006. The Browns had four starters last season. The Chiefs, Lions and Seahawks each had three.
| | |
| --- | --- |
| | |
| | AP Photo/Michael Conroy |
| | An expanded regular season schedule would force teams to groom a backup QB, like the Colts' Jim Sorgi, in case injuries occur. |
The more games the NFL adds, the harder time quarterbacks will have staying healthy. Don't know about you, Paul, but I'd rather watch the third-stringer play in August than January. Think about it. If you're a Colts fan, would you rather endure a couple of meaningless games in August or would you rather endure Jim Sorgi starting a playoff game after Manning's body finally gives out in Week 19?
I don't think people understand what a 16-game schedule does to these players' bodies. The NFLPA understands, and that's why I think the 18-game schedule could be a tough sell.
Now that we've settled that issue, what about the record books? The jump from 14 to 16 games three decades ago already diminished the 1,000-yard season. If the league goes to 18 games, players would have to average only 55.6 yards per game to reach 1,000 yards. I realize the AFC South had only two 1,000-yard receivers last season -- the Cardinals had three, by the way -- but that seems ridiculous.
Kuharsky: A tough sell until players negotiate themselves two or three more in-season paychecks. And you want more quarterback development? There it is -- teams better get or groom themselves a quality backup because he will play. Wear and tear is definitely the biggest issue, and to make this schedule boost happen the league will have to give in on pay as well as on issues of jobs, service time connected to pensions and benefits. I would be in favor of a second bye week as well, which would help with recovery times and work just fine if the regular season started earlier because of a shortened preseason and ended later with a Valentine's Day Super Bowl.
I completely disagree with the record-book argument as a factor. A 1,000-yard rushing season hasn't meant much for a running back since the league went from 14- to 16-game regular seasons in 1978. A recalibration there is long overdue already. Fans and media can handle it if the benchmarks don't come in nice round numbers. That's hardly a reason not to play more.
This isn't baseball, where we know the numbers automatically, where 56 and 2,632 evoke images of Joe DiMaggio and Cal Ripken. What's the all-time rushing mark? I admit I've got to run to pro-football-reference.com to get Emmitt Smith's 18,355 yards. In 2008, Drew Brees was in range of Dan Marino's season record for pass
ing yardage (5,084), but it's not like a high percentage of fans or media know Marino's mark by heart. When Brees or someone else breaks it with two extra games, we'll understand the framework of it.
| | |
| --- | --- |
| | |
| | Luc Leclerc/US Presswire |
| | Brady Quinn (10) was one of four Browns quarterbacks to start a game in 2008. |
There is nothing that can happen in an 18-game season that I can't count on you to put in context, and a spreadsheet, to help me comprehend. You and I and all our colleagues can evaluate production in an 18-game season in the context of league history and the old 16-game paradigm.
Sando: Any discussion of extending the season should indeed pull baseball and basketball into the fold. Both sports play more games than most busy people are willing to follow. The NFL enjoys a tremendous advantage by playing fewer games than those other sports.
If not for the physical demands of football, short-sighted owners would trade the long-term good of the game for profits associated with seasons running 82 or 162 games. Jumping to 18 games isn't going to kill the NFL, but it's certainly going to dilute the regular season while putting more players at risk for injuries. Is that progress?
Kuharsky: It is to me if the primary argument against it is that it dilutes the regular season.
Eighteen games is still a reasonably small season, every game is still going to have a big bearing on the final standings and, again, we're talking about trimming half the pitiful preseason sham. I don't feel like it will put the NFL in the neighborhood of baseball, basketball or hockey in terms of over-saturating the sports landscape. A lot of taxpayer money went into building these stadiums. Let's put them to meaningful use more often.
ESPN Radio's Colin Cowherd always talks about the NFL's willingness to evolve. I think an expanded regular season qualifies as just that.