AFC South:

Ephraim Salaam
August, 23, 2013
8/23/13
9:52
AM ET
When
Houston Texans
quarterback
Matt Schaub
heard someone on his line was called for holding during Saturday night's game, he asked quarterbacks coach Karl Dorrell who the culprit was.
"Duane," Schaub recalls Dorrell replying.
"No way! I don't believe that," Schaub said.
[+] Enlarge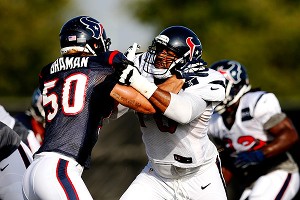 AP Photo/Aaron M. SprecherTexans left tackle Duane Brown has so honed his blocking technique that, in five NFL seasons, he has been penalized for holding only twice.
Holding on 76 is a rare call these days. In 76 regular-season games, left tackle
Duane Brown
has had only two holding penalties.
That wasn't the case in college. Technique wasn't exactly No. 76's strong point entering the NFL.
And without solid technique, it's difficult, even impossible, to mount an NFL career that so far includes only two holding penalties. Avoiding holds means being sound enough not to have to resort to a hold. It was something Brown learned along the way.
"I really didn't become that good of a technician at the left-tackle position until just a couple of years ago," Brown said. "Hand placement and footwork is something I struggled with my first couple of years in the league. Over time, it's just something I worked at. You try to latch onto guys, but you have to get them off at some point in time and you have to move your feet just to stay in front of them."
He credited offensive-line coach John Benton for part of that development and named former Texans linemen Chester Pitts, Ephraim Salaam and
Eric Winston
as players who helped teach him.
Brown was surprised, too, to be called for holding during Saturday's preseason game.
"I was a little shocked the way that the play was developed," he said. "I kind of baited the inside move and he took it and I thought I let him go and apparently they thought I held him a little longer than I should have. You never like to get flagged, and I really take pride in that. Better now than the regular season, I guess."
August, 25, 2012
8/25/12
3:56
PM ET
Three things to look for tonight as the Texans go against the Saints in their third preseason game of the summer tonight (8 ET) in New Orleans.


The three young receivers:
Heading into the biggest preseason game, it seems
Keshawn Martin
,
Lestar Jean
and
DeVier Posey
rank in that order, but there is still a chance for some jockeying for roles and snaps. When they are on the field, any success they can have with quarterback
Matt Schaub
will help their cause. A good outing for Martin would likely solidify his standing, but Jean may be more explosive. Gary Kubiak can find roles for both at the start of the year if he feels they are worthy.
Rotating tackles:
When
Duane Brown
became the Texans left tackle, the Texans
eased him in
his first few games by rotating him with veteran
Ephraim Salaam
. They are now at least considering doing the same with the two guys competing for the right tackle job now, veteran
Rashad Butler
and youngster
Derek Newton
. I wonder about the chemistry and rhythm such a platoon can get in the way of. But if one of them doesn't distinguish himself, then they could both be in line for time in the season opener Sept. 9 against Miami.
Nose tackle:
Shaun Cody
(back) and Sunny Harris (done for the year with a torn triceps) won't play, so
Earl Mitchell
and undrafted rookie
Hebron Fangupo
are the lone nose tackles available for the Texans. Ends
Jared Crick
and
Tim Jamison
are also rated by coaches as being able to play the nose in the Texans' defense as well. The position isn't generally part of the nickel package and barring an injury, it should be a problem. Also out on defense, inside linebacker
Brian Cushing
(ribs) isn't with the team.
March, 4, 2010
3/04/10
9:16
AM ET
Houston Texans

Potential unrestricted free agents:
CB
Dunta Robinson
, WR
Kevin Walter
, RB
Chris Brown
, DT
Jeff Zgonina
, G
Chester Pitts
, S
Brian Russell
, S
Nick Ferguson
, LS
Bryan Pittman
, LB
Chaun Thompson
, QB
Rex Grossman
, LB
Khary Campbell
, G
Tutan Reyes
, T
Ephraim Salaam
, P
Matt Turk
.
Potential restricted free agents:
DL
Tim Bulman
, S
John Busing
, OT
Rashad Butler
, TE
Owen Daniels
, RB
Ryan Moats
, S
Bernard Pollard
, LB
DeMeco Ryans
, G
Chris White
.
Franchise player:
None.
What to expect:
I don't think the Texans will jump out and make any monumental moves. But by deciding not to tag Robinson they created another hole and saved themselves big dollars. With needs at corner, running back, free safety, interior offensive line and defensive tackle they may have more than they can address in one draft. That means they could jump out for one significant free agent – like they did last year with defensive lineman
Antonio Smith
-- and maybe another less expensive one or two.
Indianapolis Colts

Potential unrestricted free agents:
MLB
Gary Brackett
, K
Matt Stover
.
Potential restricted free agents:
WR
Hank Baskett
, S
Antoine Bethea
, S
Melvin Bullitt
, OL
Dan Federkeil
, CB
Aaron Francisco
, LB
Tyjuan Hagler
, CB
Marlin Jackson
, CB
Tim Jennings
, DT
Antonio Johnson
, OT
Charlie Johnson
, LB
Freddy Keiaho
, DT
Dan Muir
, CBPR
T.J. Rushing
.
Franchise player:
None.
What to expect:
Brackett is priority one and the team has indicated a plan to pay him as an upper-echelon guy. The restricted list includes a lot of key guys who will remain big factors next year. Indy is not a team that looks to bring in many outsiders for big roles and it won't start now. Bill Polian's said the Colts will sit back and see how things unfold in the new capless landscape.
Jacksonville Jaguars

Potential unrestricted free agents:
DE
Reggie Hayward
, G
Kynan Forney
.
Potential restricted free agents:
DT
Atiyyah Ellison
, LB
Clint Ingram
, DL
Greg Peterson
.
Franchise player:
None.
What to expect:
The Jaguars are draft-reliant, but will also shop for bargains in free agency, hoping to plug a couple holes with high-character guys with upside who fit what they are doing. As for a big splash, it's unlikely based on their recent busts with big-name free agents like
Jerry Porter
and
Drayton Florence
and the direction they've moved since.
Tennessee Titans

Potential unrestricted free agents:
DE
Kyle Vanden Bosch
, C
Kevin Mawae
, LB
Keith Bulluck
, TE
Alge Crumpler
, CB
Nick Harper
, CB
Rod Hood
, DE
Jevon Kearse
, S
Kevin Kaesviharn
.
Potential restricted free agents:
DE
Dave Ball
, DT
Tony Brown
, TE
Bo Scaife
, LB
Stephen Tulloch
, DT
Kevin Vickerson
, RB
LenDale White
.
Franchise player:
None.
What to expect:
The Titans will undergo a youth movement, especially on defense where Vanden Bosch and Bulluck, who's recovering from ACL repair, are going to be allowed to walk. Mawae been told his only chance to return is as a backup at a backup price. Brown, Scaife and Tulloch are important guys they'll want to retain. Beyond that, expect mostly bargain shopping.
June, 16, 2009
6/16/09
4:05
PM ET
Posted by ESPN.com's Paul Kuharsky
HOUSTON -- Deem it what you will.
The Texans offensive line plan where 2007 first-round pick Duane Brown sat out every third series in favor of Ephraim Salaam was unconventional. Lines talk constantly about continuity and plenty of first round tackles in recent years have been plug-and-play guys who've been immediately successful and handled a full load.
Salaam is gone now, and Brown is expected to play left tackle full time.
Brown was viewed as a tidy fit for Alex Gibbs' cutting zone scheme, but his conditioning was a factor working against him last season.
"[The rotation] was huge," Brown said. "In this scheme you have to be able to run and run every down and I wasn't really used to the speed of the NFL and it was kind of overwhelming for me. I really cut back my weight a lot, I've gotten in a lot better shape. It's going to benefit me."
Brown is at about 316 pounds now, and he played last year around 323 or 325, he said. He rates himself as a lot stronger, faster, quicker and lighter on his feet as he prepares for his second season.
"I think in a lot of respects it was the best of both worlds last year, we had a chance to have a rookie play, a significant amount of snaps and also have the benefit of being able to sit back and watch," GM Rick Smith said. "I think it worked out to our benefit, I think we all expect him to be the full time guy now."
If Brown isn't ready for the task, the Texans could have an issue. Rashad Butler is the primary backup tackle now. In three seasons in the league, he's got less playing time (eight games) than Brown got in one (16 starts). Salaam took a 154-game résumé and 129 starts with him. But having started doesn't always mean you're better than an alternative.
Brown was a first-rounder, and the 26th pick in the draft should be playing every snap and playing it well.
June, 1, 2009
6/01/09
8:39
AM ET
Posted by ESPN.com's Paul Kuharsky
Greetings from Jacksonville. Going to catch up on what's been written about the division. Care to join me?
Houston Texans
Indianapolis Colts
Jacksonville Jaguars
Tennessee Titans
May, 13, 2009
5/13/09
3:05
PM ET
Posted by ESPN.com's Paul Kuharsky
Young talent at offensive tackle is a commodity and a necessity.
Via The Sporting News, RealScouts put together this list of the 20 top tackles.
Just two AFC South tackles make the list: Titans left tackle Michael Roos (fifth) and Texans right tackle Eric Winston (17th).
I think Titans right tackle David Stewart, a mauler who gets under defensive linemen's skin, is a glaring omission.
This seems like a good time for a look at each team's status at tackle:

Houston -- Duane Brown didn't play full games as a rookie last year as his coaches rotated Ephraim Salaam in to ease his workload. Salaam is gone, and Brown needs to show he can handle a full load. Winston is a very good player who earned a contract extension. Rashad Butler ranks as the backup. He was a third-rounder for Carolina in 2006.

Indianapolis -- Tony Ugoh remains a source of debate at left tackle. Will he prove tougher in his third year? How will he do without retired position coach Howard Mudd in his ear? Veteran Ryan Diem mans right tackle and is steadier. Dan Federkeil backed up both last year though it was the versatile Charlie Johnson who played four games for Ugoh when he was hurt and even after he appeared healthy.

Jacksonville -- The Jaguars are revamping at the spot and spent their top two picks on Eugene Monroe and Eben Britton. Britton could wind up playing guard early on, depending on how the Jaguars sort things out. But with those two, and the addition of veteran Tra Thomas, they should be far better off than they were a year ago when Khalif Barnes was the starter on the left side. Tony Pashos, the incumbent right tackle, will have to play well to hold on to his spot.

Tennessee -- The Titans are set with Roos, an All-Pro, and Stewart. But their biggest personnel question on offense could be who backs those two up. Daniel Loper was an excellent utility part who could play outside or guard, but he left for Detroit as a free agent. Now the Titans hope Mike Otto, a 2007 seventh-rounder, or fourth-round rookie Troy Kropog can step forward and provide security. A late veteran addition with experience is a possibility.
February, 26, 2009
2/26/09
10:32
AM ET
Posted by ESPN.com's Paul Kuharsky
Houston Texans
The Texans kept safety Eugene Wilson with a three-year deal and freed up nearly $4 million in salary-cap space with the release of Anthony Weaver, Will Demps and Ephraim Salaam, writes John McClain.
Chronicle blogger Stephanie Stradley provides context and links to two recent Houston radio interviews. Like Dunta Robinson, DeMeco Ryans isn't happy about his contract situation.
Indianapolis Colts
How do the Colts go about filling Marvin Harrison's spot? Mike Chappell thinks it will be with a draft pick.
Michael Marot runs through the end of Harrison's tenure in Indy.
Jacksonville Jaguars
Nothing today.
Tennessee Titans
Sara Walsh of WUSA-TV in Washington, who used to host his radio show in Nashville, texted with Albert Haynesworth.
Jim Wyatt's status reports on each of the Titans' free agents. Look for text at the top right of the page, then hit the arrow.
Wyatt's not expecting a deal for Kerry Collins with the Titans before free agency opens.
Terry McCormick also looks at the Titans' free-agents to be.
February, 25, 2009
2/25/09
5:51
PM ET
Posted by ESPN.com's Paul Kuharsky
Anthony Weaver was one of three unsurprising releases by the Houston Wednesday, and leaves as a symbol of just what the Texans are missing.
He started all 16 games at left defensive end opposite Mario Williams in 2008 and didn't record so much as a half sack. In his three seasons, he started 44 of 48 games. He leaves the Texans with a grand total of one sack, and that came in 2006.
Finding a better bookend for Mario Williams who will be a much more productive pass rusher is a major priority for the Texans this offseason.
The team also let go of offensive tackle Ephraim Salaam and safety Will Demps.
December, 18, 2008
12/18/08
4:52
PM ET
Posted by ESPN.com's Paul Kuharsky
They added an all-time great coach and a first-round draft pick, inserted a lightning-fast running back and have gotten good results.
With Alex Gibbs coordinating the running game and Steve Slaton getting the carries, the Texans have been pleased with the progress of their offensive line. While Duane Brown still yields to Ephraim Salaam every third series, the team has started the same line in every game: Brown at left tackle, Chester Pitts at left guard, Chris Myers at center, Mike Brisiel at right guard and Eric Winston at right tackle.
"Those guys as a group, they won't leave the field," coach Gary Kubiak told Houston media Thursday. "I know we've been fortunate they've been healthy, but as a group, that's part of their bond. They're not going to leave the field. They're going to play together. As I've said from the start, they can become the strength of the team. There's no doubt in my mind that they have kind of headed in that direction and the longer those guys play together and work together and stay together the better you are."
"I know Chris is locked in for a while. Eric's locked in for a while. Then you've got the other guys. Of course, Duane's locked in for a while. So, Chester and Mike, I don't know their situation offhand, but believe me, as well as they've played and as good of workers as they are and people on top of that, it's our job to keep them together for a long time."
October, 20, 2008
10/20/08
8:14
PM ET
Posted by ESPN.com's Paul Kuharsky

The Houston Texans are big on rotating, and while it's all the rage in the league at running back, I'm pretty sure it acknowledges weakness when you do it at cornerback or defensive tackle or, now, at left tackle.
There have been times this season when the Texans have rolled Fred Bennett, Demarcus Faggins and Jacques Reeves through their two primary cornerback spots. They are trying to get more out of interior defensive lineman Amobi Okoye by spelling his every third series with DelJuan Robinson.
And now they are pulling their top draft pick, Duane Brown, every third series in favor of veteran Ephraim Salaam.
The Texans say they feel like all the guys they are putting on the field qualify as starters, but you know the popular line of thinking: If you're playing more than one it's because you don't have one.
Here's Gary Kubiak with Houston reporters on the Brown-Salaam rotation going forward:
"Well, I foresee us doing the same thing we did [Sunday]. As I told you, we are really monitoring Duane's reps, just watching his reps because he's playing 40, 45 plays of just big-time football and about 15 or 20 that we have to clean up. So what we decided to do was get Ephraim in that rotation, it was every third series. Ephraim needs the work too and I think it helped Duane. Duane played extremely well in the [Detroit] game and Ephraim, I thought, brought something to the group also. It was encouraging. I think we'll continue to do the same thing."
The problem with that rationale, I think, is the assumption that the 15 to 20 plays the team wants cleaned up are the same 15 to 20 plays Brown yields to Salaam.
If he's not conditioned well enough at this stage -- and he should be since it seven weeks into the season -- that's one thing, and this plan might be understandable as a stop gap. Beyond that, I'm not sure what kind of message it sends through the locker room, except that yet another top guy isn't good enough to do the job fulltime.
August, 9, 2008
8/09/08
12:33
PM ET
Posted by ESPN.com's Paul Kuharsky
I'll be at Reliant Stadium tonight for Texans-Broncos, but I'm also curious about what unfolds in St. Louis at Tennessee, Indianapolis at Carolina and Atlanta at Jacksonville.
Here's a lunchtime trip around the division in anticipation of the full slate of preseason action.
Houston Texans
John McClain takes a close look at Alex Gibbs. The piece includes this solid quote from right tackle Eric Winston about defenders' distaste for cut blocking: "I don't think it's illegal or cheap. Now, defensive players might not like it, but they do things we don't like, too. I don't like them giving me a head slap, but they do it. I don't like it when they get their hands in my face, but they do that, too."
Tackle Ephraim Salaam had his left knee scoped and is on the shelf for three or four weeks, according to the Houston Chronicle. To help out line depth the team signed Torrin Tucker, and to make room for Tucker the team ended its short experiment with Mike Bell. Smart move on his part showing up for his chance out of shape.
More hype for receiver Kevin Walter, who's a willing blocker and a coach's favorite.
Indianapolis Colts
Marvin Harrison has been cleared to play tonight at Carolina.
The Indianapolis Star's notebook says Jim Sorgi will be looking to lead a touchdown drive rather than settling for a field goal. And The Colts claimed linebacker Danny Verdun-Wheeler off waivers from Washington and waived Brandon Archer injured.
The Colts will continue to shuffle their backup offensive linemen, looking to create versatile pieces.
Jacksonville Jaguars
Vito Stellino previews the Jaguars preseason opener against Atlanta. Falcons coach Mike Smith was previously Jack Del Rio's defensive coordinator.
Michael C. Wright gives us five Jaguars to watch.
Tennessee Titans
Punter Craig Hentrich sheds a little light on nerve problems he dealt with last year, Jim Wyatt reports.
A look at the elimination of the force-out rule from the Titans' perspective.
Wyatt thinks Chris Johnson may find a big play tonight against the Rams and announce his arrival.