March, 7, 2014
Mar 7
11:00
AM ET
»
AFC Free-Agency Primer
:
East
|
West
|
North
|
South
»
NFC
:
East
|
West
|
North
|
South
Key free agents:
CB
Vontae Davis
, S
Antoine Bethea
, K
Adam Vinatieri
, RB
Donald Brown

Where they stand:
The Colts have the fourth-most salary-cap space ($41 million) in the league. They solved one of their issues when they signed inside linebacker D'Qwell Jackson on Thursday to start alongside
Jerrell Freeman
,
Erik Walden
and
Robert Mathis
. Davis is the most important player to re-sign with having to acquire a new starting center next in line after
Samson Satele
was released on March 6. The Colts re-signed punter
Pat McAfee
to a five-year deal Friday. The 41-year-old Vinatieri believes he can kick for several more seasons. Expect the Colts to look to add depth at receiver to give quarterback
Andrew Luck
another target to go with receivers
T.Y. Hilton
and
Reggie Wayne
and tight ends
Coby Fleener
and
Dwayne Allen
.
What to expect:
The Colts should be able to work out a deal with Davis, who was inconsistent last season but has the talent to be one of the top cornerbacks in the league. Don't expect the Colts to go with a rookie or second-year player as their starting center. The position is too valuable for them to go that direction with their franchise player, Luck, taking the snaps. New Orleans'
Brian De La Puente
and Green Bay's
Evan Dietrich-Smith
are both free agents. Denver receiver
Eric Decker
is an ideal receiver to go with Hilton and Wayne. The Colts and Decker have mutual interest, but he may be out of their price range if he wants to be paid like a No. 1 receiver.
Hakeem Nicks
and
James Jones
are also free agents the Colts could pursue. Acquiring a veteran guard is a better option than drafting one, because Indianapolis has the talent to take another step in the AFC next season. Decker's teammate in Denver, guard
Zane Beadles
, is a free agent.
February, 27, 2014
Feb 27
5:05
PM ET
INDIANAPOLIS -- The start of the free agency is less than two weeks away. Receiver is one of the positions that the
Indianapolis Colts
need to address through free agency, trade or the draft.
It's about the present and the future for them at that position.
Decker
Depth was an issue for the Colts at the start of last season. It was a bigger issue when
Reggie Wayne
crumbled to the ground with a torn ACL against Denver in Week 7 and it remained an issue when the season ended last month.
The Colts can't get away with not adding any players at receiver. All indications point to Wayne returning from his knee injury, but you have to be realistic, too. Nobody knows what type of player he'll be when he returns because he's 35 years old. That leaves
T.Y. Hilton
and young receivers like
Da'Rick Rogers
,
LaVon Brazill
and
Griff Whalen
.
This takes us to the free-agent market.
There was a report
Wednesday that the Colts have interest in Denver receiver
Eric Decker
.
Decker is looking for a big payday like all free agents do. He told SiriusXM NFL Radio in an interview earlier this month that he needs to do what is the "best for my family."
The Colts will have money to spend – the fourth-most salary cap space – but they're going to be frugal spenders with all their money. That's bascially what general manager
Ryan Grigson
said last week at the combine.
Decker caught 87 passes for 1,288 yards and 11 touchdowns last season.
My issue with Decker is that you can't pay him like he's a No. 1 receiver because he's not a No. 1 receiver. He's more of a solid No. 2 receiver. He put up those nice numbers while not having to face the other team's best cornerback. Things could be different if Decker's asking price isn't too much.
And if that's the case, why leave
Peyton Manning
and Denver when you have a chance to make at least one more run at winning the Super Bowl?
Here's a look at some 2013 stats of some notable wideouts who are set to hit the free-agent market:
February, 26, 2014
Feb 26
12:00
PM ET
Here is the third of a 10-part series breaking down the Jaguars' free-agency needs, position by position:
Wide receivers
Who's on the roster:
Justin Blackmon
,
Mike Brown
,
Chad Bumphis
,
Jeremy Ebert
,
Stephen Burton
,
Taylor Price
,
Denard Robinson
,
Jabin Sambrano
,
Ace Sanders
,
Cecil Shorts
,
Kerry Taylor
,
Lamaar Thomas
and
Stephen Williams
.
Blackmon
Analysis
: This position group is solid provided Blackmon is on the field. However, nobody knows when, or if, he'll get back on the field. He is eligible to apply for reinstatement from his indefinite suspension for violating the league's substance abuse policy just before the 2014 season begins. Even if he's reinstated, there's no guarantee he'll avoid another suspension. He is clearly the Jaguars' best receiver, catching 29 passes for 415 yards in the four games in which he played in 2013. Shorts has played well the past two seasons (121 catches for 1,756 yards), though he has missed five games because of injuries and missed the final three games of this past season and went on IR with a sports hernia. He's not a No. 1 receiver, though, and had some trouble when he was thrust into that role when Blackmon was suspended. Taylor came on at the end of the season and is intriguing as a No. 4/5 receiver. Brown and Sanders, who caught 51 passes last season as a rookie, are dependable slot receivers. In addition to Shorts, Burton, Ebert, Price and Williams finished the season on injured reserve. Bumphis and Sambrano are on the practice squad. Price's contract expires next month and he'll be an unrestricted free agent.
NFL free agents of interest:
Hakeem Nicks
,
Eric Decker
,
Riley Cooper
,
Brandon Tate
and
Golden Tate
.
Need meter: 5.
The Jaguars could get by without adding a receiver in free agency, because it's likely they'll draft at least one. The position group needs an upgrade at the top end, but to get a big-time player the Jaguars will have to spend big-time money, and it doesn't seem likely they'll do that on a receiver. Regardless of whether it's a free agent or a draft pick, it's likely to be a bigger, more physical receiver, because that's one thing the Jaguars lack. Burton (6-foot-1, 224 pounds) fits the description, but has just 15 catches in three seasons and battled a concussion much of last season.
December, 8, 2013
12/08/13
9:33
PM ET
DENVER --
Bernard Pollard
is hardly afraid to pop off. The
Tennessee Titans
strong safety is one of the NFL's most outspoken players. And he's got no issue raising the volume.
Sunday, after the Titans fell to 5-8 with a
51-28 loss
to the
Denver Broncos
, he was reserved and resigned.
He didn't raise his voice and he didn't really talk in specifics. He merely spoke of the NFL as a higher power and pointed out the limits he felt that power put on the Titans as they tried to slow
Peyton Manning
.
[+] Enlarge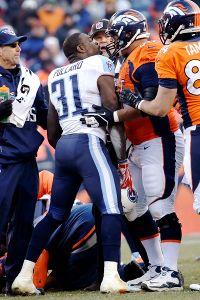 AP Photo/Jack DempseyBernard Pollard was penalized twice in the loss to the Broncos.
"It's a shame the way, you know, power is held," he said. "It's hard for us to play the way we want to play. We understand what Peyton has done, we understand all of it, man. It's just difficult for us as a secondary, as a defense, to get things done."
Cornerback
Alterraun Verner
has had a Pro Bowl-caliber season, but he got flagged three times in this game, once for pass interference and twice for defensive holding. One of the holding calls was wiped away because Denver had a bigger penalty to accept, a personal foul against Pollard who delivered a hard shot to receiver
Eric Decker
on an incomplete pass up the left side.
It was a hard hit, delivered with a shoulder to a shoulder. But referee Scott Green and his crew viewed it as a dangerous hit to a defenseless player and gave the Broncos 15 yards and helped fuel the drive that put Denver ahead for good.
"It was a foul in their eyes," Pollard said softly. "I hit a defenseless player."
I thought Verner was a little more handsy than usual and didn't have a big issues with the call on him. The call against Pollard was botched. It's another call coach Mike Munchak should get an apology from the league for if he dials league headquarters on Monday. It's a phone call the coach doesn't like to make, but one that yielded three admissions of mistakes against Tennessee in the Titans' last loss.
Pollard also got an unsportsmanlike conduct for talking to an official. He said he told him "that play stinks," Green got involved and made the call.
Free safety
Michael Griffin
was out for last week's loss to the Colts -- suspended for an accumulation of four hits to defenseless receivers that the NFL judged illegal and fined him for.
He was not nearly as calm about the personal foul call against Pollard or the calls overall.
"What do I think about it? It was [expletive] clear as day," he said. "It was the same hit I had against [Doug] Baldwin from damn Seattle, hit him in the shoulder pad. The official said it was a defenseless receiver. I said that's bull----. He hit him in the [expletive] shoulder. Notice he didn't hold his head, he held his shoulder."
"I feel like they got game tape, they already look and say, 'He just got suspended, the other guys has had some flags thrown on him also.' Anything close that even looks bad, these refs are throwing the flags quick."
Verner said he thought he was playing "good, tough coverage."
"But the Broncos found a rhythm and took off like a rocket," he said.
Bad calls didn't ultimately account for the 23-point gap in this game. Manning completed a Broncos' record 39 passes for 397 yards and four touchdowns.
No, players cannot adjust their strike zone in a split second when their target is moving. They should be able to deliver a shoulder hit with a shoulder without being penalized. Other adjustments are possible, it's just the Titans seem unwilling or unable to make them.
The Titans have to be good enough and smart enough to realize how a game is being called and to adjust to it. And they simply aren't, whether it's holding calls in Oakland or pass interference/defensive holding calls in Denver.
Or when they play superior talent they have no choice but to make plays that are being regarded as fouls and accept the consequences.
They'll be accused by some of whining or crying. I think they are reasonably frustrated and, when considering the 5-8 record, not as talented as they believe.
"I think we need to have a referee meeting," Griffin said. "To me, it's not called consistent around the league. Some places it's called, some places it's not called. When you see the replay [of the Pollard play], everybody across America can see that it was shoulder to shoulder."
Late in the second quarter, a Broncos trainer put his hands on Pollard to move him when he knelt to pray for
Wes Welker
after the receiver suffered a concussion. Pollard didn't react well to being touched that way.
But after the game he wasn't talking about the higher power he asked to heal Welker.
"When you see certain things happen in the game, that's not how we played it all year, that's not how we wanted to play it," Pollard said. "But the higher power wants to play it like that."
September, 21, 2011
9/21/11
11:26
AM ET
Our teams see some of the most productive skill players in the league this weekend. To notch a win, the Colts, Jaguars, Texans and Titans will have to slow some formidable people.
Indianapolis hosts the Steelers. Pittsburgh receiver
Mike Wallace
has been excellent so far. His 16 receptions are the second most in the NFL. He's tied for fourth in yardage with 233 and his three third-down catches have averaged 22.7 yards.
Jacksonville will need to limit the
Cam Newton
-to-
Steve Smith
connection that has torched the Panthers' first two opponents. Smith had 178 receiving yards and two touchdowns in the loss at Arizona, the biggest receiving yardage day so far in the NFL. And he followed that up with 156 receiving yards against Green Bay.
Houston faces the Saints, who are loaded with weapons. You won't find
Darren Sproles
on the list of the league's leading running backs. He's only got six carries for 24 yards. We need to look at receiving leaders to find his big impact. He's tied for third in the league in receptions with 13 catches, and is a threat on every play. His seven third-down catches are the most in the league.
Tennessee hosts Denver, and the Broncos have not shown themselves to have an especially dangerous weapon so far. Their most productive threat right now might not be on offense, but on special teams. But
Eric Decker
has two receiving touchdowns and a return touchdown and ranks as the second-leading punt return man in the league with a 25.6-yard average. He's slated to start at receiver at LP Field on Sunday.
Who's the guy that must be stopped above the others in order for his team to win?
Chime in on the poll.