September, 3, 2011
9/03/11
7:21
PM ET
Click
here
for a list of Titans' roster moves.

Surprise move:
Ahmard Hall
was suspended for the first four games of the season for a violation of the NFL's policy against performance enhancers. The Titans traded an undisclosed draft pick to the Packers for
Quinn Johnson
, a fifth-rounder out of LSU in 2009. Johnson will serve as lead blocker for
Chris Johnson
while Hall is out. So the Titans have a running back and a fullback learning the team's offense in a little over a week. Undrafted rookie corner
Chris Hawkins
made the team.
No-brainers:
Time had come for receiver
Justin Gage
, a nice guy with good size who could block and be in the right spot, but dropped too many balls and was not enough of a threat. The entire nine-man draft class stuck, and it's hard to say any one of them is around simply because of that status.
What's next:
Six defensive tackles is a luxury the team may not be able to afford for long, though one of them,
Malcolm Sheppard
, has been working at end. With only four true ends on the roster and
Derrick Morgan
out for the opener, the team either has faith in Sheppard or plans a move. The Titans' fourth and fifth corners --
Tommie Campbell
and Hawkins -- are rookies who were judged beter than
Frank Walker
.
August, 9, 2011
8/09/11
11:45
AM ET
NASHVILLE, Tenn. -- The Titans severed ties with their coach and quarterback and set about for a fresh start.

They'll suffer from time lost with the lockout, but in Mike Munchak, a largely new staff and a new combo of quarterbacks in
Matt Hasselbeck
and
Jake Locker
, the franchise hasn't just turned a page.
It's opened a new book.
The early chapters could well be choppy and rough.
Defensive coordinator Jerry Gray is looking for a bigger defense that will stop the run first, and offensive coordinator Chris Palmer is bringing a scholarly approach to a group used to being screamed at. The Titans have new signal-callers on offense and defense (middle linebacker
Barrett Ruud
was signed as a free agent from Tampa Bay), so there is a lot of new stuff to cover.
But external expectations are low. If the Titans can get their best player,
Chris Johnson
, on the field and make strides on defense, it's not impossible to improve on last season's disastrous 6-10 record.
Munchak preaches the virtues of being a true professional -- know what to do and do it. The question is, does he have enough talented guys who can win football games following that mantra?
THREE HOT ISSUES
1. Will Johnson be around?
It's hard to imagine his sitting out the season. The flamboyant running back loves the NFL stage and is one of the league's most dynamic players. He's certainly scheduled to be underpaid at $1.065 million, though. The Titans won't negotiate if he's not at camp, but he won't come to camp without a new deal. There are no signs of any real movement.
Johnson is not fired up about a compromise that would have him join the team but not practice until a deal is reached. Someone will bend. But in the meantime, we're likely to see a much less threatening offense.
"It's tough to tell how long it takes to become an issue," left tackle
Michael Roos
said. "Once he's here he's here, and we start working with him. We'll be a different team without him. He's definitely one of the top two if not the best running back in the league. A special player, very dynamic. It makes for a different kind of offense when he's not in there.
"The plays wouldn't change. Just without having his speed in there, people would play us differently. I wouldn't say it would necessarily be a worse offense. It would just be someone else running it,
Javon Ringer
or the rookie (
Jamie Harper
). It wouldn't have CJ's dynamic and people having to worry about his speed."
[+] Enlarge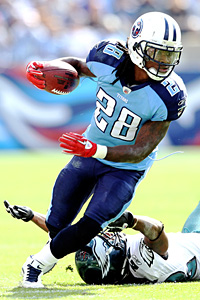 Andy Lyons/Getty ImagesThe Titans will be a different team if they are without Chris Johnson, who rushed for 1,364 yards and 11 touchdowns last season.
If defenses aren't worrying about that speed, things will be far more difficult for Hasselbeck and the team's other best weapons, receiver
Kenny Britt
and tight end
Jared Cook
.
2. How will Munchak's style translate?
He's a Hall of Fame player, and he's been a top position coach for years. Odds are Munchak can coach a football team.
"He's his own man," linebacker
Gerald McRath
said. "Everybody is going to have to sit back and watch, but it's definitely going to be different. He has that personality. He wants to establish something that's his, something that he's worked hard for. I feel like it's a great opportunity. It's a privilege just to be involved in that, to be able to put into some of that."
The question really is about his CEO role. How does he deal with the late-night calls about DUIs or the overeating defensive lineman? How does he react to the city calling for the starting quarterback's head or the player enduring stuff at home that's hurting his play?
Munchak has talked about accountability and discipline and consequences, things that all had slipped at the end for Jeff Fisher. Can he enforce all that effectively?
One other thing: Fisher was great with rules and clock management. In Munchak's first turn in the primary headset, it will be interesting to see how he fares in those departments.
3. Can the Titans stay healthy up front?
Part of the Titans' push to be bigger up front on defense is about being better against the run. Part of it is about being more rugged deep into the season. Some of Tennessee's speed rushers in recent years wore down late, and the Titans suffered for it.
Tracy Rocker has big shoes to fill as defensive line coach, where Jim Washburn had a great run of success. Can Gray and Rocker show the discipline to pace the linemen the way they are talking about doing now?
"I think we have to be real smart this year because our [defensive linemen], for some reason, get hurt quite a bit," Munchak said. "We have to limit their plays not only in games but in practice so you don't lose guys. ... We have to find a way to keep them healthy. You can't control all that, but we have to be smart."
BIGGEST SURPRISE
It's early, of course. But the team is talking up Cook again, and this time, he seems prepared to live up to it. The tight end is running plenty of routes that take him deeper than most tight ends, and the quarterbacks are thrilled to have such a big target stretching the field. He seems to be responding better to Palmer's mellow approach than he did to Mike Heimerdinger's high intensity.
BIGGEST DISAPPOINTMENT
Britt's offseason was filled with off-the-field issues. The Titans gave him a clean slate coming in, but hamstring problems have kept him out of camp so far. He said that he thought yoga was going to help him solve such problems but that
his instructor apparently took the money and ran with it
. The Titans are already without their most dynamic player in Johnson. With Britt sidelined, they are also missing No. 2.
OBSERVATION DECK
McRath is probably the odd man out in the linebacker shuffle unless he makes a charge to overtake Will Witherspoon on the weak side. McRath knows he didn't make enough plays last year, but he's saying the right things and carrying himself the right way. Maybe he'll be a special-teams stud if he isn't playing defense.

[+] Enlarge

Don McPeak/US PRESSWIRENew coach Mike Munchak, a Hall of Fame offensive lineman, will have high expectations for his interior line.

The pressure is on the Titans' interior offensive line. Munchak and O-line coach Bruce Matthews, both Hall of Fame linemen, expect Leroy Harris, Eugene Amano and Jake Scott to play better in their second season all together. If they don't, we'll call it part missed assessment and part blown confidence. Keeping Hasselbeck upright and healthy is a huge deal.

I'm not sure how the Titans will distribute their tight ends without tipping their intentions. Cook is the receiver and Craig Stevens is the blocker. Veteran addition Daniel Graham can do both but is more of a blocker.

Jordan Babineaux was lured to the Titans from Seattle largely because of his relationship with Gray when both were with the Seahawks. They shouldn't do anything that entails Michael Griffin playing anything but center field. And Babineaux is more a free than a strong safety, but the Titans will blur the distinction. Can he challenge for Chris Hope's job? If he does, will Hope take a pay cut to stay?

The Titans actually have reasonable depth at cornerback. Cortland Finnegan needs to produce big in a contract year, and Alterraun Verner and Jason McCourty are up-and-comers. Ryan Mouton was lost for the year with an Achilles injury, but veteran addition Frank Walker made a nice early impression.

This team always has an undrafted receiver who creates buzz early. This time it looks to be Michael Preston out of Heidelberg. He has nice size and athleticism.

There's not enough evidence to know whether seventh-round CB Tommie Campbell can play yet. But he certainly had physical attributes that make receivers take notice. Receiver Yamon Figurs recently went against him and came away muttering that Campbell was the biggest corner he's seen. Figurs said Campbell, who is 6-foot-3, was "like a giraffe."

Jake Locker has shown steady improvement and has been far better early on that I expected he would be.

If the Titans are going to be a lot better on defense, second-year end Derrick Morgan and second-round pick Akeem Ayers, a strongside linebacker, will have a lot to do with it. Morgan is a very good player, and Ayers brings the Titans size they've not had at linebacker since the franchise relocated.

Leadership was a giant issue last season. There was hardly any when things got tough. The Titans' additions could solve that. Hasselbeck, Graham, Ruud and Ayers are going to be big in that department.

Even if Justin Gage has a huge preseason, the Titans should consider moving on if everyone else is healthy. He's simply not been a steady enough playmaker, and if his presence is going to keep the team from exploring the upside of someone like Damian Williams, it's not the right move.

Where does recently added, versatile veteran offensive lineman Pat McQuistan fit in? The Titans have a lot of young linemen they like, but his case for edging somebody out will include his experience at every position but center. That could increase their flexibility on the bench.
August, 6, 2011
8/06/11
12:01
PM ET
Cortland Finnegan
has left the Titans in a contract dispute. I've confirmed
Jason Cole's report
.
It's an odd move that I don't think anyone in the press anticipated. It's unclear if or how much his agent had been talking to the Titans' front office.
Finnegan is heading into the final year of his deal and did not have a good season last year.
He was a seventh-round pick in 2006 out of Samford and got a new multiyear contract well ahead of schedule before the 2008 season. He was an All-Pro and Pro Bowler in 2008. But his play has dropped off since then. His most notable moment last year was getting thumped by
Andre Johnson
in an in-game fight.
Finnegan was a primary organizer of player workouts during the lockout and spoke of what was at stake for him in the coming season.
His deal from 2008 was a four-year, $16.8 million contract with a $6 million signing bonus and $8.5 million guaranteed. He's due a base salary of just under $3.3 million this season.
That seems like a fair number and with a big season he could set himself up for a big bump in a third contract.
He's the team's second holdout -- running back
Chris Johnson
has yet to report.
The Titans can fine Finnegan up to $30,000 a day for his absence.
The Titans are scheduled for a practice at LP Field this afternoon.
Alterraun Verner
and
Jason McCourty
will likely work as the starting corners, with newcomer
Frank Walker
likely third.
August, 6, 2011
8/06/11
11:34
AM ET
Reading the coverage …
Houston Texans

Arian Foster developed a
left hamstring issue
in his first practice of training camp, says Dale Robertson.
Ben Tate is looking to make up for
lost time
, says Craig Malveaux.
DeMeco Ryans responded to the accusations that the Texans
are soft
, writes Robertson. I don't think they are soft, though their mental toughness is a fair question. But putting a non-player in pads and subjecting him to hits isn't the best way to disprove an accusation.
The Texans offense has a challenge going against
the new 3-4
in practice, says Robertson.
Indianapolis Colts

Veterans such as Joseph Addai were
happy to get involved
again, says Mike Chappell.
Austin Collie is
not going to dwell
on concussions, says Chappell.
Getting to know
Devin Moore.
Practice details from Phillip B. Wilson include a solid review of Tommie Harris'
pass-rushing work
. It's one snapshot of one period, but still encouraging.
Fili Moala
avoided jail time
in a drunken-driving conviction.
Jacksonville Jaguars

Clint Session is focused on
stopping the run
and an MRI gave David Garrard good news, says Tania Ganguli.
As Josh Scobee heads into a contract year, Jack Del Rio's looking for the kicker to hit
90 percent
of his field goals, says Vito Stellino.
Aaron Kampman will play
either side
, says Ganguli. If he's the best rusher, I say he should be on the right, going against left tackles and coming from quarterbacks' blind sides. Don't overthink this and overcomplicate it.
Blaine Gabbert has the look of
the real thing
, says Pete Prisco.
The Jaguars have to be happy to be
uninvolved
in the Tim Tebow circus, says Gene Frenette.
Garrard
should not be part
of the scrimmage tonight, says Alfie Crow. Agreed.
Tennessee Titans

Akeem Ayers looks to be lining up as the franchise's
first rookie starting linebacker
since Eddie Robinson in 1992, says John Glennon. Ayers shoud be out there openig day and I think he will be.
Jordan Babineaux
looked comfortable
from the start, says Jim Wyatt.
Frank Walker says
he's nasty
, according to Glennon.
Derrick Mason is
weighing his options
.
August, 4, 2011
8/04/11
9:08
AM ET
Reading the coverage …
Former Baltimore Colt and Houston Oiler Bubba Smith, who went on to an acting career,
passed away
.
Bubba Smith made his mark in
a unique way
, says Richard Justice.
Houston Texans
Welcome to the
attitude readjustment portion
of Texans training camp, where Kareem Jackson and the rest of the defensive backs are receiving extra attention, says Jeffrey Martin.
T.J. Yates had an
accelerated learning curve
while Matt Leinart had to sit out, says Craig Malveaux.
Indianapolis Colts
The Colts free-agent action
runs against
their typical modus operandi, writes Mike Chappell.
Seven
storylines
to watch.
Young guys are
getting their chances
, says Phillip B. Wilson.
I talked
with Dan Dakich
on the radio in Indianapolis Wednesday.
Considering
the free-agent movement
with Nate Dunlevy.
Jacksonville Jaguars
Matt Turk's life
doesn't need embellishment
, writes Tania Ganguli.
Gene Smith
can't worry
about his doubters, says Gene Frenette.
Blaine Gabbert shows at least
one sign
of special things at each practice, says John Oehser.
In case you missed it, my "
Camp Confidential
" from Jacksonville.
Tennessee Titans
Mike Munchak wants Saturday's practice at LP Field to
feel like a game
, says Jim Wyatt.
Will
adjusted kickoff rules
impact Marc Mariani and the Titans' return game, asks John Glennon.
The team's current
injury list
, from Wyatt.
The Titans have agreed to
the parameters
of a deal with cornerback Frank Walker, but he has to pass a physical, says Wyatt.
February, 17, 2011
2/17/11
10:10
AM ET
Reading the coverage ...
Houston Texans
It sounds like Brian Cushing is
heading inside
with DeMeco Ryans in the Texans' 3-4, says Houston Diehards.
Indianapolis Colts
Peyton Manning
shouldn't be giving
the Colts a hometown discount, says Bob Kravitz.
The Ron Turner-Frank Reich
flip-flop
is official, says Phil Richards.
Colts.com's
fourth-quarter review
.
Anthony Schoettle
doesn't expect
a long-term deal for Manning before a new CBA.
Jacksonville Jaguars
Luke McCown considers himself
an NFL realist
, says John Oehser.
There is
no downside
to franchise tagging Marcedes Lewis, says Oehser.
Tennessee Titans
Tracy Rocker hopes to
pick up
where Jim Washburn left off, says Jim Wyatt.
Frank Bush is the
new linebackers coach
for the Titans, says Wyatt.
Chris Palmer's had
mixed results
as a coordinator, says John Glennon.
January, 16, 2010
1/16/10
9:44
PM ET
INDIANAPOLIS -- Some halftime thoughts from Lucas Oil Stadium, where the Colts lead 17-3.
Yes, I expected we'd see more points by now. Peyton Manning has made some good throws, but he has also missed on some. The Ravens' secondary has been better in coverage than I expected.
They took a little while to get Reggie Wayne involved. Manning isn't going to force it if the coverage sends him elsewhere. Wayne's second catch on the touchdown drive was a beauty on a short throw he had to really reach to pull in. Earlier, they seemed to really like Pierre Garcon against Frank Walker. I think we'll see them attack that matchup more if they get it.
Just before the Ravens pulled even at 3-3, Antoine Bethea dropped a pass near the goal line he probably would have taken the length of the field for a TD. What a game-changer that would have been.
Ray Lewis' penalty for helmet-to-helmet hit his on Austin Collie in the back of the end zone at the end of the half stirred some debate in the press box. Letter of the law says it's the right call. But one fair point was raised: When is a receiver who is trying to make a catch not going to be defenseless? That piece of it seems like it will always be there, right?
Baltimore's "Jack" linebacker Dannell Ellerbe's impressed me, making several big hits on Joseph Addai.
Manning and the Colts offense seems like a guarantee to score when it gets the ball late in the half or the game. It's more surprising when they don't when they do. This time they got the ball with 1:26, two timeouts and 64 yards to go and drive to a touchdown that boosted the lead at the half to 17-3.
That drive is big for the defense. Baltimore's hopes have officially been moved onto the shoulders of Joe Flacco.