September, 6, 2011
9/06/11
5:02
PM ET
Luke McCown
might have dislodged
David Garrard
last season had he not torn an ACL in the team's second game when he entered after Garrard threw four interceptions.
"Luke gives us the best chance [to win], Blaine [Gabbert] will be the backup and really those are the two best options we have as we enter Week 1," Jack Del Rio said in a news conference that just wrapped up. "… Luke has come on. I think last year when he stepped into the San Diego game, he kind of saw that as his opportunity and he ended up getting injured.
"And we were excited about the camp he had had and the work he had done up until that point. He came back in this camp and really had a heck of a camp. He had the best camp out of our three quarterbacks. He's earned this opportunity. His teammates have confidence in him. He's out best option to win Sunday ... ."
[+] Enlarge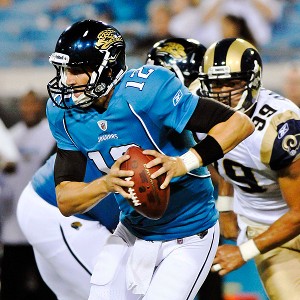 Fernando Medina/US PresswireThe Jaguars will need to rally around Luke McCown as they head into Week 1.
McCown was a fourth-round pick by the
Cleveland Browns
, 106th overall, in 2004. The
Jacksonville Jaguars
got him from the
Tampa Bay Buccaneers
in Sept. of 2009. He's played in just 16 games with seven starts, with nine touchdowns, 10 interceptions and a 74.8 passer rating.
Here is a scouting report from Scouts Inc.:
"McCown has a strong arm that has enough foot quickness and agility to extend the pocket and make plays on the perimeter. He is an adequate scrambler at best and does not feel pressure well, causing him to take more sacks than you'd like. He can be accurate given time in the pocket but will struggle when throwing on the move or on deep throws. He can manage a team and get some wins when surrounded by a strong ground game but is not apt to be a difference-maker when it's up to the quarterback to carry the team."
How long can he hold the job for the Jaguars with a first-round pick in the mix?
"Blaine is a promising young quarterback that's done a nice job in the five weeks he's been here, but it's an awful lot to process and really to become comfortable with in five weeks," Del Rio said. "Really, he's coming. He's talented. We like the both of them, but we think Luke gives us the best chance to start the year …
"[Gabbert's] a talented young man, his time will come. But right now he's in a position where he has to earn it."
A couple other thoughts:
The Jaguars didn't have to come out and say it was a money decision. But failing to acknowledge that Garrard's scheduled base of over $8 million was a mistake. Why not say he wasn't playing like an $8 million quarterback, but that even if he was due $800,000 this would have been the football decision?
The team had a kickoff luncheon Tuesday afternoon, and Del Rio and general manager Gene Smith didn't meet with Garrard until after that. Seems to me like things could have been timed better. They treated the quarterback well in his time with the team, but the end could have been smoother. Del Rio said Garrard was somewhat apologetic he wasn't able to deliver.
The theme of the rationale for the move was that Garrard couldn't get it going in the preseason. To echo my earlier sentiment: Smith and Del Rio should have already known what Garrard could and couldn't do BEFORE camp, so they wouldn't have wasted a lot of their preseason playing Garrard with the first team. Smith said the team was STILL evaluating between Saturday's cut down and Tuesday. What's a few extra days do after nine years?
September, 6, 2011
9/06/11
4:00
PM ET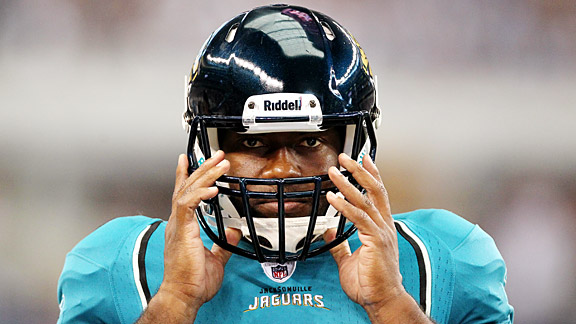 Matthew Emmons/US PresswireDavid Garrard never lived up to Jacksonville's expectations after the 2007 playoff run.
David Garrard
is like a lot of moderately successful quarterbacks. He can have a great day or a terrible one on an NFL Sunday. If the blocking is just right and the routes are perfect, he can shine.
But a very low percentage of NFL plays go according to plan. And off plan, he did only one thing very well: run. It's not been enough, and a guy who hit the mother lode because of a great showing in his first year as the starter in 2007 is now out of work.
The game -- and the play -- that made him came in Pittsburgh, when the Jaguars upset the Steelers on Jan. 5, 2008 to advance to a playoff game in New England. There they had a good, but not good-enough, showing in a loss to the Patriots.
Against the Steelers Garrard only connected on 9 of 21 passes for 140 yards, a touchdown and two interceptions. His highlight was a 32-yard, fourth-quarter run on a fourth-and-2 that set up the game-winning field goal. In New England he fared better, with 278 passing yards, two touchdowns, one pick and a 100.3 passer rating.
That playoff showing got him a big contract, one that would have paid him $8.075 million this season. It also set big expectations.
He has not lived up to them with his inconsistent play. His defenders shout about the poor protection, the low-quality receivers and a defense that doesn't get him the ball back enough. His critics say he doesn't read the field well, can't find people deep and cares too much about what they think.
There is truth in all of it. But ultimately a top quarterback has to overcome the distractions and he didn't overcome enough, even if he had little to work with.
I think moving on is the right move
made too late
. If
Luke McCown
or
Blaine Gabbert
is imprecise early in the season, we'll say he may have been sharper with more preseason work with the guys that were playing beside Garrard.
The Titans don't hold Garrard in high regard, from what I know, and I don't think they are celebrating that he won't be on the field Sunday at EverBank Field.
Where does Garrard land?
Baltimore, Kansas City, Miami and Washington rank as possible destinations, according to a quick survey of my blog network brethren. While Seattle and San Francisco are shaky at quarterback, they are probably going to ride with what they've got, unless Garrard finds the third-string job with the 49ers appealing.
September, 6, 2011
9/06/11
3:26
PM ET
Because of what happened with
Byron Leftwich
in 2007, this possibility always hung over the Jaguars.
With
Blaine Gabbert
drafted 10th overall and
Luke McCown
a capable temporary starter and backup, would the Jaguars consider dumping incumbent
David Garrard
and his $8.075 million?

Garrard
Jay Glazer was
first to report
the Jaguars have informed Garrard they are doing just that. John Clayton
has confirmed it
.
It's a move that's akin to ripping off the Band-Aid, and I think it's the right one.
But why coach Jack Del Rio, with experience at this, chose to do it in the same manner to Garrard as he did when Garrard was anointed the starter four years ago is beyond me.
There is no guidebook for how to do it.
But having Garrard spend as much time as he did with the first string in practice and in the three preseason games for which he was healthy amounts to wasted time now. Did the Jaguars, who drafted Garrard in the fourth round in 2002, really need the last month to evaluate him further?
If so, that raises one gigantic question about their evaluating skills: Why?
If not, it raises another gigantic question: Why did you wait until now?
Here's hoping those questions are asked in the news conference the team has scheduled for 4:15 p.m. ET.