AFC South:

George Henshaw
April, 11, 2013
4/11/13
11:01
AM ET
New Titans receiver
Kevin Walter
had some conversations with Tennessee media Monday, and one of them was on my radio show.
I was really surprised when he said this: "I know they're installing the same offense that I've been in the past seven years. It's a fun offense to be in. It's going to be a good transition, a smooth transition."
[+] Enlarge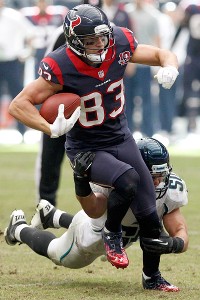 Thomas B. Shea/Getty ImagesKevin Walter caught 41 passes for 518 yards for the Texans during the 2012 regular season.
Upon further examination, it shouldn't be a surprise to hear him say that.
Offensive coordinator Dowell Loggains is a disciple of the late Mike Heimerdinger, and Heimerdinger was a disciple of Mike Shanahan, just like Gary Kubiak is.
In language and philosophy there will be a lot of similarities.
It will usually be a run-first scheme with a lot of play-action. We will see
Jake Locker
rolling out and running the sort of bootlegs
Matt Schaub
executes in Houston.
But I think it'll look more like Houston's offense from Walter's vantage point than it will from ours. I don't expect we're going to do a double take and look to the sideline to see if Kubiak is calling the plays.
The Titans will utilize plenty of zone blocking, but I don't think they will be close to exclusively zone the way the Texans are. If they add Chance Warmack in the draft, they'll be adding a major power element.
Walter's new team lacks the clear-cut No. 1 receiver who keys much of what the Texans do in Houston thanks to
Andre Johnson
.
And the Titans' use of an H-back will be completely different than what Houston does.
Mike Munchak hired the tight ends coach, George Henshaw, who was with the franchise when Frank Wycheck (now a radio colleague of mine) was putting up big numbers as an H-back. Tennessee signed
Delanie Walker
to operate in much the same fashion, and that's different than what Houston does.
When Heimerdinger landed in Nashville in 2000, he absorbed some of the offensive principles left behind by Les Steckel, particularly the use of the H-back since it rated as a strength of the offense that was in place.
While Chris Palmer's term as offensive coordinator rated a failure, Loggains worked closely with him and will likely carry some Palmer stuff that he liked best.
So in terms of offensive foundation, there will be a lot of similarities and Walter will feel right at home. The final product, however, will hardly be a carbon copy.
March, 4, 2013
3/04/13
4:53
PM ET
Thoughts on the
Tennessee Titans
' decision not to place the franchise tag on tight end
Jared Cook
:
[+] Enlarge

Don McPeak/US PresswireThe franchise tag deadline expired Monday, and the Titans did not tag tight end Jared Cook.

Jim Wyatt of The Tennessean indicated the team didn't like the idea of fighting through an arbitrator with regard to whether Cook was a tight end, as they would have tagged him ($6.066 million) as opposed to the wide receiver tag he would have sought ($10.537 million). But had the team lost that arbitration, it would seem they simply could have pulled the tag if it got changed on them. Not intending to use it on anyone else, what would they have lost? What would have happened if, while a grievance was in process, Cook signed the tight end tag but then an arbitrator changed it to the receiver tag? There was room for a great deal of complication in a month during which the Titans have a lot of other issues to sort through. They decided they were unwilling to deal with those headaches in exchange for attempting to hold on to Cook.

Contract talks apparently broke down along the lines one would expect -- the Titans were looking at production and Cook was looking at potential. The question will now be what other team will pay him more for the potential than the production?

New tight ends coach George Henshaw was brought in to help get the Titans back to the short passing game that was a staple of the Steve McNair-Frank Wycheck era, when Henshaw previously coached the position. The Titans will have to get him a veteran to work with now. Options include Martellus Bennett of the Giants, Dustin Keller of the Jets, Brandon Myers of the Raiders and James Casey of the Texans, who's been used as a fullback but has tight end pass-catching skills.

The Titans loved Taylor Thompson when they drafted him out of SMU in the fifth-round last year. He was a defensive end in college with a tight end background and looked raw as a first-year player. Tennessee can't be envisioning him as its primary pass-catching tight end, he's still very much a developmental player. Craig Stevens can make some plays, but is more of a blocker.

Since we learned that Mike Munchak would remain on as the head coach, there has been a distinct feel that he will sink or swim with his guys. I thought Cook ranked as enough of a playmaker to qualify as a guy he intended to swim with. But whether he was or wasn't, a too-high price tag appeared to weigh things down and the Titans simply weren't willing to go there.

When the Titans drafted Cook in 2009, they did so with a third-round pick they acquired from New England in exchange for a 2010 second-rounder. The production out of that expenditure: 59 games, 131 catches, 1,717 yards, a 13.1-yard average and eight touchdowns. The side effects: A lot of questions about his ability to be reliable and a lot of questions about how they failed to get the most out of him.

The Titans were already heading into free agency and the draft with multiple needs on the interior offensive line as well in search of a pass rusher and perhaps a safety even after signing veteran George Wilson. The big down side to this move is they've created another need.
March, 4, 2013
3/04/13
10:04
AM ET
Reading the coverage ...
Houston Texans

Not using the franchise tag on Glover Quin would provide
some cap help
for the Texans, says John McClain of the Houston Chronicle.
As he considers the idea of a not-in-the-closet gay player in the NFL, Jerome Solomon of the Chronicle says locker rooms are
far more progressive
than they were even 10 years ago.
Indianapolis Colts

Five players
Mike Chappell of the Indianapolis Star thinks could be free-agent help for the Colts when the time to shop arrives. (Baltimore Sun columnist Mike Preston expects the Colts
to pursue
cornerback Cary Williams.)
The idea that a frustrated Bill Polian once suggested trading Peyton Manning was what got the most attention out of this interview with Jim Irsay. But more interesting to me from Bob Kravitz's piece was this: "If the Colts had picked
third or lower
in the (2012) draft, Manning would still be a Colt, and the team would have drafted his heir apparent later in the draft. One guy they loved: Wisconsin's Russell Wilson."
Chappell starts position-by-position video looks at the pre-free agency Colts with
quarterbacks
.
Jacksonville Jaguars

Like the Jaguars, the Chiefs are starting over. But the teams are taking
different approaches
to addressing quarterback, says Vito Stellino of the Florida Times-Union.
BYU's Ezekiel Ansah is
more appealing
to John Oehser of jaguars.com than Florida State's Bjoern Werner based on what the team wants to do.
Tennessee Titans

In
a second go-round
with the Titans as tight ends coach, George Henshaw expects to help boost Jake Locker's completion percentage by giving him more easy options, says John Glennon of The Tennessean.
Will Witherspoon is
staying busy
while seeing what happens next, but the Titans could well go a different direction in seeking a veteran linebacker, says Jim Wyatt of The Tennessean.
January, 26, 2013
1/26/13
9:42
PM ET
If Gregg Williams indeed becomes the
Tennessee Titans
' new
assistant head coach
after a year off the NFL map, he'll face a load of questions. Many will be about players trusting him after the way he spoke with the league about some guys on the
New Orleans Saints
while cooperating with the commissioner's investigation into what Roger Goodell determined was a pay-for-injury program.
But he'll have one major thing going for him in Nashville that may lead Titans fans to quickly look beyond all that: He's not Jerry Gray.
Gray might be the most unpopular guy in Music City sports. Many were baffled as to how he held on to his post as defensive coordinator after the Titans' offensive coordinator was fired with five games remaining in the season and four other veteran coaches were either let go or saw their contracts not renewed.
If Williams joins the team with the assistant head coach title Adam Schefter reports he would carry, Williams would rank as more powerful than Gray. If Gray is as overmatched as it appeared last season, he'll have someone to lean on -- and perhaps someone to lean on him.
Williams' relationship with Gray goes way back.
The two were assistants on Jeff Fisher's Oilers and Titans staff from 1997-2000, and when Williams left after the 2000 season to take the head job in Buffalo, he took Gray with him as his defensive coordinator. Later, Williams brought Gray to Washington.
[+] Enlarge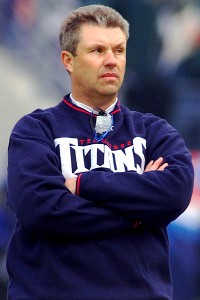 AP Photo/Chuck BurtonGregg Williams left the Titans after the 2000 season to become head coach of the Buffalo Bills.
In Gray's second incarnation with the Titans, he has hardly looked like a disciple of the aggressive Williams, who ran Fisher's 46 defense, loved to blitz and carried elements of that to Buffalo, Washington, Jacksonville (where he really ran what Jack Del Rio wanted on defense) and New Orleans.
The 2012 Titans played their cornerbacks way off, suggesting fear in a season when the franchise yielded the most points in the NFL and an Oilers/Titans franchise record. They were destroyed by top quarterbacks and top teams.
It seems that Gray, a former NFL defensive back, too often thinks like a passive defensive back as a coordinator when it's a lot healthier to think like an aggressive lineman. If, in working together, Gray and Williams meet somewhere in the middle -- as a position coach for Fisher, Williams worked with linebackers before becoming coordinator -- Tennessee could face a philosophical upgrade.
Of course, it won't matter if the personnel upgrade to match doesn't arrive.
Three other thoughts on the idea of Williams re-emerging as part of the Titans staff if it happens:
Respect of the room:
Much has been made of the idea that he won't command the respect of players because they will see him as a guy who sold out some of their brethren when coming clean about what went on with the Saints.
To that, I say the Titans should come to terms with it quickly. I imagine Williams would address it early on in some fashion. Head coach Mike Munchak should too, and he should put it in these simple terms: "I don't particularly care what you think of him. I think he helps us. Follow him or I'll find someone who will."
If players don't respect Williams, they will do so at the risk of their job security. He might have softened in a year away, but he won't stand for not being listened to.
Ego:
Williams is a good football coach whose ego can be an issue. It's part of what made him work, but it's also part of what led to his downfall. He simply has to strike a better balance at this stop.
He's a good coach with a good mind, and he can be a wonderful guy. But it would be healthy for him to acknowledge that there are plenty of good coaches with good minds around the league and to be that wonderful guy more regularly.
Part of that can come with a separation from his son, Blake, who worked with his father in three previous stops and was in line to work with him in St. Louis last season. While Gregg Williams was suspended, Blake took on a great deal of power for the Rams defense, which was particularly surprising considering he turned 28 in December. When the season ended, Fisher ended things with Blake Williams quickly and word came out via Mike Silver of Yahoo! Sports that the Rams were completely put off by Blake Williams' "brusque, tactless style."
A dad's going to be a dad, but Gregg Williams has to concede that some of his negative personality qualities rubbed off on his offspring and that the rest of the NFL world doesn't necessarily fall in line with his opinion of his son as a coach.
If Munchak somehow hires Blake Williams, I'll have a major issue -- and so should any players who would be coached by the younger Williams, whose résumé is more about his parent that his achievement.
Munchak doing it his way:
Munchak has two years left under contract, but if the Titans don't make the playoffs in 2013, it would take something extraordinary for him to stay in the job for a fourth season.
Many of his moves since his second season ended suggest that if he's going down, he's going down his way.
Munchak knows Williams well from their time together as Fisher assistants. Williams would be the second guy from that time frame to return to the Titans staff this year, joining tight ends coach George Henshaw.
If the Titans don't make huge gains from 6-10, Munchak and Williams will likely both be looking for work.
Williams will really have to have done solid work and reputation restoration to be appealing to someone who isn't an old friend.
January, 22, 2013
1/22/13
11:31
AM ET
Reading the coverage ...
Houston Texans

Brian Cushing's injury
was a killer
for the Texans at linebacker in 2012, says Tania Ganguli of the Houston Chronicle.
To which I say:
I think the idea of depth issues at linebacker can be a bit of a stretch with regard to this team. No one is so deep at any position to endure the number of injuries the Texans endured at inside linebacker.
Moves the Texans might have undone
in hindsight
, from Patrick D. Starr of State of the Texans.
Indianapolis Colts

Andrew Luck is replacing Tom Brady in the Pro Bowl, joining Matt Schaub behind Peyton Manning
on the AFC roster
.
Pep Hamilton may be
the best offensive coordinator hire
in the NFL this offseason, says George Bremer of the Anderson Herald Bulletin.
Jacksonville Jaguars

The Jaguars' scouting staff
remains intact
for now, says Ryan O'Halloran. "Most NFL teams with new front office chiefs keep their scouting staffs intact until the draft. (David) Caldwell said he is a 'ways off,' on deciding how the department will look."
Cecil Shorts had a good season but
a bad drop rate
, says Luke Sims of Black & Teal.
Tennessee Titans

Pondering the future of
some key backups
form the 2012 Titans, with John Glennon of The Tennessean.
To which I say:
It's hard to see any of the guys discussed here being big solutions at positions in question.
Former Titans tight end Frank Wycheck (who's a radio colleague of mine) reflects on
the return
of tight ends coach George Henshaw at tiansonline.com.
January, 17, 2013
1/17/13
6:35
PM ET
For a good while I've said I wasn't sure defensive coordinator Jerry Gray was safe.

Now I'm pretty sure he is.
The Titans announced their staff changes this evening and Gray isn't among them.
In are:

Shawn Jefferson as wide receivers coach, George Henshaw as tight ends coach and Sylvester Croom as running backs coach.

Solidified is:

Dowell Loggains as offensive coordinator

Moving are:

Dave Ragone to quarterbacks from wide receivers, Nate Kaczor to special teams coach from assistant offensive line and Chet Parlavecchio to linebackers from special teams assistant.

Gone as previously reported

by Jim Wyatt of The Tennessean are: Frank Bush (linebackers), Alan Lowry (special teams), Jim Skipper (running backs) and John Zernhelt (tight ends).
"Over the last two weeks I have spent my time reviewing our coaching staff and interviewing numerous candidates from the college and pro ranks at a variety of positions in order to improve our coaching staff," said Titans coach Mike Munchak in a statement. "The goal in every decision I have made has been to do whatever I believe puts us in the best position to win this year. I believe with the new coaches that we have added and some shuffling of the current coaches, we have made our staff better. We were able to add proven coaches and by moving others around, it will change the dynamic in the meeting rooms and on the field. We still have some spots remaining to fill and I am always looking to improve our staff, so it is still a work in progress."
Notes on a few of the guys involved in the changes:
Ragone was one of the big surprises on Munchak's initial staff. He came with fired offensive coordinator Chris Palmer from Hartford of the UFL and deserves a great deal of responsibility for the maturation and production of Nate Washington. Now he'll shift to the position he played and work with Jake Locker, making room for Jefferson, who's been with the Lions the past five seasons where Calvin Johnson set a new single-season record for receiving yardage in 2012.

Henshaw returns to the Titans coaching staff where he spent nine seasons working with the tight ends from 1997-2005. Jeff Fisher pushed him off the staff over issues not related to the play of the tight ends.

Croom has been head coach at Mississippi State and has worked as an offensive coordinator and running back coach in the NFL. He was part of the Jacksonville staff last season coaching backs.

The fiery Parlavecchio spent the past two seasons with the Titans as the Assistant Special Teams coach. He coached linebackers at Temple from 1992-93 but after that worked as a high school coach before his Penn State teammates Munchak brought him into the NFL.
The biggest move, however, is one not made with Gray. While Munchak was quick to point out after the season that not all the points scored against the Titans were scored against the defense, the Titans gave up a franchise-record 471 points, most in the NFL.
If Munchak felt Gray did a good enough job to remain defensive coordinator, then Munchak must really feel the Titans had insufficient personnel on that side of the ball. The team needs an infusion of talent there and it can't come strictly from the draft.
They need a free-agent class like they signed in 2006, when safety
Chris Hope
and linebacker
David Thornton
joined Tennessee from successful franchises and brought heavy doses of leadership and production.
Munchak has two years remaining on his contract. Presumably the Titans have to make the playoffs in 2013 for him to get an extension and see that last year.
He now has assembled the coaching crew with which he wants to try to meet that goal.
I suspect he's going to be left with regret over now taking larger chances on defense.