AFC South:

Gijon Robinson
November, 7, 2010
11/07/10
3:04
PM ET
PHILADELPHIA -- There was no suspense at all pertaining to the Colts' inactives today. Every one of them is hurt.
There was a bit of suspense about the lineup.
Donald Brown
is sill starting at running back, where
Joseph Addai
and
Mike Hart
are out.
Gijon Robinson
starts at tight end with
Brody Eldridge
out.
Tyjuan Hagler
will play weakside linebacker for the injured
Clint Session
and
Jacob Lacey
will play right cornerback in place of the ailing
Jerraud Powers
.
Pat Angerer
stays at strongside linebacker, ahead of
Philip Wheeler
, and
Kyle DeVan
remains at left guard.
The inactives for Indy: CB
Justin Tryon
, S
Bob Sanders
, CB Jerraud Powers, RB Joseph Addai, RB Mike Hart, LB Clint Session, TE Brody Eldridge, DT
Antonio Johnson
.
The inactives for Philly: QB
Mike Kafka
, WR
Chad Hall
, RB
Joique Bell
, CB
Ellis Hobbs
, DE
Daniel Te'o-Nesheim
, T
King Dunlap
, G
Reggie Wells
, TE
Clay Harbor
.
September, 4, 2010
9/04/10
10:03
PM ET
Check
here
for a full list of Indianapolis' roster moves.

Biggest surprises:
Undrafted running back/returner
Devin Moore
, undrafted offensive tackle Jeff Linkenbach and undrafted cornerback
Brandon King
all won roster spots. Defensive tackle
Mitch King
, who also ranked as a long shot when camp started, survived. So did
Gijon Robinson
, the primary blocking tight end in recent years who figures to lose snaps to rookie
Brody Eldridge
.
John Chick
, a CFL star, lost out to
Keyunta Dawson
in his bid to be the fourth defensive end.
No-brainers:
Two out of three of the return candidates were going, and those turned out to be
Brandon James
and seventh-rounder
Ray Fisher
.
What's next:
The team traded an undisclosed pick to Washington for defensive back
Justin Tryon
, so it appears more settled with cornerback depth. Despite fan desires for a change from
Curtis Painter
, I'd expect he's locked in as the backup quarterback to
Peyton Manning
. The team is currently 10 deep on the offensive and defensive lines, but there doesn't seem to be a spot screaming out for help at the expense of a lineman right now.
June, 7, 2010
6/07/10
1:23
PM ET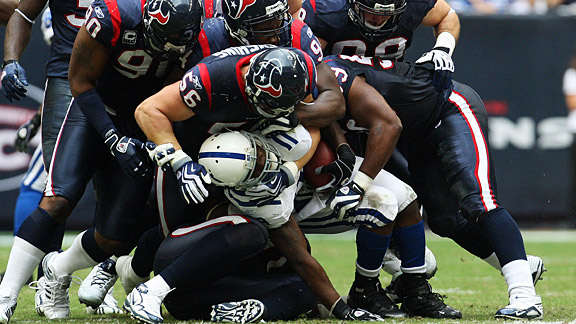 Matthew Emmons/US PresswireConverting more consistently on third-and-short is one area the Colts hope to improve upon in 2010.
INDIANAPOLIS -- We dig and scrap to find issues with a team that was a league best 14-2 and went to the Super Bowl a season ago.
And we often end up hitting on third-and-short offense.
It's not that the
Indianapolis Colts
were bad in such situations. They converted overall third downs at a league-best clip of 49.2 percent.
Still, in a couple of big situations in the past two postseasons -- the end of
a loss in San Diego
two seasons ago and the end of the first half of Super Bowl XLIV -- failures on third-and-short had a big bearing.
"You get that first down, it's probably never spoken about," center
Jeff Saturday
said. "… A lot of [third-and-one] is you've got nine and 10 guys in the box, you have a single safety back behind it, your corners are up either in press or man-to-man. You have a lot of players up in there filling gaps.
"We're a one-back offense so we don't have somebody really leading through. So if you don't get a clean block or they are blitzing and somebody steps in the gap, it's tough to always get it. It's a definite mindset. We actually did improve last year compared to the year before. But those are the things, when 10 guys are in the box, there are 2 minutes left on the clock and you can run it and eat up their last timeout, that's what you've got to get done.
"… Anytime you're extending drives with runs, you're solving a lot of people's problems."
Three factors are at play as the Colts look to improve at clutch conversions:
May, 18, 2010
5/18/10
5:59
PM ET
"
Reading the coverage
" this morning pointed you to
this Mike Chappell story
about the load of Colts heading toward free agency in 2011.
But before anyone who likes to wear a blue horseshoe panics, here's a run through of Chappell's list of the 19 guys who will be in line for restricted or unrestricted contractual freedom, divided into handy categories:
Will be signed this summer
QB
Peyton Manning
-- The Colts plan on ensuring the NFL's only four-time MVP is the league's highest paid player.
Close to essential
S
Antoine Bethea
-- The underrated glue of a secondary that does well limiting big plays.
LB
Clint Session
-- The Colts usually let linebackers leave, but this playmaker he should be an exception.
S
Melvin Bullitt
-- Presuming Bob Sanders' time is close to over, this versatile defensive back won't be easily replaced.
Like to keep, but replaceable
RB
Joseph Addai
-- He'll be 28 for 2011 and
Donald Brown
should be ready to be the lead guy, but if Addai's price is right and his health is good…
PK
Adam Vinatieri
-- A healthy and clutch season can make retaining him more important.
OT
Charlie Johnson
-- A versatile piece who's nice to have, but if he can secure a starting job elsewhere he could want to move.
Rather have than lose
DT Dan Muir -- They've invested a lot of time and effort in developing him.
DT
Antonio Johnson
-- They've invested a lot of time and effort in developing him.
Would keep for cheap
DL
Eric Foster
-- A versatile piece who's a small, fast interior guy well suited for Colts.
DL
Keyunta Dawson
-- Ranks as the fourth end now, but can contribute as role player.
G
Kyle DeVan
-- Did admirable work as a surprise starter last year, but they added a few interior guys.
Expendable
OT
Tony Ugoh
-- His stock could change, but at this point could rate as the team's fourth tackle.
TE
Gijon Robinson
-- Might not make the roster this season if fifth-rounder
Brody Eldridge
is the blocking upgrade expected.
S
Jamie Silva
-- Doesn't seem to me to be in line to inherit a starting spot if a frontline safety leaves.
DE
Ervin Baldwin
-- Late add in 2009 is behind two Pro Bowlers, new first-rounder
Jerry Hughes
and Dawson.
WR Sam Giguere -- With quality crowd ahead of him, not going to find room to work as a receiver.
To be determined
G
Andy Alleman
– Haven't seen him in Colts' uniform yet.
OT
Adam Terry
-- Haven't seen him in Colts' uniform yet.
April, 29, 2010
4/29/10
1:01
PM ET
»
NFC Stock Watch
:
East
|
West
|
North
|
South
»
AFC
:
East
|
West
|
North
|
South
Falling

Gijon Robinson, Colts tight end
: Short yardage rushing has been an issue for the Colts, and while they didn't spend a lot on the offensive line -- just fourth-rounder on Tennessee guard
Jacques McClendon
-- they did look to upgrade their blocking tight end.
Fifth-rounder
Brody Eldridge
out of Oklahoma is a stronger point-of-attack blocker than Robinson and could make a big difference for
Joseph Addai
or
Donald Brown
on plays aimed to get around the corner. Robinson's blown block that resulted in a
Peyton Manning
sack late in a 2008 season playoff loss at San Diego still stings.
Eldridge could prove a big help to incumbent tackles
Charlie Johnson
and
Ryan Diem
or whoever replaces them, and his ability to help against pass rushers won't make things any harder on Manning either.
Rising

Eugene Wilson, Texans free safety
: The Texans feel better about Wilson, who was on IR with a foot injury for the last six games last year, than I do. Paired with the physical
Bernard Pollard
, Wilson needs to prove he can be a consistent and rangy free safety, and show better ball skills as he looks to set a tone for a group of young corners.
With nine draft picks, the Texans steered clear of selecting a safety, hitting cornerback in the first and fifth rounds. The Texans apparently are content with what they've got to cover the deep middle of the field against the likes of Peyton Manning (twice),
Donovan McNabb
,
Tony Romo
,
Eli Manning
and
Philip Rivers
.
The alternative at this point is
Dominique Barber
and perhaps
Troy Nolan
, who missed his rookie year with hand injury.
April, 27, 2010
4/27/10
12:18
PM ET
I'm not going to lie to you. I misunderstood a Saturday assignment and initially, instead of filling these categories with just one selection for the whole division, I did one per team.
And so, after another run through, I present to you a broader look at the AFC South's drafting.
Houston Texans

Best move:
The Colts didn't touch their their return man issues until taking cornerback
Ray Fisher
in the seventh round. The Titans convinced themselves they can get both receiver and return contributions from
Damian Williams
and
Marc Mariani
. But the Texans, already more threatening when fielding kicks and punts, jumped at
Trindon Holliday
from LSU in the sixth-round. He's tiny at 5-5 and 169 pounds, but he could earn a few touches on offense and is the sort of special teams player the rest of the AFC South could wind up chasing all over the field.
Riskiest move:
A lot of people expected them to take running back
Toby Gerhart
in the second round, but they made two trades to drop down eight slots and went with Auburn's
Ben Tate
instead. Those two will likely be measured against each other for a good while and the Texans really need to have nailed it.
Most surprising move:
See
earlier post
.
File it away:
Fourth-rounder
Garrett Graham
out of Wisconsin and seventh-rounder
Dorin Dickerson
out of Pitt could be part insurance plan, part plan for 2011 and beyond.
Owen Daniels
is a world-class pass catcher. But he's coming off his third ACL tear and is a restricted free agent seeking a big contract. They drafted a blocking tight end last year in
Anthony Hill
and a receiving tight end in
James Casey
and still took two in nine picks in this draft.

Indianapolis Colts
Best move:
See
earlier post
.
Riskiest move:
Bill Polian didn't fare real well with two recent second-round picks on the offensive line (
Tony Ugoh
,
Mike Pollak
), so he went back to what's worked better. The Colts took Tennessee guard Jacques McClendon in the fourth round (No. 129), where they've landed
Ryan Diem
and
Jake Scott
a little deeper in the team's past. He didn't register on some other teams' radar at the same level. Polian said it was a weak tackle group after the top guys.
Most surprising move:
Many probably didn't list tight end as any sort of need considering the team has
Dallas Clark
,
Gijon Robinson
,
Jacob Tamme
and
Tom Santi
on the roster. But Robinson's not been as consistent a help in run blocking as they need and Santi's been hurt too much. Enter fifth-rounder
Brody Eldridge
from Oklahoma, who's 6-foot-5 and 261 pounds. I love this pick and the thinking behind it.
File it away:
Polian opened the door, at least a little, for cornerback
Jerraud Powers
to be involved in the return games. Polian said a return specialist was a luxury they're not convinced was necessary and one they won't lose sleep over missing out on. But are they pushing it asking
Peyton Manning
to drive the offense so far so often? Fisher might be a big piece in the equation now too.

Jacksonville Jaguars
Best move:
I like the trade for Oakland linebacker
Kirk Morrison
, a tackling machine. He may not be super-sturdy against the run, but with the Jags' emphasis on defensive tackles he should get some room to work. Morrison has a reputation as a good guy and a good leader, and the Jaguars are trying to fill their locker room with both.
Riskiest move:
See
earlier post
.
Most surprising move:
A second defensive tackle in the second round. D'Anthony Smith came on the heels of No. 10 pick
Tyson Alualu
and last year's third-rounder
Terrance Knighton
. Gene Smith is a foundation builder with a deep pool of defensive tackles and the picks meant the Jaguars parted with
John Henderson
on Monday.
File it away:
Gene Smith's getting hit for not trading down in the first or third round before grabbing Alualu or Smith, but he was a capable trader. He got a fifth-rounder from Oakland recently for failed second-round end
Quentin Groves
and pulled off a trade with the Raiders for Morrison during the fourth round.

Tennessee Titans
Best move:
See
earlier post
.
Riskiest move:
Not taking a corner before the fourth round and 103rd pick.
Alterraun Verner
sounds like a good prospect, but he'll be part of a five-person competition for the starting job opposite
Cortland Finnegan
. There is some safety in numbers. There is a bit more safety in having a clear-cut front runner for such a crucial spot.
Most surprising move:
I thought they'd take a quarterback in the middle or late rounds. I didn't expect it would be Florida Atlantic's first draftee,
Rusty Smith
. Mike Heimerdinger will have a chance to develop a guy they've characterized as a true pocket passer, and may be lining themselves up with an alternative if
Vince Young
doesn't pass the final audition of his rookie contract this season.
File it away:
See
earlier post
.
April, 24, 2010
4/24/10
2:05
PM ET
There is more than the offensive line that goes into run blocking, of course. That's why I thought there was a long-shot chance of the Colts trading out of the 31st overall pick in the first round and taking
Rob Gronkowski
from Arizona.
The Colts stayed put and went with defensive end
Jerry Hughes
, while Gronkowski went 42nd to the Patriots.
But Indy did address the position at pick No. 162 with
Brody Eldridge
from Oklahoma.
At 6-foot-5 and 261 pounds, he's two inches and six pounds bigger than
Gijon Robinson
, the incumbent blocking tight end, and two inches and 11 pounds heavier than another tight end who can block,
Tom Santi
.
From what I've read, he's a guy with fullback and interior line experience who's not much of a pass-catching threat but can bring some fire to blocking work.
UPDATE, 2:00 p.m. ET:
Polian: "We thought Gijon could fill that role, that was his strong suit in college. This young man is much stouter, much stronger."
Jim Caldwell: "He's a guy that is a very fine in-line blocker, one that you'll be able to see can handle the edge, both from a pass protection standpoint and also from a run game standpoint. He certainly will be able to give us some help in our short-yardages situations. He's a guy that is going to have to develop a little bit, in terms of the passing game, but overall, I think he's going to be a great addition for us."
March, 26, 2010
3/26/10
1:01
PM ET
Each week leading up to the NFL draft (April 22-24), the ESPN.com blog network will take a division-by-division look at key aspects of the draft. Today's topic: Under the radar needs.

Houston Texans
While
DeMeco Ryans
in the middle and
Brian Cushing
on the strongside are fixtures, the weakside and linebacker depth rate as a secondary issue for the Texans. They could use a pick on the right guy. Gary Kubiak said early this week that
Kris Brown
can expect competition as the team's placekicker starting in OTAs. That allows for the possibility the team could use a late pick on a kicker.

Indianapolis Colts
While the team was pleased with the progress of
Antonio Johnson
and
Daniel Muir
and expect a second-year jump from
Fili Moala
, it could still look to add another bigger defensive tackle.
Tyjuan Hagler
was the starting strongside linebacker at the start of the season, but when an injury ended his season
Philip Wheeler
took over. That could be a spot Bill Polian addresses. As the team looks for better run-blocking linemen, is
Gijon Robinson
judged as a sufficient run-blocking H-back/tight end or might there be a better option available than Robinson or injury-prone
Tom Santi
?

Jacksonville Jaguars
Linebacker hasn't gotten as much attention as defensive end and the secondary in pre-draft talk so far, but only
Daryl Smith
is safe from competition. The Jaguars loaded up with three wide receivers in Gene Smith's first draft, but they lack playmakers and can use a solid guy opposite
Mike Sims-Walker
if they smack into one during the draft. Indications are the Jaguars will stick with a
David Garrard
-
Luke McCown
starter-backup tandem, but Jacksonville needs to develop another quarterback.

Tennessee Titans
Even presuming
Michael Griffin
bounces back from a very poor third season,
Chris Hope
will turn 30 early in the fall and the Titans primary depth at safety is
Vincent Fuller
, who they need playing nickel.
Tony Brown
,
Jason Jones
,
Jovan Haye
,
Sen'Derrick Marks
and
Kevin Vickerson
look like a reasonably talented and deep group, but Haye and Marks underwhelmed in their first seasons. Drafting a tackle wouldn't be a surprise. If
Kevin Mawae
doesn't return as a backup center, the Titans will need an interior offensive lineman to back up the three starters.
December, 7, 2009
12/07/09
10:17
AM ET
When the Titans scored a touchdown on a
Vince Young
-to-
Kenny Britt
pass to make it 21-10 with 20 second on the first-half clock, I
tweeted
this from Lucas Oil Stadium Sunday:
Kenny Britt's getting good. Titans cut it to 21-10. Twenty seconds and two timeouts left for Colts. Odds Manning gets the Colts to a FG?
Turned out the odds were pretty good, and Manning's penchant for moving his team to a field goal at the end of the first half continued.
After
Gijon Robinson
's 10-yard kickoff return to the 37 (short kickoff is a bad move there, Tennessee), Manning got the ball with only 17 seconds on the clock. He hit
Austin Collie
for 18 yards, got another 15 thanks to
Tony Brown
's unsportsmanlike conduct penalty and gave the ball to
Joseph Addai
for a 5-yard gain to set up
Matt Stover
with a 43-yard chance with 3 seconds on the clock.
Stover connected.
Here are Manning's fastest drives at the end of either half, courtesy of Elias. (Turns out they are all in the second quarter.)
Manning's really changed the way teams think sometimes. You can't control when you score. But when opponents are getting to the end zone or kicking field goals late, you can bet they are thinking about what they are leaving on the clock a lot more when they are playing the Colts than against anyone else.
Some other Manning notes from Sunday:
He threw for 270 yards and one touchdown, putting his season totals at 3,685 passing yards and 25 touchdowns. He is the first player in NFL history to pass for at least 3,500 yards in 12 consecutive seasons and is also the first player to throw at least 25 touchdown passes in 12 seasons in a row. (NFL)
He attempted a total of 71 passes in two games against Tennessee in 2009, and defensive coordinator Chuck Cecil sent five or more pass-rushers only once (1.4 percent). (ESPN Stats & Information)
Against the Titans this season, Manning threw three touchdowns and no interceptions and had a 110.7 passer rating in the red zone. Outside the red, zone the rating was 97.9 and he had one TD and one pick. (ESPN Stats & Information.)
November, 23, 2009
11/23/09
7:23
AM ET
The original Oilers reunite to
commemorate the team's anniversary
, writes John McClain.
Houston Texans
Gary Kubiak
has the better quarterback
in Matt Schaub, says Richard Justice.
Cortland Finnegan tends to
bring out the best
in Andre Johnson, says McClain.
The Texans' recent success is
a significant development
in their rivalry with the Titans, writes Dale Robertson.
Steve Slaton and Chris Johnson have been running
in different directions
, says McClain.
Sunday's games went
largely the right direction
for Houston, says Alan Burge.
A look back at
the Jason Babin trade
, from Burge.
Indianapolis Colts
Gary Brackett's late interception helped the Colts
avoid the upset
, writes Phil Richards.
Despite turnovers,
the Colts offense did enough
, says Mike Chappell.
Bob Kravitz's
report card
.
In place of Gijon Robinson, Tom Santi had
a career day
, says Chappell.
Matt Stover shows
he's still kicking
, says Rick Gosselin.
The Colts bandwagon should have
more passengers
, says Clifton Brown.
This one had
more to do with Brackett
than Peyton Manning, says Clark Judge.
John Oehser's "Coffee with the Colts."
Part 1
and
Part 2
.
It's
hard to complain
about anything, says Deshawn Zombie.
The Colts
survived with defense
, says Matt Snyder.
Baltimore's loss
clouds the playoff picture
, says Steve Wyche.
Jacksonville Jaguars
David Garrard
leads another rally
for a win, says Vito Stellino.
The Jaguars
just keep punching
, writes Gene Frenette.
The Jags are
in the thick of the AFC race
, says Michael C. Wright.
T.O. gave MSW the
shirt off his back
, says Wright.
John Henderson's two sacks were part of
a pass-rush resurgence
, says Jeff Elliott.
Tyron Brackenridge got beat on T.O.'s long TD but did well beyond that
filling in for Rashean Mathis
, says Stellino.
Frenette's
report card
.
Life is good
for the Jaguars, says Vic Ketchman.
The Jaguars are
growing into contenders
, says Cole Pepper.
It's the first three-game winning streak
in nearly two years
, says Matt Loede.
Tennessee Titans
Vince Young is
at home
on the national stage, says Jim Wyatt.
Throwback Oilers merchandise
isn't a big hit
, says Terry McCormick.
Wyatt's
game breakdown
.
November, 22, 2009
11/22/09
7:26
PM ET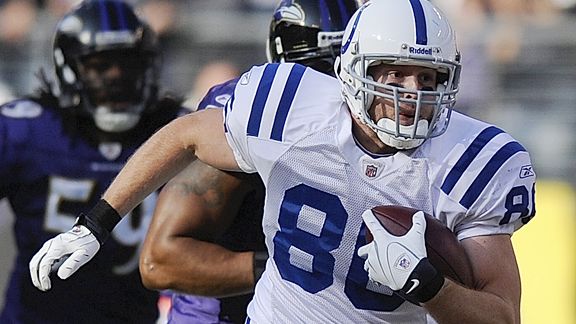 AP Photo/Nick WassWhile he admits he made some mistakes, Colts tight end Tom Santi made the most of his time on the field in Sunday's win over the Ravens.
BALTIMORE -- The Colts pride themselves on plugging people into holes with no drop-off. They expect that when mistakes are made, they will find a way to overcome them.
Sunday at M&T Bank Stadium, as they improved to 10-0 with a
17-15 win
over the Ravens, second-year tight end
Tom Santi
came to symbolize both themes.
The Colts were without
Gijon Robinson
, a starter who does a lot of blocking in the shadow of
Dallas Clark
, helping keep
Peyton Manning
clean and create room for
Joseph Addai
and
Donald Brown
. While he was in Indianapolis recovering from a concussion, Santi got the call.
Santi proved himself a capable blocker and a largely reliable target for Manning, chipping in with six catches for 80 yards.
He also had three costly plays -- a lost fumble near the goal line, an apparent alligator-arms moment in another scoring chance and a false start penalty.
"Everybody makes mistakes. You've got to watch, how do they handle it afterwards?" Addai said. "He was able to handle it afterwards. He hasn't been playing a lot. This game he did a lot of good things. Yeah, he fumbled. But you've got to kind of let that go. I know he'll learn from it, but move on. He did a great job for us today and I know he'll improve from there."
"That doesn't surprise me,"
Reggie Wayne
said of the positive contribution. "He does it every day in practice. So now he just turned it over to the game. I think he did a pretty good job, minus the fumble. But that happens. I'm just glad it didn't cost us."
The Colts don't so much plan to feature a guy as they allow Manning to take what's available.
Robinson isn't generally a large piece of the passing offense. Santi had a sense in the middle of the week that he'd be in line for a good share of the work that usually goes to Robinson.
Clark made a spectacular one-handed catch in the back of the end zone for a 3-yard touchdown to cap the game's opening drive. Other than that, Baltimore did things defensively that prompted Manning to look elsewhere, and he turned to Santi for four of his 12 first-half completions.
"We saw some things, and obviously the quarterback is pretty good back there and he does a great job putting us in great position," Santi said.
Down 9-7 in the second quarter, Manning placed a pass to Santi over the middle and in the middle of a crowd for a 22-yard gain. Santi got nailed, suffering a neck injury that briefly forced him from the game. It was a key play on a touchdown drive that put Indianapolis ahead 14-9.
On a day when he made his first catch of the season, he might have also scored his first touchdown of the year.

Instead, he ended the Colts' first possession after the half when he was clobbered at the 1-yard line, hit low by Ed Reed and then high by Ray Lewis, who jarred the ball free for Dwan Edwards to recover.

Just about anyone might have coughed it up when scrunched by two eventual Hall of Famers.

Santi didn't know who the defenders were.

"That's a bad play on my part," he said. "I definitely left points out there. As far as I am concerned, that's unacceptable."

The Colts' defense didn't allow it to translate into points. While Baltimore moved 84 yards on the ensuing possession, Billy Cundiff missed a 30-yard field goal wide right.

Later, with Dawan Landry closing fast, Santi seemed tentative on a ball he could have pursued more aggressively on a second-and-goal from the 7. Just before the 2-minute warning, he was whistled for a false start.

He said both errors were a matter of lost focus. On the pass, he needs to come out of the break faster and be ready for it quicker.

"I definitely left some plays out there," he said. "As you can see we've got a good team with a lot of great veteran leadership and that's what we've talked about the whole year. Play the next play, next man up and when it's your time, go out there and perform."

He will enjoy the win, review the film, then shred it, mentally, as he knows his coaches will.

Then, if still needed, he will plug back in to the next-man-up, play-the-next-play philosophies that are a big part of why the Colts are the AFC's lone undefeated club.

He'll simply look to be the kind of player Wayne says all of the Colts are supposed to be.

"We're like machines," Wayne said. "They program us to keep pushing, don't fall. Keep chugging away, chugging away. There is no time to point fingers or put your head down. Just keep going, keep going and find a way to get it done."

November, 22, 2009

11/22/09

2:30

PM ET

BALTIMORE -- Some halftime thoughts I imagine I'll be expanding on later.

November, 22, 2009

11/22/09

11:49

AM ET

BALTIMORE -- The Colts put backup tackle

Dan Federkeil

on IR with a concussion, adding safety

De'von Hall

to their roster.

The entire list of inactives:

November, 22, 2009

11/22/09

10:26

AM ET

Houston Texans

Andre Johnson

denies he will want out

if the Texans don't make the playoffs, says John McClain.

Steve Slaton

will start

Monday night, says McClain.

Eric Winston

vows to protect

teammates, say McClain and Dale Robertson.

Indianapolis Colts

The Ravens offer

an unusual challenge

for the Colts, says Mike Chappell.

It's

a home game

for Matt Stover, writes Chappell.

Gijon Robinson

didn't travel

to Baltimore, says John Oehser.

Ravens QB guru Cam Cameron has

ties to Terre Haute

, says Tom James.

Jacksonville Jaguars

Marcus Stroud

won't play

against his old team.

Key matchup:

Eugene Monroe vs. Aaron Schobel

.

Justin Durant

is doubtful

for the Buffalo game, says Michael C. Wright.

Terry O'Brien chimes in on several

Jaguars issues

.

Richard Collier

shares his story

, says Charlie Patton.

Tennessee Titans

Nick Harper will concentrate on

not getting too hyped

as he returns to the lineup, says Gary Estwick.

LenDale White wants to start, but is

happy for the wins

, says Estwick.

Cortland Finnegan and Keith Bulluck

drew big fines

for actions against Buffalo, writes Jim Wyatt.

The option package is

a nice changeup

, says Terry McCormick.

October, 5, 2009

10/05/09

6:35

PM ET


Posted by ESPN.com's Paul Kuharsky

Yards after the catch and solid downfield blocking have been two elements that have contributed to the league's No 1 rated offense, the league's No. 1 rated pass offense and the league's highest-rated passer.

"The yards-after-catch is certainly quite evident," Colts coach Jim Caldwell said in his session with Indianapolis media Monday. "All the receivers and backs that catch the ball have been able to do something with it, once they have the ball in their hands. It's a team that will get north and south on you pretty quickly and find seams, and get that extra yard or two. I think that's important. It helps us sustain drives and get in position to score points."

Caldwell has also been pleased with the blocking of skill guys downfield, and went out of his way to mention virtually each of them by name:

Pierre Garcon

,

Austin Collie

,

Reggie Wayne

,

Dallas Clark

,

Gijon Robinson

,

Joseph Addai

,

Donald Brown

as well as praising their coaches.

"In terms of receivers blocking down the field, it's as good as we've had throughout the years, this first quarter [of the season]. Pierre is a very solid, hard-nosed blocker. Collie gets his nose in there. Reggie has always been a very fine blocker. Then when you mix Dallas and Gijon, when they get down the field, that corps does a pretty good job, even Joseph. You probably remember the first game, Donald Brown blocking downfield and giving Reggie a chance to find a seam on one of our wide receiver screens. So, I think all across the board that's something that we've emphasized, and Clyde Christensen and Tom [Moore] are getting that done, getting it across to those guys, and they're executing pretty well."

Downfield blocking isn't something that can be quantified very easily, but anyone who makes plays downfield talks about how crucial it is.