February, 22, 2013
2/22/13
2:31
PM ET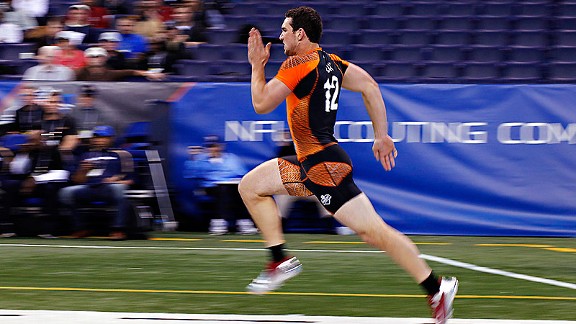 Brian Spurlock/US PresswireWould 40 times be more useful to talent evaluators if players had to run in pads?
INDIANAPOLIS -- Having flying cars chauffeur prospects from meetings with doctors to news conferences and back to their hotel rooms doesn't appear to be on the horizon at the NFL scouting combine.
But as the media's four days here got under way Thursday, I started thinking.
The league's made it clear it wants to continue to grow the event for TV purposes, to get more fans in Lucas Oil Stadium to watch workouts and to continue to take year-round ownership of the sports calendar.
Aside from that sort of growth, what would the talent evaluators want to see added to the combine that could assist them in their jobs?
I've annoyed as many people as I felt was reasonable with that question and got an array of answers.
Ruston Webster, Titans general manager:
"Maybe it'd be nice to see the receivers and the DBs have some one-on-one time or something like that. That won't happen, but some competition would probably be good to see."
Carl Peterson, former Chiefs GM, current chairman of USA Football:
Guys running in pads. Peterson said he would like to see the standard 40s continue to maintain an apples-to-apples comparison over the years, but he would add a second time for players to run in pads. It can be dramatically different and gives a much better indication of football speed. He said if it ever happened, there would be a big issue made of having all players in a common type of pads for their positions.
Rob Rang, analyst for NFL Draft Scout:
"One of the things I've always wished they'd do is take advantage of the technology that we have today and start using some electronic testing as the key way of being able to time not only the 40-yard dash but the three-cone drill, things of that nature. Have electronic testing for the bench press drills. You sometimes hear about when players are doing the bench press and some of the repetitions aren't allowed because he doesn't lock his arms out or whatever the case may be. If you had some laser sighting there, you would be able to know what is the range that a player has to lock his arms out to for that to be considered a repetition."
Bruce Arians, Cardinals coach:
"Pads. Let them play football. I don't think agents would go for that."
Rick Smith, Texans general manager:
"If anything, if you could have more time. I don't advocate that because I think it's set up the right way at this point. But in the grand scheme of things, I think as an evaluator if I had a little more time with a guy it'd probably be good."
Bill Polian, former GM of the Bills, Panthers and Colts, current ESPN analyst:
"I'd cut it back. It's too much now. It stresses these kids way too much." Prospects get wake-up calls as early as 5 a.m. They have days filled with medical appointments, meetings, press sessions and test-taking, and that doesn't even count the actual workouts.
Polian said he would consider cutting out a player's media obligations but that he would look for wherever something could be trimmed. He noted a new intelligence test added to the Wonderlic this year. The new test will take an hour, and he's not sure what he's getting as an evaluator in exchange for 333 hours of test-taking by this year's combine participants.
Mike Smith, Falcons coach:
"Fifteen minutes goes fast in the interviews. If we could have a little bit more time. Maybe cut the numbers down [from 60] and allow us more time to spend with each player."
Ryan Grigson, Colts general manager:
"Put them in pads; that's the only thing. The great thing about this is it's just one more reference point. If you think a guy's a great cover corner, a great athlete, has great speed on film, then if he runs 4.35 you say, 'OK, he's really that guy.' But the play speed and the actual game playing is so huge.
"I've gotten burned on it myself. A lot of times you can go out and watch a player in drills, a corner for instance, he's 6-foot-1, 200 pounds that's a low-rated guy. Then you go out to practice and his movement skills are off the charts. And you get bamboozled into thinking he's a player. Well there is something to be said for how you process information as a football player. That's why I like taking guys who are productive in the actual environment."
At least some drills in pads could make the workouts closer to football and further from something evaluators need to translate into football.
Gil Brandt, pioneering personnel man for the Dallas Cowboys, currently with NFL.com:
"The one thing you could do is put some sort of drill in every year that's foreign to everybody. Let's say the triple jump, for example. Everybody is practicing these things now so they get them down. Do something like the triple jump, which shows your explosion. Then next year come up with something else."
I love this idea.
One challenge would be keeping the secret, but if it were determined late and kept among very few people under lock and key, the element of surprise would be a great addition. Beyond providing more info about a guy's athleticism, personnel men could see how players react to something they have not rehearsed.
April, 18, 2011
4/18/11
4:00
PM ET
When I did some homework on
this piece
, I had a chance to chat with Gil Brandt, who helped shape some great Cowboys teams and now offers his insight for NFL.com.
[+] Enlarge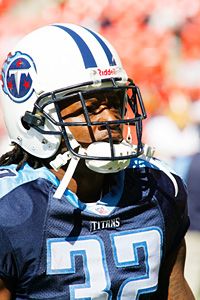 Geoff Burke/US PresswireAn emphasis on scouting and information might have helped the Titans avoid the headaches they experienced with former first-round pick Pacman Jones.
One of the things that became clear to me out of that conversation was that Dallas in the 1960s and 1970s had a huge advantage in scouting. The Cowboys realized that by seeing a much broader pool of prospects, they could find super values. So they did things like have a scout assigned to historically black universities.
And such front-office architecture helped them find a player like guard Herb Scott, drafted 330th out of Virginia Union in 1975.
Dallas thought he was the 50th best player available. The Cowboys drafted him 330th and he was a two-time first team All Pro who played in three Super Bowls.
It's hard to have that easy of an advantage anymore, of course.
But lest you think no rock goes unturned, consider
this piece by Jack Bechta
on how spending on scouting is not what you might imagine.
The fact is, plenty of owners used to spending big bucks on players, coaches and executives see scouting staffs as a place to save. Bechta says, and I'll bet he's right, it's an area where spending more could actually pay big dividends.
"If I ran a team I would have the highest R&D cost in the league because I know it will save my team money in the long run and give me more wins. I would allocate more money on intelligence testing, character/social habit evaluations and practice habits. I would use more private investigators and even hire former highly respected coaches (and former strength coaches) to gather hard to get information from college coaches.

"Of course the second part of this equation is that you have to find coaches who can develop your draft picks. Why not hire a scout to exclusively evaluate other coaches and keep scouting reports on them?

"It baffles me that I can ask one of my current players (or even a college coach) about a prospect he played with or coached in college and he may tell me to "stay away" because of some obvious reason. However, an NFL team will never get the same Intel I received by just doing a little diligence. It also amazes me how one NFL team can pick up on a major character, work ethic or physical deficiency while others won't catch it."
At least one recent AFC South development has shown a scouting department shrinking, not growing. In May of 2009, the Colts eliminated the jobs of longtime player personnel official Dom Anile and several others in the scouting department. The moves came as part of restructuring efforts aimed at cost-cutting.
As for the sort of things that happen in scouting players, here's one that Bechta would certainly appreciate from the Titans and their bungled pick of
Pacman Jones
in 2006. The team gave some weight -- I'm not saying a lot, but it was part of its equation -- to the endorsement of a guy who's West Virginia career overlapped with Jones' who happened to be the son of a Titans assistant coach.
When investing huge dollars and a valuable pick into a guy who allegedly smashed in someone's face with a pool cue at a bar, I'd say the team could have done a far more thorough investigation that would have steered it elsewhere.
I'd like teams to have such well-equipped scouting staffs that a recommendation like that would be diluted to the point where the people involved in the decision couldn't try to soften the blow years later by talking about it.
If I'm a bad team looking to close the gap on the guys making regular visits to the playoffs, I'd consider really ramping up my expenditures for what Bechta refers to as a team's research and development department.
My team would still miss in the draft -- it's an "inexact art" as Bill Polian calls it. But I am guessing it would miss a bit less. And I'd want to know just how much that difference could mean to my franchise.
August, 2, 2009
8/02/09
8:28
PM ET
Posted by ESPN.com's Paul Kuharsky
Through camp I'll try to do an evening file with some highlights from the three places I wasn't.
April, 23, 2009
4/23/09
12:00
PM ET
| | |
| --- | --- |
| | |
| | Getty Images |
| | Joe Montana, Danny Abramowicz and Walter Payton were pretty good buys. |
Posted by ESPN.com's Paul Kuharsky
A rookie receiver on a rookie franchise in 1967, Danny Abramowicz was halfway through the preseason when coach Tom Fears sent The Turk for him.
Defiantly, Abramowicz went to the meeting but violated the protocol.
The contract he got as a 17th-round pick out of Xavier was worth $17,000 and when he joined the team he had sought out Fears.
| | |
| --- | --- |
| | |
| | Rogers Photo Archive/Getty Images |
| | Wide receiver Jerry Rice provided pretty good value for being picked 16th in the 1985 draft. |
"When I reported to training camp, I said 'Coach, I know you don't even know who I am, but all I am asking for is a fair chance,'" Abramowicz remembered in a recent phone chat from his home in Steubenville, Ohio. "He said O.K. In those days we played six exhibition games. Three games into the exhibition season I was on special teams and never got to play a down at receiver.
"The Turk knocked on my door and said, 'bring the playbook' and I did not bring the playbook. I went downstairs into coach Fears' office and I said, 'Coach, you didn't give me a chance, I'm not leaving.' He said, 'You're serious, aren't you?' And I said, 'I'm as serious as a heart attack.' So he said, 'OK, go back to your room, I'm going to give you a chance.' I walked out the door and wiped my brow and said, 'Wow, that worked.'"
Abramowicz played receiver in the next game and played well, becoming a staff favorite. In the regular season, an injury to a starter got him his next big chance, and he wound up his first season with 50 catches for 721 yards and six touchdowns. Two years later he was a first-team All-Pro.
"He caught everything he ever touched," said Eddie Khayat, the defensive line coach for those Saints. "He had great hands, he could go deep, he was so tough. And I don't think I've ever been with a coaching staff that pulled so hard for a guy to make the team, because he was all-out all the time and tough on special teams."
We break from the form for this blog entry, which includes no significant AFC South hook.
Ryan McCrystal of ESPN Research and Mark Francescutti of ESPN Stats & Information worked through a formula and came up with our list of the 50 All-Time Best Buys in the draft and we jumped at a chance to write about it.
Receiver Jerry Rice of the 49ers, the 16th player selected overall in the 1985 draft, tops the list. His teammate quarterback Joe Montana, the 82nd player selected overall selected in 1979, ranks second.
Only three players represent the AFC South division: Peyton Manning, one of just five overall No. 1 picks on the list; running back Marshall Faulk, who started out as a Colts' first-rounder; and Billy (White Shoes) Johnson of the Houston Oilers.
The Formula
Here is a complete listing of the point system used in the calculations:

• MVP: 15 pts for each award

• AP All-Pro: 15 pts (a one-time value for appearing on a 1st or 2nd team)

• 1st Team All-Pro: 5 pts for each year

• SB Wins: 5 pts for each win

• SB loss: 2.5 pts for each loss

• Rookie of the Year: 3 points

• Pick Value: Takes the average slot at which the first player at each position is chosen and subtracts it from the pick where each individual player was selected. This value is then divided by 10. For example, the first quarterback comes off the board on average at pick 10.6, therefore Peyton Manning's "pick value" is (1-10.6)/10.

-- Ryan McCrystal, ESPN Research
And the best stories are of guys like No. 33 Cleveland defensive back Ben Davis (439th in 1967), No. 30 Dallas defensive tackle Larry Cole (drafted 428th overall in 1968), and No. 25 Abramowicz.
Told he ranks ahead of Walter Payton, Mike Singletary, Joe Greene, O.J. Simpson, Deion Sanders and Terry Bradshaw, Abramowicz wondered about the criteria, which factors in draft position and is explained fully with the in the box to the right.
"That must be a stacked deck, how did I get in there?" Abramowicz said. "That's awesome. I think the world of all those guys, they were great players."
Five Cowboys are on the list. NFL.com analyst Gil Brandt was Dallas' long-time chief personnel man and easily recalled the stories of four All-Time Best Buys (he left the Cowboys before they drafted Emmitt Smith, No. 9 on this list), including No. 14, guard Herb Scott, drafted 330th out of Virginia Union in 1975.
Brandt said Scott had a bad body coming out of college -- not unlike Alabama's Andre Smith right now -- but film showed he never got beat in games. According to Brandt, scout Dick Mansperger deserved the credit for finding Scott. At that time, Mansperger focused exclusively on traditionally black universities.
The guard ranked 50th on the Cowboys' board, they drafted him 280 spots later and he was a two-time first team All Pro who played in three Super Bowls and won one. How's that for value?
"Coach [Tom] Landry called me in during training camp and he said, 'I want to trade John Niland,'" Brandt said, referring to the guard who'd been to six Pro Bowls. "I started laughing. He said, 'Herb Scott is an unbelievable football player. If we can trade Niland now coming off a Pro Bowl year...' Well, we traded him and that enabled us to get [receiver] Tony Hill, who was a very good player for us.
"
Abramowicz went on to coach for Mike Ditka in Chicago and New Orleans. Now, he's part of "Crossing the Goal", a program that airs on the Catholic Network EWTN, and he's written a book, "Spiritual Workout of a Former Saint." Married for 43 years, he's got three kids and four grandchildren.
During his best year in 1969, the Saints called on him as a fill-in punt returner, even though he'd not done it since he played at St. Peter's grade school. He fair caught the first one as he was instructed, then got brave and decided he could return the next one. He wound up hit "like a truck over a rooster," his front teeth smashed in, the start of dental issues that the 63-year old said has included 14 root canals.
But he was a quick learner when it came to NFL survival. Stitched up and sent out for a third punt in that game, he made the prudent play.
"Before the ball got through the cheeks of the center's rear end," he said, "I had both hands up in the air."
Draft Pick Value Rankings
Player
Pos.
School
Team
Rd.
Overall
Yr.
SB
W-L
Score
1. Jerry Rice
WR
Miss. Valley St.
San Francisco
1
16
1985
3-1
88.07
2. Joe Montana
QB
Notre Dame
San Francisco
3
82
1979
4-0
87.14
3. Brett Favre
QB
Southern Miss.
Atlanta
2
33
1991
1-1
84.74
4. Peyton Manning
QB
Tennessee
Indianapolis
1
1
1998
1-0
84.04
5. Lawrence Taylor
LB
North Carolina
N.Y. Giants
1
2
1981
2-0
82.30
6. Jack Lambert
LB
Kent State
Pittsburgh
2
46
1974
4-0
76.70
7. Terrell Davis
RB
Georgia
Denver
6
196
1995
2-0
73.90
8. Tom Brady
QB
Michigan
New England
6
199
2000
3-1
71.34
9. Emmitt Smith
RB
Florida
Dallas
1
17
1990
3-0
69.00
10. L.C. Greenwood
DE
Arkansas AM&N
Pittsburgh
10
238
1969
4-0
68.19
11. Shannon Sharpe
WR
Savannah State
Denver
7
192
1990
3-0
68.17
12. Mike Webster
C
Wisconsin
Pittsburgh
5
125
1974
4-0
68.13
13. Karl Mecklenburg
LB
Minnesota
Denver
12
310
1983
0-3
67.60
14. Jack Ham
LB
Penn State
Pittsburgh
2
34
1971
4-0
67.50
15. Brian Sipe
QB
San Diego State
Cleveland
13
330
1972
0-0
66.94
16. Alan Page
DT
Notre Dame
Minnesota
1
15
1967
0-4
65.34
17. Mark Moseley
K
Steph. F. Austin
Philadelphia
14
346
1970
1-1
65.20
18. Herb Scott
G
Virginia Union
Dallas
13
330
1975
1-2
65.14
19. Anthony Munoz
OT
Southern Cal
Cincinnati
1
3
1980
0-2
64.57
20. Ronnie Lott
DB
Southern Cal
San Francisco
1
8
1981
4-0
64.54
21. Rayfield Wright
DT
Fort Valley St
Dallas
7
182
1967
2-3
64.54
22. Bruce Smith
DE
Virginia Tech
Buffalo
1
1
1985
0-4
64.49
23. Barry Sanders
RB
Oklahoma State
Detroit
1
3
1989
0-0
62.60
24. Rocky Bleier
RB
Notre Dame
Pittsburgh
16
417
1968
4-0
61.00
25. Dan Abramowicz
WR
Xavier
New Orleans
17
420
1967
0-0
60.97
26. Larry Brown
RB
Kansas State
Washington
8
191
1969
0-1
60.90
27. Rod Martin
LB
Southern Cal
Oakland
12
317
1977
2-0
60.80
28. Mike Wagner
DB
Western Illinois
Pittsburgh
11
268
1971
4-0
60.54
29. Walter Payton
RB
Jackson State
Chicago
1
4
1975
1-0
59.70
30. Larry Cole
DT
Hawaii
Dallas
16
428
1968
2-3
59.57
31. Randy White
DT
Maryland
Dallas
1
2
1975
1-2
59.04
32. Charles Haley
DE
James Madison
San Francisco
4
96
1986
5-0
58.99
33. Ben Davis
RB
Defiance
Cleveland
17
439
1967
0-0
58.20
34. Mike Singletary
LB
Baylor
Chicago
2
38
1981
1-0
57.90
35. Ted Hendricks
LB
Miami, Fla.
Baltimore Colts
2
33
1969
4-0
57.40
36. Joe Greene
DT
North Texas St.
Pittsburgh
1
4
1969
4-0
57.24
37. Larry Brooks
DT
Virginia State
L.A. Rams
14
355
1972
0-1
56.84
38. Robert Holmes
RB
Southern
Kansas City
14
375
1968
1-0
56.80
39. Billy Johnson
WR
Widener
Houston Oilers
15
365
1974
0-0
55.47
40. Marshall Faulk
RB
San Diego State
Indianapolis
1
2
1994
1-1
55.00
41. Rod Woodson
DB
Purdue
Pittsburgh
1
10
1987
1-2
54.74
42. Zach Thomas
LB
Texas Tech
Miami
5
154
1996
0-0
54.50
43. O.J. Simpson
RB
Southern Cal
Buffalo
1
1
1969
0-0
54.40
44. Ron Yary
OT
Southern Cal
Minnesota
1
1
1968
0-4
54.37
45. Deion Sanders
DB
Florida State
Atlanta
1
5
1989
2-0
54.24
46. Terry Bradshaw
QB
Louisiana Tech
Pittsburgh
1
1
1970
4-0
54.04
47. Dwight Clark
WR
Clemson
San Francisco
10
249
1979
2-0
53.87
48. Cliff Branch
WR
Colorado
Oakland
4
98
1972
3-0
53.77
49. Thurman Thomas
RB
Oklahoma State
Buffalo
2
40
1988
0-4
53.30
50. Rodney Harrison
DB
Western Illinois
San Diego
5
145
1994
2-2
53.24
MVPs: Manning and Favre won three. Montana won two. Taylor, T. Davis, Brady, E. Smith, Page, Moseley, B. Sanders, Sipe, Gannon, L. Brown, Faulk, Payton, Simpson, Bradshaw and T. Thomas won one.

All-Pro teams: All except Bleier and Cole were named first- or second-team All-Pro.

Rookie of the Year: Taylor, Lambert, E. Smith, B. Sanders, Faulk and Greene earned ROY honors.