AFC South:

Green Bay Packers
October, 6, 2012
10/06/12
4:51
PM ET


The NFL Live crew makes its picks for Packers-Colts.
September, 8, 2010
9/08/10
2:09
PM ET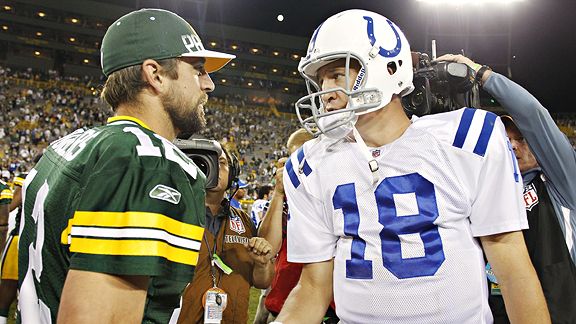 AP Photo/Jeffrey PhelpsPeyton Manning shared some words with Aaron Rodgers after the Colts-Packers preseason game.
I'm not above stealing an idea from AFC East bad guy Tim Graham. (He'd steal
mine
, but it would require an ounce of athleticism and changing out of his pajamas.)
Tim's big on asking his readers to caption photos, and he deserves some credit. His Rex Ryan picture wound up making an appearance on "Hard Knocks."
But enough about him.
I want to know what you think you would have heard if you were in earshot of this conversation between Peyton Manning and Aaron Rodgers, two top MVP candidates heading into the season, after a recent preseason game.
Keep it clean and be funny.
August, 26, 2010
8/26/10
4:32
PM ET

Ron Jaworski, Jon Gruden and Mike Tirico preview the Colts-Packers preseason game.
September, 8, 2009
9/08/09
2:00
PM ET

Posted by ESPN.com's Paul Kuharsky
The newest
power rankings
are out, and here's the status of your AFC South teams:
AFC South Power Rankings
Team
Ranking
Kuharsky's Vote
Colts
6
5
Titans
7
4
Texans
19
19
Jaguars
25
25
For my thoughts on the division at the start, please see
this post
from earlier Tuesday.
I've got one of four ballots this season, so I will outline my rational when I am significantly different than my three colleagues on particular teams:
Vikings
-- They rank ninth, I have them 14th, four spots lower than anyone else.
I'm a believer in Green Bay, and right now I think the Bears are likely to be better than the Vikings as well. Yes, Minnesota is better with
Brett Favre
than without him. But I won't be surprised if he doesn't hold up for the long haul or if the locker room fractures when things go poorly because he won't qualify as one of the guys in all respects. They'll start big, but I look for a late swoon similar to what we saw from Favre's Jets.
Cardinals
-- They rank 13th, I have them 10th, three spots higher than anyone else.
As I defer to the Steelers at the top as the defending champs, I give the Cardinals a bit of additional credit as the defending NFC champs. I bumped Green Bay up a good bit from our summer rankings and couldn't see taking the Packers any higher.
Panthers
-- They rank 14th, I have them 17th, three spots lower than anyone else.
I cannot shake the images of the playoff flameout against Arizona, I don't feel good about the defensive line, which is usually a spot they have as a strength, and I've heard one too many knowledgeable people question
Jake Delhomme
going forward.
Saints
-- They rank 18th, I have them 13th, four higher than anyone else
Seeing them up close in practices against the Texans and watching them clobber Houston in a preseason game probably had too big an impact on my thinking. But I picked them for the Super Bowl a year ago and won't be surprised if it turns out I was a year early and they are the big surprise team this season.
Lions --
They rank 32nd, I have them 29th, three higher than anyone else.
It's too easy to automatically put them last because of last year. There are a lot of other bad teams in the league, and I think the new blood in Detroit will produce and get the Lions on track for at least three or four wins.