December, 31, 2012
12/31/12
3:13
PM ET
The
Houston Texans
have a quarterbacks coach in Karl Dorrell.
That shouldn't stop Gary Kubiak from placing a call today to Greg Knapp, who held the post in 2012.

It wouldn't be admitting some sort of defeat to bring in a guy just
fired as Oakland's offensive coordinator
. Kubiak shouldn't regard it as some sort of concession or admission of failure.
He should see it as a chance to bring in a guy who might be a quarterback whisperer right when
Matt Schaub
could really use one.
Schaub probably loves and respects Dorrell. But he and all the team's quarterbacks were wild about Knapp.
Last year Bill Belichick pounced on a chance to take back Josh McDaniels when he was available because he'd been dismissed as coach of the
Kansas City Chiefs
.
Here's an opportunity for Kubiak to make a similar move. Hire Knapp back with some nebulous title.
What's Kubiak got to lose? I mean except Saturday's first-round playoff game against the
Cincinnati Bengals
?
January, 31, 2012
1/31/12
4:58
PM ET
Greg Knapp's departure from Gary Kubiak's coaching staff will hurt Houston.

According to NFL.com
, the Texans quarterback coach is leaving to coordinate the offense in Oakland in a second stint in the post for the Raiders.
Knapp deserved a ton of credit for the Texans' ability to stay afloat last season after
Matt Schaub
went down in the team's 10th game. Knapp had done a ton of work behind the scenes with both
Matt Leinart
and rookie
T.J. Yates
. Leinart didn't make it out of his first start, breaking his collarbone.
That meant Yates, a fifth-round pick, was at the controls.
The Texans won the first three games in which Yates played to clinch the AFC South. They lost their final three regular-season games, but won the franchise's first playoff game before Yates' inexperience caught up to him and helped end the Texans' season in Baltimore.
All together, Texans quarterbacks completed 61.7 percent of their passes with 20 touchdowns, nine interceptions and a 92.7 rating.
I never heard a bad thing about Knapp, and the quarterbacks, Kubiak and offensive coordinator Rick Dennison will miss him.
December, 11, 2011
12/11/11
8:59
AM ET
Reading the coverage ...
Houston Texans

Texans quarterback coach Greg Knapp has had
five different guys
under his tutelage this season, writes Jeffrey Martin of the Houston Chronicle. The newest one, Jeff Garcia, has worked with Knapp before. In my dealings with Knapp and in talking to people about him, he's very organized, thorough and meticulous and he's not going to waver much even as the composition of his room has changed so dramatically.
Indianapolis Colts

The Ravens are
tough and relentless
and poised to pounce at the first sign of weakness, writes Mike Chappell of the Indianapolis Star. The Colts have won nine of 11 matchups against the Ravens and fared well in Baltimore. But the teams that face off today measure up far differently heading into the game.
Jacksonville Jaguars

Opposing coaches have categorized Maurice Jones-Drew as a "
rolling ball of butcher knives
" and the work he's doing is especially notable when put in the context of an ineffective Jaguars offense, writes Vito Stellino of the Times-Union. MJD's optimism about the Jaguars' ultimate direction is another big thing the team has going for it.
Tennessee Titans

Nate Washington's been the Titans'
first option on third down
, writes John Glennon of The Tennessean. Washington leads the NFL in third-down receptions, which shows what sort of faith Matt Hasselbeck has in him. This has been an important, productive season for Washington. I think he's matured a great deal.
December, 6, 2011
12/06/11
1:02
PM ET
»
NFC Stock Watch
:
East
|
West
|
North
|
South
»
AFC
:
East
|
West
|
North
|
South
FALLING
1. The Jaguars' ability to score points:
OK, it's not fair to say it's falling. It's been poor all season and showed no sign of improving. The Jaguars came back from a 10-0 deficit against San Diego on Monday night to take a 14-10 lead. But once San Diego got more than 20 points, the game was over –- the Jaguars haven't scored 21 points all season. And the Chargers had more than 30 before the fourth quarter started on their way to
a 38-14 victory
. With
Blaine Gabbert
quarterbacking and
Maurice Jones-Drew
as the offensive centerpiece, this isn't a team that can make much of a charge from behind.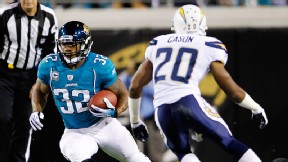 Mike Ehrmann/Getty ImagesThough Maurice Jones-Drew is solid, he doesn't much add to Jacksonville's quick-strike options.
2. The luck of Andre Johnson, Houston Texans receiver:
For the second time this season, Johnson went down while running without taking any contact, victim of a hamstring injury. Last time cost him six games. This time it's the other leg and doesn't appear nearly as serious. Although the Texans are calling him day-to-day, they could again be without their top weapon in the passing game. Absent Johnson, teams can load up to stop
Arian Foster
and
Ben Tate
, taking their chances against rookie quarterback
T.J. Yates
as he looks to less-threatening downfield weapons.
3. Offensive line play in Indianapolis
: The offensive line has actually played better much of this season than we could have reasonably expected, especially once the injuries started to pile up. Now it's struggling with penalties and giving up sacks. In New England, the line accounted for four of the Colts' five penalties with false starts and holding. With the minimal margin for error, the Colts simply can't afford that. A hold that might save a hit is one thing, but a false start is the sort of undisciplined stuff that gets bad teams killed.
RISING
1. Gary Kubiak, Houston Texans coach
: He gave credit to offensive coordinator Rick Dennison and quarterbacks coach Greg Knapp for a sleepless week working to get Yates ready and teach two new backups the system. But Kubiak calls the Texans' plays, and Yates made a solid showing in his first NFL start. Jim Harbaugh might run away with coach-of-the-year honors for his work turning San Francisco around, but that seems only slightly more improbable to me than what Houston's doing considering its injuries. While defensive coordinator Wade Phillips gets a lot of credit for the transformation, here's a small bid for giving Kubiak his fair share.
2. Chris Johnson, Tennessee Titans running back
: He's here a second week in a row after a second big game in a row, and this one came after he lost weight because he was so sick in the days leading up to the team's trip to Buffalo. The Titans have waited and waited, and Johnson finally looks like he's back to the form that earned him a giant contract after his holdout this summer. To make a push for a wild-card spot out of a division the Texans are very likely to win, the Titans will need more big contributions and explosive plays from Johnson. Everyone was getting blame when it was bad, as coach Mike Munchak pointed out, everyone should get some of the credit now.
3. Taylor Price, Jacksonville Jaguars wide receiver
: A third-round choice by the Patriots in 2010 out of Ohio University, he didn't make a mark with receiver-needy New England. But the Jaguars are even more receiver-needy. They got him Monday with a waiver claim, and even if Price does nothing in the remainder of the season, he's a good piece to add to the mix for the upcoming offseason. The 90th overall pick by a team that drafts well is definitely worth a look, and even if the team really addresses the position in free agency and the draft, Price could have an opportunity to stick in Jacksonville.
November, 27, 2011
11/27/11
9:45
PM ET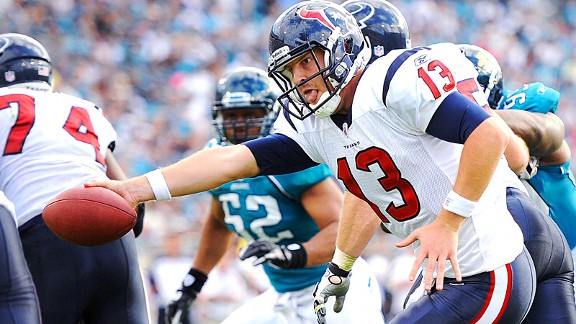 Jerome Miron/US PresswireThird-string quarterback T.J. Yates will likely take the reins in Houston after an injury to Matt Leinart.
JACKSONVILLE, Fla. -- The Houston Texans' third-string quarterback felt compelled to take some snaps from center
Chris Myers
during intermission on Sunday.
Tight end
Owen Daniels
sure hoped he wasn't needed, but with
Matt Leinart
out and rookie
T.J. Yates
the only other active quarterback dressed for the game, he knew he was one play away from potential action.
"I was just trying to stay focused on my job at the current time," Daniels said after the Texans beat the Jacksonville Jaguars
20-13
at EverBank Stadium. "But if the worst-case scenario came along, our coaches make sure we know the game plan pretty well. I had confidence that I could go in there and hand the ball off or maybe make a simple throw."
The Texans were conservative with Leinart in his first start in place of injured starter
Matt Schaub
. They were even more conservative when they had to turn to Yates, who was in uniform for his first NFL regular-season game.
The fifth-round draft pick out of North Carolina hit 8 of 15 passes for 70 yards and played well enough to help his team turn a 20-10 lead, built while Leinart was in the game, into the win.
Now they are prepared to go forward with Yates as their starter. Multiple reports quickly surfaced that Leinart was finished for the season with a left collarbone injury, one he suffered in 2007 with Arizona. ESPN's Adam Schefter reported "
all indications are it's broken
."
Gary Kubiak was unwilling to share details of Leinart's injury, suffered as he was hit by
Jeremy Mincey
. The coach said the X-rays from EverBank Stadium were unclear, which sounded a little like a dog-ate-my-homework deal once Leinart spoke.
"I think there is a pretty strong possibility that I won't be coming back this season," Leinart said. "But we'll see what the doctor says."
So the Texans will likely move on with their third starting quarterback in three games.
"It's why we drafted him," offensive coordinator Rick Dennison said of Yates. "He's a calm guy, he's a smart guy and he knows what we do. We'll see how it goes the next couple days, the next week. If that's what we have, that's what we'll get done."
The Texans signed
Kellen Clemens
to be their third quarterback after Schaub went on IR last week. Now they will shop again, and a newcomer will have a chance to challenge Clemens to be Yates' backup. (Clemens was inactive Sunday as the Houston suited up two quarterbacks, just as it has all year.)
Barring a clean X-ray from Houston that overrides what Leinart was feeling, it will be Yates who gets the call next week against Atlanta and beyond. The Texans prefer a quarterback who's spent time studying their system and understanding its nuances. They believe such a guy can fit in well with a team that can win by featuring the run game and strong defense. They believe that's better than a big-name quarterback outsider who is unfamiliar with what Kubiak, Dennison and quarterback coach Gregg Knapp do.
So don't expect any trips to Mississippi by Texans officials to talk to
Brett Favre
or any phone calls to check on the health of
David Garrard
.
Instead, expect a more open game plan for Yates.
Right tackle
Eric Winston
said the Texans were wary of anything against the Jaguars that could get Yates hurt because they didn't want to test Daniels' quarterbacking skills. It's a mistake, Winston emphasized, to put too much in to what the rookie did, or didn't do.
"I think next week you'll see a much different T.J. because he can make some huge throws," Winston said. "He's much more athletic than Schaub or Leinart. That will work well with some of what we do. He can get out of the pocket, he can make some throws. I am not worried at all. I think that he'll meld well with what we're doing in the play-action game."
They Texans can't oversimplify game plans. Those plans don't have to be 100-plays deep, and the Texans don't need 100 plays to win.
Yates has been a sit-and-learn, third-string guy until Sunday. He's unlikely to be
Cam Newton
or
Andy Dalton
as a starter.
But he is surrounded by a better team. He spent a good share of the summer during the lockout working with Schaub and
Dan Orlovsky
in Houston. And he has run the scout team for the bulk of the season.
"T.J. man, he's a professional NFL quarterback," defensive back
Sherrick McManis
said. "He's definitely got room for improvement and needs time to grow like most of us. But on scout team he's done exactly what he's supposed to do."
Yates said while that work is intended to mimic the opponent of the week, the Texans do their best to shape it for him in a way that translates to their own scheme.
"Every week we try to get the same things from our offense into other offenses," he said. "Kind of tie it into our offense as much as possible."
After running eight plays at the end of the second quarter, Yates returned to the field after the half with Schaub.
Schaub, who's wearing a protective boot on his right foot and will soon have surgery, told Yates that a lot of people will tell him how to move forward. Houston's starting quarterback told him: Stay calm, be confident in yourself, you're ready to play, don't think too much.
He did well enough.
Now the expectation is he will step into the spotlight and be under far greater scrutiny.
Next week against the Falcons is a game the Texans might have lost even with Schaub. A trip to Cincinnati the week after won't be easy either.
Then, however, the team that would be the AFC's top seed if the playoffs started today finishes with Carolina at home, a trip to Indianapolis, and Tennessee at home.
Houston might still win 10 or 11 games with Yates at quarterback.
What it can do if it wins the AFC South and goes to the playoffs will be a much different question.
"They have a big-time offensive line and a great running game, but in our league you've got to be able to do both," Jacksonville linebacker
Paul Posluszny
said. "They are a good team. They've scored a lot of points in the past.
"But a lot of that, I think, was because Schaub does a great job managing that offense. That'll be a challenge for them for sure."
November, 25, 2011
11/25/11
2:44
PM ET
Replacement quarterbacks are winning about a third of their starts, points out ESPN.com's venerable John Clayton. He wonders how Houston's
Matt Leinart
will fit in
with that, starting Sunday in Jacksonville.
In
this Insider piece
, Matt Williamson of Scouts Inc. discusses Leinart in detail.
"Leinart fits the Texans' scheme much better than what he was asked to do in Arizona. He has been in this system for a year and a half now, and Houston's designed rollouts and play-action passes off of an elite running game play to Leinart's strengths. Can coach Gary Kubiak win games and manage his offense much as Jim Harbaugh is doing with quarterback
Alex Smith
and the
San Francisco 49ers
?
"If Leinart is able to manage the game and distribute the football reasonably well -- particularly to Johnson -- while leaning heavily on running backs
Arian Foster
and
Ben Tate
, Houston should have no problem winning the AFC South."
Williamson says Leinart has "very average physical tools" and is " slow and deliberate in everything he does." So a key to his performance will be how he can speed things up, but be in better control.
I've not joined the chorus of those projecting doom for the Texans, and not just because the division is weak and Leinart's surroundings are strong.
We haven't seen him in meaningful action in some time. He's been working with great quarterback teachers in quarterback coach Greg Knapp, offensive coordinator Rick Dennison and coach Gary Kubiak.
It's possible Leinart is a guy with a quality second act in him, who plays well after learning from different coaches and gets to play with a second team in a more favorable situation.
It's actually what I am expecting.
Like Williamson, I'm just not sure it will extend into the playoffs.
November, 23, 2011
11/23/11
11:46
AM ET
A switch to a lefty quarterback brings some change, but not as much as a lot of us may think.
That's the conclusion to reach based on the way the
Houston Texans
have talked about
Matt Leinart
stepping into the lineup.
The ball spins differently so receivers will be conscious of that, right tackle
Eric Winston
becomes a blind-side pass protector and while the Texans will stay unpredictable, Leinart will surely be more comfortable rolling and bootlegging to his left.
"You don't change what you do, you change how you call things. So if anybody's got to make an adjustment, I do." coach Gary Kubiak said. "Just the way I set formations or set things that we do. But I've been through this before. In San Francisco, I had a pretty good lefty (in
Steve Young
) and then my backup was a righty, so I've been through this before. But it doesn't change the offense we run or those type of things. It just kind of changes how you set formations."
Quarterback coach Greg Knapp also worked with Young and a righty backup in San Francisco and with lefty
Michael Vick
and righty
Matt Schaub
in Atlanta.
"Keepers maybe you'll go to the left a little more, but you try to keep a balance," Knapp said.
The team will not expect Leinart to handle the volume of plays in a game plan that they would bring into a game for Schaub.
As for the pass catchers, the adjustment is being downplayed. Knapp said it's not a dramatic change.
Said receiver
Kevin Walter
: "It's a little different, it spins a little different. Some of the deep balls, it's a little different catching it. But it's nothing that we're actually dealing with. We've been throwing and catching for the last two years."
Leinart's not concerned about that element of the change at all.
"You throw the ball and catch the ball and I know none of us are worried about that," he said.
November, 16, 2011
11/16/11
5:19
PM ET
The new edition of ESPN the Magazine delves deeply into the Texans' Week 4 win over the Steelers at Reliant Stadium, with a bunch of behind-the-scenes stories worth your time that will offer you info on plaster defense and PRP therapy.

My two favorites: Seth Wickersham on the construction and adaptation of a game plan and Ryan McGee on the life of a trainer.
Wickersham's interviews subjects included defensive coordinator Wade Phillips and quarterback coach Greg Knapp, who talked about
what they look for
and how they piece together a plan.
"After Phillips has a bead on an opponent's tendencies, he seeks tendencies within tendencies. Prior to this game, he finds a doozy: Pittsburgh has called passes 28 of the 30 times it has used "11" personnel (one back, one tight end, three receivers) from the shotgun. As tells go, that's huge. He can use that.

"Of course, pressing (Ben) Roethlisberger is one thing; bringing him down is another. The QB has made a career of fleeing the pocket, lumbering about and firing to receivers from a windup so slow it's as if he's holding a dumbbell. Phillips learns from video that Steelers receivers have a standard reaction to Big Ben's scrambles: Those running short routes turn upfield; those running long routes circle back to Roethlisberger. The Texans' answer will be their "Plaster" defense. As soon as Big Ben runs, Houston's secondary will shove the nearest receiver to the ground, and if the wideout is near the sideline push him out of bounds -- both legal tactics, as long as the quarterback is outside of the tackles. It's a revealing tenet to this week's game plan: The Texans, used to being pushed around, believe they can manhandle the Steelers.
You know the Texans won the game with a physical effort, but read the piece for how they fared on the specifics they talked about heading into the game.
McGee had
access to Geoff Kaplan
, starting off with a great description of how the Texans' head trainer watches a game.
"As happens on every play, the snap of the ball had launched his eyes into a scan of the field. They never follow the ball. Rarely do they look above the players' belt lines. When everyone else is turned to track a run or a reception, Kaplan remains focused on the line of scrimmage, making sure all of the timbered linemen get up off the ground. He watches knees and ankles. He looks for drooped shoulders, unusually heavy breathing -- any sign of injury. On this play, Kaplan's eyes had whipped toward (Andre) Johnson just as the 6'3", 226-pounder crumpled without being hit."
And McGee got to follow the Johnson story beyond game day, offering more detail about the injury Johnson's due back from when the Texans resume play Nov. 27 than I've seen anywhere else.
"The MRI (two days later) identified a hamstring strain, and as Foster was nearly two months earlier, Johnson is ordered to begin platelet-rich plasma therapy. PRP is an injection of blood plasma that contains huge amounts of bioactive proteins, created by using a small amount of Johnson's own blood. It won't directly repair the injury, but it will prevent excessive scar tissue from building up around the injury as it heals."
November, 15, 2011
11/15/11
4:39
PM ET
Texans' quarterback
Matt Schaub
has been great the past two seasons at throwing from outside of the pocket, largely because of the way the team employs bootlegs and rollouts.
[+] Enlarge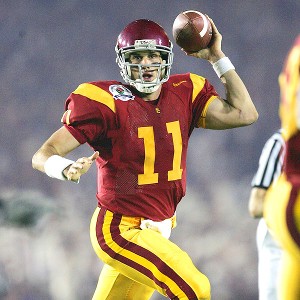 Stephen Dunn/Getty ImagesThe offense Matt Leinart will be running with the Texans is similar to the one he ran at USC.
He has thrown 14 touchdowns and two interceptions outside the pocket, while connecting on 11 pass plays of at least 30 yards, second most in the NFL during that span.
I expect
Matt Leinart
will be sent on the move just as often when the Texans look to throw now that he is taking over for the injured Schaub. The team will try to maintain balance, but we are likely to see them go left more often than right as he's left-handed.
Texans quarterback coach Gregg Knapp was offensive coordinator in Oakland for two seasons, where he worked for Lane Kiffin. Kiffin coached Leinart at USC.
"The play-passes and keepers that Lane used were very similar to what Gary Kubiak has done here," Knapp said. "When Matt Leinart got here last year, we saw he had a real quick reference from experience with our play-pass and our keepers."
Leinart got some recent practice work with the first team offense when Schaub needed some time to rest after getting banged up.
But he's also had intensive tutorials from Knapp, who's worked with
Steve Young
,
Jeff Garcia
and
Michael Vick
in previous coaching stops. (Leinart raves
about the quality
of the Texans' coaching.)
Knapp said he's worked for 10 to 15 minutes with Leinart after practice every day, as the quarterback's thrown to young receivers and/or tight ends. Then on Sunday's there is a 30 minute fundamental session on the field three hours before kickoff.
"He has spent a lot of extra time working on our drops and our progressions," Knapp said. "What we believe is so important is the way our footwork is tied in with our progressions. That's what we spend a lot of extra time on.
"As far as the classroom goes, he is definitely one of the sharpest guys I've worked with… Matt's very studious about knowing his progressions with the reads based on the coverages he's getting."
A few other notes on Schaub from ESPN Stats and Info, as he shifts into the background:
He had started 46 straight games for the Texans and entering Week 10 he was one of seven quarterbacks to take every snap.

After throwing a combined 27 interceptions in 2009 and 2010, Schaub had just six in 10 games this season, tied with Colt McCoy and Jay Cutler behind only Aaron Rodgers (three).

According to Total QBR, Schaub has been an elite-level quarterback since the 2008 season. His 66.2 QBR in that time period trails only Peyton Manning, Tom Brady, Rodgers and Drew Brees.
September, 6, 2010
9/06/10
9:04
AM ET
Gary Kubiak is a capable quarterback developer.
Much of Matt Schaub's success is thanks to Kubiak's mentoring. Say what you will about Sage Rosenfels, but he was a more valuable quarterback when the Texans dealt him away than when they got him. Rex Grossman's year in Houston allowed him to revive his career as a backup and move on to Washington.
Dan Orlovsky, however, has been a dud. We hear from Kubiak about what a good camp he's had and how a couple really bad decisions in preseason games aren't enough to wash it away. But the fact is, as with the vast majority of teams, if the starter goes down the Texans are in trouble.
Enter Matt Leinart.
He won't cure anything now for the Texans -- he needs rebuilding. But Kubiak and quarterbacks coach Greg Knapp can work with Leinart behind the scenes and try to "fix" him. I think it starts with a combination of confidence and realization of the work that needs to be done, and I think they can do good work in those departments.
Seems to me it's not a particularly risky investment and could have a lot of upside. He surely didn't get big dollars. If they can turn him around, they'll have a guy to bump Orlovsky down, or off, the depth chart.
If not, they'll have lost only a little money and time.
January, 27, 2010
1/27/10
10:42
AM ET
The Texans have completed a two-for-one replacement move,
hiring Gregg Knapp
as quarterbacks coach to go with new coordinator Rick Dennison after the departure of Kyle Shanahan.
It looks like a quality move to me.
Knapp's worked as offensive coordinator with San Francisco, Atlanta, Oakland and Seattle.
He was with
Matt Schaub
during that stint with the Falcons, but had no coaching tree connection to Mike Shanahan's Denver regime, which is where Gary Kubiak has turned so often.
I've heard Knapp is a good guy whose play calling often came under fire for being too conservative. That won't be an issue in Houston as Kubiak or Dennison will be sending in the plays.
Here's
a bit more
from Alan Burge.