September, 3, 2013
9/03/13
6:54
PM ET
JACKSONVILLE, Fla. -- This is a make or break season for Jaguars quarterback
Blaine Gabbert
.
Either he proves he can be a consistent starter who could develop into a franchise quarterback or the Jaguars will give up on the 6-foot-4, 235-pounder and look for a quarterback in the draft.
The Jaguars took Gabbert with the No. 10 overall pick in the 2011 draft, believing he would become a quarterback that could lead the franchise to a Super Bowl. He obviously hasn't developed the way the team had hoped, and entering his third season he has completed just 53.8 percent of his passes for 3,876 yards and 21 touchdowns with 17 interceptions.
His inconsistency -- in his 24 starts he has completed at least half of his passes 16 times (and also a 17th game in which was injured went 2-for-2) but has also had seven games in which he completed less than 50 percent of his passes -- looks even worse when compared to the other 11 quarterbacks who were drafted in 2011.
[+] Enlarge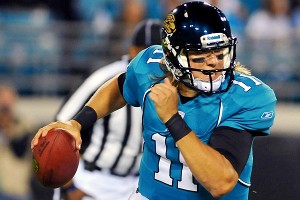 Al Messerschmidt/Getty ImagesBlaine Gabbert is just 5-19 as the starting quarterback for the Jacksonville Jaguars.
More importantly, his record as a starter is 5-19 (.208). That's the worst record among the 12 quarterbacks taken in the 2011 NFL draft. Six, including Gabbert, were taken in the first two rounds and those are the players against which he should be measured, so here's a breakdown:
Cam Newton (No. 1 overall by Carolina):
Newton had a fantastic first season, setting rookie records for passing yards (4,051) and rushing yards by a quarterback (706). Those numbers lasted only a season, though, as
Andrew Luck
and
Robert Griffin
III broke them last season. Newton is 13-19 as a starter after going 6-10 as a rookie and 7-9 last season. Career stats: 590-1,002-29, 7,920 yards, 40 TDs; 1,447 yards, 22 TDs rushing.
Jake Locker (No. 8 overall by Tennessee):
Locker played in five games as a rookie but won the starting job entering last season. He missed five games and parts of two others because of two shoulder separations and led the Titans to a 4-7 record in the 11 games which he started. He completed 56.4 percent of his passes for 2,176 yards and 10 touchdowns with 11 interceptions in 2012. Career stats: 211-380-11, 2,718, 14 TDs.
Christian Ponder (No. 12 overall by Minnesota):
He started the final 10 games of his rookie season (going 2-8) but helped lead the Vikings to a 10-6 record and a playoff berth last season, though, he missed the playoff game with a deep triceps bruise. This, too, is a make-or-break season for Ponder. Career stats: 458-774-25, 4,788 yards, 31 TDs.
Andy Dalton (second round, No. 35 overall by Cincinnati):
Dalton is by far the most successful quarterback of the group, having started every game the past two seasons and leading the Bengals to a 19-13 record and two playoff berths. Each season has ended with playoff losses to Houston, but it was the first time since 1981-82 the franchise has made back-to-back playoff appearances. Career stats: 629-1,044-29, 7,067 yards, 47 TDs.
Colin Kaepernick (second round, No. 36 overall by San Francisco):
Kaepernick was a relative unknown until he replaced
Alex Smith
(concussion) in Week 10. He led the 49ers to a 5-2 record to close the regular season and playoff victories over Green Bay and Atlanta to reach the Super Bowl. He threw for 798 yards and four TDs and rushed for 264 yards and three TDs in the postseason. Career stats: 139-223-3, 1,849 yards, 10 TDs.
Here's a look at the other six:
Ryan Mallett (third round, No. 74 overall by New England):
He has played in four games in two seasons in mop-up duty in relief of
Tom Brady
. He was the subject of trade rumors early in the preseason but remains with the Patriots. Career stats: 1-4-1, 17 yards.
Ricky Stanzi (fifth round, No. 135 overall):
Spent two seasons with the Chiefs until being cut last week. He is now with the Jaguars as the No. 3 quarterback behind Gabbert and
Chad Henne
. He has never appeared in a game.
T.J. Yates (fifth round, No. 152 overall by Houston):
He started the last five games of the regular season and two playoff games in 2011 when
Matt Schaub
was out with a Lisfranc injury. He led the Texans to a 3-4 record in those games, which included a 31-10 victory over Cincinnati in a wild-card game that was the first playoff victory in franchise history. Career stats: 86-144-4, 987 yards, 3 TDs.
Nathan Enderle (fifth round, No. 160 overall):
He spent the 2011 season with the Bears but was waived after the season. He went to training camp with the Jaguars and spent time with Tennessee in the offseason. He signed with San Diego on July 31 and was among the Chargers cut last week. He has never appeared in a game.
Tyrod Taylor (sixth round, No. 180 overall):
He has played in 10 games in relief of
Joe Flacco
. Career stats: 18-30-1, 197 yards.
Greg McElroy (seventh round, No. 208 overall):
The former Alabama standout started one game for the
New York Jets
last season, going 14-for-24 for 185 yards with one interception in a 27-17 loss to San Diego. He was released earlier this week. Career numbers: 19-31-1, 214 yards, 1 TD.
December, 4, 2012
12/04/12
11:19
AM ET
Rex Ryan is being coy about who he'll play at quarterback for the Jets on Sunday in Jacksonville
He could go back to
Mark Sanchez
. He could stick with
Greg McElroy
, who won Sunday against Arizona in relief. Or he could turn to
Tim Tebow
, who's recovering from rib injuries and was inactive this past Sunday.
[+] Enlarge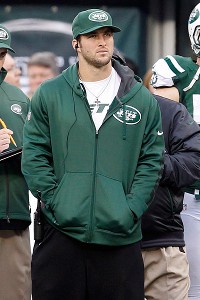 William Perlman/THE STAR-LEDGER via USA TODAY SportsNew York Jets quarterback Tim Tebow watched Sunday's game from the sideline.
The storyline will be massive if Tebow gets the call. He's from Jacksonville and he won a Heisman Trophy and two national championships in nearby Gainesville. When Denver signed
Peyton Manning
and looked to shed Tebow, the Jaguars were in the mix with the Jets. But given an option, Tebow ultimately steered the Broncos to New York's offer.
The Jaguars' defense has the regular incentive to play well. Jobs are certainly on the line for a 2-10 team that regularly gets shredded.
If Tebow plays, the Jaguars' defense can do the organization a huge favor by playing well against him. They can do wonders to silence the Tebow crazies by showing him to be the gimmick he is. If they allow a productive game, or, worse, one of those anemic performances that then finishes with a magical ending, they'll be pouring gas on a fire.
Quarterbacks
Blaine Gabbert
and
Chad Henne
, GM Gene Smith, owner Shad Khan and a slew of others connected to the team and beyond will be left to say, "Thanks a lot, fellas."
A new round of talk about how Tebow is the savior the Jaguars need will kick off. The fans who back the guys who are actually on the team -- and will support those who will join them -- will be heading to the medicine cabinet for Tylenol.
I feel certain the bulk of the Jaguars respect Tebow for what he's done and think he's a swell guy. Everyone should feel that way about him. The debate is over the quality of his quarterbacking.
That he's not been able to get on the field for the Jets this year tells us a great deal more about him. If the best a team that wanted him can do is tell us how well he practices, it doesn't say much for his NFL quarterbacking capabilities.
His fan base remains passionate, however. Any chance for the story to actually get some football carbonation and bubble back up won't be of any benefit to the Jaguars.
If he starts or appears in relief, it's in the hands of Jacksonville's defense to limit the next round of Tebow talk.
If they get a chance, they've got to make him what he is.
March, 29, 2012
3/29/12
3:53
PM ET
Linebacker
DeMeco Ryans
is using a workout facility in suburban Nashville as a weigh station between Houston and Philadelphia this week.
[+] Enlarge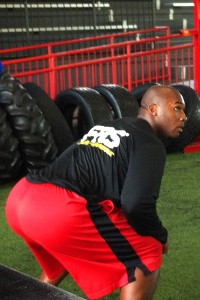 Paul Kuharsky/ESPN.comDeMeco Ryans gets some work in at the D1 workout facility in Franklin, Tenn.
He's got a stake in a D1 facility in Birmingham, and is working out at the Franklin, Tenn., facility this week with a handful of others, including a couple Jets backup quarterbacks
Tim Tebow
and
Greg McElroy
.
Ryans is in great spirits, and excited about the opportunity to man the middle and lead for the Eagles.
He's not sad, but he was reflective about the idea of leaving, just one year into what the Texans intend to be a long stretch of playoff-caliber seasons.
Two key players that helped the team break through are gone, with Ryans traded and right tackle
Eric Winston
released to help alleviate salary-cap issues.
"We've been building a team so long, and we finally got there," Ryans said. "We made it to the playoffs because the backups were good, the seconds and thirds were good enough to go in, and it wasn't a drop-off. So, that's sort of the hardship of being so good, when you have so many good players you can't pay everybody."
I was in a super multi-media mood.
So I offer two other features:
The picture above, where Ryans is focused on a guy at a podium who is calling out signals and dropping a tennis ball to simulate a snap, so players can work on their get-offs.

This short audio clip. As he heads out of the AFC South, I asked him five questions about the division. You'll hear shoutouts to the Jaguars' backfield (but not the city they play in), as well as Titans right tackle David Stewart.