May, 21, 2014
5/21/14
3:45
PM ET
JACKSONVILLE, Fla. -- The
Houston Texans
did the sensible thing and took
Jadeveon Clowney
with the No. 1 overall pick, landing the best pass-rusher to come out of college in more than a decade and pairing him with
J.J. Watt
to have one of the best pass-rushing duos in the league.
But what if they hadn't?
What if they had taken quarterback
Blake Bortles
instead? Tony Pauline of TFYDraftInsiders.com wrote this week that the Texans' choice
came down to Clowney and Bortles
and the team had draft cards with both of their names written on it before finally settling on Clowney.
[+] Enlarge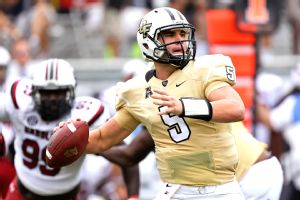 AP Photo/John RaouxIf the Houston Texans had used the No. 1 overall pick on Blake Bortles, it would have had a ripple effect throughout the draft.
That would have significantly impacted the AFC South.
It might not have altered the rest of the Texans' draft plans. They took guard
Xavier Su'a-Filo
with the first pick of the second round, and it's logical to assume they would have stayed with that pick to help protect their new franchise quarterback.
Same with the third-round selection of tight end
C.J. Fiedorowicz
. It only makes sense to add additional weapons for a young quarterback, and Fiedorowicz caught 75 passes in his final two seasons at Iowa. He's also a solid blocker who should help in the run game.
The Texans' other third-round pick was defensive tackle
Louis Nix III
, who will be a big piece of defensive coordinator Ray Horton's hybrid 3-4 scheme. General manager Rick Smith likely wouldn't have changed his strategy there.
But he certainly wouldn't have taken quarterback
Tom Savage
with the 35
th
pick in the fourth round. Who might he have drafted? Mammoth Stanford offensive tackle
Cameron Fleming
(6-foot-5, 323 pounds), Florida State outside linebacker
Telvin Smith
, LSU outside linebacker
Lamin Barrow
, and San Jose State cornerback
Bene Benwikere
are possibilities. All would have addressed a need.
Certainly the Texans wouldn't have ended up with a defensive player that could make the kind of impact that Clowney can had they taken Bortles, but they might have fixed perhaps the biggest reason for the team's disastrous 2013 season.
It's hard to argue with the Clowney pick, though, because he and Watt will be terrorizing quarterbacks for years.
If they had taken Bortles, though, that would have forced the
Jacksonville Jaguars
to drastically alter their draft plan.
It has been widely reported that the Jaguars and
Atlanta Falcons
had agreed to a trade in principal that would have allowed the Falcons to move up to No. 3. Jaguars GM David Caldwell called Falcons GM Thomas Dimitroff on the day before the first round to tell him that he was going to stay put and take the player he wanted, which only a few people knew was Bortles.
Had the Texans taken Bortles, Caldwell would have tried to rekindle the trade. The Falcons really wanted Clowney, and it's likely he would have still been available at No. 3 because the
St. Louis Rams
were intent on shoring up their offensive line for quarterback
Sam Bradford
. Offensive tackle was their No. 1 need, which is why they took
Greg Robinson
with the No. 2 overall pick, and it likely wouldn't have changed if Clowney were available.
The Jaguars and Falcons would have swapped picks, allowing Dimitroff to take Clowney. At No. 6, the Jaguars would not have gone quarterback. It would have been offensive tackle
Luke Matthews
,
whom the team really liked
, or receiver
Mike Evans
.
Derek Carr
was the No. 2 quarterback on the Jaguars' board, but they might have missed out on him, as well, because Oakland selected him with the fourth pick of the second round -- three spots ahead of the Jaguars. The Falcons' first pick in the second round was No. 5, so even if the Jaguars had gotten that pick as part of the trade they would have been unable to get Carr -- unless they worked another trade.
That probably would not have happened. The Jaguars tried to work out a trade to move up higher into the second round to get receiver
Marqise Lee
, but couldn't get anything done. Lee ended up falling to the Jaguars at No. 39 anyway, but would he have been the pick had they taken Evans in the first round?
The bulk of the Texans' draft might not have changed significantly had they chosen Bortles with the No. 1 pick, but it would have certainly altered the Jaguars' draft.
May, 6, 2014
5/06/14
5:42
PM ET
JACKSONVILLE, Fla. -- An elite pass-rusher and a franchise quarterback. Not a bad haul in the first round in the NFL Nation mock draft that was held on Tuesday afternoon.

Bridgewater

Mack
Each of the NFL Nation bloggers whose team had a first-round pick acted as general manager and made picks they thought the team they cover would make. In doing my best David Caldwell impersonation, I grabbed linebacker
Khalil Mack
with the third pick and then jumped back into the latter part of the first round and landed
Teddy Bridgewater
at 29.
Here's what I was thinking as the draft unfolded ...
I actually went after
Jadeveon Clowney
. I had some discussions with Houston reporter Tania Ganguli to move up to No. 1 but I felt the price was too high. The Jaguars need to continue to build the roster and I thought losing as many picks as she wanted was not the best approach. Ganguli managed to work out a deal with Buffalo reporter Mike Rodak, though. I wrote about that
the Mack selection and how he would fit with the Jaguars
earlier Tuesday.
I didn't really consider taking a quarterback at No. 3 because I wasn't completely sold on any of them that high. It would have been too risky of a pick and right now the Jaguars can't afford to take those kinds of risks.
However, when Bridgewater dropped into the teens I got interested, and when he was still on the board at No. 20 I knew I needed to take a shot to land the most pro-ready quarterback in the draft and a guy I believe can be an elite quarterback.
So I exchanged a few emails and texts with
New England Patriots
reporter Mike Reiss, who had let everyone know he was open to trading down, in an attempt to work out a trade for the 29th overall pick. Complicating things was the fact that another team got into the mix.
After some quick back and forth, Reiss and I settled on this deal. In exchange for the 29th pick I agreed to give him the Jaguars' second-round pick (39th overall), one of their two fourth-round picks (114th overall), one of their three fifth-round picks (150th overall), and their seventh-round pick (222nd overall).
I felt it was a good deal because I still have a fourth- and two fifth-round picks and eight picks total, which still gives me some ammunition if I wanted to trade back into the third round. Plus, I got the quarterback I wanted more than any other.
I know he had a poor pro day workout, but the bottom line is he's the most pro-ready quarterback and he has more experience in a pro-style system than any of the other quarterbacks. When you put on the tape there are no reservations about Bridgewater.
There are some bad throws and bad decisions, as there are with any quarterback, but the tape shows a quarterback who has good feel and mobility in the pocket, goes through progressions, and has a strong enough arm to succeed at the NFL level.
Not a bad start.
April, 29, 2014
4/29/14
10:55
AM ET
JACKSONVILLE, Fla. -- Taking an offensive tackle in the first round for the second year in a row is a real possibility for the
Jacksonville Jaguars
.
According to a league source, Texas A&M offensive tackle
Jake Matthews
visited
the Jaguars last week
and he is one of the players who general manager David Caldwell may target with the No. 3 overall pick on May 8.
The 6-foot-5, 305-pound Matthews -- the son of NFL Hall of Fame offensive tackle Bruce Matthews -- spent last Thursday at the Jaguars' facility. It was an under-the-radar visit by one of the draft's top prospects, who at one point was regarded as the best offensive lineman in the draft.
Most draft analysts have Matthews rated behind Auburn offensive tackle
Greg Robinson
, who was among the 16 players who visited the Jaguars during the week of April 6-11, but he still is projected to be a top-10 selection.
"With Jake Matthews' pedigree and his ability, he could be the best value in the draft that nobody's talking about," the league source said.
If the Jaguars were to take Matthews, it would reunite him with his former college teammate
Luke Joeckel
, whom the Jaguars took with the No. 2 overall pick in last year's draft. It also would give the Jaguars the chance to solidify the edges of the offensive line for years. Though Matthews played left tackle as a senior, he spent his first three seasons playing at right tackle while Joeckel started at left tackle.
The Jaguars certainly aren't one player away from making a run at the playoffs, and while their needs at pass-rusher, quarterback and receiver are more pressing than right tackle, this is a draft deep on offensive talent. The Jaguars spent most of their 2013 draft picks on defense, and Caldwell and coach Gus Bradley have said this year's draft would be more focused on offense. There are no other elite offensive tackles outside of Robinson and Matthews but the Jaguars can find quality receivers and quarterbacks in the second and third round.
There is a precedent for building an offensive line with a pair of high draft picks at offensive tackle. The
San Francisco 49ers
took
Joe Staley
with the second of their two first-round picks in 2007 (28
th
overall) and he has started 98 games at left tackle. Three years later San Francisco took
Anthony Davis
with the 11
th
pick and he has started every game since at right tackle.
Adding Matthews also would allow the Jaguars to move
Austin Pasztor
, who started 12 games at right tackle in 2013, to right guard and shore up a spot that was a weakness last season. The team signed
Zane Beadles
in free agency and installed him as the starter at left guard, so the only position that would be questionable is center.
Bradley said last week that third-year player Mike Brewster is the No. 1 center but he'll be pushed by several players -- including
Patrick Lewis
, another former Texas A&M player whom the Jaguars claimed off Cleveland's practice squad last December.
The Jaguars have been transparent and open regarding their visits, so the secrecy surrounding Matthews' visit is intriguing. If they are indeed interested in taking Matthews, keeping his visit quiet may have been an attempt to keep teams that also may be considering offensive tackles -- Buffalo, Atlanta and Oakland -- from making a move to trade up. If Houston were to take Robinson with the No. 1 overall pick -- unlikely, but not out of the question -- and those other teams knew the Jaguars were going to take Matthews at No. 3, they may try to work out a trade with St. Louis, which has the No. 2 pick.
April, 25, 2014
4/25/14
12:00
PM ET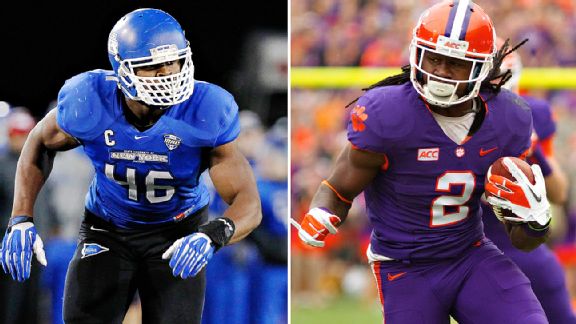 USA TODAY SportsKhalil Mack and Sammy Watkins are two of the top prospects in next month's draft.
JACKSONVILLE, Fla. -- As the NFL draft draws closer, it appears that
Jacksonville Jaguars
GM David Caldwell and coach Gus Bradley aren't going to get a shot at defensive end
Jadeveon Clowney
.
Whether Houston takes Clowney with the No. 1 overall pick or trades with Atlanta -- which seems to be the hot rumor this week -- the former South Carolina standout isn't going to be around when it's time for the Jaguars to make the third overall selection.
So the Jaguars could be left with a pretty tough choice: linebacker
Khalil Mack
or receiver
Sammy Watkins
.
A player with 28.5 career sacks and an NCAA-record 16 forced fumbles (Mack) or the most explosive offensive player in the draft who had nearly 1,500 yards receiving last season (Watkins).
For ESPN Insider and draft analyst Todd McShay, it's not an easy choice. He went with Mack in
his latest mock draft

, but McShay can make just as strong an argument for Watkins.
"It's a coin flip," McShay said. "It really could go either way.
"I think you've got to have your defensive front and your offensive front taken care of and I think [taking Mack] would [do that]. To me, with two guys of equal grades that would be the difference-maker for me. I would want to have my fronts taken care of, but I would have no problem with Watkins."
What about quarterback? The Jaguars do have a need there because
Chad Henne
is not the long-term answer. But the consensus among NFL draft experts is that there are four elite players at the top of the draft and none of them are quarterbacks: Clowney, Mack, Watkins and offensive tackle
Greg Robinson
. Caldwell and Bradley have been adamant that whichever quarterback they draft will not play immediately so it makes little sense to take a quarterback with the No. 3 pick and put him on the bench.
The Jaguars need an immediate impact player and they're guaranteed to get one of the four elite players in the draft. They can add a quarterback in the second round, or later if they choose -- or even next season.
"If you go back to the way Seattle was built -- and I'm not saying that that's what they're necessarily trying to do specifically -- but when
Russell Wilson
came in they had the vast majority of the pieces of the puzzle figured out," McShay said. "In San Francisco when they brought in
Colin Kaepernick
they got all the fans pissed off and everyone was booing them when they took two first-round picks and spent them on offensive linemen, but they grinded through drafts and did the right things."
In McShay's view, taking Mack or Watkins is the right thing.
The 6-foot-3, 247-pound Mack fits right into Bradley's defense as a "leo," a hybrid end/linebacker whose primary responsibility is to rush the passer. The Jaguars certainly need help there after finishing last in the league the past two seasons in sacks (20 in 2012 and 31 last season). But Mack also is athletic enough to drop into coverage and even play in the middle if needed.
"The versatility that he brings, the ability to play on the line, off the line, inside, outside, it makes them a lot more flexible," McShay said. "It would instantly upgrade their pass rush."
The 6-foot-1, 205-pound Watkins, who caught 101 passes for 1,464 yards and 12 touchdowns last season, gives the Jaguars a big, physical outside target who also happens to be perhaps the most dangerous player in college football since Peter Warrick. He also runs a 4.43 in the 40-yard dash.
The Jaguars certainly need a playmaker on offense, especially with the uncertainty surrounding
Justin Blackmon
's situation.
"You think you're going to have a young quarterback that you're trying to develop," McShay said. "Whether he's going to be playing this year or not remains to be seen, depending on where they take him and what happens in training camp and all that, but regardless you think that next year this time we'll be talking about a young quarterback for Jacksonville moving forward. To bring in a young receiver like Sammy Watkins, you'd like to have that, to grow old together, if you will.
"I like
Cecil Shorts
. I like what
Ace Sanders
did last year, the versatility with
Denard Robinson
and all that, but Sammy Watkins ends the debate or the concern."
We'll find out what Caldwell and Bradley think on May 8.
April, 24, 2014
4/24/14
12:15
PM ET
JACKSONVILLE, Fla. -- The
Jacksonville Jaguars
have the third overall pick in the 2014 NFL draft, which is now two weeks away. Though the roster has improved since general manager
David Caldwell
and coach Gus Bradley took over in January 2013, there are still a lot of holes to fill.
The top needs remain a quarterback and a pass-rusher, but adding a big-play receiver or elite offensive lineman aren't ridiculous options for the Jaguars with their first pick.
ESPN Insider draft analyst
Todd McShay's latest mock draft

lists the picks he would make if he were the GM of each team. It's not a projection of what teams will do. McShay makes an interesting choice for the Jaguars.
April, 10, 2014
4/10/14
12:15
PM ET
With the first overall pick in this year's NFL draft, the Texans could take a quarterback. Whether they will, and which quarterback that would be if one is selected, is yet unknown.
ESPN's Todd McShay took a shot at projecting which player the Texans will take
with his latest mock draft

-- and the player he chose is a spark plug.
To continue reading this article you must be an Insider
April, 9, 2014
4/09/14
6:45
PM ET
JACKSONVILLE, Fla. --
Jacksonville Jaguars
general manager David Caldwell is close to putting together what could become a pretty good offensive line.
Provided the
Cleveland Browns
don't match whatever offer the Jaguars are expected to make to center
Alex Mack
on Friday, of course.
Mack
If the Jaguars are able to land the Pro Bowler, Caldwell will have put together a group of players that has a chance to become the team's best offensive line in more than a decade. The 6-foot-4, 311-pound Mack is a significant upgrade from
Brad Meester
, who retired after the 2013 season, physically and has shown he's adept at handling the myriad of disguised fronts and looks defenses are using.
The Jaguars added Pro Bowler
Zane Beadles
(6-4, 305) in free agency and installed him as the starter at left guard, lining up alongside second-year tackle
Luke Joeckel
, the No. 2 overall pick in 2013. Joeckel (6-6, 306) played in only five games, four at right tackle and less than a half at left tackle. He did show a lot of promise in the short time he was on the left side, keeping
St. Louis Rams
defensive end
Robert Quinn
, who had 19 sacks last season, at bay.
When Joeckel moved from right tackle to left tackle following
Eugene Monroe
's trade to Baltimore, first-year player
Austin Pasztor
stepped into the starting job at right tackle and held onto the job for the rest of the season. The coaching staff likes the 6-7, 308-pounder and is excited about his potential as a long-term starter.
The only question mark is what the team will do at right guard. The Jaguars released
Uche Nwaneri
last month and could move left guard
Will Rackley
, who started 12 games last season, into that spot. The Jaguars also could try Mike Brewster,
Jacques McClendon
or
Cameron Bradfield
there as well, or draft a guard in the middle rounds.
Another possibility -- which seems unlikely at this point -- would be for the Jaguars to draft
Greg Robinson
or
Luke Matthews
at No. 3 and slide Pasztor to right guard.
Even taking the uncertainty at right guard into consideration, the Jaguars' new-look line has the potential to be pretty formidable over the next several seasons, as long as Joeckel continues to develop and Mack and Beadles continue to play at a Pro Bowl level.
The Jaguars haven't had a truly dominant offensive line since the 1999 season. That group was anchored by left tackle
Tony Boselli
, generally recognized as the best left tackle in the game at the time, and right tackle
Leon Searcy
.
Ben Coleman
,
Zach Wiegert
and
Rich Tylski
were the guards and
John Wade
started every game at center.
The '99 team didn't set any rushing records but long-time Jaguars observers consider that the best offensive line in team history. The Jaguars did go 14-2 that season and lost to Tennessee in the AFC Championship game.
The potential lineup in 2014 and beyond has a chance to be better than any group the Jaguars have had in the last decade. At the very least it's pretty much a guarantee that newly-acquired running back
Toby Gerhart
is going to be spending a large amount of time running behind the left side.
April, 1, 2014
4/01/14
3:30
PM ET
JACKSONVILLE, Fla. -- It would be hard for the
Jacksonville Jaguars
to blow their first-round draft pick.
General manager David Caldwell and coach Gus Bradley have so much talent from which to choose at No. 3 that it would be hard to find fault with whatever decision they made.
Jadeveon Clowney
,
Khalil Mack
,
Sammy Watkins
,
Greg Robinson
, or any of the three quarterbacks are all good options.
The same applies for the second round as well, especially if the Jaguars are going offense because Caldwell said this is a deep draft for offensive talent.
It's on the third day of the draft, however, where it gets a lot tougher. How the Jaguars perform in Rounds 4-7 will be the key to the success of the draft, Bradley said.
"I think that's where we really have to do well," Bradley said. "The first round, obviously, and the second round you have to do some things there. But this draft will be determined by how well we do in those rounds.
"Example:
Richard Sherman
,
Kam Chancellor
, guys like that can make a big difference there. We focus on all areas, but that's an area that we've got to concentrate on, too."
Sherman (2011) and Chancellor (2010) were both fifth-round picks who developed into key members of the Seattle secondary. That's the kind of result for which the Jaguars are hoping for this year.
They've set themselves up with enough ammunition. Because of trades with Baltimore, Detroit and San Francisco, the Jaguars have eight picks in rounds 4-7, including three in fifth round. That should increase their odds of finding at least one player who could develop into a starter.
In reality, though, they're fighting against tradition. Looking back over the past 10 years of fifth-round picks by every NFL team doesn't exactly reveal a lot of success. There are some familiar names -- Sherman, Chancellor,
Riley Cooper
,
Chris Clemons
(the defensive back),
Rob Ninkovich
, and
Brent Celek
, for example -- but the majority of the picks turned into marginal players at best or were out of the league within a year or two.
The Jaguars haven't had much success with players selected in rounds 4-7 over the past decade, either. They hit on three in 2004 -- receiver
Ernest Wilford
(fourth), kicker
Josh Scobee
(fifth) and defensive end
Bobby McCray
(seventh) -- but since then only five players taken in those round became significant contributors: safety
Gerald Sensabaugh
(fifth round in 2005), guard
Uche Nwaneri
(fifth round in 2007), running back
Rashad Jennings
(seventh round in 2009), receiver
Mike Thomas
(fourth round in 2009) and receiver
Cecil Shorts
(fourth round in 2011).
It's too early to tell if any of the players taken in rounds 4-7 the past two seasons will become significant contributors, but it appears the team hit on receiver
Ace Sanders
(fourth round in 2013).
Bradley said the Jaguars will try to find players in those rounds that fit a specific role. Sanders, for example, was drafted to be the team's punt returner. It's the same approach they used in free agency with linebacker
Dekoda Watson
, a special teams standout who played situationally on defense with Tampa Bay. The Jaguars project him as a strongside linebacker on first and second downs and a leo on third down.
"For us he was intriguing. We have a spot for him," Bradley said. "We know exactly where we want to play him. That's what can happen [in] the fifth, sixth round. Hey, we really like this guy. We have a spot that he can come in and do some good things."
Find enough of those guys on the third day and Bradley will consider the draft a success.
March, 27, 2014
3/27/14
11:44
AM ET
There are a wide range of opinions about former Texans A&M quarterback Johnny Manziel, who will try to cement his place at the top of the draft class with today's workout, where he's apparently planning to wear a
helmet and shoulder pads
.
ESPN Insider Todd McShay watched a great deal of film on Manziel, writing a report he said is only matched in length by those he wrote about Cam Newton and Tim Tebow in previous years. His conclusion:
Manziel

I have Manziel ranked as the No. 3 quarterback in this class, behind UCF's Blake Bortles and Louisville's Teddy Bridgewater, and No. 21 prospect overall. The 90 grade I've given him qualifies as a late-first-round grade and is a few notches below Bortles (93) and Bridgewater (92) and several notches below the top three overall talents in this draft: Jadeveon Clowney (97), Greg Robinson (97) and Khalil Mack (96).

If a team is considering taking Manziel with a first-round pick, particularly near the top of the draft with five of the teams drafting in the top eight having a need at quarterback, the general manager, head coach and offensive coaching staff all have to be on board with taking him. They have to be legitimate believers to the point that they're all willing to fall on the sword if Manziel fails.

In particular, the coaches must have a plan to develop him, from improving his mechanics (continuing what's worked for Manziel with his private QB coach George Whitfield) to tweaking the playbook to maximize his improvisation skills and adjust to his unique methods of approaching progression reads, to creating a detailed schedule for what hours he needs to be in the building during the season and offseason. And everybody needs to be convinced that Manziel will get on board with said plan.
You can read McShay's full report in
this insider piece

. He rates Manziel as average in mental makeup and accuracy, above average in release/arm strength, and exceptional in pocket mobility.