February, 26, 2013
2/26/13
3:03
PM ET
A combine rewind on what we heard from the Jacksonville Jaguars in Indianapolis…

A hybrid defensive front will limit opponents' run options:
Coach Gus Bradley says the Jaguars defense will be unpredictable. "What we've seen in the run game, some offenses might say, 'Here's our run game attack for a 4-3 team and here's our run-game attack for a 3-4 team,'" Bradley said. "When they see us do both, the run game shrinks down a little bit and the philosophy behind it defensively is it pares it down and easier for us and the style of runs we'll see."
The relationship between Bradley and Caldwell is already strong:
Caldwell is kind of low key while Bradley is a ball of energy. It seems like a nice yin-and-yang combination. Asked about why he didn't wait on his friend Greg Roman, the 49ers offensive coordinator, to become available, general manager David Caldwell said "Gus really knocked my doors off." Said Bradley: "One of the most important things is to develop a relationship with the GM. We spend a lot of time watching tape together and talking through philosophy and what we're looking for in our scheme both offensive and defensively."
Laurent Robinson has been cleared:
The wide receiver who went to Jacksonville for a big free agent contract last year, then played in only seven games because of three concussions. There are no team activities for him to participate in now, but were there any he'd be
good to go
, Caldwell said. That's an encouraging development. But do the Jaguars need to worry that one big shot will knock him out? With
Justin Blackmon
,
Cecil Shorts
and Robinson, the Jaguars have a nice three-pack of receivers. But they should be at least four deep. Exclusive rights free agent
Jordan Shipley
could be a key guy.
Trade bait may be the second-rounder, not the first:
The Jaguars have the first pick of the second round, 33rd overall. Since there is a day between the first and second round, that pick could be very popular. A team in need of a quarterback could look to vault up to the top of the second day to ensure it gets its guy. "I think there's going to be a lot of interest," Caldwell said. "There will be a very good player for us to select, too. We feel very good about having that."
Derek Cox's injury history makes things complicated:
He is a quality cover corner for the Jaguars, but he heads for free agency with a major record of getting hurt. He's missed 17 of 48 games the last three years, and it's hard to pay big dollars to a player who's missed a third of the team's games over that stretch. "The most important ability is availability," Caldwell said. "Regardless of size, speed, athleticism, play-making ability, if they're not available on game day, then I think it's difficult to pay them for that."
January, 31, 2013
1/31/13
12:36
PM ET
NEW ORLEANS -- Given a chance Thursday,
San Francisco 49ers
offensive coordinator Greg Roman offered to set the record straight.

It's been written and repeated that he and new
Jacksonville Jaguars
general manager David Caldwell were roommates at John Carroll University in Ohio.
While they were friends and teammates in college, they didn't live together.
And when they were starting out in the NFL with the
Carolina Panthers
, Roman said the roommate situation was not a shared sort of deal.
"We didn't room together, he roomed with me," Roman said, laughing. "He lived on my couch, he paid no rent. ...It was out of the goodness of my heart. I was older and we were young, hungry guys looking to make it in this world."
"It was all football all the time, 24-7."
Roman was a young coach starting out, a bit older than Caldwell, a young scout with roughly the same status.
"On David, there's not a lot of dirt," Roman said at Thursday's 49ers media session. "He's a hard working guy, he's got a good head on his shoulders, he's been around a lot of good people, Bill Polian, Thomas Dimitroff.
"He's a very good people person, he's got great people skills. Don't worry about him in that regard. He's got a sharp wit. He's very energetic about being successful."
Roman was a presumed front-runner for the Jaguars' head coaching post because of his connection to Caldwell. But as the 49ers played their way to the Super Bowl, Caldwell hired Seattle defensive coordinator Gus Bradley.
January, 16, 2013
1/16/13
9:38
AM ET
Reading the coverage ...
Comings and goings among NFL head coaches.
A handy chart
.
Houston Texans

While Gary Kubiak knows Matt Schaub can play better and more consistently, the Texans
have to acquire more talent
and improve around Schaub.
J.J. Watt continues to
earn accolades
, says John McClain.
Offensive linemen Brandon Brooks and Ben Jones
reflect on their rookie seasons
with Jose De Jesus Ortiz of the Houston Chronicle.
Indianapolis Colts

Bruce Arians
lost out
to Marc Trestman for the head coaching job with the Chicago Bears. He could still land another available position, and Ryan Grigson has
a doomsday plan
if the Colts lose Arians.
Examining some
possible free-agent connections
with Colts coaches. Olly Dawes of Colts Authority draws lines that could connect the team to Paul Kruger, Dashon Goldson, Manny Lawson and others.
Analyzing Peyton Manning's
playoff numbers
, most of which were compiled with the Colts, with Phillip B. Wilson.
Jacksonville Jaguars

The Jaguars coaching search now
extends to Seattle
, where they have an interest in defensive coordinator Gus Bradley and offensive coordinator Darrell Bevell, says Ryan O'Halloran of the Florida Times-Union.
David Caldwell must
sort out
how much a candidate like Greg Roman, an old friend, is a product of the situation he's currently in with the San Francisco 49ers, says Adam Stites of Big Cat Country.
Tennessee Titans

Don't expect
the Titans to cut Kenny Britt, says David Climer of The Tennessean. "For now, Britt remains one of those players who looks the part and shows flashes of extraordinary ability but can't sustain it. Certainly, injuries have held him back. But there is a perception that he has never fully committed himself to the game. It's as if he is waiting for his physical gifts to kick in and make him an all-pro."
Britt is
too loyal
, his father told Jim Wyatt of The Tennessean.
Tom Moore is
looking for a job
, but said it won't be with the Titans, says Wyatt.
January, 15, 2013
1/15/13
5:53
PM ET
David Caldwell
should hire the best guy he can find as the next head coach of the
Jacksonville Jaguars
.

I'm sure he's most interested in the ideas of his candidates, in his sense of their ability to teach and instruct, in the quality of the staffs they could hire and in the relationship he can build with them as co-builders.
But let's say two of the pool were about equal in those regards.
Would it be better if the ultimate winner comes from the offensive or defensive side of the ball? (Or how about special teams, we should say, since Falcons special teams coach Keith Armstrong is reportedly in the field.)

I ask this today because the Jaguars are expected to interview Seattle defensive coordinator Gus Bradley Wednesday and have received permission to interview Seattle's offensive coordinator Darrell Bevell as well.
Here's Mike Sando of the NFC West blog on why the
Philadelphia Eagles
like Bradley
. And here's Kevin Seifert of the NFC North blog from back in his days at the Minneapolis Star-Tribune
on Bevell
. (He was terrified of dogs, but says nothing about Jaguars.)
The two will compete with Jaguars incumbent defensive coordinator Mel Tucker; two guys the Jaguars liked a year ago in St. Louis offensive coordinator Brian Schottenheimer and Cincinnati offensive coordinator Jay Gruden; San Francisco offensive coordinator Greg Roman; and Armstrong.
Roman could rate as a favorite as he has a long-time friendship with Caldwell.
That's three offensive guys, two defensive guys and one special teams guy.
It's a quarterback league, and it's easy to say a guy who can develop a quarterback should get the nod. But a defensive guy can come in more able to stop the league's quality quarterbacks, so long as he can hire quality coaches to work with his own.
January, 14, 2013
1/14/13
8:19
AM ET
Reading the coverage…
Houston Texans

"The Texans were eliminated in the divisional round because they
didn't make enough plays
when they needed them, made too many mistakes at the worst time, failed to take advantage of opportunities, and consistently failed on third down," says John McClain of the Houston Chronicle.
The way Matt Schaub played in December and January
will not get it done
, says Jerome Solomon of the Chronicle.
Given the limited choices of Super Bowl or
bust
, the Texans wound up with B, says Randy Harvey of the Chronicle.
The
lack of third-quarter execution
stopped the Texans from completing a momentum shift, says Dale Robertson of the Chronicle.
Even without Rob Gronkowski again, the Patriots offense
steamrolled
the Texans, says Don Banks of SI.com.
The Patriots reminded the Texans
who the boss is
in the AFC, says Mike Freeman of CBSSports.com.
The gap between the Patriots and Texans
only widened
, says Nancy Gay of Fox Sports.
The Chronicle's notebook
: Danieal Manning did well returning kicks, Rick Dennison thought his meeting with the Bears went well, inconsistency plagued the Texans offense and other notes from the Chronicle.
Owner Bob McNair thinks the Texans need
more depth
to take the next step, says Tania Ganguli of the Chronicle.
Receiver DeVier Posey's got a
torn Achilles
, says Ganguli.
J.J. Watt explains his pregame spitting "
controversy
," from Ganguli.
Wes Welker let his play
speak for him
, says Seth Lakso for the Chronicle.
Indianapolis Colts
Jim Irsay's decisions to change things
proved awfully smart
, says Michael Marot of the Associated Press.
Jacksonville Jaguars
The Jaguars will
have to wait
on the 49ers playoff run to talk to offensive coordinator Greg Roman about their head coaching job, says Ryan O'Halloran of the Florida Times-Union.
CFL quarterback Mike Reilly recently
worked out
for the Jaguars, says O'Halloran.
Tennessee Titans
New Jersey police
want to talk
to Kenny Britt about an incident in which a close friend was stabbed, says Jim Wyatt of The Tennessean.
Wyatt says Mike Munchak wants to lure Sherman Smith
back to Tennessee
to coach running backs.
Alan Lowry may have lost his job as special teams coach because of a perception that players had begun
tuning him out
, says Wyatt.
January, 10, 2013
1/10/13
8:12
PM ET
The first three names to emerge as candidates to replace Mike Mularkey as head coach in Jacksonville are St. Louis offensive coordinator Brian Schottenheimer, San Francisco offensive coordinator Greg Roman and Atlanta special-teams coach Keith Armstrong.
We knew Roman would be
in the mix
for new general manager David Caldwell, because the two went to college together at John Carroll University in Ohio and worked together early in their careers with the Carolina Panthers.
Schottenheimer interviewed for the Jaguars' head-coaching job last season and lost out to Mularkey. Armstrong works for the franchise where Caldwell spent the previous five years.
[+] Enlarge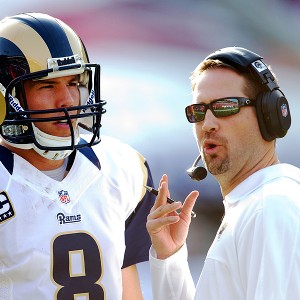 AP Photo/Michael YoungThe Jaguars have asked permission to speak with Rams offensive coordinator Brian Schottenheimer.
"Me coming in here as a first-time general manager and I'm looking for a co-builder of our team," Caldwell said at his introductory news conference. "When I talked to [owner] Shad [Khan] in terms of a culture change along the football side, I felt like it was more of that. I felt like it was an atmosphere of change. I felt like that to do that, you've got to have a fresh start [across] the board."
Prior work as a head coach is not a prerequisite for Mularkey's replacement.
"You guys are all familiar with Mike Smith, who is our current head coach in Atlanta, did not have head-coaching experience and is the all-time leading winner in Atlanta," Caldwell said. "I'm looking for the right person, he obviously has to have certain qualifications. In terms of previous … head-coaching experience, not necessary."
Khan wasn't going to be able to get his man without giving him power to pick his head coach.
Khan cited the team's record getting progressively worse over the past three seasons as a reason for large-scale change.
Mularkey was a victim of bad timing, injuries, a thin roster and a bad year.
Khan bought the franchise toward the end of the 2011 season, and the team fired Jack Del Rio as coach and gave general manager Gene Smith a contract extension.
Khan and Smith hired Mularkey, whose overmatched team went 2-14. Jacksonville hardly had its best offensive player, running back
Maurice Jones-Drew
, and got one game combined out of two projected starting linebackers,
Daryl Smith
and
Clint Session
.
Smith's four-year record as the personnel chief didn't cut it, and Khan parted ways with him the day after the season ended.
He then left Mularkey's fate in the hands of a yet-unnamed GM and ultimately allowed assistants to seek other work. They are still under contract, however, and will require Caldwell's permission to leave.
Caldwell had long terms working in the front offices of two winning teams, Indianapolis and Atlanta.
"The common thread is the relationship between the head coach and the general manager and obviously the quarterback," he said. "The type of people we bring in as players. They have to be good football players but they have to be positive, passionate, physical and I think you see that."
He needs a coach first, and then they'll assess what they will do offensively. Quarterbacks
Blaine Gabbert
and
Chad Henne
are under contract and will be part of things.
Tim Tebow
won't be
, even if he is released by the Jets.
"I have others in mind and I'm comfortable with what's here," Caldwell said.
Adam Schefter reports that the Jaguars have already asked for permission to talk with Schottenheimer.
Because the 49ers and Falcons are still in the playoffs, Caldwell will have to wait to talk to Roman or Armstrong. If their teams lose, he will be allowed to interview them if they are interested. If they win this weekend, they are off-limits until after the NFC title game. If one goes to the Super Bowl, there is an interview window in the week leading up to the weekend off before the Super Bowl.
With a lot of turnover around the league, Mularkey could resurface as a coordinator. He did good work with
Matt Ryan
in Atlanta, though after he helped the quarterback reach a certain level in his first four years, the team was ready to go in a different direction when he got hired in Jacksonville.
Several teams in need a solid teacher for a young quarterback could benefit from adding Mularkey.
January, 10, 2013
1/10/13
11:13
AM ET
The
Jacksonville Jaguars
just issued a news release announcing Mike Mularkey has been fired as their head coach.
"I informed Mike today that he will not return as head coach of the Jaguars," new general manager David Caldwell said in a statement. "I know Mike well and do not want anyone to misinterpret the rationale behind my decision. Mike is an excellent coach and I am sure he will succeed in his next stop in the NFL. However, I must do what I believe is best for the Jacksonville Jaguars and immediately explore every avenue possible to turn our football team around. For that to happen as seamlessly as we want, and as quickly as our fans deserve, I feel it is in everyone's best interests for an immediate and clean restart."
Added owner Shad Khan: "Mike Mularkey is leaving our organization with my utmost respect. Mike gave the Jaguars everything he had on and off the field, and his efforts as our head coach will always be appreciated. Mike will land on his feet soon. Until then, I wish nothing but the best for Mike and his family."
San Francisco 49ers
offensive coordinator Greg Roman is regarded as
one likely candidate
to replace Mularkey. He and Caldwell went to college together and worked together early in their careers with the
Carolina Panthers
.
Mularkey is a good coach who didn't have a very good year with a bad roster. He got caught up in bad timing with the Jaguars. While he tends to be too conservative, he's a quality offensive coordinator candidate.
His assistants were told recently they were free to look for other work. But if they don't find it, perhaps the best of them will be considered for spots on the new staff. I consider receivers coach Jerry Sullivan and linebackers coach Mark Duffner the best of the assistants.
January, 8, 2013
1/08/13
8:06
PM ET
The Jaguars have officially announced the hiring of David Caldwell as their GM.
"We got our man," Jaguars owner Shad Khan said in the team's news release. "I have a lot of faith in David Caldwell and I can assure our fans that the best days for the
Jacksonville Jaguars
are in front of us."
Said Caldwell in the release: "I am thrilled to accept the offer to become the next general manager of the Jacksonville Jaguars. There are no bad GM opportunities in the NFL, but to work on behalf of a dynamic owner in a rabid football city like Jacksonville is truly special. This is where I wanted to be and I could not be happier. I can't wait to get to Jacksonville and get started."
The Jaguars will introduce Caldwell on Thursday afternoon.
Matt Maiocco of CSNBayArea points out that Caldwell has
a very strong tie
to 49ers offensive coordinator Greg Roman. They were roommates and teammates at John Carroll University in Ohio. (Hat tip to PFT.)
Perhaps Roman is an excellent candidate and would be an excellent head coach.
But I tend to be a little wary of guys who work on the same side of the ball as a particularly good head coach.
Alex Smith
and
Colin Kaepernick
have done good work for the 49ers. But are they, and Roman, products of 49ers coach Jim Harbaugh?
Roman has coached for Carolina, Houston and Baltimore. He worked with Harbaugh for two years at Stanford before jumping to the 49ers with him in 2011. He does call the plays for San Francisco, and some of those look awfully good.
Caldwell could part ways with Mike Mularkey in Jacksonville and hire a new coach. I tend to think that's the best course of action because I don't like a scenario where Caldwell is making a change in another year and time was wasted.
Perhaps he hires his friend. He'll just have to be certain his friend is ready.
Seven coaching jobs opened since the season ended. Some of the of the people hiring the replacements have interviewed a lot of candidates.
None of them have talked with Roman, though that's hardly a prerequisite for being a good coach.

AFC SOUTH SCOREBOARD
Friday, 8/22
Saturday, 8/23