October, 19, 2012
10/19/12
4:45
PM ET
What we know about the most important injuries that will affect the AFC South games Sunday:
Titans at Bills
Defensive tackle
Jurrell Casey
(shoulder) and middle linebacker
Colin McCarthy
(ankle) are both crucial components to the effort the Titans will need to stop the
C.J. Spiller
-
Fred Jackson
duo of Bills running backs. Both Titans defenders are questionable. Expect them to play, though they could be limited.
Ravens at Texans
Cornerback
Johnathan Joseph
(groin) was limited Friday. He will play, the question is how much and how effectively. The Ravens will likely test him early with
Torrey Smith
. Right guard
Antoine Caldwell
needs to take a concussion test to return, but they are listing him as probable, which suggests they are expecting him to pass.
Haloti Ngata
(knee) is questionable for the Ravens but expected to play. Outside linebacker
Terrell Suggs
(Achilles) would need to be activated from PUP to play, and it appears unlikely to happen.
Browns at Colts
Inside linebacker
Pat Angerer
(foot) will play for the first time this season, seeing time in the base package in a rotation with
Kavell Connor
and
Jerrell Freeman
. Out are defensive end
Cory Redding
, outside linebacker
Robert Mathis
, nose tackles
Fili Moala
and
Martin Tevaseu
, cornerback
Darius Butler
, running back
Donald Brown
. The collective hit to the run defense on a day when it needs to slow
Trent Richardson
is quite large. Left guard
Joe Reitz
(knee), yet to play this season, is questionable. If he's out, Jeff Linkenbach's been the replacement.
Jaguars at Raiders
Outside linebacker
Daryl Smith
(groin) remains out, and receiver
Laurent Robinson
(concussion) and safety
Dwight Lowery
(ankle) won't play either.
Chris Prosinski
will start for Lowery, despite his tackling troubles in his work as the third safety. The other starting safety,
Dawan Landry
, is probable with a knee injury.
September, 13, 2012
9/13/12
1:10
PM ET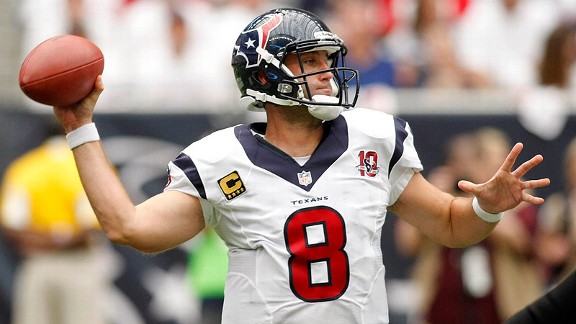 Brett Davis/US PresswireHouston's Matt Schaub knows his reputation as a QB will be defined in the postseason.
The concept of clutch might fade away, but if it does, I think it will take a generation or two.
It remains a giant piece of our sports consciousness: Does a player fare well at the biggest moments of his biggest games? If he does, we treasure him. If he doesn't, we hold him in contempt.
Sabermetricians will tell you there really is no such thing as clutch when it comes to quarterbacking. Or more precisely, a good quarterback is good in most situations and a bad one is bad in most situations.
"Baseball analysts have generally dispelled the idea of the clutch hitter, a player who routinely raises his game in late and close situations," Aaron Schatz of Football Outsiders wrote in 2009. "Now it's time to
retire the myth
of the clutch quarterback. We looked both at conventional NFL passer rating and our advanced metrics, and there was no year-to-year correlation in the difference between a quarterback's overall performance, and his performance when the game was on the line.
"It apparently matters not that clutch situations in the NFL feature an element that baseball players don't have to worry about: clock management. Bad QBs overall, such as
Kyle Orton
, are bad in the clutch. Good QBs overall, such as
Ben Roethlisberger
, are good in the clutch. Same goes for backs and receivers."
Nevertheless, the two biggest questions that hang around the neck of Houston quarterback
Matt Schaub
are: Can he stay healthy? And is he clutch?
With regard to the second question -- after he recently signed a four-year contract extension worth $62 million, including $24.7 million guaranteed -- the answer from a lot of us is: He had better be.
Based on his résumé so far, if we're still buying the conventional definitions, the answer has to be we don't know yet. He's won games in big moments. He's lost games in big moments. And because he missed the stretch run and playoffs last season because of a right foot Lisfranc injury, we simply haven't seen him enough in the big settings to know.
I talked with Schaub and several of his teammates about this during the preseason. Though he might have cause to be a bit defensive about a subject that is brought up so often, I think his thoughts on the issue were on point.
"Yeah, I missed the playoffs last year," he said. "Had I been in there, we'd know a lot more. I know what I am capable of, I'm confident in my abilities had I been out there. But there have been games in my tenure here where we needed to go down late and score and we were able to do it. Now there are games where it didn't fall on the right side of the coin for us and we lost …
"It's about doing it in January and February in this league, and until we do that, you're always going to have people that talk about things like that. You've just got to go out and play and get your team there."
I asked Keith Hawkins of ESPN Stats & Information for evidence that Schaub is, or is not, clutch.
Hawkins also provided these two nuggets:
From 2007 to 2011, Schaub is one of 13 quarterbacks who has been credited with at least 10 game-winning drives. That's as many as Tom Brady (although Brady missed the 2008 season), but it's also four fewer than David Garrard, who didn't play in 2011.

Since 2007, in 31 games the Texans lost or won by no more than seven points, Schaub threw for 9,201 yards. Only Philip Rivers, Drew Brees and Tony Romo had more passing yards in such games. But in those 31 games, the Texans were just 16-15.
Is that 16-15 record on Schaub? Only partly. We're coming to realize that quarterback wins, like the concept of clutch, are a flawed way to measure the player's success. A guy can play great and not have enough around him to win. He can play poorly and benefit from a running back or a defense and win. One missed assignment can lead to a strip sack and a fumble that lose a game. One diving catch of a misplaced pass can save the day.
The expectations in Houston are high. The Texans are a team that should be in the playoffs. Schaub should guide them there. If and when he does, we'll get much more evidence about his ability to perform in the NFL's biggest moments.
Schaub's top weapon, receiver
Andre Johnson
, said he thinks clutch for a quarterback has come to be too narrowly defined.
"I think you have to be clutch to be a successful quarterback," Johnson said. "But there are different ways you can be clutch in the game of football. It may be a drive where you just need to hold the ball and run the time out on the clock, just making that key pass or putting the offense in the right play to get that first down. I mean, that's clutch. It's not always just going down and scoring the game-winning touchdown. I think that's where people get caught up a lot of the times."
I can't talk of Schaub and the clutch question without thinking back to Dec. 10, 2010. The Texans were behind by three touchdowns to Baltimore on a "Monday Night Football" game at Reliant Stadium. Schaub helped rally the team to force overtime with fourth-quarter touchdown drives that covered 99 and 95 yards.
Backup quarterback
Dan Orlovsky
watched Schaub complete 31 of 61 passes for 393 yards and three touchdowns and called the effort "
superhuman
."
But under pressure from defensive tackle
Haloti Ngata
in his own end zone in OT, Schaub threw a poor pass to
Jacoby Jones
.
Josh Wilson
picked it off, ran 12 yards with it and had a game-winning touchdown.
So he was clutch ... until he wasn't.
Schaub is a better quarterback now, and he's running a better team.
Bigger chances for clutch performances should arrive.
The Texans, with the contract they just gave him and the things they say, expect he'll show up big in the big games.
"If you want to base it off his regular-season games, he's had clutch performances when need be at certain times," center
Chris Myers
said. "That's the one position where there is going to be the most scrutiny. He's the leader of the team, and we go as he goes, and Matt understands that.
"The coaches understand that Matt's the guy, or they would have gone in another direction, and we understand as an offensive line and offense that he is the leader of our team. I will take him taking snaps from me any day over any other quarterback.
"Granted, he hasn't made it to that spot in the playoffs yet. Unfortunately, that injury prevented him from it last year … He's ready. We've just got to get to that point."
October, 13, 2011
10/13/11
2:33
PM ET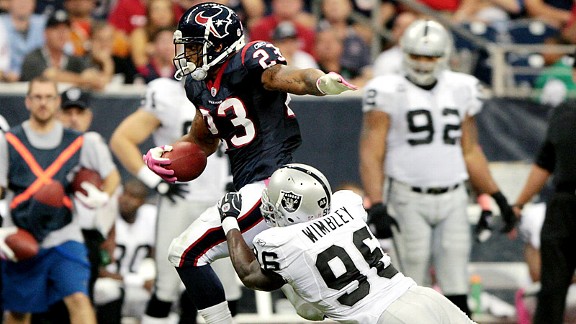 Troy Taormina/US PresswireWithout two of his team's best players, Arian Foster may have to shoulder more of the load.
New players marvel at just how fast the NFL is.
But it's not just the speed of receivers and defensive backs that's alarming. It's the pace at which things can change.
On Oct. 2 -- a mere 11 days ago -- the Texans were 3-1 and just about everybody was high on them. Today they are 3-2 and heading into what could qualify as an impossible mission: Go to Baltimore without
Andre Johnson
and
Mario Williams
and beat the Ravens.
Just how much less threatening are the Texans without their best player on each side of the ball?
Significantly, just as any team would be with the equivalent subtractions.
"I certainly like guys like
Connor Barwin
,
J.J. Watt
and
Antonio Smith
, but they were all better because of the attention that Mario got," said Matt Williamson of Scouts Inc. "He's very clearly the top threat when designing pass protection against Houston.
"The same can pretty much be said for Johnson. He just demands so much respect from the opponent and still produces. I expect the tight ends and
Arian Foster
out of the backfield to be featured more, as they were against Oakland. The Texans will try to become more run-heavy. But if I am the opponent, I am forcing
Matt Schaub
to win through the air now.
"And I don't love that for Houston. I am high on the tight ends and Foster as receivers, but not the receivers to really help the cause. To me, these injuries push the Texans from contenders to a team that should still win a weak division, but will be a quick out in the playoffs. Schaub just isn't that type of quarterback."
Schaub can move the Texans' offense like a Secret Service detail moves the president.
[+] Enlarge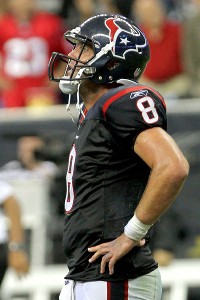 Thomas B. Shea/Getty ImagesMatt Schaub has made some mistakes at critical times in games this season.
But the offense can grind to a halt with an untimely three-and-out. And in the clutch, there are still questions. Will he throw an overtime pick-six like he did the last time the Texans faced Baltimore? Will the clock in his head prompt him to throw the interception that ended last week's game against Oakland rather than get rid of the ball quickly to get one more snap?
More falls on Schaub when Johnson's not his primary target and when Williams isn't helping get the ball back for the offense in favorable spots at favorable times. Like most quarterbacks, Schaub's better when less is on his plate, not more.
As for the two big absences, I often argue after a free-agent departure or an injury that the guys who are in the huddle aren't concerned about who's not there with them.
Former NFL offensive lineman
Ross Tucker
, now of ESPN.com, agrees.
"My take typically is that guys are much more interested in their own situation and their own performance," Tucker said. "For example: Bummer that Andre and Mario can't play, but I would be much more worried about
Haloti Ngata
.
"The key is that [coach] Gary Kubiak and the team leaders make it very clear that they don't have any built-in excuses since Mario and Andre are out. Sometimes teams feel like they have that crutch or reason for failure if things go poorly. The Packers, Patriots and others have proven there are no excuses."
Foster falls in line with that.
He hates to talk about would-haves, could-haves, or ifs and he won't stand for the Texans participating in any of that no matter how much of it is coming from the outside in light of the injuries to Johnson and Williams.
"Everyone kind of writes us off," Foster said. "That's all right. All we need is for the people in this locker room to believe in us, that's what we're going to continue to do. Hopefully we play the way we're capable of playing and come out of there with a W."
Receiver
Jacoby Jones
was targeted 11 times by Schaub last week, including on that final pick, and he had just one catch.
Schaub's maddening inconsistency and inability to deliver when most needed helped prompt two moves this week: The Texans traded a conditional seventh-round pick to the Jets for WR
Derrick Mason
and brought back Trindon Holliday to take over return duties, including punt returns, which were handled by Jones.
Without Johnson or a big-play receiver in his place, will Foster head to Maryland thinking about needing to do more in order for the Texans to win?
"Andre is a big part of what we do," Foster said. "You have to understand he's gone and the slack has to be picked up somewhere. But you don't necessarily have to put it on your shoulders.
"If the coaches feel like that's something I need to do, that I need to up my production in any form or fashion, I'll do that."
Other guys will need to do it too or Monday we'll be talking about an average 3-3 team that's heading to Tennessee for a big division game and another chance to slip.
March, 7, 2011
3/07/11
11:24
AM ET
While Wade Phillips' 3-4 defense doesn't demand the monster nose tackle other versions of the scheme does, it's still a crucial spot.

In Dallas,
Jay Ratliff
was effective at the spot and weighed a bit over 300 pounds, not 330.
The fact that the guy manning the position doesn't have to be huge doesn't change the fact that he has to be good.
The claim Gary Kubiak made at the combine that
Shaun Cody
and
Earl Mitchell
can handle the job was disturbing to many Texans fans, and that was followed by a new, two-year contract for Cody who hardly stood out as a 4-3 tackle.
Perhaps Houston's doing some posturing, or perhaps its moves and words reflect the fact the Texans don't believe there is a great chance at an impact alternative in free agency or the draft.
Baltimore's
Haloti Ngata
and Miami's
Paul Soliai
were franchised. San Francisco's
Aubrayo Franklin
will be a hot commodity, but as a singular guy it's hard to count on landing him or to be confident you'd win a bidding war if you strayed from a fiscally conservative approach in free agency.
Is there a premier guy to play the nose beyond those?
Among draft prospects, two guys are viewed as immediate impact guys. And Alabama's
Marcell Dareus
and Auburn's
Nick Fairley
are expected to be gone before the Texans pick at No. 11.
Dan Pompei
wrote Sunday
that the Texans may have wanted Soliai. (Hat tip to
Battle Red Blog
.)
"The Dolphins raised a lot of eyebrows when they put the franchise tag on nose tackle Paul Soliai, guaranteeing him about $12.5 million in 2011. Why did the team step out like that on a player who most fans aren't even aware of? My sources tell me the Dolphins surveyed the free agent field and believed there were no other nose tackles close to Soliai in ability. Given the number of teams playing a 3-4 defense, the Dolphins feared Soliai would be the subject of a bidding war. In fact, there were rumblings that the Redskins and Texans coveted him."
Is Houston now serious about going with Cody and Mitchell and feeling like they're the answer?
The Texans certainly have plenty of other concerns: at outside linebacker, at inside linebacker depending on
DeMeco Ryans
' recovery from a blown out Achilles, at safety where they've parted with both of last year's starters, at corner where they need veteran leadership and perhaps at receiver where they could upgrade their No. 2 option opposite
Andre Johnson
.
But it would be quite early for them to determine there isn't someone who can help at nose tackle in the draft and free agent markets to come.
I'm going to continue to consider it fluid.
December, 14, 2010
12/14/10
10:06
AM ET
Before their amazing rally, the Texans were ineffective.
Matt Schaub
was off early, but his targets were also a problem. ESPN Stats & Information says the Texans were just the third team this season to drop six passes in a single game.

Green Bay (Week 5 at Washington) and Arizona (Week 11 at Kansas City) also lost when it happened to them.
Jacoby Jones
dropped a touchdown.
Owen Daniels
returned from a long layoff with a hamstring problem and had at least two, one of which turned into an interception.
Daniels also had a great catch where he tipped the ball to himself.
"I have to be able to catch it," he said. "I can tip it to myself and catch it but I can't catch it when I am wide open."
Another couple of notes:
Andre Johnson was targeted twice on the Texans' opening drive. After that, the Texans went 23 plays before going his way again. They went to him three times on the final drive of the first half (punctuated by his 46-yard touchdown). The Texans included Johnson more frequently in the second half, and he produced, catching seven passes on nine targets for 78 yards and the late score that helped the Texans force overtime.
Against a standard pass rush in the first half, Schaub was ineffective, in part because of the drops. The Ravens stuck with four-man pressure often in the second half, and Schaub fared well against it. Schaub was just 7-for-21 against four or fewer pass-rushers in the first half, with a touchdown and a pick that was on Daniels. But in the second half and OT, he was 19-of-31 against four or fewer pass-rushers with two touchdowns. Four men were enough on the game's final play, when Haloti Ngata influenced the decision-making on the game-losing pick.
December, 14, 2010
12/14/10
2:33
AM ET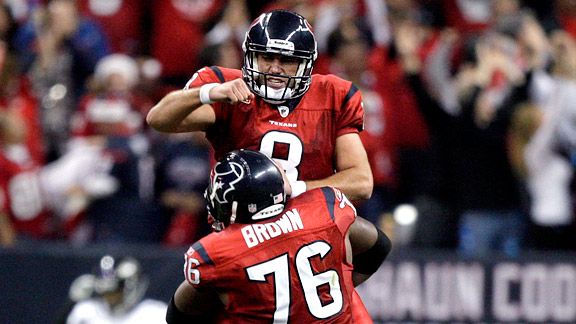 Bob Levey/Getty ImagesMatt Schaub rallied Houston back from a three-touchdown deficit and sent the game to overtime.
HOUSTON -- The Texans ride waves. They crest and, inevitably, they crash.
And because they crest -- as they did with another fantastic second-half comeback -- the crash feels worse. They stumble up from it, struggling to explain the ride.
Matt Schaub
threw 62 passes Monday night, pulling Houston back from a three-touchdown deficit to get the Texans into overtime.
Then, backing up under pressure, he threw a terrible ball that washed it all away. It was intended for
Jacoby Jones
, but it went directly to cornerback
Josh Wilson
, who coasted 12 yards with the interception return that gave Baltimore a
34-28
win.
Now 8-8 is the best the Texans can muster, a game worse than last year and a mark that's not going to win the AFC South and earn a playoff spot without a string of miracles to go along with it.
Schaub's teammates didn't spend much time on the ugly ending, preferring to marvel at the performance that got them to the spot where it could happen.
"He played, basically, superhuman," backup quarterback
Dan Orlovsky
said. "I mean, you're not supposed to be able to do that against that defense. The way he played, taking hits and making the throws, the off-schedule plays, him and
Andre [Johnson]
, the whole offense was just unbelievable. For it to end like that, it's tough to watch. It's tough to watch a guy who does what he does and not necessarily get rewarded for it.
"He's as tough as they come and as good in those moments as the best guys in this league. He's elite with it. He's done it a lot this year for this team. The guy's pretty impressive in those moments. He'll wake up [Tuesday] morning and be sick over it, but move on. You don't see that stuff in this league, really. You don't see it."
Said
Arian Foster
, who took 20 carries 100 yards: "I'll ride with him any day of the week."
Schaub and Texans coach Kubiak said the play that ended the game was one they had run earlier and got them a solid gain to
Kevin Walter
. But the coverage was different this time, and Schaub said he tried to get it out to give Jones a chance to make a play.
[+] Enlarge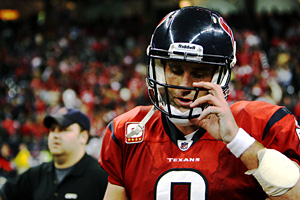 Thomas Campbell/US PresswireSchaub's comeback fell short at the end after throwing a pick-six under pressure.
Schaub led Jones too far, squeamish and in fear of a safety as
Haloti Ngata
bolted through the middle of the line and bore down. Schaub was retreating as he threw, nearing the X in the "Texans" emblazoned across the end zone.
Wilson broke off the outside receiver to snatch it in front of Jones, who was cutting toward the sideline, and easily scored the touchdown. It left the Texans talking about playing their final three games for pride and the Ravens talking about something completely different.
"I believe that play ultimately defines where we're going," Ravens linebacker
Ray Lewis
said.
The Texans have spent the season digging holes and mounting great comebacks. They won in overtime at Washington after trailing by 17 and beat Kansas City after falling behind by 14.
They came back from significant deficits to take leads at the Jets and at the Eagles only to lose. They came back from a two-touchdown margin in Jacksonville to tie the score only to fall on a Hail Mary as time expired.
"We always have to battle back and make these tremendous runs," defensive tackle
Shaun Cody
said. "It wears on you. It's tough to bounce back from 21 points. You have to be in the game sooner to get our offense a chance to run the ball. We have to play good enough defense.
"I think the biggest emotion is hurt. To lose like that again hurts … It's a bad world to be in right now."
Right tackle
Eric Winston
described the hurt more specifically. He suggested imagining a guy walking down the street only to have someone jump out and kick him in an especially tender, central area.
"That's honestly the only thing I can compare it to," he said.
For the bulk of the night, Schaub was engineering the offense without the benefit of Kubiak in his ear as the headset was down. Schaub pieced together what he could hear with signals and his own thinking.
Houston's touchdown drives covered 80, 99 and 95 yards and one of its two field goal drives covered 70.
"Go back in the record book and find out who's done that against Baltimore," Winston said. "And we ran for 100 yards (actually111). You do all that and you expect to win. It comes down to those crucial plays and for whatever reason -- offense, defense, special teams -- we haven't made them."
And so they are left to defend their coach under fire, reminding questioners how they are responsible for the plays not made and the results. They are left to come to grips with the fact that a season that was supposed to feature their first playoff berth will be worse than the one before. They are left to swallow another loss that will be tough to keep down.
December, 9, 2010
12/09/10
10:38
AM ET
The
Houston Texans
have a history of finishing well, once the pressure's off and they are out of the race. Under coach Gary Kubiak, the franchise is 14-6 in December and January.

They are still alive, but they need a four-game win streak and some help to earn their first playoff berth. It's a real long shot.
Monday night they get national exposure, hosting Baltimore, a team they've not beaten in three chances.
The Texans carry a finesse label, and their harshest critics call them soft. If they are soft against the physical Ravens, they'll be doomed.
John McClain
wrote Thursday
about the difficulties
Chris Myers
,
Eric Winston
and
Joel Dreessen
could have against the massive but mobile defensive lineman
Haloti Ngata
. (Imagine if the Texans had a middle-of-the-line presence like Ngata.) Outside linebacker
Terrell Suggs
was dominant in the Ravens' loss to Pittsburgh, and will look to terrorize
Duane Brown
.
In Nashville there's a lot of talk about whether the Titans have given up on Jeff Fisher.
Bernard Pollard
talked recently about why there shouldn't be any question about the Texans
giving their all
for Gary Kubiak.
It will tell us a good deal about Houston's composition if the Texans are able to stand toe-to-toe with the Ravens. (It would have told us more if they could have won in Philadelphia.)
I'll admit to not expecting a great showing. How about you?
September, 8, 2009
9/08/09
1:08
PM ET

Posted by ESPN.com's Paul Kuharsky
A bit more on our predictions.
Here's a page with
our consensus team-by-team expectations
.
And here's
the big grid
that outlines all of our predictions for division winners, playoff teams, Super Bowl matchup/winner and award winners.
I've got New England beating Atlanta in an MVP season for
Tom Brady
with
Haloti Ngata
emerging as defensive player of the year and helping the Ravens overtake the Steelers in the AFC North, though I believe Pittsburgh will be in the playoffs.
Please keep in mind my standard prediction disclaimer: Its incredible unpredictability is the single-biggest reason the NFL is as popular as it is.
I've lost a season-long pick-against-the-spread-pool to a coin flip, and I am not ashamed to admit it. These are my educated gut feelings. Many of them will likely turn out to be wrong. This will mean they ultimately resemble those of 95 percent of the football-following population.