June, 23, 2010
6/23/10
11:36
AM ET
Saying a team is loaded with quality special teams players isn't necessarily a compliment. Special teams players are typically replaceable parts who should graduate to starting jobs on offense or defense and see their spots filled by kids.
And while teams desire effective special teams, I am fine if well-designed clubs subscribe to one maxim and toss another.
True: Special teams may not win you games, but they can lose you some.
False: Special teams are one third of the game. (Count the snaps. There are way more on offense and defense)
In the AFC South, the Colts have long been a successful team with a minimal emphasis on special teams. Generally, their investment in their stars has meant special teams filled with rookies, lacking significant veteran presence. And that's usually worked OK, except in a moment like the second half kickoff of the Super Bowl. Hank Baskett's inability to corral that surprise onsides kick, allowing it to bounce off his facemask turned the game.
While the division's top team tends to undervalue special teams, the division's worst team takes a different approach entirely.
The
Jacksonville Jaguars
already regarded
Montell Owens
as one of the league's premier special teams players. His 30 special teams tackles were 10 more than the next-best total in the division.
The addition of free agent
Kassim Osgood
gave the Jaguars a second top player.
If the Jaguars can play their division rivals close, perhaps a special teams play here or there can be the difference for them in a handful of games.
I talked to Owens about Osgood as the two prepare to try to make it so, and here's what he said:
"One of the things that I noticed immediately, from the first day, we just had a chemistry that usually takes a year or two to build with somebody. With him it happened immediately. On the first day of kickoff, from the first day of punt. That's something I was curious about before he got here. I knew it was going to be good, but when you're taking a leader from one team and plugging him into another with an existing leader, how would it be? I've never experienced that before."

"Just for us to mesh the way we have meshed is something. I've learned so much from this guy in just a couple months, when you get around guys like that, you can't help but be a better player. I'm so happy he's here."
Owens said he expects he and Osgood could both play on the four major special teams, kickoff, punt, kickoff coverage and punt coverage.
March, 12, 2010
3/12/10
1:22
PM ET
Maybe he's spoken about it, but if he did I missed it. I'm glad reporters in Philly asked
Hank Baskett
about botching the Saints' onside kick that started the second half of Super Bowl XLIV and turned the game.
Of course he downplays his first chance at the ball, which he had a clean shot at even after being surprised -- it
bounced off
his face mask.
A few days after the game, I tried to get Baskett to talk about it, but his agent passed.
Courtesy of the Eagles PR staff, here's that snippet of his interview after rejoining the Eagles:
On whether he caught any flack for losing the onside kick in the Super Bowl:

"I thought everybody was going to come down on me for it. As everybody knows, anybody who follows football, one play does not change the game. It sucks that the first onside kick in history before the fourth quarter had to happen to me. It was a battle underneath the pile, but I actually haven't been just beaten down about it. I knew I was probably going to catch some grief. Of course, it's the biggest game of the year, but not what I was expecting or anybody else was expecting."

On whether he knew that the onside kick was coming:

"I took the step, I took the steps back and then I saw it coming. I went and it took a bad bounce and I don't know how I had a second chance. I crawled under everybody and got back on it. It was a long time underneath there. Guys on our team attested that they heard it was 'blue ball' so when I started getting up, another guy poked it out and that's how the guy got it. It was a long battle. I'll tell you, it seemed like we were down there for a good half hour."
March, 8, 2010
3/08/10
3:29
PM ET
We've fielded some questions about the "final eight" rule that restricts what the last eight teams alive in the playoffs -- including the AFC champion Colts -- bringing in unrestricted free agents before they lose one.
Here's an
old post
detailing the rule.
And here's the clarification:
The Colts were able to sign guard
Andy Alleman
because he isn't a six-year player who reached unrestricted free agency when March 4 turned into March 5. Alleman was a restricted free agent for the Chiefs, but Kansas City declined to tender him, the same way the Colts declined to tender
Marlin Jackson
,
Tim Jennings
,
Aaron Francisco
,
T.J. Rushing
,
Daniel Federkeil
,
Tyjuan Hagler
,
Freddy Keiaho
and
Hank Baskett
.
While all those guys become unrestricted in free agency in that they are allowed to sign anywhere, they aren't the same sort of free agent that
Gary Brackett
was, briefly, or that any player with an expiring contract and six or more years of experience became.
And so the Colts were free to sign Alleman.
And if Jackson signs with Baltimore or Philadelphia this week, it won't mean the Colts are then free to sign an unrestricted free agent.
Hope that clarifies things a bit.
And here's what Scouts Inc. has to say about Alleman, who scored just a 53 in their free-agent grading. I presume he'll get a chance to compete with
Kyle DeVan
at right guard or work as an interior backup.
Alleman has bounced around between three teams during the three years he has been in the NFL since being drafted by the New Orleans Saints in the third round of the 2007 draft. He played in nine games, starting three, for the Chiefs in 2009. He is a good sized lineman with above average initial quickness and agility but is not a natural knee bender and will overextend into blocks. He tends to play with a narrow base and can struggle to react and right himself against good counter moves by the pass rusher. He is a decent backup that can step in to start for a game or two but is not the kind of athlete you want to start all 16 games.
March, 5, 2010
3/05/10
12:28
AM ET
The first move of the free agency period in the AFC South was hardly earth-shattering: Houston punter
Matt Turk
re-signed with the Texans for a year.
Agent David Canter revealed the news in a tweet and did not share financial terms.
Also, the league sent out the official list of RFA tenders so we have info on the guys who were missing.
Jacksonville put a third-round tender on linebacker
Clint Ingram
and did not tender defensive lineman
Greg Peterson
.
The Colts put second-round tenders on
Charlie Johnson
,
Melvin Bullitt
, Antonio Johnson and Daniel Muir. The did not tender
Hank Baskett
,
Tyjuan Hagler
,
Freddy Keiaho
, or
T.J. Rushing
.
That makes for four defensive backs the Colts passes on retaining --
Marlin Jackson
,
Tim Jennings
and
Aaron Francisco
were also not tendered.
The RFA tender lists of the Texans and Titans were previously complete.
Aaron Wilson reports that former Titans coordinator Jim Schwartz is at
Kyle Vanden Bosch
's Nashville home trying to recruit the unrestricted defensive end.
March, 4, 2010
3/04/10
9:16
AM ET
Houston Texans

Potential unrestricted free agents:
CB
Dunta Robinson
, WR
Kevin Walter
, RB
Chris Brown
, DT
Jeff Zgonina
, G
Chester Pitts
, S
Brian Russell
, S
Nick Ferguson
, LS
Bryan Pittman
, LB
Chaun Thompson
, QB
Rex Grossman
, LB
Khary Campbell
, G
Tutan Reyes
, T
Ephraim Salaam
, P
Matt Turk
.
Potential restricted free agents:
DL
Tim Bulman
, S
John Busing
, OT
Rashad Butler
, TE
Owen Daniels
, RB
Ryan Moats
, S
Bernard Pollard
, LB
DeMeco Ryans
, G
Chris White
.
Franchise player:
None.
What to expect:
I don't think the Texans will jump out and make any monumental moves. But by deciding not to tag Robinson they created another hole and saved themselves big dollars. With needs at corner, running back, free safety, interior offensive line and defensive tackle they may have more than they can address in one draft. That means they could jump out for one significant free agent – like they did last year with defensive lineman
Antonio Smith
-- and maybe another less expensive one or two.
Indianapolis Colts

Potential unrestricted free agents:
MLB
Gary Brackett
, K
Matt Stover
.
Potential restricted free agents:
WR
Hank Baskett
, S
Antoine Bethea
, S
Melvin Bullitt
, OL
Dan Federkeil
, CB
Aaron Francisco
, LB
Tyjuan Hagler
, CB
Marlin Jackson
, CB
Tim Jennings
, DT
Antonio Johnson
, OT
Charlie Johnson
, LB
Freddy Keiaho
, DT
Dan Muir
, CBPR
T.J. Rushing
.
Franchise player:
None.
What to expect:
Brackett is priority one and the team has indicated a plan to pay him as an upper-echelon guy. The restricted list includes a lot of key guys who will remain big factors next year. Indy is not a team that looks to bring in many outsiders for big roles and it won't start now. Bill Polian's said the Colts will sit back and see how things unfold in the new capless landscape.
Jacksonville Jaguars

Potential unrestricted free agents:
DE
Reggie Hayward
, G
Kynan Forney
.
Potential restricted free agents:
DT
Atiyyah Ellison
, LB
Clint Ingram
, DL
Greg Peterson
.
Franchise player:
None.
What to expect:
The Jaguars are draft-reliant, but will also shop for bargains in free agency, hoping to plug a couple holes with high-character guys with upside who fit what they are doing. As for a big splash, it's unlikely based on their recent busts with big-name free agents like
Jerry Porter
and
Drayton Florence
and the direction they've moved since.
Tennessee Titans

Potential unrestricted free agents:
DE
Kyle Vanden Bosch
, C
Kevin Mawae
, LB
Keith Bulluck
, TE
Alge Crumpler
, CB
Nick Harper
, CB
Rod Hood
, DE
Jevon Kearse
, S
Kevin Kaesviharn
.
Potential restricted free agents:
DE
Dave Ball
, DT
Tony Brown
, TE
Bo Scaife
, LB
Stephen Tulloch
, DT
Kevin Vickerson
, RB
LenDale White
.
Franchise player:
None.
What to expect:
The Titans will undergo a youth movement, especially on defense where Vanden Bosch and Bulluck, who's recovering from ACL repair, are going to be allowed to walk. Mawae been told his only chance to return is as a backup at a backup price. Brown, Scaife and Tulloch are important guys they'll want to retain. Beyond that, expect mostly bargain shopping.
March, 4, 2010
3/04/10
9:03
AM ET
Restricted free-agent tenders have to be done before midnight ET. Here's what's out so far:

Houston

From John McClain of the Houston Chronicle.

Indianapolis

Bethea info from Adam Schefter.

Jacksonville

Tennessee

From Jim Wyatt of The Tennessean.


February, 19, 2010
2/19/10
11:17
AM ET
It's a whole new offseason world starting March 5, and we have no experience from which to predict what happens in an uncapped year. There are enough restrictions on the players' side to offset the Wild West so many initially projected.
One area I am really curious to see is restricted free agency. Because there are fewer unrestricted free agents (it takes six years to get there now, not four), will teams be more protective of their RFAs and more aggressive in terms of signing RFAs from outside to offer sheets?
I certainly think a creative front office that can go after the right guys can lure them away or at least get a trade conversation going.
Teams must tender their RFAs by the end of March 4. Here are the levels of tags:
With no CBA by March 5, and we aren't expecting one, here are the RFAs for each team in the AFC South, according to the NFLPA.
Houston
Indianapolis
Jacksonville
Tennessee
February, 10, 2010
2/10/10
9:59
AM ET
After re-watching most of Super Bowl XLIV, I was left wondering whether the goats and gaffes beyond
Peyton Manning
's late interception got off a bit easy. So let's revisit a couple:
[+] Enlarge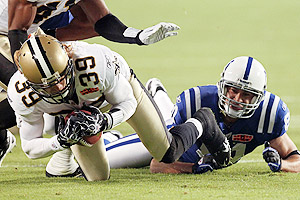 Ronald Martinez/Getty ImagesHank Baskett, right, was unable to come up with the onside kick that started the second half.
Hank Baskett mangled the onside kick.
He was wide to the side that
Thomas Morstead
sent the surprise second half kickoff to and took a giant step and a half back before realizing what was going on.
Cody Glenn
, who was beside him, and
Ramon Humber
, who was central, also reacted poorly. But Baskett's the hands guy of that trio. He recovered and got a clean look at the kick before any Saints player arrived, sprawling forward and letting the ball bounce off his face mask. A horrific effort.
Another special-teams error came from Chad Simpson.
The guy is not an explosive returner. If he's not positive he's getting to the 20 or beyond, he better take a touchback. So what is he doing at the end of the third quarter bringing out a kickoff from 4 yards deep when the best he could manage was the 11-yard line?
Reggie Wayne's effort on two big passes seemed questionable.
He and Manning can praise
Tracy Porter
endlessly, but Wayne seemed to give up on the route. He allowed Porter to gain position on a pattern analysts say he's got to be sure continues and crosses the corner who's in coverage. The move he made before he made his break didn't look like much and the cut wasn't very sharp. TV only showed it for a quick second, but Manning went to Wayne before walking off the field, head down, and said something to Wayne who kind of shook his head no and shrugged.
The Colts would have had to retrieve an onside kick and scored another touchdown, but Wayne also botched a TD catch near the end of the game. I asked him what happened there and he said he wasn't in the end zone and was trying to ensure he had proper depth as he made the catch to make sure it was a score.
Maybe he was slow playing it, but Wayne seemed almost disinterested in his crossing route from wide to the left to between the hashes, and as the ball went through his hands, I didn't think he was worrying about his depth, I thought he was worrying about
Scott Shanle
preparing to pop him.
Two other things of interest at this point in the game: On the first timeout, Manning signaled for it, then tried to change his mind. I was surprised by his indecision. And the third-down run call at 1:10 is just silly. The Colts couldn't afford the 21 seconds they lost when
Joseph Addai
was stuffed.
February, 5, 2010
2/05/10
4:26
PM ET
The Colts' official pool report on practice, filed by Peter King on behalf of the Pro Football Writers Association:
DAVIE, Fla. -- On a day when defensive end Dwight Freeney did not practice but cornerback Jerraud Powers got in some work, another player had to leave the Colts' third Super Bowl practice of the week after aggravating an existing injury: Indianapolis all-pro wide receiver Reggie Wayne.
Wayne pulled up short running a pass-route late in the workout and left Colts' practice 20 minutes before it ended Friday with what coach Jim Caldwell said was an injury to the fat pad in his right knee.
Caldwell said he didn't believe the injury was serious, and Wayne walked off the field unassisted into the trainers room at the Miami Dolphins practice facility. Backup wideout Hank Baskett took his place in the remainder of the 1-hour, 25-minute workout, covering mostly short-yardage and red-zone work on a typical Friday practice day for the Colts.
"He just irritated the fat pad in his knee,'' Caldwell said.
The fat pad is the collection of soft tissue below the kneecap that protects the underlying structure of the knee. Wayne has had the injury much of the season and played through it, and it apparently was quite manageable: He finished his second all-pro season in the last three years with 100 catches for 1,264 yards and 10 touchdowns, playing all 16 regular-season games and both so far in the playoffs.
In other Colts' injury news, the team got a boost with the limited practice work done Friday by Powers. It's the first time Powers has practiced or played since injuring the foot in the first quarter of the Jan. 16 division playoff victory over Baltimore. "There's no doubt in my mind that I'll be out there Sunday,'' Powers said on Wednesday, but the team listed him as questionable in its final injury report of the week.
Wayne was listed as probable to play against the Saints on Sunday in Super Bowl XLIV, while Freeney was listed as questionable. Caldwell said Freeney "may do'' a little running or simulated practice work later Friday afternoon, and though Freeney had said Thursday he would try to practice some on Friday, Caldwell said, "This is right in line with our plans. He's making very good progress.'' Freeney suffered a third-degree ankle sprain in the AFC Championship Game victory over the Jets on Jan. 24 and has not practiced in the 12 days since.
The Colts will have their customary 40-minute walkthrough practice Saturday at noon, but for all intents and purposes, this was the team's last serious pre-Super Bowl practice. Caldwell said he was satisfied with the quality of work and the site of team practices while in south Florida.
"We get spoiled because we practice so well all year long,'' he said. "Overall, these practices were right in line with what we've done all year, and we're pleased. The Dolphins have a first-class facility and have given us an open-arms reception. We're grateful for it. Things have worked out great for us here.''
February, 4, 2010
2/04/10
7:33
PM ET
The pool report for the Colts from Peter King, who's representing the Pro Football Writers Association this week:
DAVIE, Fla. -- Veteran left guard Ryan Lilja missed the second day of the AFC Champion Indianapolis Colts' practice week Thursday with what coach Jim Caldwell called a back injury that he did not think would jeopardize the six-year-veteran's status for Sunday's Super Bowl match against the New Orleans Saints.

Lilja
"I suspect he'll be ready to play,'' Caldwell said as night fell in south Florida, after the Colts' two-hour, 15-minute practice that ended under the lights.
The severity of the injury to Lilja, who was one of 20 Colts listed on the injury report, was unclear. Seventeen of those 20 players practiced without restriction Thursday, with only defensive end Dwight Freeney (ankle) and cornerback Jerraud Powers (foot) missing any portion of practice. Both missed the entire workout while receiving treatment inside the Dolphins' practice facility, Caldwell said.
Asked about the health of Freeney and Powers, Caldwell said: "They're both improving rapidly.'' Freeney said earlier in the day he may try to test his grade-three ankle sprain in Friday's practice or during Saturday's walkthrough.
Caldwell said this was a typical Colts' Thursday practice, though almost all of the team's gameplan was installed last week in Indianapolis. He said the team "wasn't as sharp as we'd like to be,'' though you couldn't tell by the effectiveness of the first-team offense. In four nickel and two-minute offensive sessions in the last hour of practice, Peyton Manning completed 25 of 28 throws against a crew of Colt backups posing at the Saint scout. His last throw in one of the two-minute sessions was a perfectly thrown rollout to Dallas Clark in the end zone. It was the second straight sharp practice for Manning, prepping for his second Super Bowl start in four seasons.
"If you watch us practice,'' Caldwell said, "the thing you notice with Peyton is the ball is not on the ground very often. The way he threw today was typical Peyton.''
The highlight for the defense was an interception off scout-team quarterback Curtis Painter by linebacker Clint Session on a deflected pass off the hands of backup receiver Hank Baskett. To the cheers of his defensive mates, Session picked the ball off and ran up the left sideline.
For the second straight day, the Colts seemed loose and businesslike on a perfect day for football -- 71 degrees, mostly sunny with a slight wind from the east. Manning finished the last offensive drive of the day as dusk fell on the complex with a short touchdown strike to Clark.
The Colts resume practice Friday at the Dolphins complex at 2:15 p.m., with a final walk-through tuneup here Saturday.
February, 2, 2010
2/02/10
12:12
PM ET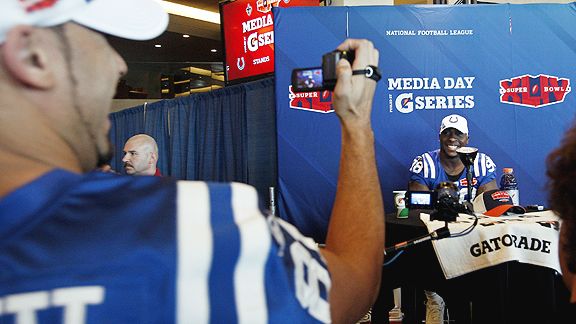 Jerry Lai/US PresswireColts wide receiver Hank Baskett, left, takes video of teammate Robert Mathis during media day.
December, 30, 2009
12/30/09
9:16
PM ET
NFC South maven Pat Yasinskas obtained the list that lines up with
this report
about the 212 players scheduled to be unrestricted free agents in 2010, who will instead be only restricted free agents if a new labor deal isn't reached.
Stinks to be these guys who stand to lose a lot of leverage, and in many instances, a lot of money.
Houston
Indianapolis
Jacksonville
Tennessee
December, 2, 2009
12/02/09
1:35
PM ET
I don't see the Colts going undefeated through the regular season. I am certain they aren't going to be heartbroken if or when it doesn't happen.
They could lose Sunday to Tennessee, a hot and dangerous team that's played as well or better than the Colts in recent weeks. The AFC South rivals have split the season series the past three years -- though a couple of games at the end of those seasons had no meaning for one or both teams. The Titans are seeking to avenge a 31-9 loss on "Sunday Night Football" Oct. 11 and have far more to lose as they try to claw their way into the wild-card picture.
But even if the Colts beat the Titans, they'll drop at least a game down the stretch when they take their foot off the gas. Coach Jim Caldwell and president Bill Polian have each made it clear that an undefeated season isn't the team's goal. Polian says momentum heading into the playoffs is an overrated concept.
Like the Titans, the Broncos will have more on the line than the Colts when they visit Lucas Oil Stadium on Dec. 13.
A team that's been beat up a lot this year will rest a lot of injured or tired players in games that don't mean anything at the end of the season. Pull
Dwight Freeney
,
Clint Session
and
Antoine Bethea
off the defense and even the Jets and Bills will find yards. And is
Jim Sorgi
throwing to
Hank Baskett
going to put fear into New York or Buffalo?
[+] Enlarge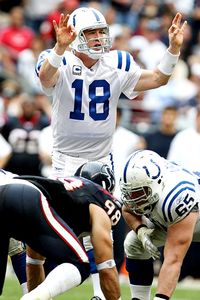 Matthew Emmons/US PresswireFlirting with a 16-0 record is nothing new for Peyton Manning and the Colts.
Indianapolis wouldn't mind if 16-0 happened, obviously, but it's not a primary goal. And dropping a couple of games late after a long undefeated stretch is hardly new territory for the franchise -- it was 7-0 in 2007, 9-0 in 2006 and 13-0 in 2005.
Getting in position to win in the playoffs trumps everything. It hasn't been something this team's done well outside of its 2006 championship season. But it's hardly thinking of an undefeated regular season as any sort of prerequisite.
Here's how ESPN.com national writers John Clayton and Len Pasquarelli see it.
Clayton:
The reason the Colts will not go 16-0 is because they don't need to go 16-0. At different times during Manning's incredible career, the Colts have flirted with the perfect regular season. Once they clinched home field, they started to think ahead to the playoffs, which left them vulnerable to a loss. That will be the case again this year.
Their remaining five games are winnable. They play teams with a combined record of 27-28, the 14th-easiest closing schedule in the league. Indianapolis' only two remaining opponents with winning records are the Broncos (Dec. 13) and Jaguars (Dec. 17). They can win those games. But it's also possible for the Colts to clinch home-field advantage in the playoffs once they get to 13 wins. Once that happens, the Colts will focus on the playoffs.
Manning, Polian and everyone who has been around the organization realize the idea is to win two games in the playoffs and get to the Super Bowl. That's why they will start figuring out how to rest starters, including Manning, in the final three weeks. If that happens, they could lose to the Jets on Dec. 27 or the Bills on Jan. 3.
Pasquarelli: In winning their past five games by a total of 18 points, all with fourth-quarter comebacks, the Colts have demonstrated a remarkable resourcefulness. But in doing so, they have also rung up not only the division title, but also a three-game lead over all other AFC franchises, and are poised to secure home-field advantage throughout the playoffs.

It would take a monumental collapse in December for the Colts to have to leave Lucas Oil Stadium for a postseason game, and the likelihood of that is extremely remote. On the other hand, once they clinch that right, there is no other carrot to dangle in front of the noses of the prideful Colts, save for a perfect season. And remaining unbeaten going into the playoffs isn't a big priority for a Colts team that has now been to the postseason eight straight times, but owns just one Super Bowl ring.

The priority for Indianapolis, as always, remains winning a championship, not every regular-season outing. Polian earlier this week debunked the importance of momentum entering the playoffs. That admission could be a tacit tip-off to the Colts' strategy of resting some starters in December, and remaining as healthy as possible for the postseason. The Colts, who play every game with great intensity, will succumb to a degree of human nature once they clinch home-field advantage, and ratchet down just a hair, enough to drop a close game to someone.



September, 25, 2009

9/25/09

12:12

PM ET


Posted by ESPN.com's Paul Kuharsky

Houston Texans
Indianapolis Colts
Jacksonville Jaguars
Tennessee Titans


September, 19, 2009

9/19/09

11:12

AM ET


Posted by ESPN.com's Paul Kuharsky Richard in Ann Arbor, MI writes:

The shadows at the old Cowboys Stadium were at least as annoying as the shadows as Lucas Oil field. This should fall under the Jerry Jones rule: If it's ok for the Cowboys to do something, it's ok for any team to do it. The Colts have nothing to apologize for.

Paul Kuharsky:

I

didn't suggest

they had anything to apologize for. I am sure they'd like for their games to look good on TV for the fans who are not at Lucas Oil Stadium.
---
Matt in Murray, KY writes:
In response to "
Further Review: MJD's 2-pt try
," The Wildcat is a great change of pace set, but why would you run it at such a critical junction of the game? Had they just handed the ball off, there was a high percentage chance that he gets in. They could have run the EXACT same play they ran on the touchdown (which by the way was a beautiful display of patience by MJD) and as a Colts fan I can say, I feel like they would have gotten in. Fortunately for myself, they did not. But had the Jaguars pulled even with 11 minutes to go, the whole dynamic of how the Colts handled their next possessions would have been different. Did the Jaguars really think that the Colts would be more concerned with
Nate Hughes
(who?) than Jones-Drew who just burned them on a simple outside give?
Paul Kuharsky:
I agree all around. It wasn't the best play-calling moment of the game.
---
Jahon in San Diego, CA writes:
Let's just say that Dunta's shoe stunt and his comments afterwards have ticked off most if not all of the Texan fans. Speaking for myself, it makes me worried about what type of mentality is in the locker room. Instead of the other players laughing about his stunt and his comments, someone should have gotten in his face and told him to be professional and it is not all about him, this is a team. A team is supposed to be there to win.
Paul Kuharsky:
Yes, I agree that a leader should have worked to set things straight. Maybe one did so behind the scenes. But once Robinson said what he did about it, someone else should have worked to drown it out with some volume.
---
Greg in Houston, TX writes:
I was getting rather ill with the
Dunta Robinson
contractual issues and his hold out to prove his point. When he returned, I, like many others, thought that he would put his love of the game above everything else when the season started. His words and his preparation to return caused me to give him the benefit of a doubt. But now with the "Pay Me Rick" message written on his shoe causes me to believe that he can't get past this. I was wondering what possibilities were out there for trade considerations. What is his trade value for a draft pick? Is there another team that is need for a starting corner, such as DR, and would it be a player/player trade or a draft pick trade?
Paul Kuharsky:
No one.
No one is trading anything for a guy whose contract worth nearly $10 million is guaranteed and who's not under contract beyond this year.
I understand a lot of people are upset with him, but you'll have to come to terms that he's going to be around. He can't be dealt or cut with that price. Also, more importantly he still rates as their best defensive back.
---
Roger in Nashville writes:
Paul, Why is it that the Titans are soooo cheap. We were hoping they will go after
Torry Holt
or
Hank Baskett
but they rather settle for
Paul Williams
and Edison. We know is not a matter of money since they have the cap space but they just keep trying to get by with less. Have somebody explained to Bud Adams that these are his last years to get to a Super Bowl ring and that it is worth the investment.
Paul Kuharsky:
I think you are wrong to assume it's about cost. They liked Holt a little bit at a certain value. The Jags liked him much more and at a higher value. I can't see that he'd rank ahead of
Justin Gage
,
Nate Washington
or
Kenny Britt
right now. They spent big dollars, by the way, on Washington, and a valuable first-round pick on Britt and a first-round contract on him.
With those three and Scaife and Cook, I don't believe they feel like they need Baskett and I tend to agree.
If they didn't play Edison in the opener even with Washington limited and if Paul Williams is on the practice squad, not on the 53-man roster, I'm not sure I understand the complaint about having them around. Edison is promising, and they should continue to try to develop young guys despite their failures doing so with receivers. Williams' time is up, in my opinion. But at least he is not taking up a roster spot any longer.
Also what makes you certain Baskett is getting any sort of significant money? It's a one-year deal, likely for the minimum, maybe with some incentives. The Colts were looking for a guy who could fill in as high on the depth chart as second, the Titans weren't. So what makes you certain Baskett would have preferred Nashville to Indy, anyway?
---
Fred Scheppele in Colorado Springs, Colorado writes:
Who do you think would play more effectively for the Colts, or provide more game day value: 1) a veteran signed three days before the game that does not know the play book and has not practiced much with the QB (Hank Baskett), or 2) a rookie who was not talented enough to make the final 53 man roster, but was on the practice squad, knows the playbook, and went through the preseason working with the QB (Taj Smith or maybe John Matthews).
Paul Kuharsky:
I think you're missing a third option, where they lean more heavily on
Austin Collie
,
Pierre Garcon
and
Jacob Tamme
and Hank Baskett maybe plays only in specific situations -- maybe in the red zone. Then his role can increase as he gets up to speed.
I think that's what they are doing. Bill Polian doesn't look outside often, so when he does I think it tells us where they stand on in-house alternatives -- in this case Smith and Matthews.
---
Peter in Nashville writes:
Hey Paul, So my roommate and I were talking and had a question so I decided I would forward it to you. We both seem to remember there being some reason why LP Field is not eligible to hold the Super Bowl but neither of us could remember why. It is certainly big enough as it hold more than Tampa's field so I just wanted to see if I could steal from your bank of knowledge. Thanks.
Paul Kuharsky:
Because it's cold and potentially wet in Nashville in January and February. Warm-weather cities or indoor venues only for the Super Bowl.
---
Weller Ross in Knoxville, TN writes:
Hey Paul, I was just wondering if you know of anywhere out there where I can find the statistics for number of times a receiver was targeted. I've read multiple times now that
Reggie Wayne
was targeted 14 times, and I was curious as to how that compared to other receivers in the league. Thanks.
Paul Kuharsky:
Click on a score at NFL.com to get to the Game Center page. from there, look for the red link to the official "game book." That's the stat package from the game, and if you find the section that details catches, it starts with "targets." (Click here for the game book from
Jaguars-Colts
. Scroll to "Final Individual Stats" on the second page.)