February, 13, 2012
2/13/12
8:11
AM ET
Rivers McCown of Football Outsiders runs through the primary need of each AFC South team in
this Insider piece

. Here's a peek at what he has to say with my reflections.
Houston Texans: Wide receiver

McCown:
"The Texans enter free agency as a team with a promising amount of depth at many key areas, but
Andre Johnson
's injury last season exposed the fact that Houston's wide receivers simply aren't up to snuff without him ...
"The Texans will look hard at receivers in free agency and the draft. It's unlikely that they'll land a top-tier wideout like
Marques Colston
or
Vincent Jackson
because they still need to budget money carefully for players like
Mario Williams
,
Arian Foster
and
Chris Myers
. But a mid-level receiver like
Steve Johnson
,
Reggie Wayne
or
Robert Meachem
could potentially be brought in.
"More likely, however, the path for improvement will come through the draft."
Paul Kuharsky:
I think the Texans like
Kevin Walter
and
Jacoby Jones
better than most analysts, but the long stretches without Johnson made them overly reliant on Foster as a target showed they don't have enough at wideout.
Indianapolis Colts: Wide receiver

McCown:
"Of the top five receivers on the Colts' depth chart going into last season, only
Austin Collie
and
Blair White
are under contract for 2012. Reggie Wayne, who will turn 34 during the 2012 season, is likely on the outs as this team begins a rebuilding phase. The Colts have expressed interest in re-signing free agent
Pierre Garcon
, who has generally fared very poorly in our receiving numbers. Garcon came out as below-replacement value last year, but he has ideal deep speed, and playing with
Dan Orlovsky
or
Curtis Painter
will make any speed receiver look worse than he really is.
Anthony Gonzalez
is also finally out the door after a disappointing, injury-plagued career in Colts blue.
"Again, given the direction of the team, it's rather unlikely that the Colts will be players for an elite free-agent receiver, but they could probably be in on the mid-tier targets with an eye toward youth. Players like
Laurent Robinson
,
Harry Douglas
or
Andre Caldwell
could make sense here. The Colts could also spend their second- or third-round picks on a receiver who could compete for snaps."
Kuharsky:
McCown writes he skipped past quarterback knowing it will be addressed with the No. 1 pick. Receiver is certainly a concern, but I think cornerback may rate as even bigger for a team that hired a defensive head coach in Chuck Pagano. If the new regime likes
Jerraud Powers
, the team still ranks as thin in coverage guys after him.
Jacksonville Jaguars: Wide receiver

McCown:
"
Atlanta Falcons
cornerback
Dunta Robinson
summed it up best when he said: 'Those guys couldn't get a [expletive] receiver if it hit them in the head. They haven't had anyone since Jimmy Smith. ...'
"There are two ways to (upgrade). The Jaguars could make a play for Marques Colston, Vincent Jackson or
DeSean Jackson
. They certainly have the cap space to accomplish such a goal and could even bowl over someone who is iffy about Jacksonville with extra money. Or they could see if Oklahoma State receiver Justin Blackmon falls into their laps at No. 7 overall, which would certainly be a more cost-conscious, if risky, move."
Kuharsky:
We are certainly talking about more than one guy. The Jaguars could aggressively shop in free agency and get a first-tier and second-tier guy. Or they could grab one veteran and spend a premium pick on another receiver. Upgrading the weapons for
Blaine Gabbert
is definitely priority No. 1.
Tennessee Titans: Defensive end

McCown:
"Assuming that the Titans continue to handcuff themselves to the declining
Chris Johnson
, the biggest need in Nashville is an elite pass-rusher. When
Jason Babin
joined former Titans defensive line coach Jim Washburn in defecting to the Eagles, the Titans' adjusted sack rate fell from 13th in the NFL in 2010 to second-to-last in 2011. Moreover, only two teams generated fewer quarterback hits from their top pass-rushers than the six the Titans had from
Dave Ball
: the
San Diego Chargers
and Buffalo Bills ...
"If they can't address defensive end in free agency, then a pass rusher will likely be a top priority for the Titans with their first-round pick. If they do pick up a premier sack artist, then it would give them an opportunity to spend the pick on a safety or wide receiver, which are also positions that could use reinforcement in Nashville."
Kuharsky:
The Titans need immediate impact at the spot. I don't expect them to overpay Williams if he's free. The free-agent crop behind him could be thin if guys get franchised. Can they find a reclamation type like Babin who will be an upgrade on opening day? Will a guy who can consistently get into the backfield still be on the draft board at No. 20?
November, 20, 2011
11/20/11
10:33
PM ET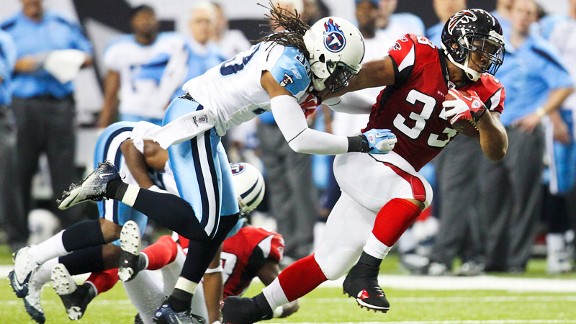 Daniel Shirey/US PresswireTennessee was unable to contain Michael Turner as he rushed for 100 yards and a touchdown.
ATLANTA -- The Titans are getting mislabeled.
They are not an inconsistent team. If anything, their
23-17 loss
to the Falcons at the Georgia Dome made them even more predictable.
Over their past eight games, the formula's been simple: They have beaten bad teams and lost to good ones.
It's easy to see they are better than Denver, Cleveland, Indianapolis and Carolina. It's just as clear they are not in a class with Pittsburgh, Houston, Cincinnati and Atlanta.
The Titans are too sloppy, don't find enough big plays and don't match up well enough with quality teams. Ten games into the season, they're 5-5 and it's exactly what they deserve.
Sunday they played good enough red zone defense to stay in the game, but could never get back to even from 13-0 and 23-3 deficits.
A look at three key issues for Tennessee coming out of the game:
The quarterback situation:
Matt Hasselbeck
banged his elbow as he threw late in the third quarter. He couldn't generate any power on the ball after that, so doctors had him yield to rookie
Jake Locker
.
"He did exactly what a second-team quarterback should do when he gets an opportunity," coach Mike Munchak said.
Locker moved right and hit
Nate Washington
, who stiff-armed a defender and ran to the end zone on a 40-yard touchdown play. In the fourth quarter, working in hurry-up mode out of the shotgun, he ran for 11 yards on a third-and-10, he hit tight end
Jared Cook
for 22 yards on a fourth-and-17 and he found Washington for another touchdown with 3:09 left in the game.
The defense, however, couldn't get provide him a chance to engineer a game-winning drive.
Locker finished with a 107.3 passer rating, but the Titans diffused any possibility of a quarterback controversy.
Hasselbeck is sore and he had ice wrapped around the inside of his left elbow and forearm as he spoke to the press. He said he'll have an MRI Monday. Munchak said he wasn't about to make a change based on the small sampling of Locker. If Hasselbeck is fine, "he's the quarterback, there is no doubt about that."
While Hasselbeck hardly has his best game -- 13-of-25 passing for 124 yards, an interception and a 49.4 passer rating -- the Titans aren't going to forget how large a role he's played in many of their good moments this season.
"Jake kind of puts a defense on its heels a little bit, because you've got a younger guy who can run," receiver
Lavelle Hawkins
said. "That's taking nothing away from Matt, because Matt is a great mind who knows how to read a lot of stuff and sees a lot of things before they happen. I think either, or is great."
Making mistakes:
Munchak's Titans were supposed to be a disciplined team that executed precisely. But there was a major lack of precision in key moments against the Falcons.
The Falcons went for it on fourth-and-1 twice in the second half.
They motioned and reset, then motioned and reset again, making it seem like they were merely waiting for the defense to jump. On the first instance,
Matt Ryan
had the ball snapped and snuck at an unexpected time in the long sequence of shuffling.
And on the second, defensive end
William Hayes
was flagged for jumping offsides.
"There is no excuse for me doing that, it's fourth-and-1, I've got to be patient," Hayes said. "They got me."
He actually got bailed out as
Colin McCarthy
forced a
Michael Turner
fumble on the next play and
Will Witherspoon
recovered it.
That's when Locker took the Titans on the 14-play, 84-yard touchdown drive that cut the lead to six with 3:06 left.
With three timeouts and the two-minute warning, Tennessee then needed to force a punt to get Locker the ball back.
And on the very first play from scrimmage, safety
Jordan Babineaux
slipped off Turner, allowing him to spring free for a 27-yard gain. Two
Jason Snelling
carries and a 6-yard
Harry Douglas
catch later and Ryan was ready to take a knee three times and shake some hands.
The Titans failed to slow Atlanta's stars. Ryan passed for 316 yards, Turner ran for 100 and receiver
Roddy White
pulled in seven catches for 147 yards.
On top of that, the Titans were flagged for 10 penalties. They accounted for 86 yards and five of the Falcons' 25 first downs.
"We didn't play smart for 60 minutes," Munchak said.
Mixed up routes:
It seems every game the receivers have at least one mixed-up moment that costs Tennessee a chance or causes a problem.
The Titans were behind only 7-0 when the biggie in this game arrived.
Hasselbeck threw up the left side and Hawkins appeared to be out of position as cornerback
Dunta Robinson
intercepted the pass.
The receiver stopped running, looking around puzzled instead of pouncing to touch Robinson while he was down. Robinson got up and ran for 14 yards.
Guard
Jake Scott
yelled at Hawkins over the failure to stop a return. Hasselbeck pointed and screamed as he left the field, clearly annoyed by the way the play unfolded.
Damian Williams
, who ran a post on the same side of the field, said the underneath receiver is supposed to cut in if the Titans are running it or cut out if they are throwing it. He said he was partially to blame for not getting the check communicated.
Said Hasselbeck: "I believe what happened is when I checked, Hawk wasn't looking at me. I think when I checked they were adjusting who was on the ball, who was off the ball. I was trying to throw it to Hawk, yes. I'm not sure if he knew it was a pass or not."
Mistakes will happen, I understand.
If the Titans are getting 1.1 yards a carry from
Chris Johnson
, they need to be an exact passing offense, however. Under the previous regime, Hawkins didn't get on the field much because he was regarded as undependable.
On that and the Titans being average or worse, things don't appear to have changed much.
August, 19, 2011
8/19/11
11:36
PM ET
Quick observations and thoughts on the
Jacksonville Jaguars
'
15-13
preseason win over the
Atlanta Falcons
Friday night.


David Garrard
's deep interception to
Brent Grimes
was well over
Mike Thomas
up the middle. It was an overly hopeful throw that killed a possession and wasn't necessary. He also missed
Marcedes Lewis
on a much shorter touchdown pass opportunity, though his ankle was clipped by a rusher as he let it go. Those are the sort of plays that make some people say, "Why not just play the rookie?"
Cecil Shorts
should have simply fallen on the ball after he failed to cleanly take a handoff from Garrard on a reverse. His failure to do so meant another turnover.
Defensive end
Jeremy Mincey
caused problems for Atlanta, bearing down on
Matt Ryan
at least three times with high-effort rushes. One forced an intentional grounding.
Montell Owens
, a fullback who operates almost exclusively on special teams, got a couple early carries as the Jaguars looked to spread the workload on a night they were without both
Maurice Jones-Drew
and
Rashad Jennings
because of injuries.
Drew Coleman
didn't seem determined enough to stick close to
Harry Douglas
early in his route on what turned into a 76-yard touchdown catch out of the slot against the Jaguars new nickelback.
Fox commentator Daryl Johnston felt like
Blaine Gabbert
left the pocket prematurely a couple times when he probably could have stayed put and given a play more of a chance. I thought it was good analysis. Gabbert didn't play as well as he did in last week's start at New England, with a 59.3 passer rating. It was still nine points better than Garrard's.
Loved, loved, loved Jack Del Rio going for 2 after the go-ahead touchdown. Not because it gave the team an opportunity to work on the play, but because it eliminated the possibility of a field goal making for a tie game and possible overtime. Preseason games should not, by rule, include the possibility of overtime. Who cares if the meaningless result is a regulation tie?