August, 20, 2012
8/20/12
12:21
AM ET
Some thoughts out of the Indianapolis Colts'
26-24 preseason loss
at the Pittsburgh Steelers on Sunday night:
NBC's broadcast and in-game interview with Andrew Luck ably summed up his night. The rookie quarterback didn't start well but kind of fought through it and settled down, and the Colts did well to get to halftime with a 17-14 lead. Luck saw some exotic stuff called by Steelers defensive coordinator Dick LeBeau -- like just one down lineman pre-snap in the amoeba defense – and didn't panic. A Luck pass aimed for Reggie Wayne wound up an easy pick-six for cornerback Ike Taylor (which gave Pittsburgh a 14-0 lead) and he absorbed a LaMarr Woodley sack on his very next play. Indy rallied with a drive that produced a short Donald Brown touchdown run and Luck got in himself on a fourth-and-goal to make it 14-all.
Austin Collie may have suffered a concussion in the second quarter when Taylor started to tackle him, bending him down into position to catch an arm from Larry Foote in the helmet. The veteran receiver has had concussion issues in the recent past, and a lot of outsiders felt it was their job to tell him to retire to avoid risking any further head trauma. We hope, of course, that it's not a concussion or that it's mild as can be -- and that it's nothing that will affect him for very long. But even a mild concussion would be bad news. From the football perspective, if he's going to miss time, rookies T.Y. Hilton and LaVon Brazill will continue to get more action, and Donnie Avery becomes more important.
We got more of a sense of just what Wayne will be asked to do in Bruce Arians' offense, and it's far more complex than what he's done before. He's motioning all over the place, and on this night he was just the sure weapon the Colts were envisioning when they re-signed him to be a key guy for Luck -- six catches for 74 yards in a half.
Rookie running back Vick Ballard got work with the first team and showed some indications of why he could earn a bulk of the team's carries. One 12-yard run to the right sideline featured a nice spin move as he pushed wide and showed both power and speed.
Luck's second interception was completely on Hilton, who bobbled a catchable ball, knocking it up into the air and to cornerback Cortez Allen.
First-team run defense was an issue. Young running backs Jonathan Dwyer and Chris Rainey averaged 5.9 yards on their eight carries against the unit.
A sack against the second team isn't cause for major celebration, but outside linebacker Jerry Hughes had one. He's now got two in two games and sure seems like he's got a more suitable role coming in this defense than he had in the team's old 4-3 as an end. He finished with seven tackles, tied for the game high.
Two other injuries we will be monitoring: Defensive lineman Cory Redding left with a right knee strain and outside linebacker Robert Mathis with a shoulder strain.
September, 25, 2011
9/25/11
11:45
PM ET
Thoughts on the
Indianapolis Colts
' 23-20
loss
to the
Pittsburgh Steelers
at Lucas Oil Stadium:


What it means:
The Colts are capable of competing with a good team even without
Peyton Manning
. But they also have little room for error. They got a giant error from left tackle
Anthony Castonzo
and quarterback
Curtis Painter
in the fourth quarter, as
James Harrison
stripped the quarterback and
Troy Polamalu
picked the ball up on a bounce and scored. And while Indianapolis pulled even, the Colts couldn't keep the Steelers from marching to a game-winning field goal at the end that dropped them to 0-3.
Things I liked:
The Colts ran the ball far better than many of us thought they could (for 97 yards) and stopped the run far better than they usually do (allowing 67 yards). It makes one wonder why they didn't fare better in both departments in their first two games. Also makes one wonder about their commitment to both moving forward.
Big question lingering for me:
Why did the Colts use
Dallas Clark
to help block Harrison so much early on? Clark is a pass-catcher first and foremost.
Brody Eldridge
is a far better blocking tight end. Yet the Colts put Clark in position to block the fierce Pittsburgh outside linebacker multiple times.
Stars:
It's easy to say the Colts need to rely on
Dwight Freeney
and
Robert Mathis
in the absence of Manning. But a lot of other game elements have to go right for those two to dictate things. They did against the Steelers, with incredible rushing efforts and a strip sack each. Freeney also had a sack that took Pittsburgh out of field goal range.
Blame and credit:
Painter was forced into action when
Kerry Collins
left the game with a concussion. Painter missed a wide open
Pierre Garcon
on a stop-and-go that beat
Ike Taylor
and would have been a long touchdown. And Painter didn't sense Polamalu bearing down to strip the ball deep in the Colts' own end. But he did orchestrate an excellent drive that produced the touchdown that pulled things to 20-20 with 5:13 remaining in the game.
Mea culpa, kinda:
I wrote
this week about how America was about to learn just how bad the Colts were with the first of their five prime-time appearances. They are not good. But they played a pretty good, and very entertaining, game.
What's next:
More quarterback uncertainty as Collins recovers from a concussion and the Colts sort through Painter's performance. If Collins is out for the Oct. 3 "Monday Night Football" Game in Tampa, who's the team's second quarterback?
July, 25, 2011
7/25/11
3:29
PM ET
»
NFC
:
East
|
West
|
North
|
South
»
AFC
:
East
|
West
|
North
|
South
»
Unrestricted FAs
A look at the free-agent priorities for each AFC South team:
Houston Texans

1. Finally fix the secondary:
Not only was the Texans' secondary awful in coverage last season, but it also needs some stabilizing veteran leadership on the back end of this revamped defense. A safety like
Eric Weddle
could help cure both issues. There are quite a few safeties in this crop of free agents who would be clear upgrades for Houston. Of course, we have to discuss
Nnamdi Asomugha
-- and the Texans should certainly be right in the thick of those negotiations. If they can't land Asomugha, the Texans could pursue
Johnathan Joseph
or
Ike Taylor
, who could help fix some leaks.
2. Work the cap:
Houston is pretty tight up against the cap as it stands right now. But the team has serious needs on defense -- particularly in the secondary. In order to get the help they need, the Texans might have to restructure a few contracts or let a current player or two go.
3. Lock up Vonta Leach:
This offense pretty much has it all. Wideout
Andre Johnson
makes everyone around him better in just so many ways. And the running game was exceptional last season. But Leach is a key component in that running game. And no fullback opens holes like this guy. Houston should bring him back and dedicate the rest of its free-agent moves to the defense.
Top five free agents:
Leach, WR
Jacoby Jones
, S
Bernard Pollard
, DE
Mark Anderson
and QB
Matt Leinart
.
Indianapolis Colts

1. Get Peyton Manning's extension done:
Manning has been franchised and had surgery again on his neck recently. But there is little doubt who the face of this franchise is. Getting him locked up long term is something that Indianapolis just needs to get done.
2. Get a starting safety signed:
Melvin Bullitt
is a free agent. He is a solid player, and bringing him back makes a lot of sense. Outside of
Antoine Bethea
, who is vastly underrated, Indy has very little at this position. The Colts need to get a starter under contract. Also on defense, bringing back linebacker
Clint Session
, who is a superb fit in this scheme, and adding defensive tackle help also should be priorities if they can fit it under the cap.
3. Add running back help:
This could come in the form of bringing back the reliable
Joseph Addai
. Well, he is reliable when he is healthy. And Addai has a great grasp of the Colts' offense. I am very high on 2011 draft pick
Delone Carter
and maybe the light goes on for
Donald Brown
. But the Colts do need someone in their backfield who can pass protect and can be trusted. In this capacity, Addai seems to be worth more to the Colts than to any other team.
Top five free agents:
Manning (franchised), Session, Addai, Bullitt and OT
Charlie Johnson
.
Jacksonville Jaguars

1. Address holes at linebacker:
Linebackers
Justin Durant
and
Kirk Morrison
are up for free agency. I would suggest bringing one of those two back and then finding an upgrade from a coverage standpoint at a starting linebacker position to go along with the steady
Daryl Smith
.
James Anderson
would be an excellent target, and if healthy, so would another Panther --
Thomas Davis
.
2. Address holes at safety:
Jacksonville featured one of the worst secondaries in football last season. The Jags tried many bodies at safety, but it yielded minimal results. This is a very strong free-agent safety class, and the Jaguars need to add a starter or two they can count on week after week.
3. Spend!
The Jaguars have quite a bit of money to spend in free agency, and under the new rules, they will have to spend. This free-agency period is like none we have ever seen and the action could be fast and furious. Jacksonville needs to stay the course and make wise financial decisions as it tries to add players who can mostly upgrade a hurting defense.
Top free agents:
Marcedes Lewis
(franchised), WR
Mike Sims-Walker
, Durant and Morrison.
Tennessee Titans

1. Revamp the Interior offensive line:
Although they didn't play great in 2010, I have faith in the Titans' offensive tackles. But the interior of the line is a train wreck. That won't do with a rookie quarterback behind center and in an offense that will be extremely run-heavy.
Chris Johnson
had little room to run last season. That needs to change.
Marshal Yanda
and
Harvey Dahl
would be great targets here.
2. Add a veteran quarterback:
Needless to say, the Titans cannot enter the season with just the quarterbacks they currently have on their roster. They must bring in a veteran with some experience.
Donovan McNabb
would be high on my list.
Matt Hasselbeck
might also fit the bill.
3. Fortify every level of the defense:
Presently, Tennessee is very young at linebacker, just adequate at safety and could lose three of its defensive ends. Making matters more difficult, the team is also installing a different version of the 4-3 defense. The Titans do have some money to spend in free agency. It would be wise if they used those funds on young free-agent talent, as it appears this team is now rebuilding from the ground up. Every level of the defense could use reinforcement.
Top five free agents:
DE
Jason Babin
, LB
Stephen Tulloch
, WR
Randy Moss
, DE
Dave Ball
and DE
Jacob Ford
.
July, 11, 2011
7/11/11
1:00
PM ET
The Texans have been very aggressive in rebuilding their defense and transforming it into a 3-4 scheme. That aggression could continue during free agency. If that is to happen, though, some salary-cap manipulation will have to occur, as Houston looks to be pretty tight up against the expected cap.
The Texans are now loaded with young talent in the secondary, but the back end of their defense was historically poor last year. A stabilizing veteran presence whom everyone can truly count on would do wonders for this defense. Also, even though Houston seems high on
Earl Mitchell
, I have my doubts about the Texans' nose tackle position.
[+] Enlarge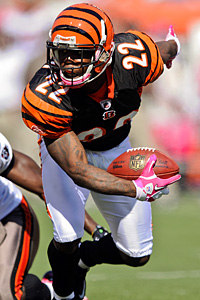 Jamie Sabau/Getty ImagesJohnathan Joseph would be a huge upgrade to the Houston secondary.
Nnamdi Asomugha
: Everyone knows what a great player Asomugha is. Everyone knows how awful the Texans were against the pass last year. Imagine how much better Houston would match up against the Colts if everyone in the stadium knew that
Reggie Wayne
would not be a factor in that particular game.
Johnathan Joseph
/
Ike Taylor
: If the Texans miss out on the crown jewel of free agency, adding another established corner should quickly be their next move. Both Joseph and Taylor can play bump-and-run, off man-to-man coverage or be effective in zone. Either would be an immediate upgrade.
Quintin Mikell
: Unlike most teams with a need at safety, strong safety is a bigger need for Houston than free, where
Glover Quin
will take over after moving from corner. Mikell is clearly the best of the crop. And if Houston can't land a whale like Asomugha at corner, maybe it can get the top strong safety available in Mikell. If the Texans choose to address their strong safety need with a lower-priced guy,
Gerald Sensabaugh
would be a logical choice. Sensabaugh played for Wade Phillips in Dallas and is very familiar with the system that is being installed.
Vonta Leach
: Finding pure blocking fullbacks is not a difficult thing to do. But finding ones as effective as Leach, who is the best at it in the NFL, is a whole different story. Leach is the perfect guy to lead
Arian Foster
through the hole and to pick up blitzing linebackers. Houston should lock him up pronto.
Darren Sharper
: Sharper isn't nearly the player he once was. But his leadership could be invaluable in such a young secondary. In fact, this team lacks elder statesmen in its locker room who possess the "been there, done that" factor that Sharper obviously has in spades. Even if he just contributed with the Texans' sub packages, Sharper -- or someone else of a similar ilk -- would be a wise addition to such a young team.
Scouts Inc. watches games, breaks down film and studies football from all angles for ESPN.com. Follow Matt Williamson on Twitter @WilliamsonNFL.
June, 4, 2011
6/04/11
10:18
AM ET
Joey Harvey from San Antonio, TX writes:
When considering physical demands, how can NHL players handle 80 games a yr and NFL players only 16?
Paul Kuharsky:
Hockey is very physical and the ability of players to endure the grind can be remarkable.
Still, I think even most hockey players would tell you the ability to bounce back from a hockey game and from a football game are different. I don't think a hockey player is taking the pounding in one game that a running back or lineman takes in one game. A hockey shift and a football series are two different things, too.
---
Rivers McCown from Houston writes:
Assuming that the Texans miss out on [Nnamdi] Asomugha because, well, they're the Texans, is signing someone like
Carlos Rogers
or
Ike Taylor
along with a safety such as
Gerald Sensabaugh
enough in your mind to get the Texans defense to average?
Paul Kuharsky:
I like the idea of Rogers or Taylor. But Sensabaugh is no big solution. Jaguars have all kind of safety issues and they dropped him a couple years back. Add one of those corners and find a safety and they could be on their way to average.
---
Ben from the UK writes:
After seeing
your response
on the
Plaxico Burress
issue, I must say I disagree with your assessment on the Colts' requirements. Your description of what the Colts need as a 'sharp route runner who reads coverage and adjusts' merely sounds like
Austin Collie
, and to an extent what we still have with
Reggie Wayne
. Do you not feel we need someone with game-breaking speed and utility around the offense (like for example
Reggie Bush
minus the ridiculous salary) as opposed to another slower route runner?
Paul Kuharsky:
Yes, they need game-breaking speed. I don't think Burress has it. (And even a speedster needs to run routes the way the Colts expect.)
I refer to someone more knowledgeable than me on such things, Matt Williamson of Scouts Inc.:
"It is Burress' movement skills that I worry about. Even a few years ago when he was in his prime, Burress was never a real quick-twitch guy. He is a long strider who had build-up speed, but he wasn't quick, elusive or explosive. Now, you just have to think that those movement skill qualities have lessened over the past two years.

"Although he might look great and probably spent a lot of time in prison lifting weights, I tend to think that keeping his explosiveness under the circumstances he was in was close to impossible. And he does turn 34 in August.

"Now, like [Michael] Vick, that isn't to say he can't get those skills back to some extent. But separating from defenders seems like the hurdle Burress is going to have the most difficult time getting over upon his return."
Doesn't sound to me like a guy who would give the Colts what they lack.
---
Adam C from Central Vermont writes:
Missed your chat yesterday Paul due to a busy spell at work. I read that you think the Titans should target a guy like
Carson Palmer
, but said a second round pick was too expensive to do so. Would Cincinnati really be willing to take less than that? What do you think is an offer the Titans should give to see if Cincy will actually accept?
Paul Kuharsky:
Once they spent No. 8 on
Jake Locker
, the option of giving up a value pick to get a veteran disappeared. They can't trade now for a guy who they may only stick with as the starter for six games.
So it's got to be a free agent:
Matt Hasselbeck
,
Kerry Collins
or one of the lesser names who will be on the market and cost nothing more than a contract.
---
@texantakeover writes:
Do you think that with the Texans defense vastly improved this year would allow them to overtake the Colts for the division?
Paul Kuharsky:
Vastly improved? We're basing that on a new coordinator, some new assistants and a draft class? I'm going to need to see it all result in better play before I declare the Texans D vastly improved. And even if it's vastly improved I have trouble seeing Houston winning the division.
---
Dan from Raleigh, NC writes:
The
Randy Moss
experiment was a failure but the Titans could still use some help on the outside. When FA starts, does Plax get a shot? Or are the Titans' sights aimed exclusively at a veteran QB?
Paul Kuharsky:
I don't see them chasing another big-name veteran receiver. And I can't imagine
Mike Munchak
and his staff -- who will put a premium on discipline and character -- are looking to start off with a big acquisition of a guy who just got out of jail.
December, 21, 2008
12/21/08
7:51
PM ET
| | |
| --- | --- |
| | |
| | Lecka/Getty Images |
| | Tennessee running back Chris Johnson was part of two agressive fourth-down plays by the Titans en route to a 31-14 win over Pittsburgh. |
Posted by ESPN.com's Paul Kuharsky
NASHVILLE, Tenn. -- For 30 minutes, Jeff Fisher played territorial football, worrying about field position above all else. It was traditional Titans.
But at the half, a coach known for relying on his defense and his willingness to settle for field goals or punt the ball away, saw the need to shape the game differently. It sparked a stunningly complete 31-14 rout of the Pittsburgh Steelers in a game that determined AFC playoff seeding supremacy.
Steelers-Titans featured big hits, sacks and tackles for losses, but it opened up with more scoring opportunities than Fisher anticipated. And when it did, he didn't fight it, he allowed for it.
So twice on fourth downs with his team well in the range of kicker Rob Bironas, Fisher elected to keep his offense on the field. A week after a failed fourth-down play cost the Titans a chance to win in Houston, he gave the green light twice more -- with spectacular results.
The two plays:
With 5:12 on the clock in the third quarter, down four points and facing a fourth-and-1 from the Pittsburgh 21-yard line, Kerry Collins faked an inside handoff to fullback Ahmard Hall, then pitched the ball behind him to the left to Chris Johnson. As the Titans anticipated, a cornerback -- Ike Taylor -- was all that was between the rookie running back and the first down, and Johnson easily juked Taylor. He then chomped up the remaining yards too, scoring a touchdown that put the Titans ahead for good, 17-14.

Next series, with the ball back thanks to the first of two Michael Griffin interceptions with two minutes remaining in the third quarter, Fisher gave the nod again. On fourth-and-3 at Pittsburgh's 30, Collins fired a pass up the right side perfectly fitted between defenders to Justin Gage for 17 yards. The Titans scored another touchdown to complete the drive.
What did Fisher have to say about the aggressiveness?
"I didn't feel like field goals were going to win this ball game," Fisher said. "Because of the way their defense was playing and the way their offense has the potential to play. We get down to the plus territory, we take a shot at it and we got it, it worked for us.
"A lot of it is just a gut reaction. To me, you evaluate the flow of the game, you assess what you anticipate happening. Keep this in mind, before that, they missed a field goal, they fumbled it on the 5-yard line, they were moving the ball. You like to assume that your defense is going to make the stops, and we did. But, still, in a game like this you have to be aggressive. You have to play it to win it. We played our field position game in the first half. The second half was time to go win in."
Some Titans diehards will read and reread those two paragraphs blinking hard and wondering if they are misattributed. Because that's the sort of talk they've wished to hear on so many tense Sundays when they were left to watch Bironas or Joe Nedney or Gary Anderson or Al Del Greco wind up the hero or goat after close, conservative games.
All the bedrocks of Fisher's stability -- the balanced temperament, the ability to endure a bad stretch, the unwavering faith in the organization's philosophy and scheme, the patience -- come intertwined with a default to conservatism.
The field goal has almost always been his friend.
Now, in three huge moments over the course of three weeks, he hasn't pointed to Bironas. The net against the Steelers was eight additional points -- two touchdowns instead of two field goals. The bounce-back win over the Steelers and the No. 1 seed in the playoffs make it feel like significantly more than that.

AFC SOUTH SCOREBOARD
Friday, 8/22
Saturday, 8/23