July, 18, 2014
7/18/14
11:00
AM ET
Examining the
Jacksonville Jaguars
' roster:
QUARTERBACKS (3)
General manager David Caldwell has said he likes to keep three quarterbacks, which means all three will have to be on the active roster, because Stanzi is ineligible for the practice squad. Stanzi should start the season as the No. 2 because he's more ready to play than Bortles, but that will likely flip-flop at some point.
Stephen Morris
is a practice squad candidate.
RUNNING BACKS (5)
If the Jags elect to keep only four backs, Todman and Johnson likely would battle for the final spot. That is assuming Robinson continues to be very good in camp. He might end up getting more playing time than any of the other backs after Gerhart if he shows he can be a reliable pass-catcher. Johnson has to prove he can pass block and doesn't have problems with ball security.
RECEVIERS (6)
The first four players should be locks, but it will be an interesting competition for the final two spots among Brown, Taylor, free-agent signee
Tandon Doss
, undrafted rookie
Allen Hurns
, and former practice-squad player
Chad Bumphis
. Doss missed most of the organized team activities and minicamp because of a calf injury, allowing Taylor, Bumphis and Hurns to get valuable reps. Doss was not a consistent receiver in his three seasons in Baltimore and has more value as a returner, but Sanders' strength is as a punt returner and the Jags have other options at kickoff returner. I have Taylor narrowly beating out Hurns because of his experience, but I can easily see that being flipped if the Jags want to add more size. Hurns is 6-foot-3; Taylor is 6-0.
TIGHT ENDS (3)
Jensen flashed during OTAs and gets the edge over three other players. He's a big kid (6-6, 270) who is a raw version of Lewis, one of the league's best blocking tight ends. Jensen will need a year or two to develop and likely will be used as an extra blocker more than a pass-catcher.
OFFENSIVE LINEMEN (8)
Some of the battles for starting jobs along the line are going to be intriguing during camp. Joeckel and Beadles are safe, but every other spot is up for grabs. Even Pasztor, who started 12 games last season, is uncertain because we don't know how his surgically repaired shoulder will hold up during camp. If it's fine, then he will win the starting job at right tackle. McClendon and Linder are battling for the right guard spot, and Brewster is going to have to hold off Bowanko and two others to be the starter at center. Bradfield has value because he can play both tackle spots.
DEFENSIVE LINE (10)
This should be the biggest upgraded position on the roster thanks to the additions of Clemons, Bryant and Hood. Despite public perception, Alualu isn't on the bubble for two reasons: He played solidly last season, and there really isn't anyone else on the roster as talented as he is to back up Bryant. The Jags are excited about Smith, who could end up playing more than Davis as the No. 3 LEO (hybrid end/linebacker) by the time the season is over.
LINEBACKERS (6)
Either
John Lotulelei
or
J.T. Thomas
, two key special teams players last season, could stick if the Jaguars decide to keep an extra linebacker instead of five cornerbacks, or if Hayes' surgically repaired knee doesn't respond well. Reynolds did a solid job subbing for Watson (groin) during OTAs and minicamp at the new OTTO position (replaces strongside linebacker).
CORNERBACKS (5)
The Jags will have to decide whether to keep fourth-year player
Mike Harris
or Jeremy Harris, a seventh-round pick in 2013 who spent his rookie season on injured reserve with a back injury. The 6-2, 185-pound Jeremy Harris is a better fit for what coach Gus Bradley wants in his cornerbacks than the 5-10, 188-pound Mike Harris, who was a member of former GM Gene Smith's final draft class. Blackmon has been working inside as well, which also makes Mike Harris expendable. Fourth-round draft pick
Aaron Colvin
will begin the season on the PUP list and doesn't count against the roster limit.
SAFETIES (4)
Chris Prosinski
has seemingly been a bubble player since he was drafted in the fourth round in 2011, but there is too much competition for him to survive this time. Martin started 36 games for Carolina in his first five seasons, and that experience gives him the edge. Evans seems to be the name everyone mentions when talking about the first Caldwell draft pick to get cut, but though he might lose his starting job to Guy, he's likely to stick around at least another year.
SPECIALISTS (3)
These guys should have little or no competition to make the roster.
June, 27, 2014
6/27/14
12:00
PM ET
The Jacksonville Jaguars are off until they have to report for training camp July 24. For some, the break will be relaxing. For others, there's probably a little bit of anxiety. Maybe they didn't perform well in OTAs or minicamp, or because of the development of other players they know they're going to be on the bubble in August. They may not necessarily be front-line players, but they've played key roles in the past. Each day this week I'll take a quick look at one of those players who's going to have a lot to prove in camp.
LB J.T. Thomas
Why he'll make the team:
The Jaguars claimed him off waivers Sept. 1 and he became a solid contributor. Injuries forced Thomas into a starting role at weakside linebacker in the final two games of the 2013 season and he responded with 13 tackles and a forced fumble. He's a fourth-year player who can play multiple spots, too. Thomas also is one of the Jaguars' better special teams players. He was tied for third with six special teams tackles and also blocked a punt last season, the latter of which led to the Jags' only points in the season opener.
Why he should be worried:
The Jaguars signed
Dekoda Watson
in March and installed him as the starter at the new otto position, which replaces the strongside linebacker. Second-year player
LaRoy Reynolds
got the first-team reps at that spot, though, because Watson missed most of OTAs and minicamp with a groin injury. Second-year player
John Lotulelei
got a lot of reps with the second-team defense. The Jaguars also drafted
Telvin Smith
, a speedy player the coaches envision getting on the field as a nickel linebacker.
Geno Hayes
also should return from a knee injury to claim the starting job at weakside linebacker. That doesn't leave much room for Thomas to get a lot of playing time.
The bottom line:
Thomas is going to have to be impressive in the limited reps he will get during training camp. His special teams play makes him a valuable contributor and likely will be what keeps him on the team.
May, 6, 2014
5/06/14
3:00
PM ET
JACKSONVILLE, Fla. -- With the third pick in the 2014 NFL draft, the
Jacksonville Jaguars
select ...
Khalil Mack
, linebacker, Buffalo.
That's what happened early Tuesday afternoon in the NFL Nation mock draft. Each of the bloggers who cover a team with a first-round pick acted as general manager and made picks they thought the team they cover would make. In doing my best David Caldwell impersonation, I grabbed Mack.
I actually went after
Jadeveon Clowney
. I had some discussions with Houston reporter Tania Ganguli to move up to No. 1 but I felt the price was too high. The Jaguars need to continue to build the roster and I thought losing as many picks as she wanted was not the best approach. Ganguli managed to work out a deal with Buffalo reporter Mike Rodak, though.
[+] Enlarge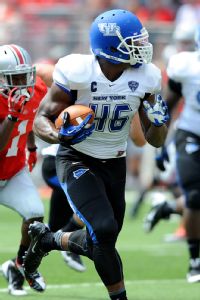 David Dermer/Diamond Images/Getty ImagesKhalil Mack could be the playmaker the Jaguars' defense sorely needs.
It was a pretty steep price: The Bills gave up their first-round pick (No. 9), their second-round pick (No. 41), their 2015 first- and third-round picks, and their 2016 second-round pick.
Nobody was jumping to No. 1 to take one of the quarterbacks, Mack or receiver
Sammy Watkins
so when I heard about the trade I knew I wasn't getting Clowney. Sure enough, the Bills took him.
St. Louis followed by taking offensive tackle
Greg Robinson
, which left me with an interesting dilemma: Mack or Watkins.
I couldn't really lose. Both are elite players and both would fill some pretty pressing needs, but the deciding factor was how deep of an offensive draft this is. While I couldn't get a player of Watkins' caliber later in the draft, the receiver position is pretty deep and I would be able to add a pretty good player later.
The draft isn't deep on elite pass-rushers and linebackers, and Mack fills both needs there.
The 6-foot-3, 247-pound Mack fits right into coach Gus Bradley's defense as a "leo," a hybrid end/linebacker whose primary responsibility is to rush the passer. The Jaguars certainly need help there after finishing last in the league the past two seasons in sacks (20 in 2012 and 31 last season). Mack also makes big plays, and that's where he can really help.
In addition to making 327 tackles in four years, Mack also recorded 28.5 sacks and forced an NCAA-record 16 fumbles. Look at what he did against Ohio State in the 2013 season opener: nine tackles, 2.5 sacks, and a 45-yard interception return for a touchdown.
Take
Paul Posluszny
out of the mix and the Jaguars linebackers had two interceptions, two sacks, four pass breakups, one forced fumbles, and two fumble recoveries in 2013. That's from
Geno Hayes
,
Russell Allen
,
J.T. Thomas
,
John Lotulelei
, and
LaRoy Reynolds
.
Mack brings a couple of other things the Jaguars desperately need at linebacker: athleticism and speed. He ran a 4.55 40-yard dash and played in coverage as well as being a pass-rusher at Buffalo.
I didn't really consider taking a quarterback at No. 3 because I wasn't completely sold on any of them that high. It would have been too risky of a pick and right now the Jaguars can't afford to take those kinds of risks.
January, 3, 2014
1/03/14
1:07
PM ET
JACKSONVILLE, Fla. -- Each week this season I put together a list of the top 10 playmakers from the previous week's game.
Sometimes it wasn't easy, especially in the first half of the season. With the Jaguars going 0-8 I had to dig deep, and twice I had to use mascot Jaxson DeVille for his dramatic pregame entrances.
Thing were much easier in the second half of the season, though. The Jaguars played significantly better and went 4-4.
At the midway point I gave you a list of the top 10 playmakers for the first half of the season. Now that the season is over, here's the final list.
Remember, this isn't a list of the MVP candidates, but a compilation of the players who made the biggest difference this season.
Following each player's name will be three numbers: their final point total, their first-half point total, and second-half point total. Points were assigned to each spot on the weekly list. The No. 1 playmaker each week got 10 points, the No. 2 got nine, the No. 3 got eight, etc.
[+] Enlarge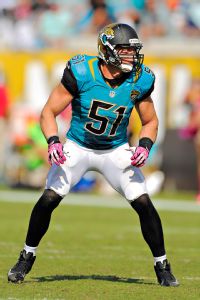 AP Photo/Scott A. MillerPaul Posluszny was the Jaguars' best defensive player and arguably their top player overall.
1. LB Paul Posluszny
(83 total, 46 first half, 37 second half): It's no surprise that he tops the list. He was the Jaguars' best defensive player all season and you could argue that he was the team's best overall player. His 161 tackles (121 solo) were second in the NFL. He also had three sacks, two forced fumbles and one fumble recovery.
T2. RB Maurice Jones-Drew
(77-41-36): It wasn't his best season, but he still was the Jaguars' leading rusher (803 yards) and was the third-leading receiver (43 receptions for 314 yards). He only scored five touchdowns and his 3.4 yards per carry average was the lowest of his career, but he still was the offense's biggest playmaker. He did that despite being less than a year removed from Lisfranc surgery and battling through ankle, knee and hamstring issues.
T2. QB Chad Henne
(77-45-32): He finished with 13 touchdown passes and 14 interceptions, but he threw for nine touchdown passes and five interceptions in the last five games. He also threw for 3,241 yards, making him the first Jaguars quarterback to surpass 3,000 yards since
David Garrard
in 2009. Though he wasn't spectacular, he made a lot of good plays and rarely put the Jaguars in a bad situation.
4. WR Cecil Shorts
(57-44-13): He fought through shoulder and groin injuries to catch a team-high 66 passes for 777 yards and three touchdowns. He missed the final three games because the groin injury became too severe for him to play through. For nine of the 13 games he was the team's No. 1 receiver and struggled with that role in the first month but handled it much better after
Justin Blackmon
's second suspension.
5. K Josh Scobee
(46-30-16): He missed only two of his 25 field goal attempts. One was a 60-yarder and the other was blocked. He scored 94 points, which led the team for the ninth time in the last 10 seasons.
6. P Bryan Anger
(45-34-11): He was the team's best offensive player in the first month of the season. His gross average was down 2.1 yards from his rookie season but he equaled his rookie mark of 31 punts inside the 20-yard line.
7. TE Marcedes Lewis
(41-6-35): A calf injury kept him out for all but two plays in the first six games and he needed time to get used to the offense and figure out his role. Once he got comfortable, offensive coordinator Jedd Fisch made him a significant part of the game plan and Lewis caught 16 passes for 242 yards (15.1 yards per catch) and four touchdowns in the last five games.
8. WR Ace Sanders
(40-13-27): He was drafted to be the team's punt returner and because of injuries and Blackmon's suspension ended up playing a key role on offense. His 51 receptions for 484 yards were second on the team. For comparison, Shorts caught only two passes as a rookie and Blackmon caught 64.
9. DT Sen'Derrick Marks
(37-15-22): He was the Jaguars' best defensive lineman all season and put together a career year. He set career highs in sacks (four), passes defensed (eight), forced fumbles (two) and fumble recoveries (three) in 2013. He had three sacks, eight passes defensed, three forced fumbles and no fumble recoveries in his first four seasons with Tennessee. He was rewarded with a four-year contract extension last month.
10. WR Justin Blackmon
(34-0-34): He played in just four games but he was the Jaguars' best offensive player in those four. He caught 29 passes for 446 yards and one touchdown. His 29 receptions are fifth on the team and the 415 yards are fourth. He will be eligible to apply for reinstatement before the 2014 season begins.
Here are the players who finished 11th-20th
:
11. RB/KR Jordan Todman
(32-5-27): He finished as the Jaguars' second-leading rusher (256 yards) but made his biggest mark as a kickoff returner. His 27.4 yards per return average was seventh in the NFL. He proved he could be a complementary back as well, rushing for 109 yards against Buffalo when Jones-Drew sat out with a hamstring injury.
12. S Johnathan Cyprien
(31-23-9): He finished second on the team with 104 tackles and progressively improved throughout the season.
13. LB Geno Hayes
(29-6-23): Played through a knee injury all season and finished third with 78 tackles and two interceptions.
14. WR Mike Brown
(26-26-0): He missed four games with a fractured vertebrae but rebounded to finish fourth with 32 catches for 446 yards and two touchdowns.
15. CB Alan Ball
(24-3-21): He led the team with 14 pass breakups to go along with 45 tackles and two interceptions.
16. CB Will Blackmon
(21-11-10): He was a late-August acquisition who became the leader in the secondary. His strip-sack and return for a touchdown was instrumental in the Jaguars' first victory. He finished with 10 pass breakups, one interception, and 40 tackles.
17. DE Jason Babin
(19-6-13): He led the team with 7.5 sacks to go along with 40 tackles.
18. WR Kerry Taylor
(18-0-18): He joined the team on Nov. 4 and caught 16 passes for 162 yards in the last three games.
19. LB LaRoy Reynolds
(17-0-17): The sight of him assisting on a tackle on a punt return despite losing his helmet will be one of the lasting images of the season.
20. LB J.T. Thomas
(15-11-4): He had 17 tackles and a forced fumble. He started the last two games of the season and had seven tackles and a forced fumble against Indianapolis.
January, 2, 2014
1/02/14
2:00
PM ET
Arrow indicates direction team is trending.

Final Power Ranking:
29
Preseason Power Ranking:
29
Biggest surprise:
When the Jaguars signed defensive tackle
Sen'Derrick Marks
to a one-year, $1.5 million contract last April, they thought he'd be a good fit in coach Gus Bradley's system. Turns out he was a perfect fit. Marks plays the three-technique, which means he lines up on the guard's outside shoulder, and that position is supposed to provide interior pass rush. Marks finished with four sacks, nine quarterback pressures and eight pass breakups -- all numbers that equaled or surpassed the totals from his first four seasons. He seemed to make at least one impactful play every game and he accounted for two forced fumbles and three fumble recoveries. His play earned him a four-year contract extension as one of the building blocks of the defense.
Biggest disappointment:
The Jaguars' inability to consistently run the ball, especially early in the season, was vexing. The Jaguars switched from a predominantly man-blocking scheme to a zone-blocking scheme, and the offensive line had trouble with the transition. Four of the five starters at the beginning of the season also started in 2011, when
Maurice Jones-Drew
led the NFL in rushing. The Jaguars mixed in more man-blocking schemes as the season progressed and things got better, but the problem wasn't "fixed." In addition, Jones-Drew clearly was not the same player he was two years ago. He missed all but six games last season with a Lisfranc injury and also battled ankle, knee and hamstring issues this season.
Biggest need:
The Jaguars have a pretty long list of needs, but two stand out above all others: quarterback and pass-rusher. Quarterback is the top need because former first-round pick
Blaine Gabbert
isn't the answer and neither is
Chad Henne
, who will be a free agent but wants to return to Jacksonville in 2014. The Jaguars haven't had a bona fide threat at quarterback since coach Jack Del Rio put
Mark Brunell
on the bench for
Byron Leftwich
in 2003. New general manager David Caldwell and Bradley need a player around which to build the franchise, and the Jaguars will have the opportunity to possibly find one when they pick third overall in May's draft.
Team MVP:
The first impulse is to go with middle linebacker
Paul Posluszny
, whose 161 tackles ranked second in the NFL. He was clearly the team's best defensive player and arguably the best overall player. However, what Henne did to stabilize the offense earns him MVP honors. Gabbert had played terribly in the first part of the season (seven INTs, one TD) and Henne stepped in and played the most consistent football of his career. He didn't always light it up and he made some poor decisions and mistakes, but he kept the Jaguars in games in the second half of the season and made enough plays to go 4-4 after the bye. He threw nine touchdown passes -- including the game winner against Cleveland with 40 seconds to play -- and five interceptions over the final five games.
December, 22, 2013
12/22/13
3:53
PM ET
JACKSONVILLE, Fla. -- A few thoughts on the
Jacksonville Jaguars
' 20-16
loss
to the
Tennessee Titans
:

What it means
: The Jaguars (4-11) were unable to overcome a slew of injuries and pick up their second victory at EverBank Field this season. It's just the second time in franchise history the Jaguars have won just one game at home. They went 1-7 at EverBank last season and 1-6 this season (they played a home game against San Francisco in London).
Stock watch
: The Jaguars' group of no-name receivers did a solid job against the Titans. Injuries have left the Jaguars with little experience at the position. Entering the game, the team's four active receivers (
Ace Sanders
,
Kerry Taylor
,
Mike Brown
and
Lamaar Thomas
) had a combined 75 catches this season. None of them have more than a year of experience in the NFL. The group responded, especially Brown and Taylor. Brown caught five passes for 71 yards and one touchdown while Taylor had four catches for 45 yards.
Honoring Meester
: The Jaguars had a quick postgame ceremony to honor center
Brad Meester
, who is retiring at the end of the season after 14 years with the team. Offensive coordinator Jedd Fisch tried to send him out in style by calling a screen pass for Meester that was designed to get him a touchdown. Meester made the catch but cut left instead of right and got tackled at the 4-yard line. Hard to criticize him for making that wrong cut, though. As former Jaguars offensive tackle Tony Boselli joked at halftime, it's not like offensive linemen regularly read blocks.
Depleted defense
: The Jaguars were already without three starters (linebackers
Russell Allen
and
Geno Hayes
and defensive tackle
Roy Miller
) and they lost two more key players during the game: defensive tackle
Brandon Deaderick
(elbow) and cornerback
Dwayne Gratz
(ankle). That forced the Jaguars to use defensive tackle
Jordan Miller
, who was active for the first time this season, and start inexperienced linebackers
J.T. Thomas
and
John Lotulelei
. You could see the drop off. The Titans ran for 182 yards and had most of their success in the passing game in the middle of the field.
What's next
: The Jaguars end the 2013 season at Indianapolis on Sunday.
November, 6, 2013
11/06/13
9:00
AM ET
JACKSONVILLE, Fla. -- It has been an ugly first half of the season for the
Jacksonville Jaguars
.
They've lost every game by double digits -- the average margin is 22 points -- and are riding a 13-game losing streak that dates back to a Nov. 25, 2012, when they beat Tennessee. They rank last in the NFL in total offense and rush defense, 31st in rush offense, and 27th in total defense.
They haven't scored a touchdown at EverBank Field since the first quarter of the 2012 regular-season home finale.
Ugly, indeed.
There have been slivers of good work in parts of the team in the first eight games, but the overall body of work deserves an F.
In breaking that grade down, it's clear this midseason report card isn't going to be pretty. In fact, it's the kind of report card that gets you grounded for weeks:
September, 18, 2013
9/18/13
6:40
PM ET
SAN JOSE, Calif. --
Jacksonville Jaguars
quarterback
Blaine Gabbert
did some light throwing on the side Wednesday for the first time since he severely cut his hand in the season opener, but coach Gus Bradley reiterated that it's highly unlikely that Gabbert could play in Sunday's game against Seattle.
Gabbert
Chad Henne
and
Ricky Stanzi
continue to split reps with the first team, and Henne is on schedule to start.
"It'd be a stretch [for Gabbert to play]," Bradley said "We took out some of the stitches. He came out here and threw real light just to see. We're going to have him do some agility-type drills and maybe just throw on the side, but no competition-type things."
An updated injury report, and it's a pretty long list:
Running back
Maurice Jones-Drew
(ankle), tight end
Marcedes Lewis
(calf), receiver
Mike Brown
(back) and cornerback
Alan Ball
(groin) did not practice on Wednesday.
Guard
Uche Nwaneri
(knee), receiver
Stephen Burton
(hip), receiver
Ace Sanders
(ribs), linebacker
J.T. Thomas
(hamstring), defensive tackle
Roy Miller
(knee) and guard
Will Rackley
(knee) were limited.
Center
Brad Meester
and defensive end
Jason Babin
were given the day off.
Bradley said Lewis did some running on Tuesday, but he had his left calf wrapped when he walked to the practice field at San Jose State University. Lewis hasn't practiced since he aggravated a previous calf injury during practice on Sept. 5. Bradley said Lewis was going to participate in more aggressive drills on Wednesday.
"He worked out, and he still felt a little bit," Bradley said. "I think with Marcedes it's just a feel that he had it [a calf injury in the preseason], and then he came back and re-strained it and now it feels good again, so it's just developing confidence in it."
Lewis missed only three games in his previous seven seasons but has missed two already in 2013.
September, 13, 2013
9/13/13
2:25
PM ET
JACKSONVILLE, Fla. -- A quick injury update from
Jacksonville Jaguars
coach Gus Bradley before the team leaves for Oakland on Friday afternoon ...
Tight end
Marcedes Lewis
(calf) is doubtful, while receiver
Mike Brown
(back), guard
Will Rackley
(knee), linebacker
J.T. Thomas
(hamstring), and cornerback
Alan Ball
(groin) will be game-time decisions.
Quarterback
Blaine Gabbert
(hand) and cornerback
Dwayne Gratz
(ankle) were ruled out earlier in the week.
The fallout: If Ball is unable to play, the Jaguars would be without both starting cornerbacks.
Will Blackmon
, whom the Jaguars signed on Aug. 28, is already starting in place of Gratz. Seventh-round pick
Demetrius McCray
and second-year player
Mike Harris
are the only other cornerbacks on the active roster. The Jaguars most likely will promote Marcus Burley from the practice squad.
If Brown is unable to play, expect to see more of
Stephen Burton
, whom the Jaguars claimed off waivers on Sept. 1. The team also could promote Jeremy Ebert from the practice squad.
September, 1, 2013
9/01/13
5:00
PM ET
JACKSONVILLE, Fla. -- Jaguars general manager Dave Caldwell had promised that the team would be aggressive when it came to working the waiver wire and trying to improve the bottom part of the roster.

He wasn't kidding.
The Jaguars were awarded seven players off waivers on Sunday, adding receiver Stephen Burton (Minnesota), defensive back Winston Guy (Seattle), tight end Clay Harbor (Philadelphia), guard Jacques McClendon (Atlanta), linebacker Chris McCoy (Philadelphia), linebacker J.T. Thomas (Chicago) and tight end D.J. Williams (Green Bay).
They aren't done yet, either. Caldwell said the team will look at the players other teams released on Sunday and there could be some additional signings on Monday.
"We'll evaluate that pool and from that pool we'll see if we can upgrade somewhere," Caldwell said. "We will always look for an edge and an advantage of where we can try to get better."
Speed and the ability to play on special teams are the two traits for which Caldwell is looking in available players. Six of the seven players signed have special-teams value.
"It's something we've looked at the whole time," Caldwell said. "We're always going to look to get better in every phase, not just special teams. It's offense, defense, [and] it's personnel. Whatever we're doing we're going to work to get better. We felt like when we came here in the offseason we wanted to upgrade our team speed. We feel like we didn't completely do that in the offseason but we feel like we did that today."
To make room for the seven additions, the Jaguars cut defensive back
Antwon Blake
, tight end
Brett Brackett
, center
Dan Gerberry
, defensive tackle
Kyle Love
, fullback
Lonnie Pryor
, receiver
Jordan Shipley
and linebacker
Andy Studebaker
.
The Jaguars also signed the following players to the practice squad: cornerback Marcus Burley, defensive end
Ryan Davis
, receiver Jeremy Ebert, guard Drew Nowak, receiver Tobais Palmer, quarterback Matt Scott, and safety Steven Terrell. The Jaguars have one remaining spot to fill on the practice squad.
Here's a quick look at the seven new players:
Burton:
The former 2011 seventh-round draft pick played in 15 games for Minnesota last season and caught seven passes for 73 yards and one touchdown.
Guy:
He was a sixth-round pick by Seattle last year and played in three games, including the NFC divisional playoff game against Atlanta.
Harbor:
He spent the past three seasons in Philadelphia after the Eagles took him in the fourth round in 2010. He has played in 39 games (18 starts) and has 47 catches for 421 yards and four touchdowns. Also has lined up at receiver.
McClendon:
The former 2010 fourth-round pick by Indianapolis has played in only four games.
McCoy:
Miami selected him in the fourth round in 2010 and he spent that season on the practice squad with three teams (Miami, Houston and Seattle). He spent the past two seasons with Calgary in the Canadian Football League.
Thomas:
Chicago selected him in the sixth round in 2011. After spending his rookie season on injured reserve he played in every game last season for the Bears.
Williams:
He spent the past two seasons with Green Bay after the Packers selected him in the fifth round in 2011. He has nine career catches for 70 yards. He also can line up at fullback.