March, 3, 2014
3/03/14
3:00
PM ET
Safety
Antoine Bethea
has started every game he's played in during his eight-year NFL career. The
Indianapolis Colts
are the only team he's put a uniform on during his professional career. But come March 11, he'll step out into somewhat foreign territory when he becomes a free agent.
Bethea, like most who have or currently play for the Colts, has interest in re-signing with the organization.
At the same time, he is intrigued by testing the free-agent market.
"It's my first time really testing the market, so kind of excited," he said at the end of the season. "Want to finish my career here, but if not, hey, got to go on and start a new chapter in my career."
The Colts have interest in re-signing Bethea, but you have to wonder how much they're willing to pay him, especially since there's a chance this could be the last big contract of his career.
Bethea, the backbone of the Colts' secondary, recorded his fourth straight season with at least 100 tackles. An issue the Colts have to decide is: Is Bethea and fellow safety
LaRon Landry
's playing style too similar?
Bethea is more reliable than Landry, but Landry is heading into the second season of a four-year deal.
Here's a look at some of the top safeties who will be available during free agency if the Colts and Bethea decide to go their separate ways:
February, 14, 2013
2/14/13
1:04
PM ET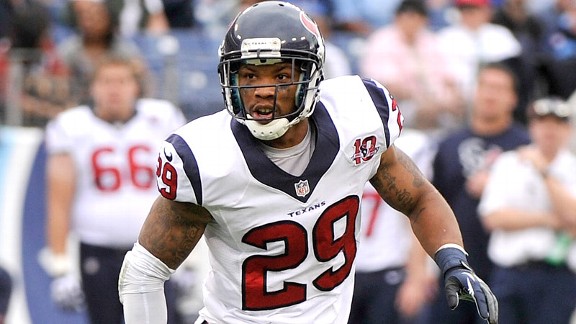 Frederick Breedon/Getty ImagesA low franchise tag number relative to other positions will make it easier for the Texans to keep safety Glover Quin, if they choose to use the tag on the pending free agent.
The free-agent market for safeties could actually be pretty good.
Among those with expiring contracts are Buffalo's
Jairus Byrd
, the Giants'
Kenny Phillips
, Atlanta's
William Moore
, San Francisco's
Dashon Goldson
and Houston's
Glover Quin
.
It's a tantalizing list, but it's sure to shrink.
That pesky franchise tag is dangling out there, threatening to keep quality players at a position of need for Tennessee and Indianapolis from becoming free agents.
At many positions the tag can be prohibitively high. But the new CBA drove the numbers down. Instead of the tag equaling the average of the five highest-paid players at the position, like it was under the old CBA, the new formula is more complex. It uses the average of the five highest-paid players at the position over the past five years and figures in the salary cap, too.
Long story short: Safeties will have a modest tag number of
about $6.798 million
. Only tight ends and kickers/punters are slated to be lower.
Should teams keep a quality guy for another year for less than $7 million or try to replace him? For most teams, tagging a safety isn't a tough call at all. I'd guess Byrd, Goldson and Quin will all get tagged if they don't get long-term deals. If that's the case, an intriguing safety pool dries up a good deal. Players such as Moore and Phillips, if they are not tagged, could wind up in advantageous negotiating positions.
That's one reason
George Wilson
, recently released by the Bills, might be wise to wait. He has a head start -- free agency begins March 12 -- and is slated to visit Detroit on Thursday, a day after he was in Tennessee. But if supply shrinks before free agency starts, demand for him could go up.
For many years, safeties and guards have been relatively cheap players. Many roster architects put a higher priority on other positions, believing it was easier to find serviceable safeties or guards.
Some franchises believe they can draft corners who come up a bit short at the position and shift them inside. Quin came into the league as a corner out of New Mexico. Jacksonville free safety
Dwight Lowery
, acquired from the Jets in a 2010 trade, played cornerback for his first two years in New York.
Now, it seems safeties are being viewed as more important, but the price tags haven't necessarily caught up to any new thinking.
"I don't think people really understand the importance of safety," Goldson told me at the Super Bowl in a chat about the low franchise tag. "Safety is definitely like quarterback on defense. Everybody looks at [middle linebackers] as more of the captains, but safeties are pretty much the ones who are running the show.
"They are smart football players, they understand defenses and get guys lined up, make adjustments on the fly and they have to know everything. They have to know as much as quarterbacks do on offense."
In Houston, the secondary was not nearly as good in 2012 as it was in 2011. Still, the Texans like their top five guys -- corners
Johnathan Joseph
,
Kareem Jackson
and
Brice McCain
and safeties
Danieal Manning
and Quin.
Quin rates as their most significant pending free agent.
He's a versatile guy, a converted corner who probably still hasn't peaked. I expect the team will do what it has to in order to retain him, though the Texans don't have a lot of cap freedom.
"I don't know what's going to happen," Quin said. "What I would hope happens is a good deal, a long-term deal to stay in Houston, obviously."
The adjustment of the formula for determining the tags in the new CBA is another example of how poorly the players fared in the deal. Most reports of the change in the tag equation suggested the owners had slipped one past the NFLPA.
The positional groupings for tags also make little sense.
Defensive ends and defensive tackles each have their own number. But on the other side of the ball there is simply an "offensive linemen" umbrella that covers tackles, guards and centers despite the differences in the positions and their prices. It's too broad, which is great for interior guys but terrible for tackles who are worth more.
As for the judgment of the worth of a good safety …
In 2011 the Chargers determined
Eric Weddle
was worth $19 million guaranteed and as much as $40 million over five years. He's continued to be excellent for them after getting the deal. In 2012, after initially tagging
Michael Griffin
, the Titans decided he was worth $35 million over five years with $15 million guaranteed. He remains a symbol of
their defensive struggles
and needs to be surrounded by better people.
To have a chance to make the Griffin deal look OK, the Titans need to pair him with a better player. If they can't land Moore, Phillips or Wilson, that guy will have to arrive via the draft.
He must show up somehow.
If the Texans want to maximize their chances to play good defense, they need to hold on to Quin. If the Colts want to improve, they should upgrade from
Tom Zbikowski
.
The AFC South could be part of getting that franchise tag to grow.
Goldson says the number will rise, that safeties won't be near the bottom of the list forever.
"I think we'll get to that point eventually," he said. "I think the market will go up. I would hope I help drive it up."
October, 19, 2012
10/19/12
1:30
PM ET
»
NFC Final Word
:
East
|
West
|
North
|
South
»
AFC
:
East
|
West
|
North
|
South
Five nuggets of knowledge about Week 7:
Best versus best:
Houston and Baltimore are the only two AFC teams currently over .500. While those two teams are a combined 10-2, the rest of the AFC is only 31-49. According to Elias, this is the furthest into any season that either conference had as few as two teams with winning records. In fact, neither conference had ever made it past two weeks like that. Counting last season's playoff win, the Ravens are 6-0 all time against the Texans. Houston gave up six passing touchdowns in its first five games, then six more last week in a blowout loss to the Packers.
Better start:
As the Jaguars head to Oakland, they need a plan that will help them get out to a lead, or at least score more early. The Jaguars have scored only two first-quarter touchdowns in their past 16 games. Their record in those games is 5-11. Since Week 6 of last season, only the Cardinals (in 17 games) and the Colts (in 16 games) have scored as few offensive touchdowns in the first 15 minutes of games.
[+] Enlarge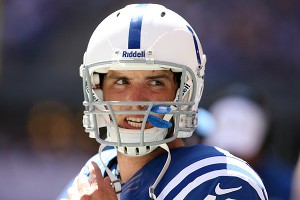 Brian Spurlock/US PresswireIt will be a rare battle of rookie quarterbacks when the Colts' Andrew Luck and Cleveland's Brandon Weeden meet on Sunday.
Young quarterbacks:
With
Andrew Luck
and
Brandon Weeden
set to square off, this is the first matchup between two of the five rookie quarterbacks to start a game this season. (Since 1950, no more than three rookie quarterbacks started in Week 1 in a season before this year.) Luck is fifth in the league in passing yards per game (297.6), and his 1,488 passing yards are the second-most ever by a rookie through his team's first five games (
Cam Newton
had 1,610 last season). Luck needs to be conscious and wary of Browns cornerback
Joe Haden
. Though a suspension kept him out of four games, he's gotten his hands on a bunch of passes already.
Roving threat:
Last week the Titans felt fortunate to avoid free-lancing Pittsburgh safety
Troy Polamalu
. This week they run into Buffalo's
Jairus Byrd
, who's similar in his freedom to judge passes and go make plays. He had two interceptions last week in the Bills' win over the Cardinals, including the takeaway from
John Skelton
in overtime that set up the game-winning field goal.
Matt Hasselbeck
needs to be aware of where Byrd is, and conscious of the safety's ability to close on a play.
Also:
Over the past five seasons, when Ravens linebacker
Ray Lewis
has been out, the team has actually allowed the same yards per rush (3.6), and its average yards per play and yards per pass play have been lower. … Look for Houston QB
Matt Schaub
to test the middle of the Ravens' defense. Among quarterbacks with significant snaps, only Hasselbeck (54.5) has thrown more of his passes within 10 yards of the line of scrimmage and inside the numbers than Schaub (48.6). … Texans WR
Andre Johnson
has dropped a pass once every five targets this season on throws more than 10 yards downfield. The previous three seasons Johnson dropped a pass once every 31 targets on such throws. … The Browns have lost 10 straight road games, one shy of the franchise record (from 1974-76). Cleveland's 10-game road losing streak is tied with the Colts' for the longest active streak in the NFL. The Colts, meanwhile, have won four of their past five at home. … Weeden leads the NFL with 10 interceptions, but the Colts have only two picks this season. … Since Week 8 of the 2010 season, the Titans have 12 road losses, tied for the second-most among AFC teams.
December, 24, 2009
12/24/09
9:03
AM ET
Award season is almost upon us.
I thought I'd give you a run through of where I believe AFC South candidates should fit in the voting. Please note I don't have a ballot, and could be missing good candidates here from outside the division. I'm also two games early.
As always, I invite a conversation in the comments.
MVP:
Peyton Manning
should win it and I believe he will. I'm not big on the "without-him" criteria, where you say how bad the Colts would be without him. I'm not big on the "so dependent" criteria, where you say the team's run game is poor and they are so dependent on Manning it increases his value.
Here's what I am big on: I believe he's the best football player in the league right now. Seven fourth-quarter comebacks, a 14-0 record and early clinching of the big trifecta -- the division, a bye and homefield advantage. What else could you ask him to lead his team to?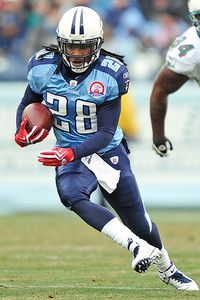 Don McPeak-US PRESSWIRETennessee running back Chris Johnson's stats are worthy of heavy consideration for offensive POY.
Offensive Player of the Year:
Chris Johnson
should win it. I understand that some voters will feel compelled to put
Drew Brees
here if they go with Peyton Manning for MVP or vice versa, but that would be a mistake and here is why:
Johnson is miles ahead of the next most-productive running back, while Manning and
Andre Johnson
, the NFL's leading receiver in yardage, have no such distance between them and their competitors.
Chris Johnson has run for 1,730 yards.
Steven Jackson
is second with 1,353. That 377 yard difference amounts to 22 percent more for CJ. Johnson is 17 percent ahead of
Ray Rice
on scrimmage yards.
Manning is one of six quarterbacks with a passer rating over 100. He leads a group of eight signal-callers who've already eclipsed 4,000 yards or are all but certain to.
Andre Johnson has 1,433 receiving yards. How many guys are within 22 percent of that total? Six.
Are running backs down? Sure. Is it more and more a passing league? Absolutely. Are people still handing the ball off? Yup.
Chris Johnson's rushing performance this season is the single best offensive performance of the season. He should win this award by as large a voting margin as any postseason award is won.
Defensive Player of the Year:
A case can be made for
Dwight Freeney
, who's got 11.5 sacks in a very consistent rushing season. But the Colts defense has been good at all three levels and his push doesn't stand out.
Charles Woodson
and
Darrelle Revis
are the buzz guys now and I think Woodson is a worthy winner. I'd lean to
Darren Sharper
.
Offensive Rookie of the Year:
Percy Harvin
looks to be in line to win it, and he's been an explosive addition to the Vikings. But just be sure you're not putting him here as a receiver alone, because it's his additional work as a kickoff return man (his 28.3-yard average is third in the NFL) that puts him over the top.
Austin Collie
's receiving numbers (53 catches for 567 yards and seven touchdowns) aren't too far off Harvin's (49, 691, six).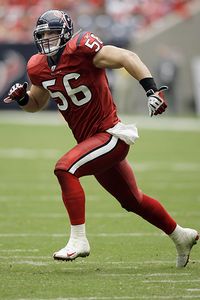 Brett Davis/US PresswireTexans rookie linebacker Brian Cushing has received praise from coaches around the league.
Defensive Rookie of the Year:
Brian Cushing
's been a huge addition to the Texans and I've listened to opposing coaches, on and off the record, rave about him all season. He's played like a veteran despite missing camp with a knee injury and sitting out a lot of practices during the season with a foot injury. He should win this because of how much impact he's had for the Houston defense. I've been asked about
Jerraud Powers
, who's been quite good for what the Colts ask of a corner, but he's not on par with Cushing. Buffalo's
Jairus Byrd
will get votes for an excellent season with an NFL-high nine interceptions and
Brian Orakpo
is a strong candidate.
Coach of the Year:
Jim Caldwell deserves serious consideration. Broad national thinking is he inherited a great situation and didn't screw it up. But he made two significant staff changes. The defense, under coordinator Larry Coyer, has been excellent, and the special teams' coverage, under Ray Rychleski has been better. The Colts didn't plan on life without
Bob Sanders
or
Anthony Gonzalez
, yet they've not missed a beat with those guys missing.
But voters traditionally lean heavily on turnarounds or surprises. I figure that means Sean Payton and maybe Marvin Lewis get the most attention here. If the Jaguars find a way into the playoffs, so should Jack Del Rio.
Comeback Player of the Year:
I've heard some
Vince Young
talk. I think this requires coming back from more than a self-inflicted benching, and more than a 10-game season. I don't think he's in the same class here as
Cedric Benson
, who had been dismissed as a bust. And I know a lot of folks will look to
Tom Brady
.