October, 6, 2013
10/06/13
8:24
PM ET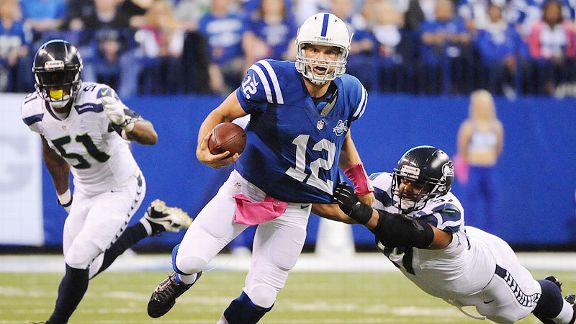 Jonathan Moore/Getty ImagesQB Andrew Luck utilized a solid fourth-quarter plan, plus a little luck, to lift his Colts over Seattle.
INDIANAPOLIS --
Indianapolis Colts
receiver
T.Y. Hilton
, a man of few words when a microphone or tape recorder is in his face, couldn't stop talking when asked about the player responsible for getting him the ball.
"It always helps having a guy like
Andrew [Luck]
," Hilton said. "He can do it both ways. On the ground. In the air. He's so smart. He sees what the defense is doing. He's smart. He's strong. There's nothing he can't do."
Hilton would have kept talking about "12" if not for his desire to head home after the Colts handed the
Seattle Seahawks
their first loss of the season,
34-28
, at Lucas Oil Stadium on Sunday afternoon.
And in what's become typical Luck fashion, he did it in comeback style.
Sunday was the ninth fourth-quarter comeback by Luck in only 21 NFL games. Yes, nine of the Colts' 15 victories over the past two seasons have been been come-from-behind wins led by the second-year quarterback.
Jake Plummer
is the only other quarterback who can say he has nine fourth-quarter comebacks in his first two seasons. Luck still has 11 more games this season to top Plummer.
"That's a good question," Luck said when asked if he savors the come-from-behind victories. "Maybe there's something special about the close ones. A win is a win. I'm sure you ask every guy in the locker room and they're happy with a win."
That, too, is typical Luck. He was not interested in talking about his individual success. It's all about what's best for the team.
Luck took another step Sunday in distancing himself from the rest of the quarterbacks taken in his draft class. Washington's
Robert Griffin III
, the player taken right behind Luck, led the Redskins to the playoffs last season, but he has to prove he can last a full season and be just as mobile after having knee surgery in January.
Seattle's
Russell Wilson
is the only other quarterback from that 2012 class to lead his team to the playoffs last season.
So Sunday was more than the Colts trying to give the Seahawks their first loss of the season. The subplot was whether Wilson could outplay Luck to close the gap between the two of them.
Wilson put on a show -- throwing for 210 yards and running for another 102 yards -- but Luck was the last one standing, finishing 16-of-29 for 229 yards and two touchdowns.
"His last name fits the bill," Colts linebacker
Robert Mathis
said about Luck. "I'm glad he's on my team."
The two were neck and neck in the passing game for more than three quarters.
Luck and Wilson had identical numbers of 15-of-27 for 210 yards passing at one point in the fourth quarter.
Seattle's stingy defense, seven fourth-quarter points allowed all season, or Luck pulling off another comeback?
Something had to give.
Luck, according to right tackle
Gosder Cherilus
, entered the huddle on the final play of the third quarter and told them "let's go get this."
The Colts went on a 14-play, 86-yard drive that ended with
Donald Brown
scoring from 3 yards out. Luck was 5-of-7 on the drive. His best throw, though, came when he threw back across his body to find
Reggie Wayne
for a two-point conversion and 31-28 lead.
"Truth is, we know we have to do our part because we know he's going to do his part," Cherilus said. "We know the kid has major heart. As long as we do our part -- I'm talking about all 10 of us -- we know he'll do his. It's one of those things where we keep playing and keep going we'll be fine with him leading the way."
The Colts were stuck in idle on their first three offensive series. They were three and out each series and Luck was 5-of-13 for 97 yards in the first half. Seventy-three of those yards came on a touchdown pass to Hilton.
Luck used the snap count more and got some help in the running game in the second half to help overcome their first-half performance. He was 11-of-16 for 132 yards and a touchdown in the second half.
"He just wills this team to a victory," Colts coach Chuck Pagano said. "He's unbelievable. He's able to stick to the process. It doesn't matter what the score is, what the situation is, the guy just finds a way to make plays, finds a way to get out of the pick, finds a way to extend. Obviously, the guys believe in him. We can jump on his shoulders, jump on his back."
Seahawks cornerback
Richard Sherman
added, "He executed down the stretch. That's all that counts."
Seattle's secondary, the best in the league, has been rock solid all season, but that didn't stop Luck from taking shots against them.
He was 4-of-5 for 140 yards and two touchdowns on passes of at least 15 yards.
"Against that team? Extremely difficult," Pagano said. "That's Andrew being Andrew. We're very lucky -- no pun intended -- to have him."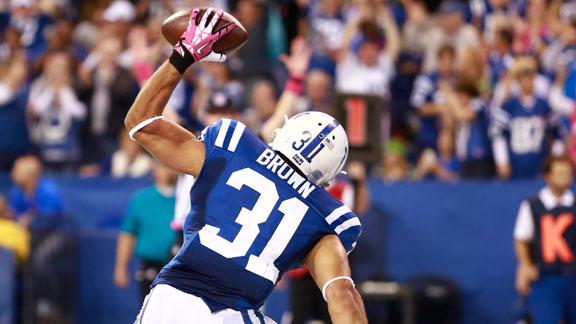 June, 7, 2012
6/07/12
9:36
AM ET
Reading the coverage ...
Houston Texans

Jared Crick's draft status sank because he missed a lot of time due to injury as a senior, but he's
not lamenting it
now, says Sam Khan of the Houston Chronicle.
Stephanie Stradley of the Chronicle blog tries to
calm concerns
over Matt Schaub.
Texans owner Bob McNair owns a stake in
Steer Life
, a horse who will run at Belmont, says Khan.
Indianapolis Colts

In the Indianapolis Star, Phillip B. Wilson shares his
early impressions
of veteran center Samson Satele.
Does Indy Mayor Greg Ballard
want a chance
with the Colts?
Brett Mock of Colts Authority thinks mainstream media concerns over the offensive line and running backs, some of them mine, are
getting overplayed
.
Andrew Luck and the Colts are
itching to work together
, says Dan Hanzus of NFL.com's Around the League.
Jacksonville Jaguars

Justin Blackmon
apologized
for his DUI arrest and told Jaguars fans that's "not who I'm going to be," says Vito Stellino of the Florida Times-Union.
Blackmon has plenty of help and plenty of time to write
a quality comeback story
, says Gene Frenette of the Florida Times-Union.
The Jaguars will make an announcement about Fred Taylor today, and he's expected to be added to the Pride of the Jaguars, the team's
ring of honor
. Frenette likes it. So do I. But is the timing simply intended to help offset the Justin Blackmon talk?
Tennessee Titans

The Titans'
schedule
could impact the quarterback battle, says John Glennon of The Tennessean. He's also got updates on Kenny Britt and Leroy Harris.
Tennessee
promoted
Blake Beddingfield to director of college scouting, says Jim Wyatt of the Tennessean.
Comparing
Matt Hasselbeck to Jake Plummer with Nate Dunlevy of Bleacher Report.