July, 7, 2014
Jul 7
10:00
AM ET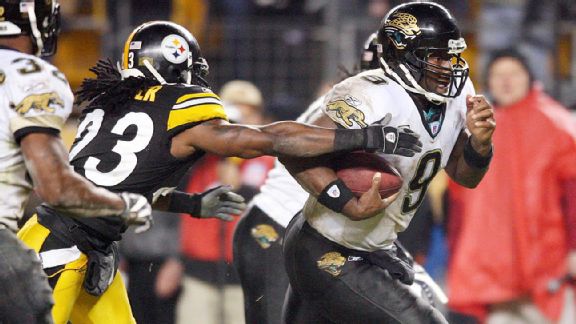 Gary W. Green/Orlando Sentinel/MCT/Getty Images
»
VOTE HERE
»
NFC Plays:
East
|
West
|
North
|
South
»
AFC:
East
|
West
|
North
|
South
This is one of three nominations for the most memorable play in
Jacksonville Jaguars
history. On Monday we featured Morten Andersen's missed field goal in the 1996 regular-season finale that sent the Jaguars to the playoffs. On Tuesday we featured Mark Brunell's touchdown pass to Jimmy Smith to clinch the 1996 AFC divisional playoff game over the Broncos.
Score
: Jaguars 31, Steelers 29
Date
: Jan. 5, 2008
Site
: Heinz Field
The Jaguars have won just one playoff game since their run to the 1999 AFC Championship Game, and it came thanks to a gutsy play call, a couple of good blocks and a holding penalty that wasn't called.

The Jaguars appeared headed for an easy victory over Pittsburgh in a 2007 AFC wild-card game after beginning the fourth quarter with an 18-point lead and the Steelers facing a fourth-and-12 at the Jacksonville 37-yard line. But
Ben Roethlisberger
and
Santonio Holmes
hooked up for a touchdown, and Pittsburgh's comeback got jump-started.
The Steelers eventually took a 29-28 lead with a little more than six minutes to play. After the teams traded possessions, the Jaguars drove into Pittsburgh territory but faced a critical fourth-and-2 from the Steelers' 43 with 1:56 remaining.
Offensive coordinator Dirk Koetter didn't choose a pass play or a run by Fred Taylor or
Maurice Jones-Drew
. He called a quarterback draw out of the shotgun formation, putting the season on David Garrard's feet.
Four players threw key blocks: Center Brad Meester sealed linebacker James Farrior on the inside, left guard
Vince Manuwai
drove defensive end
Brett Keisel
backward, right tackle Maurice Williams took down nose tackle
Casey Hampton
and tight end
Marcedes Lewis
turned safety
Troy Polamalu
outside.
That opened a huge hole for Garrard, who put a move on safety Tyrone Carter and ran by him at the 30 before Carter finally ran him down at the Pittsburgh 11-yard line. That play set up
Josh Scobee
's 25-yard field goal with 37 seconds remaining, and defensive end Bobby McCray sacked Roethlisberger and forced a fumble that defensive tackle
Derek Landri
recovered with 20 seconds to play to give the Jaguars a 31-29 victory.
Except it shouldn't have happened.
Officials missed a pretty blatant hold by left tackle
Khalif Barnes
on linebacker
James Harrison
. Barnes got his feet crossed as Harrison went outside and then back inside and grabbed Harrison's jersey by his shoulders. By the time Barnes let go, Garrard was already past the first-down marker.
Steelers players and fans were irate about the noncall. Their complaints were eventually validated when the NFL's head of officiating admitted the following spring that the crew working that game missed the holding call.
There was obviously nothing the NFL could do about the outcome. That remains the last time the Steelers lost a playoff game at home.
@ESPNdirocco David Garrard on 4th down in Pitt: made jags only team to ever beat the steelers on their home soil twice in same season

— David Lipton (@d_lipton14) June 10, 2014
September, 26, 2011
9/26/11
4:51
PM ET
My opinion: The
Indianapolis Colts
know if
Kerry Collins
has a concussion. They knew earlier today when Jim Caldwell talked to the media.
That they are unwilling to disclose it is their prerogative.
[+] Enlarge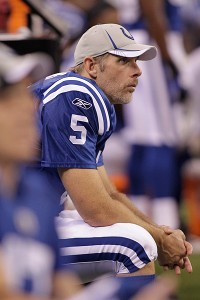 AP Photo/AJ MastColts quarterback Kerry Collins left Sunday night's game with concussion-like symptoms.
But such an approach leaves the appearance that, because of the procedures now in place to clear a player to return from a concussion, they are being super careful about what they say so they can get him back more easily, sooner.
Say Collins has a concussion and you can't get it back in the bottle. He'd have to be cleared by an independent doctor to return. Say you're still evaluating it and you leave open avenues for a more hasty return.
"He's still being evaluated, but he had those kinds of symptoms," Caldwell said. "The doctor's did what they're supposed to do in that regard, which is to remove him from the ball game and continue to evaluate him. He's still in that process right now."
Caldwell said the team isn't sure when the concussion occurred, the sort of thing he sometimes says for which I cannot fathom the rationale. Sometimes it's as if he wants to appear to be outside the loop.
The most likely play where an injury happened was a third-quarter hit on Collins by
James Farrior
that the quarterback seemed to think was worthy of a roughing the passer penalty based on the way he looked at a nearby official as he picked himself up.
"I saw a couple of situations where it could have happened, but I'm not exactly sure," Caldwell said. "I haven't spoken to him exactly in terms of which one it was, because, obviously, he didn't come out of the game right when it occurred. It was something that got progressively worse."
(Typical question for the Colts/Caldwell in such a situation: Why not? Why wouldn't the head coach talk with his quarterback to find out when the quarterback believes he suffered the concussion? If he considers it unimportant, I'd like to know that.)
In reading what Caldwell said the day after a tough loss to the Steelers, his words seem typically measured. They seem determined to walk a line, a line I think maximizes ultimate options.
I'm not suggesting they'd put Collins back in action sooner than was safe or permissible. Just that if he recovers quickly they'll be able to get him back to work without relying on anyone not connected to the franchise.
It sounds as if the team will make a determination about who starts Monday night in Tampa Bay by Thursday.
"The easiest way to explain it is that we look at the complete body of work, and make a determination on it," Caldwell said. "Then, we move on from there. We'd certainly like to make a determination here in the couple of days, because we do have an extra day. We'll wait and see exactly how it all unfolds, and make a decision once we get ready to start preparation."
That doesn't make it sound like Collins getting clearance to return from a concussion is going to be a piece of the puzzle. Though Caldwell could get the results of the ongoing evaluation at any time, which could change that.
He did leave open the possibility that the team will have to bring in another quarterback, with a sweeping "we have to look at all possibilities, and that's our job to cover all those bases."
I'm sure they'll keep us posted.
May, 20, 2010
5/20/10
3:13
PM ET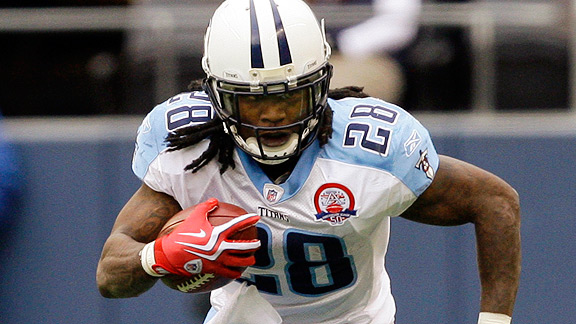 AP Photo/Elaine ThompsonChris Johnson has three years remaining on the rookie contract he signed in 2008.
Organized team activities are in full swing, and so is contract posturing in the AFC South, where three prominent players looked to make statements with non-participation.
Andre Johnson
re-joined the
Houston Texans
, but the
Tennessee Titans
'
Chris Johnson
and the
Jacksonville Jaguars
'
Rashean Mathis
remain out. All three are hoping for new deals.
Players generally support other players in such instances. I once covered an event that involved a phone conversation between two players and rather than a goodbye, the final salutation to a guy who was looking for a bigger payday was something along the lines of "Get yours." Over the years, I've heard that many times.
"We all understand that there is a business side to it, we all understand that there are going to be contract situations that make guys feel like they want to hold out," veteran Titans backup quarterback
Kerry Collins
said.
"… Here's the thing: The NFL is going to get what it wants out of you. So I don't blame guys for trying to get what they can out of it financially. That's just the way it is."
While I will hit Andre Johnson and Mathis in separate posts, let's turn to Chris Johnson …
He's due a $550,000 base salary this season, though it's more sensible to look at his 2010 number by including prorated pieces of his bonuses. That's more like $1.6 million.
Does his play through two years make him worth more than that? Absolutely. Do the Titans deserve to continue to reap the benefits of being smart enough to select him in the draft where they did and for the cost of that pick? For sure.
[+] Enlarge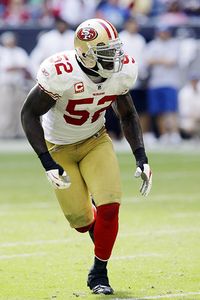 Brett Davis/US PresswireThe 49ers recently negotiated a new $50 million deal with Patrick Willis, who was drafted a year before Johnson.
We just saw a new deal for San Francisco linebacker
Patrick Willis
who is heading into his fourth season. The current precedent for tearing up an original contract and doing something new set there is still at least one year away for Johnson.
I do not expect the Titans to redo Johnson's deal before he plays a third season, and to hear his friends
Mike Sims-Walker
(
here
) and
Ahmard Hall
(
here
) talk, I am not as sure as some that he will hold out when training camp commences.
That said, we should look more carefully at the finances at play.
Many of us have been wrong when discussing Johnson's current salary specifics and in interpreting the 30-percent rule that is in play here in the final year covered by the collective bargaining agreement. I apologize for the volume I added to that, and while this may now provide too much detail for some of you, it will also result in a far more accurate picture.
We've been saying Johnson got $7 million guaranteed when he signed his rookie deal as the 24th overall pick in 2008. But that's oversimplifying and not breaking it down sufficiently, which is where one-time
Washington Redskins
cap guru J.I. Halsell comes in.
September, 10, 2009
9/10/09
9:46
PM ET

Posted by ESPN.com's Paul Kuharsky
PITTSBURGH -- In a tight game where the first score could do a lot to the crowd's mood, the Titans have blown the game's best two chances.
Rob Bironas
missed a 37-yard field goal wide right and just had a 31-yarder blocked by
Aaron Smith
in what remains a 0-0 game.
Question on the third-down play just before the block: Didn't
James Farrior
deliver a hit with his helmet to the head of
Justin Gage
, who should have qualified as a defenseless receiver in the back of the end zone?
Gage got his hands on the
Kerry Collins
' pass but it fell incomplete.