April, 21, 2010
4/21/10
4:40
PM ET
Quentin Groves
tweeted this at about 2:30:
Duval County....I LOVE U GUYS...thanks for all your support...New Starts=New Beginnings...OAKLAND HERE I COME!!!!
Chris Mortensen reported he believes the Jaguars got a fifth-round pick for Groves.
Groves told me in an e-mail that it's done "pending a physical."
The deal gives the Jaguars, who are without second- and seventh-round picks a total of seven selections now, with two in the fifth and two in the sixth. The move is another example of Gene Smith's willingness to admit the franchise's errors, acknowledge a non-fit or both.
Among the others disposed of or allowed to walk:
Reggie Williams
,
Matt Jones
,
Khalif Barnes
,
Gerald Sensabaugh
and
Derek Landri
.
They were all drafted when James "Shack" Harris was running the front office, but this isn't about a divide between old leadership and new.
Smith needs all the good players he can get; he's not clearing out guys he believes can help. It's to his credit that he's not compelled to give guys more time than he thinks they need to be sufficiently evaluated.
The Jaguars couldn't figure out how to get production out of Groves, who was part of the reason they dabbled with a 3-4 last year and was part of the reason the team had only 14 sacks. They started him at linebacker, they started him at end and they shuffled him way down the depth chart.
It just didn't work.
Now new defensive line coach Joe Cullen's had time with him and I feel sure his input was factored in.
A team looking to revamp its pass rush now goes with
Derrick Harvey
and free-agent addition
Aaron Kampman
as starters with
Reggie Hayward
and a to-be-drafted player in the mix.
April, 15, 2010
4/15/10
1:12
PM ET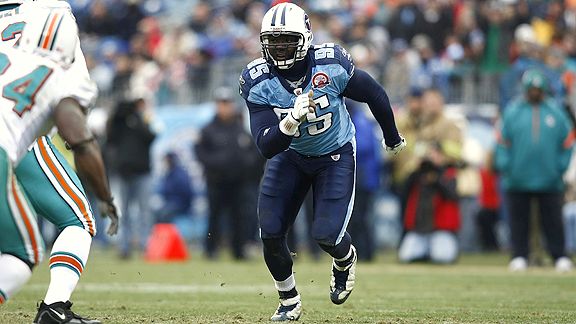 Joe Robbins/Getty ImagesTitans defensive end William Hayes was drafted in 2008 in part because defensive line coach Jim Washburn wanted him.
When players want to steer clear of trouble with the bosses, they are fond of saying "players play, coaches coach."
As the draft approaches, I wonder how often scouts mumble the variation: "Scouts scout, coaches coach."
Not long ago, the
Tennessee Titans
had a somewhat distinct division of power along those lines.
Former GM Floyd Reese respected Jeff Fisher's staff. But Reese believed it was his job to assess the talent and to provide it to be coached up.
There were exceptions, of course. Offensive line coach Mike Munchak was the primary force behind the selection of left tackle
Michael Roos
in 2005, for example.
The scouts I know respect the opinion of a position coach like Munchak.
How could they not appreciate the track record of a Hall of Fame player in developing quality linemen? Still, in a general scout-assistant matchup where the credentials are more even, scouts should hold the trump card, don't you agree?
One scout I spoke to this week pointed to nine months of work including all those live visits against four to six weeks of study done primarily with tape.
If a GM needs to lean one way or the other, this scout said he should lean with the scout. And on his team, he said that's usually the way it goes.
Most often, Reese was making the call with the support of his scouting staff. Position coach input was a relatively small ingredient.
And so, when some of Reese's players didn't match expectations, a semi-traditional tug of war commenced: Position coaches might gripe about the talent they were -- or were not -- given; the personnel department could grumble about how coaches were not bringing out a player's best.
Now the man who replaced Reese in 2007, Mike Reinfeldt, strives for harmony and consent and has drafted several players in part because of large endorsements from assistant coaches with mixed degrees of success.
Reinfeldt's counterparts in the AFC South seek to be consensus builders too, though Colts president Bill Polian and Jaguars general manager Gene Smith are more powerful than Reinfeldt and Texans GM Rick Smith when it comes to final decisions.
[+] Enlarge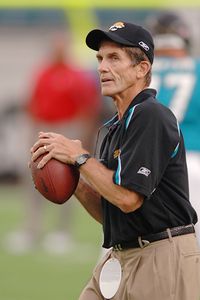 Jacksonville Jaguars for ESPN.comSteve Walters said he has coached on teams where assistants played a role in scouting.
Retired coach Steve Walters, who worked in New England and New Orleans before wrapping up his career with stops in Tennessee and Jacksonville overseeing receivers, said he agreed with that. Under Reese he rarely did much hands-on work with prospects. Assistants just weren't used that way much. Under James "Shack" Harris with the Jaguars, dumped after the 2008 season, Walters said he and the assistants played a bigger role in scouting.
I can see some value in a more old-school approach to how things should work. It was often unhealthy to have "Reese guys" and "Fisher guys" on the Oilers and Titans. But a position coach didn't have any more stake in Player A than he did in Player B and it felt like a system of checks and balances was in place.
Washburn helped turn late-round picks by Reese like
Robaire Smith
(sixth round, 2000) and
Carlos Hall
(seventh, 2002) into productive players. More recently, he's given his blessing to the team's choice of Jones and Hayes under Reinfeldt .
Might the hard-nosed Washburn, even subconsciously, be inclined to give Jones and Hayes a bit more leeway than a guy previously forced on him despite his protests? Might he, even subconsciously, be rooting for them a bit more, because he stuck his neck out for them?
My initial answer to those questions was that I expected he would, and that such things be detrimental. But in hashing it out with a scout and a former coach, I am no longer as staunch in my opinion.
I do still think it's an interesting question to consider.
My scout told me the additional accountability that comes with a position coach endorsement is a good thing. Maybe a coach would want to stick with such a player a snap, a series, a game or a season too long, but the cross-checking and co-sign from a GM and his scouts provides the necessary context and cover for such scenarios.
You can take the accountability idea in many different directions, though.
If there is a scouting-coaching split, it's easier to trace an evaluation mistake back to where it happened. On the consensus side, the saying goes that it's amazing how much can be accomplished if no one cares about who gets the credit. What about the blame?
Ultimately, an owner should want to know who is nailing assessments and who is botching them.
Walters said when an assistant feels he got what he asked for, he is conscious of having endorsed a guy.
"If you stand on the table for a guy and say, 'I really think this is the guy and these are the reasons why' and you can build a case for the guy, your opinion may push it over the top for a guy that you want," he said. "And if you get that guy you're certainly a little bit on the line for him because they're going to remember what you said.
"If they just say 'Here are your guys, like them or not,' whether you had any input into them or not…"
His voice trailed off and he left that one hanging.
I'd be inclined to finish it: "Well that's a different deal."
February, 24, 2010
2/24/10
5:36
PM ET
When Jack Del Rio indicated, accurately, that
David Garrard
isn't an elite quarterback, it got plenty of attention, including in
this post
.
[+] Enlarge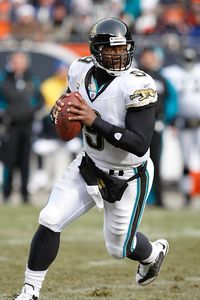 Scott Boehm/Getty ImagesThe Jaguars sound comfortable with David Garrard as their starter for 2010.
Last week when he said "he's my quarterback," it didn't get the same volume.
It should have here, so I apologize to you, to Garrard and to JDR for not finding and getting to it more promptly and hope we can do a better late than never.
Friday on "The Pete Prisco Show" in Jacksonville, Del Rio spoke again about Garrard.
And asked if Garrard was certain to be under center for the opening snaps of 2010, this was the answer:
"We'll always keep our option open in terms of being able to add talent. I think the likelihood of somebody coming in here that's better than David Garrard and take a snap from center this year, I think that's unlikely to happen. You just have to look at available players, and the likelihood of one of those players… I don't think that Sean Payton is going to do a player-for-player swap.

"I think you have to be realistic about how you're able to upgrade positions in this league. David is a good player and we're very fortunate that we have him. There are teams that don't have a quarterback as good as David Garrard, I'll tell you that right now. And I'm going to support the guy we have."
A few more pertinent snippets:
"I think he's a good player, I think we can win with him, I think we have to be really good around him. I think that there are few elite quarterbacks in the league like
Peyton Manning
and
Tom Brady
and some of those guys that are able to carry their teams and we don't ask David to do that and I don't think it would be fair to ask David to do that."
JDR also said "I think he's a good, solid player" not a "great" one. "I hope he becomes that, It would be great for me, it would be great for us as a football team. …I think we have other more pressing issues."
Here's
part one
of the interview. Move up to roughly the 5:20 mark to get started.
Here's
part two
.
If Sam Bradford or Jimmy Clausen is somehow available at No. 10 or 11 when the Jaguars draft, I think they'd have to take him if they like him. If not I still think they'd be wise to draft a quarterback to begin to develop as an alternative.
Because while they can win with Garrard, it's going to be hard for them to be great around him. The more direct route to postseason success is to find one of those elite quarterbacks and the Jags' collective head should be on a swivel to find someone who has more potential to become one than Garrard does.
For a column on the Jaguars' offensive line you'll see Thursday, I spoke with left guard
Vince Manuwai
and also had a chance to ask him about Garrard.
He was a bit roundabout, but basically said the $60 million contract Garrard got after the Jaguars went two rounds into the playoffs in 2007 changed expectations.
"I know the money that they pay him now people want a quarterback who sits in the pocket and is a Tom Brady or a Peyton Manning," Manuwai said. "So David never had to live up to those expectations, but now it's getting tougher because of the money that's involved, I guess."
"People want 3,500 yards passing, 4,000 yards passing, you know? Or over 20 touchdown passes. It's definitely tough on Dave trying to do what he wants to do but also trying to make people happy."
That's why, no matter how much deposed personnel chief James "Shack" Harris and Del Rio thought Garrard was the guy, overshooting on the contract actually served no one football-wise.
February, 24, 2010
2/24/10
2:02
PM ET
»
NFC Schemes/Themes
:
East
|
West
|
North
|
South
»
AFC
:
East
|
West
|
North
|
South
»
Draft Watch
:
Biggest needs
(2/17) |
Busts/gems
(2/24) |
Schemes, themes
(3/3) |
Recent history
(3/10) |
Needs revisited
(3/17) |
Under-the-radar needs
(3/26) |
History in that spot
(3/31) |
Draft approach
(4/7) |
Decision-makers
(4/14) |
Dream scenario/Plan B
(4/21)
Each Wednesday leading up to the NFL draft (April 22-24), the ESPN.com blog network will take a division-by-division look at key aspects of the draft. Today's topic: Busts and late-round gems.
Houston Texans

The previous regime traded with division rival Tennessee to get Western Michigan linebacker
Jason Babin
with a second first-round pick in 2004 and he never became what they envisioned. The first-rounder from the next year, Florida State defensive tackle
Travis Johnson
, wasn't good either. Johnson flashed some but wasn't long-term help. Wide receiver
David Anderson
(seventh round from Colorado State in 2006) is a quality slot receiver, and probably the team's best late-round pick.
Indianapolis Colts

The Colts traded up in 2007 to take Arkansas offensive tackle
Tony Ugoh
42nd overall. He was the man to replace
Tarik Glenn
when he surprised the team by retiring the same year. But Ugoh lost his starting job in 2009 and was often inactive. Two third-rounders from the same draft also faded: cornerback
Dante Hughes
from Cal didn't make it out of camp in 2009 and Ohio State defensive tackle
Quinn Pitcock
quit football in 2008. Late-round finds abound: Howard safety
Antoine Bethea
(sixth round) is a Pro Bowl talent; Mount Union receiver
Pierre Garcon
(sixth round, 2008) just had a breakout season; punter/kickoff man
Pat McAfee
from West Virginia (seventh round, 2009) is a consistent performer. And Indianapolis does consistently well with undrafted rookies, such as safety
Melvin Bullitt
and cornerback
Jacob Lacey
.
Jacksonville Jaguars

First-round busts have been a major reason the Jaguars haven't broken through as a consistent contender: receivers R. Jay Soward of USC in 2000,
Reggie Williams
from Washington in 2004 and
Matt Jones
from Arkansas in 2005 are gone and safety
Reggie Nelson
(Florida, 2007) and defensive end
Derrick Harvey
(Florida, 2008) rank as major underachievers. Late-round gems? Purdue guard
Uche Nwaneri
was a 2007 fifth-rounder and has started a lot of games and Florida's
Bobby McCray
was a good defensive end for a seventh-rounder in 2004.
James Harris
was ousted as the personnel chief and the team seems on a better track under Gene Smith, who was named GM about a year ago.
Tennessee Titans

Any list of recent high-ranking failures has to start with first-round cornerback Pacman Jones, sixth overall from West Virginia in 2005. He was probably the best defensive football player there, but the Titans failed miserably in researching his personality. Other busts who hurt them:
Ben Troupe
(second-round tight end from Florida in 2004),
Andre Woolfolk
(first-round cornerback from Oklahoma in 2003) and
Tyrone Calico
(second-round receiver in 2003). Cornerback
Cortland Finnegan
was an All-Pro in 2008 and heads any list of recent late-round gems. He was a seventh-rounder from Samford in 2006. Tight end
Bo Scaife
was a sixth-rounder from Texas in 2005 and promising defensive end
Jacob Ford
from Central Arkansas was a sixth-rounder in 2007.
March, 27, 2009
3/27/09
2:25
PM ET
Posted by ESPN.com's Paul Kuharsky
A year ago, expectations were bubbling over for the Jaguars. Coming off a season that featured a playoff win in Pittsburgh, they were a bit of a media darling and a hip Super Bowl pick.
Here's a post on the topic I wrote last July 7, with comments from since-departed GM Shack Harris on how the team would maintain its focus.
After an injury-riddled 5-11 year, Jack Del Rio told reporters at the NFL owners' meeting earlier this week that big expectations from the outside are obviously not going to be part of his team's offseason this year.
Del Rio: "I don't think there's any question that spending time talking about something as opposed to going in and working at the details, I don't think there's any question that can be a distraction and a problem. For me right now, the most refreshing thing is I know right now we won't have any of that talk today. We won't have any of that discussion during this offseason. So we're going to get back to the fundamentals of playing football. We're going to work on our conditioning, work on the fundamentals that we need to operate our offense, defense and special teams, and then we're going to go out and compete our tails off. We're going to get back to the basics on that. I really think that you can get away from the little things that make the difference. And the work that need to be done. We're going to get back to work."
So did little things get overlooked a year ago?
"It's not overlooked. And it's not that you don't think you're doing it," Del Rio said. "It's just not with the same amount of commitment, of all-in, the mentality of being all-in. It's a fine line now. You're not talking about something that is clear to everyone, or else it would be corrected right away. But in hindsight, when you take a look back, you're like, 'Clearly, this train got off track. We need to get back on the tracks.'"
January, 16, 2009
1/16/09
11:58
AM ET
Posted by ESPN.com's Paul Kuharsky
Good morning folks.
We've reached the time of year where when I read the coverage and there won't be something on every team every day.
I always invite you to point me to links in the mailbag. But on a day like today where I find nothing on the Texans or Colts, I'm just going to say so and share what I do find. Over time I expect it will balance out.
Houston Texans
All is quiet.
Indianapolis Colts
All is quiet
Jacksonville Jaguars
James "Shack" Harris is a candidate for the GM post in Cleveland, says Vito Stellino.
Defensive coordinator Gregg Williams goes to the Saints.
Tennessee Titans
Jim Schwartz leaves for the Lions, writes Jim Wyatt.
ESPN.com's NFC North guru Kevin Seifert did an entire Schwartz edition of his roundup this morning. Find it here.
The Titans season in review from The Tennessean.
David Climer thinks Kerry Collins has leverage.
Gregg Williams didn't wait on a potential opportunity to reunite with Jeff Fisher, taking the defensive coordinator job in New Orleans, according to Mike Triplett. I feel certain Fisher told Williams he would head in a different direction if Schwartz left, which he did in short order.
A late look at George Breatherton's musings on Chris Johnson's injury.
December, 24, 2008
12/24/08
10:41
AM ET
Posted by ESPN.com's Paul Kuharsky
Merry Christmas Eve. AFC South headlines to go with cookies and milk...
Houston Texans
The Texans want to avoid a losing season, says John McClain.
Steve Slaton and Matt Forte make for quite a rookie running back matchup, writes McClain.
Andre Johnson is looking for a big finish, according to McClain.
Indianapolis Colts
Clint Session is making a mark, says Phillip B. Wilson.
Jim Sorgi hopes to play well in front of his young son, writes Mike Chappell.
Bill Polian's weekly radio show transcribed by colts.com.
Jacksonville Jaguars
James Harris leaves as Jacksonville's GM. Vito Stellino gives us details.
Gene Frenette says the Jaguars' busts forced this departure.
A Q&A with Gerald Sensabaugh.
Players were sad about the news regarding Harris, says Stellino.
Cole Pepper said the Harris move had to happen.
Tennessee Titans
The Titans are deciding who should play and how much, writes Terry McCormick.
Five things Jim Wyatt knows heading into Titans-Colts.
Michael Silver says the Titans prove draft grades are bogus.
Ex-Titan Derrick Mason is playing through pain, says Dave Ginsburg.
December, 23, 2008
12/23/08
1:38
PM ET
Posted by ESPN.com's Paul Kuharsky
In a move that was no surprise, the Jaguars began their offseason revamping Tuesday when James "Shack" Harris resigned as the team's GM and owner Wayne Weaver promoted from within to fill the vice president of player personnel post, naming Gene Smith.

As the Jaguars' season went south, the end for Harris was a foregone conclusion. He and head coach Jack Del Rio endured a power struggle that was resolved in 2007 and went in Del Rio's direction as he named David Garrard the starting quarterback over Byron Leftwich and convinced the organization to part ways with Leftwich. Del Rio got a contract extension after the Jaguars advanced to the divisional round of the playoffs last year, and the deal is costly enough to ensure Del Rio at least one more season.
While Harris did not have autonomy on draft picks -- the Jaguars always talked of consensus -- his title put his name on the picks, which started with Leftwich. The team did well with players like cornerback Rashean Mathis, guard Vince Manuwai, fullback Greg Jones and running back Maurice Jones-Drew. But the overall draft record during Harris' term has to rate as average and the veterans added for this season -- receiver Jerry Porter and Troy Williamson and cornerback Drayton Florence -- count as busts.
Smith is a change, but will it be the dramatic one the team needs and can he win when he finds himself at odds with Del Rio considering how Weaver has backed the coach?
December, 18, 2008
12/18/08
8:03
PM ET
Posted by ESPN.com's Paul Kuharsky
JACKSONVILLE, Fla. -- Here's a pregame snack if you haven't seen it.
Pete Prisco's been around the Jaguars for as long as they've existed. He's usually on the money when he dives in.
He offers a list of issues beyond injuries that have helped undo the team this year:
• The shooting of tackle Richard Collier, which left him paralyzed from the waist down and cost him part of a leg.
• The Mike Peterson-Jack Del Rio feud, which led to the benching of Peterson, a team leader. That didn't sit well in the locker room, according to sources.
• The less-than-expected season by quarterback David Garrard, which, in turn, led to a primitive passing offense.
• Bad drafting and bad personnel moves, which might lead to the firing of general manager James Harris after the season. He has one year left on his deal after this season, according to team sources.
• Talk of strife involving Del Rio's staff.
July, 11, 2008
7/11/08
2:30
PM ET
Posted by ESPN.com's Paul Kuharsky
| | |
| --- | --- |
| | |
| | AP Photo/David Zalubowski |
| | Last year David Garrard threw 18 touchdowns and only three interceptions. |
David Garrard, a backup in 2006, now ranks as the highest-paid player in Jaguars history.
His six-year contract extension can be worth $60 million, and it came with $20 million guaranteed.
Expectations for him, like his team, are very high. But Jacksonville Vice President of Player Personnel James "Shack" Harris is wary of people who might gage Garrard by his numbers.
Last year, Garrard threw 18 touchdowns and only three interceptions, posting a 102.2 passer rating that ranked him behind only Tom Brady and Ben Roethlisberger
"He had some outstanding numbers last year," Harris said. "This year he can play as well and may not match the numbers that he had. But we feel confident he's a good player who will continue to play at a high level.
"He's got another year with the coordinator [Dirk Koetter] and quarterback coach [Mike Shula] that he's been working with. They'll be more familiar with each other in terms of concepts and play-calling and anticipating what plays will be coming in. [Garrard] will be more familiar with just being the starting quarterback. He has started a lot of games. Last year really wasn't his first year -- he had a lot of starts prior to that. So he's a seasoned veteran that we think that can continue to play at a high level."
July, 7, 2008
7/07/08
2:32
PM ET
Posted by ESPN.com's Paul Kuharsky
Jacksonville Vice President of Player Personnel James "Shack" Harris knows a lot of people are expecting big things from the Jaguars this season.
They are a popular pick to return to the playoffs a year after an 11-5 season and an upset Wild Card round playoff win in Pittsburgh. Now, some even expect Jacksonville to knock Indianapolis out of the top spot in the AFC South.
But Harris said such talk falls outside what the Jaguars are looking at and thinking about.
"Our focus is on continuing to play hard and to play our best football consistently," Harris said. "How we are perceived, you don't want to allow that to affect our performance. It's just important we continue to play well, play hard. That's what we've done and the team had matured some. So that's not something that will be part of our focus."
Is he conscious of the talk, though?
"We hear it and we're aware of it," he said. "You always like the compliments, but not to the point where they become part of your focus. We want to keep our focus on the field."
Sounds like focus will be a big theme in Jacksonville when players report to camp on July 25.
With an influx of new players, the Jaguars are counting on significant contributions from veteran receivers Jerry Porter and Troy Williamson and rookie defensive ends Derrick Harvey and Quentin Groves as well as four new assistant coaches on Jack Del Rio's staff. It may be a bit easier for the Jaguars not to get caught up in expectations.
July, 2, 2008
7/02/08
8:24
AM ET
Posted by ESPN.com's Paul Kuharsky
| | |
| --- | --- |
| | |
| Porter | Williamson |
Jacksonville vice president of player personnel James "Shack" Harris knows that Jerry Porter was on the market because the Raiders weren't going to pursue their own free agent and Troy Williamson was available for a sixth-round pick because Minnesota was done with him.
But all around the league teams are counting on fresh starts to revive players who had been well regarded before their clubs decided to go a different direction. And it's easy for Harris to point to his own team's history for an example of a successful reclamation project at the same position.
"Jimmy Smith came here the same way," Harris told me Tuesday afternoon. "So in this league you get players [like that], you just try to coach them up and get the best out of them. We think they are two players that can help us, and we're excited to have them. They've both worked well since they've been here."
Smith was a second-round choice by Dallas in 1992 but endured a broken leg as a rookie and missed his second year due to complications from an emergency appendectomy. The Cowboys cut him in 1994. He was picked up and cut by Philadelphia and had at least two unsuccessful tryouts elsewhere before the expansion Jaguars signed him in 1995.
He retired in 2006 with 862 catches, good for 10th all-time, and 12,287 career receiving yards, which put him 13th on the all-time list.
Neither Porter nor Williamson has endured anything like Smith did, and it's doubtful either will provide a comeback story as impressive. But each has to like the idea of becoming a good get for the Jaguars, just like Smith was.