AFC South:

James Harrison
October, 24, 2014
10/24/14
8:00
AM ET
The streaking
Indianapolis Colts
will try to win their sixth game in a row on Sunday when they visit the
Pittsburgh Steelers
. Slowing down quarterback
Andrew Luck
will be the Steelers' priority, and they have to find a way to minimize his impact or score enough to keep pace with the 5-2 Colts. Beating Indianapolis would give Pittsburgh a 5-3 record at the halfway point of the season as well as a signature win.
ESPN Colts reporter Mike Wells and Steelers reporter Scott Brown take a closer look at the 4:25 p.m. ET game at Heinz Field.
Brown:
Mike, the Steelers' passing game has been torched by the likes of
Mike Glennon
and
Brian Hoyer
this season. The Steelers' pass rush has been average, and they are suspect in the secondary. That is not a good formula for stopping Luck. What is the best way to contain him, if that is possible?
Wells:
Blitzing Luck is the best way, but that appears to be a problem for the Steelers. Luck has done an exceptional job of spreading the ball around this season. He is not just focusing on receivers
Reggie Wayne
or
T.Y. Hilton
. Luck had back-to-back games where he completed passes to nine different receivers this season. His biggest problem, though, is interceptions: He is tied for third in the league in that category with seven. The Colts have survived Luck's miscues so far, but they won't be as fortunate once they get to the playoffs and face teams that can make them pay for their mistakes.
The Steelers are a tough team to figure out. One week they get blown out by Cleveland, and then they come back and use an incredible performance in the second quarter to beat Houston. What is Pittsburgh's identity?
Brown:
Mike, I can't figure out this team quarter to quarter, much less game to game. The defense certainly isn't the one that people are accustomed to seeing. There is no intimidation factor, no swagger, and the Steelers are really just trying to get by defensively as they retool a unit that is in transition. The Steelers have the potential to forge a personality as a dynamic offensive team, as they have the NFL's leading receiver in Antonio Brown, the second-leading rusher in
Le'Veon Bell
and, of course, quarterback
Ben Roethlisberger
. The Steelers have moved the ball this season, but they have too often bogged down in the red zone. Maybe scoring three touchdowns in the last three minutes of the second quarter Monday night against the Texans will serve as a springboard for the offense. It had better put up a lot of points against the Colts if the Steelers are to beat one of the NFL's hottest teams.
I normally don't associate the Colts with the kind of defense they played in absolutely stifling the Bengals on Sunday. Is Indianapolis' defense underrated?
Wells:
It is very underrated. I didn't think this defense had a chance once linebacker Robert Mathis, last season's sack leader, was lost for the season with a torn Achilles. The unit appeared to be headed for a rough season after it had only one sack over the first two games. But defensive coordinator Greg Manusky has taken a hold-nothing-back approach with his defense. With two cornerbacks who can blanket receivers,
Greg Toler
and
Vontae Davis
, Manusky is loading the box and constantly blitzing. That is why the Colts have 20 sacks and nine turnovers during their five-game winning streak. They have also held their past four opponents to 4-of-41 on third down. People might not have respected the Colts' defense before, but now teams have to take notice.
The Steelers have a history of being a good defensive team. They are 15th in the league in yards allowed a game. Are they on the decline defensively?
Brown:
That is a great question. The Steelers have to hope it doesn't get any worse defensively, or they could be in trouble. They have some promising young players to build around in rookie linebacker
Ryan Shazier
and rookie defensive end
Stephon Tuitt
. But the Steelers have serious questions at outside linebacker, especially if 2013 first-round pick
Jarvis Jones
doesn't develop into a pass-rushing force. Cornerback is also an issue, a position at which the organization has not drafted well or neglected, depending on your vantage point.
Cortez Allen
is the Steelers' best young cornerback, and he recently lost his starting job to
Brice McCain
. Allen has the physical ability to develop into a No. 1 cornerback, but the 2011 fourth-round pick has to become more consistent. It could get worse before it gets better on defense, given some of the holes that the Steelers have tried to spackle over by moves such as coaxing veteran outside linebacker
James Harrison
out of retirement.
The Colts seem like they have something going with
Trent Richardson
and
Ahmad Bradshaw
at running back. Richardson seems to be playing much better than he did last season. Is part of the reason that Bradshaw has eased the pressure on Richardson to carry the Colts' ground game?
Wells:
Richardson might never live up to the expectations as being the No. 3 overall pick in 2012, but he is running better than he did last season, when he eventually was demoted. He is running with more confidence and making better decisions. Having Bradshaw has been a blessing for Richardson because he doesn't have the burden of carrying the load in the backfield. Neither player has a problem sharing the work, and it helps that Bradshaw is familiar with sharing the load in the backfield. He went through it while with the
New York Giants
.
Brown looks like he could surpass the 1,499 receiving yards he had last season. What makes him so successful, and what type of challenges will he present to the Colts' secondary?
Brown:
I thought Brown would have a really tough time matching his production in 2013, when the fifth-year veteran set a Steelers record for receiving yards in a season. He has been even better this season and has scored five touchdowns after reaching the end zone eight times in 2013. Brown is an excellent route-runner, makes tough catches in traffic and is dazzling after the catch. The Colts will have to limit the damage Brown does after the catch, and I would imagine they will do everything they can to take him out of the game. But no team has succeeded in doing that, even though a reliable complement opposite Brown has yet to emerge.
July, 7, 2014
7/07/14
10:00
AM ET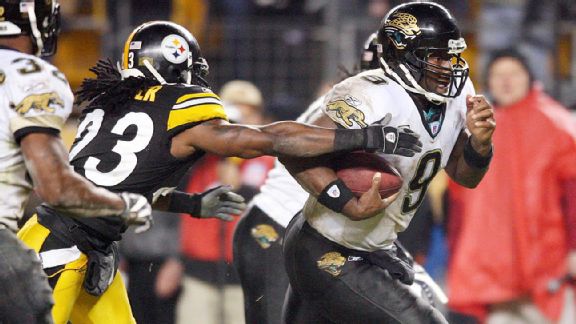 Gary W. Green/Orlando Sentinel/MCT/Getty Images
»
VOTE HERE
»
NFC Plays:
East
|
West
|
North
|
South
»
AFC:
East
|
West
|
North
|
South
This is one of three nominations for the most memorable play in
Jacksonville Jaguars
history. On Monday we featured Morten Andersen's missed field goal in the 1996 regular-season finale that sent the Jaguars to the playoffs. On Tuesday we featured Mark Brunell's touchdown pass to Jimmy Smith to clinch the 1996 AFC divisional playoff game over the Broncos.
Score
: Jaguars 31, Steelers 29
Date
: Jan. 5, 2008
Site
: Heinz Field
The Jaguars have won just one playoff game since their run to the 1999 AFC Championship Game, and it came thanks to a gutsy play call, a couple of good blocks and a holding penalty that wasn't called.

The Jaguars appeared headed for an easy victory over Pittsburgh in a 2007 AFC wild-card game after beginning the fourth quarter with an 18-point lead and the Steelers facing a fourth-and-12 at the Jacksonville 37-yard line. But
Ben Roethlisberger
and
Santonio Holmes
hooked up for a touchdown, and Pittsburgh's comeback got jump-started.
The Steelers eventually took a 29-28 lead with a little more than six minutes to play. After the teams traded possessions, the Jaguars drove into Pittsburgh territory but faced a critical fourth-and-2 from the Steelers' 43 with 1:56 remaining.
Offensive coordinator Dirk Koetter didn't choose a pass play or a run by Fred Taylor or
Maurice Jones-Drew
. He called a quarterback draw out of the shotgun formation, putting the season on David Garrard's feet.
Four players threw key blocks: Center Brad Meester sealed linebacker James Farrior on the inside, left guard
Vince Manuwai
drove defensive end
Brett Keisel
backward, right tackle Maurice Williams took down nose tackle
Casey Hampton
and tight end
Marcedes Lewis
turned safety
Troy Polamalu
outside.
That opened a huge hole for Garrard, who put a move on safety Tyrone Carter and ran by him at the 30 before Carter finally ran him down at the Pittsburgh 11-yard line. That play set up
Josh Scobee
's 25-yard field goal with 37 seconds remaining, and defensive end Bobby McCray sacked Roethlisberger and forced a fumble that defensive tackle
Derek Landri
recovered with 20 seconds to play to give the Jaguars a 31-29 victory.
Except it shouldn't have happened.
Officials missed a pretty blatant hold by left tackle
Khalif Barnes
on linebacker
James Harrison
. Barnes got his feet crossed as Harrison went outside and then back inside and grabbed Harrison's jersey by his shoulders. By the time Barnes let go, Garrard was already past the first-down marker.
Steelers players and fans were irate about the noncall. Their complaints were eventually validated when the NFL's head of officiating admitted the following spring that the crew working that game missed the holding call.
There was obviously nothing the NFL could do about the outcome. That remains the last time the Steelers lost a playoff game at home.
@ESPNdirocco David Garrard on 4th down in Pitt: made jags only team to ever beat the steelers on their home soil twice in same season

— David Lipton (@d_lipton14) June 10, 2014
February, 8, 2014
2/08/14
8:00
AM ET
Last week's
Cincinnati Bengals
mailbag was
heavy on free-agent talk
, specifically the chatter as it pertained to defensive end Michael Johnson and potentially replacing him.
This week, we're going to put that on ice for now. We've been discussing "if-then" free agent scenarios all week and haven't had much time to discuss other rather pertinent news, such as the Bengals apparently embracing Hue Jackson as their new offensive coordinator.
Don't worry, we'll get to some of those other questions, but we're going to start this week's mailbag instead with a look at what the Bengals could be expecting with Jackson at the helm:
October, 2, 2011
10/02/11
9:21
AM ET
Reading the coverage…
Houston Texans
The last time Duane Brown faced the Steelers and James Harrison, it was his first game as a pro and he got taken apart. Brown's been
very solid
this season, and feels a lot more ready for the matchup this time around, says John McClain.
My take:
Brown's bigger, stronger, tougher and smarter. The Texans line can largely be overlooked, but that won't stay the case if he and the rest of the group play the way they are capable of through the season.
Indianapolis Colts
Turnovers and big returns have left the Colts' defense in
bad spots
on the field far too often this season. And giving up 28 points a game is going to make it awfully difficult to break through, says Phil Richards.
My take:
It's easy to say, but the defense has been good enough to win when not faced with sudden-change situations. Still, like Pat Angerer said, they've got to put out the fire no matter when they are called on.
Jacksonville Jaguars
Since defensive coordinator Gregg Williams left the Jaguars for the Saints in 2009, he has faced
nine rookie quarterbacks
. They combined to throw two touchdown passes and 15 interceptions against Williams' defenses, says Vito Stellino.
My take:
The Saints can be beat when blitzing, as they are not loaded in the defensive backfield. Blaine Gabbert needs to get the ball out quickly and accurately, and his targets need to get some yards after the catch.
Tennessee Titans
Are NFL teams better off inserting their
young quarterbacks
into the lineup as early as possible and letting them learn as they go? Or is it wiser to let them sit and soak behind a veteran for a year or two? John Glennon looks at Colt McCoy and Jake Locker as the Titans prepare for the Browns.
My take:
It's easy to sit the kid if you have a veteran playing well like the Titans do with Matt Hasselbeck. It's easy to play the kid when you don't have a sufficient alternative, like the Browns.
September, 25, 2011
9/25/11
11:45
PM ET
Thoughts on the
Indianapolis Colts
' 23-20
loss
to the
Pittsburgh Steelers
at Lucas Oil Stadium:


What it means:
The Colts are capable of competing with a good team even without
Peyton Manning
. But they also have little room for error. They got a giant error from left tackle
Anthony Castonzo
and quarterback
Curtis Painter
in the fourth quarter, as
James Harrison
stripped the quarterback and
Troy Polamalu
picked the ball up on a bounce and scored. And while Indianapolis pulled even, the Colts couldn't keep the Steelers from marching to a game-winning field goal at the end that dropped them to 0-3.
Things I liked:
The Colts ran the ball far better than many of us thought they could (for 97 yards) and stopped the run far better than they usually do (allowing 67 yards). It makes one wonder why they didn't fare better in both departments in their first two games. Also makes one wonder about their commitment to both moving forward.
Big question lingering for me:
Why did the Colts use
Dallas Clark
to help block Harrison so much early on? Clark is a pass-catcher first and foremost.
Brody Eldridge
is a far better blocking tight end. Yet the Colts put Clark in position to block the fierce Pittsburgh outside linebacker multiple times.
Stars:
It's easy to say the Colts need to rely on
Dwight Freeney
and
Robert Mathis
in the absence of Manning. But a lot of other game elements have to go right for those two to dictate things. They did against the Steelers, with incredible rushing efforts and a strip sack each. Freeney also had a sack that took Pittsburgh out of field goal range.
Blame and credit:
Painter was forced into action when
Kerry Collins
left the game with a concussion. Painter missed a wide open
Pierre Garcon
on a stop-and-go that beat
Ike Taylor
and would have been a long touchdown. And Painter didn't sense Polamalu bearing down to strip the ball deep in the Colts' own end. But he did orchestrate an excellent drive that produced the touchdown that pulled things to 20-20 with 5:13 remaining in the game.
Mea culpa, kinda:
I wrote
this week about how America was about to learn just how bad the Colts were with the first of their five prime-time appearances. They are not good. But they played a pretty good, and very entertaining, game.
What's next:
More quarterback uncertainty as Collins recovers from a concussion and the Colts sort through Painter's performance. If Collins is out for the Oct. 3 "Monday Night Football" Game in Tampa, who's the team's second quarterback?
July, 14, 2011
7/14/11
10:44
AM ET
By
ESPN.com staff
| ESPN.com
Reading the coverage ...
Houston Texans
The lockout has claimed another victim: The Texans and Saints agreed to cancel their
annual joint practices
.
Arian Foster won an ESPY
award Wednesday night for the Castrol EDGE NFL Strongest Performance.
In an interview with Yahoo! Sports,
Foster opened up
about how he's been spending his time during the lockout, how he'd advise undrafted free agents and whether there should be a rookie wage scale.
Responding to comments from James Harrison
that he was "juiced out of his mind," Brian Cushing said "I'll pray for [Harrison]."
Indianapolis Colts
Peyton Manning, Tom Brady and Drew Brees
filed a joint statement Wednesday
. "We believe the overall proposal made by the players is fair for both sides and it is time to get this deal done. This is the time of the year we as players turn our attentions to the game on the field. We hope the owners feel the same."
Former Colts defensive lineman Erwin Baldwin
didn't care for James Harrison's interview
in Men's Journal, tweeting, "Man just seen James Harrison comments dude is a goon."
Jacksonville Jaguars
Black & Teal's Luke N. Sims
projects what can be expected
from the Jaguars' receivers and offensive linemen this season.
Tennessee Titans
Randy Moss' agent, Joel Segal, told NFL.com that
his client is in "freakish shape
." "He is determined, motivated and quite frankly has a huge chip on his shoulder. Whatever team ends up getting Randy, they're going to know they're getting the old Randy Moss," Segal said.
Will Mike Munchak have
the toughest coaching job
in the league after the lockout ends?
March, 22, 2011
3/22/11
1:06
PM ET
Do I overrate
Dwight Freeney
?
The seven others who cast votes in ESPN.com's balloting for the
pass-rusher Power Rankings
think so.
I ranked the Colts defensive end first in what I thought was an impossible ballot in which I found 17 players worthy of spots and where I might have leaned a little less on total sack numbers than some of my colleagues. A rusher can certainly be consistently disruptive and dictate a blocking scheme without always notching big sack numbers.
My rationale for Freeney over the Dallas Cowboys'
DeMarcus Ware
, who got all the other first-place votes?
Here's what I told NFC North blogger Kevin Seifert, who wrote the main piece on the results.
"I've had coaches and scouts I trust tell me, repeatedly, that Freeney is the best pure pass-rusher in the league. They say he's the guy they'd want if they could have anyone and the most difficult guy to stop because of the way he plots out his game. That's stuck with me and was a big factor for me as I put together my ballot."
Crush me for being a homer if you must -- and I've obviously seen Freeney way, way more than I have seen Ware, so it's inevitable I get slanted there -- but I'll stand by that.
Still, on a different day with Ware highlights running on my computer screen, I could certainly have made things unanimous.
Here's my entire ballot:
Dwight Freeney
DeMarcus Ware
I was miserable about leaving off
Julius Peppers
,
Osi Umenyiora
,
Trent Cole
,
James Harrison
,
Terrell Suggs
,
Cameron Wake
and
Elvis Dumervil
.
If I re-voted right now, I could second-guess myself as much as you and do a lot of shuffling.
As for AFC South guys -- I absolutely believe Mathis is worthy of a spot here. He's a terror. I may have scored Williams too high based on all the potential he has and the attention he draws. Others have that and more production.
Peppers was my toughest call. I'm big on constant effort from my pass-rushers and I am not sure he gives it.
I also agree with NFC West blogger Mike Sando that the proliferation of 3-4s complicates things, because we sifted through so many players. This year's
Houston Texans
will be the first 3-4 defense I ever cover, and I am sure my judgment of outside 'backers will evolve because of it.
That 4-3 bias didn't hurt Hali, but I'm sorry if Matthews, Woodley, Harrison, Suggs, Wake and Dumervil suffered for it.
September, 23, 2010
9/23/10
10:29
AM ET
Reading the coverage…
Houston Texans
Bum Phillips
is torn
between the Cowboys and Texans, says Dale Robertson.
Neil Rackers' shoe
ripped apart
just before his game-winning field goal in Washington, says Richard Justice.
His
sprained ankle
won't keep Andre Johnson out for the Dallas game, says John McClain.
Mario Williams is off to
a blistering start
, says Jeffrey Martin.
Gary Kubiak talks about Duane Brown's
suspension
.
Houston is
for real
, says Alex Marvez.
Rick Gosselin
scouts the Cowboys
heading into the Texans game.
Indianapolis Colts
Make opponents pass and Dwight Freeney and Robert Mathis
feast
, says Mike Chappell.
The Colts got the Giants into
third-and-long
, says Phil Richards.
Jim Caldwell reflected on Kenny McKinley's
death
as the Colts ready for the Broncos, says Richards.
John Oehser's weekly
seven-pack
of Colts' thoughts.
A nice breakdown of a
key drive
in the Giants-Colts drive from 18to88.
Examining the role of the Colts'
defensive tackles
with Brett Mock.
Jacksonville Jaguars
Michael Vick knows he still has a bull's-eye
on his back
, says Tania Ganguli.
Todd Bouman is
happy
to be back, says Vito Stellino.
Luke McCown talks about
his ACL tear
, says Ganguli.
Scotty McGee is
out for the season
.
Help is
not on the way
for the secondary, says Vic Ketchman.
Tennessee Titans
What's going on
in Vince Young's head, asks Jim Wyatt.
Keith Bulluck called out the Titans for
not calling
, says John Glennon.
Jared Cook
was close
with McKinley, says Wyatt.
James Harrison was
fined $5,000
for his body slam of Young, says Wyatt.
Chris Johnson says he
didn't give up
, writes Wyatt.
December, 21, 2008
12/21/08
8:45
PM ET
Posted by ESPN.com's Paul Kuharsky
NASHVILLE, Tenn. -- Three hours before the game, a tech guy does an annoyingly long check of the referee's microphone. When the officials first come on the field, they do another. And because referee John Parry was having problems early in the game, there was a short test between the first and second quarters.
No matter.
His microphone didn't work in the second and third quarters, and left two calls that needed a lot of explanation hanging in the air.
In a three-play span at the end of the third quarter, there were two confusing calls -- or at least they were confusing when Parry was unable to convey them to those in attendance through the magic of amplified sound.
A flag was dropped on Kerry Collins' pass thrown into the end zone for Brandon Jones, who got a bit tangled with defensive backs Ryan Clark and Bryant McFadden. It seemed they were going to call pass interference, then it seemed they were indicating the ball had been tipped. Then Jeff Fisher threw a challenge flag, the officials discussed things with him and the flag got picked up. After the game, Fisher said officials were saying the players got tripped up, not that there was a tip.
Then on a fourth-and-1 from the 4-yard line, the Titans were lining up for a field goal attempt and James Harrison was called for simulating the snap count, which is a personal foul. Fans also went without clarification for that call.
In a world with instant replay, first-down lines on TV and high definition JumboTrons, it's hardly unreasonable to expect that the official's microphone will work reliably.
Every ticket buyer deserves a $5 check from the league for the gaffe. They pay for a better experience than that.
December, 19, 2008
12/19/08
5:46
PM ET
Posted by ESPN.com's Paul Kuharsky
Pittsburgh Steelers (11-3) at Tennessee Titans (12-2), 1 p.m. ET



The Titans have drifted away from their run-at-all-cost mindset while losing two of their last four. A game can unfold in a way that forces them out of it, but they are usually pretty stubborn, even if a good share of the carries are for minimal gains.
Much has been made about how the offensive line will handle Pittsburgh's zone blitzing 3-4 front. Tennessee's is a cerebral line keyed by left tackle Michael Roos and center Kevin Mawae, and how they sort through the unexpected to block for Chris Johnson and LenDale White and to buy time for Kerry Collins will be crucial.
Fewest Yards/Play Allowed Since 1978
Team
Yds./Play
'08 Steelers
3.88 (3347/863)
'79 Buccaneers
3.89
'91 Eagles
3.92
'99 Ravens
4.06
'78 Rams
4.09
'89 Vikings
4.10
Another key piece is fullback Ahmard Hall. He and the tight ends will be called on to help slow James Harrison and crew.
Collins has been starting especially slow and while the Titans don't panic, they don't want a bad first quarter to leave them with a hole to climb out of. Tight end Bo Scaife hasn't been as involved in recent weeks as he was earlier in the season. It would seem the Titans could look to find some short Collins-to-Scaife connections early to create rhythm and get the offense started.
Pittsburgh is the league's top scoring defense (13.7 a game) and the Titans are second (14.1). If it's a field-goal-at-the-end kind of game both teams have a clutch guy who's only missed three -- Jeff Reed is 26 of 29, with misses from 40, 45 and 51 yards while Rob Bironas is 28 of 31 having missed from 43, 47 and 49 yards.
I feel like the Titans will need a big play on defense or special teams that flips the field to help the offense get to the end zone.
Of course, since we all expect a 13-10 result, we'll get a shootout.

Houston Texans (7-7) at Oakland Raiders (3-11), 4:05 p.m. ET



Once again the question is whether the Texans can sustain their quality play after an emotional win, and this time with a trip to the West Coast.
If Oakland's stellar cornerback Nnamdi Asomugha shadows Andre Johnson, I suspect the Texans will be willing to look elsewhere and Kevin Walter and Owen Daniels could be in line for big days against the 26th pass defense in the NFL. Johnson, though, has averaged 17.7 yards against the Raiders in two games.
Still, Steve Slaton may be the key -- he has three 100-yard games in a row during which he's averaging almost 5 yards a carry. That could fit nicely against the Raiders run defense, which is used to allowing 4.7.
Houston cannot afford to be undone on special teams, where it has had its share of gaffes this season and has not been a very good kick coverage unit. They will be on high alert with Justin Miller fielding kickoffs, as he has returns for touchdowns in consecutive games.
December, 17, 2008
12/17/08
12:30
PM ET
Posted by ESPN.com's Paul Kuharsky and James Walker
The Steelers' visit to Nashville Sunday for a game against the Titans is just the kind of late-season game the league, and the networks, love. On the line, the No. 1 seed and home-field advantage throughout the AFC playoffs.


Our AFC South blogger, Paul Kuharsky and AFC North blogger, James Walker, will both be at the game. As part of the build-up, they went back and forth on a variety of game-related topics for a joint venture shared by their two pages.
Paul Kuharsky: Sunday's giant AFC showdown features two starting quarterbacks I'd call tough, but Ben Roethlisberger and Kerry Collins are different kinds of tough. Every time I've seen pieces of Steelers games this year, I've seen Big Ben throwing passes with defenders hanging off his limbs or dusting himself off as he gathered himself after a hit. Kerry Collins isn't so sturdy tough; he's more life-experience and game-smart tough. Where Roethlisberger will stand in as long as it takes, sometimes too long, Collins' internal clock tells him to get rid of the ball or give up on a play and live for the next. Watching them and how they react to what two very good defenses throw at them will be one of the best story lines of this game.
James Walker: The physical ailments that Roethlisberger (shoulder, thumb) has dealt with this season are well-documented. But his mental toughness should be noted as well. Roethlisberger never gets down. I've seen several games this year where he cannot make a significant play for three-and-a-half quarters but keeps his head in the game for the key moments in the fourth quarter. That was the case in the two wins against the Dallas Cowboys and Baltimore Ravens. Roethlisberger has a certain mental toughness and clutch factor that permeates Pittsburgh's entire team. The Steelers play very well from behind and they never feel they are out of it.
PK: I've been thinking in the weeks leading up to this matchup that while the Titans would have problems moving the ball against the Steelers, Tennessee's biggest strength -- its ability to rush the passer with only its front four -- would line up well with the one thing Pittsburgh isn't very good at -- protecting Roethlisberger. I really expected Albert Haynesworth, while he'd also see one of the guards -- Chris Kemoeatu or Darnell Stapleton -- to make life extremely difficult on center Justin Hartwig. At a much different stage of his career when the two were both Titans, Haynesworth kicked Hartwig in a training-camp fight. Alas, we don't get to see the matchup as Haynesworth is out for the remainder of the regular season. And with end Kyle Vanden Bosch also out, the Titans' pass rush can't be as good as it would have been at full strength. It's a big break for the Steelers.
JW: I agree, Paul. A week ago this would have been a much tougher matchup, but this is no longer a big mismatch. As you mentioned, Tennessee's defense hinges on getting pressure with its front four, and without Haynesworth and Vanden Bosch, it could force the Titans to alter their scheme and compensate by bringing extra defenders more often than they would like. That could compromise the back end and leave more room for Roethlisberger to make plays in the passing game against man-to-man coverage. The absence of Haynesworth and Vanden Bosch also helps Pittsburgh's running game, which hasn't been consistent all season.