AFC South:

James Laurinaitis
April, 22, 2009
4/22/09
12:09
PM ET
Posted by ESPN.com's Paul Kuharsky
The Sporting News looks at the top three needs of each team in the division.
Houston Texans
Indianapolis Colts
Jacksonville Jaguars
Tennessee Titans
April, 17, 2009
4/17/09
1:22
PM ET
Posted by ESPN.com's Paul Kuharsky
I don't want to overwhelm you with constant looks at mock drafts.
But no newspaper person in America is more draft savvy than Rick Gosselin in Dallas. His new mock focuses more on team needs, and comes with a big change at the top -- He gives Detroit former Wake Forest linebacker Aaron Curry.
Here's his AFC South first round:
No. 8: Jacksonville Jaguars -- Alabama offensive tackle Andre Smith
My thoughts: Goose calls him the best blocker in the draft, and the Jaguars certainly could use that. But does Smith's poor preparation for the draft speak to issues they would have to deal with throughout his career?
No. 15: Houston Texans --Texas defensive end Brian Orakpo
My thoughts: With Orakpo and Antonio Smith added to the defensive line, the Texans would be a lot better up front. And that means they'd be better all around on defense.
No. 27: Indianapolis Colts -- Missouri defensive tackle Evander Hood
My thoughts: This would break with how the team has addressed the position for years. But perhaps it's time for just that.
No. 30: Tennessee Titans -- Ohio State middle linebacker James Laurinaitis
My thoughts: I mentioned him as a possibility Thursday. Gosselin must project Laurinaitis as a guy who can play outside, because the Titans don't put a premium on the guy in the middle, which is a part-time job in their defense.
April, 13, 2009
4/13/09
4:31
PM ET
Posted by ESPN.com's Paul Kuharsky
New mock drafts from the National Football Post and NFL.com. We hit the AFC South highlights for you here, but you can find West Bunting's three-round draft here, and Steve Wyche's first round here. Also included, Don Banks' mock from late last week.
Bunting, interestingly, has defensive tackles as the first three picks in the AFC South.
You can still drag and drop guys into our draft list to do your own mock.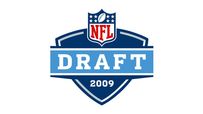 No. 8: Jacksonville Jaguars
Bunting: Defensive tackle B.J. Raji, Boston College
Wyche: Receiver Jeremy Maclin, Missouri
Banks: Maclin
No. 15: Houston Texans
Bunting: Defensive tackle Peria Jerry, Mississippi
Wyche: Defensive end/linebacker Aaron Maybin, Penn State
Banks: Cornerback Malcolm Jenkins, Ohio State
No. 27: Indianapolis Colts
Bunting: Defensive tackle Evander Hood, Missouri
Wyche: Hood
Banks: Linebacker James Laurinaitis, Ohio State
No. 30: Tennessee Titans
Bunting: Cornerback Vontae Davis, Illinois
Wyche: Receiver Hakeem Nicks, North Carolina
Banks: Davis
March, 22, 2009
3/22/09
9:00
AM ET
Posted by ESPN.com's Paul Kuharsky
David in Jacksonville writes: The Jags should trade down if they can. This team has needs on both sides of the ball and lacks playmakers on the roster. It is going to take a few good drafts to fix this roster. What are the chances the Jags can trade down? Will it take a QB (Stafford or Sanchez) to fall and someone behind the Jags wanted to trade up into the top ten?
Paul Kuharsky: More picks would be better, sure, but if they don't hit better than it won't matter.

From the outside, I would suspect they are willing to sink or swim with David Garrard at least a year more -- with better protection and better targets -- before judging if they made a mistake there or not with the big contract. In conversations I've had with people inside their headquarters, they still believe in him. I've not heard from the inside how they feel about Sanchez or how they feel about the idea of taking a quarterback at No. 8.

With the holes they have, a trade down scenario or using the pick to address defensive tackle or receiver or offensive tackle seems most sensible to me. If they take a quarterback, then they cast doubt on Garrard and create a whole other storyline. That doesn't mean they won't, though.
---
Glenn in Cumberland, RI writes:
2 ideas. What are your reactions? Now that the Titans have lost out on Carr and Bush, do they go in a veteran direction like Dre Bly or Chris McCalister? Both might not like the demotion, but should still be pretty effective as a nickel corner. Also, what would you think about the Titans trying to trade LenDale to the Saints or Iggles who need a bigger back and then bring on Deuce as a guy to spell CJ. Deuce breaks down when asked to carry the ball 25 times, but what if he only had 10 touches a game? Could really have an impact. Thoughts? Glenn CBS '93 - Roar Lions Roar
Paul Kuharsky: I'm not sure the Titans want to go so old with the depth at corner. If they judge one of those guys to still be able to play effectively, are those guys going to come in and be content to rank as the fourth corner from the start? The Titans are not in the market for a nickel - Vincent Fuller has been quite good in that role and was re-signed.
LenDale White is in the final year of his initial contract, and doesn't have great trade value because of that and because his numbers were largely a product of the Titans' system. Tennessee need to think about who can replace him in 2010. I don't think they are looking to replace him this season.
---
Chris Kirk from parts unknown writes: I was wondering if you thought there was any chance the Colts would look at James Laurinaitis with their first round pick. I'm not sure d-tackle is as pressing of a need as many since I liked what I saw out of Antonio Johnson last year and on paper Daniel Muir adds even more bulk to the middle. It seems like the easiest way to bring toughness and physicality to the front seven is with a tough linebacker and Laurinaitis makes our defense tougher by just walking in the door. This is a guy who would've been a top ten pick if he'd come out last year and I'm surprised more teams aren't talking about him. Given the Colts recent history with drafting OSU guys(Gonzo, Pitcock, and Roy Hall) can you see the Colts going that direction again with Laurinaitis?
Paul Kuharsky: Not impossible, but if he's strictly an inside guy to them, that's not where they need the most help. I don't think it's a sure think they are looking defensive tackle in the first -- the top three are likely to be gone. They could have better options at receiver. But if the highest-rated player on their board isn't a DT or a receiver or a backer, they're not going to be afraid to take him wherever he plays. It's how they want to operate in the first couple rounds.
---
| | |
| --- | --- |
| | |
| | NFL.com Video |
| | The best moments from Jay Cutler in 2008. |
Rob in Chattanooga writes: Paul, I was just wondering if you had given any more thought to the idea of the Titans possibly trading for Jay Cutler. I know they just locked up Collins for two more years. But with the ever-dwindling confidence in VY and Collins' age, isn't it worth taking a shot at Cutler? It seems like they could afford to offer a couple of draft picks, cash and maybe a player or two to get him. Your thoughts? Thanks!
Paul Kuharsky: I just don't see the Titans being a good trade partner for Denver. They don't have a quarterback the Broncos want.

Cap considerations and the Broncos actually wanting what the Titans could offer player-wise would make it difficult to put together the sort of deal you propose. And the Titans would create an awkward environment with two starters.

They are going to need another quarterback soon, but I don't think it lines up to be this one.
---
Brian Fullford in Jacksonville writes: Considering he went to Vanderbilt and with the aging Collins and bust in Young, why is Tennessee not more of a choice for the Cutler? I imagine Fisher would love his fire and wouldn't have a Cutler in the backfield be a bigger draw for FA wide receivers? On another note, I'm a bit shocked at some of my Jaguar brethren. The uproar at the Jones release has them clamoring for Gene's head. It is a sad affair when such mediocrity is missed. I don't believe for one second this pushes WR up the charts at the #8 pick but does it put more of an impetus on trading out? I like Oher but if he is hot\cold like some are saying then the Jags may have Raji, Monroe and Smith kids they would be willing to pay #8 money. What does your gut (or sources) tell you, Paul?
Paul Kuharsky: I certainly think the Titans would like to have Cutler as their quarterback for the long haul. You ask why Tennessee isn't more of a choice for him. He's not doing the choosing here. He's under contract to Denver, and Denver can choose to trade him wherever it likes or not to move him and deal with the consequences of the impasse.

Free agent wide receivers are not wary of Tennessee as so many people seem to suspect, at least not because they don't like the offense. When the Titans offer a big contract, people jump. Nate Washington got a pretty good deal considering his resume and he had plenty of interest from other teams. There was no headliner in this free agent class. David Givens, who had horrible luck suffering a horrible injury, had other good options and didn't hesitate to sign in Te
nnessee.

As for Matt Jones, I thought he turned into a nice possession guy last year. It's a lot easier to find one of those than a deep threat, which the Jaguars always seem to need.

I think B.J. Raji and Eugene Monroe will be gone by No. 8. If Michael Crabtree or Jeremy Maclin fall there, I think they'd be hard to resist no matter the track record. Perhaps best-case is a quarterback there and the Jets or someone in love with him wanting to trade up. But Jacksonville's got to end up with an impact guy at the top of this draft.
---
William Guice from Spring Hill, TN writes: I was hoping for the NFL to at least discuss a new overtime method, but oh well. I have an idea for a new overtime model & would love your thoughts... How about field goal attempts/free kicks...like penalty kicks in soccer. The only people on the field are a kicker & his holder. Each team gets 3 attempts from the 40, then the 45 (if needed), then the 50 (if needed), then the -45 (if needed). Alternating turns. Flip a coin to pick end or who goes first. The one who has the best round of kicks at a yard line wins! Go no further back than the -45. It makes teams have kickers that can kick the long ball. Can you imagine the pressure of just a kicker & a holder on the field with a rocking or a silent stadium...waiting to see if that guy can make the kick. Anyway...just a crazy idea. Peace ~
Paul Kuharsky: My strong feeling is that a football game needs to be decided by football, not a gimmick. The college construct is gimmicky enough -- teams don't even naturally take possession of the ball at the opponents' 20. They certainly don't naturally ever have only a kicker and holder on the field with a game on the line.

I've got no problem with NFL overtime as it is. I'd have no major issue with a rule that the team that loses the toss gets to field a punt or a kickoff before the game becomes sudden. Anything more than that I am against.
March, 12, 2009
3/12/09
1:51
PM ET
Posted by ESPN.com's Paul Kuharsky
Opened my mailbox Wednesday (the kind outside at the end of a driveway), found Albert Pujols on the cover of Sports Illustrated, flipped inside to Jim Trotter's mid-March mock draft, scanned it, and immediately had this thought:
That's a nightmare scenario for the Jaguars.
In Trotter's draft, the top two offensive tackles, the top two receivers and the top defensive tackle are all gone before the Jaguars come around at No. 8. He's got them taking Ohio State cornerback Malcolm Jenkins, a player I'm hearing has sinking stock.
I'll bet the Jaguars are hoping things don't pan out like this projection.
Onward...
Here's a mock-by-mock roundup of the AFC South, with some thoughts splashed in.
The mockers in addition to Trotter: Mel Kiper and Todd McShay, Don Banks, Rob Rang, Chad Reuter, Pete Prisco and Pat Kirwan of NFL.com.
Jacksonville, No. 8
Kiper: Quarterback Mark Sanchez, USC
McShay: Receiver, Michael Crabtree, Texas Tech
Trotter: Jenkins
Banks: Quarterback Mark Sanchez, USC
Rang: Quarterback Josh Freeman, Kansas State
Reuter: Offensive tackle Michael Oher, Mississippi
Prisco: Quarterback Matthew Stafford, Georgia
Kirwan: Sanchez
My thoughts: There are two ways to view a quarterback pick here (and I think Freeman would be a stretch) considering the Jaguars are just a year removed from a big contract for David Garrard. It's a smart move for new GM Gene Smith, who was not the decision-maker when that deal was made, if he's not sold on Garrard. Or it's a major white flag for an organization that was sure it had a long-term guy less than 12 months ago. Prisco's got as good a read on the Jags as anyone, so put stock in his thinking here. But boy they have other spots in which they need help. I don't think Crabtree will be there at No. 8, but he'd be hard to resist no matter who the QB is.
Houston, No. 15
Kiper: Outside linebacker Brian Cushing, USC
McShay: Defensive end Robert Ayers, Tennessee
Trotter: Cornerback Vontae Davis, Illinois
Banks: Linebacker Clay Mathews, USC
Rang: Running back Chris Wells, Ohio State
Reuter: Matthews
Prisco: Receiver Darrius Heyward-Bey, Maryland
Kirwan: Wells
My thoughts: Hearing more and more linebacker talk, and if Cushing or Matthews is judged the value, I'd have no beef. I think it's got to be a defender. But if Heyward-Bey is what he appeared to be at the combine, I'd ask the same question Prisco does -- could you imagine him paired with Andre Johnson?
Indianapolis, No. 27
Kiper: Defensive tackle Peria Jerry, Mississippi
McShay: Defensive tackle Evander Hood, Missouri
Trotter: Linebacker James Laurinaitis, Ohio State
Banks: Laurinaitis
Rang: Hood
Reuter: Jerry
Prisco: Hood
Kirwan: Laurinaitis
My thoughts: It's easy to give the Colts the best defensive tackle or outside linebacker left here. But I think they will have more good options to choose from at wide receiver and won't be surprised by virtually anything considering how Bill Polian goes with best player available regardless of need.
Tennessee, No. 30

Kiper: Defensive end Everette Brown, Florida State
McShay: Receiver Hakeem Nicks, North Carolina
Trotter: Defensive end Tyson Jackson, LSU
Banks: Ayers
Rang: Cornerback Darius Butler, Connecticut:
Reuter: Butler
Prisco: Laurinaitis
Kirwan: Ayers
My thoughts: Right now, cornerback is the biggest need, but one signing and the Titans won't be desperate for anything. Still, they don't value middle linebackers like a lot of other teams, so I just don't see Laurinaitis. And while they could go Ayers, Brown or Jackson if he's the best on their board, they have a pretty deep pool of defensive ends. The guy who slips and everyone wonders how he's still there, that's who I think they'll take.
March, 4, 2009
3/04/09
5:47
PM ET
Posted by ESPN.com's Paul Kuharsky
Larry from parts unknown: Hey PK. You have spoken (or included links to articles, i cant remember which) about the colts needing to re-sign Dominic Rhodes. With Edge asking for his release from the Cards and the seeming lack of available places for him to go, do you think it is possible that he could return to Indy on the cheap (comparable to what it would take to bring back Rhodes)? I'm not sold at all on Mike Hart (probably because i just dont like U of Michigan. Thanks. -Larry
Paul Kuharsky: That's an interesting question. Possible, but unlikely. Rhodes is old, but Edge is older and has more wear and tear. Going and re-signing Rhodes was a kind of rare circumstance for the Colts. Never say never standard disclaimer, but a return for James seems unlikely to me. And I think they like Hart much more than you do.
---
Martin in SLC writes: Do the Titans even have Hayward-Bay on their radar or does the loss of Albert place more need for defense in the draft? I know they drafted Jones last year and Tony Brown had a good seaon, but knowing the Titans, I have a feeling that isn't good enough up front. Look forward to see what you think.
Paul Kuharsky: Sure, Darrius Heyward-Bey is on their radar. I think he will be gone before 30, but I think they will look closely at him, Hakeem Nicks and Kenny Britt.

I don't think defensive line is the concern -- I didn't think so even before they signed Jovan Haye. They've got no corners under contract beyond Cortland Finnegan and Nick Harper (and nickel Vincent Fuller), so right now I see them leaning cornerback and waiting on receiver.
---
Dennis from parts unknown writes: couldn't the colts add two big d tackles and still be qick evrywhere else
Paul Kuharsky: How about one? They could have one real big and one bigger than the rest, but still they'd need them to be able, at least, to move quickly laterally.
---
Matthew in Washington, D.C., writes: Do you think that Maurice jones-Drew can handle being the main running back? I think if he gets a bit more work he can continue to be effective, but that he will benefit from being paired with another guy who's got some of the skills Taylor had...
Paul Kuharsky: I think he can. But I think they need a better guy to work with him than Greg Jones. That's two power runners. MJD benefited big-time from having a creative guy like Fred Taylor as the counter, and I think the Jaguars would benefit from attempting to pair Jones-Drew with someone Taylor-like.
February, 25, 2009
2/25/09
2:35
PM ET
Posted by ESPN.com's Paul Kuharsky
Plenty of mock drafters are still sifting through what they learned and heard at the scouting combine. But I found four updated mocks on Wednesday that are sure to stir some conversations, so I'll dive right in.
Jacksonville Jaguars, No. 8
Charles Davis, NFL.com: Running back Chris "Beanie" Wells, Ohio State
Pat Kirwan, NFL.com: Quarterback Matthew Stafford, Georgia
Chad Reuter, NFLDraftScout.com: Offensive tackle Michael Oher, Mississippi
Don Banks, SI.com: Quarterback Mark Sanchez, USC
My thoughts: Only Reuter has a chance at a bull's-eye here. If the Jaguars stay at eight, I find it hard to believe they would go for a quarterback or running back. They are not unsatisfied with David Garrard, they think he needs better protection and more threatening weapons. And they are ready to hand more work to Maurice Jones-Drew with help from Greg Jones -- guys who also need better offensive line play. But maybe I am too focused on need.
Houston Texans, No. 15
Davis: Quarterback Mark Sanchez, USC
Kirwan: Defensive end Tyson Jackson, LSU
Reuter: Outside linebacker Brian Cushing, USC
Banks: Jackson
My thoughts: Jackson is a case of matching need with availability. Seems possible, though I didn't sense any buzz about him in Indianapolis. Cushing would be tempting depending on who's available. Sanchez? Maybe he'd be judged a value here, but replacing Sage Rosenfels is hardly one of the team's priorities considering their issues on defense, particularly on the line and in the backfield.
Indianapolis Colts, No. 27
Davis: Wide receiver Percy Harvin, Florida
Kirwan: Linebacker James Laurinaitis, Ohio State
Reuter: Defensive tackle Peria Jerry, Mississippi
Banks: Linebacker Clay Matthews, USC
My thoughts: I've written about why Harvin doesn't look like a match -- they need a guy who can run precise routes and that's not what he was asked to do at Florida. Laurinaitis or Matthews could arrive in a best-player available scenario. Jerry fits, but watch him rise in the coming weeks. I think he will be gone well before this pick.
Tennessee Titans, No. 30
Davis: Wide receiver Kenny Britt, Rutgers
Kirwan: Defensive end Robert Ayers, Tennessee
Reuter: Cornerback Alphonso Smith, Wake Forest
Banks: Ayers
My thoughts: I think it's a mistake to automatically funnel defensive linemen to the Titans. Even if Albert Haynesworth is gone, the team drafted tackle Jason Jones and end William Hayes last season. If the Titans break with tradition and take a wideout in the first, Britt could be the guy. Smith is intriguing too -- they are likely a year away from needing a replacement for Nick Harper and are hardly shy about drafting corners.
February, 17, 2009
2/17/09
11:11
AM ET
Posted by ESPN.com's Paul Kuharsky
A pre-combine rundown of what mock drafters have the teams of the AFC South doing.
Jacksonville Jaguars, No. 8
Pete Prisco, CBSSports.com: Eugene Monroe, OT, Virginia.
Wes Bunting, National Football Post: Jason Smith, OT, Baylor
Rob Rang, NFLDraftScout.com: Michael Oher, OT, Ole Miss
Chad Reuter, NFLDraftScout.com: Monroe
My thoughts: The early consensus is there will be a left tackle worth the pick for the Jaguars to insert in place of the disappointing Khalif Barnes, a free agent who won't be brought back. But if they don't love who's left, they could look to defensive tackle or corner.
Houston Texans, No. 15
Prisco: Vontae Davis, CB, Illinois
Bunting: Michael Johnson, DE, Georgia Tech
Rang: Brian Cushing, OLB, USC
Reuter: Cushing
My thoughts: Cushing could be a bigger and more durable outside linebacker, but Davis and Johnson would do more to fill needs. A pass rusher to work opposite Mario Williams is one of them, and Johnson could be the guy. And corner will become an even bigger need if the Texans are unable to re-sign Dunta Robinson.
Indianapolis Colts, No. 27
Prisco: Peira Jerry, DT, Ole Miss
Bunting: Percy Harvin, WR, Florida
Rang: Harvin
Reuter: Jerry
My thoughts: If Jerry is as good as people are saying, I don't know that he'll be on the board here. Is Harvin the crisp route runner and quick learner the Colts require? While defensive tackle and wide receiver are the clear needs, in a best-player-available scenario they could go virtually anywhere position-wise.
Tennessee Titans, No. 30
Prisco: James Laurinaitis, LB, Ohio State
Bunting: Jerry
Rang: Johnson
Reuter: Alphonso Smith, CB, Wake Forest
My thoughts: Unless they see Laurinaitis as an outside guy, the Titans won't spend even a low first-round pick on a middle linebacker as it's a situational role for them. Smith may make sense as an heir to Nick Harper in 2010. Jerry probably won't last this long and if they lose Albert Haynesworth it doesn't mean they have to have a tackle -- they drafted Jason Jones last year.