AFC South:

Janoris Jenkins
December, 19, 2013
Dec 19
10:00
AM ET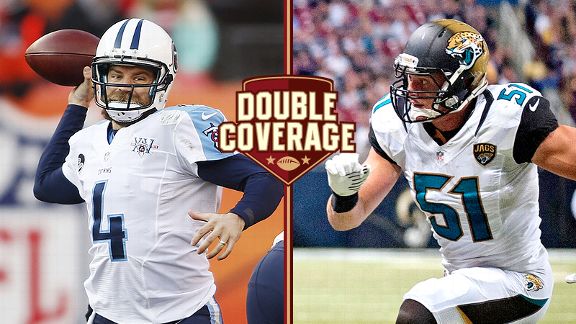 USA Today SportsPaul Posluszny and the Jags are aiming for a season sweep of Ryan Fitzpatrick and Tennessee.
JACKSONVILLE, Fla. -- Maybe
Delanie Walker
shouldn't feel so bad now.
The Titans tight end said he was embarrassed after the Jaguars won 29-27 in Nashville on Nov. 10 to pick up their first victory. Since then, the Jaguars are 3-2 with victories over Houston (twice) and Cleveland. The Titans are 1-4 with a victory over Oakland.
There seems to be much more stability in Jacksonville, too, because of the uncertain status surrounding Tennessee coach Mike Munchak.
Jaguars reporter Michael DiRocco and Titans reporter Paul Kuharsky break down Sunday's matchup at EverBank Field.
DiRocco
: Some Titans players were pretty vocal about being embarrassed due to becoming the first team to lose to the Jaguars. Is that something that still stings, and how have they rebounded from that loss?
Kuharsky
: It definitely left a mark. They are only 1-4 since then. It kind of set a bar for how bad they can be and re-established their propensity to lose to teams that are really struggling. The Jaguars are on an upswing since that game, and the Titans are on a downward spiral. If Tennessee losses to the Jaguars again, the Titans will be in line to finish in third place in an awful division, which is well short of their goals and expectations. The Titans are a better team than they were last year. But losing closer isn't a really big difference in the really big picture.
Let's turn that around. How has life changed for the Jaguars since that Nov. 10 breakthrough?
DiRocco
: I could go into a lot of stats that show how much better the Jaguars are playing, but that's not what's really important. The past six games have been more about the validation of the process, establishing the foundation of the franchise's rebuild, and confidence in the new regime. Coach Gus Bradley never wavered from the plan that he and general manager David Caldwell established. His message stayed the same throughout the eight-game losing streak to start the season: trust in the process, work hard, and focus on improving and not victories, and the victories will eventually come. Because that has happened, the players appear to have completely bought into what Bradley and Caldwell want to do, and there's a confidence in the locker room that the franchise is headed in the right direction.
We talked about
Jake Locker
the last time these teams met, but that was before he suffered a season-ending injury to his foot. How does that change the Titans' outlook on him and are they in the market for a quarterback in the offseason, too?
Kuharsky
: Locker is certain to be on the 2014 Titans. His fourth year isn't that costly and it's guaranteed. But they can't execute a spring option for his fifth year that would line him up for over $13 million. A lot of his fate depends on whether Munchak is back as the head coach. It's possible they go forward with Locker,
Ryan Fitzpatrick
and just-signed
Tyler Wilson
as their quarterbacks. It's also possible they'd draft a new guy, and depending on how high of a pick he could land in competition to start. I think it's less likely they chase a free agent like
Jay Cutler
if he comes free, but they have to assess all the possibilities. How can they completely commit to Locker based on his injury history?
One side effect of the Jaguars' surge is they aren't going to be in position to draft the first quarterback taken. What's your sense of what Bradley and Caldwell want in a quarterback and do you expect one to arrive in the first round?
DiRocco
: Offensive coordinator Jedd Fisch said something interesting last week. He said he wants his QB to scramble around, take off running to get yards and take some chances throwing the football. To me, that sounds like a pretty accurate description of Johnny Manziel. I'm not sure how that reconciles with the ideas of his bosses. Bradley comes from Seattle, which has the mobile
Russell Wilson
. Caldwell comes from Atlanta, which has the considerably less mobile
Matt Ryan
. My sense is that Bradley and Caldwell probably lean more toward the Wilson end of the spectrum. People think that eliminates Teddy Bridgewater, but that's not the case. He's not a runner but he can run if needed. If he's around, I'd expect them to take him. If not, then I would still expect them to go quarterback. It's their most glaring need.
You mentioned Munchak's job status. What's your take on whether he will be back next season -- and should he be?
Kuharsky
: He's shepherded improvement, but his team lacks an ability to finish. He's 0-4 in the worst division in football, 1-9 in the past two years. His teams have lost to the previously winless Jags in 2013 and the previously winless Colts in 2011. He's 4-18 against teams with winning records when the Titans played them and 2-19 against teams that finished the season with a winning record. To me, three years is a sufficient sample size to know what you've got and those numbers are the most telling thing on his resume. Keep him and they deal with all the limitations connected to a lame duck coach. I don't know what Tommy Smith, the head of the new ownership, will do. But the fan base overwhelmingly wants change, if that's worth anything. People still pay for tickets because they've got investments in personal seat licenses they do not want to throw away. But a lot of people are staying home on Sundays now.
Cecil Shorts
is done and
Maurice Jones-Drew
is uncertain. How can the Jaguars threaten on offense without their two best weapons?
DiRocco
: They were able to put up 20 points and post their second-highest yardage total of the season, including a season-high 159 rushing, in last Sunday's loss to Buffalo. Running back
Jordan Todman
stepped up big time and ran for 109 yards (Jones-Drew cracked 100 only once in the first 13 games) and tight end
Marcedes Lewis
was more involved in the passing game than in previous weeks (four catches for 54 yards and a touchdown). But I'm not sure that is sustainable. Teams will certainly concentrate on stopping Lewis and make quarterback
Chad Henne
move the ball with three receivers who have a combined 75 career catches. Todman doesn't scare anyone, either. The Jaguars will have to be creative on offense (they've run gadget plays the past three weeks) and capitalize on every opportunity they get.
August, 12, 2012
8/12/12
5:09
PM ET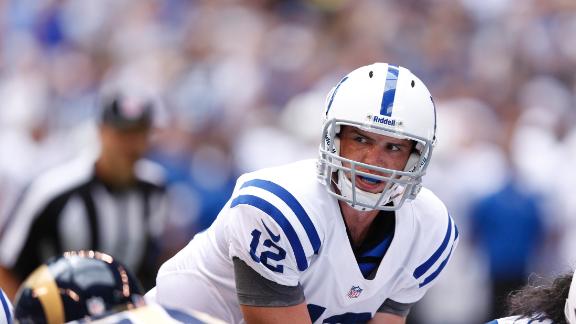 At each stage of the process,
Andrew Luck
seems to provide some magic.
That was certainly the case Sunday as he played in his first NFL preseason game. The Colts' rookie quarterback's first preseason throw, a little dump-off over the middle to running back
Donald Brown
, turned into a 63-yard touchdown pass as Brown turned and ran, finding the seas parting.
With an arm up, pumping in celebration, Luck chased the play excitedly, a big smile showing off a blue mouthpiece. He looked to the bench on one side; he looked toward one of the blockers who sprung the play on the other.
"Historic beginning!!!!!!!!!!!!!," Colts owner Jim Irsay tweeted. "The legend has begun!!!!!!!!!!!!!!!!!!"
The Colts'
38-3 thrashing
of the Rams at Lucas Oil Stadium was the lone NFL preseason game of the day, and Luck fittingly offered a singular performance.
Peyton Manning
's first preseason toss with the Colts was a short pass to Marvin Harrison that went for a long touchdown, too.
Luck looked beyond comfortable and in command.
He knew where to go and delivered the ball in good spots. The protection was not always great, but he moved away from pressure and kept his eyes downfield, giving up on a handful of plays when he knew they weren't going to turn into anything. He threw from the pocket and on the move.
An intermediate pass up the left side to rookie receiver
T.Y. Hilton
was just beyond the reach of Rams rookie corner
Janoris Jenkins
, and Hilton showed good footwork. Just in case it wasn't good enough, Luck and the Colts' offense hustled to get the next snap off to avoid a challenge.
[+] Enlarge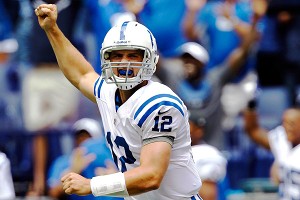 AP Photo/Michael ConroyAndrew Luck was all smiles after his first preseason pass with the Colts went for a touchdown.
Luck later kept a safety honest before hitting
Austin Collie
with a 23-yard TD strike.
He engineered a third scoring drive -- running back
Delone Carter
went airborne to get the ball over the goal line -- before yielding to
Drew Stanton
.
Irsay gave the rundown in a tweet: "n less than a half,#12 was 10/16..188 yards,2 TDS...142.7 QB rating..WOW..yes it's only the beginning in pre-season,but OH,WHAT a BEGINNING!"
Stanton and rookie
Chandler Harnish
were also on target against a wildly ineffective Rams defense.
It's just a preseason performance, but it's all Luck and the Colts have to offer right now.
I'd expect a decent day at the box office Monday, and I suspect that in Indiana, a few more Manning jerseys will get pushed closer to the back of closets, replaced by new No. 12s.
The defense also had a great showing, with eye-catching work from players like outside linebacker
Jerry Hughes
, inside linebacker
Kavell Conner
and defensive lineman
Drake Nevis
.
Chuck Pagano's team has worked hard to do what the new coach and his staff have asked. A ton of work lies ahead, but the first checkpoint of the preseason couldn't have been better, and the Colts now get a day to catch their breath.
They are scheduled to return to practice Tuesday at 9:30 a.m. and again at 1:50 p.m. They break camp Friday at Anderson University in Anderson, Ind., ending their dorm lives and heading home. The Colts' second test, coming next Sunday, will be tougher: a trip to Pittsburgh.
Luck has done nothing so far to reduce expectations for that, and well beyond.
April, 26, 2012
4/26/12
12:30
PM ET
Thoughts on the Texans' draft from two people involved in evaluating personnel for NFL teams:
Guy No. 1:

"I know they want [Baylor receiver]
Kendall Wright
. He's a slot guy who can work underneath and take pressure off
Andre Johnson
. Wright's a playmaker. If he's gone, there isn't another receiver who will step right in.
Rueben Randle
and
Alshon Jeffery
are like Johnson, big and physical. Wright is different."
"They have to consider offensive line. I couldn't believe they let
Eric Winston
go. He's a good player. Who can you get at 26 that can come right in and play at right tackle? They could go out and make a pick like they did with
Duane Brown
, a second-round guy in the first.
Jonathan Martin
maybe? Or trade back."
"To me, the biggest question to be answered by this draft in that division is replacing the leadership and production lost with the trade of
DeMeco Ryans
and the release of Winston. Those are two main leaders and they did nothing in free agency. That's hard to replace in a draft."
"Outside linebacker would be a luxury pick.
Courtney Upshaw
would be nice for them.
Shea McClellin
is another of what they have -- a versatile, solid football player. Inside, they could like
Dont'a Hightower
. I don't think
Darryl Sharpton
or
Bradie James
can replace Ryans."
Guy No. 2:
"Coming up with a tackle in the late first is pretty tough.
Cordy Glenn
really doesn't fit their profile, though he could be a right tackle.
Mike Adams
if you get past the combine test. Martin could be in that range."
"You can never have enough rushers. McClellin is a lot like
Brooks Reed
. Upshaw would be good there."
"Unless you take
Janoris Jenkins
, you can't get a good corner at 26. You'd have to hold your nose, but he's better than
Kareem Jackson
."
April, 23, 2012
4/23/12
3:31
PM ET
The first six picks of
ESPN's Blogger Mock Draft
unfolded pretty much as expected.
That's when James Walker, our AFC East representative, put out the word: "I'm willing to make a trade back with Buffalo at No. 10."
Before anyone could respond, AFC South representative Paul Kuharsky announced he'd swung a deal with Dan Graziano of the NFC East. The Jaguars had traded the seventh overall choice and a sixth-rounder to Philadelphia for the 15th, 88th and 153rd selections.
The Eagles took defensive tackle
Fletcher Cox
at No. 7.
"By the way," I wrote in an email to the group, "Seattle would love to trade back from 12."
Then came the word from Walker, sent only to me, the NFC West rep: "Don't make your pick at No. 12 yet. I have an offer from New England coming. Working out the point chart. First, I have to figure out Buffalo's pick at No. 10."
A few seconds passed before the AFC West's Bill Williamson, unaware Walker had already made contact regarding the 12th pick, reached out to me in another email.
"If
Melvin Ingram
is on the board at 12," Williamson wrote, "I might have San Diego come up from 18."
This was intriguing. Seattle's actual leadership had swung a deal with San Diego for quarterback Charlie Whitehurst a couple of years ago, so trade talks for the 12th pick seemed realistic. But the Seahawks also have a working relationship with the Patriots, having traded Deion Branch to them not all that long ago.
"Sounds good," I replied to Bill. "James might also make an offer here."
The potential deal with Williamson and San Diego was fleeting. Walker executed a trade with himself, allowing the
New York Jets
to move into Buffalo's spot at No. 10. The Jets took Ingram, the player Williamson had wanted for San Diego.
The fun was only beginning.
Our eight divisional bloggers made four trades involving the seventh, 10th, 12th, 15th, 16th, 27th, 31st and 32nd overall choices, plus later considerations.
Five of our first-round selections in this mock failed to appear in our previous one.
Jerel Worthy
,
Kevin Zeitler
,
Chandler Jones
,
Shea McClellin
and
Coby Fleener
pushed out
Rueben Randle
,
Andre Branch
,
Peter Konz
,
Kendall Wright
and
Mike Adams
.
Courtney Upshaw
,
Dontari Poe
and
Stephen Hill
made double-digit drops from then to now.
Michael Brockers
,
Cordy Glenn
,
Stephon Gilmore
and Cox climbed at least eight spots since last time.
We drafted seven defensive ends/outside linebackers, six offensive linemen, five defensive backs, four defensive tackles, three receivers, three quarterbacks, two inside linebackers, one tight end and one running back.
Mostly, we had some fun with the process. Thanks for coming along.
***
ESPN.com's NFL bloggers went through one final mock draft leading up to Thursday's start of the NFL draft. Here is how
#ESPNbloggermock
played out.
April, 2, 2012
4/02/12
11:14
AM ET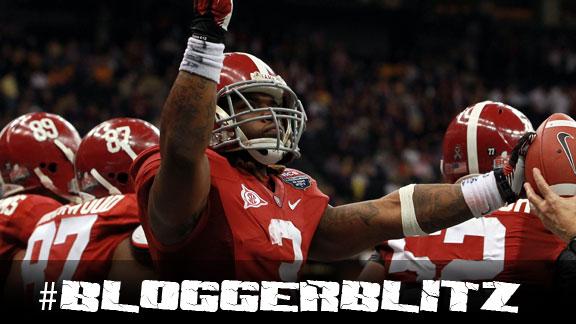 The NFL's transformation into a pass-happy league has sent teams scrambling for ways to keep up defensively.
Perhaps that explains why defensive linemen and 3-4 outside linebacker types dominated ESPN.com's first NFL Blog Network mock draft for 2012.
AFC West blogger Bill Williamson snapped up three of them for the division he covers. Six other defensive linemen and 3-4 outside linebackers found homes elsewhere in the first round.
Offensive linemen (seven), defensive backs (five) and wide receivers (five) accounted for most of the remaining first-round selections.
In keeping with the pass-oriented theme, Alabama's
Trent Richardson
was the lone running back selected, landing in Cleveland with the fourth overall choice.
And, of course, we kicked off the mock with a couple of quarterbacks.