AFC South:

Jarret Johnson
July, 10, 2013
7/10/13
2:23
PM ET
We pick up our series in which ESPN.com's resident scout, Matt Williamson, ranks the AFC South position-by-position.
Today, we examine linebackers.
Williamson's AFC South linebacker rankings:
1) Texans (Brian Cushing, Brooks Reed, Whitney Mercilus, Tim Dobbins, Darryl Sharpton, Sam Montgomery, Trevardo Williams)
2) Colts (Robert Mathis, Jerrell Freeman, Bjoern Werner, Erik Walden, Pat Angerer, Kelvin Sheppard, Kavell Conner)
3) Titans (Akeem Ayers, Zach Brown, Colin McCarthy, Moise Fokou, Zaviar Gooden)
4) Jaguars (Paul Posluszny, Russell Allen, Geno Hayes, Julian Stanford, Brandon Marshall)
Everybody's got uncertainty somewhere in their group.
My questions for Williamson based off of his list:

Your overall assessment, please:
"Ranking the linebackers in this division was pretty clear to me. Maybe it helped the Texans and Colts that they feature four starting linebackers -- and really, guys like Robert Mathis are equal parts defensive end and linebacker to me, but he is an outside linebacker for this exercise. I would say Cushing is the best linebacker in the division and Houston's outside linebackers should be improved from a year ago. But even though I ranked them first, there are many linebacking corps around the NFL that I take over Houston's. – among them San Francisco, Seattle, Carolina, Dallas and Arizona."
Based on what you know about what the Texans have and the guys in question, do you put Sharpton or Dobbins beside Cushing inside or move Reed inside to put Montgomery or Williams outside?
"Houston doesn't play a typical 3-4 scheme. They are more like a 5-2. I have serious doubts if Reed can transition inside in either scheme and I think that move is an indictment upon Houston just not being happy with his edge pass rush. Montgomery seems much more like a traditional 4-3 end, but Williams seems like an ideal fit for the Texans at outside linebacker, and he is who I am most excited about opposite Mercilus."
How much of a believer are you in Walden and Werner? Any signs of a slowdown for Mathis?
"I thought Indy WAY overpaid for Walden and it was amongst the worst UFA signings of the season. I see him as a third outside linebacker in a 3-4 and ultimately, that is what he should be if Werner lives up to the hype. I do like Werner though in this scheme as the heavier OLB (think
Jarret Johnson
when he was there and
Courtney Upshaw
now in Baltimore), which frees Mathis to be more of the edge pass-rusher. I don't expect Mathis to slow down, but of course, that day could be coming soon and it might be wise to use Walden more on early downs and keep Mathis fresh for passing situations."
Could Fokou beat out a healthy McCarthy? If McCarthy gets hurt again, how much of a drop off would there be if Fokou ends up a two-down MLB?
"I am not a huge McCarthy fan, so I would say the drop off would be minimal."
How do Ayers and Brown rank as a pair of young OLBs in a 4-3?
"I do like the overall upside of Ayers/Brown/Gooden. Gooden and Brown are very similar run-and-hit guys with extreme speed, while Ayers is more of a 3-4 outside linebacker type, which is useful when varying their fronts as well as bringing an edge blitz presence."
How much could Posluszny suffer if the guys outside him, likely Allen and Hayes, aren't particularly good?
"There is quite a bit on Paul's plate at middle linebacker for the Jags. Not only are his outside linebackers average on a good day -- although Allen flashed some playmaking skills -- but the DTs in front of him are not great at keeping him clean. Maybe the new defensive tackles will help in that regard, as Poz is just an average take-on linebacker. His strengths are that he takes few false steps, is quick to read and is decisive"
As for me…
I need to see Hayes and Allen in the new Jaguars scheme, but heading into the season I have questions about their ability to get off of blockers to make plays consistently. That could mean Posluszny has to run around and get in on every tackle, and they can't ask too much of him.
Before McCarthy in 2011, the Titans traditionally had a two-down middle linebacker, the exception being
Randall Godfrey
. As soon as the Titans go to nickel, McCarthy or Fokou should leave the field and the two backers should come out of Brown, Gooden and Ayers.
Bernard Pollard
will drop down from strong safety and function as a linebacker at times. If McCarthy wins the job, this work reduction may help him stay healthy.
Dobbins and Sharpton both have issues staying healthy. That could be a big factor in how the Texans starting linebacker group shakes out. They have a lot of options after adding Montgomery and Williams, and options are the next best thing to a lineup already set as camp starts.
Run defense was priority one for the Colts as they revamped their defense, and Walden may help a lot there. But Werner needs to be able to have an impact early for the Colts to have a chance to rush sufficiently, otherwise offenses will be able to focus on Mathis in a way they rarely could when
Dwight Freeney
was also on the field with him. (Yes, I know Freeney missed games and Mathis still had success.)
August, 9, 2012
8/09/12
11:01
AM ET
ANDERSON, Ind. -- What's next?
As the
Indianapolis Colts
begin a new era, the centerpiece of change is
Andrew Luck
.
The impressive rookie quarterback has been sitting in meetings, running through every piece of the offense. Coaches are always looking for acknowledgement that a player gets it before moving forward. Coaches often circle back and go over something again and again and again, but Luck has helped them pick up the pace.

"Everything we've given him to this point he's been able to handle," coach Chuck Pagano said. "He's one of those guys that's probably got a photographic memory or something like that. Because he just gets it. It's not like you've got to come back and repeat something and give it again and give it again.
"The coaches will sit there and they'll be installing the offense and they'll be like, 'Are you with me, do you understand it?' And he's like 'Yeah, yeah, next thing up, next thing up.' As a coach you're always looking for affirmation: 'Do you understand? Do you get it?' He's, 'Yeah I've got it, what's next? Yeah, I've got it, what's next?'"
What's next in bigger terms is a preseason debut Sunday against the
St. Louis Rams
at Lucas Oil Stadium, the continuation of training camp and the buildup to the Sept. 9 opener at Chicago.
As rebuilding teams around the league wonder if they've got the right quarterback, the Colts can skip right past that fundamental question.
Luck's exceptional maturity extends to the practice field as well.
"The day I got him a couple times (with interceptions) at practice, he came up to me and [
Antoine Bethea
] and said, 'If I'm tipping off anything presnap or y'all get any read off me during the course of a play, please let me know,'" said the Colts' top cornerback,
Jerraud Powers
. "'And just let me know if there is any way I can help y'all.'
"That right there, for a guy to be so young and able to realize that, it shows you what type of guy he's going to be."
Such interplay was completely natural for Luck.
"It's been nice to talk to Antoine and Jerraud, maybe once a week, once every two weeks," Luck said. "Any help I can get as a rookie that doesn't know the ropes, I'll try to take it."
That timetable for learning the ropes is going to be the most interesting thing about the 2013 Colts.
THREE HOT ISSUES
[+] Enlarge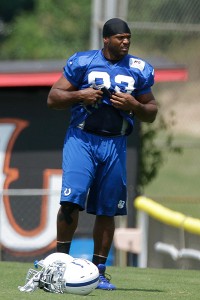 AP Photo/Michael ConroyLongtime defensive lineman Dwight Freeney will be adjusting to a new position in Chuck Pagano's 3-4 scheme.
1. How will Dwight Freeney and Robert Mathis fare as outside linebackers?
The transition is bigger for Mathis than Freeney. Per Mathis, he will be in the role
Jarret Johnson
played in the Ravens defense (now filled by
Paul Kruger
), while Freeney will be in the
Terrell Suggs
role. (
Courtney Upshaw
's there now, while Suggs is out after shredding an Achilles.)
That means far more of an adjustment for Mathis, who will regularly be dropping into coverage as the strongside linebacker, while Freeney will be moving forward from the rush linebacker spot. They are great, veteran football players, and a smart defensive coach like Pagano would not put them into roles that take away their strengths.
But it will take a lot of repetition for them to break old habits and operate in different ways and hop around. Both are excited about being less predictable and expect big production as a result of the element of surprise. The energetic Mathis seems invigorated by the change as he talks enthusiastically about an "exotic" defense after playing in what could fairly be called a bland Tampa-2 scheme in recent years.
2. Can they run?
Whether they try a bell-cow approach or a committee, it's hard to envision
Donald Brown
,
Mewelde Moore
,
Vick Ballard
and/or
Delone Carter
providing the level of run-game output that Pagano and his staff keep emphasizing.
Also, will a patchwork offensive line with at least three new starters be able to make room for those backs? The Colts gained size with the addition of center
Samson Satele
, right guard
Mike McGlynn
and right tackle
Winston Justice
. But simply being bigger doesn't complete the change to playing bigger. This is a team that has long had a smaller, more mobile, more finesse line and offensive mentality.
It's yet another transition to be monitored, and one that was hard to read in the early days of camp.
3. Where is the depth?
With massive roster turnover, the Colts could only do so much replenishing with one draft class and minimal money to spend in free agency. They didn't get much done in terms of big-time additions at cornerback or on the offensive line.
Even if they manage to be alright at those spots in the starting lineup, the depth is very poor. When they suffer injuries and guys miss games, will they have quality backups?
Maybe they will on the defensive line. Maybe there are young options at receiver or running back. Otherwise, they'll be facing some big problems. Good health would be a big help, but you can never count on that.
Sixty percent of the Colts' 90-man roster right now is new to Indianapolis. That can be a great thing when you're talking about Luck,
Coby Fleener
,
Dwayne Allen
,
T.Y. Hilton
,
LaVon Brazill
and
Cory Redding
, but it's not great when you're talking about backups.
REASON FOR OPTIMISM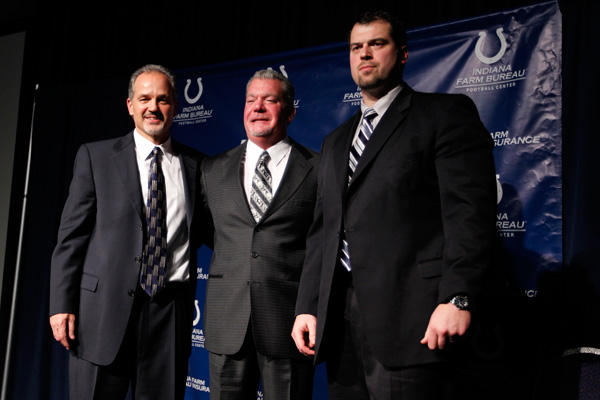 AP Photo/Michael ConroyThere's nowhere to go but up for the Colts' new regime: Chuck Pagano (left), Jim Irsay (center) and Ryan Grigson (right).
There is nowhere to go but up. Last year was a complete cave-in, and after a 2-14 year with
Peyton Manning
sidelined by a neck injury, owner Jim Irsay decided it was time for a restart. He booted the powerful head of the organization, Bill Polian, and ultimately changed coaches, too.
Enter general manager Ryan Grigson and Pagano. Manning was let go, and Luck arrived via the No. 1 overall draft pick.
It's a fresh start in virtually every respect, and the team is swallowing a huge chunk of dead money this year. While no one wants to concede anything, the franchise more or less is playing with house money this year. Things will be better than last year, and as long as the Colts show growth, improvement and direction, it's 2013 that will be big. That's when they'll have money to spend on free agents and a second draft class with which to further restock.
REASON FOR PESSIMISM
Change can be slow. The expectations are high for Luck, but it's a big transition, and beyond
Reggie Wayne
, we aren't sure about his weapons. We have no real idea about how several groups will produce, especially the corners, offensive line and running backs.
While Houston has shown a transition to a 3-4 can be successful quickly, it's far more common for a team to take time to adjust. The Colts don't have nearly as many pieces who are natural fits for the scheme as the Texans did. Pagano wants a defense that looks like Baltimore's, but it will take time to reshape things to fit that model.
OBSERVATION DECK
Beyond Powers, we can't be certain the guys who will play corner on opening day are on this roster yet. Maybe it's Justin King and Cassius Vaughn, but the Colts will certainly be looking at other options who become free agents. Powers and others in the group have rallied around each other, which is what you want. You also want the group to turn over if it needs upgrading.

It's hard to tell much at all about the running game at this point. But Pagano is determined for the Colts to run effectively, to ease pressure on Luck and the defense and establish a physical tone. Brown's been touted as an every-down back, but it may be more encouragement/hype at this point. He'd like that role but will take whatever he's given.

Antonio "Mookie" Johnson is the lead guy at nose tackle, with Brandon McKinney behind him. Johnson's up 10 pounds to 330, but the Colts aren't looking for a mere space-eater. Like the Texans last year in their first incarnation of the 3-4, Indianapolis can be fine without a dominant tackle. And when they go to nickel, they'll basically look like a 4-3 again, with Freeney and Mathis creeping up to the line, sandwiching Redding, who is likely to kick inside, and perhaps tackle Drake Nevis.

I jokingly proposed a pool to the Colts' beat writers with the money to be collected by the guy who prompted anyone within the organization to say anything remotely negative about Luck. They said it would have to exclude Luck himself. That's great. When you're the linchpin of an organization and everyone is going to constantly rave about you, even if it's deserved, you do yourself a great service by being consistently self-critical.

Austin Collie is starting off as the No. 2 receiver in a base offense that now features two tight ends. But he will move around, spending time outside and in the slot when the Colts put an extra wideout on the field.

One spot that probably hasn't gotten enough attention as a depth concern is quarterback. The Colts saw how much a bad backup plan can hurt last year, with Curtis Painter and Dan Orlovsky trying to fill Manning's shoes. Now, Drew Stanton is the guy behind Luck, and he wasn't very good in the camp practices I watched. Will they look to upgrade as third quarterbacks around the league come free? Or will they feel like camp work for Stanton gives him an experience advantage?

I'm not sure how much the tension Polian cast over the organization reached players, but there is certainly a looser atmosphere around the team. When players' families sat on a hillside during a recent practice, one regular observer pointed out how they never would have been allowed there under the previous regime. Minor difference? Maybe, but I think a team with a broader circle of trust and more emphasis on family -- a Pagano and Grigson theme -- can be a healthier environment.

Watch Brazill as a punt coverage gunner. He's had a lot of hands-on work with new special teams coordinator Marwan Maalouf.

Allen looked excellent in early camp. He will move all over the place as part of Bruce Arians' two-tight end scheme and, like Fleener, can be an impact guy early.