September, 5, 2013
9/05/13
1:00
PM ET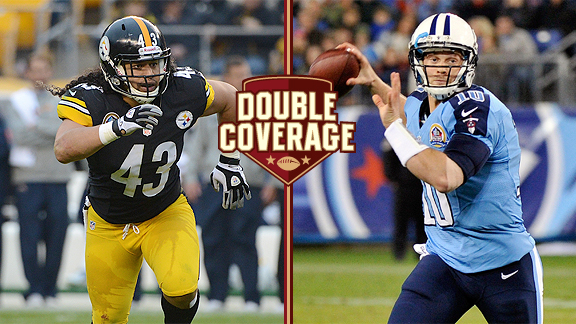 Getty ImagesJake Locker will have to face a fresh Troy Polamalu and one of the league's top defenses.
Pittsburgh is a tough place to play. The
Pittsburgh Steelers
don't often stay down long. The
Tennessee Titans
will bring a lot of unknowns to Heinz Field.
It's an intriguing opening day matchup for two teams looking to bounce back from seasons that didn't meet standards and fell short of expectations.
ESPN.com Steelers' blogger Scott Brown joins me for his first edition of Double Coverage, and I know he'll understand if we skip the pleasantries and dive right in.
The Titans' rebuild is centered around their offensive line. They'll be way more physical with a new interior of
Andy Levitre
,
Rob Turner
and
Chance Warmack
.
Scott, I know the offensive line has been an issue in Pittsburgh, too. What's the status of things there, and how much better can we expect the Steelers to be up front?
Scott Brown:
Paul, that is one of the biggest questions facing the Steelers. The offensive line is one of the youngest and most inexperienced the Steelers have assembled in decades. But the group is athletic and has plenty of what coach Mike Tomlin likes to call "pedigree."
Two of the starters are first-round draft picks. Two others are second-round selections. The Steelers have clearly made a big investment in the offensive line, and they need a major return on that investment for this team to return to the playoffs.
I think the interior of the line with Pro Bowl center
Maurkice Pouncey
and guards
David DeCastro
and
Ramon Foster
has a chance to be really good. I'm not as sold on tackles
Marcus Gilbert
and
Mike Adams
, who will protect
Ben Roethlisberger
's blind side.
The Titans, I'm sure, will test that line with plenty of blitzes, as the first-team offensive line struggled with pass-blocking in the preseason.
Speaking of blitzes, Titans quarterback
Jake Locker
will see his share with the ageless wonder Dick LeBeau still calling defenses in Pittsburgh.
How is Locker progressing, and is he the long-term answer at quarterback in Tennessee?
Paul Kuharsky:
The verdict on whether Locker is the guy for the long haul won't come until after we see this season.
He steadily improved in camp and the preseason and has reason to feel good about the state of things. I don't think he's going to have many games in his career in which he throws for 300 yards, but the Titans aren't built to ask that of him. They'll get him on the move to make simple throws and decisions, especially early, when he often needs to settle down and find a rhythm.
That line will give him time and be far better at creating space for
Chris Johnson
and newcomer
Shonn Greene
. If the Titans run effectively -- and the preseason suggested that's one thing they are definitely good at -- they can build play-action off that and Locker will be in a perfect setting to succeed.
The two big questions are about his accuracy and how he will react to new, unforeseen circumstances. You know, the kind of stuff Lebeau has designed for this game especially for him.
Does LeBeau have the pieces to do the sort of things to confuse a young quarterback?
Brown:
He has one of the most valuable pieces of all in
Troy Polamalu
. The dynamic strong safety allows LeBeau to do so much because he plays all over the field and opposing quarterbacks don't know where he is going to be from snap to snap.
Polamalu missed nine games last season because of a recurring calf injury, but he looked like his old self in training camp and the preseason. In that sense, the timing isn't good for the Titans to play the Steelers because Polamalu is at full strength. Outside linebacker
LaMarr Woodley
also seems poised to bounce back from an injury-plagued season in which he registered just four sacks.
With those two and other players such as inside linebacker
Lawrence Timmons
and rookie outside linebacker
Jarvis Jones
, LeBeau won't hold back -- particularly against a relatively inexperienced quarterback who is still finding his way in the NFL.
Paul, the Steelers have never lost at Heinz Field in September under Tomlin. My question for you is what will it take for the Titans to pull off the upset on Sunday?
Kuharsky:
I think it's possible. They'd have to show poise, withstand the bad moments, minimize mistakes. You know the drill.
This is a team that has been run on by lesser running backs in the recent past, so it can't take
Isaac Redman
lightly, and we'll find out fast if
Sammie Hill
and
Ropati Pitoitua
are going to help answer the run-defense deficiencies.
The Titans must get Roethlisberger to the ground when they have the chance. After an offseason talking of press coverage, they haven't changed at all at cornerback, and I imagine Roethlisberger will find things to attack. He knows Titans strong safety
Bernard Pollard
from his time in Baltimore. I won't be surprised if the Steelers plot to get Pollard in coverage situations they feel they can exploit.
The other big question here, the elephant in the room: Your first game for ESPN.com? You ready?
Brown:
To help myself to some Tomlinisms: This is where the rubber meets the road, but this is not my first rodeo. I believe I have sharpened my pen (does that still apply in the dot.com world?) for battle, but I will have to pay attention to detail. Ultimately, it comes down to making plays (or deadline in this case) inside stadiums with the lights on (yes, I know it is a 1 p.m. start, but gray days in Pittsburgh are as noteworthy as grass on a golf course). Such is life in the National Football League (and ESPN.com), and I embrace the challenge.
June, 29, 2012
6/29/12
10:51
AM ET
Mel Kiper's
summer audits

of the AFC South give us a lot to consider. Here's a sampling with some of my thoughts.
Houston Texans

Kiper:
"… (The) zone-blocking scheme the Texans have made the centerpiece of this offense -- so much emanates from them executing well here -- keeping
(Chris) Myers
around means a lot. No, he wasn't "added" per se, but he will add to the stability. If this team can't run the ball, the play-action, easy-read system it runs takes a big hit, so retaining Myers might be one of the more underrated moves in the division …
"Last year,
Brooks Reed
stepped in for the injured
Mario Williams
and showed some things, but
(Whitney) Mercilus
has even more talent and athleticism. Elsewhere,
DeVier Posey
could go either way as a third-round pick, but he can get down the field and make plays. I wouldn't be surprised at all to see him get first-team reps.
Keshawn Martin
is another receiver to watch. He simply knows how to create space."
"Is the offense actually showing signs of cracking just as the defense really comes into its own? My guess is teams will stack hard this year against the run and show less fear of the play-action. It'll be up to
(Matt) Schaub
and personnel to prove they can still be dangerous."
Next year's help, now:
Marquess Wilson
, WR, Washington St.
Kuharsky:
The question about the offense keeping pace with the defense is a good one. Gary Kubiak can be a great play-caller, and will need to really show an understanding of what his young guys can, and cannot, do as contributors.
If Posey and Martin pan out, the Texans could be in position to look for something other than another receiver in the draft. Offensive line and outside linebacker could be positions of need based on what they could lose in free agency.
Indianapolis Colts

Kiper: "
The Colts didn't just wait to see what they had in
(Andrew) Luck
, they went for every possible option to help him transition quickly, and build chemistry with guys he could be throwing the ball to for years …
"(Bruce Arians') tenure in Pittsburgh was defined by flexibility. The Steelers would pound the ball if they liked the numbers game up front, and they would turn into a spread-out attack if they liked the matchups in the passing game. In Luck, Arians has a QB capable of executing anything he wants to do. I'd expect the Colts not to be vanilla, but actually to come out and show a lot of looks, and be flexible …
"Expect a ton of sub packages and different looks as they try to create pressure to hide a weak secondary."
Next year's help, now:
Jarvis Jones
, OLB, Georgia
Kuharsky:
The question about a flexible offense that shows a lot of looks is how a patchwork offensive line will function as part of it all. The team is counting on three veteran additions -- center
Samson Satele
, guard
Mike McGlynn
, and right tackle
Winston Justice
to jell and help make the Colts a more physical team.
We must resist getting carried away with the 3-4 talk and concentrate more on the hybrid talk on defense. In nickel situations, I expect the Colts will typically look like a 4-3.
Jacksonville Jaguars

Kiper:
"
Justin Blackmon
arrives from Oklahoma State with a reputation as a sterling route-runner and the kind of player who can make a QB look good from the way he can both get down the field and also work back to the ball and fight for it when it's in the air. From Dallas,
Laurent Robinson
comes over with some question marks, but also the hope that the breakout we saw in the second half of 2011 was reflective of talent, not just opportunity …"
"On defense,
Andre Branch
could be a decent find at defensive end. He has the size to hold up in the 4-3, and could start immediately. And we know the punting game is secure -- after all, the Jags went with a punter in the third round …
"No way around it; this is all about the development of
(Blaine) Gabbert
. Again, with Gabbert, it's not a question of arm talent, or even the ability to make the reads. He simply has to be able to manipulate the pocket and get more out of plays when there's even a hint of pressure. Too often last year, any kind of disruption along the line of scrimmage simply destroyed his down-the-field focus. He'd lose his vision and the play would break down.
Next year's help, now:
Barkevious Mingo
, DE, LSU
Kuharsky:
Gabbert and the Jaguars are likely sick of hearing the pocket presence question. But there is no way to look back on his rookie season and not ask questions about his ability to handle what's going on around him as he tries to assess what's going on downfield.
Expect a lot of safe, short stuff early in games to help build his confidence and develop some rhythm.
Tennessee Titans

Kiper:
"Will
(Chris) Johnson
dance less and get up the field and to the hole quicker? He better, because given what the Titans have, there's no way this team should be the 31st-ranked run offense like they were in 2011. In some ways, it's amazing they accomplished what they did given how little they got from the run game …
"I think the defensive line should be a real strength.
Kamerion Wimbley
adds a bit to the pass rush, and DT
Mike Martin
could see reps after being taken in the third round …
"A healthy
(Matt) Hasselbeck
actually guarantees you a certain level of return on offense, and if you feel like you can be the best team in your division, why take a chance? Locker isn't going anywhere, and as much as him not starting may not bode well for his NFL ceiling, it's not a huge surprise based on how I viewed him coming out of Washington. He has a ton of talent, a big arm and a lot of athletic ability, but he really does need time and certainly a lot of work on accuracy.
"Tennessee should make a decision based on winning now, not on proving how smart it was in the draft. Because the Titans have a chance to be a playoff team."
Next year's help, now:
Johnthan Banks
, CB, Mississippi St.
Kuharsky:
Kiper takes an uncommon stance with his praise of the defensive line. The Wimbley addition looks good, and
Karl Klug
and
Jurrell Casey
were great rookies. Can they duplicate or build on their first-year performances?
Derrick Morgan
, Sen'Derrick Marks and
Shaun Smith
all carry big question marks into camp.
The winning now idea is significant and will be a factor in sorting out the quarterback decision. It's simply too difficult to decide to let a kid take his lumps if you don't think he'll offer the best chance to win.