March, 11, 2010
3/11/10
4:41
PM ET
Everyone wants their team to trade down.
[+] Enlarge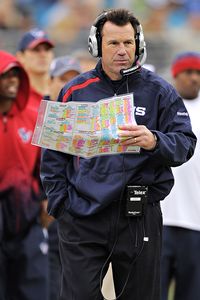 Scott A. Miller/US PresswireTexans coach Gary Kubiak said that trading down in the draft is "a hell of a lot easier said than done."
I get more
e-mails
at this time of year asking me about the possibility of the Jaguars trading out of the No. 10 spot in the NFL draft in hopes of getting more. The same kinds of questions come from Titans fans hoping their team will opt out of selecting 16th overall. Texans fans (No. 20) and Colts followers (No. 31) aren't averse to the idea of trading down, either.
So I am here to tell you, while trading up is often too expensive, trading down is often overrated.
For starters, to get down, you need a team that wants to move up.
"Sitting in the draft room for many years, I think those are conversations that always come up: 'Well, wouldn't it be nice to move back and pick up a couple other picks?'" Texans coach Gary Kubiak said. "Well in that 10 minutes or whatever you have before that pick, if you're not a hot commodity at that time and nobody wants to talk to you, you better be ready to do business.
"I think it's probably a hell of a lot easier said than done."
Said Jacksonville GM Gene Smith in a recent conference call with season-ticket holders: "My mindset is to acquire picks. If we're able to do that, I'll have a smile on my face."
But even if you have a lot of needs, like Smith, is that the right route?
Let's look at the recent trade-down history of our four teams and then assess. We're considering just picks-for-picks trades, not moves that include veteran players.
In the last six years, with the help of Jason Vida of ESPN Stats & Information and
prosportstransactions.com
, here are first-round trade-downs in the division.
Houston
2008
-- Traded with Baltimore
Gave: No. 18 in first round (quarterback Joe Flacco)



[+] Enlarge

Aaron M. Sprecher/Getty ImagesThe Texans drafted Duane Brown after trading down in the first round of the 2008 draft.

Got: No. 26 pick in first round (offensive tackle Duane Brown), a third-round pick (86th overall, running back Steve Slaton) and a sixth-round pick (173rd overall, defensive back Dominique Barber)

Value chart says: Ravens, 900-883.2 points

Assessment: Baltimore got its quarterback and Flacco is clearly the most valuable player of all of these. The Texans got their left tackle (Brown), a skill player who's had one great year and one terrible season (Slaton) and some shaky secondary depth (Barber).
2005
-- Traded with New Orleans
Gave: No. 13 in first round (offensive tackle Jammal Brown)

Got: No. 16 in first round (defensive tackle Travis Johnson) and a third-round pick in 2006 (66th overall, offensive tackle Eric Winston)

Value chart: Texans, 1,260-1,150. (That link is to an NFL-style draft value chart like the ones teams use to measure trade values.)

Assessment: Brown has been a Pro Bowler twice and an All-Pro once. Johnson underachieved and was traded. Winston is a very solid starter, but the Saints got more bang here, I think.


Indianapolis
Sidenote: The Colts gave up their 2008 first-rounder and their 2007 fourth-rounder to get the 2007 second-rounder from San Francisco they used to draft offensive tackle
Tony Ugoh
. That can be classified in different ways. I see it more as the Colts going up to get Ugoh, so I don't use it as a trade-down scenario here.
2004
--Traded with Atlanta
Gave: No. 29 in the first round (wide receiver Michael Jenkins) and a third-round pick (90th overall, quarterback Matt Schaub)

Got: No. 38 in the second round (traded to Steelers for a second-round pick, 44th overall, Bob Sanders and fourth-round pick, 107th overall, linebacker Kendyll Pope), a third-round pick (69th overall, linebacker Gilbert Gardner), and a fourth-round pick (125th overall, cornerback Jason David)

Value chart says: Colts, 845-780

Assessment: A double-trade down netted the Colts Sanders. He may miss way too many games due to injuries, but he won a defensive player of the year award and keyed a Super Bowl team. But Schaub sure proved to have value for Atlanta when Houston came calling a couple years later.


Jacksonville
2007 -- Traded with Denver

Gave: No. 17 in first round (defensive end Jarvis Moss)



[+] Enlarge

Scott A. Miller/US PresswireThe Jaguars' Reggie Nelson had a disappointing sophomore season.

Got: No. 21 in first round (safety Reggie Nelson); a third-round pick (86th overall, traded to Baltimore for a fourth-round pick, 101st overall , a fifth-round pick, 166th overall, and a sixth-round pick 203rd overall); and a sixth-round pick (198th overall, traded to Atlanta as part of package for a fifth-rounder, 149th overall, guard Uche Nwaneri). Punter Adam Podlesh and defensive tackle Derek Landri came out of that trade with Baltimore, with the 203rd pick also going to Atlanta in the trade that got Jacksonville Nwaneri

Value chart says: Jaguars 973.2-950 (not factoring in trades of other picks involved)

Assessment: They did OK, but if Nelson continues on his current course, we'll remember them failing with another first-rounder.


Titans
2004
-- Traded with Houston
Gave: No. 27 in the first round (defensive end/outside linebacker Jason Babin) and a fifth-round pick (159th overall, traded to Jacksonville)

Got: No. 40 in the second round (tight end Ben Troupe), a third-round pick (71st overall, defensive tackle Randy Starks), a fourth-round pick (103rd overall, defensive end Bo Schobel), and a fifth-round pick (138th overall, guard Jacob Bell)

Value chart says: Titans, 860-708.8

Assessment: On draft day, it looked like a monster win for Tennessee and in time, because Babin busted, it still leaned their way. But for the Titans, only Bell was a consistent performer. It's easy to look back on drafts and play what if, I know, but what if the Titans or the Texans had used No. 27 on Sanders or Karlos Dansby or Chris Snee?


Conclusions
:
Let's emphasize this is not scientific and it's not a very big sample size.
Still, these five deals produced just one player we'd rate as stellar, and Sanders has major injury issues. They also yielded AFC South teams a left tackle who still has to prove himself (Brown), a defensive tackle who busted (Johnson), a free safety whose second year was very poor (Nelson) and a tight end who's out of the league (Troupe).
Trading down doesn't always produce the yield everyone imagines. One very good player is better than a couple who rank a notch below. The chance at that player is typically better where you are, not lower than that.
So if the Jaguars see someone they like a lot at 10 or if the Titans see someone they like a lot at 16, they should jump, not dump.
February, 19, 2009
2/19/09
11:57
AM ET
Posted by ESPN.com's Paul Kuharsky
INDIANAPOLIS -- The Colts have let a lot of cornerbacks walk when they reached free agency -- Nick Harper and Jason David started for the Indy team that won the Super Bowl, then both signed elsewhere.
Reinvesting in corners hasn't been the rule, they've turned to the next guy.
But Kelvin Hayden is better than Harper or David, or guys like Walt Harris, David Macklin or Tyrone Poole were.
And so Hayden qualified as different.
Bill Polian said Hayden was the team's top priority as free agency approached. Wednesday the Colts locked him up with a five-year, $43 million contract with $22 million guaranteed.
What makes Hayden so different?
"Obviously he's a very important part of our defense. Kelvin's been playing extremely well for us," coach Jim Caldwell said. "Throughout the years he's done a tremendous job. He's a guy that certainly gives us some stability and leadership, so we're certainly glad to have him.
"He's in the prime of his career, he's 26 years old, he's at the right age and certainly those factors were considered. Also his overall play is just outstanding."
Center Jeff Saturday would seem to be next in line for the Colts. A franchise tag would cost $8.45 million. The deadline for that is Thursday.
The veteran center has been a key piece to the offense, and Caldwell spurned questions about how the team would go forward without Saturday.
"That's a bit premature, just in that you're beginning to act if he's already gone," Caldwell said. "I'm looking at it from a different perspective. He's with us until otherwise indicated. Yeah, he's been, and certainly we anticipate will continue to be, a very, very important part of our offense."
Other notes from Caldwell's podium session at the combine:
He indicated he expected Marvin Harrison would be back and said "we did not see any diminishing in terms of his skills and ability" in 2008.
He said the big surprise in the early stages of life as a head coach was that "in this position, you could literally work 24 hours a day, because there is always something to do."
He's talked a few times with Tony Dungy since he took over following Dungy's retirement.
He's fine with the overtime rules as they are.

October, 23, 2008
10/23/08
3:00
PM ET
Posted by ESPN.com's Paul Kuharsky


INDIANAPOLIS -- They keep their own here, the indispensible ones.
Peyton Manning was never going to get away, Marvin Harrison was a lock, Reggie Wayne would be a fixture.
Dwight Freeney had to be on the field, Bob Sanders was a vital ingredient, Robert Mathis' energy was a must.
Since 2004 the Indianapolis Colts have spent over $205 million in guaranteed money on Manning, Harrison, Brandon Stokley, Ryan Diem, Wayne, Raheem Brock, Gary Brackett, Adam Vinatieri, Mathis, Freeney, Sanders and Ryan Lilja.
That's a great core that all started out as Colts, except for Vinatieri, and is all still Colts, except for Stokley.
The players Bill Polian chose not to re-sign have hardly haunted Indianapolis -- they probably parted with Edgerrin James at the right time; Rick DeMulling, Jason David, Cato June and Ben Utecht haven't done a lot to help Detroit, New Orleans, Tampa Bay or Cincinnati, respectively. Plenty of NFL insiders regard them and other ex-Colts as system players who were good in the Colts framework, did well to cash in as free agents, and will never play as well as they did in Indianapolis.
The Colts had draft picks or young players ready to step in as replacements in their unique system.
Only a handful of former Colts have gone on to advance their careers with their second team, among them linebacker Mike Peterson (Jacksonville) and Marcus Washington (Washington).
Three others went south to Nashville. David Thornton, Nick Harper and Jake Scott have jumped to the Titans in the last three years. They are now key ingredients for 6-0 Tennessee, the lone undefeated team in the league and the hosts to the Colts Monday night at LP Field.
While other system guys have faded in their second acts, the Titans feel they hit three home runs -- raiding and weakening the team they've been chasing in the AFC South while strengthening their nucleus.
"They are great performers for us and it's definitely a credit to our scouting department," said Titans Pro Bowl defensive end Kyle Vanden Bosch. "Indy is a system-type team, but those guys came in and fit in with what we do really well."
"They've got so much invested in their elite, core guys, they kind of roll the other guys over," said Tennessee GM Mike Reinfeldt, who assumed his post in 2007. "The key is to find in those guys they roll over, which ones are the guys that are really keepers? I think we found three that were."
Thornton is a rangy linebacker who is completely comfortable in coverage and able to rush the passer when asked. Harper was typecast as a Cover 2 corner, but he's shown himself to be capable in man-to-man and has added a lot to the Titans run defense as a willing and reliable tackler. Scott has helped make a brawny line that's allowed only two sacks even more physical.
In 2007, the Colts were ready to let Harper and David move on as they had young risers Marlin Jackson and Kelvin Hayden ready to take over. Harper got a three-year contract for between $9 and 10 million. David was a restricted free agent, but Indy didn't match a four-year, $16.5 million offer sheet.
The Colts haven't missed him the way they have missed Thornton and, because of injuries in the early part of this season, Scott.
Polian said after a Titans-Colts game last season that his team's best linebacker was wearing No. 50 for the other team. Indy might have been able to re-sign him, but accounting issues with the NFL Management Council over signing bonuses for Manning and Harrison under the new CBA in 2006 clogged up Polian's salary cap and the linebacker was gone by the time things were sorted out.
"That's probably the free agent loss that I took hardest," Polian said. "Because I had such high regard for him as a person, as a player and as a leader."
And while the Colts seemingly chose between Lilja and Scott, they certainly could have used Scott to this point, as injuries have thinned their options along the line and Lilja remains on the physically unable to perform list.
Harper has been solid this season, though breakout youngsters Cortland Finnegan and Michael Griffin have stolen the secondary spotlight. In his second season, Harper is more comfortable.
He said while a lot of Titans defenses start as zones, they wind up working man-to-man concepts with which he is now completely comfortable. Harper is always quick to note that he was a man corner when he joined the Colts after a year with the Hamilton Tiger-Cats of the CFL.
"Definitely, I am not a product of what the Colts did," he said.
His old teammates will watch him work Sunday, and take note of Thornton and Scott too. They understand why they are where they are, even if they don't like it.
"I'm very happy for all those guys, all good guys, they've done well down there so far," center J
eff Saturday said. "But you knew leaving here, they were the good guys. You knew what you had as players. They showed up here each and every week and performed and played to an outstanding level. They're just doing it for another team.
"They have great leadership qualities, each and every one of them do, and they just took it to the Titans. That's the way the league is now. When teams play you twice a year they can get a good sense of how good you're going to be for them. And I think the Titans made a good move there."