December, 6, 2013
12/06/13
12:29
PM ET
NASHVILLE, Tenn. -- John Fox is in Year 3 of his tenure in Denver.
He's got
Peyton Manning
at quarterback, which puts him in a better situation than any other coach who was hired in 2011.
A top-flight quarterback obviously keys an organization.
"You definitely feel that you're growing as a team otherwise it's a lot of hard work for nothing, but I feel that we've improved in the three years," Fox said. "I guess my point is we're not satisfied."
Of the eight head coaches hired in the NFL in 2011 -- including Jason Garrett who took over for Wade Phillips in Dallas late in 2012 -- Munchak currently ranks sixth in winning percentage.

Jim Harbaugh, San Francisco
2011: 13-3
2012: 11-4-1
2013: 8-4
Overall: 32-11-1, .727
Quarterback situation: Drafted
Colin Kaepernick
in the second round in 2011. He was a Super Bowl quarterback last year, but isn't the same guy this season.
Biggest additions: Kaepernick, linebacker
Aldon Smith
(draft 2011), receiver
Anquan Boldin
(trade 2012).
Status: Rock solid.

John Fox, Denver
2011: 8-8
2012: 13-3
2013: 10-2
Overall: 31-13, .705
Quarterback situation: Peyton Manning is putting up monster numbers and appears on track for another MVP.
Biggest additions: Linebacker
Von Miller
(draft 2011), Manning (free agent 2012), receiver
Wes Welker
(free agent 2013).
Status: Rock solid.

Jason Garrett, Dallas (interim in late 2010)
2011: 8-8
2012: 8-8
2013: 7-5
Overall: 23-21, .534
Quarterback situation:
Tony Romo
is productive and talented, but has a reputation for folding at crunch time.
Biggest additions: Left tackle
Tyron Smith
(draft 2011), cornerback
Brandon Carr
(free agent 2012), center
Travis Frederick
(draft 2013).
Status: Constant public questions, public support from his owner.

Ron Rivera, Carolina
2011: 6-10
2012: 7-9
2013: 9-3
Overall: 22-22, .500
Quarterback situation:
Cam Newton
is playing well as the Panthers are 9-3 and challenging for the NFC South title.
Biggest additions: Newton (draft 2011), linebacker
Luke Kuechly
(draft 12), defensive tackle
Star Lotulelei
(draft 2013).
Status: Vastly improved.

Hugh Jackson, Oakland
2011: 8-8, fired
Overall: 8-8, .500
Status: Special assistant to the head coach/ running backs coach in Cincinnati.

Mike Munchak, Tennessee
2011: 9-7
2012: 6-10
2013: 5-7
Overall: 20-24, .454
Quarterback situation:
Jake Locker
showed signs he might be the guy, but he's hurt and will miss 14 of 32 starts since he got the job in 2012. Backup
Ryan Fitzpatrick
is playing now.
Biggest additions: Defensive tackle
Jurrell Casey
(draft 2011), receiver
Kendall Wright
(draft 2012), strong safety
Bernard Pollard
(free agent 2013).
Status: Likely in trouble, but we know nothing about how the head of new ownership group, Tommy Smith, is leaning or will act.

Leslie Frazier, Minnesota
2011: 3-13
2012: 10-6
2013: 3-8-1
Overall: 16-27-1, .363
Quarterback situation: A complete mess.
Christian Ponder
,
Matt Cassel
and
Josh Freeman
have all started this year, and they've all been bad.
Biggest additions: Tight end
Kyle Rudolph
(draft 2011), safety
Harrison Smith
(draft 2012), receiver/returner Cordarelle Patterson (draft 2013).
Status: Likely to be finished with one year remaining on his contract.

Pat Shurmur, Cleveland
2011: 4-12
2012: 5-11, fired
Overall: 9-23, .281
Status: Offensive coordinator in Philadelphia.
November, 17, 2011
11/17/11
1:37
PM ET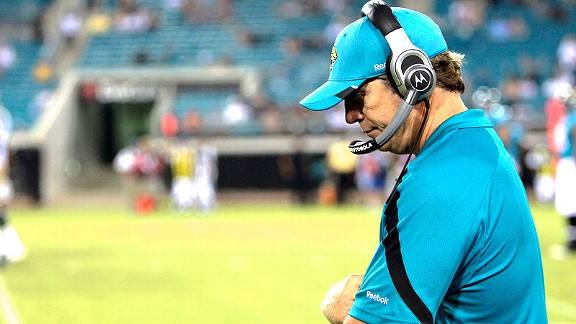 AP Photo/John RaouxIf the Jaguars replace Jack Del Rio, it makes sense to hire an offensive-minded head coach.
Ten weeks into most NFL seasons we have a good sense of head-coaching jobs coming open and the prime candidates for them.
This year feels different.
Jim Caldwell may coach a potential 0-16 team. But to hear Bill Polian talk, the Colts' coach may well survive. In Jacksonville, Jack Del Rio's got one year left on his contract and a lame-duck staff.
It's widely held that Jaguars owner Wayne Weaver will make a change if he judges the team to have shown insufficient improvement this season, and it's hard to envision a giant turnaround now for the 3-6 Jaguars based on how poorly the offense is producing.
As for prime head-coaching candidates, I sense no buzz about the hot, young offensive assistant who's the next big thing. In previous years -- no matter if they panned out or not -- we've seen guys like Josh McDaniels, Jason Garrett, Todd Haley and Ken Whisenhunt tabbed as up-and-comers who were ready.
Who are those guys now?
While Northern Florida might hold out hope that Weaver will want a name and would be able to lure one, I don't see Bill Cowher or even Jeff Fisher heading for EverBank Stadium.
The franchise should re-sign general manager Gene Smith, allow him to decide on Del Rio and make the recommendation on the next coach.
And if Smith's in the market, that next coach should be a young offensive mind who likes
Blaine Gabbert
and has the best shot at developing him. Smith needs to hit a home run finding the next Mike McCarthy, Sean Payton or, this year aside, Andy Reid.
I asked around this week, talking to a couple coaches and an executive about which NFL assistant qualifies as a QB guru who's ready to be a head coach.
Through those conversations, I present this list of possibilities:
Mike Mularkey, Atlanta offensive coordinator
-- Mularkey posted a 14-18 record as Buffalo's head coach in 2004-05. But he's got enough distance from that now that he could be worthy of a second act.
He took over as offensive coordinator in Atlanta in 2008, when quarterback
Matt Ryan
was a rookie. He has a bruiser of a running back in
Michael Turner
to go with Ryan. Ryan became just the second rookie quarterback in NFL history to throw for more than 3,000 yards, and the Falcons won 11 games.
There is a connection to Smith: Mularkey's son, Patrick, is a scouting assistant in Jacksonville's player personnel department.
Jay Gruden, Cincinnati offensive coordinator
-- Gruden's done fantastic work this season with rookie QB
Andy Dalton
. But is one good year enough to vault him to a head coaching job?
He worked on his brother Jon's staff in Tampa Bay from 2002-08, but as an offensive assistant he wasn't a year-round guy. He stacked the work on top of his duties quarterbacking and then coaching the Orlando Predators of the AFL.
Jay Gruden has head coaching experience in the AFL and the UFL, where he led the Florida Tuskers to the 2010 championship game as head coach and GM.
Word is he's different than his brother, calmer with a better presence with his players.
Rob Chudzinski, Carolina offensive coordinator
-- His first tour as an offensive coordinator came in Cleveland from 2007-08. The 2007 Browns won 10 games with
Derek Anderson
shining at quarterback.
Now Chudzinski's been lauded for his work with
Cam Newton
, revising and shaping the offense to feature what the rookie quarterback does best. He's got a strong background with tight ends, too, and is regarded as a rising star by many around the league.
He's also a quieter, unassuming type.
Tom Clements, Green Bay quarterbacks coach
-- Clements worked in the same post for New Orleans (1997-99), Kansas City (2000) and Pittsburgh (2001-03). During those stops he worked with
Tommy Maddox
during his comeback player of the year season in 2002 and with
Kordell Stewart
and
Elvis Grbac
during their best seasons.
He also worked as offensive coordinator in Buffalo in 2004 and 2005.
With Green Bay, Clements guided
Brett Favre
in his final Packers' years while helping prepare
Aaron Rodgers
. He's also had a hand in the progress of highly regarded backup
Matt Flynn
.
But does he have the qualities of a good head coach?
Pete Carmichael, New Orleans offensive coordinator
-- He's in his third year as Payton's top offensive lieutenant after three seasons as the Saints' quarterbacks coach.
Carmichael's been closely involved with an offense that has excelled with
Drew Brees
as quarterback, with a specific role in routes, protection schemes and quarterback responsibilities.
Like Clements in Green Bay, Carmichael works for a strong coach with an offensive background and so he doesn't function as the play-caller. While very smart, he comes across as bland and that could be a big issue for a guy expected to be the face and the personality of a franchise.
February, 5, 2011
2/05/11
11:13
AM ET
Jason from Murfreesboro, Tenn., writes:
I was just wondering if you could say/write something to Titans fans who are discouraged at the prospect of Munchak becoming head coach. I don't know anyone who thinks he's the best fit for the job and we're all discouraged to think the front office would rather keep the same ole status quo that hasn't' delivered a playoff win in seven years, than to try something/someone new from outside the organization. If he's such a great candidate why wasn't he mentioned for any of the other head coaching vacancies?
Paul Kuharsky:
I can.
Is Jason Garrett the same as Wade Phillips in Dallas? Is Leslie Frazier the same as Brad Childress in Minnesota? Is Hue Jackson going to be the same as Tom Cable in Oakland?
Is Mike Munchak completely fresh blood? No. But is he a Jeff Fisher clone? Absolutely not. Is his long-time boss going to influence the way he works? Sure. Are there some Jeff Fisher traits Munchack probably wants to completely steer the opposite direction from? I'm sure there are.
Expanding the search is my preference. But Munchak will still qualify as something new. If Munchak gets the job, he might be great at it. We'll have to wait and see, though I know that doesn't suit most people's desire to panic. And the Titans don't, and shouldn't, care if the guy they want has been coveted by the rest of the league. There are coveted guys who don't work out. There are no names who are great.
I'll let another reader chime in too:
---
Andy in Nashville writes:
The Titans bright side: In 2007, the
Arizona Cardinals
had no coach and a castoff veteran QB who no one thought had much left in the tank. Ken Whisenhunt and
Kurt Warner
took them to the Super Bowl in 2008. After the 2005 season, the
New Orleans Saints
fired their head coach. They had neither a QB nor a stadium to play in. They hired Sean Payton, picked up
Drew Brees
, and won the Super Bowl in Feb. 2009. In 2007, the
Atlanta Falcons
had their QB sent to prison, and their coach left in the middle of the season for a college team. In 2010, they had the best record in the NFC. So, it's possible. The Titans dark side: The last decade in Detroit, Cleveland, and San Francisco. So, these next few months for the franchise are enormously important.
PK:
Only trouble is, Warner and Brees, or anyone like them, are not available.
---
Craig Jackson from Culloden, W. Va., writes:
Hey Paul was just wondering what do you think the Texans are gonna do with
Steve Slaton
?
PK:
They'll let him compete for a spot at the back of the rotation. His neck issue makes him a question for Texans and everyone else.
---
John Sullivan from Indianapolis writes:
Any chance
Peyton Manning
would put pressure on Jim Irsay and Bill Polian to have Fisher replace Jim Caldwell. Fisher is a much better game day coach.
PK:
Not happening. Even if the stuff on the Indy side was in play -- and I don't believe for a second it would be -- Fisher is intent on sitting out a year.
---
Justin Propp from Houston writes:
This is an angle on the CBA that I haven't heard much discussion over, but considering that a lockout seems imminent, what happens to the chances of teams with new head coaches starting in a potentially huge(r) hole? I can't help but think that coaches on the fence might be getting another year because a mediocre coach that knows the players is better than a new coach, whoever that might be, that maybe gets a chance to work with a team for only weeks prior to opening day.
PK:
Absolutely, if there are missed OTAs, if free agency is after the draft and condensed, the good teams with stability have a better chance to stay good and the teams trying to get better will have a harder time with quick turnarounds.
Thanks for the mail. Before anyone sends a note complaining about the content of this entry, send a note with a question about your team. Cheers.
December, 3, 2010
12/03/10
4:00
PM ET
»
NFC Final Word
:
East
|
West
|
North
|
South
»
AFC
:
East
|
West
|
North
|
South
Five nuggets of knowledge about Week 13:
[+] Enlarge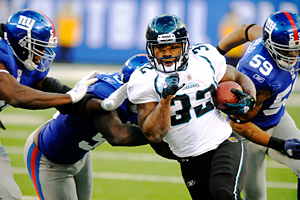 AP Photo/Henny Ray AbramsMaurice Jones-Drew has been blowing past defenses designed to contain him.
No matter the numbers:
Maurice Jones-Drew
has run well this season when teams have loaded up to try to stop him, according to ESPN Stats & Information. When opposing defenses expect run and bring more defenders into the box than the offense has blockers, Jones-Drew still produces. He has 37 carries under such circumstances and his 4.7 yards per carry average is tied for the third-best in the league. Since the beginning of 2008, only
Thomas Jones
(18) has more rushing touchdowns against the loaded box than Jones-Drew (15).
Three more TDs:
Dallas has not played in Indianapolis since Nov. 17, 2002, when the Colts beat them 20-3. It will be only the third Cowboys-Colts clash of the
Peyton Manning
era and he's 2-0 against Dallas. Manning already has an NFL-record 12 seasons with at least 25 touchdown passes. He needs three more TDs to make it 13. In his last two games -- losses to New England and San Diego -- Manning has thrown six touchdown passes but also seven interceptions.
Score more:
The Titans were faring great in the scoring department before their four-game losing streak. Now, over the past month, they've scored 25, 17, 16 and 0, a total of 58 points. That's less than half the point production from the four games before that (121). The Titans need some lengthy drives and big plays. They've talked over and over about the coverage WR
Randy Moss
is drawing. But his previous teams found a way to get him 948 catches against difficult coverages and it's time for the Titans to figure out how. Without Moss, they scored 30 in Jacksonville on Oct. 18.
Beat up:
Yes, the Jaguars are playing far better than they were when the Titans beat them up in the first game. The biggest difference heading into the rematch could be the health of the Titans' defensive line. Tennessee's pass pressure has dropped off and the group is dealing with injuries.
Sen'Derrick Marks
is probably out and
Jason Babin
,
Dave Ball
,
Jason Jones
and
Tony Brown
are all on the injury report. I expect more time for
David Garrard
and more room for Jones-Drew.
Run wary:
The Colts might have
Gary Brackett
back at middle linebacker, and they could use him. Under interim coach Jason Garrett, the Cowboys have shown more determination to run the ball. The undersized, undermanned Colts can certainly be run on. They've given up 136.9 yards a game and 4.9 yards a carry this season.