August, 17, 2011
8/17/11
2:36
PM ET
Brent Dougherty of "3 Hour Lunch" in Nashville was hanging out in the
Tennessee Titans
' press room a while ago. We got to talking about
Chris Johnson
.
I'm not a math guy. I'm not a contract expert. But in playing around with some numbers, I came up with something I think could be considered reasonable for the Titans to make an initial offer. And Dougherty allowed me to join the show to offer it up.
Here it is, fixed up a little:
Five years for $55 million. He is guaranteed $31 million in the first three years, including a $25 million signing bonus.
It seems a great deal for Johnson -- a $10.3 million average over the first three years.
It protects the Titans from running back demise, as Johnson will turn 30 during the 2015 season. They could simply not pay the roster bonus, cutting Johnson loose at that point. Or maybe Johnson looks to have another two good years and the economy for running backs makes an additional $13 million, and those big bases in 2014 and 2015, palatable.
I'm not saying this is the ideal deal. I'm saying I believe it's a functional sketch of something that could work for both sides.
Hopefully the Titans are drawing up their own version of an initial offer to get things started.
Here are a few other opinions from people who understand contract and cap math way better than I.
Andrew Brandt's got a nice analysis and prediction of the situation now,
here
.
And I asked Football Outsiders cap expert J. I. Halsell for his thoughts on the top running back versus elite playmaker debate.
His thoughts:
"In terms of what being paid like a top playmaker translates into, on the offensive side of the ball, the highest paid non-QB veteran contract isn't even a skill position contract. The Eagles' LT Jason Peters' deal averages $12.86M/yr.

"In terms of offensive skill position players, the Texans' WR Andre Johnson got $12.85M/yr on a two year extension.

"When you look at elite offensive players' guarantees, they are roughly in that $6M - $7M guaranteed dollars per year (i.e., Johnson on his two-year extension got $14M guaranteed).

"Given DeAngelo Williams' deal that has an average per year of $8.5M and a guarantee average per year of $4.9M, I suspect the Titans would be willing to pay Johnson a deal that would pay $9M per year and a guarantee of maybe $5.5M-$6M per year. So on a four year extension, Johnson could get from the Titans a deal worth $36M with upwards of $24M guaranteed.

"Johnson on the other hand -- assuming a 4 year extension -- is looking for a deal with $52M in new money with $28M-$30M guaranteed and $40M-plus paid in the first three years.

"Albert Haynesworth is probably the most recent example of a player who got paid significantly beyond their positional market, as Haynesworth received an elite pass rusher type contract in spite of being a DT.

"The difference between Johnson and Haynesworth, though, is that Haynesworth was able to obtain that kind of contract because he had suitors on the free agent market that drove his price up. Johnson, who is under contract for the next two seasons, does not have this same luxury.

"There's creative contract structuring that can be done that can allow for both sides to get what they want out of the deal. Perhaps Johnson may have to relent on his average per year desires in exchange for a creative yet lucrative guarantee structure that would put his guarantee in the 'playmaker' category.

"At the end of the day, both sides will have to give a little to get a deal done."
June, 14, 2011
6/14/11
1:05
PM ET
Regular visitors know I am not big on being able to assess line play in great detail.
Our left tackle power rankings
probably rely on word of mouth and reputation as much as any position we've ranked.
As you will hear me say in the video connected to Pat Yasinskas' post revealing and explaining our overall rankings, I don't believe there is a consensus best guy. While
Joe Thomas
is a great player, a couple national folks spent time with him, fell in love, and pumped him as the best guy.
A lot of other media, in need of a best guy, jumped on board. Thomas is a very good player, but he's not a consensus best left tackle in the league among players, scouts and coaches. If readers think he should be, it's largely because writers have set it up that way.
So you can get the overall rankings through the above link. Here's my ballot, one of eight that factored into things.
Joe Thomas
October, 22, 2010
10/22/10
4:24
PM ET
»
NFC Final Word
:
East
|
West
|
North
|
South
»
AFC
:
East
|
West
|
North
|
South
Five nuggets of knowledge about Week 7:
Gigantic obstacle:
For the
Philadelphia Eagles
, the 6-foot-9, 330-pound
King Dunlap
will play left tackle for the injured
Jason Peters
.
Tennessee Titans
defensive lineman
Dave Ball
would seem primed for a classic speed vs. size matchup here. But Jeff Fisher said the Eagles chip more than anyone in the league, even with receivers. So Ball can expect regularly to be knocked off course by a tight end, back or even a wideout before he gets a chance to get around Dunlap. And
Kevin Kolb
gets rid of the ball on time in a quick-passing offense.
[+] Enlarge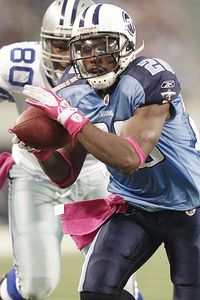 Tim Heitman/US PresswireAlterraun Verner and the Titans are 4-0 when they have a turnover advantage.
Evaluate effort:
The
Jacksonville Jaguars
didn't exactly go down swinging in Week 6 in the "Monday Night Football" home loss to the Titans. Once the Titans built a lead, it seemed clear Jacksonville didn't think it could catch up. Against the
Kansas City Chiefs
in Week 7, the proper response now is to come out guns blazing. The Jaguars need to play with tremendous effort to show the team knows it's 3-3 and has not given up on itself or coach Jack Del Rio. Rally around a substitute quarterback, facilitate a big game for tailback
Maurice Jones-Drew
, make sure Chiefs quarterback
Matt Cassel
is uncomfortable. It's a test of leadership, at least to a degree.
Turnover edge:
The Titans are 4-0 in games where they've had a turnover advantage and 0-2 in games where the other team's had it. The Titans have seven takeaways in their last two games. But the Eagles have only turned the ball over five times this year, and have had the turnover edge in five of their six games.
Get the star going:
Jones-Drew has a solid history against the Chiefs. He's scored a touchdown in three consecutive games against Kansas City. The Jaguars need to make sure the Chiefs do not get any sort of substantial lead, so they can rely on Jones-Drew's running. That's the preferred option with backup QBs
Trent Edwards
or
Todd Bouman
starting for the injured
David Garrard
. MJD averages 5.0 yards a carry as a starter on the road.
Dreading it:
Colts fans won't necessarily be enjoying their team's weekend off, knowing how injury-depleted the team will be when it resumes play Nov. 1 against the
Houston Texans
, who also have a bye. They learned this week that
Dallas Clark
is finished for the season,
Austin Collie
will miss at least a couple of games and
Antonio Johnson
had knee surgery. Moving forward, they can look forward to an update on
Joseph Addai
, who's dealing with a shoulder injury that can cost him time, too.
September, 14, 2008
9/14/08
11:52
AM ET
Posted by ESPN.com's Paul Kuharsky

Porter
JACKSONVILLE -- Wide receiver Jerry Porter has been designated as the Jaguars third quarterback for today's game against the Bills.
The move appears odd, but actually makes sense as smart roster manipulation.
Porter is coming off hamstring surgery and didn't play in the opener. The only way he'd play today is if both David Garrard and Cleo Lemon get hurt.
In such a scenario, Porter could enter the game as the quarterback.
After a play, he'd likely flip spots with Matt Jones, the receiver who was a quarterback at Arkansas. With Dennis Northcutt's back issues, Jack Del Rio is simply putting himself in position to have access to the most players possible should he suffer injuries at quarterback and receiver.
And after watching three offensive linemen go down last week -- two of them are now out for the season -- such crazy scenarios don't seem so crazy any more.
Lineup changes of note: Newcomer Milford Brown will start at right guard ahead of Tutan Reyes.
For the Bills, Jason Peters will start at left tackle after a full week of practice following a holdout that did not produce a new deal. Langston Walker shifts to right tackle and Kirk Chambers moves to the bench.