October, 17, 2012
10/17/12
5:24
PM ET
NASHVILLE, Tenn. -- We've talked a good deal about
Jared Cook
not being used enough in this space.
Last week offensive coordinator Chris Palmer promised Cook would get balls early. The Titans tight end wound up with four passes, including the 25-yarder that set up
Rob Bironas
' field goal that beat the Steelers last Thursday night.
The Titans shared an interesting note this week about where exactly Cook ranks over the past two season in receiving yardage and receiving average in the AFC.
I asked Cook to guess where he'd fall on such a list.
"Probably seventh, around there, I'd guess," he said.
Actually he's second. The only tight end ahead of him is New England's
Rob Gronkowski
(1,683 yards).
Cook has 1,050 yards and a 14.6-yard average, a half yard better than Gronk.
Include the whole league and
Jimmy Graham
,
Tony Gonzalez
,
Jason Witten
,
Brent Celek
,
Vernon Davis
and
Fred Davis
also get ahead of Cook in receving yardage for 2011-12.
But Cook, who expressed frustration before the Steelers game about not being more involved in the offense, said it's not about yards as much as receptions.
Of those seven tight ends in front of him and the next seven behind him on the yardage list, they all have more receptions than Cook's 72. (
Owen Daniels
is 10th in the NFL, third in the AFC with 1,034 yards on 80 catches.)
"It could be better," Cook said. "If I had more receptions, I'd have more yards, of course. My average could come down. I'll take more receptions of course. Who wouldn't?"
May, 31, 2011
5/31/11
11:27
AM ET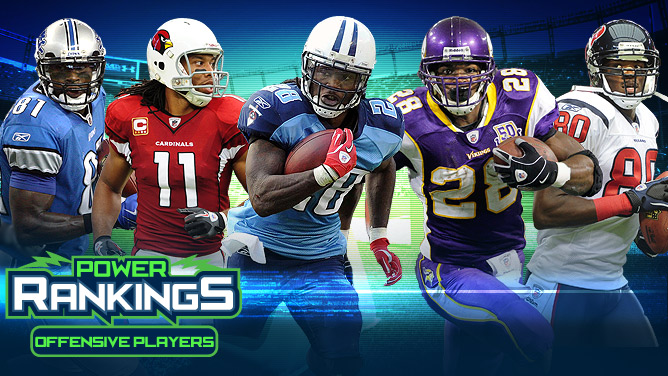 ESPN.com IllustrationChris Johnson (center) and Adrian Peterson (center-right) share the top honors in our Offensive Player Power Rankings.
ESPN.com's NFL writers rank the top 10 offensive players (non-quarterbacks) in the league today.
Next week: Toughest venues to play in.
We've evaluated running backs, assessed receivers, tackled tight ends and critiqued quarterbacks.
Our next assignment for ESPN.com's Power Rankings: Rate the top 10 offensive players in the NFL, taking signal-callers out of the equation.
It's a difficult task, considering we've not addressed the offensive line. (I believe that left tackles are on the long-term agenda, but that is not my department.)
Nobody else took my route. I simply put a giant premium on explosiveness and passed on O-linemen entirely. I didn't do it because I downgraded their importance. Backs, receivers and tight ends couldn't qualify for consideration here, obviously, without quality line-blocking.
I did it for three reasons.
Like virtually every football writer, I am least good at evaluating offensive linemen with my own eyes.

Although conventional wisdom says to build inside-out, if I could select 10 offensive football players with whom to start a team, I'd load up on playmakers and feel good about the potential to build a good line starting with my 11th choice. (I'd have an excellent offensive line coach.)

We're not in the prime of Jonathan Ogden or Walter Jones or Alan Faneca. And although some great linemen got votes here, none is so good he HAD to be here. Right now, we might be more about units than superior individuals.
But my logic is easily disputed by someone who took a completely different tack. NFC North blogger Kevin Seifert voted linemen fifth and sixth with
Joe Thomas
and
Jake Long
, respectively.
"It's definitely harder to measure the impact of a singular offensive lineman versus skill players, but to me you're fooling yourself if you either subordinate their role or don't consider the best linemen to be just as important as the best running backs or receivers," Seifert said in an email laced with compliments of the AFC South blog's content. "Linemen don't touch the ball, so their impact on any given play is more limited than, say, when
Adrian Peterson
gets a handoff.
"But over the course of a game, an elite offensive lineman can contribute to a victory just as much. And, more obviously to most people, a sub-par performance from an offensive lineman can lead to defeat. I made sure to rank my top running backs and receivers ahead of any offensive lineman in this ranking, but I thought the two best guys in the league -- Joe Thomas and Jake Long -- deserved to be ranked over the second tier at the other positions. So that's how I went about it."
And so here's the buried lead:
Tennessee's
Chris Johnson
edged Minnesota's Adrian Peterson in our Running Back Power Rankings, but the two finished dead even here, sharing the No. 1 slot.
They are ahead of Houston receiver
Andre Johnson
by six points, while two more receivers rounded out the top five: Arizona's
Larry Fitzgerald
and Detroit's
Calvin Johnson
.
AFC West blogger Bill Williamson cost Peterson the outright No. 1 spot by voting him seventh, just as he cost Peterson a tie in
the running backs poll
by putting him third.
"I think Chris Johnson is the best running back and I think
Jamaal Charles
is right behind him," Williamson said. "I see Charles often. The guy is the goods. So, that leaves Peterson just a tad below. I stuck to my running back power rankings, which cost Peterson. Seems like it happened again. But I'm comfortable with it."
Atlanta receiver
Roddy White
is sixth, Jacksonville running back
Maurice Jones-Drew
seventh, Long eighth, Thomas ninth and Charles tied for 10th with San Diego tight end
Antonio Gates
.
Jones-Drew caused a bit of a divide. He wasn't named on five of our eight ballots, but NFC East newbie Dan Graziano and NFC South maven Pat Yasinskas had MJD in their top four.
"He's the every-down back, he's the goal-line back, he catches the ball," Graziano said. "I just think his overall contributions to the offense set him apart. He may not be as good or skilled a back as Peterson or Johnson, which is why I ranked those guys higher.
"But for me he has more to do with how his team's offense runs and succeeds than does a receiver like a Fitzgerald or White. And while I think Jamaal Charles has more talent, the fact that he doesn't play as much as Jones-Drew plays moves him further down the list for me."
Said Yasinskas: "I look at Maurice Jones-Drew as more than just a running back. He's an all-around weapon."
As usual, the reasoning of my colleagues makes me secretly second-guess some of my decision-making. Wait, did I say that out loud? Then not so secretly.
It's hard to go wrong, obviously, with an entire pool of offensive players (minus quarterbacks) to choose from.
Guys who got votes and finished 12th through 19th --
Reggie Wayne
,
Jason Witten
,
Michael Turner
,
Arian Foster
,
DeSean Jackson
(thanks to my vote, talk about big plays),
Nick Mangold
,
Greg Jennings
and
Steven Jackson
-- qualify as an All-Star team on their own merits.
Here's hoping the lockout doesn't leave us writing columns off imaginary games between teams featuring our first- and second-strings.
March, 29, 2011
3/29/11
1:07
PM ET
Dallas Clark
and
Marcedes Lewis
made strong showings in ESPN.com's newest positional Power Rankings where we sorted through the league's tight ends.
Here's Bill Williamson's piece
on the rankings, where Clark came in third and Lewis finished eighth.
Those seem reasonable placements to me and aren't far out of line with my ballot:
Dallas Clark
Marcedes Lewis
The primary controversy involved
Tony Gonzalez
, whose one second place vote kept Gates from tying Witten at No. 1. I explained my non-vote for Gonzalez thusly:
"Gonzalez is still an excellent player. But as I struggled to find room for the 10 I felt needed to make the cut, he fell off. In 2010 his numbers suggest he was more quantity than quality. I'm not looking for giant plays from my tight end, but Dallas Clark-replacement
Jacob Tamme
matched Gonzo's 9.4-yards a catch, and while Gonzalez's first-down percentage was good (55.7) it was way lower than that of the three top rookies and smaller than that of guys like
Heath Miller
, Ben Watson and
Todd Heap
, who I hardly considered. One final note: As I've got access to Frank Wycheck during three shared radio appearances a week, I asked him for a ballot. I'm sure he admires Gonzalez's body of work. But right now Gonzalez wasn't in Wycheck's top 10 either."
Houston's Owen Daniels didn't make the cu. My note was his only one, and got him a tie for 15th. He was coming off a blown-out knee last season and had some hamstring issues. So he wasn't himself much of the year. When he is, I have no doubt he's a top 10 guy, a tight end who runs receiver-caliber routes.
Overall, I expected to have an easier time putting together this ballot. But even avoiding rookies altogether, I struggled.
"After a hellish pass-rusher ballot, I thought tight ends would be far easier," I told Williamson. "They were just as difficult. There is a great deal of young talent too. I steered clear of first-year guys, but in another season or two, this could be even more brutal to sort through."
November, 19, 2010
11/19/10
4:00
PM ET
»
NFC Final Word
:
East
|
West
|
North
|
South
»
AFC
:
East
|
West
|
North
|
South
Five nuggets of knowledge about Week 11:
[+] Enlarge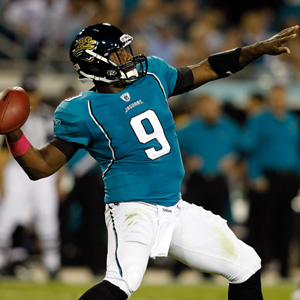 J. Meric/Getty ImagesIn the past two games, David Garrard has completed 66.2 percent of passes thrown over 10 yards.
Look long:
I've been critical of Jaguars QB
David Garrard
's ability to see receivers downfield and connect with them. But in his past two games he has been ridiculously good on balls thrown over 10 yards. (Yes, that includes the batted Hail Mary that won the Houston game.) In two games since returning from a concussion, ESPN Stats & Information says Garrard has hit on 66.2 percent of such throws for a 20.5 yards per attempt average, three touchdowns and no interceptions and a 149.3 passer rating. The Browns will certainly be conscious of that, which may mean there is a little more room underneath for a guy like
Maurice Jones-Drew
.
More men on Manning:
Since Colts tight end
Dallas Clark
was lost for the season with a wrist injury, defenses have been blitzing
Peyton Manning
more. The thinking is that Clark was an excellent safety blanket and outlet for Manning to find against extra rushers, but that he's got less reliable options in those situations now. In the past three games, he has seen five or more rushers 37.7 percent of the time (as compared to 21.9 percent before). In those situations, he has completed only 54.2 percent of his passes, posted a passer rating of 66.5 and been sacked four times. Will Patriots coach Bill Belichick find a way to have a similar effect?
Careful with Cooley:
The Titans have struggled against tight ends recently, getting lit up by San Diego's
Antonio Gates
and Miami's
Anthony Fasano
in recent weeks.
Jason Witten
and
Kevin Boss
also have had big games against them. Jeff Fisher has said it's mostly on the linebackers. Well, they need to do better against Washington's dangerous
Chris Cooley
, a guy who can do some damage after the catch. There can't be communication issues about who's on him when and where, or he can tear them up.
Force Foster:
The Jets are fifth against the run and 14th against the pass, but that doesn't mean the Texans should minimize
Arian Foster
. Offenses with a good back against good run defenses shouldn't presume he won't be able to gain yards. I think the Texans would be well served to show some attitude here. When they lost their opener to the Jets last season, New York players suggested the Texans were a finesse team that couldn't slug it out toe-to-toe. Forcing the issue early with Foster would go a long way in this game toward showing the hosts that's no longer the case. Trouble is, it may still be.
Force fumbles:
If the Patriots happen to be losing late and trying to muster a late drive, they should be hyper-aware of
Dwight Freeney
. In the Colts' past two wins, he has had a strip sack late in the fourth quarter to get Indianapolis the ball back. Even as offensive linemen and quarterbacks know what's coming, Freeney is able to dig down and make a giant play to help secure a win. Second-year tackle
Sebastian Vollmer
is 6-foot-8, 315 pounds. Will there be a critical moment when the 6-1, 268 Freeney speeds, or spins, around him?
October, 31, 2010
10/31/10
5:10
PM ET
Thoughts about the Jaguars
35-17
win over the Cowboys.
What it means:
Dismiss the Jaguars in the AFC South at your own risk, because 4-4 still gives them plenty of life in the AFC South halfway through their season.
Hero:
David Garrard
threw four touchdowns for the first time in his career and was tremendously efficient and accurate, hitting on 17 of 21 passes for 260 yards. He found the increasingly dangerous
Marcedes Lewis
for two of the scoring passes and really got
Mike Sims-Walker
involved with eight catches for 153 yards and a touchdown. Garrard also ran for the Jaguars' fifth TD.
What I liked:
A much maligned secondary produced three interceptions -- two from
Derek Cox
, one from
Rashean Mathis
. A fourth came from the gigantic defensive tackle
Terrance Knighton
. Three were on tipped balls, but the Jaguars were opportunistic against
Jon Kitna
.
Bad development:
Safety
Don Carey
earned an unnecessary roughness penalty for a helmet to helmet hit on
Jason Witten
, a play that knocked him out of the game with a neck injury.
What's next:
Jacksonville will enjoy its bye week before hosting back to back games against Houston and Cleveland.

AFC SOUTH SCOREBOARD
Friday, 8/22
Saturday, 8/23