AFC South:

Jay Cutler criticized 2011
January, 26, 2011
1/26/11
2:58
PM ET
Maurice Jones-Drew
clearly had no idea he'd be in the center of a storm as a result of
two tweets
he wrote Sunday about
Jay Cutler
.
He got slammed for being part of the player brigade questioning Cutler's toughness.
So Monday he spoke to the Associated Press to try to set things straight. He came out said he was joking in the one tweet that compared Cutler to Urban Meyer as a quitter and said a second tweet intended to explain himself didn't question Cutler's toughness. He said he'd received death threats over the tweets, which is, of course, absolutely ridiculous for anyone to do under any circumstances. Some of the stuff that's been less threatening also goes well beyond appropriate ways to express one's anger.
Tuesday as MJD spoke to a group of school children,
he apologized
for the tweets, says Florida Times-Union's Tania Ganguli.
If he was only joking, what's to apologize for?
Jones-Drew has shifted his stance on this issue as much as
Vince Young
did when he was asked if he'd want Reggie Bush's Heisman Trophy when it was being taken away. In three consecutive chances to answer, Young said yes, he said no, and he no commented.
The running back has always struck me as a standup guy, but he's done terribly here owning what he said and/or explaining himself. He can stand up to gang tackles but this he can't handle?
Other guys who spoke out on Cutler have already managed to shed it, but Jones-Drew's "defense" has kept it alive.
I know I'm making a trade here -- I participate in keeping it alive in exchange for making further points about it. Last night I decided not to. Today I wasn't able to reach the same decision.
At that school event Jones-Drew was asked by a TV reporter about the death threat(s). I asked Ganguli how that played out and here's what she wrote me:
"He mentioned getting death threats in the same sentence as talking about how people were connecting the Cutler thing to CBA talks and the strength of the union. Two examples of things he thought people shouldn't be saying, then he segued right into saying he gets why Brian Urlacher and Cutler's teammates stood by him.

"Then he was asked how nasty the comments from people got and he said, 'I really don't want to get into that' but that there were things that didn't scare him but that just were brought to his attention and 'I don't want anything to happen like that to anybody, I didn't know joking around would cause that much controversy.'"
Later in the day, however, he did want to get into that.
He went on what, depending on the tone you gave it, may have qualified as a
twitter rant
seeking to change the subject and make the threats the emphasis. He was apparently unsatisfied with how his chosen media outlet -- he talked only to the Associated Press -- played that angle, even as hours earlier in a public forum and media present he chose not to make a big deal out of it.
"I guess death threats towards me and my family isn't head line news but me tweeting my opinion about a person is... The society is backwards I guess we haven't came far enough as human beings"
"When has a threat towards a person especially now. Has gone unspoken about on any national stage is outrages and unbelievable."
And to a question from someone asking MJD if he was now the victim who should be felt sorry for (and called him a dirty name), Jones-Drew said: "<--- never said feel sorry but after the deal in arizona I don't threats are cool."
Again, people went way past the line. Give him hell, but don't threaten him.
But if Jones-Drew had serious concerns, he'd call the police not tweet to complain about insufficient press coverage, no?
And I just spoke to a Jacksonville police official who said his department has not heard from Jones-Drew.
I hope we're done with this. But I hoped the same Monday and Tuesday. And if Jones-Drew changes his stance yet again, I can't make any promises. Perhaps it's time for a little quiet?
January, 25, 2011
1/25/11
1:56
PM ET
Jaguars linebacker
Kirk Morrison explains

his criticism of Jay Cutler.
I hope you like spinning carnival rides. Because I got dizzy when I listened to this, with the circular logic going round and round and round.
January, 25, 2011
1/25/11
10:44
AM ET
By
ESPN.com staff
| ESPN.com
Paul Kuharsky dishes

on Maurice Jones-Drew's criticism of Jay Cutler and explains why he thinks Tennessee would be a good fit for Carson Palmer.
January, 24, 2011
1/24/11
8:32
PM ET
No,
Maurice Jones-Drew
isn't changing positions.
But that backpedaling might help the
Jacksonville Jaguars
at cornerback if the running back wanted to become a two-way player.
Jones-Drew spoke to the Associated Press on Monday
to try to stem the backlash from
two tweets he wrote
about
Jay Cutler
during the NFC Championship Game.
[+] Enlarge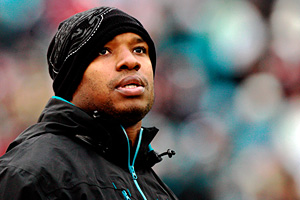 Sam Greenwood/Getty ImagesOn Monday, Maurice Jones-Drew backed away from his Sunday tweets about Jay Cutler.
The first was aimed at Florida fans more than Cutler, he explained.
"I threw out this joke and the backlash came in," Jones-Drew said. "I tried to make it right, but it backfired."
From the story:
The Bears are still miffed by the tweets. Receiver Earl Bennett, Cutler's teammate at Vanderbilt, called the criticism "very unprofessional." Defensive tackle Anthony Adams labeled it "garbage" and "unfair."

"I expect them to stick up for Cutler," Jones-Drew said. "That's your teammate, that's how this league works. I hope they realize I don't have any hard feelings toward Cutler. I never questioned his toughness. It's not a matter of toughness. You have to be tough to play this game.

"I don't think anyone was questioning his toughness. Some guys were questioning his body language on the sideline at the end of the game. I wasn't even doing that. I was making a joke for the Florida fans and people took it out of context."
Clearly people were questioning Cutler's toughness.
And no matter the intended tone of Jones-Drew's second tweet -- "All I'm saying is that he can finish the game on a hurt knee... I played the whole season on one..." -- it seems difficult to believe it didn't question Cutler's toughness.
I don't question Jones-Drew's, but pointed out in that post this morning that MJD did not, in fact, play the whole season on a bad knee. He missed the team's final two games.
As my NFC West colleague Mike Sando pointed, any player who publicly questioned Cutler's toughness is now open to extra scrutiny with regard to his injury history and injuries going forward.
Here's to hoping Jones-Drew remains durable going forward.
January, 24, 2011
1/24/11
8:58
AM ET
Jay Cutler
's knee injury and subsequent departure from Sunday's NFC Championship Game provided the latest example of the power of Twitter.
The critiques and questions about his status came not just from pundits and fans, but from peers.
Two of the outspoken players were
Jacksonville Jaguars
.
Kirk Morrison
(
@kirkmorrison55
) tweeted:
kirkmorrison55

Jay Cutler better go put some Tussin on that knee and get back out there. Tussin cures all. #Robitussin
kirkmorrison55

If my knee was hurt or acl/mcl/pcl sprain, I would not be standing up on the sideline. #jaycutler
And
Maurice Jones-Drew
(
@Jones_Drew32
) said this:
Jones_Drew32

Hey I think the urban meyer rule is effect right now... When the going gets tough........QUIT..
Jones_Drew32

All I'm saying is that he can finish the game on a hurt knee... I played the whole season on one...
Actually, MJD, you didn't play the whole season on it, you missed the last two games when your team collapsed. But that didn't really fit with what you were saying, so it was easy to leave out.
Jones-Drew's second tweet was used in a question to
Brian Urlacher
, who gave a very passionate defense of Cutler and slammed the likes of Jones-Drew:
"It's easy to talk [expletive] about someone when you're sitting on your couch watching the game"
The always measured Kevin Seifert hit just the right notes in
this piece
. Fair or not it's a defining day for Cutler. Jim Trotter's
column
is also a must read.
Twitter has made it easier than ever to give a jump to judgment greater volume. But there is context that's necessary before we get a verdict. The Bears would be wise to offer as much as possible as soon as possible.
My take:
We need to find out just how bad it was before we crush Cutler.
Just because Philip Rivers once played in the playoffs with a torn ACL doesn't mean everyone can or should play through anything and everything.
Standing on the sideline in a parka is a much easier thing than dropping back, dodging a rush or absorbing a hit and stepping into throws. If he limped more, grimaced more, stayed in for a few more plays to make bad throws to prove just how bad it was, would that have made it more palatable?