May, 12, 2011
5/12/11
3:03
PM ET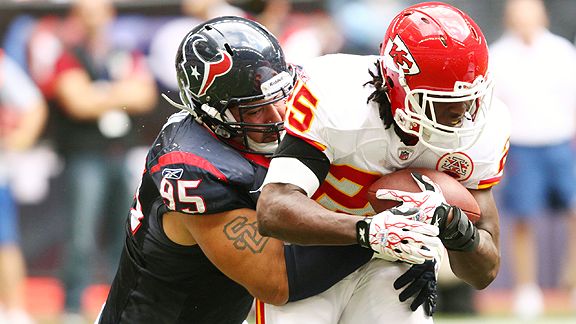 Thomas Campbell/US PresswireShaun Cody is confident he can play nose tackle in Houston's 3-4 defense.
Shaun Cody
's got a stable full of doubters, but the faith of one key person.
He understands the former and intends to prove himself worthy of the latter.
How is the seventh-year defensive tackle who's "just" 304 pounds going to man the nose in Wade Phillips' 3-4 front?
Fans and analysts are skeptical, but Phillips has repeatedly pronounced that Cody and second-year man
Earl Mitchell
will be fine in the nose tackle spot, a key to most 3-4s.
"When you hear 3-4 defense, the thing that pops in your mind is you want a big, huge, mountain of a guy who's 350, 350-plus in the center of it," Cody said. "That's what I thought until I heard how Wade Phillips wants to do it, how he's had undersized guys before. That's what gave me the confidence about the kind of role I'll be in.
"There are always going to be naysayers and guys who want a change. But I think Earl and I will be good for the job and we'll hold it down for them."
Phillips is charged with revamping a defense that ranked dead last (268 ypg) against the pass in 2010 and gave up 74 points more than the league average.
He got a defense-heavy draft class that didn't include a nose tackle and initially cast
Mario Williams
as Bruce Smith (who Phillips coached in Buffalo) at defensive end, but now has Williams as a weak outside linebacker with the hope he will become
DeMarcus Ware
(who played for Phillips in Dallas).
Recently, in clarifying how the outside linebackers will be deployed, Phillips said it will function more like a 5-2. That's a scheme that will put a strain on the corners, a topic for another column.
There is, at this point, an element of mystery about what Phillips' defense will look like with his Texans personnel. One coach told me he expects it will amount to an "under" defense with a four-man line, with Williams always standing up on the open end of the line. If that's the case then identifying the fourth rusher, the big challenge in facing a 3-4 scheme like Pittsburgh's, won't be a mystery with Houston and Williams.
Both Cody (who was listed at 6-foot-4, 304 pounds last season) and Mitchell (6-3, 291) will be looking to show the system can work with a less-than-giant nose guard. It will be more of an adjustment for Mitchell, who started his college career at Arizona as a fullback before moving to defense. Cody won't see a great change from the way he lined up in last season's 4-3, and he and Mitchell will not be responsible for two gaps the way monster defensive tackles in many 3-4s are.
"I've had huge nose guards," Phillips said after the Texans' recent golf tournament. "They've all played different techniques because of what their body type was and what they could do well.
Greg Kragen
, who was in the Pro Bowl in Denver, was smaller than the guys we have now. I know the league is bigger now. But he was one of the smaller guys and he played it really, really well.
"Cody actually played the technique that we play with our nose quite a bit last year in some of the under defense they ran and played it well."
During a break in his day in Southern California earlier this week, Cody said he understands his role and his niche. He was part of the Detroit team that didn't win a game in 2008. As a free agent following that season he visited New Orleans and Houston before signing with the Texans.
"I think and I hope I'm known for stopping the run," he said. "I've played predominantly on first and second down and I think I've done a good job of it and I think that's one of the reasons they wanted me back …
"Every guy wants to rush the passer and I'd love to help more with that. But we have a great bunch of pass rushers on this team. I'm a team guy first. I know that D-linemen love rushing the quarterback and I love rushing the quarterback, too. But to be on a team where you can have a role on it, I love filling out that role."
In discussing Cody and Mitchell, Phillips has also talked of
Jay Ratliff
, his undersized nose tackle in Dallas.
Mitchell actually has common friends with Ratliff and plans to talk with him soon, picking his brain. But Ratliff won't be able to pass along to Mitchell his super-violent hands, a key to Ratliff's effectiveness.
"I'll ask him what goes into being productive in this defense and about what I can expect," Mitchell said. "He knows Wade Phillips and he understands what he wants to get done in this defense. It's my first time playing 3-4 and I want to understand the best way to be a productive part of the team. I've watched a lot of his film, I think I can do a lot of things that he does. It gives me a good sense of the defense coming this year."
Both Cody and Mitchell met Phillips briefly before the lockout, and the new coordinator was able to convey his confidence in them. While Phillips' vision for Williams has evolved, his approach to the middle of the defensive line has not.
Cody, who was heading for his second tour of unrestricted free agency, was one of the handful of players around the league who got a new contract before the labor impasse reached a boiling point.
Phillips has not been on the field for work with either player. He saw enough on tape, though, to tell coach Gary Kubiak and general manager Rick Smith they could spend draft picks on other spots, and the team got defensive end
J.J. Watt
, linebacker
Brooks Reed
, cornerbacks
Brandon Harris
and
Rashad Carmichael
, safety
Shiloh Keo
and linebacker
Cheta Ozougwu
.
Both Cody and Mitchell said they appreciate Phillips' faith, and are determined to show he was right to have it.
"It's a big deal for me," Mitchell said. "I feel honored. I have a great deal of respect for the man and just being able to be mentioned, going into just my fourth year ever playing defensive tackle, it gives me a good feeling. I have to go out there and prove him right …
"A lot of people are skeptical. But I know the player that I am. I don't buy into what people are saying. I don't really listen to critics. All the stuff people are saying, that's the stuff that motivated me to get into the NFL in the first place. I know what I can do as a player. I'm going to show my motor, keep playing."
Said Cody: "My whole career I've been in a 4-3 and I've always wondered what I could do in a 3-4, what kind of player I'd be in that system. It's exciting. Hopefully I can prove I can play in any system and be a good football player."
April, 22, 2011
4/22/11
1:58
PM ET
Gary Horton of Scouts Inc. provides two Insider files of interest Friday, offering AFC South team
profiles

and
needs

.
Here are snippets of interest with some of your AFC South blogger sprinkled in.
Houston Texans
Organizational structure: GM Rick Smith and Kubiak work well together and they usually seem to be on the same page. They have a deep and veteran scouting staff, but they are not a group that likes to take a lot of chances. They stay true to their draft board and they don't make a lot of 'gut' decisions. While they don't always look overly creative, they also don't make a lot of glaring mistakes. For such a deep and experienced front office, why is the product on the field not improved with better talent?

Horton's needs: S, CB, OLB, NT, WR RS
My thoughts:
With the lack of late-round success, I'd almost wish some decisions had been gut decisions. Kubiak and Wade Phillps have down-played nose tackle as a need. But
Shaun Cody
and
Earl Mitchell
are nothing close to
Jay Ratliff
, the smaller nose Phillips had in Dallas.
Indianapolis Colts
Offseason observations: This team has been to the playoffs nine seasons in a row, and while they were disappointed in their first-round loss to the New York Jets, they won despite having 18 players on injured reserve. The Colts also had five losses by three points or less and never seemed to get into any kind of groove. They need to improve their offensive line and run game to take some pressure off Peyton Manning.

Horton's needs: OT, DT, SS, WR, G-C, CB
My thoughts:
I expect an offensive tackle, but am not so sure about an interior offensive linemen. They have a lot of guys in the mix there, including second-year man
Jacques McClendon
, who should make a jump. If Bill Polian sees a receiver worth No. 22, I could totally see him going that way. But who is that guy?
Jacksonville Jaguars
Offensive philosophy: Coordinator Dirk Koetter has adjusted his offense to accommodate what David Garrard does best, which is a short passing game with a quick release and some roll-outs and bootlegs. They will still run the ball a lot with some two tight end sets to set up play action. The offense not only lacks a deep threat, but also a true No. 1 WR.

Horton's needs: S, DE, CB, QB, WR, OLB
My thoughts:
Sixth ranks too low for outside backer and they need a middle linebacker too as they seem unlikely to bring
Kirk Morrison
back. But these are all legitimate needs and he didn't even get to interior offensive line. Jacksonville doesn't have enough picks.
Tennessee Titans
Defensive philosophy: Jerry Gray is the new coordinator and he will likely keep the 4-3 defense intact, although [Mike] Munchak wants to show some multiple fronts to confuse offenses and cover up personnel deficiencies. They want most of their pressure to come from their front four without a lot of blitzes, but they are quick one-gap penetrators and always on the move. On the back end they will play a lot of zones and they really try to be physical. It is an assignment-oriented defense designed to not give up big plays, but they really dropped off in 2010, especially versus the pass.

Horton's needs: QB, MLB-OLB, DT, G-C, CB, DE
My thoughts:
A lot of people want to give the Titans an interior offensive lineman and they may draft one because
Leroy Harris
could be a free agent. But all indications are Munchak and his offensive line coach, Bruce Matthews, plan to keep the line intact and think the interior will be better.
AFC SOUTH SCOREBOARD
Thursday, 12/18
Sunday, 12/21