December, 19, 2013
Dec 19
10:00
AM ET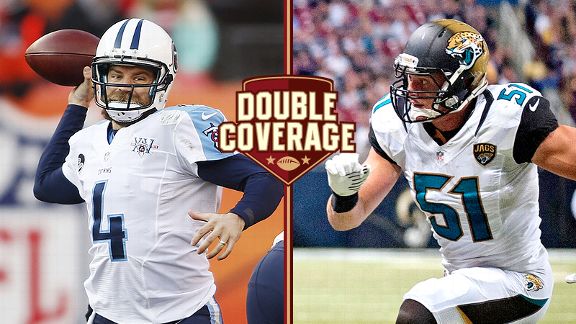 USA Today SportsPaul Posluszny and the Jags are aiming for a season sweep of Ryan Fitzpatrick and Tennessee.
JACKSONVILLE, Fla. -- Maybe
Delanie Walker
shouldn't feel so bad now.
The Titans tight end said he was embarrassed after the Jaguars won 29-27 in Nashville on Nov. 10 to pick up their first victory. Since then, the Jaguars are 3-2 with victories over Houston (twice) and Cleveland. The Titans are 1-4 with a victory over Oakland.
There seems to be much more stability in Jacksonville, too, because of the uncertain status surrounding Tennessee coach Mike Munchak.
Jaguars reporter Michael DiRocco and Titans reporter Paul Kuharsky break down Sunday's matchup at EverBank Field.
DiRocco
: Some Titans players were pretty vocal about being embarrassed due to becoming the first team to lose to the Jaguars. Is that something that still stings, and how have they rebounded from that loss?
Kuharsky
: It definitely left a mark. They are only 1-4 since then. It kind of set a bar for how bad they can be and re-established their propensity to lose to teams that are really struggling. The Jaguars are on an upswing since that game, and the Titans are on a downward spiral. If Tennessee losses to the Jaguars again, the Titans will be in line to finish in third place in an awful division, which is well short of their goals and expectations. The Titans are a better team than they were last year. But losing closer isn't a really big difference in the really big picture.
Let's turn that around. How has life changed for the Jaguars since that Nov. 10 breakthrough?
DiRocco
: I could go into a lot of stats that show how much better the Jaguars are playing, but that's not what's really important. The past six games have been more about the validation of the process, establishing the foundation of the franchise's rebuild, and confidence in the new regime. Coach Gus Bradley never wavered from the plan that he and general manager David Caldwell established. His message stayed the same throughout the eight-game losing streak to start the season: trust in the process, work hard, and focus on improving and not victories, and the victories will eventually come. Because that has happened, the players appear to have completely bought into what Bradley and Caldwell want to do, and there's a confidence in the locker room that the franchise is headed in the right direction.
We talked about
Jake Locker
the last time these teams met, but that was before he suffered a season-ending injury to his foot. How does that change the Titans' outlook on him and are they in the market for a quarterback in the offseason, too?
Kuharsky
: Locker is certain to be on the 2014 Titans. His fourth year isn't that costly and it's guaranteed. But they can't execute a spring option for his fifth year that would line him up for over $13 million. A lot of his fate depends on whether Munchak is back as the head coach. It's possible they go forward with Locker,
Ryan Fitzpatrick
and just-signed
Tyler Wilson
as their quarterbacks. It's also possible they'd draft a new guy, and depending on how high of a pick he could land in competition to start. I think it's less likely they chase a free agent like
Jay Cutler
if he comes free, but they have to assess all the possibilities. How can they completely commit to Locker based on his injury history?
One side effect of the Jaguars' surge is they aren't going to be in position to draft the first quarterback taken. What's your sense of what Bradley and Caldwell want in a quarterback and do you expect one to arrive in the first round?
DiRocco
: Offensive coordinator Jedd Fisch said something interesting last week. He said he wants his QB to scramble around, take off running to get yards and take some chances throwing the football. To me, that sounds like a pretty accurate description of Johnny Manziel. I'm not sure how that reconciles with the ideas of his bosses. Bradley comes from Seattle, which has the mobile
Russell Wilson
. Caldwell comes from Atlanta, which has the considerably less mobile
Matt Ryan
. My sense is that Bradley and Caldwell probably lean more toward the Wilson end of the spectrum. People think that eliminates Teddy Bridgewater, but that's not the case. He's not a runner but he can run if needed. If he's around, I'd expect them to take him. If not, then I would still expect them to go quarterback. It's their most glaring need.
You mentioned Munchak's job status. What's your take on whether he will be back next season -- and should he be?
Kuharsky
: He's shepherded improvement, but his team lacks an ability to finish. He's 0-4 in the worst division in football, 1-9 in the past two years. His teams have lost to the previously winless Jags in 2013 and the previously winless Colts in 2011. He's 4-18 against teams with winning records when the Titans played them and 2-19 against teams that finished the season with a winning record. To me, three years is a sufficient sample size to know what you've got and those numbers are the most telling thing on his resume. Keep him and they deal with all the limitations connected to a lame duck coach. I don't know what Tommy Smith, the head of the new ownership, will do. But the fan base overwhelmingly wants change, if that's worth anything. People still pay for tickets because they've got investments in personal seat licenses they do not want to throw away. But a lot of people are staying home on Sundays now.
Cecil Shorts
is done and
Maurice Jones-Drew
is uncertain. How can the Jaguars threaten on offense without their two best weapons?
DiRocco
: They were able to put up 20 points and post their second-highest yardage total of the season, including a season-high 159 rushing, in last Sunday's loss to Buffalo. Running back
Jordan Todman
stepped up big time and ran for 109 yards (Jones-Drew cracked 100 only once in the first 13 games) and tight end
Marcedes Lewis
was more involved in the passing game than in previous weeks (four catches for 54 yards and a touchdown). But I'm not sure that is sustainable. Teams will certainly concentrate on stopping Lewis and make quarterback
Chad Henne
move the ball with three receivers who have a combined 75 career catches. Todman doesn't scare anyone, either. The Jaguars will have to be creative on offense (they've run gadget plays the past three weeks) and capitalize on every opportunity they get.
August, 13, 2013
Aug 13
8:32
AM ET
Reading the coverage…

Houston Texans
For the time being, Shiloh Keo is the Texans'
starting free safety
, says Dale Roberson of the Houston Chronicle.
The Texans
traded
receiver Jeff Maehl to the Eagles for offensive lineman Nate Menkin, says John McClain of the Chronicle.
Brian Cushing plans on returning to
game action
Saturday night against Miami, says McClain.

Indianapolis Colts
The Colts expect to have tight end Dwayne Allen (foot)
back
for the season opener, says Mike Chappell of the Indianapolis Star.
A
sore knee
kept first round pick Bjoern Werner out of the Colts' preseason opener, says Marcus Dugan of Colts Authority.
Jim Irsay's tweet calling out his coaching staff was "
unfair, unwise and uncalled for
," says Josh Wilson of Stampede Blue.
I agree
.

Jacksonville Jaguars
According to offensive coordinator Jedd Fisch, the Jaguars have run
2,100 plays
since the start of OTAs, says Ryan O'Halloran in this practice report from the Florida Times-Union.
No one is pulling away in
the quarterback competition
, says O'Halloran. And Luke Joeckel is dealing with a hip flexor.
How are the Jaguars using
technology and analytics
? Taylor Bloom of Sports Techie considers.

Tennessee Titans
Adjusting to a new job description and playing too many snaps made last season tough for Kamerion Wimbley. Now the Titans feel sure they know how to use the defensive end
better
, says Jim Wyatt of The Tennessean.
Jake Locker
rebounded
from a bad practice Sunday for an efficient session Monday, says Wyatt.
Ropati Pitoitua is with the Titans because he can defend the run, but he recently made
a big play
against a fake run as well, says Craig Peters of the team's website.
September, 1, 2012
9/01/12
4:00
PM ET
The Texans signed the following eight players to their practice squad:
August, 11, 2012
8/11/12
10:50
PM ET
Some thoughts after taking in the Texans'
26-13
preseason win at Carolina:
Veteran quarterback Matt Schaub looked comfortable in his first game work since his serious foot injury in November. The numbers were nothing special -- three-for-six for 52 yards and an interception. But the offense moved smoothly early before a night of red-zone stalling commenced. Houston got just one TD in five chances, settling for field goals five times.


Schaub got hit by blitzing defensive back Captain Munnerlyn on the interception, with defensive end Charles Johnson also closing. Munnerlyn wasn't picked up blitzing from Schaub's left while Johnson beat tackle Derek Newton. Schaub was throwing for Kevin Walter, but might have sensed pressure and thrown shorter in the same direction to an open Arian Foster.
The Texans could shuffle receivers through the preseason, but the early leader among the youngsters is Keshawn Martin, who looked comfortable working as a starter on a night when Andre Johnson did not play. DeVier Posey was targeted just once, and not early. Jeff Maehl got work ahead of Posey and Lestar Jean.
Outside linebacker Brooks Reed covered a lot of ground, with an early sack and an impressive pursuit of fullback Mike Tolbert, who dropped a sideline pass in part because he heard Reed approaching.
Carolina rookie linebacker Luke Kuechly looked quite good and forced a fumble by Foster, who didn't get a great deal of work.
Returner Trindon Holliday took a kickoff 90-yards for an electrifying score. He picked up solid blocks from James Casey, Garrett Graham and Troy Nolan on the way. Panthers receive Kealoha Pilares looked like he had a chance to catch him, but his late dive for Holliday's ankles came up short.
Veteran cornerback Alan Ball didn't look like he had a good sense of where to be on this night. But he was called for a ridiculous pass interference penalty. He didn't turn to spot the ball early enough to find it or the receiver, or to interfere with him. He was closer to interfering on the next play when there was no flag.
Nice pick/takeaway by safety Nolan on a loose ball that didn't hit the ground.
Not great after-the-catch work by Justin Forsett on the second-quarter play where he ran backwards.
The offense had the ball for 37:41. There are likely players on defense the Texans would have liked to have gotten more film on than they were able in a game shaped like that.
March, 2, 2012
3/02/12
10:34
AM ET
In this Insider
piece
, K.C. Joyner lays out a four-point rationale for a team to pursue
Mike Wallace
, who will be a restricted free agent.
Their level of need for a dominant vertical wide receiver
Their salary-cap situation
The level of first-round pick they would have to give up
Their incentive level for making life tougher for the Steelers (from a salary-cap and/or personnel perspective)
He concludes the Patriots, Niners, Ravens and Bengals would be the best teams to pursue Wallace with an offer sheet. If Wallace signs one and the Steelers don't choose to match, the team that gets Wallace would surrender its first-round pick as compensation.
Two teams in the AFC South are receiver-needy and would at least have to discuss Wallace.
Jacksonville has the money, but holds the seventh pick, which would be a steep price to pay. Maybe Wallace is worth it. But the Jaguars can add a high-quality free-agent or two at no draft-pick cost, then add another very good player at No. 7.
Houston doesn't have the money, but the 26th pick is a far more reasonable price. A dominant vertical receiver would really help the offense, and making life tough on the Steelers would be a bonus in a fight for playoff spots and positioning over the next several years.
Said Joyner when I asked him about Wallace and Houston: "Texans + Wallace = AFC Super Bowl favorites. Wallace & Johnson would be hands down best 1-2 WR tandem in NFL."
It will take a big contract to get Wallace, however.
Mario Williams
is probably gone, because they can't afford him, and they are attempting to lock up
Arian Foster
,
Chris Myers
and probably
Mike Brisiel
.
I don't expect Houston will go for Wallace.
But they don't have a ton of needs, even if they lose most of their free agents. If they can create the cap room, in part by parting with
Jacoby Jones
and
Kevin Walter
, why not seriously consider it? Then they'd have
Andre Johnson
, Wallace, a kid like
Jeff Maehl
and a couple draft picks at receiver.
What do you think? Please chime in with this handy poll.
September, 11, 2011
9/11/11
7:24
PM ET
HOUSTON -- The Texans are deep at running back, as evidenced by Ben Tate's performance with
Arian Foster
a scratch and
Derrick Ward
going down during Sunday's win against the Colts.
They are not deep at receiver, where late addition
Bryant Johnson
is the team's fourth and final player at the spot.
Now John Clayton reports
Kevin Walter
suffered a broken shoulder against Indianapolis and will be out as long as 10 to 12 weeks.
Start the
Randy Moss
rumors.
I don't expect the Texans to turn that direction, but I hope they will explore options better than simply adding
Jeff Maehl
from the practice squad.
Gary Kubiak has frequently spoken of how the reliable and precise Walter and
Jacoby Jones
offered great combined numbers functioning as the Texans' collective No. 2 receiver.
Jones will have to be more reliable and consistent without Walter in the mix. The team is likely to throw more to tight ends
Owen Daniels
and
Joel Dreessen
and tight end-turned-fullback
James Casey
in Walter's absence as well.
September, 5, 2011
9/05/11
4:27
PM ET
The Texans have added guard
Thomas Austin
and punter Brett Hartmann to their 53-man roster, cutting outside linebacker
Jesse Nading
.
They've also put together their initial practice squad.