August, 25, 2013
8/25/13
4:14
PM ET
The
Jacksonville Jaguars
got their roster down to 75 Sunday afternoon, well in advance of Tuesday's deadline.
Seventh-year long snapper
Jeremy Cain
was the lone veteran released. One of the team's two seventh-round cornerbacks,
Jeremy Harris
, was placed on injured reserve with a back injury.
Gone are:
December, 6, 2011
12/06/11
1:44
AM ET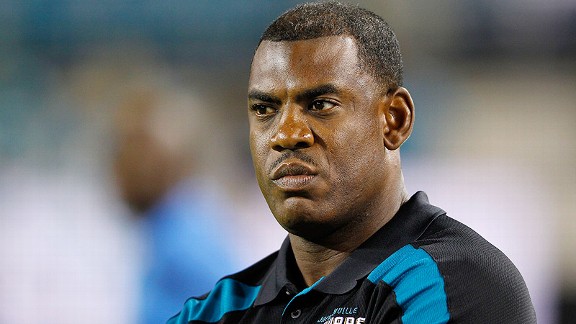 Mike Ehrmann/Getty ImagesThe Jaguars, who haven't scored more than 20 points this season, managed 14 in interim coach Mel Tucker's debut.
JACKSONVILLE, Fla. -- After a news-filled week with change, the Jaguars took the field for "Monday Night Football" and promptly proved talent trumps everything.
Depleted at cornerback and ineffective rushing quarterback
Philip Rivers
, Jacksonville allowed the Chargers' quarterback to find big plays all night. He missed on only 6 of 28 passes and threw for 294 yards and three touchdowns in a
38-14 win
that ended San Diego's six-game losing streak and snapped the Jaguars' hopes that a new coach could quickly change their course.
All the promise the Jaguars brought into the first game under interim coach Mel Tucker with a national audience watching flamed out Monday night at EverBank Field.
Tucker preached to his team that just because it didn't see immediate results didn't mean the changes they'd adopted weren't the right ones, and asked them to rededicate and recommit.
With four games left, they may have the right roster character to do so, but the improvements and dividends are likely to be small.
"We did improve as a football team this week in a lot of areas," Tucker promised. "Those are some things that didn't show up for the entire game, but they will give us a chance to win and sustain winning in the future."
Tucker's in a tough spot, trying to sell hope and change with only so much he can do and no influx of talent walking into team headquarters.
I want to believe his belief, but at the same time it's hard to buy into a predictable offense that lacks anything dynamic beyond
Maurice Jones-Drew
, and into a defense that's too injured to cover against quality receivers being targeted by an accurate quarterback.
Jacksonville rookie quarterback
Blaine Gabbert
and the offense pieced together a nice second quarter, when they turned a 10-0 deficit into a 14-10 lead. It was his first game with two touchdown passes, but an interception resulting from a miscommunication with receiver
Mike Thomas
late in the second quarter positioned San Diego to retake the lead before intermission.
And a team that hasn't scored 21 points in a game all season never threatened to do so from that point forward.
"We executed well in the second quarter, but the biggest thing we've got to take out of this game is that we've got to execute like that the whole game," Gabbert said. "We've got to play four quarters of football. We can't just have one great quarter."
I'd rather not carve up Tucker's postgame comments, but how they squared with the game that came before them was somewhat striking to me.
He said playing from behind, the team remained confident in its game plan. "I didn't see confusion, I saw an element of sharpness and crispness, I saw a confidence as guys broke the huddle," he said.
I saw two Keystone Cops moment, with Gabbert simply dropping the football on a scramble before batting it out of bounds to earn a penalty, and with long snapper
Jeremy Cain
sending holder
Nick Harris
in wild pursuit of a well-wide snap on what was to have been a long field goal attempt.
Tucker said he did see a sense of urgency, but the Jaguars never really stepped up their tempo. Had they, things might have gotten worse, not better. But as with many things at this stage of a bad season, you have to ask: Why not try?
Tucker said "we did what we could," and that I believe.
This is a limited team that needs a new coaching staff and its young quarterback to spend an offseason together, re-crafting an offense to be less predictable and feature more explosive pass catchers -- like San Diego receiver
Vincent Jackson
, who scored a 35-yard touchdown and is heading for unrestricted free agency.
Jacksonville doesn't get to shop for such players yet, it's got to make do with the ones it has.
Like undrafted rookie corner
Kevin Rutland
, who had good position against
Vincent Brown
in the end zone on a 22-yard touchdown reception, but failed to turn his head to locate the ball and make a play on it.
Rutland's been with the Jaguars since the start of camp, he's gotten sufficient work as an understudy and he should have been ready, he said.
"There should have been no slack," he said. "I imagined my first start going a lot different. This is step one and I can grow from here."
He and a lot of people.
February, 25, 2011
2/25/11
9:58
AM ET
Reading the coverage…
Houston Texans
Chris Myers talked with
Texans TV
.
Indianapolis Colts
Mike Chappell looks at the Colts' needs at
offensive tackle
.
Anthony Gonzalez believes the Colts will be
ready to play
whatever the circumstances, says Philip B. Wilson.
Colts coaches won't be
hit in the wallet
like many of their colleagues during a lockout, Chappell says.
Jacksonville Jaguars
Gene Smith sat down with Tania Ganguli for
this Q&A
.
The Jags
re-signed
long snapper Jeremy Cain.
Tennessee Titans
Mike Munchak
met the national media
for the first time as head coach, says Jim Wyatt.
The Titans
locked up
punter Brett Kern, says Wyatt.
October, 3, 2010
10/03/10
8:35
PM ET
JACKSONVILLE, Fla. -- He knew it was on target when he hit it. But
Josh Scobee
had to wait to make sure his 59-yard game winning field goal had the distance.
[+] Enlarge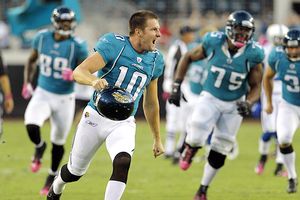 AP Photo/John RaouxJags kicker Josh Scobee nailed his third career game-winner against the Colts on Sunday afternoon.
Once he knew it did, he took off his helmet, held it aloft and started scurrying, enjoying a high speed chase that would have made the best of bank-robbers proud.
David Garrard
played the part of the sheriff who just couldn't catch up.
"I was like, 'Scobee, you are making me look so bad right now,'" Garrard said. "I could not catch him. I would change my angle and he would outrun it. I was like, 'This dude is not that fast.'"
Said Scobee: "I think I blacked out for about 10 seconds. It was incredible.
It was the seventh game-winning field goal of Scobee's seven-season career. It was six yards longer than his previous career best, which he's set three times. It was the longest field goal he's ever made at any level, he said.
It was also his third game-winner against the Colts -- he hit a 53-yarder to beat Indianapolis at the RCA Dome and in 2008 he did it again there from 51 yards.
Following Garrard at the table for his post-game press session, Scobee joked it was 30 more reporters than he usually spoke to. He'd told Garrard to just get it inside the 40 to give him a chance in regulation, and Garrard's final completion to
Tiquan Underwood
landed them at the 41 before an incompletion.
"I was told it cleared by 3 yards," he said. "But I don't care. If it was one inch, I'm happy with it."
Scobee's best attribute is his big leg, but in 2009 he said he pressed too often and said he wasn't happy with any of his extra-long attempts. He missed from 63, 52, 55, 58, 53, and 57 last year.
"This one I just told myself, 'Stay calm, make a good clean strike and the ball should go through,'" he said.
He got a perfect snap from
Jeremy Cain
, a perfect hold from
Adam Podlesh
and sustained blocks from everyone in front of them.
"I don't want to have a lot of tries like that, like at the end of the half we had four last year," coach Jack Del Rio said. "We don't want to put him in those situations early in ball games but we know he has the leg at the end to give us the opportunity, and he nailed it."
February, 25, 2010
2/25/10
9:25
AM ET
Suggestions for
making the combine better
from Andy Benoit.
Houston Texans
Dunta Robinson had a lot of
nice things
to say about Houston in an e-mail to John McClain.
Mario Williams will participate in
a USO tour
.
Owen Daniels
skipping training camp
would accomplish little, says Alan Burge.
What the Texans are scouting
at the combine
, from McClain.
A
thank you note
to Robinson from Lance Zierlein.
Robinson's
not worth the money
, says Stephanie Stradley.
Indianapolis Colts
Gary Brackett
won't be getting
a franchise tag, according to the AP.
Phillip B. Wilson looks at
a revision
of the 2009 draft.
John Oehser
on the combine
and Darren Sproles.
Oehser's position-by-position review gets to
centers
.
Why do people
dismiss
Joseph Addai? Deshawn Zombie examines the question.
Jacksonville Jaguars
A petition
pushing the Jaguars to draft Tim Tebow. I don't believe it's going to happen, and my question for everyone who says it will solve their ticket sale issues is this: How long do those people buy tickets if he's not good? (Thanks to Stampede Blue for the link.)
At the combine, the Jaguars' top interest will be
the top pass-rushers
, says Michael C. Wright.
Recent thoughts
from Jack Del Rio on David Garrard, in case you missed this Wednesday evening.
Tennessee Titans
Drew Rosenhaus
is mum
about his Titans free-agents to be, says Terry McCormick.
Joe Biddle contemplates the Titans
in free agency
.
Jeremy Cain and the Titans
settled a compensation claim
, says McCormick.
June, 19, 2009
6/19/09
8:18
AM ET
Posted by ESPN.com's Paul Kuharsky
Familiar names that were part of the UFL draft: Zach Piller, Bo Schobel, Rien Long, Larry Tripplett, Seth Wand. I'm sure I've missed some that have connections to the AFC South.
Houston Texans
Indianapolis Colts
Jacksonville Jaguars
Tennessee Titans