November, 1, 2013
Nov 1
7:30
PM ET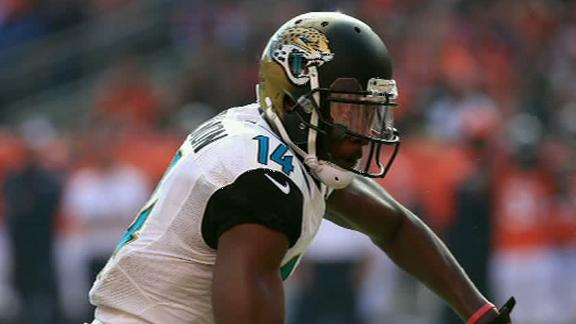 JACKSONVILLE, Fla. -- Just when the Jaguars offense had started to get on a roll, it's dealt another setback.
The
indefinite suspension
of receiver
Justin Blackmon
takes away the offense's best weapon, which means quarterback
Chad Henne
and the passing game are going to have to rely on a group of young, inexperienced receivers to fill the void for the rest of the season.
Blackmon
It also means
Cecil Shorts
, who leads the Jaguars with 46 catches for 565 yards and one touchdown, will have to shoulder the load as the team's No. 1 receiver and deal with the resulting attention from opposing defenses.
"Justin's a very good football player," general manager Dave Caldwell said. "So when you lose a player of his magnitude somebody else is going to have to step up. This is a great opportunity for some of our guys to step up and fill that void.
"We're just going to have to find a way to get on track here. It's only a distraction if we allow it to be and Coach [Gus] Bradley is not going to allow it be a distraction."
Shorts was the Jaguars' top target in the first four games while Blackmon was serving his first suspension for violating the NFL's substance abuse policy, catching 26 passes for 337 yards. He was pretty much a one-man show because the other receivers were rookie
Ace Sanders
, first-year players
Mike Brown
(a converted quarterback) and
Jeremy Ebert
, waiver-wire claim
Stephen Burton
and undrafted rookie free agent
Tobais Palmer
(who has since been cut).
Blackmon's return had an immediate impact on the offense. In the first four games of the season the Jaguars averaged 224 yards of total offense and 7.8 points. In the first two games with Blackmon in the lineup the Jaguars averaged 362.5 yards of total offense and 19.5 points. He caught 29 passes for 415 yards and one touchdown in the four games in which he played after catching 64 passes for 865 yards and five touchdowns as a rookie in 2012.
Now the Jaguars will have to find a way to replace that production. Shorts has proven to be a solid receiver, catching 103 passes for 1,574 yards and nine touchdowns in 32 career games with the Jaguars. The rest of the receivers -- Brown, Sanders, Burton, Ebert (who's on the practice squad), rookie
Denard Robinson
and waiver-wire claim
Stephen Williams
-- have combined for 54 receptions and two touchdowns in their careers.
That's not exactly proven help.
There is some growing confidence in Brown, who spent most of last season on the practice squad as he made the transition from college quarterback. He made his first career catch in the 2013 season opener against Kansas City before injuring his back and sitting out the next four weeks. Since his return he has caught 12 passes for 212 yards (17.7 yards per catch) and one touchdown.
Sanders has at least played a significant number of snaps (304) and has 16 catches for 182 yards this season. The only other receivers who have caught passes this season are Ebert (two for 10 yards) and Burton (one for 7).
"We look at it as a great opportunity to overcome a situation that's been presented to us," Caldwell said. "And when we look back on situations like this in the future, we're going to remember how tough it was and how rewarding it's going to be when we get to where we want to be."
September, 29, 2013
Sep 29
7:50
PM ET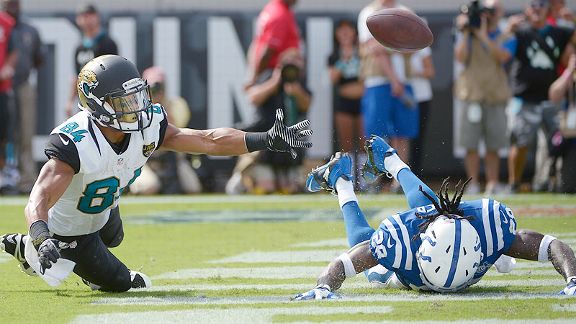 AP Photo/Phelan M. EbenhackThe Jaguars need Cecil Shorts to bounce back from a rough day against the Colts.
JACKSONVILLE, Fla. -- It was a rough day for
Jacksonville Jaguars
receiver
Cecil Shorts
on Sunday, and that's something the Jaguars can't afford.
Shorts is the Jaguars' only playmaker in the passing game, so when he struggles it virtually dooms their chances of having any kind of success. Shorts led the Jaguars with seven catches for 61 yards but he also had three drops, including one in which the ball bounced off his hands and was intercepted.
"It's frustrating," said Shorts, who was targeted 12 times in the Jaguars'
37-3 loss
to Indianapolis. "I didn't have the day I wanted today, but bad days happen and that's just part of the game. So I'm going to come back with my head high and ready to go this week and get ready to go to St. Louis Sunday."
The Jaguars were hurting at receiver on Sunday because of injuries to
Mike Brown
(back) and
Stephen Burton
(concussion-like symptoms) and the suspension of
Justin Blackmon
. That left the Jaguars with just two healthy receivers: Shorts and rookie
Ace Sanders
. The team signed
Jeremy Ebert
and
Tobais Palmer
from the practice squad on Saturday and used fifth-round pick
Denard Robinson
at receiver as well.
Sanders, Ebert, Palmer and Robinson entered the game with a combined 11 career receptions. Other than Sanders (10 catches), the only other player with a catch was Ebert. Palmer was making his NFL debut.
Shorts had to carry the load, and he pretty much had to be perfect, too. That's a lot of pressure for a third-year player who had only started nine games entering the 2013 season, and it's a role he has been forced into maybe before he was ready because of the Blackmon suspension.
"He's competing and going out there and made some plays," Jaguars coach Gus Bradley said. "I think that he's going to feel like teams know who I am and they're going to say, 'One thing we know is we need to know where Cecil Shorts is,' but he's up for that.
"I think he has to understand when you do well in games in the NFL that's going to come, and it can't slow you down. That's the challenge for him and to be consistently playing high at that level."
Shorts wasn't sure if he was trying to do too much, but he admits that he knows how much pressure he was under to perform because of the limitations at receiver.
"That's a good question," he said. "That's something I have to sit back and think about. Not sure. I need to watch the film.
"I don't necessarily feel like I'm pressing, but I could be. I could be."
That's something the Jaguars offense can't afford, even when Blackmon returns next week.
September, 27, 2013
Sep 27
10:30
AM ET
JACKSONVILLE, Fla. -- Jaguars practice squad quarterback Matt Scott has been busy this week.
So have several various ball boys and equipment assistants.
But instead of doing their normal jobs, they've had to substitute as wide receivers with the scout team. Injuries have made the Jaguars thin at the position, and the team heads into Sunday's game against Indianapolis with only four healthy receivers -- two of which are on the practice squad.
Both of those players --
Jeremy Ebert
and
Tobais Palmer
-- likely will end up on the active roster, provided they clear waivers, and on the field on Sunday.
[+] Enlarge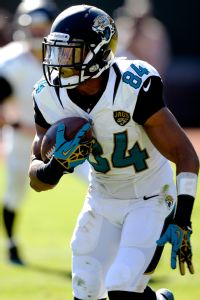 Bob Stanton/USA TODAY SportsCecil Shorts leads the Jaguars in catches and yards this season.
"Those guys become very realistic guys that could be active so [general manager] Dave [Caldwell] and I will have to talk about that," coach Gus Bradley said after Thursday's practice. "That would require some changes and things like that so we'll discuss what we need to do, but those guys got a lot of reps today. That's what you have a practice squad for, so you can develop guys through it for opportunities like this."
The Jaguars are in this situation because of
Justin Blackmon
's suspension and injuries to
Mike Brown
(lumbar transverse process) and
Stephen Burton
(concussion-like symptoms). Blackmon will serve the final game a four-game suspension this week and Brown has already been ruled out. Burton is in the NFL's concussion program and has yet to practice this week so it's unlikely he'll play against the Colts.
That leaves
Cecil Shorts
and rookie
Ace Sanders
the only healthy receivers currently on the active roster. Shorts is the Jaguars' leading receiver (19 catches for 276 yards) while Sanders has 10 catches for 103 yards. Ebert was a seventh-round draft pick by New England last season but has been with the Jaguars since May 22. He has been active for the past two games and has caught one pass for 5 yards. Palmer is an undrafted rookie out of NC State who has yet to be active.
"It's just part of the game," Shorts said of being short-handed at receiver. "Being a professional, being in the NFL, you get hurt, things happen. You've got to be able to bounce back from it and those are the guys that have to be able to step up and play. We're definitely confident in Ebert and Tobias. They've been with us since April so they definitely know the system. I'm excited for them to go out there and get an opportunity
"It's something you have to embrace and when the opportunity comes make the most of it."
That's what Ebert, whose lone catch came against Oakland, is hoping to do -- even if it doesn't pay off in Jacksonville.
"It's a huge opportunity for me," he said. "I've just got to prepare myself for this game on Sunday and go out there and perform and put it on tape and wish for the best."
That's what the Jaguars are hoping for this Sunday, too.
September, 12, 2013
Sep 12
5:52
PM ET
JACKSONVILLE, Fla. --
Denard Robinson
's production certainly didn't match the buildup for the player the Jaguars listed as an "offensive weapon."
Robinson
He had two carries for 1 yard in the Jaguars' season-opening loss to Kansas City.
The reason, offensive coordinator Jedd Fisch said, has nothing to do with Robinson's work in practice. Robinson wasn't involved as much because the offense was so stagnant that Fisch didn't want to try the wildcat formation until the Jaguars at least began moving the ball with some consistency.
That didn't materialize in the first quarter (12 yards on five possessions), so Fisch did try the wildcat early in the second quarter. Robinson gained 1 yard.
"When you're trying to find a rhythm you don't want to be searching for something," Fisch said. "I think
Maurice Jones-Drew
had 15 carries for 45 yards or so. I would have preferred to call one more handoff to Maurice if we got ahead of the chains at all, rather than say let's try a wildcat gimmick play.
"If we can get the chains moving and get a couple first downs now there's a place for some more of the creativity."
Getting the chains moving may still be a pretty tough chore considering five key offensive players -- not including quarterback
Blaine Gabbert
, who has already been ruled out for Sunday's game at Oakland -- are battling injuries. Tight end
Marcedes Lewis
(calf), receivers
Mike Brown
(back) and
Cecil Shorts
(groin), and guards
Uche Nwaneri
(knee) and
Will Rackley
(knee) were all limited in practice on Thursday.
Jaguars coach Gus Bradley said it may take until Sunday morning before he'll know if Lewis and Brown are able to play.
With Brown and Shorts ailing and
Justin Blackmon
serving a four-game suspension, the Jaguars have just two healthy available receivers: rookie fourth-round pick
Ace Sanders
and
Stephen Burton
, whom the team claimed off waivers on Sept. 1. The Jaguars have two receivers on the practice squad -- first-year player
Jeremy Ebert
and rookie
Tobais Palmer
-- so they could promote one if Brown is unable to play.
Robinson, who holds the NCAA record for most rushing yards by a quarterback in a career (4,495 yards) and in a single-season (1,702), was drafted with the thought that he could play running back and receiver. However, he has had issues with his hands and spent extra time during training camp working with Shorts and coaches to try and improve.
His second carry last Sunday came as a running back, which is where he'll likely see the bulk of his playing time. The wildcat formation will make an appearance, but only if the offense is able to generate some kind of rhythm.
"When your down and distance gets skewed so does your play call and so does the balance that you're looking for," Fisch said.
September, 1, 2013
Sep 1
5:00
PM ET
JACKSONVILLE, Fla. -- Jaguars general manager Dave Caldwell had promised that the team would be aggressive when it came to working the waiver wire and trying to improve the bottom part of the roster.

He wasn't kidding.
The Jaguars were awarded seven players off waivers on Sunday, adding receiver Stephen Burton (Minnesota), defensive back Winston Guy (Seattle), tight end Clay Harbor (Philadelphia), guard Jacques McClendon (Atlanta), linebacker Chris McCoy (Philadelphia), linebacker J.T. Thomas (Chicago) and tight end D.J. Williams (Green Bay).
They aren't done yet, either. Caldwell said the team will look at the players other teams released on Sunday and there could be some additional signings on Monday.
"We'll evaluate that pool and from that pool we'll see if we can upgrade somewhere," Caldwell said. "We will always look for an edge and an advantage of where we can try to get better."
Speed and the ability to play on special teams are the two traits for which Caldwell is looking in available players. Six of the seven players signed have special-teams value.
"It's something we've looked at the whole time," Caldwell said. "We're always going to look to get better in every phase, not just special teams. It's offense, defense, [and] it's personnel. Whatever we're doing we're going to work to get better. We felt like when we came here in the offseason we wanted to upgrade our team speed. We feel like we didn't completely do that in the offseason but we feel like we did that today."
To make room for the seven additions, the Jaguars cut defensive back
Antwon Blake
, tight end
Brett Brackett
, center
Dan Gerberry
, defensive tackle
Kyle Love
, fullback
Lonnie Pryor
, receiver
Jordan Shipley
and linebacker
Andy Studebaker
.
The Jaguars also signed the following players to the practice squad: cornerback Marcus Burley, defensive end
Ryan Davis
, receiver Jeremy Ebert, guard Drew Nowak, receiver Tobais Palmer, quarterback Matt Scott, and safety Steven Terrell. The Jaguars have one remaining spot to fill on the practice squad.
Here's a quick look at the seven new players:
Burton:
The former 2011 seventh-round draft pick played in 15 games for Minnesota last season and caught seven passes for 73 yards and one touchdown.
Guy:
He was a sixth-round pick by Seattle last year and played in three games, including the NFC divisional playoff game against Atlanta.
Harbor:
He spent the past three seasons in Philadelphia after the Eagles took him in the fourth round in 2010. He has played in 39 games (18 starts) and has 47 catches for 421 yards and four touchdowns. Also has lined up at receiver.
McClendon:
The former 2010 fourth-round pick by Indianapolis has played in only four games.
McCoy:
Miami selected him in the fourth round in 2010 and he spent that season on the practice squad with three teams (Miami, Houston and Seattle). He spent the past two seasons with Calgary in the Canadian Football League.
Thomas:
Chicago selected him in the sixth round in 2011. After spending his rookie season on injured reserve he played in every game last season for the Bears.
Williams:
He spent the past two seasons with Green Bay after the Packers selected him in the fifth round in 2011. He has nine career catches for 70 yards. He also can line up at fullback.
August, 30, 2013
Aug 30
7:45
PM ET
Click
here
for a full list of
Jacksonville Jaguars
roster moves.

Most significant move:
The Jaguars' No. 3 quarterback has yet to practice with the team.
Matt Scott
and
Mike Kafka
were among the 21 players the Jaguars cut on Friday, meaning the team will begin preparations for the Sept. 8 season opener against Kansas City with
Blaine Gabbert
,
Chad Henne
and
Ricky Stanzi
as the quarterbacks. Neither Kafka nor Scott played well in the preseason: Kafka completed 13 of 29 passes with one touchdown and one interception while Scott completed 18 of 40 passes with one interception. Scott also had a fumble returned for a touchdown.
The Jaguars signed Stanzi on Tuesday after he was released by the Chiefs and cleared waivers. The former fifth-round draft pick in 2011 spent the past two seasons on the Chiefs' active roster. He never appeared in a regular-season game, but Jaguars coach Gus Bradley said he got a good report on Stanzi from Jaguars scout Kyle O'Brien, who spent the 2012 season with the Chiefs.
"We liked what we saw on film of him, I can tell you that," Bradley said. "We really did. We liked him. We were evaluating him out in warm-ups [on Thursday night], you know, when he was throwing the ball. So we did like him, and one of our scouts was with Kansas City and was intrigued by him and I think it passed on to us."
It's still unclear whether Gabbert (hairline fracture in his right thumb) will be able to start the season opener. If he can't, Henne would get the start and Stanzi would be No. 2. If Gabbert can play, Stanzi would likely be inactive.
One extra spot:
The Jaguars will receive a roster exemption on Saturday for receiver
Justin Blackmon
, who will serve a four-game suspension for violating the NFL's substance abuse policy. That allows the Jaguars to keep a 54-man roster, but it also means that the Jaguars have only five receivers on the roster right now: Blackmon,
Cecil Shorts
,
Mike Brown
,
Ace Sanders
and
Jordan Shipley
. That's an area that the Jaguars likely will address this weekend from the waiver wire.
Onward and upward:
CB
Marcus Trufant
is an 11-year veteran who played well in the preseason, but he doesn't fit into the Jaguars' youth movement in the secondary. Plus, the signing earlier this week of
Will Blackmon
made him expendable because of Blackmon's age (28, four years younger than Trufant) and special-teams ability. Still, Trufant is an experienced, heady player who could find himself on a roster. The Jaguars liked defensive end
Pannel Egboh
but his production didn't match his measurables (6-foot-6, 277 pounds). It wouldn't be surprising if he ended up on another roster within the next few days. The Jaguars' roster may be one of the thinnest in the league, so it's unlikely that there will be much interest in most of the players cut.
What's next:
The Jaguars certainly aren't anywhere close to being done with cutting and adding players. Bradley and GM Dave Caldwell have both said they plan on continuously scouring the waiver wire in an effort to improve the bottom part of the roster, so expect more moves over the weekend. Most of the impending signings will likely center around their ability to help on special teams. The units have struggled during camp and in the preseason, which is why linebackers
Brandon Marshall
, Michael Zimmer and
Julian Stanford
were released. The Jaguars added linebacker
Andy Studebaker
in mid-August and linebacker
Kyle Knox
and cornerback Blackmon, both of whom were released by Seattle, earlier this week. Blackmon was signed on Wednesday and played well in the Jaguars' 20-16 victory over Atlanta on Thursday night, returning a punt for 21 yards.
August, 30, 2013
Aug 30
7:00
AM ET
JACKSONVILLE, Fla. -- Three things that stood out in the
Jacksonville Jaguars
'
20-16 victory
over Atlanta on Thursday night:

1. Running back
Jordan Todman
showed again not only why he deserves to make the team but to probably be No. 2 on the depth chart behind
Maurice Jones-Drew
. The former UConn standout ran for 60 yards and a touchdown on nine carries, giving him a team-high 223 yards on 29 carries in the preseason.
Todman, who scored on an 18-yard run against the Falcons in the first quarter, is a patient runner who quickly gets north and south when he makes a decision. He has been the offense's best player throughout the preseason.
The Jaguars signed
Justin Forsett
to be the top option behind Jones-Drew, but he has yet to play this preseason because of a sprained toe on his right foot. He hasn't even practiced since he suffered the injury during the first live period of training camp.
Forsett is hoping for a Week 1 return, but even if he does, Todman has been so impressive that it wouldn't be a surprise to see him get more work.
2. Cornerback
Demetrius McCray
had his best game of the preseason: five tackles, two pass breakups and a sack. One of those tackles came with a group of other defenders on a fourth-down stop inside the 5-yard line to preserve the victory.
The Jaguars drafted McCray with their second pick in the seventh round of this year's draft. He's a bigger corner (6-foot, 185 pounds) and plays the physical style coach Gus Bradley wants out of his corners.
McCray had been having a relatively anonymous preseason (just two tackles), but he solidified his spot on the roster with his performance against the Falcons. He jarred a pass loose from receiver
Kevin Cone
and then made a leaping deflection of another pass to Cone in the first half. He also made a solid open-field tackle on fullback
Jason Snelling
on a screen pass.
3. Quarterback
Matt Scott
did some nice things, but they were wiped out by two terrible plays: a fumble that was returned for a touchdown and an interception on back-to-back series in the second quarter.
Scott's first turnover came when he failed to secure the ball when he turned on a bootleg and was confronted by defensive end
Jonathan Massaquoi
, who poked the ball free and returned it for a 9-yard touchdown. It's not an unusual occurrence for a quarterback to whip around into the bootleg after the fake and see a defender in his face. Sometimes the smartest thing a quarterback can do is realize the play has been blown up and just secure the ball and keep the negative play from becoming even worse.
On the interception, Scott stared down intended receiver
Mike Brown
, and cornerback
Desmond Trufant
, the Falcons' first-round draft pick, stepped in front of the pass. There may have been some miscommunication on the route, but it was an easy interception for Trufant.
Scott was battling
Mike Kafka
for the No. 3 quarterback spot. Scott completed 6 of 12 passes for 67 yards. Kafka completed 6 of 15 passes for 46 yards, but he did hook up with
Jeremy Ebert
on a 13-yard touchdown pass that put the Jaguars ahead for good.
August, 29, 2013
Aug 29
1:15
PM ET
JACKSONVILLE, Fla. -- The Jaguars wrap up the preseason in Atlanta against the Falcons tonight (7:30 p.m. ET). Here are three things to watch:


The quarterbacks:
With starter
Blaine Gabbert
out with a hairline fracture of his right thumb,
Chad Henne
gets the start. But he and the rest of the team's starters will play only 10-15 snaps. That leaves
Mike Kafka
and
Matt Scott
to play the majority of the game.
The two are battling for the No. 3 quarterback spot. Neither has been particularly impressive in the preseason. Kafka has completed 7 of 14 passes for 27 yards and one interception while Scott has completed 12 of 28 passes for 103 yards. They've played in every game.
The team claimed former Kansas City QB
Ricky Stanzi
off waivers on Tuesday, but that move appears to be more about picking his brain about the Chiefs (whom the Jaguars play in the regular-season opener) than anything else.
So it's Scott versus Kafka for the third quarterback spot. It's a critical competition, at least for the early part of the season. There's some doubt that Gabbert will be ready to go in Week 1, in which case Henne would start and the Kafka/Scott winner would be the No. 2.
Jonathan Cyprien:
Coach Gus Bradley has said several times this week that he wants Cyprien to get more reps against the Falcons. The second-round draft pick missed the first two weeks of training camp because of a hamstring injury.
The 6-foot, 217-pound safety is a better option in the secondary than
Chris Prosinski
, who was picked on by Miami in the preseason opener, including a play in which he got turned around on a touchdown pass. Cyprien seemed to be unsure of himself at times in last Saturday's game against the Eagles and the extra playing time will certainly help.
Cyprien will be one of two rookie starters in the secondary (cornerback
Dwayne Gratz
is the other). They're going to make mistakes but the best way to limit those is to get as much time on the field as possible.
The battle at WR:
Justin Blackmon
,
Cecil Shorts
,
Ace Sanders
and
Mike Brown
are set, which leaves five players competing for two spots. The top two candidates are
Jordan Shipley
and
Tobais Palmer
, with
Jeremy Ebert
,
Toney Clemons
and
Charly Martin
likely on the outside.
The 5-11, 178-pound Palmer is intriguing because of his speed, but he has fumbled two punts in the preseason and that may be something he can't overcome. Shipley leads the bubble group of receivers with four catches for 48 yards. He also has value on special teams as a punt and kickoff returner, which may be enough to win him one of the final two spots.