December, 19, 2013
Dec 19
10:00
AM ET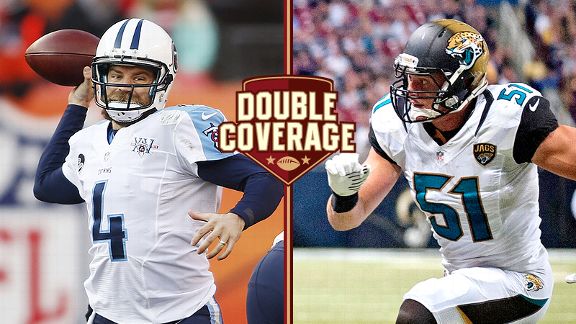 USA Today SportsPaul Posluszny and the Jags are aiming for a season sweep of Ryan Fitzpatrick and Tennessee.
JACKSONVILLE, Fla. -- Maybe
Delanie Walker
shouldn't feel so bad now.
The Titans tight end said he was embarrassed after the Jaguars won 29-27 in Nashville on Nov. 10 to pick up their first victory. Since then, the Jaguars are 3-2 with victories over Houston (twice) and Cleveland. The Titans are 1-4 with a victory over Oakland.
There seems to be much more stability in Jacksonville, too, because of the uncertain status surrounding Tennessee coach Mike Munchak.
Jaguars reporter Michael DiRocco and Titans reporter Paul Kuharsky break down Sunday's matchup at EverBank Field.
DiRocco
: Some Titans players were pretty vocal about being embarrassed due to becoming the first team to lose to the Jaguars. Is that something that still stings, and how have they rebounded from that loss?
Kuharsky
: It definitely left a mark. They are only 1-4 since then. It kind of set a bar for how bad they can be and re-established their propensity to lose to teams that are really struggling. The Jaguars are on an upswing since that game, and the Titans are on a downward spiral. If Tennessee losses to the Jaguars again, the Titans will be in line to finish in third place in an awful division, which is well short of their goals and expectations. The Titans are a better team than they were last year. But losing closer isn't a really big difference in the really big picture.
Let's turn that around. How has life changed for the Jaguars since that Nov. 10 breakthrough?
DiRocco
: I could go into a lot of stats that show how much better the Jaguars are playing, but that's not what's really important. The past six games have been more about the validation of the process, establishing the foundation of the franchise's rebuild, and confidence in the new regime. Coach Gus Bradley never wavered from the plan that he and general manager David Caldwell established. His message stayed the same throughout the eight-game losing streak to start the season: trust in the process, work hard, and focus on improving and not victories, and the victories will eventually come. Because that has happened, the players appear to have completely bought into what Bradley and Caldwell want to do, and there's a confidence in the locker room that the franchise is headed in the right direction.
We talked about
Jake Locker
the last time these teams met, but that was before he suffered a season-ending injury to his foot. How does that change the Titans' outlook on him and are they in the market for a quarterback in the offseason, too?
Kuharsky
: Locker is certain to be on the 2014 Titans. His fourth year isn't that costly and it's guaranteed. But they can't execute a spring option for his fifth year that would line him up for over $13 million. A lot of his fate depends on whether Munchak is back as the head coach. It's possible they go forward with Locker,
Ryan Fitzpatrick
and just-signed
Tyler Wilson
as their quarterbacks. It's also possible they'd draft a new guy, and depending on how high of a pick he could land in competition to start. I think it's less likely they chase a free agent like
Jay Cutler
if he comes free, but they have to assess all the possibilities. How can they completely commit to Locker based on his injury history?
One side effect of the Jaguars' surge is they aren't going to be in position to draft the first quarterback taken. What's your sense of what Bradley and Caldwell want in a quarterback and do you expect one to arrive in the first round?
DiRocco
: Offensive coordinator Jedd Fisch said something interesting last week. He said he wants his QB to scramble around, take off running to get yards and take some chances throwing the football. To me, that sounds like a pretty accurate description of Johnny Manziel. I'm not sure how that reconciles with the ideas of his bosses. Bradley comes from Seattle, which has the mobile
Russell Wilson
. Caldwell comes from Atlanta, which has the considerably less mobile
Matt Ryan
. My sense is that Bradley and Caldwell probably lean more toward the Wilson end of the spectrum. People think that eliminates Teddy Bridgewater, but that's not the case. He's not a runner but he can run if needed. If he's around, I'd expect them to take him. If not, then I would still expect them to go quarterback. It's their most glaring need.
You mentioned Munchak's job status. What's your take on whether he will be back next season -- and should he be?
Kuharsky
: He's shepherded improvement, but his team lacks an ability to finish. He's 0-4 in the worst division in football, 1-9 in the past two years. His teams have lost to the previously winless Jags in 2013 and the previously winless Colts in 2011. He's 4-18 against teams with winning records when the Titans played them and 2-19 against teams that finished the season with a winning record. To me, three years is a sufficient sample size to know what you've got and those numbers are the most telling thing on his resume. Keep him and they deal with all the limitations connected to a lame duck coach. I don't know what Tommy Smith, the head of the new ownership, will do. But the fan base overwhelmingly wants change, if that's worth anything. People still pay for tickets because they've got investments in personal seat licenses they do not want to throw away. But a lot of people are staying home on Sundays now.
Cecil Shorts
is done and
Maurice Jones-Drew
is uncertain. How can the Jaguars threaten on offense without their two best weapons?
DiRocco
: They were able to put up 20 points and post their second-highest yardage total of the season, including a season-high 159 rushing, in last Sunday's loss to Buffalo. Running back
Jordan Todman
stepped up big time and ran for 109 yards (Jones-Drew cracked 100 only once in the first 13 games) and tight end
Marcedes Lewis
was more involved in the passing game than in previous weeks (four catches for 54 yards and a touchdown). But I'm not sure that is sustainable. Teams will certainly concentrate on stopping Lewis and make quarterback
Chad Henne
move the ball with three receivers who have a combined 75 career catches. Todman doesn't scare anyone, either. The Jaguars will have to be creative on offense (they've run gadget plays the past three weeks) and capitalize on every opportunity they get.
August, 24, 2013
Aug 24
9:00
AM ET
INDIANAPOLIS -- The third preseason game is the one to keep an eye on. It's the game where you can get a better indication of where the team stands because the starting unit usually plays into the third quarter.

That's the plan
Indianapolis Colts
coach Chuck Pagano has with his starters in Saturday's game against the
Cleveland Browns
.
Here's what to watch for:
1. A running attack:
I'm like most of you, I'm waiting for the Colts' power-running game, discussed by offensive coordinator Pep Hamilton in training camp, to show up. The Colts haven't even teased us with anything yet. They're averaging 3.1 yards a carry in the preseason. Running back
Ahmad Bradshaw
won't join
Vick Ballard
in the backfield Saturday, because the team doesn't want to rush Bradshaw back on the field after practicing in pads for the first time this week. Not having tight ends
Coby Fleener
(knee) and
Dwayne Allen
(foot) to block will make things more difficult for the Colts. So in other words, you likely won't see anything that resembles a power-running game until at least Week 1 against Oakland. Good thing quarterback
Andrew Luck
(13-of-19 and a 128.8 passer rating) has looked sharp in the preseason.
2. Stopping the run:
Is giving up 115.5 yards a game on the ground in two preseason games bad? Yes, but you also have to take into consideration that the starters spent the majority of those games on the sideline watching. What is alarming, though, is that the defense has given up runs of 17, 15 and 21 yards on three of their opponent's first four runs of the game. The starters will be tested again against Browns running back
Trent Richardson
. You have every reason to wonder if the defense can improve on being 29th in the league in rushing yards allowed last season if Richardson has a strong game against the starters.
3. Debut time:
Speaking of the defense, it will have the starting unit on paper together for the first time in the preseason. Safety
LaRon Landry
(knee) and linebacker
Pat Angerer
(foot) are expected to play. Landry will join a secondary --
Antoine Bethea
,
Vontae Davis
and
Greg Toler
-- that has been solid in the preseason. Toler, a free-agent signing in the offseason, had an interception against the
New York Giants
on Aug 18. Angerer and Landry are familiar with the defensive scheme, it's a matter of them getting game reps, especially Landry. Angerer, who spent the first part of training camp on the physically unable to perform list while working his way back from offseason foot surgery, could get between 15 and 20 snaps. Rookie guard
Hugh Thornton
is also making his preseason debut. Thornton, who injured his ankle right before training camp, will likely back up
Jeff Linkenbach
at guard.
4. Final audition:
Rosters must be trimmed from 90 to 75 players by Tuesday. Keep an eye on the receiver spot. The Colts are still looking for a fourth and fifth receiver.
LaVon Brazill
, currently the fourth receiver, is suspended the first four games of the season.
Jeremy Kelley
,
Nathan Palmer
,
Jabin Sambrano
,
Lanear Sampson
and
Griff Whalen
aren't taking advantage of the opportunity. There is a reason why general manager
Ryan Grigson
went out and signed receiver
Maurice Williams
this week.
5. Special teams:
Rookie
Kerwynn Williams
, Sambrano and
Cassius Vaughn
have handled kickoff return duties in the first two games.
David Reed
might get a shot to return kicks Saturday. He was acquired in the trade that sent running
Delone Carter
to Baltimore this week. Reed led the league by averaging 29.3 yards a kickoff return in 2010.
August, 23, 2013
Aug 23
10:15
AM ET
INDIANAPOLIS --
Indianapolis Colts
receiver
Reggie Wayne
doesn't have to prove himself. He's done that throughout his 13-year career.
Wayne
Wayne, 34, is second in team history in receptions, receiving yards and receiving touchdowns.
Still, Wayne doesn't consider himself a lock to make the final roster when he heads to training camp every year.
Huh?
Receivers like
Griff Whalen
,
Jeremy Kelley
,
Nathan Palmer
,
David Reed
,
Lanear Sampson
and
Maurice Williams
should be the ones worried about making the final 53-man roster.
Not Wayne.
But he is.
"First, let's make it clear,'' Wayne said. "I'm always fighting for a spot. Every year they're going to try to find somebody to replace me. Now it's up to me to make that a hard decision. So I don't go out there with the mind frame that I always got a spot sewed up, because that's when you go out and you loaf and then you got somebody else going out there 100 miles per hour.''
Wayne didn't say that just to appease the media group surrounding his locker.
He's dead serious. He goes hard in practice. And he goes just as hard after practice.
Wayne spends ample time after practice catching passes off the Jugs machine. Some of Wayne's younger teammates usually stand around enamored, watching him snag one-handed passes and balls that look like they're going to hit the ground.
"I'm out there trying to set the tone from what Reggie Wayne can do, no matter what the situation is,'' Wayne said.
The first round of cuts are next week, when 90-player rosters must be trimmed to 75.
May, 13, 2013
May 13
10:44
AM ET
Three of the four teams in the AFC South are coming off weekend minicamps for their rookies. It's a time of year when virtually everything that comes out is positive. The teams had different levels of media availability. But as best we can, we'll review the primary players and themes out of those camps today. Next up, the Indianapolis Colts.
Contract status:
Six of seven draft picks were
already signed
as minicamp started, says Mike Chappell of the Indianapolis Star. The only exception was first-round outside linebacker
Bjoern Werner
. The new CBA means negotiations on these deals are relatively simple. It's got to be nice for the club to get things over with.
The first-rounder:
Chuck Pagano saw just what he expected from Werner: "He's got great first-step explosion. You see him running around here doing some things, things we saw on tape. Up close and personal now, it's even more impressive."
Chappell's story
.
From George Bremer of the (Anderson) Herald Bulletin: "One thing that might stand out initially for many fans is
Werner's stance
. When he lines up tight to the line of scrimmage as a defensive end in four-man fronts, he eschews the three-point stance favored by many NFL pass rushers in favor of a four-point stance with both hands in the ground."
Compelling story:
Third-round guard
Hugh Thornton
endured the murder of his mother and his sister when he was a child, asleep in another room in the family's Jamaican home, says Chappell. Thornton is a guy plenty of people will be rooting for
considering his background
.
Longshot:
"(Jeremy) Kelley played a full season with the Hamilton Tiger Cats in the Canadian Football League and about half a season with the Arena Football League's Utah Blaze. Now the receiver is the latest minor leaguer the Colts are
giving a chance
, says Bremer.
Big finish:
The final play
of rookie minicamp mimicked the last-play scenario of the Colts' 2012 victory over Detroit -- and the Colts kids found a way to score a winning touchdown, again. Chappell runs through it.
Opportunity:
The Colts' ability to hit on so many productive rookies in 2012 and add several veteran free agents this offseason should mean they're
less reliant
on newcomers in '13. "That doesn't mean to say some of these guys that we drafted or any of the tryout guys or college free agents can't come in and contribute in some capacity, especially on special teams," Pagano said. "With what we did in free agency, there's not that many holes to fill. That's means you're getting closer from a roster standpoint and team standpoint to where you want to be."
First work:
New offensive coordinator Pep Hamilton and new special teams coordinator Tom McMahon got a chance for some
important on-field work
just like the rookies, says Tom James of the Tribune-Star.
Local ties:
Three players
with local ties
-- Michael Josifovski, Nick Driskill, Jordan Bright -- were among the 13 who were at minicamp on a tryout basis, says Chappell.
Day by day:
Craig Kelley of the team's website followed camp day-by-day:
Day One
,
Day Two
,
Day Three
.