December, 19, 2013
Dec 19
10:00
AM ET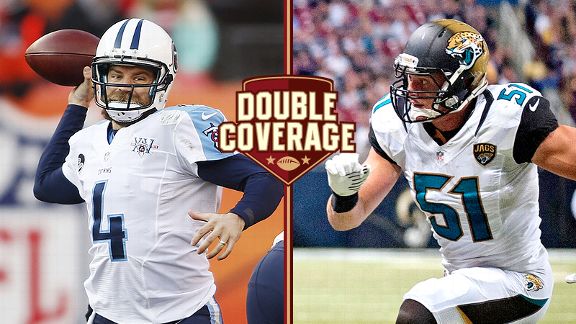 USA Today SportsPaul Posluszny and the Jags are aiming for a season sweep of Ryan Fitzpatrick and Tennessee.
JACKSONVILLE, Fla. -- Maybe
Delanie Walker
shouldn't feel so bad now.
The Titans tight end said he was embarrassed after the Jaguars won 29-27 in Nashville on Nov. 10 to pick up their first victory. Since then, the Jaguars are 3-2 with victories over Houston (twice) and Cleveland. The Titans are 1-4 with a victory over Oakland.
There seems to be much more stability in Jacksonville, too, because of the uncertain status surrounding Tennessee coach Mike Munchak.
Jaguars reporter Michael DiRocco and Titans reporter Paul Kuharsky break down Sunday's matchup at EverBank Field.
DiRocco
: Some Titans players were pretty vocal about being embarrassed due to becoming the first team to lose to the Jaguars. Is that something that still stings, and how have they rebounded from that loss?
Kuharsky
: It definitely left a mark. They are only 1-4 since then. It kind of set a bar for how bad they can be and re-established their propensity to lose to teams that are really struggling. The Jaguars are on an upswing since that game, and the Titans are on a downward spiral. If Tennessee losses to the Jaguars again, the Titans will be in line to finish in third place in an awful division, which is well short of their goals and expectations. The Titans are a better team than they were last year. But losing closer isn't a really big difference in the really big picture.
Let's turn that around. How has life changed for the Jaguars since that Nov. 10 breakthrough?
DiRocco
: I could go into a lot of stats that show how much better the Jaguars are playing, but that's not what's really important. The past six games have been more about the validation of the process, establishing the foundation of the franchise's rebuild, and confidence in the new regime. Coach Gus Bradley never wavered from the plan that he and general manager David Caldwell established. His message stayed the same throughout the eight-game losing streak to start the season: trust in the process, work hard, and focus on improving and not victories, and the victories will eventually come. Because that has happened, the players appear to have completely bought into what Bradley and Caldwell want to do, and there's a confidence in the locker room that the franchise is headed in the right direction.
We talked about
Jake Locker
the last time these teams met, but that was before he suffered a season-ending injury to his foot. How does that change the Titans' outlook on him and are they in the market for a quarterback in the offseason, too?
Kuharsky
: Locker is certain to be on the 2014 Titans. His fourth year isn't that costly and it's guaranteed. But they can't execute a spring option for his fifth year that would line him up for over $13 million. A lot of his fate depends on whether Munchak is back as the head coach. It's possible they go forward with Locker,
Ryan Fitzpatrick
and just-signed
Tyler Wilson
as their quarterbacks. It's also possible they'd draft a new guy, and depending on how high of a pick he could land in competition to start. I think it's less likely they chase a free agent like
Jay Cutler
if he comes free, but they have to assess all the possibilities. How can they completely commit to Locker based on his injury history?
One side effect of the Jaguars' surge is they aren't going to be in position to draft the first quarterback taken. What's your sense of what Bradley and Caldwell want in a quarterback and do you expect one to arrive in the first round?
DiRocco
: Offensive coordinator Jedd Fisch said something interesting last week. He said he wants his QB to scramble around, take off running to get yards and take some chances throwing the football. To me, that sounds like a pretty accurate description of Johnny Manziel. I'm not sure how that reconciles with the ideas of his bosses. Bradley comes from Seattle, which has the mobile
Russell Wilson
. Caldwell comes from Atlanta, which has the considerably less mobile
Matt Ryan
. My sense is that Bradley and Caldwell probably lean more toward the Wilson end of the spectrum. People think that eliminates Teddy Bridgewater, but that's not the case. He's not a runner but he can run if needed. If he's around, I'd expect them to take him. If not, then I would still expect them to go quarterback. It's their most glaring need.
You mentioned Munchak's job status. What's your take on whether he will be back next season -- and should he be?
Kuharsky
: He's shepherded improvement, but his team lacks an ability to finish. He's 0-4 in the worst division in football, 1-9 in the past two years. His teams have lost to the previously winless Jags in 2013 and the previously winless Colts in 2011. He's 4-18 against teams with winning records when the Titans played them and 2-19 against teams that finished the season with a winning record. To me, three years is a sufficient sample size to know what you've got and those numbers are the most telling thing on his resume. Keep him and they deal with all the limitations connected to a lame duck coach. I don't know what Tommy Smith, the head of the new ownership, will do. But the fan base overwhelmingly wants change, if that's worth anything. People still pay for tickets because they've got investments in personal seat licenses they do not want to throw away. But a lot of people are staying home on Sundays now.
Cecil Shorts
is done and
Maurice Jones-Drew
is uncertain. How can the Jaguars threaten on offense without their two best weapons?
DiRocco
: They were able to put up 20 points and post their second-highest yardage total of the season, including a season-high 159 rushing, in last Sunday's loss to Buffalo. Running back
Jordan Todman
stepped up big time and ran for 109 yards (Jones-Drew cracked 100 only once in the first 13 games) and tight end
Marcedes Lewis
was more involved in the passing game than in previous weeks (four catches for 54 yards and a touchdown). But I'm not sure that is sustainable. Teams will certainly concentrate on stopping Lewis and make quarterback
Chad Henne
move the ball with three receivers who have a combined 75 career catches. Todman doesn't scare anyone, either. The Jaguars will have to be creative on offense (they've run gadget plays the past three weeks) and capitalize on every opportunity they get.
January, 9, 2010
1/09/10
1:44
PM ET
Chad in Nashville, Tenn., writes:
Hi Paul! I hope you're staying warm. After reading through this week's chat, I noticed that, when telling the questioner that an uncapped year is inevitable, you also said that the cap will never return. Does this mean that the most competitive and popular of all the major sports will fall into an MLB type of league where owners like Jerry Jones and Dan Snyder will be able to "buy" championships by being perennial playoff teams a'la Yankees/Sox? As a fan of the NFL, one of the best reasons to watch is seeing teams come from nowhere to compete in any given year. The loss of the cap would be a shame.
Paul Kuharsky:
There is a huge misperception out there that a capless season will equate to the Wild West. It won't.
There are elements to an uncapped year that offset the financial freedoms.
Among them: Teams gain a franchise or transition tag. It takes a player six years, not four, to get to free agency. The top eight teams are restricted and can't add a free agent until they lose one.
A new agreement could have a cap again. If it doesn't as so many of us expect, it'll have other mechanisms to maintain the competitive balance.
They are all smart enough to realize they can't mess up a good thing. At least not by allowing for a league of have and have-nots.
---
Justin in Austin, Texas, writes:
Paul, are you surprised to see the Texans ranked best in the AFC South in offense and defense? I know you say that the other stats like scoring and third down are more important and I agree with you somewhat, but scoring for the defense can be misleading I think, because they get put in some terrible positions from turnovers, being on the field too long etc. Either way, Texans finished with a top 5 offense and a top 15 defense. I'd say that's promising, especially after being ranked last in defense after 3 weeks. Also, was wondering what you thought about Schaub now ranking 6th all time for passing yards in a season, and tied for 2nd most 300 yard passing games in a season ever? Seem to be worth a mention.
Paul Kuharsky:
Schaub was excellent, especially considering the Texans' failures running it. But those failures kind of forced him to do more, and they would probably have better success as a team if some of the yards came off his arm and onto some reliable legs.
The schedule looks to be difficult, but the arrow should be up on the Texans. Especially if they add help at running back, corner, free safety and defensive tackle.
I thought they needed only a middle of the pack defense to go with that offense to be a playoff team. And they finished tied for 13th in D. Solid. Which makes the playoff miss even more disappointing.
---
Brian Carrico in Lynchburg, Va., writes
that he's heard how 2,000 yard rushing seasons would become commonplace if the league expanded the season to 18 games. He says 2,000 rushing yards in 18 games would be an average of 111 yards per game, or approximately 1,778 yards in a 16-game season.
The league leader has been above this 11 times since the NFL went to a 16-game schedule in 1978 (32 seasons) including the five players who have broken 2,000 yards in that time. An additional three league leaders have been close (my basis for that was 1,733 yards, which projects to 1,950 in 18 games) so conceivably we might have had about 14 of the league leaders in the last 32 years hit or approach 2,000 yards. That's certainly more common than it is now, but it's hardly "commonplace" and I have a feeling that just as most people who know NFL history know that O.J. Simpson hit 2,000 yards in a 14-game season, many would remember that
Chris Johnson
,
Eric Dickerson
,
Jamal Lewis
,
Terrell Davis
, and
Barry Sanders
did it in 16.
Paul Kuharsky:
I agree, Brian. Good info. Thanks. I remain a proponent of an 18-game regular season if it means halving the preseason. We'll make the mental adjustments for the numbers as warranted.
---
Dustin in Stanford, Calif., writes:
Hey Paul, What are futures contracts?
Paul Kuharsky:
At the start of the new NFL calendar year, rosters can go from 53 to 80. These are guys that fall in that middle ground. Often practice squad guys you want to keep. They wind up free after the season and you sign them for next season. Basically anyone who signs at this time of year with a team that's done playing (and who's not a veteran heading toward free agency getting a long-term deal) is signing a future contract.
---
Chris S. in Knoxville, TN writes:
Paul, Can't sleep and so I'm pondering the Chris Johnson vs.
LenDale White
situation. I was a big White fan when we drafted him. Thought he was a great get. When we drafted CJ and found out what he was I was ecstatic because I felt like the two complimented each other so well. Also, I felt it took the pressure off of either one to have to be a feature back (something I feel like is dying out in the NFL). Now that we have all but abandoned LenDale, do you think CJ being used as a primary back is the best thing for him? How fast do you think he might wear? He made it through one season, but are the Titans shortening his NFL career by making him a feature back?
Paul Kuharsky:
That's something they must figure out. They would certainly like to scale back his workload and should, a bit.
But I say you don't play 2010 limiting a great player much with worries about 2013. Get it while you know you've got it to get.
Look for more on this topic soon.
---
Terence Fails writes via Facebook:
Should Titans fans be concerned about VYs apparent photosensitivity?
Paul Kuharsky:
I think once he hits the Rose Bowl parking lot
Vince Young
has an allowance to wear and do anything he likes. Provided it's legal.
August, 22, 2009
8/22/09
1:31
AM ET
Posted by ESPN.com's Paul Kuharsky
ARLINGTON, Texas -- The biggest story out of the Cowboys' 30-10 preseason win over the Titans in the football debut for Cowboys Stadium was the enormous video board factoring into play. NFC East guru Matt Mosley and I showed the preseason teamwork capabilities of the blog network by combining on this news story about it.
The short version: The Titans think the scoreboard is a huge issue for punters; Jerry Jones thinks of it more like a windmill on a miniature golf course. [Full disclosure, I borrowed that line from Matt.]
One additional quote from Craig Hentrich on the issue: "It's a bad situation when you've got guys that can hit it four or five times in a row, you've got your guys covering down the field four or five times in a row and you're having to redo it and redo it. It's a serious issue. It's pretty cool to see [the giant video board], but you hit a great punt and you hit the scoreboard, then what if you shank one? It's penalizing a great punt and that's not the way it's supposed to be."
Other than A.J. Trapasso's punt that dinged the TV, the stadium scored very highly. Keith Bulluck, who visited the new Yankee Stadium earlier this year, tweeted that Jones had outdone George Steinbrenner.
"It's pretty magnificent, pretty impressive definitely," he said after the game.
Setting aside that fantastic development, the Titans were pretty awful with 191 net yards, 10 first downs and fewer than 20 minutes of possession. Defensively, they allowed 466 yards, 27 first downs and two fourth-down conversions.
They didn't have their starters on the field as long as Dallas did, as the Cowboys stayed on the field through the first half.
But spin as they might, it's hard to find much to like about the work of second quarterback Vince Young or Patrick Ramsey, who is third in line. Jeff Fisher said while Young won't necessarily start, he will get time with the starters in one of the final two preseason games.
Rookie running back Javon Ringer qualified as the primary bright spot.
He finished with the best rushing average in the game thanks to five carries for 33 yards. The Titans fifth-round pick out of Michigan State also had an impressive 51-yard kickoff return and worked on kick and punt coverage teams.
October, 2, 2008
10/02/08
11:28
AM ET
Posted by ESPN.com's Paul Kuharsky
The great thing about the mailbag? Well, there are too many to discuss here, but it is open 24/7/365.
Please join me for an AFC South chat today at 3 p.m. ET. I can stay late if you like.
We can talk about any of this and more ...
If you're looking for anything from September or before, look for the archive links below and on the right.
Houston Texans
Indianapolis Colts
Jacksonville Jaguars
Tennessee Titans
July, 29, 2008
7/29/08
1:26
PM ET
Posted by ESPN.com's Paul Kuharsky
Sam Famer of the Los Angeles Times was part of a small group that talked to Dallas owner Jerry Jones at Cowboys camp in Oxnard, Calif., on Monday.
Speaking about the potential of the NFL returning to L.A., Jones said he thinks it could happen out of some pending ownership changes.
"We haven't had much movement in ownership," Jones said. "I think we might see in the near term some movement in two, possibly three situations. That might start the ball rolling."
Then Farmer discussed a list of potential movers, and of course, it included Jacksonville.
Although Jones declined to identify the teams he was referring to, there has been recent talk of NFL owners in St. Louis and Jacksonville selling all or part of their teams. There also could be an ownership change in Pittsburgh, but Jones made it clear he wasn't talking about that situation.
While Jaguars owner Wayne Weaver vehemently denied a recent report he was in negotiations to sell the team, a team official I talked with said it's inevitable that every time there is any talk of a move the same handful of teams will get listed and the Jags will be one of them.
It's a fact of life they've come to deal with, and I certainly don't think it's weighing on Fred Taylor or John Henderson during training camp as the Jags prepare for what a lot of people are expecting to be a big season.