December, 6, 2013
12/06/13
6:00
PM ET
INDIANAPOLIS -- The
Indianapolis Colts
put on extra layers, shook off the frigid air and spent the week practicing outside to prepare for Sunday's game against the
Cincinnati Bengals
.
There's a chance Mother Nature won't be too kind to either team at Paul Brown Stadium. The forecast calls for temperatures to be in the 30's with a chance of snow on Sunday. The Colts haven't played a game in the snow since the 2009 season.
[+] Enlarge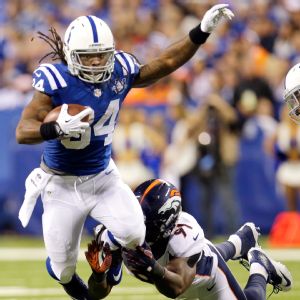 AP Photo/AJ MastTrent Richardson and the Colts' running backs might get a lot of work on Sunday in Cincinnati.
"You know what, the elements, it is what it is," Colts coach Chuck Pagano. "From a ball-security standpoint, that's what we stressed all week long. That's why we got outside all week long. If it's sleeting sideways and 30 degrees, 20 degrees, it really comes down to ball security, taking care of it. Makes throwing the ball a little bit difficult, too, so better pack a good run game."
Limiting quarterback
Andrew Luck
's throwing ability and relying on the run game could cause some uneasiness since Luck is the Colts' best offensive weapon, and the running game has been inconsistent this season.
But that's what it might take for the Colts to have a chance to beat the Bengals, who are 5-0 at home, and get a game lead on them for the No. 3 seed in the AFC playoff standings.
"I probably haven't played in snow since I was throwing a football around as a kid, so very excited about it," Luck said. "I love playing outside. I think there's something about it that's fun, so we're looking forward to it."
The Colts rushed for 104 yards -- only the second time in the past five games that they rushed for at least 100 yards -- against the
Tennessee Titans
last weekend.
"I can play in snow, as a kid," running back
Trent Richardson
said laughing. "But it's just something, you just got to go out there and fight it. You got to man up. This is what the big playmakers have done their whole life. You look at the Jim Browns, the Emmitt Smiths, the Fred Taylors, the Ricky Williams' and the Edgerrin James'. Look at those type of guys. Those guys fought through it, and they stuck it through the whole time in the snow. It didn't matter to them."
Indianapolis has to hope it can get something out of its running game, and with some Luck-being-Luck sprinkled in there, too, because the Bengals have the offensive weapons to put points on the board.
Cincinnati averages more than 363 yards a game and has won six of its past eight. Bengals receiver
A.J. Green
has 72 catches for 1,103 yards, which is only 71 yards less than what
T.Y. Hilton
,
Darrius Heyward-Bey
,
LaVon Brazill
and Da'Rick Rogers gave combined for this season.
Indianapolis' defense forced four turnovers against Tennessee last weekend, and the unit might get cornerback
Greg Toler
(groin) back in the lineup for the first time in five games.
"It's a talented team," Colts defensive coordinator Greg Manusky said. "They got good receivers, a good quarterback ... they got some players in the backfield with (Benjarvus Green-Ellis) and (
Giovani Bernard
). Talented guys that can see the hole and break long runs. We got to make sure we bottle them up as best we can."
December, 14, 2009
12/14/09
11:53
AM ET
Chris Johnson
's 39-yard touchdown run early in the Titans' blowout of St. Louis was his seventh rushing score of 20 or more yards, ESPN Stats & Information informs me.
That's just one shy of the single-season NFL record shared by Jim Brown (1958) and
Terrell Davis
(1998).
Johnson also topped 100 yards rushing for the eighth consecutive game, breaking the franchise record of seven held by Earl Campbell. He also set a new Oilers/Titans record for scrimmage yards, with 186 boosting his season total to 2,017. Campbell has 1,981 for the 1980 Oilers.
Johnson's 2,017 yards from scrimmage are the fourth most through 13 games in league history, behind O.J. Simpson in 1975 (2,120),
Priest Holmes
in 2002 (2,104 and Walter Payton in 1977 (2,051). Brown had 2,008 in 1963.
Here's a breakdown of where Johnson stands 13 games into the season compared to where
Eric Dickerson
was at the same point in 1984, when he set the all time single-season rushing record with 2,105 yards.
It's hard to fathom what Johnson's doing.
But here's one concern looking ahead:
Vince Young
's run-threat presence and overall play helped Johnson take his production to a different level. Young left Sunday's game with a hamstring injury. If he's unable to play next week against Miami or beyond -- the Titans finish with games against San Diego and at Seattle -- will it have a bearing on what Johnson does or doesn't do?
December, 7, 2009
12/07/09
11:51
AM ET
Clint Session
put one giant hit on
Chris Johnson
during the course of Indy's 27-17 win over Tennessee Sunday. The linebacker was a key player in slowing down Johnson but was surprised and unhappy to learn after the game that Johnson got 100 yards.

Johnson
But look what qualifies as slowing down Johnson these days: He ran 27 times for 113 yards for a 4.2 yard average and had a long run of 11 yards.
"They never really gave him the big run; that's really how Johnson has made a name for himself, breaking away on those big runs,"
Peyton Manning
said.
"Obviously you want to keep running backs under 100 yards, but it's all about the win at the end of the game,"
Dwight Freeney
said. "Yeah, we could have done better, but we did good enough."
Johnson seemed content with the run game's work, but was annoyed about the Titans going 2-5 in the red zone and 0-3 on fourth down.
"I knew we had success running the ball all day," Johnson said. "We didn't have any large-yardage plays, it was 5 here and 6 there, so I knew we had success running the ball. The red zone killed us, just killed us."
From the NFL: Johnson leads the league with 1,509 rushing yards and became only the fifth player in NFL history to rush for 1,500 yards in his team's first 12 games. He joins Pro Football Hall of Famers Jim Brown, Walter Payton and O.J. Simpson, as well as Terrell Davis, as the only players to accomplish the feat.
December, 4, 2009
12/04/09
4:02
PM ET
»
NFC Final Word
:
East
|
West
|
North
|
South
»
AFC
:
East
|
West
|
North
|
South
Five nuggets of knowledge about Week 13:
[+] Enlarge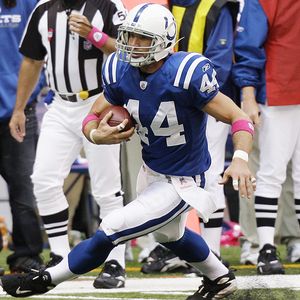 AP Photo/Michael ConroyThe Titans may not have enough people to keep Colts tight end Dallas Clark in check.
Dallas Clark had nine catches for 77 yards when the Colts dismantled the Titans on Oct. 11.
He told Nashville media this week that Tennessee doesn't generally lock in one guy to matchup with him, but that he expects nickelback
Vincent Fuller
most of the time with a splash of
Keith Bulluck
. With Clark,
Reggie Wayne
and
Austin Collie
playing well and
Pierre Garcon
rebounding from a tough stretch, will the Colts have more targets than the Titans are able to defend with
Cortland Finnegan
,
Nick Harper
and Fuller as the primary defensive backs?
Minus cornerback Rashean Mathis (groin), the Jaguars have given up significant passing yardage
the last two weeks -- 297 to the Bills 26th-rated pass offense, 232 to the 23rd-rated Niners. What's that mean as they head into a game against Houston, which is ranked third? Pass pressure's been an issue for the Jaguars.
Matt Schaub
is much less effective against the blitz, but can the Jaguars afford to send extra rushers when their coverage is already more susceptible without Mathis?
If Chris Johnson runs for 104 yards in Indianapolis, he'll become just the fifth player ever to reach 1,500 in the first 12 games of the season.
Walter Payton did it in 11 games in 1977, Jim Brown did it in a dozen games in 1958 and 1963, O.J. Simpson did it in 1973 and 1975 and
Terrell Davis
did it in 1998. Only two of those six seasons wound up over 2,000 yards. Johnson's 1,396 yards this season put him on pace for 2,031 and is currently ahead of where
Eric Dickerson
and
Jamal Lewis
were through 11 games when they had the top two rushing seasons in NFL history. If CJ tops 125 rush yards, he'll be the first player ever to do it in seven consecutive games.
Brian Cushing against Maurice Jones-Drew should a very compelling matchup.
Cushing been resting a foot injury during the week but playing fantastic on Sundays, making a case for defensive rookie of the year. The Jaguars will doubtlessly look to establish MJD and feed him the ball early and often. Three of the four times MJD has had fewer than 10 touches in the first half, they've lost and the one they won they jumped up to a big lead early and basically rested him.
The Titans five-game winning streak isn't in the ballpark of the Colts' 20-game string (11 this year), but add this year's stretches together and you've got something.
Tennessee and Indy square off tied for the longest combined winning streak -- 16 games -- in an NFL Week 13 game since the AFL-NFL merger. In 1984 Denver (10) and Seattle (six) played in similar circumstances, with the Seahawks winning by three.
November, 30, 2009
11/30/09
12:37
PM ET
Chris Johnson
continued his historic march with another big game Sunday in the Titans' win over Arizona.
Here's a breakdown from the NFL of what he's doing:
Johnson gained 154 rushing yards (8.6 average) on 18 carries in the Titans' 20-17 win over Arizona. Johnson has posted at least 125 rushing yards in six consecutive games, tying the NFL record set by Pro Football Hall of Famers Earl Campbell (1980) and Eric Dickerson (1984).
Johnson is the first player in NFL history with six consecutive games of 125+ rushing yards and a 5.0+ yards per carry average in each of those games. Pro Football Hall of Famer Jim Brown (1958) accomplished this feat in five consecutive games.
Johnson rushed for 800 yards in November, the most by a player in a calendar month since 1970.
And from ESPN Stats & Information:
November, 27, 2009
11/27/09
4:02
PM ET
»
NFC Final Word
:
East
|
West
|
North
|
South
»
AFC
:
East
|
West
|
North
|
South
Five nuggets of knowledge about Week 12: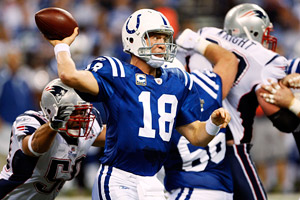 Brian Spurlock/US PresswirePeyton Manning was limited in practice this week but appears ready to face the Texans.
Peyton Manning
was limited in practice this week with a sore backside.
It doesn't look to be a big deal. But if
Mario Williams
plows through and buries Manning on his butt, maybe it turns into more of a problem. Williams didn't wreak much havoc in the first meeting between these teams but seemed to come out of the bye week feeling better after dealing with a shoulder injury for most of the season. If the Texans finally break through, they are going to need a contribution from Williams. Indy is 14-1 against Houston.
Chris Johnson
has five consecutive games in which he gained at least 125 yards rushing
while averaging at least five yards per carry. In NFL history, the only other player to do that in five straight games was Jim Brown for Cleveland in 1958. Can Johnson keep it up? Arizona's rush defense is eighth in the league, giving up 103.2 rushing yards a game and 4.3 yards a carry.
The Jaguars will be shooting for their first four-game win streak since Week 2-6 of the 2007 season.
Look for a big day for the
David Garrard
-
Mike Sims-Walker
connection. The 49ers have yielded an average of 286 passing yards in their last six games, including four 300-yard games. Walker is dealing with a knee injury, but practiced with it. Jacksonville's last trip west was a disaster. Here's their chance to maintain control of their playoff fate and show they've grown into a team that can handle such a trip
It would be great if the Texans could get
Kris Brown
a mid- or short-range field goal chance.
It's impossible to dictate such things. But after long misses against the Colts and Titans that could have forced overtime, odds are he's in one of those places where kickers go when things are tough. To mentally get him back, it'd be nice to send him out for a relatively easy three points. His last five tries: 56 good, 42 wide left, 49 wide right, 26 good, 49 wide left.
If home field advantage still exists for the Titans, it should show itself Sunday against Arizona.
Tennessee is 2-2 at LP Field this year, but the Cardinals are the last team making its first trip to the venue. The Titans are 23-7 in such situations. Also in the Titans' favor: They are 11-2 against the NFC since 2006, second only to the undefeated
New England Patriots
.
December, 11, 2008
12/11/08
5:36
PM ET
Posted by ESPN.com's Paul Kuharsky
Fred Taylor deserves a better exit, and I hope he gets to make one.
The Jaguars officially put him on injured reserve Thursday with a thumb injury, and they could decide they want to turn more over to Maurice Jones-Drew and pair him with a younger back next year.
| | |
| --- | --- |
| | |
| | Matthew Emmons/US Presswire |
| | Fred Taylor has 11,271 career rushing yards and 62 rushing touchdowns, all with the Jaguars. |
Taylor is a class act and a real pro. Way back in 1999 and 2000, when I covered the Titans for the Tennessean, he repeatedly gave us fodder on conference calls because he could just not get himself to admit the Titans were the better team in Tennessee's Super Bowl season, when they handed the Jaguars their only three losses. Samari Rolle and Jevon Kearse and Keith Bulluck always joked about that unwillingness to concede and talked about him with the sort of cross-rivalry affection that made us figure he had to be a special kind of guy.
This year, my first tracking the entire division, I got to have a couple of long talks with him during training camp and I visited with him after wins and losses. He's a stand-up, no-excuses, candid guy who front office types, coaches, the media and fans wish would rub off on a larger percentage of the NFL player pool.
He's been something to watch, too.
This year, when I've had the good fortune to see a good share of the work of Chris Johnson and Steve Slaton, Taylor's ridiculous 34-yard run in Week 3 at Indy may still rank as the best I have seen live.
Here's what I wrote in my game-column blog that afternoon:
• Taylor's third-quarter 34-yard run that set up Jones-Drew's second touchdown was something to behold.

He started right, benefited from a block in the pack that kept Marlin Jackson from getting his hands on him, bounced backwards and headed left. As he turned the corner, he unsuccessfully tried to set up a block by Garrard, then just flew past him and found room up the left sideline where you would have expected there was none.

"That's how long it was?" he said when asked about it. "It felt like it was about 150. Foremost, they slanted that way. Naturally if I see a lot of the different color going that way, I've got to go opposite.

"Fortunately the linemen kept pushing, I was able to hop out of an ankle tackle, went around. David was trying to lead me, that didn't work, and then I just put my foot down and went North and teammates, they just kept coming, showing great effort. Next thing you know I am 34 yards down the field."

Simple, see?
AFC SOUTH SCOREBOARD
Thursday, 12/18
Sunday, 12/21