December, 24, 2013
12/24/13
5:10
PM ET
NASHVILLE, Tenn. --
Tennessee Titans
coach Mike Munchak said on Monday he hopes for the support of general manager Ruston Webster going forward.
We know the two have a good working relationship.
We know Webster has not offered any indication he doesn't support Munchak, but he also has not been out front banging the drum that the coach will or should be back for his fourth season in 2014.
[+] Enlarge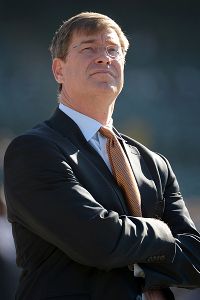 Kirby Lee/USA TODAY SportsTitans general manager Ruston Webster will have some hefty team and personnel decisions to make once the 2013 season ends.
It's not his drum to bang.
Webster will have input, but the final decision belongs to the head of the new ownership group, team president and CEO Tommy Smith.
Webster may tell Smith he believes completely in Munchak and thinks he should be back. He also may say otherwise.
Munchak was the hire of late owner Bud Adams, and Mike Reinfeldt was general manager at the time. Reinfeldt moved up a notch in the front office to senior executive vice president and chief operating officer in 2012, and Webster was then promoted to GM.
Then Adams fired Reinfeldt after the 2012 season, largely for his failure to chase
Peyton Manning
as aggressively as the owner wanted him to.
Smith made it clear when he recently spoke to Nashville media that Webster is well liked and completely safe as the team's top football executive in Nashville.
Webster is low key and hardly a power-hungry guy. But his reputation is on the line when he gives Smith his assessment. He may never have a position of more strength, and if he believes the Titans would be better served by a new coach, he will say so. And he would have a big hand in putting candidates in front of Smith.
If Webster backs Munchak, the coach stays and things don't get better, Webster's rep gets dented, too.
I don't know what his answer will be when Smith says, "What should we do?" But I don't think it's a certainty that he feels married to Munchak in the way many seem to assume.
Webster worked for the Buccaneers from 1988-05 and for the Seahawks from 2006-09.
I looked at the staffs of those teams to create a list of guys he could look to if he's asked to provide candidates to take over for Munchak. A front-office guy isn't always in position to get to know coaching staffs well, but Webster certainly knew many of these guys on a level where he gained some insight. Maybe no one with a previous connection would be a candidate, but usually there would be at least one guy with some prior connection in the mix.
Webster has worked with head coaches Ray Perkins, Richard Williamson, Sam Wyche, Tony Dungy, Jon Gruden and Mike Holmgren in addition to Jeff Fisher and Munchak.
It's rather amazing some of the coaches he has worked with when they were assistants with the Buccaneers and Seahawks. Eleven of them went on to be head coaches: Mike Mularkey, Herm Edwards, Rod Marinelli, Lovie Smith, Jim Caldwell, Mike Tomlin, Raheem Morris, Ray Rhodes, Jim Zorn, Jim Mora and Gus Bradley.
And he's been with the same organization as some well known, quality assistants: Sylvester Croom (again now with the Titans), Mike Shula, David Culley, Monte Kiffin, Clyde Christensen, Rich Bisaccia, Kyle Shanahan, Bruce DeHaven and Greg Knapp.
Mularkey was one of the guys the Titans looked at when Adams wound up promoting Munchak. Mularkey flamed out in one season in Jacksonville in his second stint as a head coach, and I doubt his overbearing, controlling style would be attractive at this point.
Smith, Caldwell and Jay Gruden are on the NFL's Career Advisory Development Panel's
list of head coaching candidates
, per Peter King of The MMQB.
I've not talked to Webster about any of these guys. If he's creating a list, it wouldn't surprise me if one or more of these names are on it based on his previous experience with them.
•
Lovie Smith
had a good run with the Bears before being fired after a 10-6 season in 2012. He's a cool and collected coach from the Dungy tree. The issue is that he's a defensive coach who consistently failed to develop a quarterback with the Bears and could never find the people or formula to build an offensive line that offered sufficient protection. Smith was linebackers coach in Tampa from 1996 through 2000. The Titans have severe linebacker issues.
• Current Cincinnati offensive coordinator
Jay Gruden
was an offensive assistant with the Buccaneers in 2004-05 while Webster was also in Tampa. Gruden has passed on some head coaching interview opportunities in the recent past, but might feel ready for them now. My one big concern based of what I saw of him on "Hard Knocks" is the super complicated play calls in his offense. I like him as a candidate if he promised to scale back and simplify.
•
Aaron Kromer
was a senior assistant with the 2005 Bucs and is now offensive coordinator and offensive line coach of the
Chicago Bears
. Things have gotten a lot better with the Bears offense this season, but how much of that has been because of him and how much is because of his boss, Marc Trestman? Kromer worked as an interim head coach during one stage of Sean Payton's suspension with the Saints in 2012. That was hardly a raging success. They started 0-4 and finished his six games 2-4. I'm told he's dry publicly, but confident.
• UCLA coach
Jim Mora
coached defensive backs for the Seahawks in 2007 and bumped up to assistant head coach and defensive backs coach in 2008. I have no idea if he's interested in a return to the NFL. But in three seasons as Atlanta's head coach (2004-06) he compiled a 27-23 record. Perhaps he'll be regarded as a guy whose second turn as a head coach after time away from working as an NFL head coach could be a lot better. It worked that way for Pete Carroll and Bill Belichick.
November, 15, 2012
11/15/12
1:30
PM ET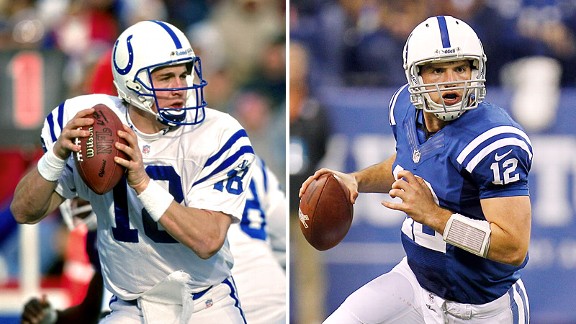 Getty ImagesPeyton Manning and Andrew Luck's rookie seasons as the Colts' starting QB have been eerily similar.
Peyton Manning
and
Tom Brady
will always be linked as contemporaries and rivals.
No matter how much longer Brady plays, it's unlikely he and
Andrew Luck
will be grouped in the same way.
At this stage, the modest Luck is level-headed when his name comes up with the other two.
"I definitely don't deserve to be in that sentence or breath as you said," he told a questioner in a conference call with New England media this week. "If someday I can play at a level that Peyton and Tom play at, then that'd be a quarterback's dream come true."
As Luck and the next-generation Colts get ready for their game against New England Sunday at Gillette Stadium, it seems like a reasonable time to compare what Luck is doing as a rookie to what Manning did in his first year, way back in 1998. (You can compare Luck to other quarterbacks at the same stage of their rookie year at
this Indianapolis Star page
.)
Manning had more experienced skill players, with Hall of Fame running back
Marshall Faulk
, receiver
Marvin Harrison
and tight end
Marcus Pollard
, and it was run by a veteran GM in Bill Polian. Although coach Jim Mora was in his first season with the Colts, he already had 11 years of experience as an NFL head coach.
Luck's on a team loaded with young guys at the skill positions after receiver
Reggie Wayne
, put together by a first-time general manager in Ryan Grigson, run by a first-time head coach in Chuck Pagano and overseen by a first-time interim coach in Bruce Arians.
A snap shot comparison of rookie Luck and rookie Manning ...
Vision:
When Luck was coming out of Stanford he was routinely compared to Manning, particularly with regard to football understanding.
"The similarity is they see the field the same exact way," said Polian, now an ESPN analyst. "They are the same guy in terms of seeing the field, knowing what the progressions are, understanding the defenses. All of that is the same."
300-yard games:
Manning had four 300-yard passing games as a rookie. Luck has four 300-yard passing games as a rookie, including a rookie record 433-yard performance against the Dolphins.
No huddling:
Arians was the quarterback coach for Manning at the start and is offensive coordinator (and now interim coach as well) for Luck at the start.
A key element of Arians' offense is the no-huddle. Luck's done very well running it.
"We're asking Andrew to do a whole lot more than we did with Peyton," Arians said a couple weeks ago. "Peyton we gave two or three plays in the huddle, he was great at that phase of it, a lot of check-with-me's, but we didn't do the no-huddle until his second year. He was great as a two-minute rookie, because coming out of college, those guys play in that shotgun and spread offense pretty good, and that's usually what you do in two-minute, so it's natural for him and the field gets a little cleaner. I think he's a step ahead only because of what we're asking him to do, and he's doing it with a bunch of rookies, whereas Peyton had some really good players on that team."
Arians said he's caught himself looking to install some things too fast because of Luck's ability to handle it. The coach has reminded himself he's game-planning for four or five other rookies who regularly see time on offense, too.
On the move:
As a rookie, Manning ran 15 times for 4.1 yards a carry. He didn't score and was sacked 22 times.
Through nine games, Luck has run 34 times for 4.7 yards a carry. He's scored five touchdowns and has been sacked 21 times.
"The biggest difference between the two is obviously Andrew's ability to make plays with his feet," Polian said. "... He has really good ability to make plays with his feet. He's not dissimilar to Green Bay's guy [
Aaron Rodgers
] in that regard."
Completion percentages:
Luck's currently stands at .575. Manning finished his rookie season at .567.
Pace:
In 1998, a team with a new coach and a rookie quarterback was expected to need some time to build. In 2012, a team with a new coach and a rookie quarterback is expected to need some time to build, but hardly gets the same degree of patience 14 years ago -- externally or internally.
"We don't have time, we don't have time," Wayne said recently. "People like me, I can't speak for Rob [Mathis], but people like me, I see the light. I see the light, man. So I don't have the time to sit back and rebuild and say 'Oh, we'll be better at that next year or in a couple years, we should be in the hunt.'
"We need to be in the hunt now. We are in the hunt. We're in a good situation, that's why we want to continue to win games."
Manning's Colts were 1-8 through nine games en route to a 3-13 record and a fifth-place finish in the AFC East. Luck's Colts are 6-3 through nine games, with a strong hold on second place in the AFC South and a real shot at a playoff spot.
November, 6, 2011
11/06/11
9:41
AM ET
Reading the coverage…
Houston Texans

Cut-blocking, which is legal, is viewed as "cowardly," per Cleveland defensive end Jayme Mitchell via the Akron Beacon-Journal, writes Jeffrey Martin of the Houston Chronicle. The Texans continue to hear opponents
grumble about their style
. But when opponents say "dirty," the Texans hear "hard," as in the opposite of "soft," which is a tag that has saddled the team for years. That their style gets in people's heads ahead of time gives them an advantage, I believe. They are a tougher football team than they used to be.
Cut blocking is legal. But Jerome Solomon of the Chronicle asks
if it's ethical
. I ask if a football team needs to be concerned with such a question as it tries to plot a course to success. The Texans are very good at what they do, and have built a roster to do it.
Indianapolis Colts

What has Chris Polian done to assure his long-term security, asks Bob Kravitz of the Indianapolis Star. Kravitz spoke to several former Colts people who said Polian has been "
a toxic force
who has brought this franchise to its knees for reasons other than Peyton Manning's injury." "Tell me, what has Chris Polian actually done besides win the genetic lottery?" Wow. Those are some very strong words.
Special teams coverage and returns have stubbornly
defied sustained improvement
for years, writes Phil Richards of the Indianapolis Star. Through three head coaches and special teams coordinators -- Jim Mora and Kevin Spencer, 1998-2001; Tony Dungy and Russ Purnell, 2002-08; Jim Caldwell and Ray Rychleski, 2009-present -- they have remained largely substandard. I believe the team is simply too willing to not be good on special teams.
Jacksonville Jaguars

Gene Frenette of the Times-Union offers his
midseason report card
for the Jaguars. He's got an F for passing offense and a D for coaching, grades that offset some Bs.
"It would completely fly in the face of (Wayne) Weaver's image as a patient owner to jettison (Gene) Smith
after three years
," writes Frenette. "My goodness, he's given (Jack) Del Rio nine years, longer than any coach in history without winning a division title. He gave Smith's predecessor, James Harris, six years despite totally setting this franchise back with repeated first-round draft busts." I agree. A housecleaning should not include Smith, and he should be hiring the next head coach.
Tennessee Titans

Javon Ringer finds himself
a larger part
of the Titans' offense than he or anyone else would have envisioned at the start of the year, writes John Glennon of The Tennessean. Ringer is averaging more yards per run and reception than Chris Johnson, carried the ball a career-best 14 times last week against the Colts, and was on the field for the last three drives of the game. If he's running better, he needs to play more, I believe. I'd make him, minimally, the third-down back.
Marshall Faulk knows what
hitting a wall
looks like and feels like, and tells Jim Wyatt of The Tennessean that Chris Johnson has not hit a wall. But Falk has serious questions about CJ: "Right now, he looks like a guy who doesn't have a good grasp of what they are trying to accomplish in the running game. He is running like a guy who is not certain about how teams are attacking him."
February, 2, 2011
2/02/11
10:13
AM ET
Reading the coverage…
Houston Texans
Before he was a Pro Bowl corner for a Super Bowl team, Tramon Williams was an
undrafted free agent
for the Texans, says John McClain.
Cameron Jordan is the pick at 11 for Houston in Lance Zierlein's
first mock draft
.
The Texans shouldn't
treat free agency
as a big, scary bad thing that can ruin a football team, says Houston Diehards.
Indianapolis Colts
Super Bowl representatives from Indianapolis are
watching and learning
in North Texans, says Bob Kravitz.
This should have been
Indy's Super Bowl
, Kravitz says.
Marvin Harrison's Hall of Fame case
shouldn't be necessary
, says Nate Dunlevy.
Looking at the Colts'
defensive tackles
and
defensive ends
, with Brett Mock.
Jacksonville Jaguars
Byron Leftwich has
embraced his second chance
with the Steelers, says Vito Stellino.
Jaguars' fans
will miss Vic Ketchman
, says Gene Frenette.
Ketchman's
final chat
at jaguars.com is at noon ET Wednesday.
How prospects fit so far into
one formula
for drafting quarterbacks, from Alfie Crow.
Tennessee Titans
Mike Heimerdinger
is upbeat
about the job opportunity and his health and Jim Mora is expressing interest, say John Glennon and Jim Wyatt.
Bud Adams' dreams for his next coach
don't match reality
, says Joe Biddle.
Even with his team on the verge of a Super Bowl, Ted Thompson
is curious
about Mike Munchak and the Titans, says Wyatt.
Ray Sherman still
has not heard
from the Titans, says Wyatt.
The Titans are
no worse off
than the 2007 Falcons, and look at Atlanta now, says Bob McClellan.
January, 22, 2011
1/22/11
9:50
AM ET
Reading the coverage … and getting takes on the championship games from some AFC South perspective.
Houston Texans
The AFC Championship Game coaches are
successful and popular
, says Jerome Solomon.
John McClain
likes
the Steelers and Packers.
Indianapolis Colts
Jay Cutler is
Santa Claus' gift
to the NFL, writes Jeff Rabjohns.
Who to root for
Sunday, from a Colts' fan perspective.
Jacksonville Jaguars
When
to select a quarterback in the draft is a big question for Gene Smith, says Gene Frenette.
Tennessee Titans
Eric Mangini has emerged as
a candidate
for the Titans defensive coordinator job, says Jim Wyatt. Jim Mora, Clancy Pendergast and Dave McGinnis appear to be other possibilities.
January, 21, 2011
1/21/11
9:49
AM ET
Titans coach Jeff Fisher either completely butchered the
Chuck Cecil
situation or completely manipulated it.
Whichever it was, Fisher looks horrible today and has some very tough questions to answer when he finally has his staff together.
[+] Enlarge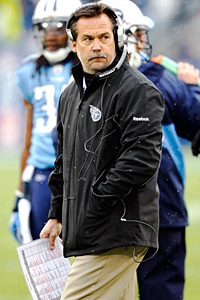 AP Photo/Paul SpinelliJeff Fisher has vacancies to fill at defensive coordinator and defensive line coach.
Fisher fired Cecil, his defensive coordinator the past two seasons, Thursday.
Originally we thought Fisher merely declined to retain Cecil. But Jim Wyatt reports that Cecil was offered and signed
a one-year extension
late in the season. That means he's getting paid by Bud Adams in 2011 while not working for the team. And Adams is an owner who absolutely hates to pay people who are no longer around. It likely takes money from the pool Fisher has available to pay other assistants as he signs them to one-year deals that line up with his.
I believe one of two scenarios panned out regarding Cecil:
Fisher finally realized the extent of the team's discontent with Cecil after hearing from Jim Washburn, the defensive line coach who bolted for Philadelphia Wednesday. Though several players had told the head coach they would be disinclined to return if Cecil remained, Fisher didn't take such talk as seriously as he should have. Thursday, the switch finally flipped.

Fisher knew he was going to have to part ways with his good friend even as he gave him the extension. Leaving Cecil out of the loop, Fisher put as large a time period between a new contract and the firing as he could, ensuring his pal has a 2011 salary if not a job.
It's a sad development, either way. Cecil deserves blame, but he didn't draft underachieving players such as
Gerald McRath
or Sen'Derrick Marks and he didn't underperform like
Will Witherspoon
and
Tony Brown
did.
Who can Fisher get? Dave McGinnis could be promoted from linebackers coach. Maybe Dick Jauron or Jim Mora would buy into a year with Fisher providing a payoff. Or maybe we see something David Climer smartly proposed: Fisher
captaining the defense himself
.
If the ship is sinking, the top guy might as well be at the wheel.
February, 2, 2010
2/02/10
7:27
AM ET
Must reads
Chad Ochocinco will be covering Super Bowl week with his
Ochocinco News Network
.
Here's what you need to know about
labor pains ahead
, courtesy of Tim Graham.
More players have pledged
their brains
to a concussion study.
The combine
invite list
from the National Football Post.
Houston Texans
The Texans are working on
an extension
for Gary Kubiak, says John McClain. I think you can tie your hands long term by making such a move and that a contract year for a coach can be a good thing like a contract year for a player can be.
Richard Justice thinks it's
the right way
to go.
Super Bowl/ Indianapolis Colts
The Colts are preparing for
the worst
with Dwight Freeney, says Mike Chappell.
Freeney's value
cannot be overstated
, says Bob Kravitz.
These are
familiar surroundings
for the Colts, says Phil Richards.
Bill Polian says Freeney is
50-50
, writes John Oehser.
Ryan Diem
anchors
the offensive line, says Stacy Clardie.
Jim Mora's
unwavering faith
was a big piece of Peyton Manning's development, says Clark Judge.
Jim Irsay's best move was
getting Polian
in place, says Judge.
The Colts are built like
a family
, says Thomas George.
Joseph Addai
embraces his role
running in Manning's shadow, says Nancy Gay.
Nothing's going to stop
Freeney from playing, says Robert Mathis. Jason La Canfora's story.
The Colts and Saints
must avoid temptations
, says Alex Marvez.
These guys rank as
hidden gems no more
, says Clifton Brown.
Who'd have the edge if the
starting quarterbacks went down
, asks Don Banks.
Pierre Garcon is hitting the big time
at the right time
, says A.J. Perez.
Players will get the headlines but
it's coaches
who lay the groundwork, says Pat Kirwan.
The Kyle DeVan story
from Shutdown Corner.
Jacksonville Jaguars
The Jags are in
not so Super
company, says Vito Stellino.
Tennessee Titans
Chris Johnson talks contract again, saying he should be the NFL's
highest-paid
running back, says Jim Wyatt.
An uncapped year will
restrict six Titans
, says Terry McCormick.
October, 4, 2009
10/04/09
10:22
AM ET

Posted by ESPN.com's Paul Kuharsky

Greetings from Indianapolis, where I will head over to Lucas Oil Stadium shortly to get ready for Seahawks-Colts.

Here's your mandatory morning pregame reading:

Houston Texans
Indianapolis Colts
Jacksonville Jaguars
Tennessee Titans

August, 9, 2009
8/09/09
1:40
PM ET
Posted by ESPN.com's Paul Kuharsky

Tony Pierce in Muncie, Ind., writes:
Paul, Please remind everyone that the birth of the Colts as we now know them did not occur under Tony Dungy and that his departure while sad does not automatically mean they will miss the playoffs. Bill Polian is the mastermind here and this team actually started down this path of dominance under Jim Mora. Mora took this team to the playoffs twice going 13-3 and 10-6 until the year
Edgerrin James
went down and then it was 6-10. Jim Mora failed to fire the D coordinator which led to his release and the hiring of Tony Dungy. Yes Dungy continued the winning and helped to build the team to what it is, but they are built to win and Jim Caldwell would have to completely incompetent to mess this up.
Paul Kuharsky: You're right, Tony. The three staples for a successful team are GM, coach and quarterback and while Polian is more than a GM, he and Peyton Manning are in place and that should ensure stability. Also, it's not like Caldwell is some outsider with a dramatically different philosophy.
---
Rahul in Houston, Texas, writes: I've been hearing that Rex Grossman has looked better than Schaub and Orlovsky in the opening days of training camp. While I know Schaub's job is safe, the comp between Rex and Dan has to be favoring Grossman at this point. What have you been hearing and seeing?
Paul Kuharsky: I've not been seeing anything yet; I won't be in Houston until Aug. 18.
Orlovsky got three years for $8.5 million. That's a pretty good investment. I don't have the guarantee in front of me, but they like him enough to set the market for backup quarterbacks with that contract. I believe it would take a very poor camp from him and a great preseason from Grossman for them to flip the two on the depth chart.
---
Robert Vega in Melbourne, Fla., writes: Paul, regarding the Titans wearing the Oilers logo, I think it's an insult to the fans. None of the current Titans fans bled Columbia Blue and filled the House of Pain (with the exception of those who sold out their city to follow the team to Tenn). The majority of the Luv ya Blue fans are now Texans fans and it's a slap in the face to see those jerseys in another city. While it's been a while, the wounds that Bud Adams inflicted on the city of Houston still hurt. While I have since moved away, I still keep an Oilers helmet in my living room, but I will take it down on the days the NFL allows the Titans to desecrate those beloved uniforms.
Paul Kuharsky: I understand your feelings on the matter. But like it or not, it's not about the cities, it's about the owner.
July, 17, 2009
7/17/09
12:00
PM ET
Posted by ESPN.com's Paul Kuharsky
The AFC South's overall success in 2008 came in good part to its interconference matchups. They were a collective 11-5 against the NFC North with no team worse than 2-2.
What awaits the division when it faces the NFC West this season?
Last year doesn't give us too much information, but at this point in time it's hard to say anything but the matchups look favorable. In 2008 the NFC West was a collective 20 games under .500 while the AFC South was 12 games over.
Here are seven interesting storylines or factors that will come into play in AFC South against NFC West this season.
1. Slowing top receivers: Teams in the AFC South are built on the thinking that they have to be able to matchup with some pretty good receivers. Yes, Marvin Harrison is gone, but Indianapolis still has Reggie Wayne, and Anthony Gonzalez could evolve into a tough matchup. And the Colts, Titans and Jaguars know they have to try to slow the excellent Andre Johnson twice a season. Now the division also has to contend with Torry Holt. How does such defensive construction translate against a division featuring Larry Fitzgerald, Anquan Boldin, T.J. Houshmandzadeh, Isaac Bruce and rookie Michael Crabtree?
2. Super rushers in big-time matchups: Preparing for the AFC South means preparing for a big-time edge rusher off the right side. Houston's Mario Williams, Indy's Dwight Freeney and Tennessee's Kyle Vanden Bosch are relentless in their quarterback pursuit. Their matchups with Seattle's Walter Jones and San Francisco's Joe Staley should be something to see, and the ability or inability of Arizona's Mike Gandy and St. Louis' Alex Barron to slow them will be critical storylines in those games. And are AFC South left tackles assigned to stop those big rushers in two games a year -- Michael Roos, Tra Thomas/Eugene Monroe, Tony Ugoh and Duane Brown -- also equipped to handle Justin Smith, Chris Long and Bertrand Berry?
| | |
| --- | --- |
| | |
| | Aaron Josefczyk/Icon SMI |
| | The Colts' Peyton Manning could have big days against the NFC West's pass coverages. |
3. Unfamiliar defenses vs. Peyton Manning: No, rank against the pass isn't a tell-all stat. But St. Louis ranked 19th against the pass last year, and that was tops among NFC West teams. The Rams, 49ers (20th), Cardinals (22nd) and Seahawks (32nd) are going to have to show they're much better and can be resourceful if they have a chance to minimize the damage inflicted by Manning. Otherwise, he may well pick them apart.
4. Getting to know Jim Mora: Mora is the new coach of the Seahawks. None of the AFC South teams played against the Mora-coached Atlanta Falcons teams in the regular season while he coached that franchise from 2004-06. But Jeff Fisher's 1999 Titans lost to a San Francisco team that had Mora as its defensive coordinator. The Jaguars beat the Niners that same year on opening day, but don't have a player or coach left from that team, so aren't likely to find any help in it. Indy will have a little organizational recall of Mora's defense from a loss to the 49ers in 2001. The AFC South doesn't have a lot to go on, either, as it prepares to face three other coaches who have not been with their teams long. Fisher does know Mike Singletary -- they were teammates on the Bears.
5. How will two teams from the Eastern
time zone and two from the Central travel West: Including the playoffs, AFC South teams are 5-16 in games at Seattle, Arizona, San Francisco, San Diego and Oakland since realignment in 2002. That includes 0-7 for the Titans, whose playoff fate could come down their first trip to Qwest Field, a Jan. 3 regular-season finale.
6. Will the Cardinals draw in North Florida: Things are not looking good for the Jaguars in the ticket sales department, and a visit by St. Louis combines with home games against Kansas City, Buffalo and Miami outside the division to make for a less-than-stellar slate to market. But the defending NFC Champion Cardinals are in Jacksonville on Sept. 20. If the combination of the Jaguars' home opener and Kurt Warner, Fitzgerald and Boldin coming to town doesn't produce a buzz and a sellout, it won't bode well for what's ahead.
7. Battle of the rookie running backs: Colts president Bill Polian once passed on Ricky Williams in favor of Edgerrin James, and came out looking very smart. In April, with Knowshon Moreno long gone, Polian tabbed Donald Brown ahead of Beanie Wells. This season the Colts head to Arizona Week 3 and will use Brown against a team that took the back Polian passed on in the first round. The Cardinals preferred Brown to Wells as well. Here we get close looks at both the backs from late in the first round in a game pitting the teams many rate as the favorites in these two divisions.
July, 3, 2009
7/03/09
7:52
AM ET
ESPN's Mike Golic discusses some of the new coaches heading into the 2009 season.