January, 17, 2013
1/17/13
6:35
PM ET
For a good while I've said I wasn't sure defensive coordinator Jerry Gray was safe.

Now I'm pretty sure he is.
The Titans announced their staff changes this evening and Gray isn't among them.
In are:

Shawn Jefferson as wide receivers coach, George Henshaw as tight ends coach and Sylvester Croom as running backs coach.

Solidified is:

Dowell Loggains as offensive coordinator

Moving are:

Dave Ragone to quarterbacks from wide receivers, Nate Kaczor to special teams coach from assistant offensive line and Chet Parlavecchio to linebackers from special teams assistant.

Gone as previously reported

by Jim Wyatt of The Tennessean are: Frank Bush (linebackers), Alan Lowry (special teams), Jim Skipper (running backs) and John Zernhelt (tight ends).
"Over the last two weeks I have spent my time reviewing our coaching staff and interviewing numerous candidates from the college and pro ranks at a variety of positions in order to improve our coaching staff," said Titans coach Mike Munchak in a statement. "The goal in every decision I have made has been to do whatever I believe puts us in the best position to win this year. I believe with the new coaches that we have added and some shuffling of the current coaches, we have made our staff better. We were able to add proven coaches and by moving others around, it will change the dynamic in the meeting rooms and on the field. We still have some spots remaining to fill and I am always looking to improve our staff, so it is still a work in progress."
Notes on a few of the guys involved in the changes:
Ragone was one of the big surprises on Munchak's initial staff. He came with fired offensive coordinator Chris Palmer from Hartford of the UFL and deserves a great deal of responsibility for the maturation and production of Nate Washington. Now he'll shift to the position he played and work with Jake Locker, making room for Jefferson, who's been with the Lions the past five seasons where Calvin Johnson set a new single-season record for receiving yardage in 2012.

Henshaw returns to the Titans coaching staff where he spent nine seasons working with the tight ends from 1997-2005. Jeff Fisher pushed him off the staff over issues not related to the play of the tight ends.

Croom has been head coach at Mississippi State and has worked as an offensive coordinator and running back coach in the NFL. He was part of the Jacksonville staff last season coaching backs.

The fiery Parlavecchio spent the past two seasons with the Titans as the Assistant Special Teams coach. He coached linebackers at Temple from 1992-93 but after that worked as a high school coach before his Penn State teammates Munchak brought him into the NFL.
The biggest move, however, is one not made with Gray. While Munchak was quick to point out after the season that not all the points scored against the Titans were scored against the defense, the Titans gave up a franchise-record 471 points, most in the NFL.
If Munchak felt Gray did a good enough job to remain defensive coordinator, then Munchak must really feel the Titans had insufficient personnel on that side of the ball. The team needs an infusion of talent there and it can't come strictly from the draft.
They need a free-agent class like they signed in 2006, when safety
Chris Hope
and linebacker
David Thornton
joined Tennessee from successful franchises and brought heavy doses of leadership and production.
Munchak has two years remaining on his contract. Presumably the Titans have to make the playoffs in 2013 for him to get an extension and see that last year.
He now has assembled the coaching crew with which he wants to try to meet that goal.
I suspect he's going to be left with regret over now taking larger chances on defense.
January, 14, 2013
1/14/13
1:17
PM ET
We see an assistant coach fired and, if the move comes as a surprise, we tend to see fall guys, scapegoats, victims.
While the Jaguars are likely to have close to an entirely new staff under a yet-to-be-determined head coach, and while Marwan Maalouf is out as special teams coach in Indianapolis, the big AFC South turnover so far has come in Tennessee.
Mike Munchak fired Chris Palmer as his offensive coordinator with five games left in the season. Since the 6-10 campaign came to an end and Munchak got a vote of confidence from owner Bud Adams, Munchak has also parted ways with running backs coach Jim Skipper, tight ends coach John Zernhelt, linebackers coach Frank Bush and special teams coach Alan Lowry.
To reach many of you have said, "Yeah, that'll fix it."
We need to see not only who's out, but who's in to start to judge the moves.
I wasn't a big fan of Bush, but as I wrote, his was one position where the Titans actually had
an up arrow
.
That doesn't automatically mean he was doing a good job or that it was unfair to dismiss him.
After all, isn't it possible Munchak evaluated the position and thought things could have been even better? Couldn't there have been something the group wasn't doing that Bush wasn't sufficiently correcting? Might he have developed philosophical differences that conflicted with his bosses?
I don't know why he's out.
But I do know Munchak is unlikely to have fired him on a whim. I do know that while there is a degree of covering one's own behind with any move made on a staff, NFL coaches don't make most moves lightly. After all, they were all position coaches once.
I do know that because of the way Munchak operates, we're probably not going to get the real reason he parted ways with these guys, not in specifics. He'll see no reason to advertise those publicly, even if many of us will jump to incorrect conclusions as a result.
I've never been in position to hire.
But I don't think it's very easy to put together a staff of 15 or so and hit on every one of them the first time. A coaching staff, as I've written before, is a sort of
an evolving organism
.
I suspect Titans fans would feel better about the guys who are gone if defensive coordinator Jerry Gray was with them. It's not a certainty, yet, that Gray has survived this purge.
If he does, there is an inside reason for that, too, and it's something more than loyalty.
In time maybe we'll learn more about why Coach X stayed and Coach Y was cast aside.
In the meantime, let's not simplify it to where if a position is good that means the position coach is good or vice versa.
January, 11, 2013
1/11/13
7:24
PM ET
Mike Munchak's staff cuts are growing increasingly surprising.
Special teams were up and down this year, but the ups didn't count for enough.
Alan Lowry, who penned the franchise's most famous play, the Music City Miracle kickoff return that beat Buffalo in a 1999 playoff game, is out,
reports Jim Wyatt
of The Tennessean.
"It's been a great run for me," Lowry told Wyatt. "I've enjoyed my time with the Titans. To me, it wasn't about production on the field."
Among coaches who ran meeting rooms, Lowry was the longest tenured coach with the team. He joined the Oilers in 1996. (Strength and conditioning coach Steve Watterson's been with the franchise since 1986.)
That's four assistants out since the season so far for Munchak -- running back coach Jim Skipper, tight end coach John Zernhelt, linebacker coach Frank Bush and Lowry.
Munchak has those four spots plus quarterback coach position to fill. Dowell Loggains was promoted from quarterback coach to coordinator with five games left when offensive coordinator Chris Palmer was fired. Indications are Loggains will remain in the coordinator role.
No names of potential incomers have surfaced yet except for John Shoop, who interviewed for the quarterback coach job.
Munchak got a vote of confidence from owner Bud Adams the day after a 6-10 regular season ended. He has two years left on the deal he signed when he replaced Jeff Fisher in 2011. That transition came late and he didn't necessarily get to shop for assistants while the market was at its peak.
There are plenty of possibilities out there for him now.
We need to see who comes in to have a fuller feel for what Munchak is doing, and I'm not certain he's done showing people the door.
I always remember talking with a coach in his first couple years who said one of the best pieces of advice he got from a veteran mentor was not to think of his initial staff as anything close to permanent. While loyalty is important, it is trumped by performance and working relationships, and the odds of everyone proving to be the fit a coach needs on his staff are small. As a team evolves, staff needs can change.
Munchak is very likely heading toward a season where he needs to make the playoffs or be fired.
Significant turnover on the staff clearly is part of what he's expecting to help improve the Titans' fortunes.
January, 10, 2013
1/10/13
12:09
PM ET
Frank Bush is out as the
Tennessee Titans
linebackers coach,
reports Jim Wyatt
of The Tennessean.

He's the third coaching casualty from Mike Munchak's staff, following running backs coach Jim Skipper (who was not renewed) and tight ends coach John Zernhelt.
The Bush move is the most puzzling of the three, only because if any position currently has an up arrow on the Titans, it's linebacker.
Akeem Ayers
is turning into a building block and
Zach Brown
got better and better his rookie year.
Colin McCarthy
has injury concerns, but was elected a captain by the defense in just his second year, and is quite good when healthy.
I don't think Bush is a great coach. While he didn't have talent during his short, failed term as coordinator of the Texans, at least some players there thought he was in over his head. But I wouldn't have put him at the head of the list of at-risk guys.
The issue that will continue to linger for Munchak is Jerry Gray. The coordinator of a defense that gave up the most points in the league and the most points in franchise history remains in place.
For now.
January, 3, 2013
1/03/13
10:13
PM ET
Mike Munchak's first interview for a prospective addition to his staff was former NFL offensive coordinator and quarterbacks coach John Shoop.
The news came to us via Michael C. Wright of ESPNChicago.com.
Indications are that Shoop interviewed for a quarterbacks-coach position, which tells us about the direction Munchak is intending to go as he reshapes his offensive staff.
By interviewing a prospective quarterbacks coach, Munchak appears to be signaling he intends to keep Dowell Loggains as offensive coordinator. Loggains was elevated from quarterbacks coach to coordinator with five games left in the season when Munchak dismissed Chris Palmer.
Shoop was out of coaching last year. He worked as offensive coordinator for Butch Davis at the University of North Carolina before that, as well as with four different franchises in the NFL -- Oakland, Tampa Bay, Chicago and Carolina.
Shoop appears to have been writing a blog,
The Shoop Scoop
, for WCHL-FM at Chapelboro.com, which covers UNC.
Earlier Thusday, it came to light that Munchak will also be looking for
a running-backs coach
. Jim Skipper was told he would not have his contract renewed.
In comments to Jim Wyatt of The Tennessean, Skipper suggested that the biggest help
Chris Johnson
needs going forward will be in the blocking department.
"Chris is the type of back that's going to need help, you know?"
Skipper said
. "He's not the kind of guy who is going to make his own holes. But I think he is in the right direction. He's just had a run of bad luck. If they can get some stability on the offensive line, he'll be fine."
January, 3, 2013
1/03/13
2:25
PM ET
Chris Johnson
is going to have his fifth different position coach when the Titans kick off the 2013 season.

Earnest Byner was Johnson's first position coach, but Jeff Fisher replaced him in 2009 with Kennedy Pola, a coach he'd long coveted.
Pola turned around and left before coaching a game to join Lane Kiffin's staff at his alma mater, USC.
Fisher shifted quarterbacks coach Craig Johnson to running backs for 2010.
Then Mike Munchak took over as head coach and hired Jim Skipper, who came from Carolina.
Now, after two years with Skipper, Adam Schefter reports Munchak decided not to renew Skipper's contract.
Does that mean Munchak thinks a position coach can get more out of CJ? Does it mean Skipper didn't sufficiently help guys like
Jamie Harper
and
Javon Ringer
develop?
I suspect it's some of all of it.
September, 10, 2012
9/10/12
5:35
PM ET
NASHVILLE, Tenn. --
Mike Munchak
kind of, sort of, put himself on the hook for a run-game evaluation -- after a quarter of the season.
[+] Enlarge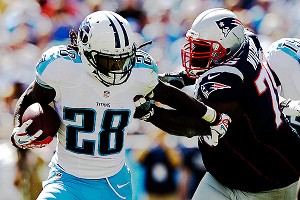 AP Photo/Wade PayneStar Titans RB Chris Johnson had little room to run against New England on Sunday.
Following a career-worst game for
Chris Johnson
, who turned 11 carries into 4 yards in a 34-13 loss to the Patriots, Munchak said he wasn't going to get into breaking down every carry. He said the team would need more time, perhaps a quarter of the season, to assess the run game.
The Titans threw it with success so they got away from the run, and then they were trying to close a big gap so they got away from it even more.
Sunday, the run blocking was poor, but so was Johnson. A back with his skills should be able to gain more than 4 yards on 11 touches no matter how bad the blocking.
It's one game, sure. But the benefit of the doubt clock is ticking on Munchak, coordinator Chris Palmer, offensive line coach
Bruce Matthews
and running back coach Jim Skipper as well as on the guys they are developing.
With no offseason last year and a holdout that took Johnson to the brink of the season, the run game struggles were explained away.
An offseason with Johnson around, with guard
Steve Hutchinson
added to the interior mix, with meetings and installation and more meetings was supposed to fix it.
There were no signs against the Patriots that such repair has occurred.
Darius Reynaud
saw some action on third down and got two carries and three catches against the Patriots, but look for Johnson to get the lion's share of work going forward.
"I think we'll roll with what we have," Munchak said.
As for the possibility of benching Johnson based on lack of production, Munchak said: "Anything's possible but I don't think it's anything that's going to ever happen."
Meanwhile it appears the Titans have addressed their interior line depth. Jim Wyatt of The Tennessean reports they've signed former Cardinals guard
Deuce Lutui
.
September, 5, 2012
9/05/12
9:11
AM ET
Reading the coverage …
Houston Texans
The opening day debacle against the Jets from 2009 should be
a cautionary tale
for anyone feeling overconfident about the Texans' chances when facing the Dolphins on Sunday, says John McClain of the Houston Chronicle.
Indianapolis Colts
On his first Tuesday off, Andrew Luck spent some time
with kids
promoting Play 60, says Phillip B. Wilson of the Indianapolis Star.
The Colts are
moving up
various power rankings, says Mike Chappell of the Star.
Jacksonville Jaguars
While the Jaguars are reasonably excited about Justin Blackmon
boosting the offense
, recent history shows young receivers endure growing pains, says Ryan O'Halloran of the Florida Times-Union.
As Minnesota looms,
optimism reigns
for the Jaguars, says Vito Stellino of the T-U.
Tennessee Titans
Titans running backs coach Jim Skipper on Chris Johnson: "Looking at him with the naked eye,
it's night and day
compared to last year. Cuts, conditioning, his confidence — it's all there. Having a training camp, it helps because it builds your endurance, gets you in football shape. And from that standpoint, it's night and day." Jim Wyatt's story from The Tennessean.
Jake Locker, once projected as a fantastic baseball prospect, has arrived at
his time
as an NFL quarterback, says David Climer of The Tennessean.
July, 30, 2012
7/30/12
10:19
AM ET
NASHVILLE, Tenn. -- In 2009, when
Chris Johnson
was stunning the entire NFL with 2,006 rushing yards, he was lighting it up as a pass catcher too: averaging 10.1 yards per catch.
Take away a 69-yard TD against the Texans on a play they messed up, failing to cover him when he split out, and he still managed 8.8 yards a catch.
Since then, however, while the Titans fed him 101 passes over two seasons, his 663 yards have produced an average far more digestible for defenses -- 6.6 yards. Still solid, but a good distance from 10.1.
[+] Enlarge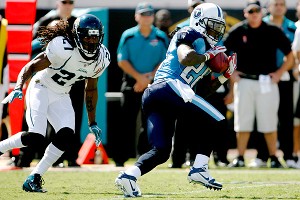 Matt Stamey/US PRESSWIREChris Johnson has averaged 6.6 yards per catch in the two seasons following his 10.1 average in 2009.
Tennessee's offseason talk has been about an explosive offense. Whether it's
Matt Hasselbeck
or
Jake Locker
at quarterback, he'll be throwing to
Kenny Britt
,
Jared Cook
,
Nate Washington
,
Kendall Wright
and, of course, Johnson.
"He's got good hands and he's explosive and he's getting a little better feel for it, when to get open, how to slide," Titans running back coach Jim Skipper said. "The more comfortable he gets, the more confidence a quarterback will have in him. That's just building.
"He's a home run hitter, the guy can knock it out of the park any time."
Johnson's overall determination was in question last year, when he got a big contract extension prompted by a holdout, but then got suspect blocking and fell into bad habits.
Eddie George
recently said on Nashville radio that he saw Johnson stop moving his feet at initial contact and never really get back to it.
Here's the thing that surprised me a bit in Johnson's answers to questions about his role as a pass catcher in 2012.
Johnson's never talked about a willingness to take less of anything -- be it carries, yards, receptions, money or declarations about his speed. And that mentality can be just fine. It doesn't necessarily translate to selfishness in football. It can equate to drive and hunger.
But he said the way he was used as a pass target by Titans offensive coordinator Mike Heimerdinger in 2009 and 2010 and the way he was used last year as Chris Palmer took over the post were different.
"I feel like I am a very good pass catcher, last year I think that' the most passes I've caught," he said.
Though he did have a career-best 57 receptions, he said it wasn't necessarily indicative of his role in the pass game.
Injuries may have led the Titans to look to him more often than they would have liked, and coming from a West Coast offense system, Hasselbeck may have looked to his back sooner and more often than Palmer's more vertical plan will want.
"I think I was a little bit more involved in the pass offense with Dinger," he said. "But with the situation that we've got here, since I got here we got a lot of playmakers on this offense. So it feels good to see a couple receivers out there putting up good numbers. I feel like it's a different situation, if there's a lot of us contributing, a lot of us making plays, I feel like it's not a bad thing that I probably don't get as many catches as I usually do."
Johnson has put on some extra muscle to help him endure the pounding, and was with the team through the offseason for the first time in his career. Those things should help him.
A willingness to understand how being used less as a pass target could actually be a good thing for the team sounds like another sort of progress, too.
October, 20, 2011
10/20/11
3:30
PM ET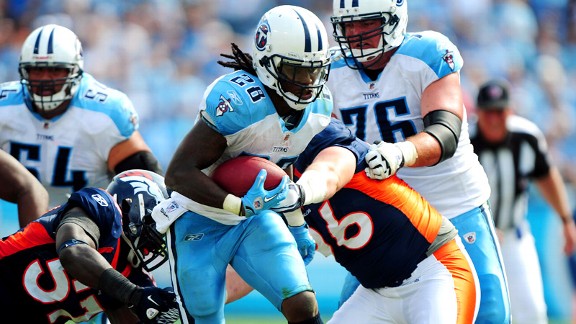 Don McPeak/US PresswireThe Titans are looking for a way to get running back Chris Johnson on track.
NASHVILLE, Tenn. -- It's everybody's fault.
Five games into the
Tennessee Titans
' season,
Chris Johnson
is not running the ball well. The team is fortunate to be 3-2 and heading into a game where it can establish itself as the division favorite without much of a contribution from the guy who's supposed to be their top playmaker.
And everyone involved says they have a role in it.
If the Titans' biggest weapon continues to struggle, the fortunes are going to turn.
So what's wrong?
The consensus is that he has been too hesitant and that the line is not blocking well enough.
"The Titans' interior offensive line and fullback haven't played as well, the guards in particular," one high-ranking NFL personnel man said. "Johnson isn't pressing the hole with as much confidence and hasn't been as decisive on his cuts, but a lot of that is controlled by what movement you're able to get up front to create some creases."
Those are pretty simple conclusions and there are two answers to them:
Play better, which this group has shown before it can do. "We've proven we can get it done," left guard Leroy Harris said.

Change some of the personnel involved.
Let's examine some of the key issues here.
CJ's mentality:
He's saying all the right things and all the same things -- he just needs to continue to play and do all the same things and it will all work out. He has used the word slump.
"We don't want to get into I'm blaming the offensive line or the offensive line is blaming me," he said. "We've just basically got to work with what we've got."
Running backs coach Jim Skipper said he has worked to keep Johnson upbeat, so that he's not carrying concern around and letting it affect his game. Skipper's emphasis is on staying positive, which sounds simple but can be one ingredient that helps a turnaround.
"You've got to keep practicing hard and be optimistic and be positive," Skipper said. "And that's what we're doing. Just go back and just be Chris. His timing is coming back, things are a bit quicker for him, and hopefully it starts paying some dividends. ... You don't add anything or do anything different. You just play football and do what the play is designed to do."
Former NFL offensive line coach Larry Zierlein watched the Titans' loss to the Steelers.
"The thing that struck me in that game was that Chris Johnson was very indecisive, particularly when running the outside zone/stretch play, which I believe is their signature play," he said. "That play can go inside or outside but the runner must decide by his fourth step, based on his key of the defensive end, whether he is going inside or outside. It appeared to me that he was pre-determining to go outside and running laterally well beyond his fourth step. And when that wasn't there, by the time he took it back inside the backside pursuit had closed that off, too."
Team mentality:
Coach Mike Munchak thinks the running game made big strides in the win in Cleveland and that a stall against the Steelers is hardly unusual.
"I still think he's in a better position than people think he's in," Munchak said of Johnson. "Yes, he's not had a great start. We are not happy with where we are in the run game. There's no doubt about that and we know if we're going to win the game this weekend or win any games or win our division, we're going to have to run the ball a lot better.
"It's hopefully staying in the game. The two games we lost, he had 12 carries and 13 carries. We can't afford to let that happen in this game against the Texans. We have to run the football if we're going to win, just like they have to."
Offensive coordinator Chris Palmer's play calling in Cleveland returned to some of unconventional
counter-action
that has helped Johnson before. Anything that gets the defense leaning the wrong way can be a big help to Johnson.
[+] Enlarge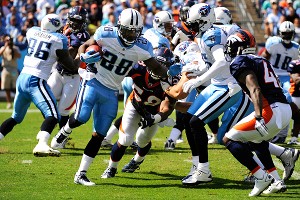 AP Photo/Frederick BreedonChris Johnson has found little room to run in the Titans' first five games this season.
Space:
Right guard
Jake Scott
said there are not regular busted assignments up front, that Johnson is the same and what's going on "is not him." Get him into space and he's as dangerous as ever.
The thing is, Johnson's rarely been in space. To get into space he first has to get through traffic, and so right now how good he can be running in traffic is the biggest question.
I'd like him to spin, dive and squirm to turn a no-gain into a yard and to turn a 1-yard run into a 2-yard run. That may be the start of a turnaround as much as a home run.
And he's got to do some of that to make up for what's been insufficient blocking.
"Oh, the run blocking has been hideous," said Aaron Schatz of Football Outsiders. "The total opposite of the pass blocking. Dead last in our Adjusted Line Yards stat. But Johnson doesn't seem to have the same burst, either. He doesn't have the long highlight runs he normally gets, even when he is able to get a hole."
Potential for change:
Munchak and offensive line coach Bruce Matthews, both Hall of Fame offensive linemen, have steadfastly supported Harris and center
Eugene Amano
, the young guys who have been the weakest line links. The organization deferred to that stance when making moves to adjust the roster before the season and most analysts, myself included, tend to still give those coaches the benefit of the doubt.
But Munchak was asked recently if the team was considering any changes to the line and he said "not yet." That's the first acknowledgement that it's possible they'd pull someone.
Fernando Velasco
is the primary alternative on the interior, and he has played well in limited chances.
Both Amano and Harris said they are appreciative of the support from their coaches, but know they need to play better to continue to earn it.
"You never can get too comfortable," Harris said. "You always want to play like your job is on the line."
"You've got to be consistent at what you do each and every week in order to be relevant," Amano said.
The contract:
It has been a bad five games. But it's far, far too early to decide conclusively that the Titans blew it by giving Johnson a big extension -- ending Johnson's preseason holdout by adding four years and $53 million with $30 million guaranteed to the two years he had remaining. It's far, far too early to say conclusively that Johnson's not the same player now that he got paid.
I understand the temptation to rush to judgment. I am here to try to temper it. Things can turn around in a week. But the longer he struggles, the bigger the worry.