August, 20, 2011
8/20/11
5:15
PM ET
With a single tweet, Colts owner Jim Irsay set plenty of people in the AFC South thinking about a new world order.
Including me.
If Indianapolis in fact starts the season without the injured
Peyton Manning
, it becomes just another team. Whether that team is quarterbacked by current options
Curtis Painter
or
Dan Orlovsky
or by a player to be determined --
Jim Sorgi
?
Kerry Collins
? -- it will be absolutely mortal.
And against the mortal Colts, the first month of the season could be ugly. They open at Houston, then host Cleveland and Pittsburgh before a Monday night game at Tampa Bay. (Here is
the news story
that includes Bill Polian's comments.)
While Irsay's tweets can be painful stream-of-consciousness rambles or hardly-relevant-to-the-NFL song lyrics, I cannot remember a comment on team matters that was not absolutely serious.
He said they have to be "prepared" for an early-season "possibility" without Manning. Let's be sure we don't make that definitive while we consider the alternatives.
Irsay's followup tweet to the one casting doubt on Manning's status asked fans what veteran option they like. We ask the same in this poll.
Painter looks incapable of handling defensive pressure or the pressure of playing in the league. Orlovsky was let go in Houston in favor of
Matt Leinart
. Sorgi's coming off shoulder surgery and reportedly didn't want to play for the Giants. Kerry Collins retired during the lockout, before the Titans had a chance to not be interested in him.
If that's the four-pack of current options, it's hard to be excited. Or optimistic.
Manning's been an ironman and the Colts have lived with the risk of having an insufficient replacement if they need one. I've never had a problem with the overall strategy.
But if, since the lockout, they've been working as much on faith as expectation, it's hard to understand them not exploring better alternatives already.
We've debated Manning's value time and time again by talking about what the Colts would be without him. We might be close to seeing that instead of imagining it.
March, 8, 2010
3/08/10
6:48
PM ET
Heading toward 2010, the Colts figured they only needed minor tinkering to solidify their chances to make it back to the Super Bowl.
[+] Enlarge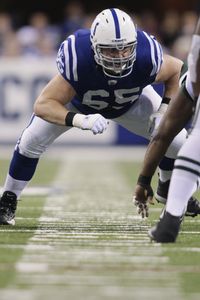 AP Photo/AJ MastThe Colts reportedly will save $1.83 million by cutting Ryan Lilja.
We knew some of that would be tied to changes on the offensive line.
Alex Marvez of FoxSports.com reports
the Colts are releasing
Ryan Lilja
, their starting left guard. They will avoid what I understand to be $1.83 million in bonus money by doing so. His total salary for 2010 was scheduled to be in the $3 million range.
That's three veterans --
Raheem Brock
,
Jim Sorgi
and Lilja -- cut by the Colts at a savings of $2.605 million in bonuses.
Maybe those guys saw it coming, but my guess is in a salary-cap-free year they weren't heading toward spring fearful about their job security.
The message from Bill Polian: We're not paying for guys we feel have dropped off or aren't going to be contributors commensurate with their money.
[UPDATE: 8:26 p.m.:
Mike Chappell's report
says that the Colts actually paid Lilja his bonus, which is quite a classy move. It certainly also softens my financial interpretation above.]
Kelvin Hayden
's going to get a $2.25 million bonus and
Robert Mathis
$1 million. It appears
Ryan Diem
will collect $1 million he's due as well.
As for guard -- let's put it right at the top of the team's need list, where a better balanced left tackle is also a need.
With Lilja, a complete class act by the way, gone, Indianapolis' guard roster reads like this:
Kyle DeVan
,
Mike Pollak
,
Andy Alleman
and
Jamey Richard
.
DeVan, who finished the season as the starter on the right, and the just-signed Alleman were picked up off the street. Pollak is on the verge of busting as a second-rounder from 2008. Richard is a seventh-rounder from 2008.
We're expecting Pete Metzelaars to take over for the retired Howard Mudd as offensive line coach. It's clear as ever he'll be working with some new young blood.
Lilja's agent, Craig Domann, gave Chappell this explanation, which is a flashing signal indicating the team's biggest pending change:
"They said they want to go bigger and apparently are going to get people who fit that philosophy."
March, 5, 2010
3/05/10
3:18
PM ET
Colts fans who loved what they saw of Curtis Painter, take a deep breath…
The agent
for Indianapolis reserve quarterback Jim Sorgi, who ended the season on IR, tweeted that Sorgi's been told by the team he will be released today.
In an email exchange, Matt Brei said: "They have not said why yet, but want to meet with Jim on Monday. He did have a roster bonus due if he was on the roster on day five of the league year. His shoulder is doing well and he has been throwing for weeks now. He was actually healthy prior to the end of the season."
Sorgi was heading into the last year of his contract and his 2009 cap number was $1.35 million. (UPDATE: Phil Richards reports
the bonus
was $275,000 and Sorgi's 2010 salary was $1.08 million.)
It's a widely held belief that the Colts would be doomed if Peyton Manning got hurt and missed any extensive time, and I certainly subscribe to that.
Manning's going to get a new deal that will make him the highest paid player in the history of the league. Investing a lot in his backup doesn't make a lot of sense.
But doing better than Painter or Drew Willy certainly does.
Playing in 15 games that have been decided or meant nothing, Sorgi has a career 89.9 passer rating. There are a lot of teams with bad backup situations that I'd think would give him a look as a cheap candidate to at least compete for the slot.
March, 2, 2010
3/02/10
11:35
AM ET
Florida quarterback Tim Tebow is working to refine his throwing motion. Will he play QB or some other position in the NFL? Let's assess his chances of landing in the AFC South.

Houston:
Ideally you'd like a backup whose strength matches the starter's. That would be difficult with Tebow in
Matt Schaub
's offense. The team signed
Dan Orlovsky
to a pricey backup contract last year, then installed
Rex Grossman
as the No. 2 when he outplayed Orlovsky in camp. If they are especially active in free agency and whittle down their needs list, maybe they take a late flier on him. But with the crowd at quarterback, versatile Rice tight end
James Casey
selected in the fifth round last year and a reasonably long list of other priorities, Tebow does not seem like a fit.
Draft probability:
Super low.

Indianapolis:
A lot of analysts have used the Colts as an example of the sort of team Tebow needs to wind up with. In a stable, winning organization with no quarterback uncertainty, he would have the time to develop and find out whether he's a signal-caller or another niche. That's nice, but the Colts made the rare move of drafting a guy they hope to develop last year in
Curtis Painter
and then carried three quarterbacks until backup
Jim Sorgi
got hurt.
Dallas Clark
is one of the league's top-flight tight ends, and they already have great options out of the slot with
Austin Collie
and
Anthony Gonzalez
.
Draft probability:
Low.

Jacksonville:
The Jaguars drafted a quarterback with a slow wind-up at No. 7 overall in 2003 and
Byron Leftwich
has been gone a couple of years already. Tons of people automatically put Tebow in Jacksonville because he's a local guy who would be a huge story. But the Jaguars are not going to let their marketing people make their picks. They've swung and missed at a lot of Florida guys. They don't have a second-round pick because they traded it last year for a third-rounder (
Derek Cox
). They spent a sixth-rounder on quarterback-turned-tight end
Zach Miller
in 2009 and second-year GM Gene Smith needs another talented class that can contribute right away. All strikes against Tebow in my eyes. If he is to land in Jacksonville, it would have to be in the fourth round or later.
Draft probability:
Low.

Tennessee:
The Titans could well be in the market for a young backup to develop into an insurance policy behind
Vince Young
, but because they're dealing with a starter who's not a traditional pocket passer, I'd sure hope they'd think about a traditional pocket passer. If Tebow is to become some sort of H-back , perhaps he'd fit. But right now the Titans are expected to have
Bo Scaife
,
Jared Cook
and
Craig Stevens
around, with the possibility of
Alge Crumpler
too. The Titans have a lot of roster replenishing to do and lack a second-rounder from the trade that brought them Cook.
Draft probability:
Low.
February, 3, 2010
2/03/10
10:29
AM ET
FORT LAUDERDALE, Fla. -- Highlights and notes from Wednesday's media session with the Colts.
Peyton Manning understands
what a Super Bowl win would mean to New Orleans, so he understands that to many fans the Colts are wearing the black hat.
"We certainly understand we may not be the team that everybody is cheering for in this game," he said. "We're OK with that… I think as far as non-
New Orleans Saints
fans, non-Colts fans, somebody is going to pick a team to follow and they will probably pick the Saints. That's fine.
"We talk about all the stories this week, when it comes down the game though, it gets down to the X's and O's and I think the more you can block out from the outside, the better off you're going to be."
Cornerback Jerraud Powers
, who missed the AFC Championship Game and did not practice last week with a left foot injury, said he doesn't know how much he's going to practice but has no doubt he will play against the Saints.
That's big. With
Dwight Freeney
expected to be limited, the Colts can't afford a big hit in the secondary. With
Kelvin Hayden
, Powers and
Jacob Lacey
as the top three corners, Indy is in good shape. Pull
Tim Jennings
further up the pecking order and it could be trouble.
Players on IR
have the option of attending media sessions, a team official told me.
I saw
Anthony Gonzalez
and
Jim Sorgi
Tuesday and I chatted with
Marlin Jackson
Wednesday at the availability at the team hotel. Jackson told me he didn't have a choice -- that he was told to attend.
Bob Sanders
has been invisible so far. A player told me he's with the team but was not part of the team photo taken on media day.
While Howard Mudd
is preparing for
the last game
of his career, Tom Moore has no idea what the future holds.
"My plans go up to Sunday," he said. "I don't like to complicate my life."
My frienemy Tim Graham
told me this stat from Tuesday's Mudd column (link above, you need to read it) is too good not to mention a second time: Ryan McCrystal of EPSN Stats & Information tells me since sacks became an official stat in 1982, no one has been sacked more than John Elway (516). At his current pace Manning would break that record at some point during his 29th season in the league, just before his 50th birthday.
How crazy is that?
December, 9, 2009
12/09/09
11:56
AM ET
The Colts have absolute faith that
Peyton Manning
will be on the field when they need him to be.

Painter
It now appears they are endorsing rookie quarterback
Curtis Painter
as his backup -- and the guy likely to get the bulk of the work in late-season games they rate as meaningless.
The team put veteran backup
Jim Sorgi
on injured reserve Wednesday with a shoulder injury. That means Painter is first in line behind Manning and as the scout team quarterback who helps the defense prepare during the week.
The team took a look at
J.P. Losman
last week but didn't make a move with him. Perhaps he's their back burner guy and something could still happen.
The team also cut
Shane Boyd
from the practice squad, adding quarterback Drew Willy to replace him. Willy, a rookie out of Buffalo, originally signed as a free agent with Baltimore.
Manning and the Colts can clinch homefield advantage through the playoffs Sunday with a win over Denver. If they do, indications are they will not put an emphasis on trying to go 16-0 and will ease up and rest people as they've done in the past.
That could mean limited or no work for Manning. Sorgi has played in 16 games in six seasons with the bulk of that action coming in those late-season situations.
The Colts drafted Painter out of Purdue in the sixth round, 201st overall and have been impressed enough with him that they invested a roster spot in the third quarterback despite knowing the odds of needing him on a Sunday were incredibly small.
December, 6, 2009
12/06/09
11:58
AM ET
INDIANAPOLIS -- The Titans will be rushing against
Tony Ugoh
at left tackle instead of
Charlie Johnson
, who's out with a foot injury.
We'll see if Ugoh's been making progress. He's been inactive for five games this season, and otherwise worked only on special teams while in place as a backup except for a spot start against Tennessee in the first matchup.
For the Titans,
Rod Hood
is a healthy scratch for the second week in a row. Looks like a bad move to me. If the Titans get hurt in the secondary, rookies
Ryan Mouton
and
Jason McCourty
are in line to work as subs at cornerback. Hood was far better than either of them when he played.
The entire inactive lists for both teams:
Colts
Titans
December, 2, 2009
12/02/09
1:35
PM ET
I don't see the Colts going undefeated through the regular season. I am certain they aren't going to be heartbroken if or when it doesn't happen.
They could lose Sunday to Tennessee, a hot and dangerous team that's played as well or better than the Colts in recent weeks. The AFC South rivals have split the season series the past three years -- though a couple of games at the end of those seasons had no meaning for one or both teams. The Titans are seeking to avenge a 31-9 loss on "Sunday Night Football" Oct. 11 and have far more to lose as they try to claw their way into the wild-card picture.
But even if the Colts beat the Titans, they'll drop at least a game down the stretch when they take their foot off the gas. Coach Jim Caldwell and president Bill Polian have each made it clear that an undefeated season isn't the team's goal. Polian says momentum heading into the playoffs is an overrated concept.
Like the Titans, the Broncos will have more on the line than the Colts when they visit Lucas Oil Stadium on Dec. 13.
A team that's been beat up a lot this year will rest a lot of injured or tired players in games that don't mean anything at the end of the season. Pull
Dwight Freeney
,
Clint Session
and
Antoine Bethea
off the defense and even the Jets and Bills will find yards. And is
Jim Sorgi
throwing to
Hank Baskett
going to put fear into New York or Buffalo?
[+] Enlarge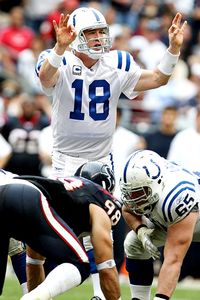 Matthew Emmons/US PresswireFlirting with a 16-0 record is nothing new for Peyton Manning and the Colts.
Indianapolis wouldn't mind if 16-0 happened, obviously, but it's not a primary goal. And dropping a couple of games late after a long undefeated stretch is hardly new territory for the franchise -- it was 7-0 in 2007, 9-0 in 2006 and 13-0 in 2005.
Getting in position to win in the playoffs trumps everything. It hasn't been something this team's done well outside of its 2006 championship season. But it's hardly thinking of an undefeated regular season as any sort of prerequisite.
Here's how ESPN.com national writers John Clayton and Len Pasquarelli see it.
Clayton:
The reason the Colts will not go 16-0 is because they don't need to go 16-0. At different times during Manning's incredible career, the Colts have flirted with the perfect regular season. Once they clinched home field, they started to think ahead to the playoffs, which left them vulnerable to a loss. That will be the case again this year.
Their remaining five games are winnable. They play teams with a combined record of 27-28, the 14th-easiest closing schedule in the league. Indianapolis' only two remaining opponents with winning records are the Broncos (Dec. 13) and Jaguars (Dec. 17). They can win those games. But it's also possible for the Colts to clinch home-field advantage in the playoffs once they get to 13 wins. Once that happens, the Colts will focus on the playoffs.
Manning, Polian and everyone who has been around the organization realize the idea is to win two games in the playoffs and get to the Super Bowl. That's why they will start figuring out how to rest starters, including Manning, in the final three weeks. If that happens, they could lose to the Jets on Dec. 27 or the Bills on Jan. 3.
Pasquarelli: In winning their past five games by a total of 18 points, all with fourth-quarter comebacks, the Colts have demonstrated a remarkable resourcefulness. But in doing so, they have also rung up not only the division title, but also a three-game lead over all other AFC franchises, and are poised to secure home-field advantage throughout the playoffs.

It would take a monumental collapse in December for the Colts to have to leave Lucas Oil Stadium for a postseason game, and the likelihood of that is extremely remote. On the other hand, once they clinch that right, there is no other carrot to dangle in front of the noses of the prideful Colts, save for a perfect season. And remaining unbeaten going into the playoffs isn't a big priority for a Colts team that has now been to the postseason eight straight times, but owns just one Super Bowl ring.

The priority for Indianapolis, as always, remains winning a championship, not every regular-season outing. Polian earlier this week debunked the importance of momentum entering the playoffs. That admission could be a tacit tip-off to the Colts' strategy of resting some starters in December, and remaining as healthy as possible for the postseason. The Colts, who play every game with great intensity, will succumb to a degree of human nature once they clinch home-field advantage, and ratchet down just a hair, enough to drop a close game to someone.



November, 13, 2009

11/13/09

9:59

AM ET

Houston Texans
Indianapolis Colts
Jacksonville Jaguars
Tennessee Titans