January, 25, 2012
1/25/12
8:20
AM ET
A quick zip around the division to catch up on some things that have happened while I had a few days off.
The trio of coaches charged with shaping
Blaine Gabbert
in Jacksonville is in place: coach Mike Mularkey, offensive coordinator Bob Bratkowski and quarterback coach Greg Olsen. Olsen comes to the Jaguars from the Buccaneers where he worked with
Josh Freeman
, who regressed badly last season. Everyone's got a clean slate now, and these coaches will be judged largely on what they are able to make of Gabbert in his second season.
The Colts' list of candidates to be the new head coach is not going to excite the general population. There seems to be a lot of buzz about Jim Tressel, and it appears he's met with the team twice, but we don't know who else has and it may be a mistake to label him the front-runner. It's funny: When the team brought him aboard as a meager replay consultant, we tried to find a connection and label him as a Bill Polian guy, a Chris Polian guy or a Jim Caldwell guy. Whether he's the next coach or not, it turns out he was a Jim Irsay guy.
Dave McGinnis has been a valuable member of the Titans' coaching staff for years. He's left to re-join Jeff Fisher in St. Louis. While Mike Munchak will miss McGinnis as a sounding board, the addition of Keith Millard as a pass-rushing coach looks like a smart one. The Titans have not traditionally rushed the passer well from beyond the defensive line. The league is specializing, and having a coach who goes beyond positions to teach a set of skills is a fresh approach in Tennessee.
Texans center
Chris Myers
, Texans defensive lineman
Antonio Smith
and Jaguars special-teamer
Montell Owens
were added to the AFC Pro Bowl roster. Wade Phillips was named assistant coach of the year by the Pro Football Writers of America and Pro Football Weekly. Congrats to all.
January, 23, 2012
1/23/12
10:30
AM ET
By
ESPN.com staff
| ESPN.com
Houston Texans
John McClain continues his roster analysis with a
breakdown of the tight ends
.
McClain expects to see the Texans pursue an
upgrade at wide receiver
this offseason.
Indianapolis Colts
Bob Kravitz of the Indianapolis Star
: "It's going to be up to Peyton [Manning]'s little brother, Eli, whose team survived and overcame the San Francisco 49ers in overtime Sunday night, to stop quarterback Tom Brady, coach Bill Belichick and the rest of the reviled Patriots from celebrating at the House That Peyton Built."
Reggie Hayes of The News-Sentinel
isn't excited about the idea of Jim Tressel as a candidate to be the Colts' next head coach. Hayes: "I get the feeling a lot of people dislike the idea of Jim Tressel as possible head coach of the Indianapolis Colts. And by dislike, I mean hate."
Colts.com looks
at the history between new general manager Ryan Grigson and Houston GM Rick Smith.
Jacksonville Jaguars
Jaguars fullback Montell Owens will join Maurice Jones-Drew as
Jaguars representatives
in Sunday's Pro Bowl.
Jaguars linebacker
Paul Posluszny reflects
on his time with Joe Paterno.
Tennessee Titans
Mike Munchak recalls
what Paterno meant to him.
Jim Wyatt
profiles Ruston Webster
, the Titans' new general manager.
January, 21, 2012
1/21/12
11:02
AM ET
By
ESPN.com staff
| ESPN.com
Houston Texans
Both Jacoby Jones and the Texans would be better off
if they parted ways
, argues Tully Corcoran of Fox Sports Houston.
The Houston Chronicle's John McClain
evaluates the team's stable of running backs
and likes what he sees but there are questions at the position moving forward.
Indianapolis Colts
Owner Jim Irsay flew to Florida on Friday and
discussed the team's head-coaching job
with former Ohio State coach Jim Tressel for a second time, according to reports.
The Colts
interviewed Titans defensive coordinator Jerry Gray
for nearly six hours on Friday, and they may be interested in talking with former Vikings coach Brad Childress next, according to NFL.com's Jason La Canfora.
NFC East blogger Dan Graziano considers the idea of Peyton Manning landing with the Redskins and concludes
the idea makes some sense
.
Jacksonville Jaguars
On Friday, Mike Mularkey
added four more coaches
to his staff: special-teams coordinator John Bonamego, running backs coach Sylvester Croom, tight ends coach Bobby Johnson and receivers coach Jerry Sullivan.
Former Gators and Illini coach Ron Zook, who interviewed for the special-teams job, told the Florida Times-Union that the timing
wasn't right for him
to return to coaching and that he'll likely take a year off from the sidelines in 2012.
Tennessee Titans
Cornerback Cortland Finnegan still thinks
the Titans will not re-sign him
.
Music City Miracles graded the performance of the offensive linemen in 2011; their work in pass protection
saved them from a failing grade
.
October, 27, 2011
10/27/11
12:05
PM ET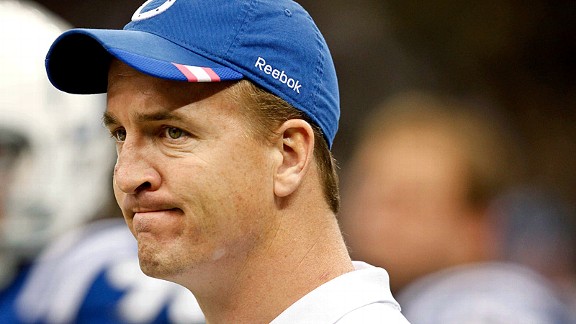 Derick E. Hingle/US PresswireThe Colts were clearly ill-prepared for life without star quarterback Peyton Manning.
It's ugly in Indianapolis.
At 0-7, the Colts are talking about sticking together, improving and giving themselves a chance to win.
But as they prepare for a trip to Nashville for a Sunday meeting with the Titans at LP Field, they are a severely broken team. Where they
would be
with
Peyton Manning
is an interesting hypothetical question, but we're dealing with realities. And those realities are the sort that will test the franchise's stitching -- seamwork that might not hold together when this is all over.
Who's at fault? Everyone's got a hand in it, but let's look at the Colts from a couple of angles.
A big cover-up:
It's not a secret that Manning has helped cover up a lot of flaws and allowed the franchise to under-address certain areas.
The Colts during the Manning era have never been much concerned with size, always valuing speed and instincts more. They've never worried about stocking special teams with any veteran backups, in part because they spend their money on stars or adding a high-quality return man. They've settled for being below average running the ball. And they've won despite a general inability to stop the run.
Without their four-time MVP running the offense, all those things are magnified in ways they've never been before.
It shouldn't be a surprise. They're built to have Manning at the controls, and he's been there all the time from the very beginning in 1998 until opening day this season.
There are maybe two teams and markets in the league that would not trade for what the Colts have done since 1999. Twelve consecutive playoff seasons followed by one complete dud? Where do I sign up for that?
[+] Enlarge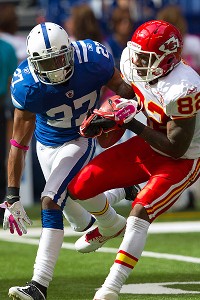 Michael Hickey/US PresswirePersonnel decisions by the Colts put cornerback Jacob Lacey, 27, in a prominent role in a secondary that has struggled this season.
Construct questions:
That said, regardless of a serious neck surgery to the star quarterback, what exactly was the plan in the secondary? Is an evaluation that leaves
Jacob Lacey
,
Terrence Johnson
,
Kevin Thomas
and
Chris Rucker
as cornerbacks Nos. 2 through 5 good enough? Absolutely not.
The Colts get credit for adding a couple of outside veterans this season -- linebacker
Ernie Sims
, and defensive ends
Jamaal Anderson
and
Tyler Brayton
. But the drafting has dropped off.
Set aside the most recent class, as it's too early to judge.
The Colts drafted 41 players from 2005 through 2010. I count one star, safety
Antoine Bethea
, and two guys who can become stars, linebacker
Pat Angerer
and receiver
Austin Collie
(if he's working with Manning). Running back
Joseph Addai
is a good fit who does more than people think. And receiver
Pierre Garcon
and cornerback
Jerraud Powers
have been pretty solid starters.
Sure, the Colts drafted higher in the five years before. Still, those classes produced five guys who rank among the best players of their generation at their positions: tight end
Dallas Clark
, defensive ends
Dwight Freeney
and
Robert Mathis
, safety
Bob Sanders
, and receiver
Reggie Wayne
. The next tier provided steady starters on the offensive line (
Jake Scott
,
Ryan Diem
) and at linebacker (
David Thornton
).
That list is more than a third of a starting team, a big-time core. As those guys age or disappear, I'm not seeing a core in waiting.
Colts president-turned-vice chairman Bill Polian said recently on his radio show that they needed to have done better recently, particularly at defensive tackle and cornerback.
And there is a domino effect to the problem. Find Tarik Glenn's ultimate replacement at left tackle in 2007, and you don't need to use your top pick in 2011 on
Anthony Castonzo
. Hit on
Donald Brown
in the first round in 2009, and
Delone Carter
might not be necessary in the fourth round in 2011.
The Polians:
Bill Polian has been pulling back and yielding responsibility to his son, GM Chris Polian. (Chris politely declined to be interviewed for this story.)
We don't yet have much tape on Chris Polian, so to speak. Bill Polian is a good talent evaluator who has had success in three NFL stops and has done well to build a team with which Manning has won. But Bill Polian also has overseen those recent draft drop-offs.
His strong-willed personality is part of what has made him good at his job, and his big-picture assessment of important league issues is as intelligent as anyone's. He's got clout and influence that extend beyond Indianapolis.
Stylistically, he's a stubborn and demanding boss. There are indications from within that, without the steady stream of personnel hits he provided earlier in his tenure, some inside the building are tiring of the way things are run.
Bill Polian recently talked about how
Curtis Painter
's play vindicates the team for having faith in him, but failed to mention that faith was so strong that the team signed
Kerry Collins
to a $4 million contract shortly before the season started and handed him the starting job.
I suspect Bill Polian has the backing of owner Jim Irsay for as long as he wants it. That would ensure safety for Chris Polian, too.
Bill Polian made the Manning-over-Ryan Leaf call in 1998. Because of the way Leaf busted, people forget that was a coin flip at the time, that Leaf was regarded as a big-time prospect just as much as Manning was. Polian called it correctly, built a team that's been to two Super Bowls and won one, got a new stadium built, and greatly enhanced the value of Irsay's franchise.
Cryptic messages:
Further complicating things is Irsay, who clearly gets a kick out of being the center of NFL attention in the Twitter-verse but has undermined some of his people with it.
He announced
the team added Collins while coach Jim Caldwell was conducting his daily news conference. It did Caldwell no favors, as he appeared completely out of the loop.
Most recently, following the 62-7 loss in New Orleans on Sunday night, Irsay provided this gem:
"Titanic collapse, apologies 2 all ColtsNation...problems identifiable;solutions in progress but complex in nature/ better days will rise again"
A day later, he added:
"Just because you perceive problems on the horizon,and you possess solutions..doesn't mean they are avoidable and implementation is instant"
Solutions in progress, but complex in nature. That sounds to me like what would be written in big silver letters on the lobby wall of a consulting company on a TV show. Or a clever, but far-too-long name for a band.
It also sounds like change is going to come.

Caldwell
Coaching questions:
While Bill Polian recently said that adding Jim Tressel to the staff as a replay consultant was
Caldwell's idea
, it's a weird-looking move that's made some of us wonder whether a bigger role awaits the former Ohio State coach.
Caldwell does a nice job managing personalities, looking at things philosophically and staying on message. I believe he's a good teacher, and his patient, quiet style is generally healthy for a team with a good share of veteran stars.
But he has blind spots, too, and is hardly a strategy master. There are bound to be significant changes at the conclusion of what's sure to be a dreadful season, and he'll be at the front of the line.
If he does the best job we can remember at holding a terrible, ineffective team together, is that enough? I'd guess not.
Injuries:
This team gets hurt too much. There is a huge element of bad luck to it, of course. But is there something bigger at work as well?
Last season as quality players went down, Manning helped some role players such as tight end
Jacob Tamme
and receiver
Blair White
emerge. This season, guys such as linebacker
Gary Brackett
and safety
Melvin Bullitt
were lost for the season early, and there's been a revolving door on the offensive line because of injuries.
The Colts are constantly testing their depth and shuffling the back end of their roster. There is only so much shuffling a depth chart can handle.
I believe they need to attempt some change that might have a positive effect on their overall health -- whether it be adopting new training philosophies, altering how they evaluate prospects or changing personnel philosophies.
It's easy to ask them to figure out why they tend to suffer so many injuries, and it's hard to find an answer. But some sort of shift is due, even as we know it comes with no guarantee of better health.
When the current approach is failing, it's OK to try something else. It's not admitting some sort of failure; it's merely part of a necessary process of evaluating and revising operations.
Suck for Luck:
Given a chance to draft Stanford quarterback Andrew Luck, I think the Colts would. Bill Polian can give Chris Polian the guy expected to be the NFL's next great quarterback, and Chris Polian's legacy would be built on a fantastic cornerstone.
But there is no losing on purpose to get in position for Luck. You think Wayne or Mathis is interested in such a master plan?
Said veteran center and team tone-setter
Jeff Saturday
: "I'll steal a Robert Mathis quote: 'I ain't sucking for anybody.'"
October, 26, 2011
10/26/11
10:14
AM ET
Reading the coverage…
The Texans and Titans are heading in opposite directions, says Vince Verhei. (
Insider
.)
Houston Texans
Of Matt Schaub's passes,
27 percent
are going to tight ends, says Jeffrey Martin of the Houston Chronicle.
The Texans brought back Quintin Demps to add
depth at safety
, says John McClain of the Chronicle.
Battle Red Blog breaks down Arian Foster's
touchdown catch
.
Indianapolis Colts
Kerry Collins was
put on IR
. His $4 million salary this season was for three games, says Phillip B. Wilson of the Indianapolis Star.
Mike Chappell of the Star says he
can't see
Jim Tressel as the Colts' coach.
Jim Caldwell should
pay the price
, says Ben Smith of the Journal Gazette.
Jacksonville Jaguars
The Jaguars have some history of
following big wins
with disappointing losses. So how do these Jaguars follow up a big win, asks Vito Stellino of the Times-Union. "The biggest thing for us is not to be historians of the negative," Jack Del Rio said
The defense believes it
set a standard
against Baltimore for how it should play every week, says Tania Ganguli of the T-U.
Tennessee Titans
Chris Johnson is becoming Mike Munchak's Vince Young, says David Climer of The Tennessean. "The manner in which Munchak manages the current situation will
tell us a lot
about his strength or weakness as Titans coach, moving forward."
Without Peyton Manning, preparation for the Colts is
totally different
, says David Boclair of The City Paper.
Five
hot Titans topics
from John Glennon of The Tennessean.
October, 19, 2011
10/19/11
6:43
PM ET
Jim Caldwell's not typically one to give us a lot of insight into him during his news conferences with the Indianapolis media.
So it was interesting that he shared one Wednesday when asked if he was feeling any additional pressure.
Here was his reply, courtesy of a team transcript:
"This business that we're in, I've been coaching for a long time now. In 1978 when I first started, I knew that it's a situation where it's day-to-day in this business. I was at Southern Illinois University and I was on the job about two days, and the Athletic Director there was Gale Sayers at the time. He was one of my idols growing up. I loved the [Chicago] Bears and he was one of my favorites. He walked down to my office and asked if I would like to go to dinner, and my wife wasn't there yet, because she was still in Iowa City. So he left the office and I remember picking the phone up and calling my dad telling him, 'Hey, guess who I'm having dinner with.' He sort of chuckled, he was always a big [Green Bay] Packers fan, but he knew I was a big Bears fan.

"So I sat down with Gale Sayers and we were just exchanging pleasantries, talking about our backgrounds and etc. Then he looked at me with a very serious look on his face, and he said, 'Why in the world did you go into coaching?' I kind of gave him my answer that I wanted to have an impact on young people, [I] wanted to have an opportunity to lead and direct and that was a great way for me to do so. I talked through that thing, and he asked me again, 'Now, why in the world did you go into coaching?' I started all over again, and he interrupted me and said, 'Hold on a minute, I did hear that, but don't you realize that you put your career in the hands of 17, 18 and 19-year-old young men?' I hadn't really thought about it that way in that point in time, but he was indeed right.

"It's one of those things that you've been in the business long enough to know that it's a demanding position and it's a challenge, but that's why we love it as well. There are certain things that can be expected. I worked for Joe Paterno for a long time, and he won more football games than anybody in the history of college football. There was a point in time when they were trying to get rid of him. I also saw where a guy was 14-2 in this league, and got released. It's ever-present, but it's not something that we think about. Obviously, the challenge is something that we relish."
It's early to talk much about Caldwell's future.
He's not always strategically sound. But he didn't choose the under-performing personnel, he's had the team competing in recent games to the end, and we haven't heard any dissent from the locker room. I score those things in his favor.
Still, I think he will be under fire at season's end -- perhaps he is deserving, perhaps as a scapegoat, perhaps out of the sort of politics that lead to a lot of changes in the league.
I don't think it will be because of the team's performance in a season when it was bound to be bad once it became clear
Peyton Manning
wasn't going to be around. I do think it could be because of the shift above him.
Bill Polian's has relinquished a great deal of control to his son, Chris Polian, who is now the team's general manager. We've seen big changes in other areas as the younger Polian has put his stamp on the franchise.
Caldwell was brought into the organization by Tony Dungy who worked closely with Bill Polian.
It's not difficult to see a scenario where Chris Polian looks for a coach with whom he's more closely aligned.
Maybe that guy is Jim Tressel, who starts with the team this week as
a consultant
. Maybe it's an outsider.
Maybe I'm overreaching and Caldwell winds up fine.
There could be some Manning influence at work as well. And we have no idea who's in good standing with him right now.
September, 7, 2011
9/07/11
9:59
AM ET
Reading the coverage …
Lots of
AFC South
in Don Banks' fearless predictions.
Houston Texans
The Texans are
no longer
divisional underdogs, says John McClain.
The secondary is
seeking redemption
, says Jeffrey Martin.
We'll find out soon
if things have changed
regarding the Texans' confidence and mental toughness, says Alan Burge.
Indianapolis Colts
An
outside medical expert
considers Peyton Manning's recovery with Phillip B. Wilson.
Backyard dreams
are nearly a reality for several young Colts, says Wilson.
The Colts reached
an injury settlement
with running back Chad Spann, who is now a free agent, says Wilson.
Clark Judge
is confused
about the Jim Tressel developments.
Jacksonville Jaguars
See previous post.
Tennessee Titans
The Titans hope for
quick chemistry
between Chris Johnson and Quinn Johnson in their backfield, says Jim Wyatt.
Mike Munchak says Tennessee
will be ready
for new Jaguars starting quarterback Luke McCown, writes Wyatt.
After Nashville's cool down, Wyatt wonders if the Titans will be
ready for the heat
.
Big numbers
on the offensive line, including Kevin Matthews, are the way to go right now according to Mike Munchak, writes David Boclair.
September, 6, 2011
9/06/11
11:19
AM ET
Reading the coverage …
Houston Texans
The AFC South is the Texans'
for the taking
, writes Jerome Solomon.
The Texans are now
preparing for
Kerry Collins, says John McClain.
Wade Phillips' reputation helped him get
the team's attention
, says Jeffrey Martin.
Five key questions
from McClain.
DeMeco Ryans is
ready to go
, says McClain.
McClain goes
game-by-game
and predicts the season.
Indianapolis Colts
Jim Tressel
will start
when the Colts get to their seventh game, says Phil Richards.
It will be strange to see
someone other than
Peyton Manning under center, says Mike Chappell.
Phillip. B. Wilson
checked the obits
and didn't see the Colts.
Anthony Gonzalez and Blair While
expect to be ready
for the opener.
A defense of
Donald Brown from Nick Pease.
Jacksonville Jaguars
Jaguars tackles Eugene Monroe and Eben Britton are
handling the criticism
, says Vito Stellino.
The Jaguars elected
six captains
, says Tania Ganguli.
Mike Lockley's $20,000 fine will be
taken out
of his practice squad salary, says Tania Ganguli. To fine a guy making this little that much is ridiculous.
Tennessee Titans
Chris Johnson is
now focused
on football, says Jim Wyatt.
Undrafted corner Chris Hawkins got
a late scare
on cut day, says John Glennon.
Glennon looks at how the Titans schedule
sets up
early.
September, 5, 2011
9/05/11
12:18
PM ET
Here is the statement on Peyton Manning's status from the Colts' communication department:
During the last week, the rate of improvement in Peyton's rehabilitation process slowed. Over the weekend Peyton experienced soreness in his back. It was originally thought to be a normal reaction to his rehabilitation regimen. When the soreness persisted, the Colts medical team decided to initiate diagnostic tests and to consult with a number of specialists around the country who have been involved in Peyton's case from the outset. That process continues. As a result of the most recent development the doctors have decided that Peyton will not practice. His participation therefore, in Sunday's game versus Houston will likely be doubtful. We will update his playing status as required by NFL policy as the week goes on.

At the conclusion of the diagnostic process, if there are any new developments in the prognosis which we outlined for Peyton at the start of training camp we will report them. As of now Peyton continues to deal with a complicated neurological recovery, the end date of which is unpredictable.

As was stated at the outset, it serves no useful purpose to speculate about hypothetical outcomes. When and if there are concrete medical facts to report we will do so.
Colts vice president Bill Polian released a statement regarding coach Jim Tressel:
After the announcement of Coach Jim Tressel's agreement to join the Colts as a game day consultant, questions were raised with respect to the equity of his appointment as opposed to suspensions being served this season by present and former Ohio State players.

Over the weekend Coach Tressel, Mr. Irsay, Coach Caldwell and I had a discussion of the issue. In addition, we had a conversation with league officials to apprise them of the details of Coach Tressel's employment and the issues we were reviewing.

At Coach Tressel's suggestion, and with Mr. Irsay's concurrence and support, we have decided to begin Coach Tressel's employment effective with our seventh regular season game. We have informed the league office of our decision and expect that they will be supportive of it.

We are very happy Coach Tressel will be joining us.
September, 5, 2011
9/05/11
10:24
AM ET
Reading the coverage…
Houston Texans
The Houston Chronicle's account of
the death
at Antonio Smith's house. Terribly sad stuff.
Indianapolis Colts
If Roger Goodell allows Jim Tressel start his work with the Colts on Sunday, Bob Kraviz thinks the commissioner
sends this message
: "If you're a college player who messes up, we'll support the NCAA and suspend. If you're a college coach who cheats -- Pete Carroll, Jim Tressel -- we'll turn a blind eye and provide sanctuary in the NFL."
Jacksonville Jaguars
The Jaguars will have
their best offense
since 2007 according to Marcedes Lewis, writes Vito Stellino.
Tennessee Titans
David Climer liked how Chris Johnson talked
playoff first
.
September, 2, 2011
9/02/11
5:11
PM ET
I suppose I am supposed to have a strong feeling about Jim Tressel joining the Colts as a consultant who will help Jim Caldwell with replay decisions and more.

Caldwell's been pretty good on challenges, I think, it's timeouts he could use a voice in his ear on.
The popular reaction to this development is to call on Roger Goodell to suspend Tressel as he enters the league the same way he suspended
Terrelle Pryor
. I'd like to hear Goodell answer that, but I know it would include something about Tressel being hired, not made eligible for the draft.
It hardly sounds like full-time work for Tressel.
Still, another coach who did wrong at the college level skates into post-collegiate life. I'm well past the point where I can muster any real emotion, better yet, outrage over it.